Calling all Disney fans! If you're looking for the perfect family outing or something to tide the kids over until you head on that big trip to Disneyland Paris or Disney World Florida, a visit to one of these spectacular musicals will bring the Disney magic right to your doorstep.
Disney has been creating breathtaking theatrical productions of its beloved animated films for almost 30 years. The company's first foray into musical theatre was Beauty and the Beast, which premiered on Broadway in 1994 and became one of the longest-running productions in history, playing over 5,000 performances.
Since then, Disney has enjoyed mammoth success with the likes of The Lion King, The Little Mermaid, Aladdin, Frozen and Mary Poppins. From London's glittering West End to the bright lights of Wolverhampton, this year Disney is reaching every corner of the UK with its productions. Take a look at this list below to find a guaranteed crowd-pleaser for the whole family.
Frozen
Expect all of your favourite characters and songs in this heart-melting stage adaptation of the beloved animated film. Songwriters Kristen Anderson-Lopez and Robert Lopez have even written several new songs for the stage show, which sees Elsa and Anna's story brought to life like never before. The spectacular Let It Go is guaranteed to give you the chills.
The show was recently nominated for four Olivier Awards, including Best New Musical. So, whether you're experiencing Frozen 'for the first time in forever' or you just can't 'let it go', head down to London's Theatre Royal Drury Lane to experience this Disney sensation live on stage!
Length: 2 hours 15 minutes, including an interval
Disney's animated classic, Beauty and the Beast, recently celebrated its 30th anniversary by launching a brand new theatrical production in the UK. This spellbinding stage show features all of the iconic songs from the original film, including Belle, Gaston, Be Our Guest and, of course, the Oscar-winning title song, Beauty and the Beast.
Following sell-out engagements in Edinburgh, Liverpool and Sunderland, audiences can catch this tale as old as time at the London Palladium for a special summer holiday season from June, or at one of the stops on the UK tour, including Manchester and Bristol. Make sure to check the official website for further tour dates which will be announced soon.
Length: 2 hours 30 minutes, including an interval
It's hard to name the ultimate Disney musical, with so many iconic films vying for the title, but The Lion King will appear at the top of many lists. This record-breaking musical has earned over $6.2 billion worldwide, making it the most successful box office total in entertainment history!
It's easy to see why as this show bursts onto stage in a mirage of vibrant colour, rhythm and life. Featuring classic songs from the film, written by Elton John and Tim Rice, including Circle of Life, Can You Feel the Love Tonight and Hakuna Matata, this musical wows children and adults alike.
The Lion King still draws huge crowds every week in the West End at the Lyceum Theatre where it has played since premiering in 1997. The musical is also embarking on an epic UK and Ireland tour, playing in Bradford, Edinburgh, Cardiff, Southampton and Manchester.
Length: 2 hours 30 minutes, including an interval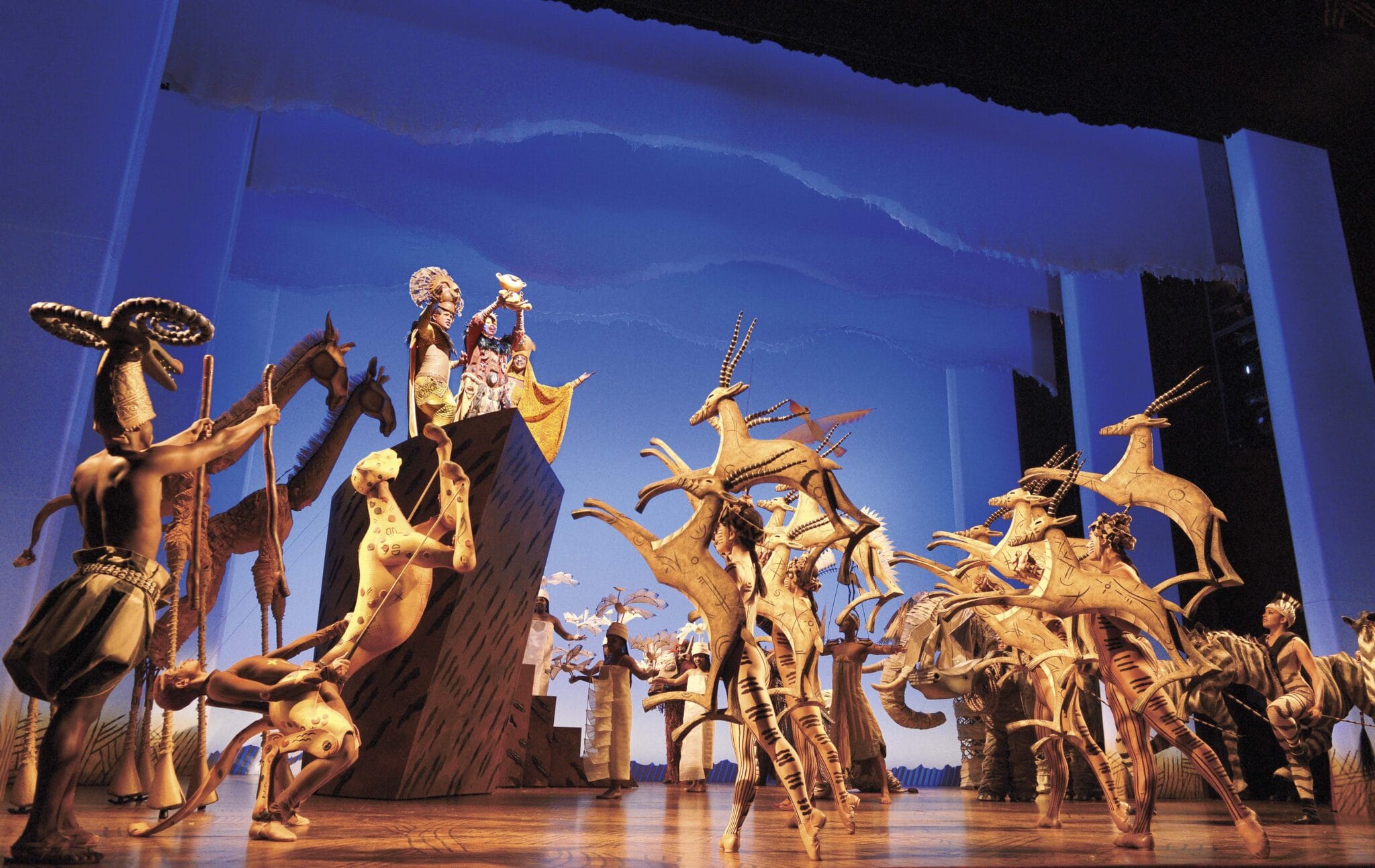 4. Bedknobs and Broomsticks
It's been over 50 years since Disney's whimsical film Bedknobs and Broomsticks premiered, inviting generation after generation of children to start believing in magic. Starring Angela Lansbury and David Tomlinson, this film sees three orphaned children evacuated from wartime London into the care of a trainee witch, searching for a spell that will help to win the war.
Half a century later, the film has been beautifully adapted for the stage, filled with magical illusions and theatrical trickery to bring to life the enchanted bedknob, bewitched broomstick and the awe-inspiring, flying bed. Bedknobs and Broomsticks is currently travelling around the UK on a tour that includes stints in Wolverhampton, Hull, Sunderland and Belfast. The show is also expected to transfer to London's West End following the conclusion of the UK tour.
Length: 2 hours 40 minutes, including an interval
​​For a Practically Perfect musical in every way, look no further than Mary Poppins! This multi-award-winning show about the world's favourite Nanny has been delighting families since 2019 at London's Prince Edward Theatre.
The show includes all of the unforgettable songs from the film, such as Chim Chim Cher-ee, A Spoonful of Sugar and (*deep breath*) Supercalifragilisticexpialidocious! Audiences can also expect incredible stage effects and dazzling choreography that even includes an upside-down tap routine!
Length: 2 hours 50 minutes, including an interval
​​Finally, the smash-hit Broadway musical Newsies is making its UK premiere at the Wembley Park Theatre later this year. Newsies is one of Disney's lesser known films in the UK, based on the true story of the newsboys' strike of 1899 in New York City.
The musical played over 1,000 performances on Broadway and was filmed and released on Disney+ in 2017. The UK production will be a brand new, immersive, in-the-round staging and will premiere on 28th November 2022.
Length: 2 hours 40 minutes, including an interval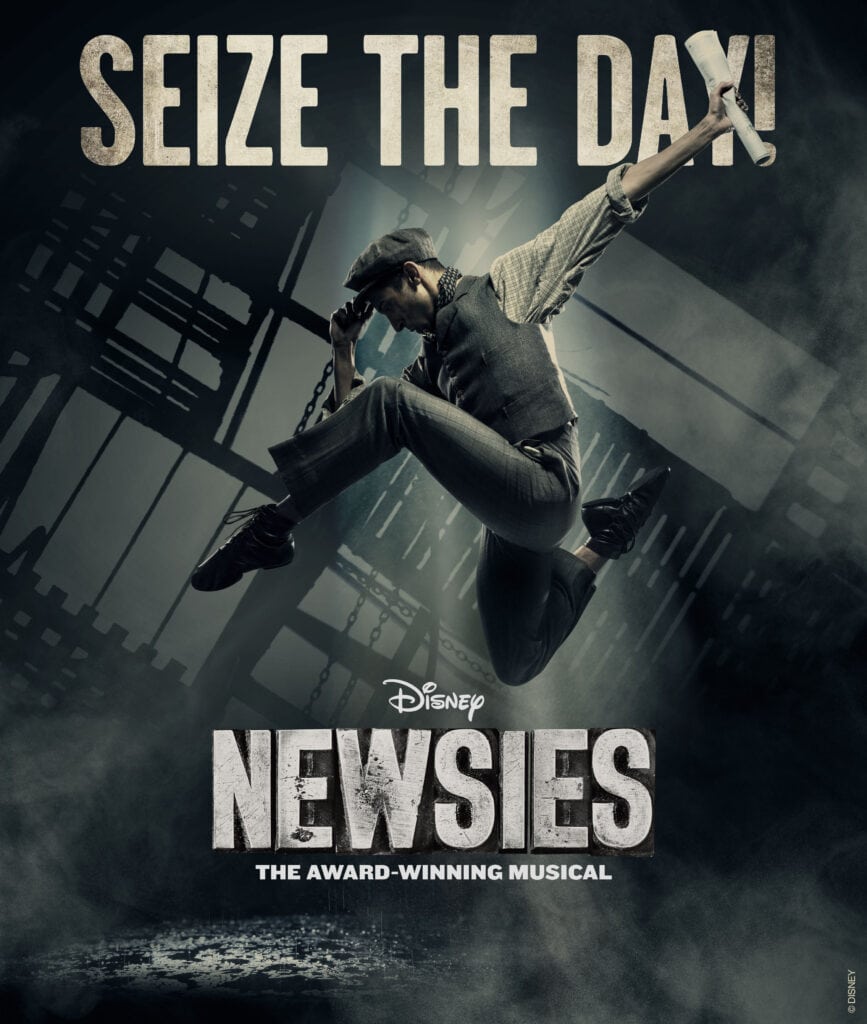 ---