Once you've stayed at a hotel that has swim-up rooms you may find like us that this is now what you want from a hotel. We loved our first stay with a swim-up room so much. It gave us such freedom and peace and quiet when we wanted it. We could still use the main pool when we wanted but if we fancied a swim later on we could do just that. My son loved floating on his rubber ring up and down the swim-up pool that we shared with just a few other rooms.
After looking through a great number of hotels we have come up with this list for you of some of the best hotels in Cyrpus with family-friendly rooms that have swim-up pools. We also take a look at other facilities at the hotel.
Address: R9GR+GGC, Kissonerga 8574, Cyprus
Hotel Information – A great choice for families with multiple kids' clubs to pools for all ages is the TUI Blue Atlantica Mare Village. It overlooks the sea and is just a short drive from Paphos airport. Families will love their swim-up suites which can sleep up to 4 people and also their 2-bedroom suites with a terrace which can sleep up to 6 people, these are not swim-up rooms.
There are three outdoor pools, the main being a large figure of 8. Here there is a small children's pool and there are two rectangular-style pools throughout the grounds. In the evening you can look forward to a mini-disco, live music and the possibility of fun evening games up to 5 nights a week.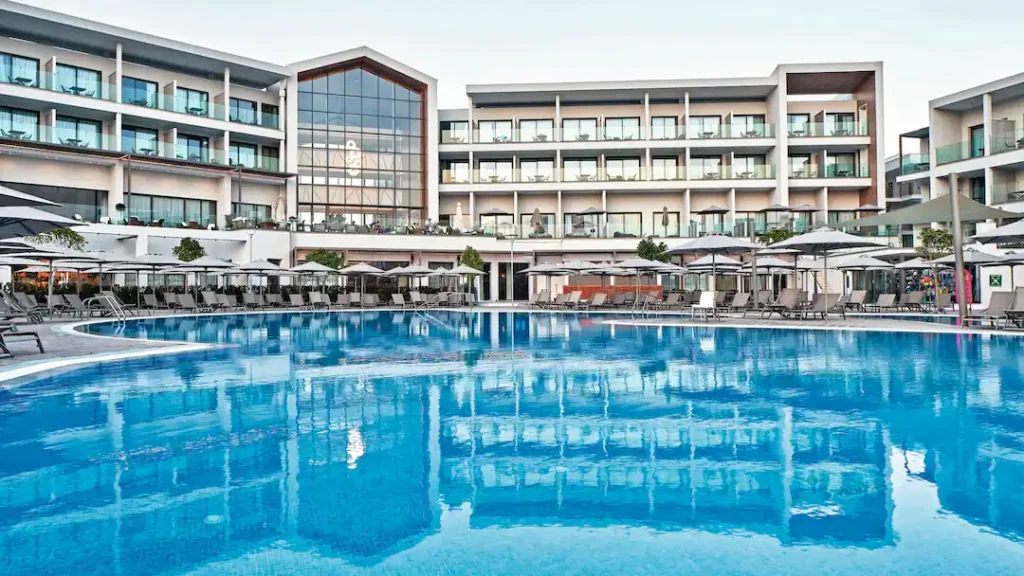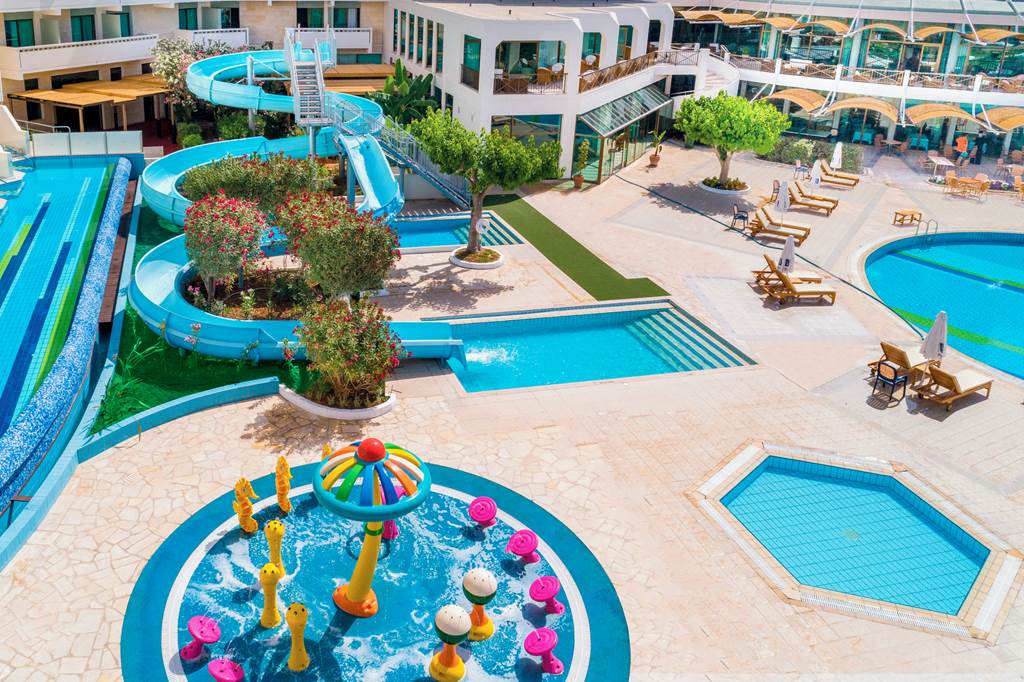 Address: Athena Beach Hotel, Poseidonos Ave 6
Hotel Information – With a stunning beachfront location and an excellent all-inclusive plus option, the Constantinou Bros Athena Beach Hotel near Paphos is a great family-friendly resort. Their interconnecting superior family rooms sleep up to 4 people and they have the added bonus of being swim-up rooms. You can also book their elite-class junior suites with a private pool and these can be upgraded to elite-class duplex junior suites with a private pool that sleeps up to 6 people.
You have 6 outdoor swimming pools, one of which is adult-only. There are 2 children's pools, a splash park, some great slides and an indoor pool that is heated during the cooler months. There is something for all the family with their daytime and evening entertainment programme which is frequent in high season and occasionally, out of season.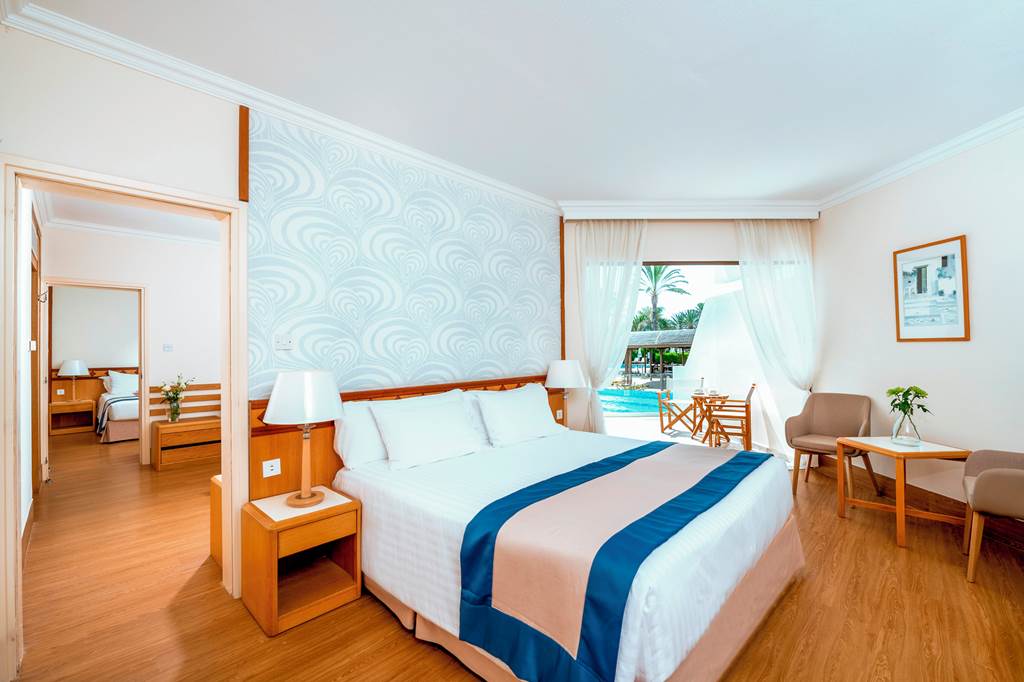 Address: Sotou Hadjiprokopiou 15, Ayia Napa 5330, Cyprus
Hotel Information – If you're looking for areas and facilities designed specifically for families then the Olympic Lagoon Resort Ayia Napa offers a luxury place to stay on the southeast coast of Cyprus. The lively resort of Ayia Napa is a 10-minute drive away. There is a sandy beach a short five-minute walk down the road from the hotel.
On-site there are seven pools that have been joined by a lazy river. Adults even have their own pool and kids also have a pool with its own pirate ship and waterslides. Indoors you will find one of the largest indoor heated pools in Cyprus. Although not technically a swim-up room there are garden suites with a private pool at this hotel. They sleep up to 5 people and there are sunloungers and a terrace. The swim-up rooms at this hotel are in the adults-only area.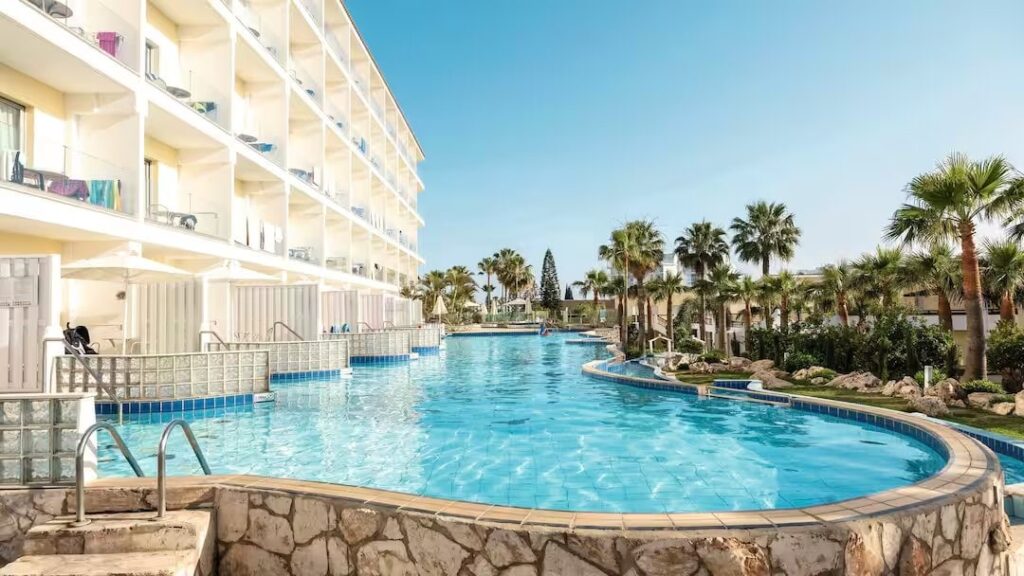 Address: Nissi Ave 100, Ayia Napa 5330, Cyprus
Hotel Information – The TUI Blue Atlantica Aeneas Resort is part of the TUI BLUE for families line-up and it is set in extensive landscaped gardens just a 2-minute walk away from the nearby beach. In the main building, there are swim-up family rooms that can sleep up to 4 people. Plus there is a whirlpool bath in the bathroom. Board at this hotel is all-inclusive including meals, snacks a selection of local-brand spirits, soft drinks, hot drinks and some cocktails.
There are 6 outdoor pools to choose from and the kids have a pirate-themed pool with lots of slides, water jets and a tipping barrel. The indoor swimming pool is heated from November to March. You also have the option of a la carte dining and there is a number of bars. For younger children aged 3-5, there is a kid's club, then there is a second for ages 6-11 and a Hangout for teens aged 12-15.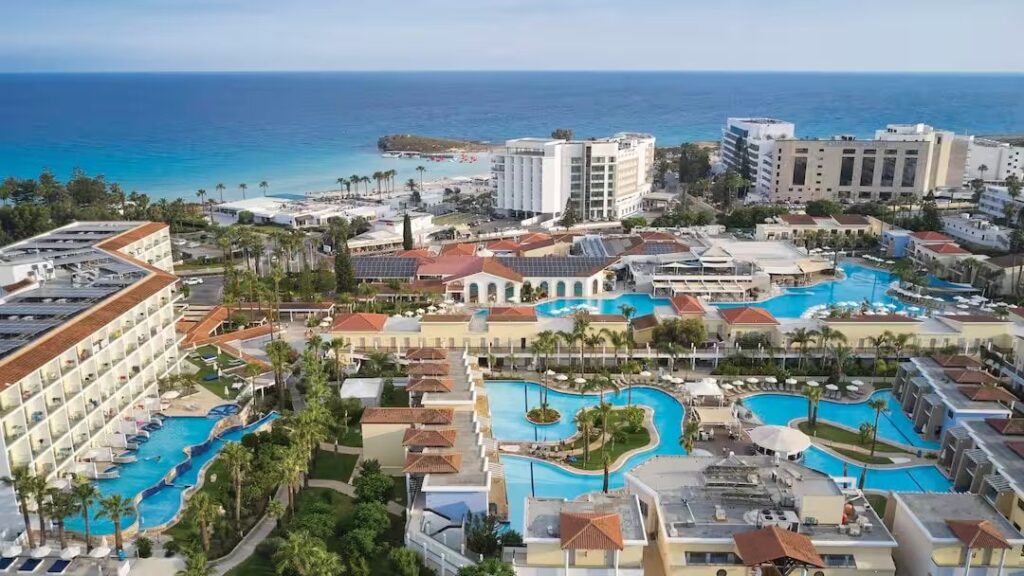 Address: Poseidonos Ave 3, Yeroskipou 8204, Cyprus
Hotel Information – Holiday Village Aliathon in Paphos, Cyprus, has an extraordinary array of facilities on offer for its guests. Showcasing one of the biggest pools in Cyprus, four restaurants, five bars and children's academies, there will be plenty to entertain everyone throughout your stay. Their Ionian swim-up family rooms sleep up to 4 people plus they have Aegean Village swim-up family rooms which are different in style. This hotel also has a great range of non-swim-up rooms that are perfect for families.
There is a fabulous choice of adventure and sporting options for those craving action, whilst those who prefer to relax can chill out by the pool. The main pool is enormous and is 3,000 square metres. Kids have their own splash park with a pirate ship, slides, jets and fountains to play in.
Address: Poseidonos Ave 10, Yeroskipou 8204, Cyprus
Hotel Information – If you are looking for a hotel that caters for the needs of all members of the family then look no further than the Leonardo Cypria Bay Hotel. From its stunning beachside setting, the hotel offers fantastic opportunities for sports and outstanding aquatic facilities. They have family swim-up rooms that can sleep up to 4 people.
Their daily animation schedule is varied and fun, ensuring all members of the family have an action-packed day doing what they enjoy. In contrast, if it is rest and relaxation you desire then head on down to the adult-only spa, to enjoy a variety of treatments or a dip in the hot tub. The main pool is situated right next to the beach and is furnished with quaint little bridges and islands resulting in a delightful tropical setting.
Join in the conversation and discover more great days out over on Facebook and Instagram
Further inspiration for your holiday to Cyprus:
Family-Friendly Hotels Cyprus With 2 Bedrooms
Leonardo Laura Beach and Splash Resort Cyprus
14 Best Beach Hotels Cyprus For Families
Best All-Inclusive Family-Friendly Hotels in Cyprus
Holiday Village Aliathon Cyprus