We have recently enjoyed a weekend break in a luxury static caravan at Ashbourne Heights caravan park. The park is located in the beautiful Peak District in Derbyshire. They offer holiday home rentals in static caravans or lodges. Plus glamping and touring caravan and camping pitches. It's a really good site for families and you can find out more about our stay and the park in my review below. We received a complimentary 3 night stay in exchange for a review and social media coverage. You can even book 2 nights, 7 nights and more.
*This post contains affiliate links
Ashbourne Heights Caravan Park Review
A look at our Luxury Static Caravan – Living Area
At Ashbourne heights, they have 2 and 3 bedroom static caravans available to rent. The 2 bedroom can sleep up to 6 people and the 3 bedrooms up to 8 people. We stayed in a 2 bedroom caravan. It was located on the edge of the caravan touring section.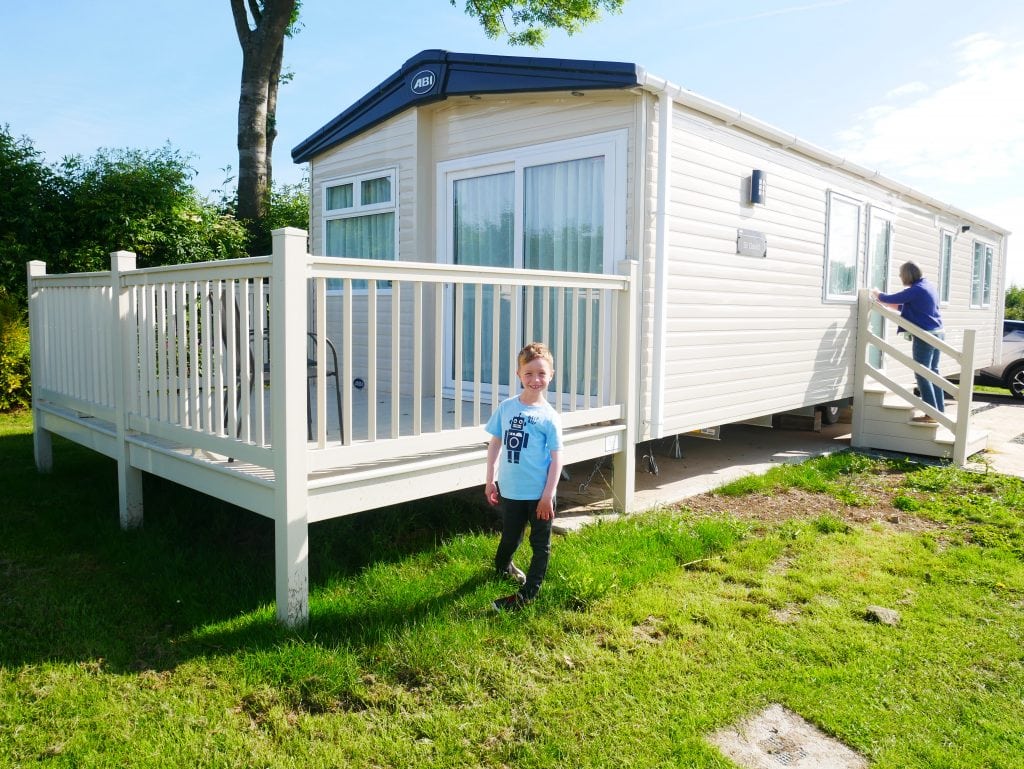 Our caravan had an outdoor decked area with 2 chairs. Inside it had a really good and roomy space. We didn't feel at all cramped. You enter in the middle of the caravan next to the dining area. Our 2 bedroom caravan had 4 seats around the table. Next to this, there was a well-equipped kitchen including a gas cooker, microwave, toaster, kettle and more.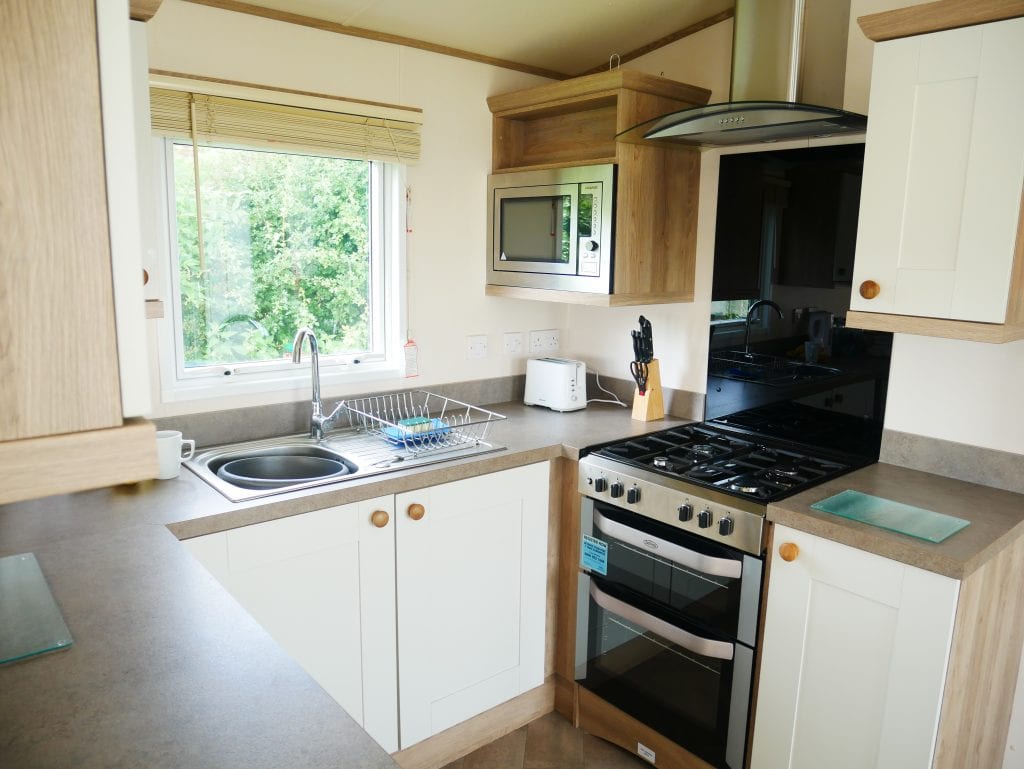 We had a lovely large lounge area with a big comfy L shaped sofa, a coffee table, TV plus DVD player, electric fireplace and plenty of storage. The windows had net curtains and lined curtains or blinds and the windows were all double glazed which made the caravan relatively quiet. Some of the caravans allow pets. There was space outside to park 2 cars on a hard standing. As well as the electric fire in the lounge the caravan also had central heating through radiators. Our caravan was spotless from top to bottom.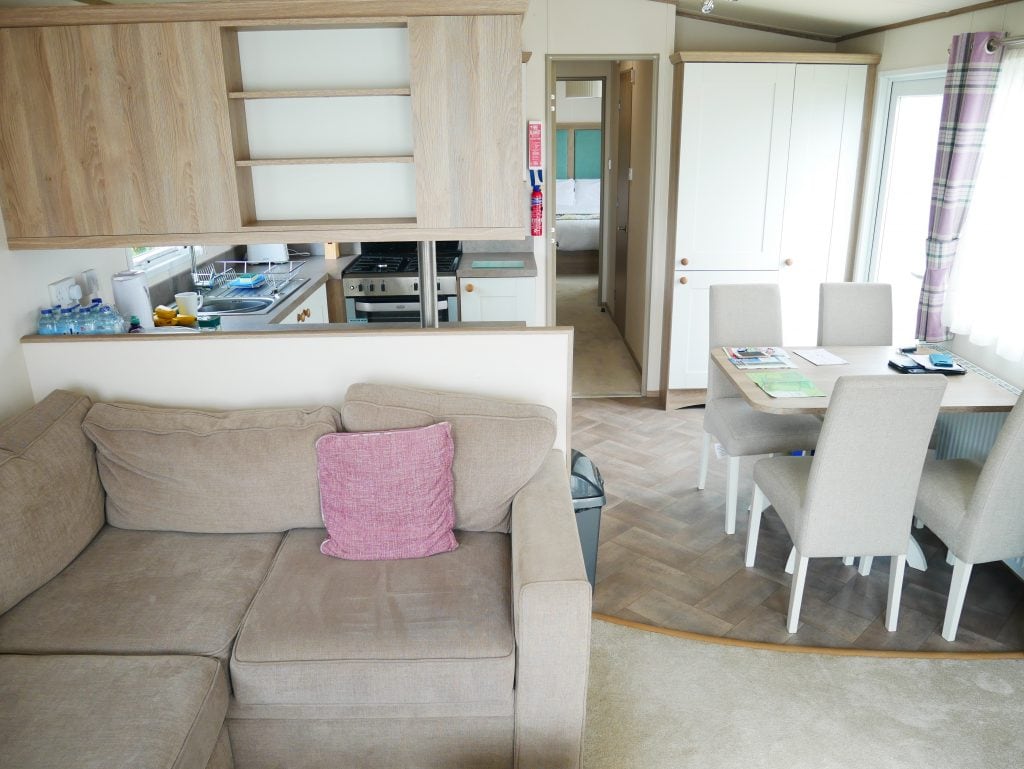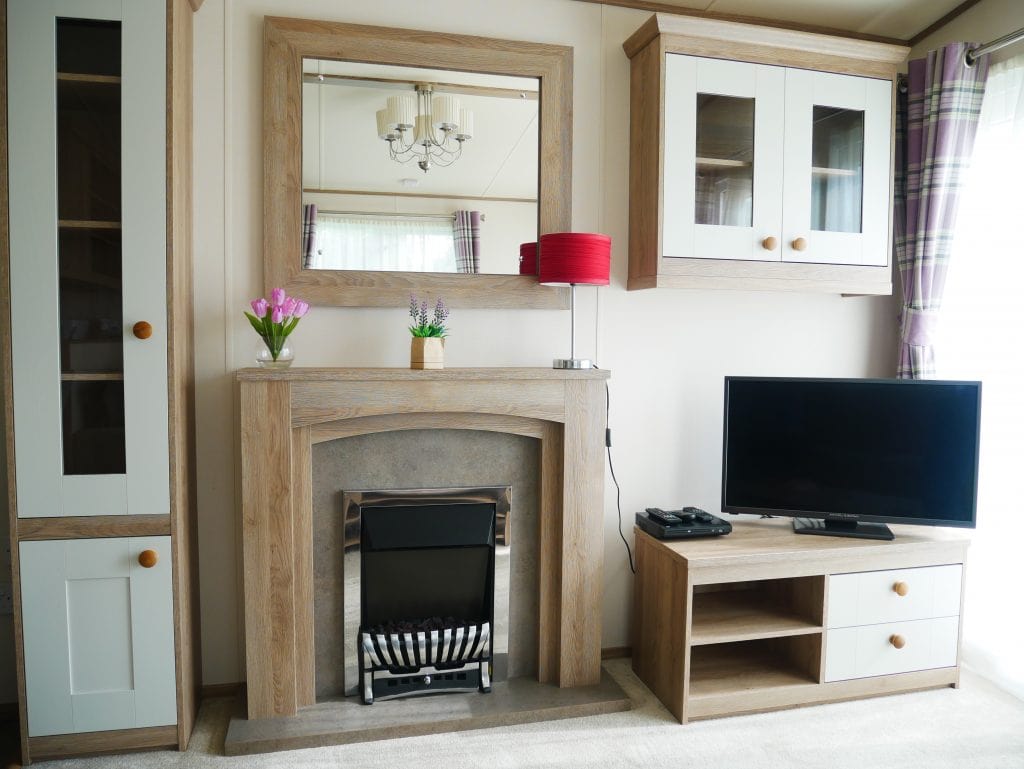 Bedrooms and Bathrooms
The double bedroom in our 2 bed caravan was a lovely size. The bed sat comfortably in the centre of the room with more than enough room either side. There was more storage than I have in my own bedroom. This bedroom also had an en-suite which even had a bath. This was the first caravan I've ever stayed in that has a bath so we were very impressed.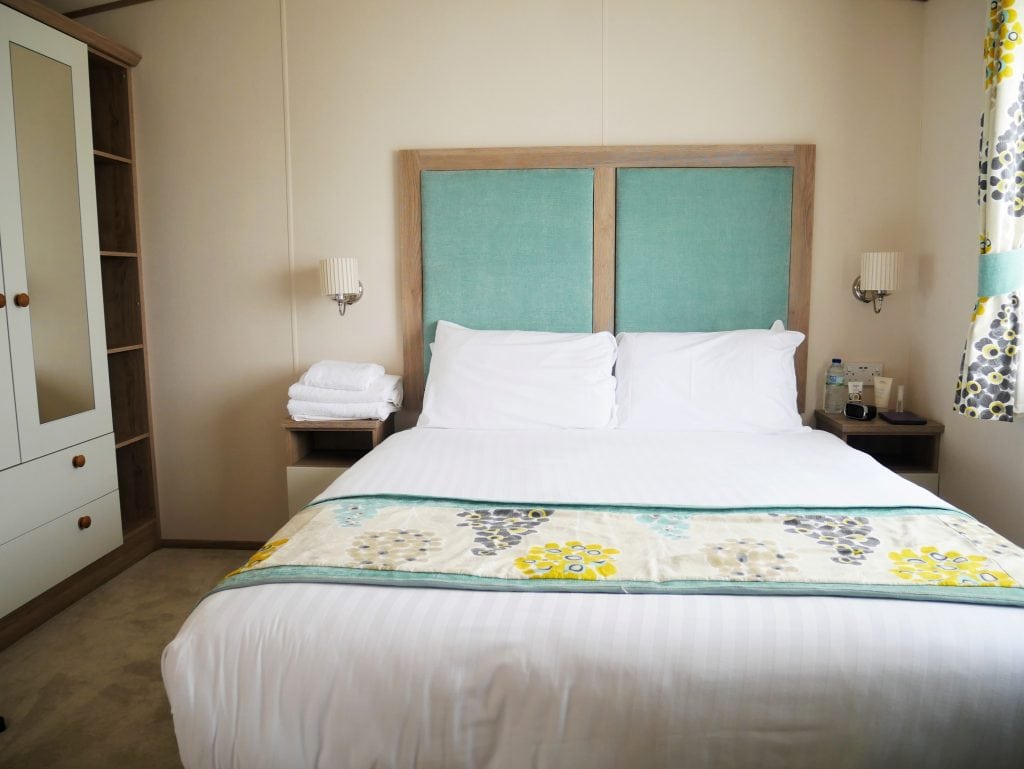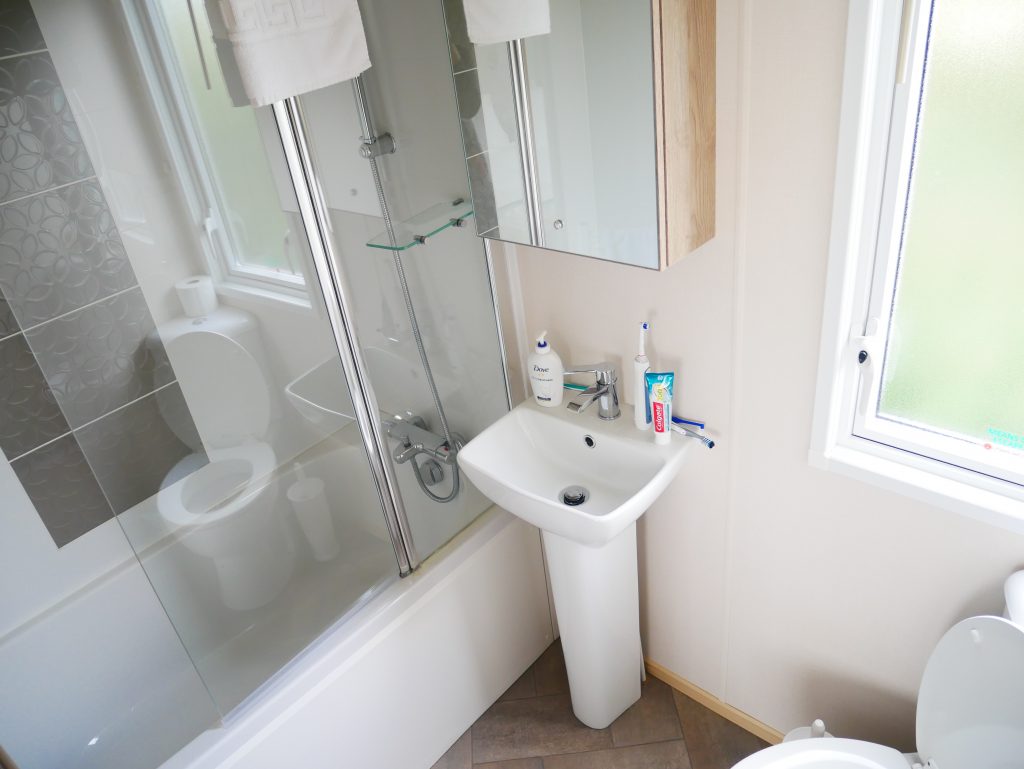 The second bedroom is a lot smaller. It has 2 single beds plus a single wardrobe. The shower-room was across the hall from the bedroom.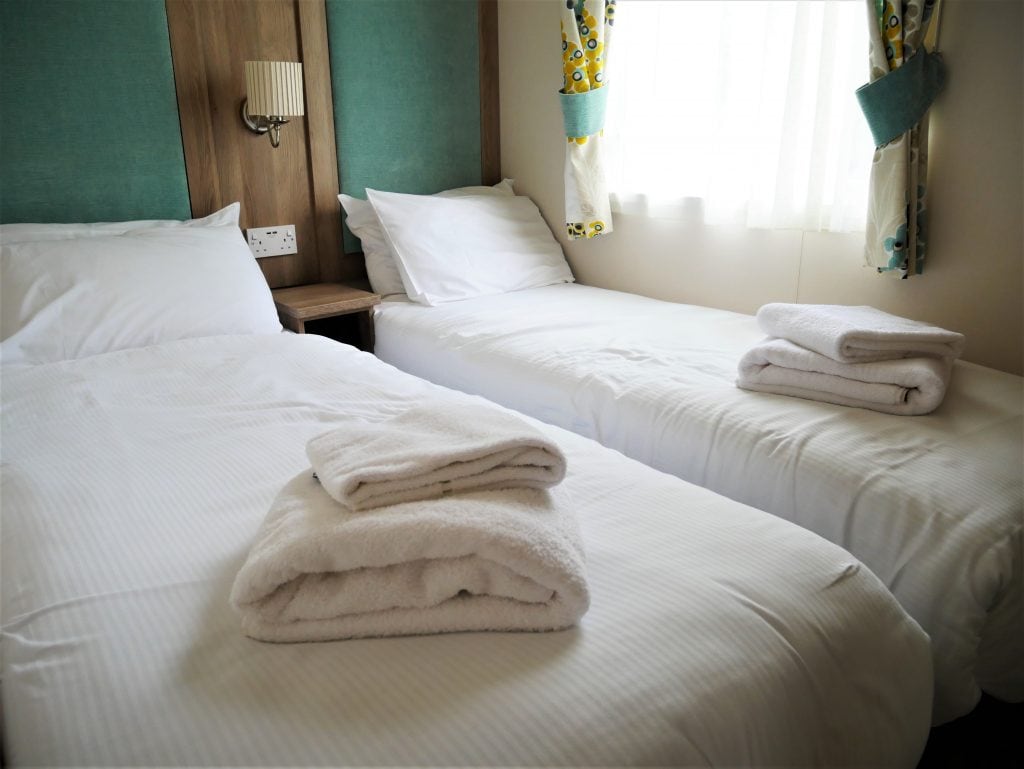 We were provided with
Bed Linen
Towels
Toilet Roll
1 bin bag in each bin
What we took with us
Soap
Washing up liquid
All toiletries
Spare toilet roll
Kitchen roll
Tea Towel
Food and Drink
Room for improvement – We would love to see a table being added to the outdoor area. Plus a pack detailing things to do in the local area and more information about the site would also be nice to see. I love arriving and flipping through the welcome pack. These are minor things though.
A luxury 2-3 bedroom caravan costs just over £400 for 3 nights in June (2019). Lodges are a similar price.
Other Accommodation Options
Lodges
They have around 20 lodges available to rent at Ashbourne heights. These are located in a grassed square at the top left of the site. We liked the location of the lodges and we would love to return to stay in one. They can sleep up to 6 in 2 or 3 bedrooms. The lodges even have a washing machine and a dishwasher. The lodges have an en suite bathroom with the main bedroom and they have pet-friendly options.
Glamping
At Ashbourne Heights, they have safari tents and glamping pods available to rent. The Safari tents have two floors for extra room. Plus a lovely decked area with seating and a hot tub, real beds and en-suite facilities. They have 2 bedrooms and pets are not allowed.
The glamping pods are wooden and have one bedroom which sleeps up to 4 people. Pets are not allowed. There is a WC, sink and shower, plus a hot tub, outdoor seating and a kitchenette.
Touring and Camping
You can bring your own place to sleep in at Ashbourne heights. I was very impressed by the large touring pitch sizes. The touring caravans pitch along rows and are grassed, most also with a hard standing. They have with or without electric pitches and prices start from £10 a night. Pets are welcome on all their pitches. There are also 2 large tenting fields. Both the touring section and the tents have shower-room and WC facilities plus a laundry room and washing up area.
Facilities at Ashbourne Heights
Ashbourne Heights is located next to the Tissington Trail. It is easy to access with your bikes, dogs or just for a walk. We went for a 30 minute walk up to Tissington itself during our stay. For those that don't know the Tissington Trail is an old, no longer there, railway line. I used to go for bike rides on it as a child so it was nice to go for a walk with our son.
Tissington is located just off the trail and is worth a wander in as it's such a picturesque little village. We stopped for a drink and a delicious slice of cake at the only place to eat, Herbert's Tea rooms. There were some very cute ducklings swimming about on the village pond.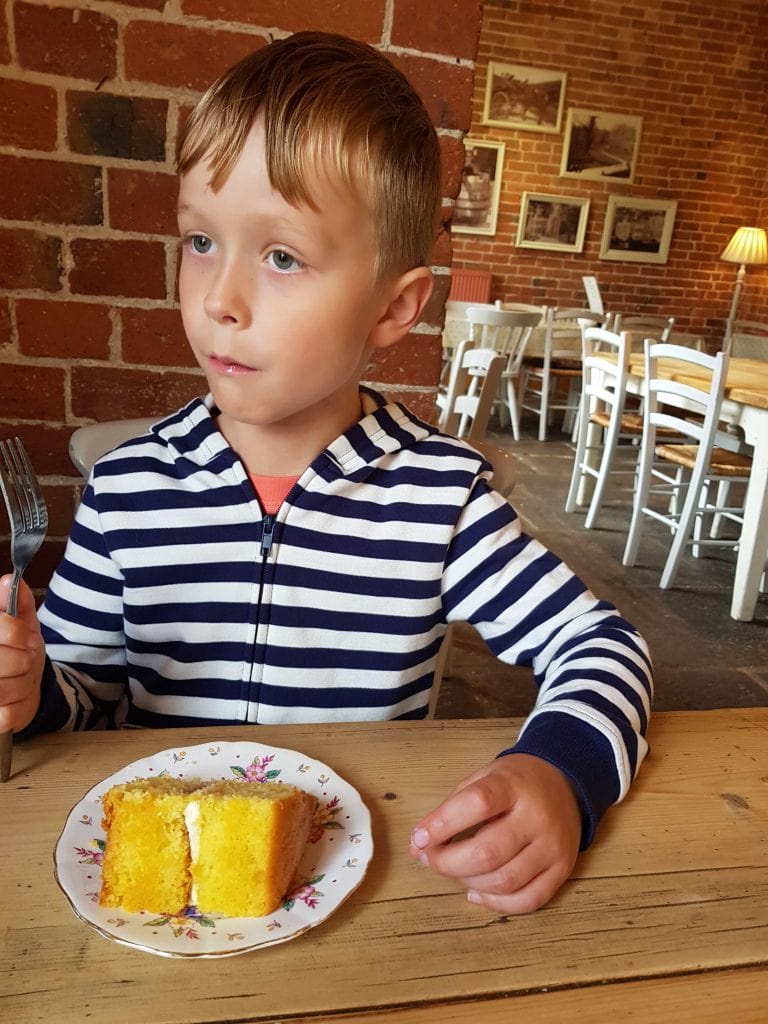 Within Ashbourne Heights caravan park they have a large playground for the kids. There's plenty for big and little kids to play on including a few climbing pieces with slides, swings, a zip wire, sandpit and more. There's also a few picnic benches for the parents to sit and chill out on.
Near the playground you will find the on-site indoor heated swimming pool. This has a maximum capacity of 25 at a time. Here you will also find the on-site shop which sells a few essentials including, snacks, drinks, toiletries and ice-creams.
Thank you for having us to stay Ashbourne Heights. We had a lovely stay and it was nice to be back somewhere that feels like home to us.
---
Disclaimer: We received a complimentary stay in exchange for our review. All opinions and photos are my own and must not be duplicated without prior permission.