After our stay in a Eurotent last year, we were keen to try glamping again this summer. This year we tried something a little different – a glamping pod. Andrewshayes Holiday Park, near Axminster in East Devon has three pods and we were given the key to Bilbo.
The pods are named after characters from the novel Lord of The Rings and we could definitely see the resemblance to Hobbit homes when we reached the pod. Two of the pods are good for families and the other sleeps two which is perfect for couples. If you would like to find out more about the holiday park please see Helen's other review – Andrewshayes Holiday Park Axminster Devon Review.
*Author Helen Bolton. Helen and her family received a complimentary stay for this review
Review Glamping Pod Andrewshayes Caravan Park
On the first appearance, the pod looked quite small with a private decking area and picnic bench outside. It is a timber frame construction and apart from the ends, it was covered over completely with waterproof tiles.
Once we had unlocked the door, we were surprised at how much bigger the pod was inside. Appearances were deceptive! The doors open fully like French windows giving the impression of more space. Bilbo was big enough to stand upright in, thanks to the arched roof design.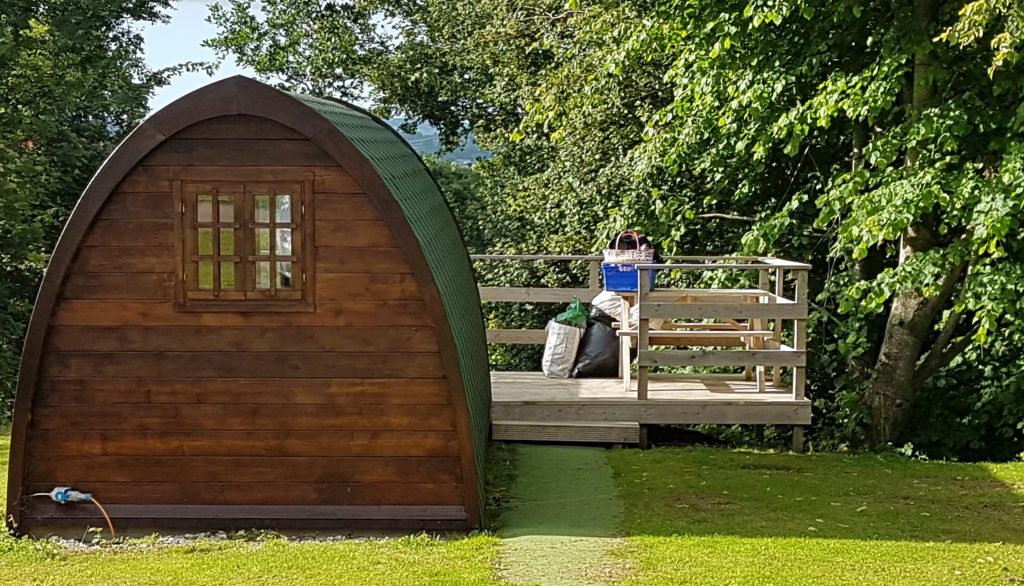 What are the Glamping Pods Equipped with
The pod is divided into two separate areas – living area and sleeping compartment. The living area has an 'L' shaped bench with cushioned seats. These also lift up to provide much-needed storage areas like you would have in a caravan. You can fit a surprising amount of stuff in there.
The living area also has a small fold-out table, mini kettle, waste bin, small electric oil heater, sweeping brush and a dustpan and brush. For guest's safety, there is a fire blanket, extinguisher, smoke and carbon monoxide detector and alarms in the pod.
The pod also had two electric plug points so you can charge your devices or use your electrical items as normal. An overhead LED strip light provides bright light for the whole of the pod. Coat hooks are attached to the pod walls for hanging items, although a couple more would have been useful.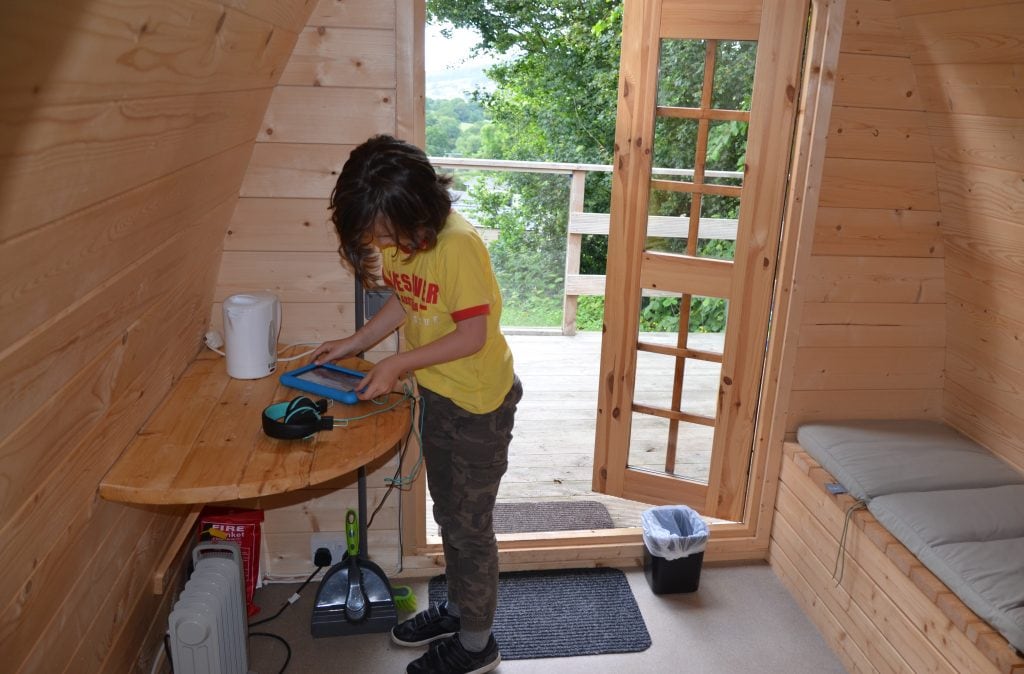 The pods have no cooking facilities but there is plenty of space on the decking to have your own barbeque or camping stove. If you don't fancy cooking, the holiday park has a takeaway (check the timetable for opening times and is only available during peak season) or eat at the on-site
restaurant. We took a drive to nearby town Colyton for fish and chips back to eat outside the pod.
Bedroom in Andrewshayes Glamping Pods
Bilbo sleeps four people in comfort thanks to the large sprung mattress beds. We only needed our bedding to make it cosy – duvets, pillows and sheets. The beds are arranged as a raised double bunk and two singles beneath. Because of this, there isn't enough room to sit upright under here but kids will love the enclosed area.
It's easy to make a den of the single bed space by hanging a blanket under the upper mattress bed! I wasn't sure why the mattresses were of two different heights though but our son had a choice of which level he wished to sleep on.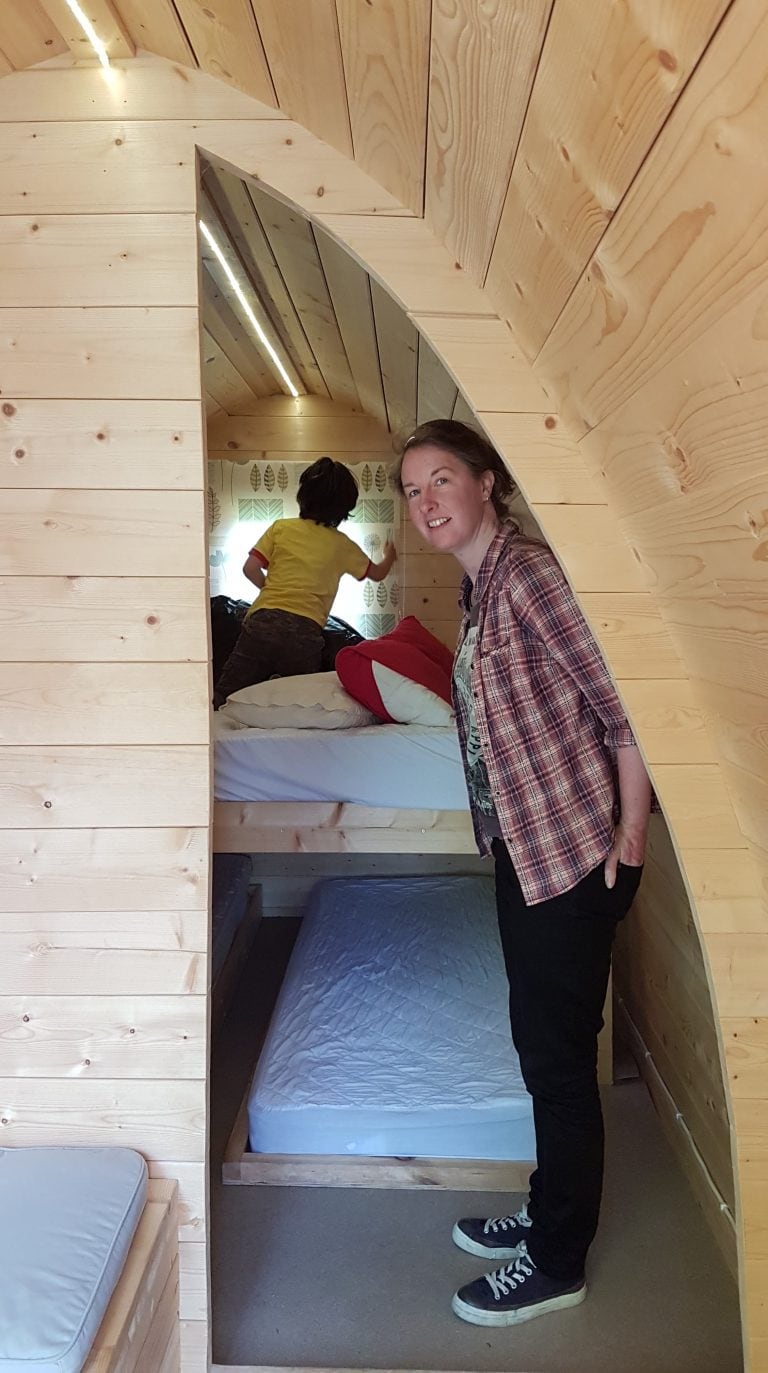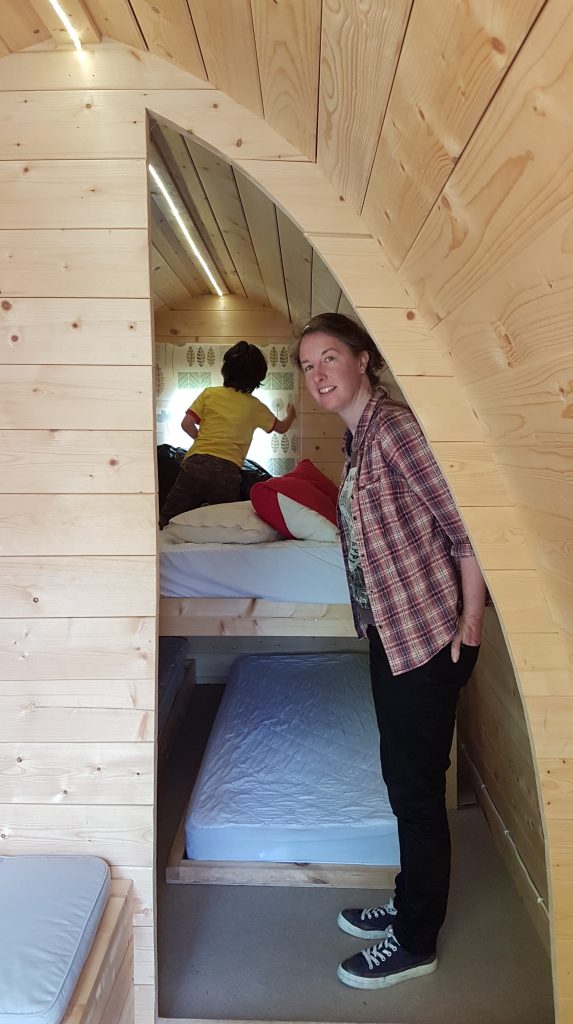 There is a step to help you up to the raised bunk but it didn't fit between the lower mattresses. My husband and I don't have and mobility problems but if you are less agile, the bunk might not be easy to reach. The upper bunk also had a small opening window facing back into the park, with a
blind for privacy.
The double mattress was very comfortable but there was only a small wooden headboard and no rail ends along the side of the bunk. I was a little worried I might fall out!
The glamping pod is a great place to stay if you don't fancy putting up a tent and is certainly something different. They are non-smoking but pets are not permitted to stay in them.
The pods have a gravel car parking area and a water tap is here too. Although the doorway was private, facing away from the park and into the countryside, I felt it would have benefited from a blind or curtain, if only to make it a little darker in the pod when sleeping. A curtain in the doorway between the living and sleeping areas would provide a little more privacy when getting changed.
We found the super clean shower, toilet and washing facilities a short walk away from the pod, and other amenities are easy to find. There's also a heated indoor swimming pool on site. We had a great stay in Bilbo, and after packing the car and checking out, we travelled to the Dorset coast to enjoy the rest of our day. You can book a stay in one of their glamping pods here.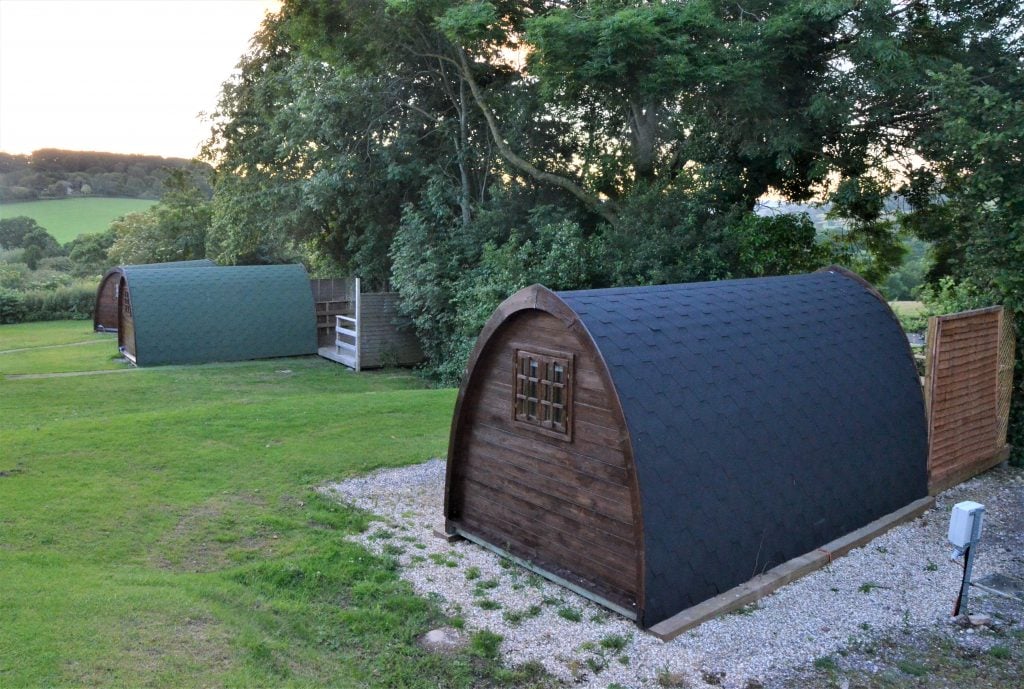 ---
Disclaimer: Helen and her family received a complimentary stay for the purpose of this review. All photos and opinions are her own and must not be duplicated without prior permission.