The theme for Christmas at Harewood House in 2023 is Harewood's Great Time Travelling Christmas. It is an immersive and fun walk-through experience plus kids can also meet Santa (this is an additional cost, more information below). The Time Travelling Christmas experience is on now until the 7th of January 2024. Harewood House is located east of Leeds just a short drive from the A1 motorway. It is a large stately home with a playground, a woodland trail and grounds that you can also explore.
When you arrive by foot or by car at Harewood House you pass the front of the house which has been decorated with a festive advent theme. It is recommended that you pre-book online so that you don't miss out. You have to book a timeslot for entering the house but you can arrive at Harewood estate before then. We arrived for opening time at 10 a.m. and we visited the cafe before we went in the house.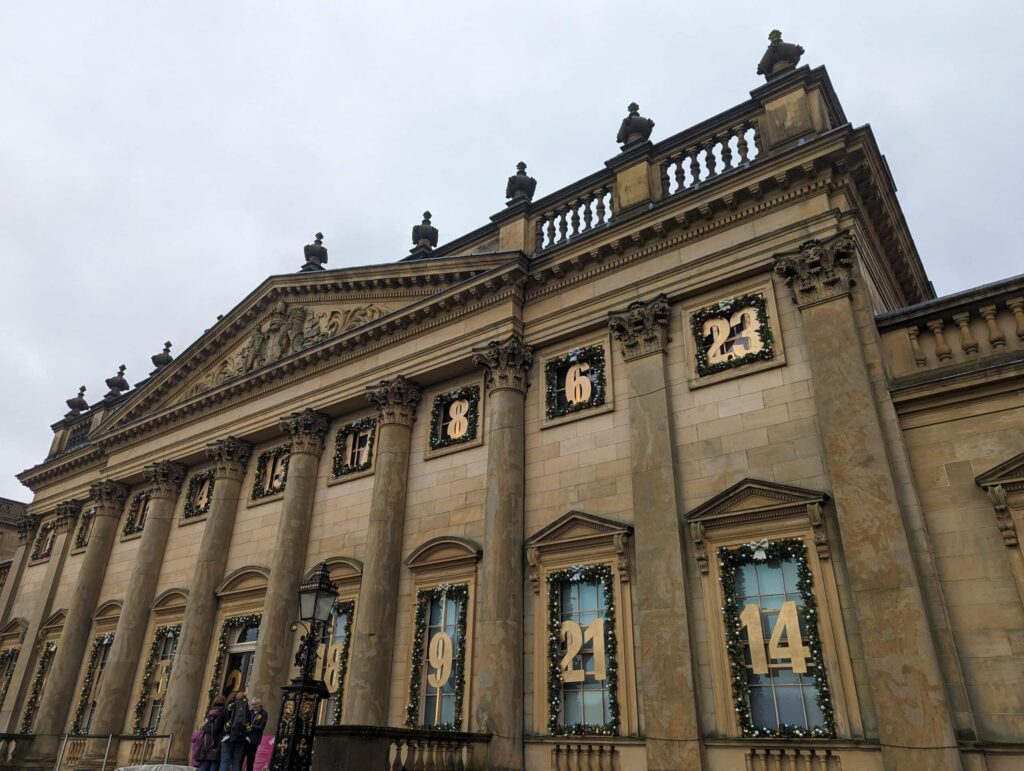 Harewood's Great Time Travelling Christmas
In the main entrance hall, you are introduced to the welcome guide who explains that you are about to see some of Harewood's rooms decorated in the theme of different decades. Your task is to guess the decade and to spend time in each room. Children can also take an activity sheet around with them with things to find in each room.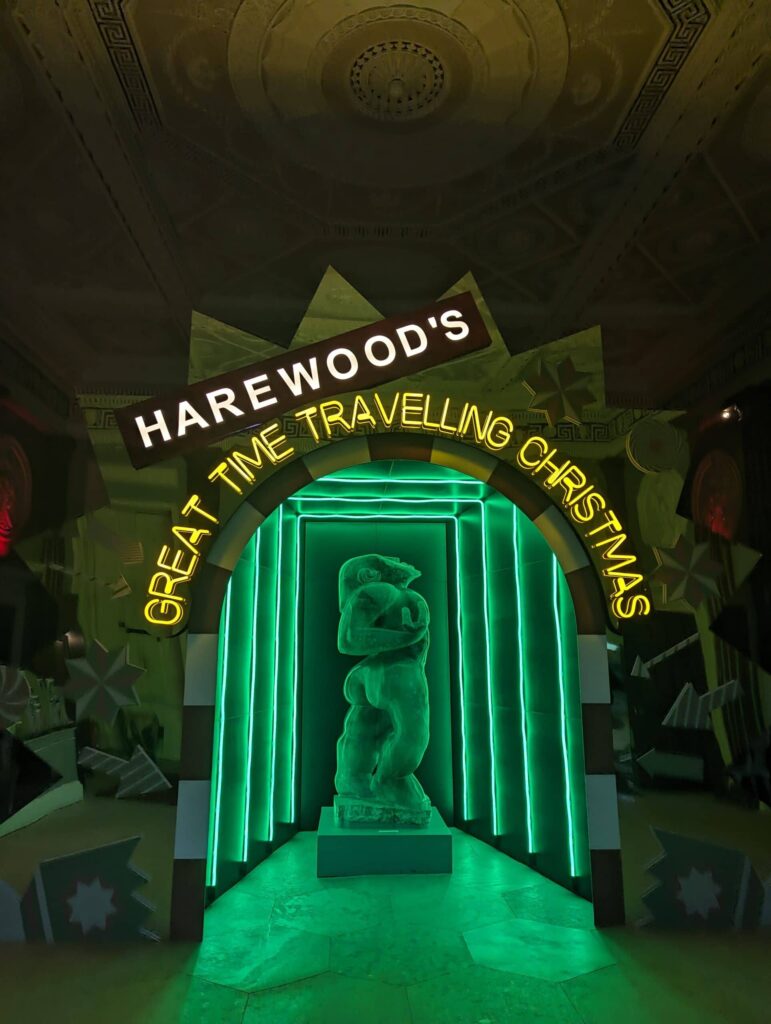 The decorated rooms are a unique collaboration between architects and designers at Studio MUTT. Each room has been designed with memorable and nostalgic things in it that are mostly connected with Christmas. These include things we may have once received as gifts, different types of decorations and food and drink that are traditional to Christmas.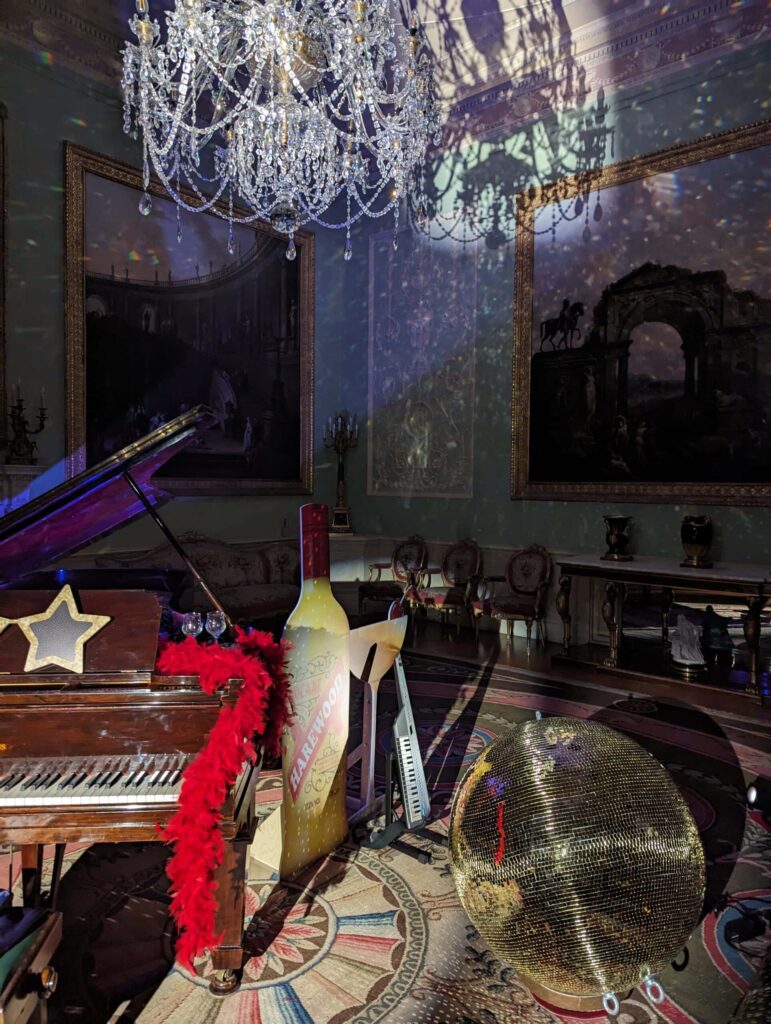 There is even a look at what Christmas might be like in 2050 with a tree on a screen, hydroponic food and drones delivering items.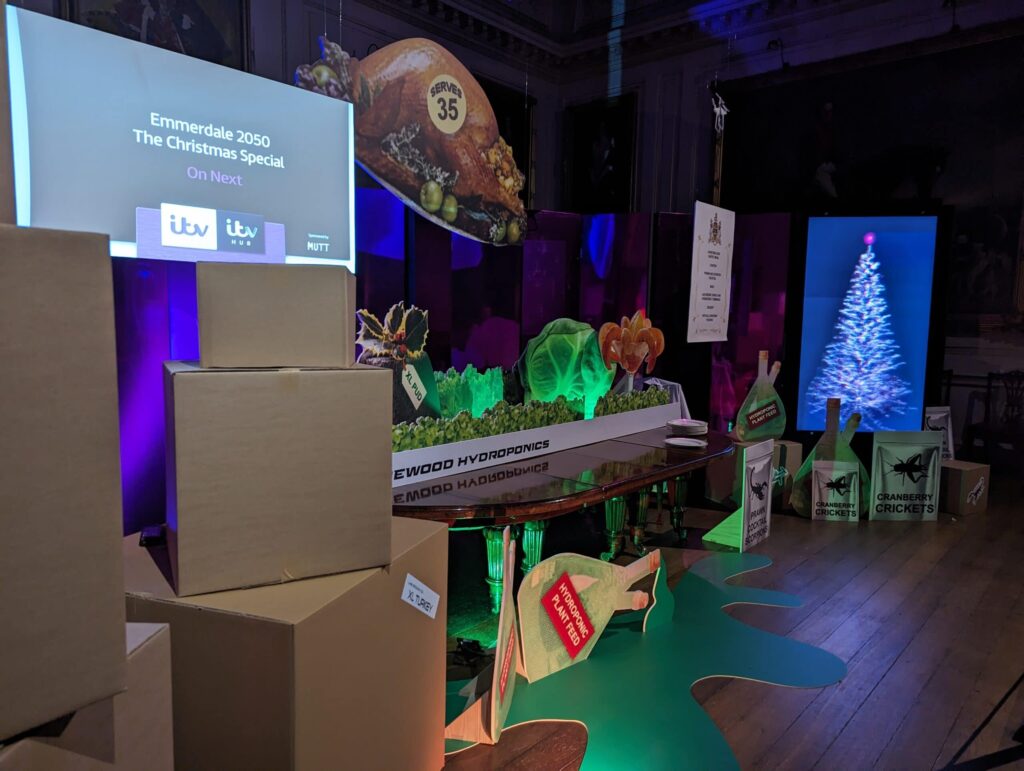 Each room has been lit to give off a different feel and ambience. Plus there are different sounds in each room and of course, different decorations celebrating different periods in time. I visited as part of a 3-generation family and we all loved the 1990s silent disco room pictured below the best. We were informed that it was compulsory to wear the headphones but we were already making a bee-line for them. It was hilarious as we each ended up listening to something different but ended up dancing and laughing.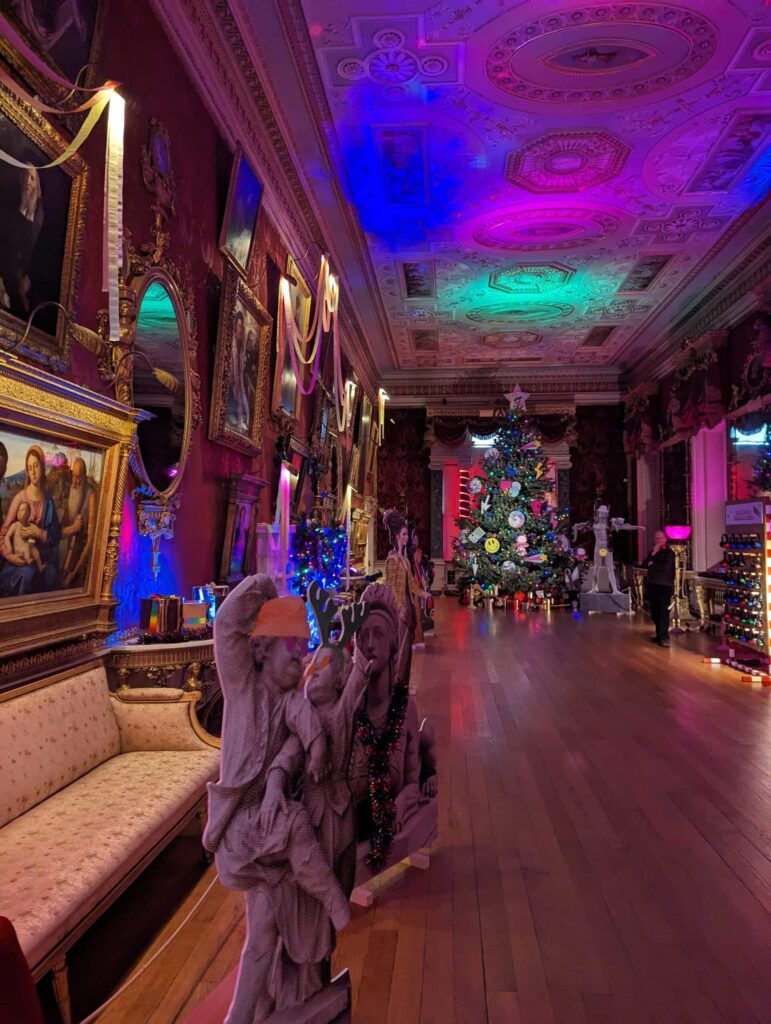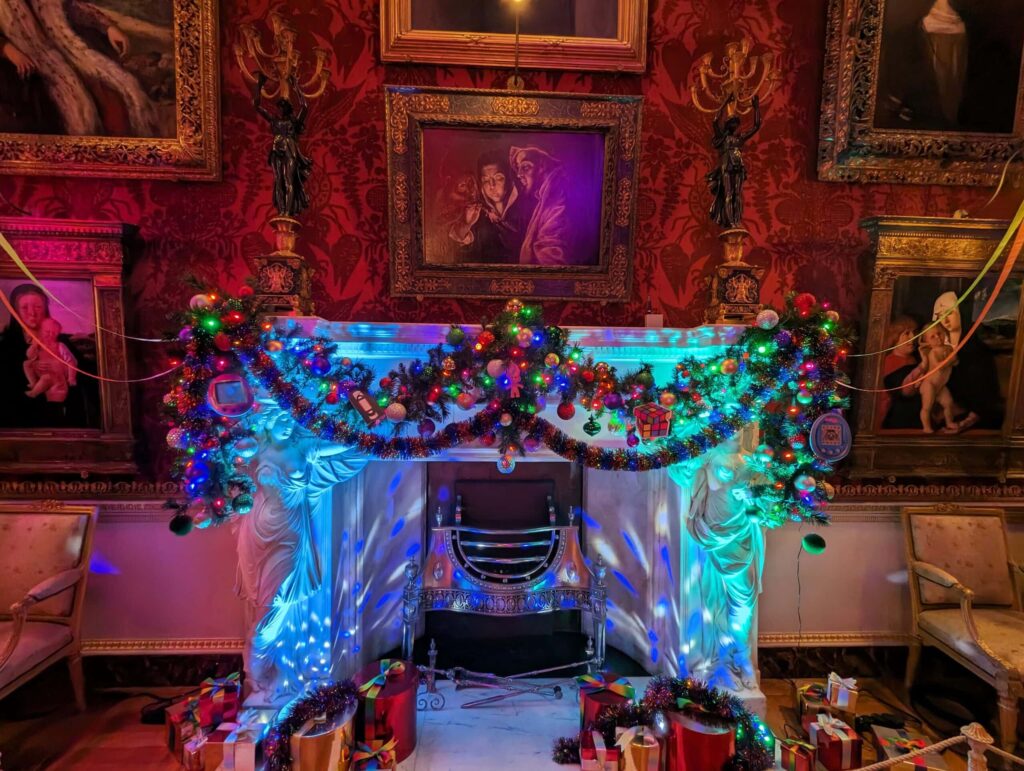 The 2000s were celebrated with the advent of LED lights decorating our houses and there was even a room with a giant snakes and ladders game on the floor. I must admit we had a turn! If you do visit I urge you to go slowly around each room. Spend your time chatting about what you can see and you must play Snakes and Ladders and spend some time in the silent disco room. If you don't you will get around very fast.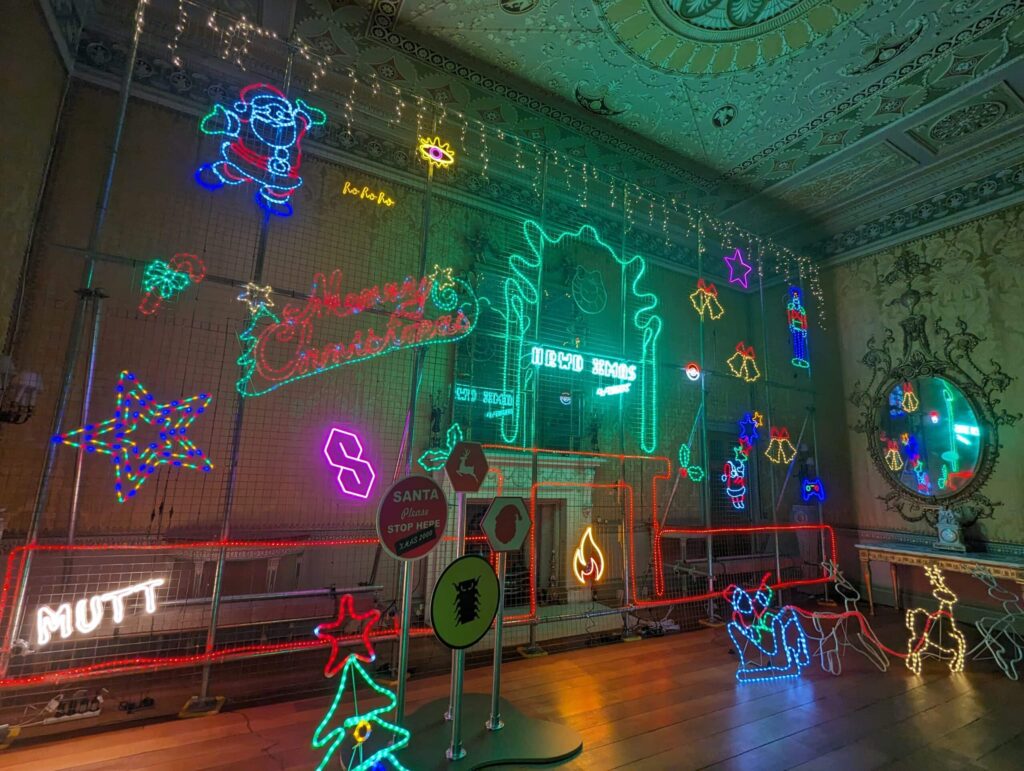 We loved the tribute to the late Queen. In her room, they had her first televised Christmas Day speech on what was made to look like a very old TV. Plus there were gifts and cards from the 1950s. Their aim was to create something you will have never seen or experienced before and I can say that they have certainly achieved that. We enjoyed looking around and were pleased we'd visited. Plus it's great value for money (see below).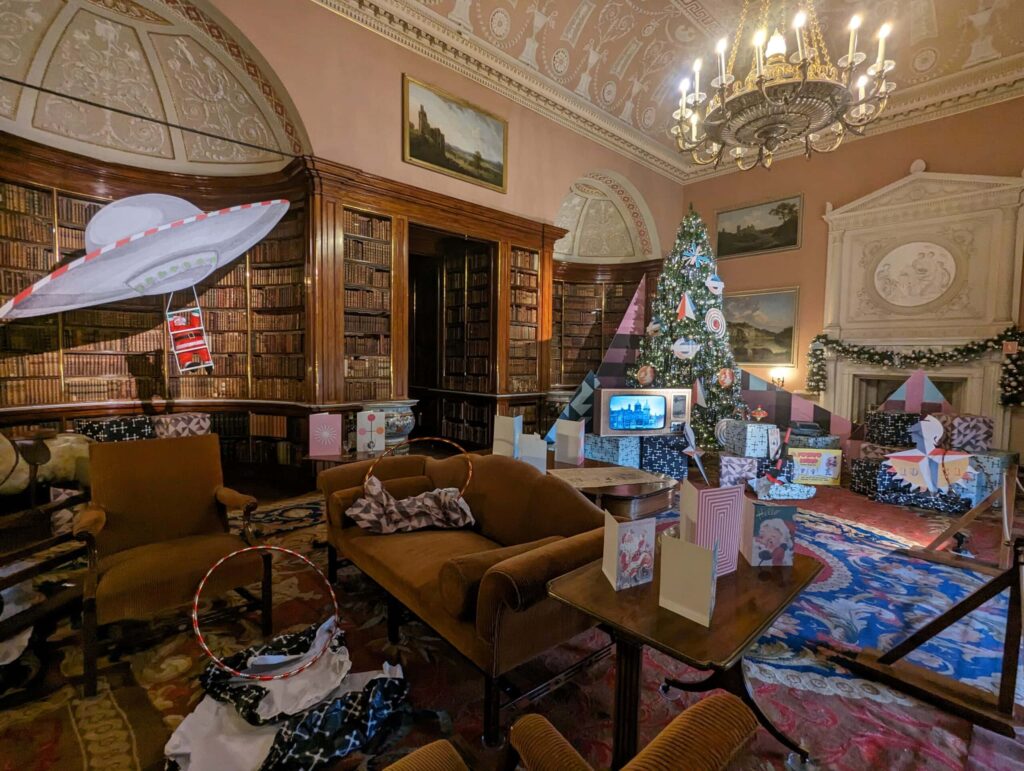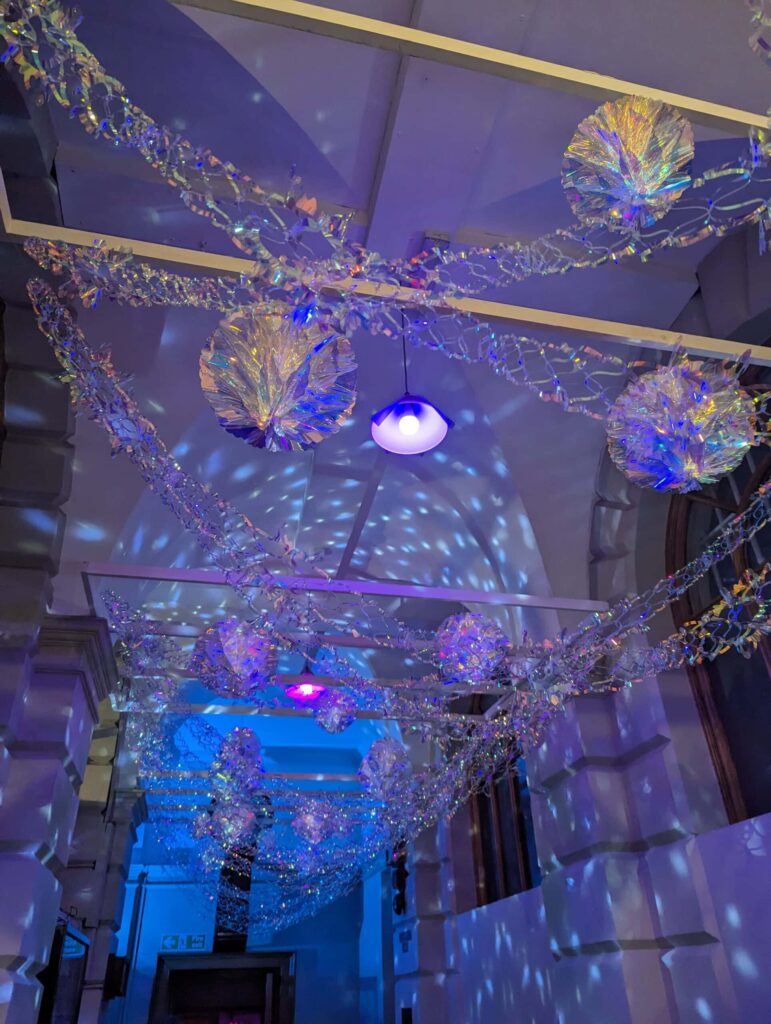 They have also decorated the hallway, kitchen and another room down below stairs. The kitchen looked fabulous and the lady working in there took a few photos of us all without us having to ask, which was nice. Just before the kitchen, there is a Christmas shop with gifts and decorations.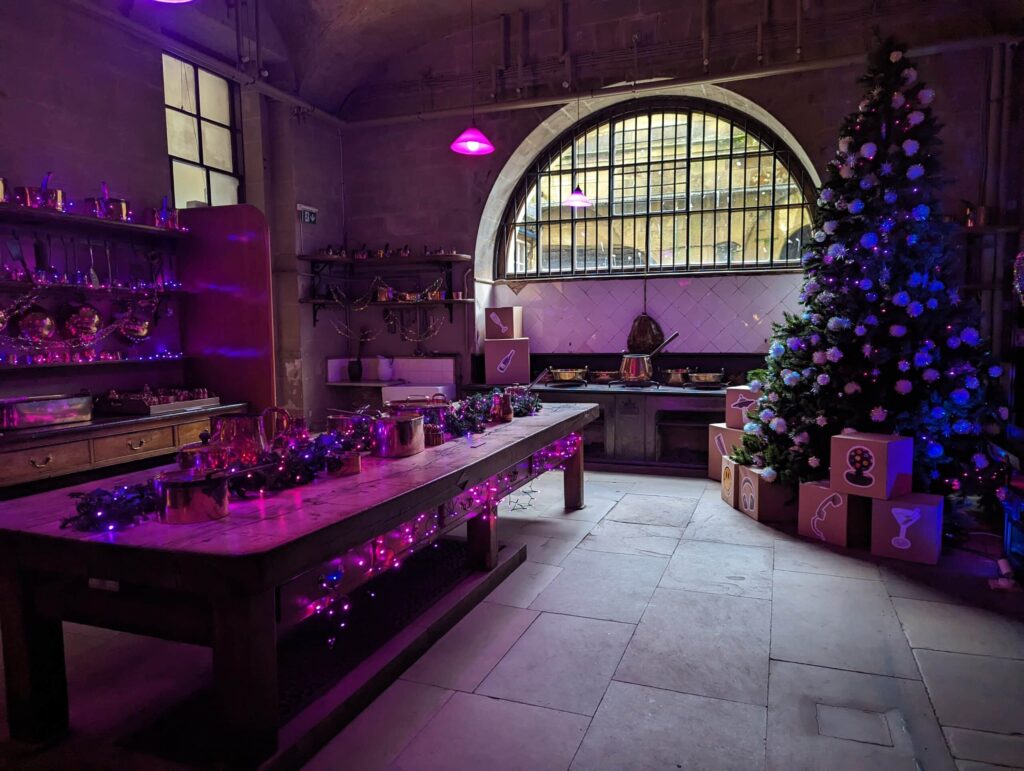 After exploring the house we headed outside to see their animals. Sadly they no longer have all their birds and that area is now closed off, even the penguins have gone. But there are a few animals still to see. They have two cafes at Harewood House, one of which you can pre-book a festive afternoon tea in. We ate in the main cafe which has some excellent hot food. There are even tables outside under a festive canopy with lots of lights and trees.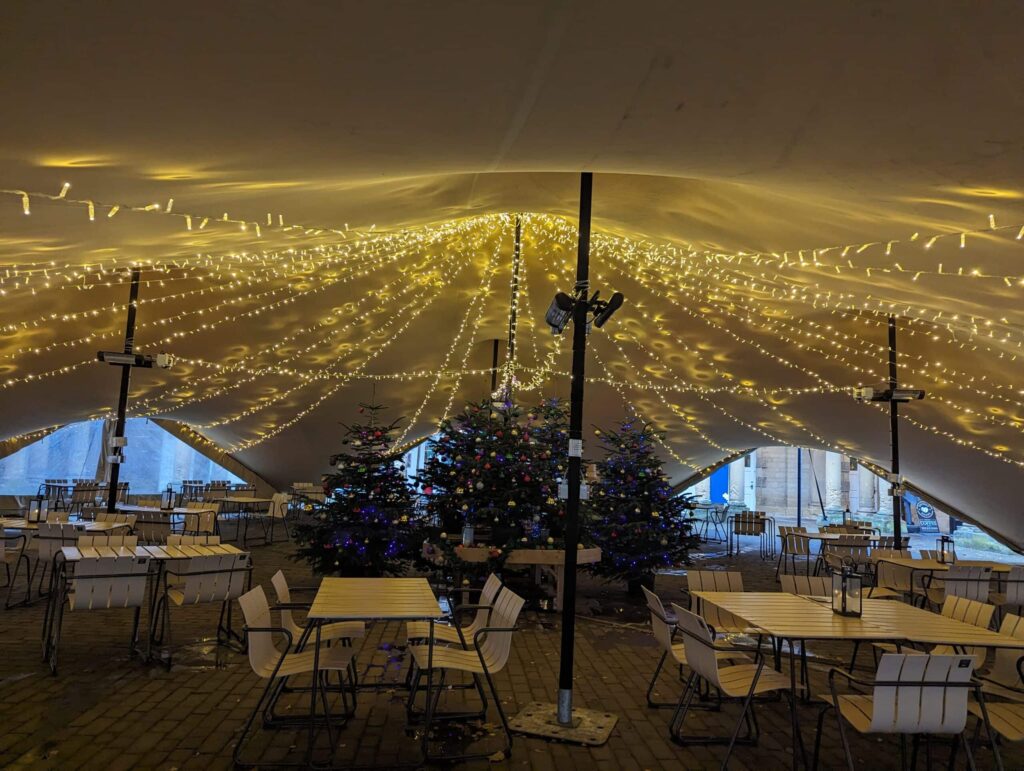 You can also explore the grounds. We visited after a huge amount of rain and we were worried it would be very wet and muddy underfoot but it actually wasn't too bad. We walked down the hill past the playground and around the edge of the lake. My son loves the playground here. It's huge and great for all ages. They will actually be replacing it next year which to him is a shame as he already loves it. The photo below shows just a small section of the play area.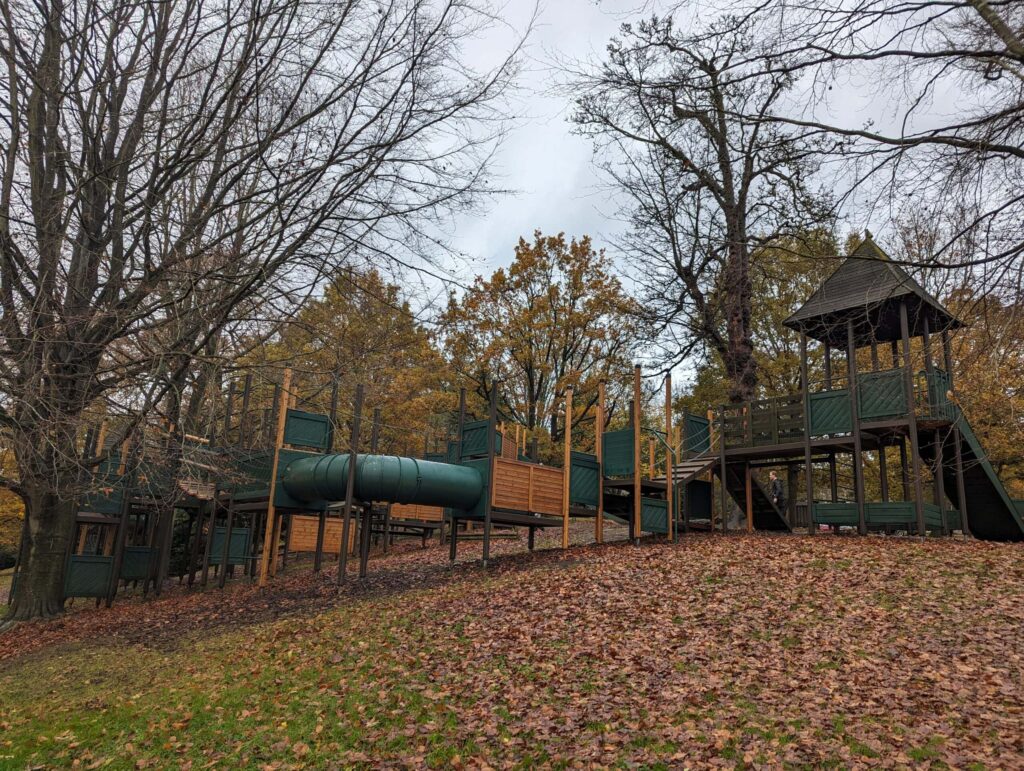 Around the lake walk, there are a few large Christmas-themed signs similar to some you will have seen around the house. They were a bit random but it'll keep little legs moving as they try to find the next one. The level of the lake was incredibly high and the water was pouring over the man-made waterfall.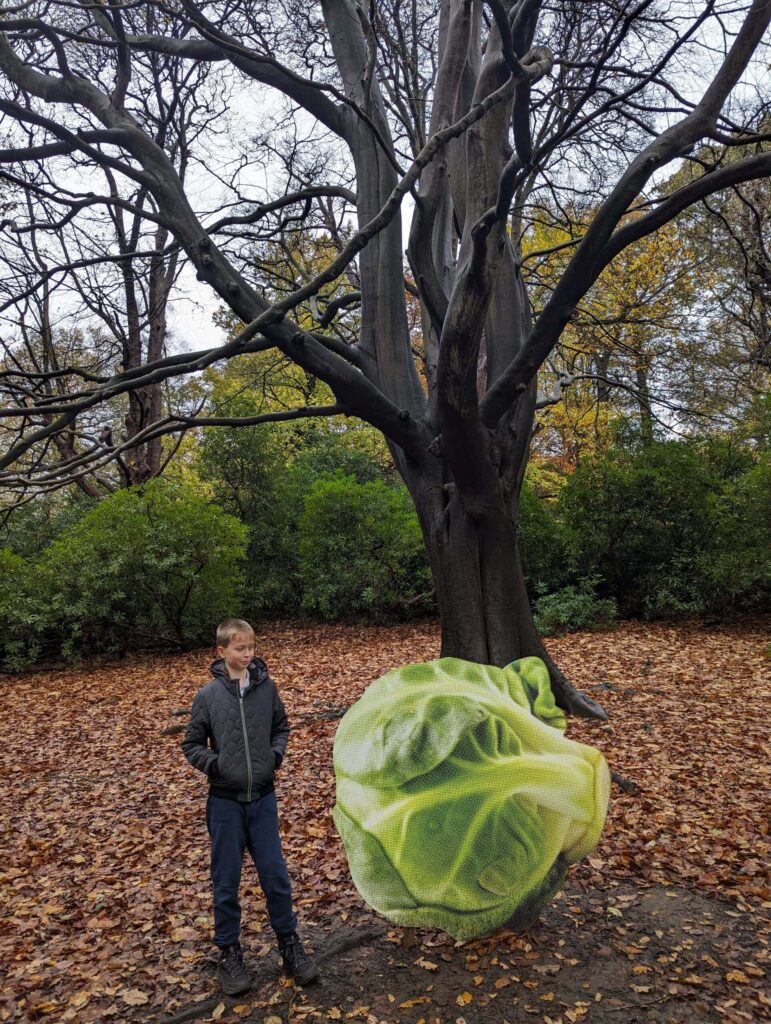 Make sure you venture into the Himalayan Garden, we always love exploring this part of Harewood's grounds. Keep walking around the lake until you reach the walled garden. Keep your eye out for fairy doors along the way.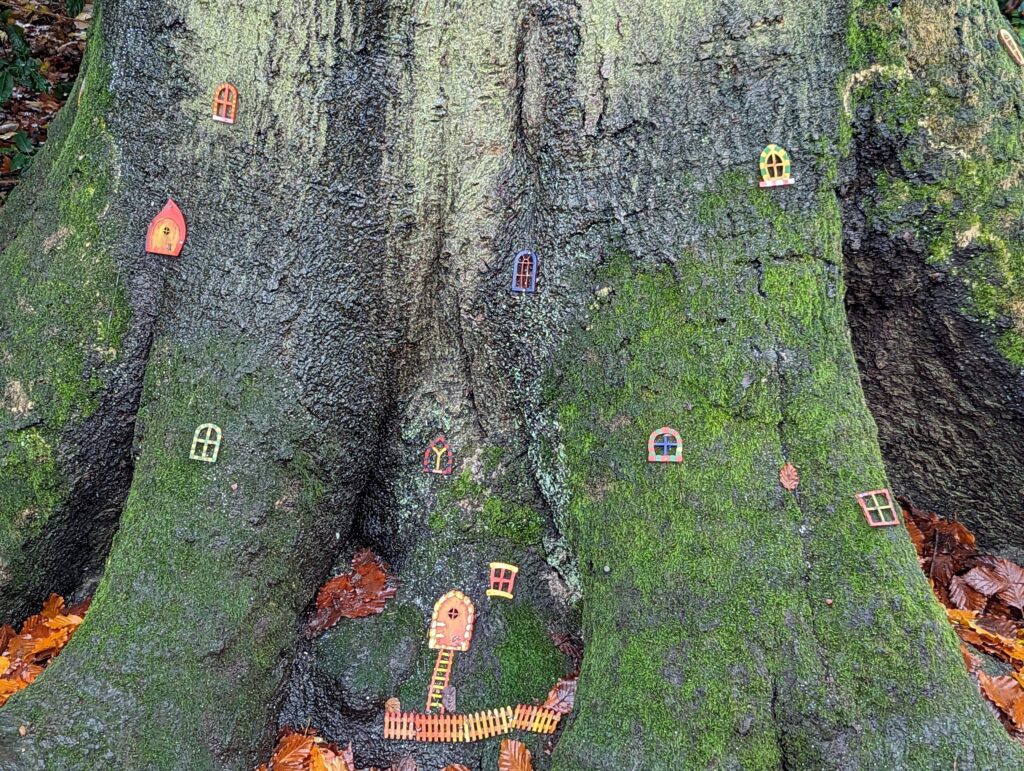 They have a few Christmas decorations next to the walled garden. There is also a kiosk here selling hot and cold drinks plus snacks. You can even purchase giant marshmallows on a stick and there is a fire pit to toast them over. We have visited Harewood House a number of times in the past but never at Christmas. I am glad we did visit as it's perfect for children of all ages, especially as Santa is an optional extra.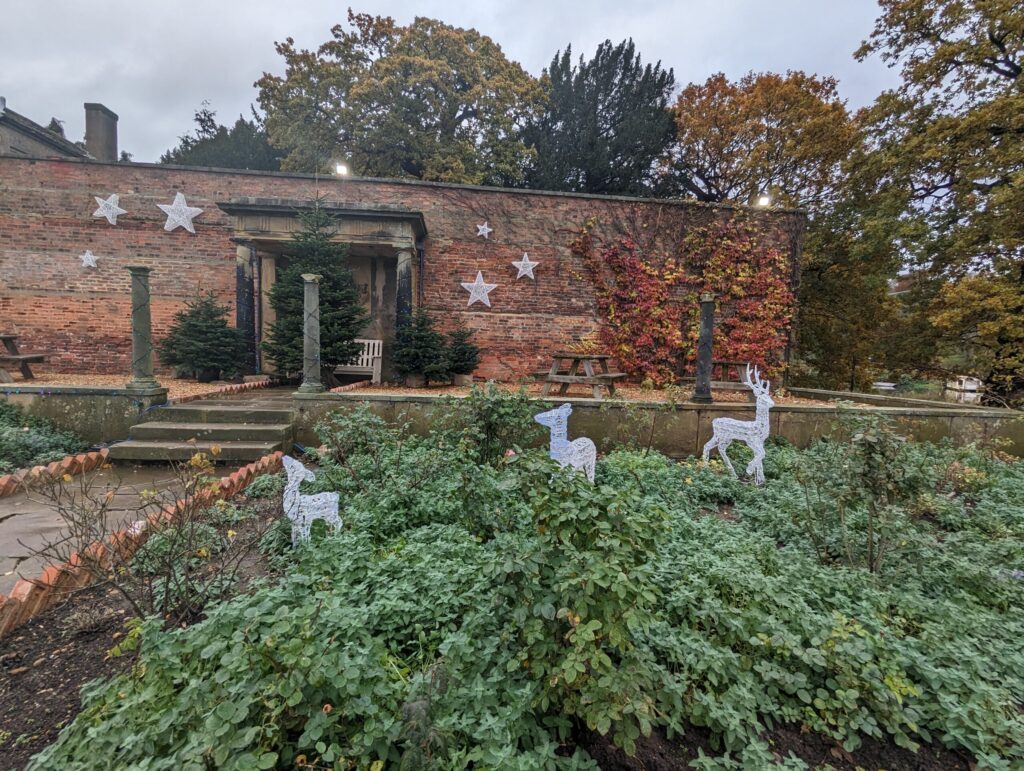 Santa at Harewood House
Santa at Harewood House is suited for children aged 6 months to 8 years. This year Christmas is telling a tale about The Adventures of Peppermint. You can book to see Santa from the 25th of November to the 24th of December, subject to availability. The experience lasts for 45 minutes and each experience has a capacity for up to 21 people.
Prices to meet Santa are £32.95 per child and adults are £30. Members receive a discount of a few pounds. Tickets to The Adventures of Peppermint also include access to Harewood House and Harewood's Great Time Travelling Christmas. Prebooking for the house is not required when you are also booked to meet Santa.
Tickets for Christmas at Harewood
To visit Harewood House and the Great Time Travelling Christmas experience in the house costs around £20-28 per adult. Prices vary according to when you visit. Children are priced around £12-15. We visited for just £17.50 for an adult and £10.50 for a child. It's a lot cheaper out of peak visitor season. This may also be true if you visit in January.