I have been wanting to take Jamie to Bewilderwood for so long now. With a move further up north on the horizon it was very high up on our summer bucket list. I can officially announce that we have ticked this off and I'm excited to tell you all about our fun day out there. If you are wondering where Bewilderwood is it is located in Norfolk in a place called Hoveton, not far from the popular Norfolk Broads town of Wroxham. This is north east of Norwich. The park has a fantasy and adventure theme focused around Boggles, Crocklebogs and Twiggles. It's a perfect place for young and old (we visited with three generations) and it's a fabulous attraction for children's imaginations to run wild.
Our Day Out to BeWILDerwood in Norfolk
We visited on a lovely and warm summers day and yes it was a perfect place to visit in dry weather but I can imagine that it is just as fun in the cooler months, especially at Halloween. Even before you have paid to enter the park it feels enchanting and the theme is already set. There's plenty of opportunities for photos and the ticket and greeting booths look like pixie houses.
BeWILDerwood Boat and the Treacherous Trail
Once you've bought your tickets or shown your online purchase of tickets you have two choices to make. Do you take the Treacherous trail or take the BeWILDerwood boat along the junction through the Dismal Dyke and up to the Scaaaaaaary lake?. Either way, you can choose to do one when you arrive and the other later on in the day, it really doesn't matter either way.
As we had arrived for the opening of the park we chose to take the BeWILDerwood boat. This is highly recommended. You board a small motor powered boat that takes around 10 people. The driver sets the scene and tells you all about the small characters that live along the water's edge. The woods alongside the water's edge are fairytale like and watch out for the surprise once you enter the (not so) scaaaaaaary lake, courtesy of Mildred the Crocklebog. It was over all too quickly and I wish now that we'd taken the boat ride back as well but equally it was fun to go on the Treacherous trail back to the entrance.
Once you have arrived by boat or the treacherous trail, there is a kiosk where you can get snacks, hot and cold drinks and ice-creams.
I must admit that we may have spent a bit of money in the shop and came away with a lovely and fun BeWILDerwood cup, a book based on the BeWILDerwood characters, with some gorgeous illustrations, and a magnet for our fridge collection. The BeWILDerwood books are written by local author Tom Blofield.
The Broken Bridge
After the boat ride, we headed on over to the Broken bridge. This is a series of wooden walkways that gradually go up. Some have narrow, but safe, beams to cross (they have raised edges which makes it great for younger children), plus bridges, a cargo net that I got up with ease and then up up up to a really long and fun 'broken bridge'. It's not really broken though, some of the sections are just replaced by perspex to give the illusion of it being broken. There is a spiral staircase you can then walk back down or a big long slide for the braver ones, this was sadly shut during our visit.
TipToe Valley
There is a small playground in TipToe valley with swings and things to climb and play on. Also in this area you will find the free face painting (yes I really did say free) and a kiosk where you can buy hot and cold drinks plus snacks and sandwiches. There is also a stage in this area where they have interactive stories. They had three stories on the day of our visit.
The Sky Maze
The Sky Maze was our absolute favourite thing to do of the day. We had a go in the morning with my Mum but with two hip replacements she struggled a little with a few of the sections but she still had a try as much as possible and we all had fun exploring and trying to find the middle of the maze. We never made it though and boy did we try.
Later my Mum left for home so Jamie and I stayed a bit longer to try again to find the middle. After going wrong a fair few times we eventually found the middle. What a joyous occasion. It was quite a feat getting there and it felt at times like a mini assault course for kids. It was so much fun and it was such an achievement to reach the middle.
Den Building and Games area
Next to the Sky Maze you will find the Den building which, much to Jamie's disappointment, we ran out of time for. We did, however, have time to complete the games area. Jamie was handed a spoon and a balloon with water in it. He had to balance the balloon on his spoon and step on the 'stepping stones'. He made it all the way around and he was then able to throw his water balloon at a target. They also had some beanbags to have more tries. Other games were over and under limbo, throwing hula hoops on sticks and more. What fun!
Tricky Tunnels
Between Tiptoe valley and the Sky maze you will find Tricky Tunnels. Getting up into it was too much for my son and he panicked a little so we skipped this one. It's more for older and more able kids. There is a fun zip wire here as well and the climbing areas are similar to the Broken bridge but a little more tricky to climb on.
Muddle Maze
Heading on over to the other side of the park we came across the Muddle Maze. This maze was a lot easier to complete than the Sky Maze.
Wobbley Wires and Slippery Slopes
My five-year-old wasn't quite adventurous enough to try out the zip wires and slides in Wobbley Wires and Slippery slopes. They have three relatively steep slides which you have to sit in a small sack like bag to go down.
They looked so much fun and I wish I'd had a go myself. Also in this area we came across 4 long zip wires. The queue was long for them all but I noticed that they went down relatively quickly. They had staff members on hand to help.
Luckily they had smaller versions of both of the above. They had a zip wire seat which was like a swing seat that you put babies and toddlers in at a park. He was desperate to have a go as he felt more confident giving it a go because of the seat. He was far too tall though and I got him a bit stuck getting him out. I think it was worth it though as he loved being pushed and it is great for younger kids to gain zip wire confidence (see photo above).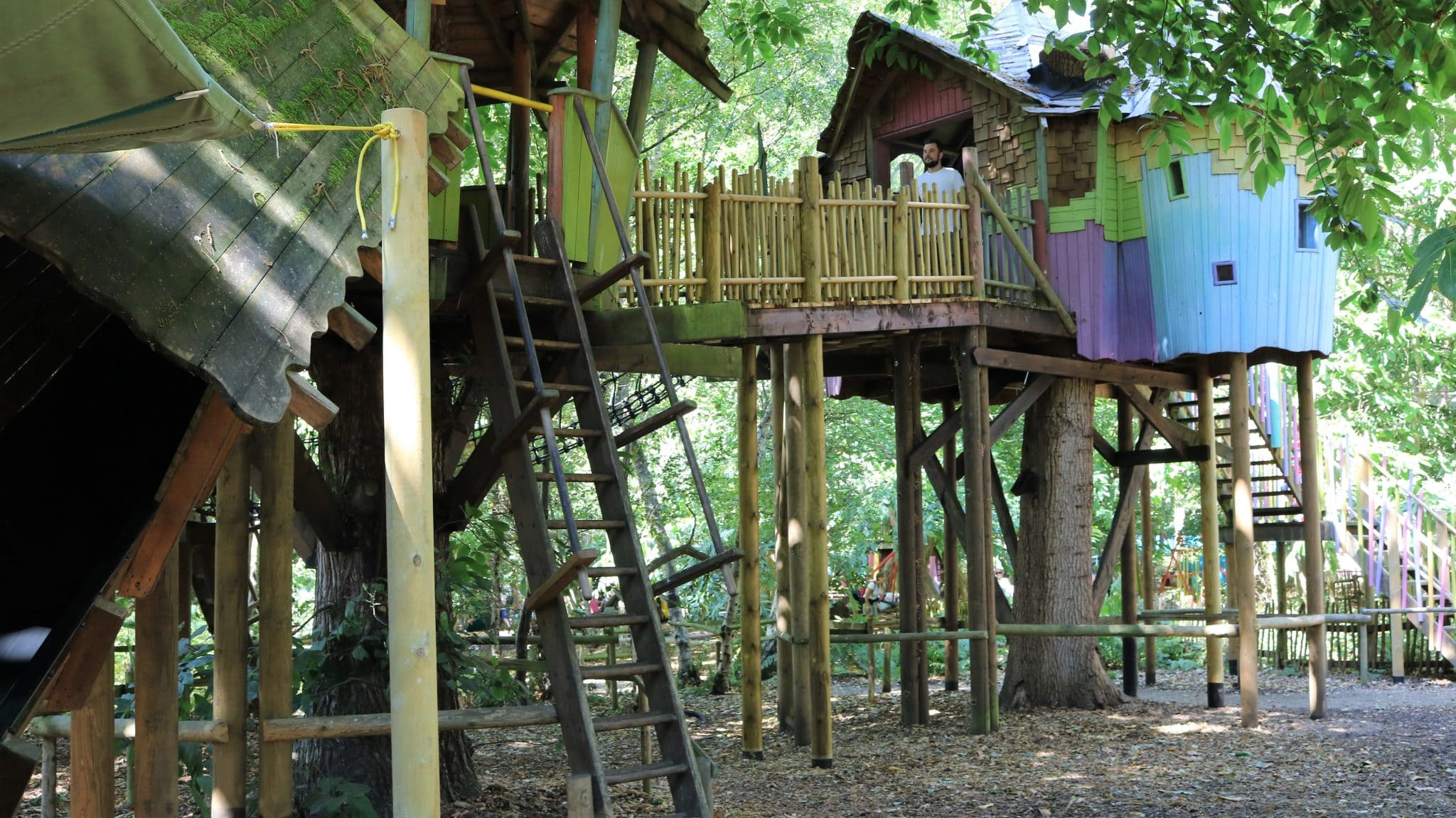 We also came across another treetop house with bridges, walkways and a really fun and fast slide. It was a little less steep than the 'slippery slopes' and my son loved it. He went down the slide many times.
Big Hat
The big hat is a covered tent-like area where your kids can get creative and make their own hats. Jamie loved making his hat and continued to wear it, glue and all, for the rest of the day.
Toddlewood on the Hill
A lot of the above isn't particularly suitable for toddlers unless they are very confident at getting around. But that doesn't mean that they can't have fun at BeWILDerwood. They have a lovely section called 'Toddlewood on the hill' which is a mini version of the big stuff. There's walkways, wooden houses, a slide, sandpit and more.
Food at Bewilderwood
I have mentioned above about the Snack shack near the Scaaaaary Lake and the Cosy Cabin over near the Tricky Tunnels. The biggest place to purchase your food from is the Munch bar over by the Slippery slopes. This is where we chose to have our lunch. The food was a lot cheaper than we were expecting. I had nachos with chilli beef, Jamie had a kids lunch box and my Mum had a jacket potato. Including drinks, we only spent £15.00. If you don't want to purchase anything on site for lunch you are allowed to take in and eat anywhere your own picnic.
NEW Attraction for 2019
The Towering Treetop Tangles is the first big play structure to be built at BeWILDerwood since the Sky Maze opened in 2014. Reaching more than 30 feet high into the trees and covering 1,000 square feet plus, it's the biggest, highest, and most daring play structure in the park.
The name and design of the Towering Treetop Tangles structure evolved from the concept of a collection of wild, giant flowers growing in the BeWILDerwood forest; reaching the heights of the tree canopy.
Aimed at slightly bigger, more intrepid kids, it features adventurous ground play, nets to clamber across, high-level walkways, climbing walls and challenging play equipment up in the air. It's been designed to encourage creative, free-spirited play and daring grownups are fully encouraged to scale the heights and join the fun too.
Important Information
BeWILDerwood run a number of events throughout most of the year. Find out more here. I love the sound of the glowing lantern parade. You can buy your tickets on the gate or online in advance for a reduced rate. Online (in advance) a ticket for anyone over 105cm is £15.50. 92-105cm is £13.50, up to 92cms are free. Seniors are just £8.50. Carers are free (proof is needed). Book your tickets online in advance here. BeWILDerwood also have annual passes.
---
Disclaimer: We were provided with complimentary tickets for the purpose of this review. All words, opinions and photos are my own and must not be reproduced without prior consent.