My son shares my love and wonderment for all things connected with space. The National Space Centre in Leicester is aimed at slightly older children than my four-year old however it is a day out that I am sure all the family can and will enjoy. Jamie had a fabulous day out when we visited and I had to virtually drag him away. He could have happily stayed for longer as there was plenty to see and do.
Where is the National Space Centre?
It is located in the heart of Leicester in Leicestershire. You do have to pay to park and it costs £3.00 for all day parking. There is the option to visit again as many times as you wish in the year for no extra charge, aside from the parking, so I can understand why there is a charge to park. Plus there is a bus stop just 2 minutes walk away.
They have special days of the year just for little folk. This is called Small Space and has a different theme each time. We were invited to the Small Space Santa Special which I will review below. I will also review the centre separately as a place for small kids to visit.
Small Space at the Space Centre
Small space is for children aged 4 and under. Although children aged 4 and over can visit on this day it is aimed at younger children and there weren't many older children there when we visited. This was a bonus for Jamie as he was able to play on things that he has never been able to play on before as they've been too crowded, in the past.
We were there for the Santa special and they were selling grotto tickets to meet Santa and receive a small toy for £5 a child. The queue was quite busy in the morning but certainly eased off after lunch. A lot of the children there were of 'nap age' so it was generally a lot quieter in the afternoon. This made it well worth visiting later in the day if you have a child who doesn't nap (mine stopped before he was even two!).
The point of small space is to have various themed activities on throughout the day. They had crafts set up where the kids could make their own reindeer antler hats, which was at no extra charge. I have to say that it was a rather lovely backdrop for a bit of arts and crafts.
They also had story time sessions, Christmas fun and games plus a space sing-a-long. The sing-a-long was great fun and although none of the children were old enough to follow the words onscreen the adults certainly joined in. A lovely surprise was snow being sprayed over us at the end of the sing-a-long. Jamie's face lit up the whole room and it was a massive hit with all the children.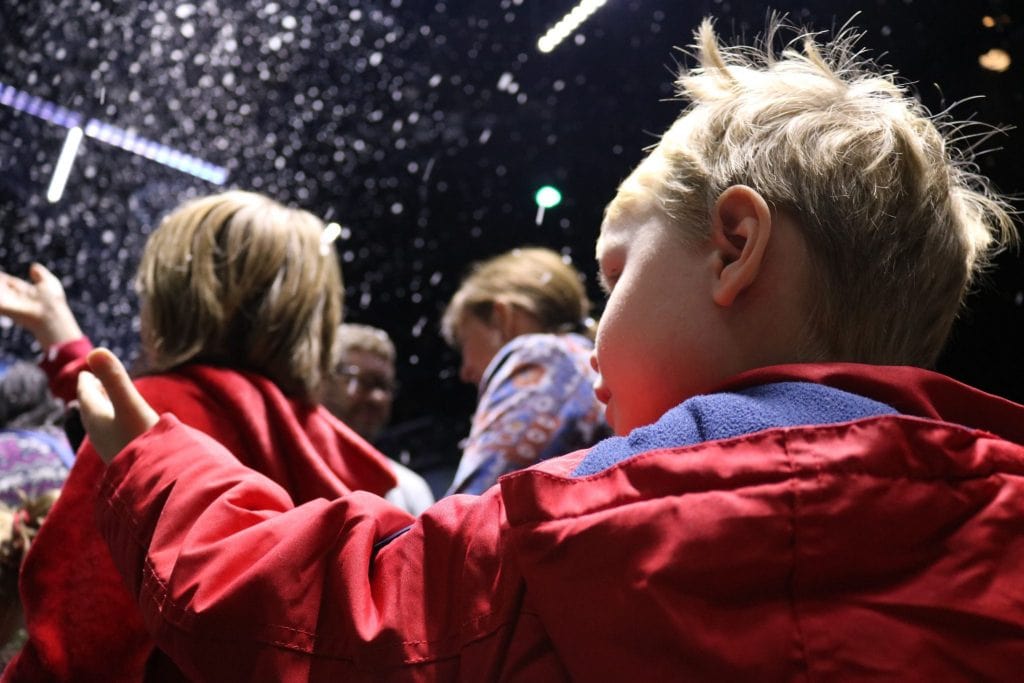 If you have ever wondered if your little ones would enjoy the space centre then I urge you to visit on a special small space day. There was plenty on for the little ones and it's a great opportunity to see if the centre is for them or not. As I write this now the next Small Space day is in May 2018.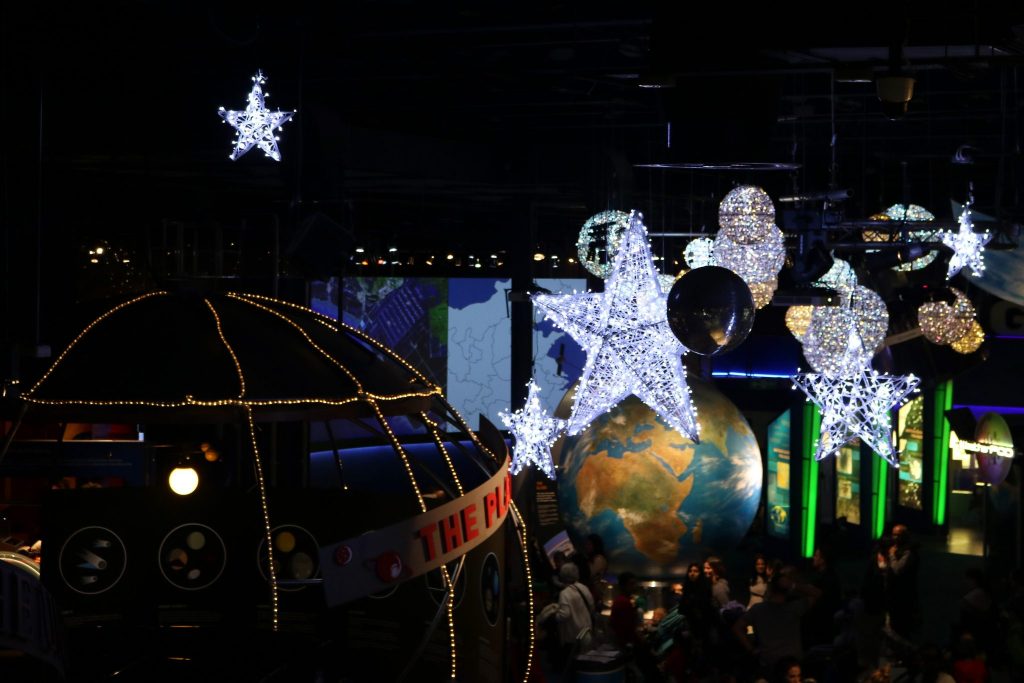 The National Space Centre – A review for smaller children
I have to say that when we have taken Jamie in the past, on a regular entry day, he has loved it every time. However, his interest in and interaction with the exhibits was at its peak for this visit at nearly 4 and a half years old. It is an ideal day out in any weather, notably being perfect for a wet and or cold day out as everything is indoors. The Planetarium show, We are all made of stars, is really good and although it bored Jamie when he was younger he loved it last time we went. It is currently closed due to an essential upgrade but reopens in mid-February.
Most of the exhibits at the Space centre are interactive. You can find out the weight of the different planets by comparing baked bean tins, drive a mini-moon buggy, send your friends up into space and much much more.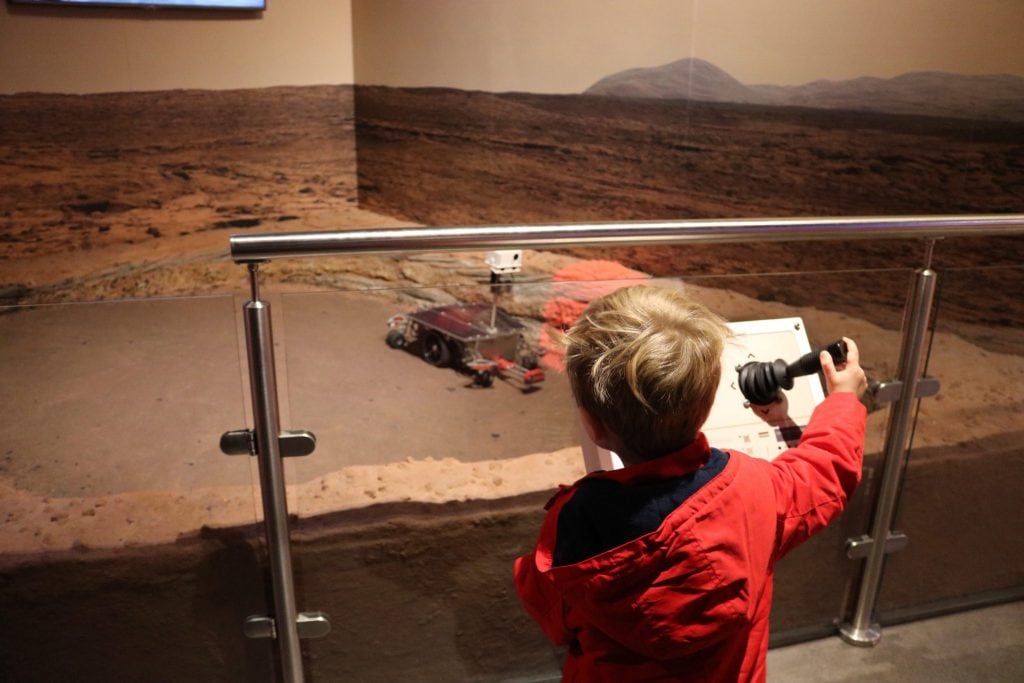 There's so much to see and do and you must make sure that you explore every nook and cranny. We found a small dark cinema room where you can answer questions together about space.
There are no worries when it comes to your kids exploring and launching themselves on pretend baths with Saturn crashed in it!! No one is there to tell you what to do or what not to do. It was lovely looking around and knowing he was safe to explore.
Make sure you go up the stairs and along the walkway. This takes you to three levels of fun and exhibits next to a 42m high rocket tower. Jamie loved taking the lift next to the rocket and would have happily spent a lot of his day just riding in the lift, had I let him!
The rocket itself provides everyone with a bit of a surprise if you choose to eat in the café. I won't spoil the surprise but you may be able to guess what happens.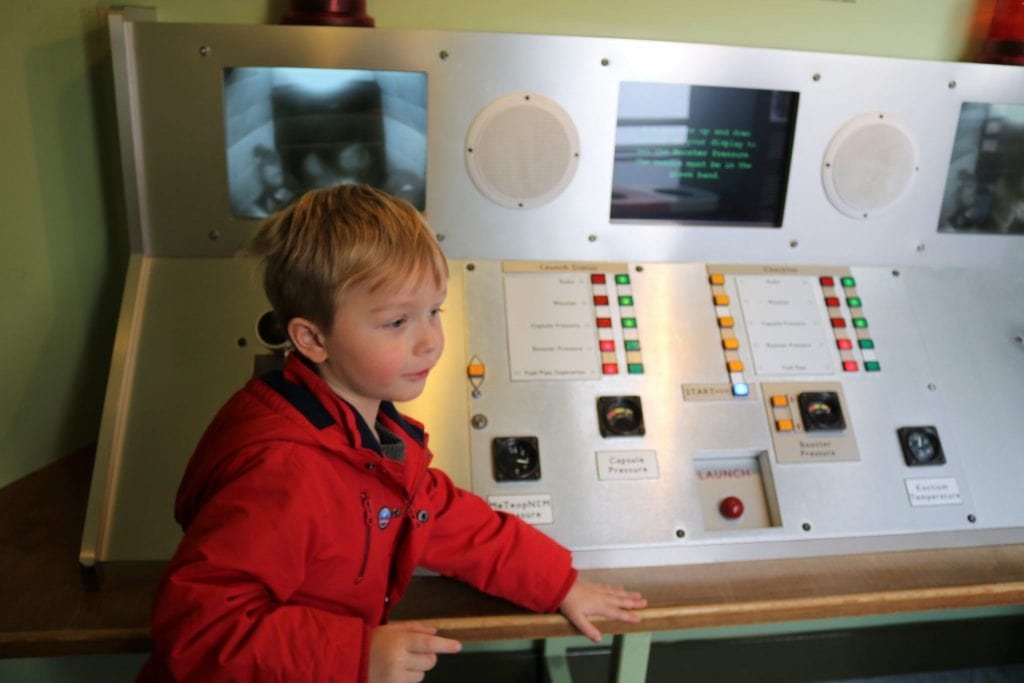 This part of the centre provided the most amount of fun for us. Although the water rockets weren't working we found plenty to keep us occupied. We sent another person's Grandad into space via their interactive control room and capsule. You have to communicate with them through a speaker and carry out various commands between you.
He was also able to pose for a photo behind a space suit which he has never been tall enough for before. It turns out that if you talk into the helmet everyone on that floor can hear your voice over a loudspeaker. I honestly thought I'd never get him away. He loved it. You can hear his 'performance' via this video below.
We also successfully crashed part of a rocket on the moon in this area. There is also a room from 1969 which again Jamie spent ages in.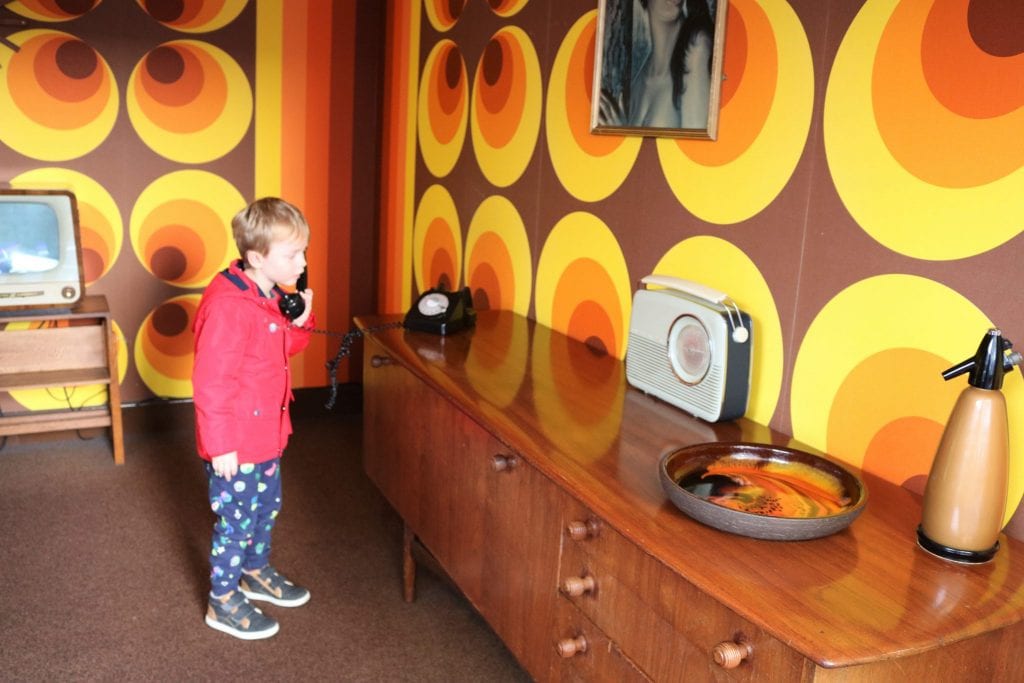 Going back down to the main part of the centre there are fun dress up outfits dotted around the place for the kids to try on. I really enjoyed going in the interior of a space station and would have loved to have spent more time in there but Jamie was getting impatient. He loved the shuttle that you could sit in.
There's also a really fun game which tests your reactions. You have to hit buttons as they light up and you are given a score at the end.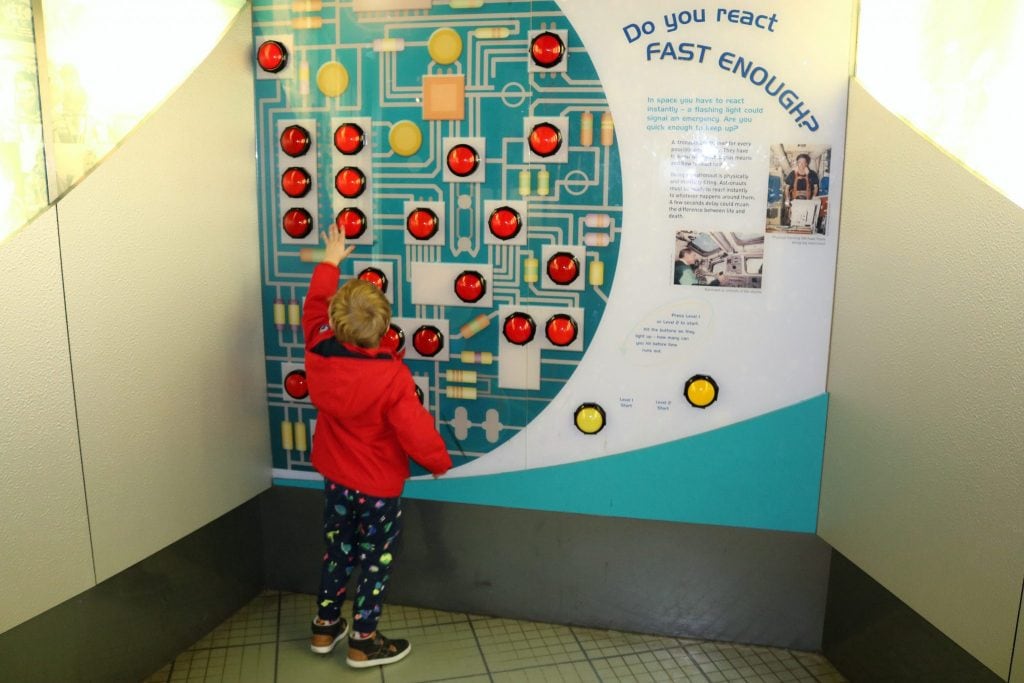 There's also a small theatre room tucked away where you sit and look up at a screen and experience the vibrations of a take off into space. I think he could have sat in there all day!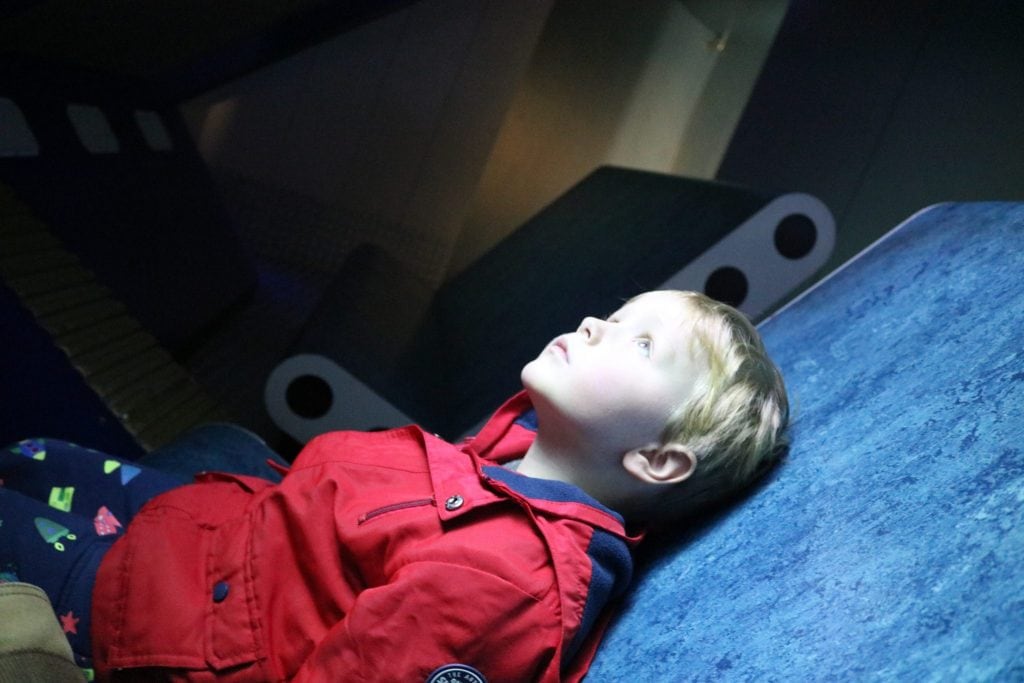 When you purchase your tickets or show your annual pass you are given tickets each to use in the Space Cadet training over in the Tranquillity base. You have to complete a series of space type missions and scan your ticket before you complete each task. To be honest Jamie was a little too young for most of this. He did love exploring though and playing 'his way'. We did find the wait time a bit too long for some of the tasks.
There is also a 3D simulator experience but Jamie was not tall enough for this. We also missed the interactive weather pod, where you can pretend to be a real weather presenter. No clue how we did this but proof that it's easy to miss things at the centre.
Important Information about the National Space Centre
The space centre is open 7 days a week and is only closed for a few days of the year. For up to date pricing and opening times please click here.
An adult ticket is £14.00. A child aged 5-16 is £11.00 and under 5's are free. If you book online you can upgrade to a free annual pass. This then means that you can visit as many times as you want, within a year, without having to pay for entry again. There is a shop on-site and a café selling hot and cold food. There are hot dogs, nachos, sandwiches and snacks.
*This post contains affiliate links
---
Disclaimer: We received complimentary tickets in exchange for an honest review. All words and opinions are my own