Mead Open Farm is situated in Leighton Buzzard in Bedfordshire. It's a children's farm that also offers both indoor and outdoor play along with activities. It has so much to do for children of all ages, offering an excellent family day out. During school holidays there are special events that take place, providing even more fun to be had for all.
Author: Katie – (Ad) Katie and her family received tickets for this review
The farm is well signposted from the main road and as we drove down the long driveway there were boards showing what fun will await once you get in. Our five year old was so excited with what the day had to hold. The excitement levels increased when he saw the outdoor playground.  We parked the car in the free car park, there are ample parking spaces so even at peak times there shouldn't be any problems with parking.
Important Information Mead Open Farm
Gaining access to the park was simple. On the day we visited there was only one window open and despite only a few people in front of us, this took a little longer than expected. There are additional entry desks which I'm sure would be open when the farm is busier.
You can pay for animal feed from here for #1 a bag.  Prices for the farm vary depending on whether you are attending mid-week, weekends or during the special events. A child ticket ranges from £7 – £13. Children under the age of two are free. If you are local, it's well worth buying an annual season ticket or the summer special where you can attend as often as you want for £27 a child or annual membership for £74.
Things to do at Mead Open Farm
The first thing we did was go to the animal barn and feed the lambs, sheep and goats. We stroked donkeys and cows. Even my 18-month-old had a go at feeding the lambs, they were very gentle and she loved it. You can get up close to the animals and it offers a safe and fun way to meet them. We were about to leave the barn when the lambs started bleating really loudly. We looked around and realised it was milk time!
My son got one of the bottles and fed a couple of greedy lambs. He had to hold on really tight, as they have a strong suck. Again he loved this special opportunity. When leaving the barn there are plenty of handwashing sinks on all exits and reminders to wash your hands.
We went to an outside activity next and decided to try the sky trail ropes course. This is a rope course 20 feet high in an Octagon shape. You have to be over 1 metre tall and accompanied by an adult or 1.2 metres to have a go solo. ou also need to be very brave. For the smaller children, there is a mini, lower course which parents can walk alongside. Both of the courses have full safety harnesses and equipment. I went up with my five year old and was amazed at how brave he was.
The ideal part of the course is you can take any direction, around the edges, or cutting into the middle. Each section is different than the previous one, offering a different challenge. For the smaller children, they may find feeding the safety rope through the bar above difficult;
I often had to help out here. If you want to go on these, make sure you are wearing closed-toed shoes rather than sandals. In this area, there is also a climbing wall, but Charlie wasn't really interested in having a go, so we gave it a miss.
After we got back on solid ground, Charlie wanted to have a go on the Go-Karts. Again there is a height restriction here and you have to be 1.2 metres to ride on the larger ones. Charlie is slightly less than this, but he was determined to have a go. Unfortunately, he didn't have the height or the strength to pedal these, so he quickly abandoned the idea and we left the area.
Next in the outdoor spaces was crazy golf. You collect your clubs and balls at the start of the 9 hole course and have a go. It's a great little track with lots of obstacles to try and get the ball through – even loop the loop! After the morning of fun, it was time to get some refreshments and have lunch.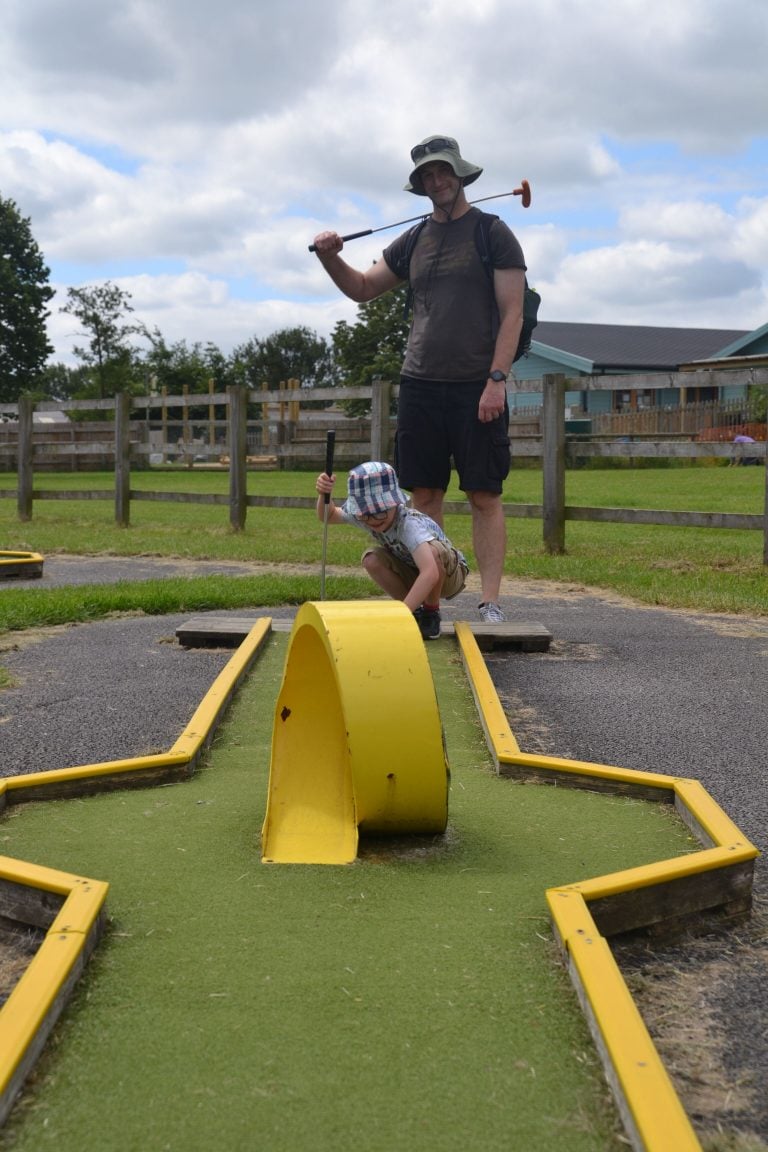 The kitchens are situated within a huge soft play area. The space has recently been refurbished and it looks lovely. There are plenty of tables and high chairs and staff clearing and cleaning the area. There is a variety of food available. With a children's selection of sandwiches, drinks, crisps etc. They had some more grown-up sandwiches and some hot options. We all went for chicken nuggets and chips with beans. I was impressed with the portion sizes, great value for money and we had clean plates at the end.
Charlie and Jessica went off into the soft play after lunch. There is a lovely area for toddlers to play and for the more grown-up children, there is a huge area with a drop slide. Are you brave enough to give it a go?! There is also a water fountain in the area. I liked this, rather than selling bottled water, you could refill your own bottle. The toilets in this area are very clean and uniquely they are unisex. This is ideal for families offering baby change facilities for all.
Our next adventure took us to the giant jumping pillows. I loved there were two sizes here so my 5 years old and 18 months old could both have a go and not worry about being trampled on or hitting a toddler. Its amazing how much fun can be had from jumping around. Whilst on here, we saw the tractor rides across the other side of the farm. Sadly, by the time I persuaded my children to go on it (they were having too much fun jumping!) the rides had finished.
Not to worry, we went to the giant sandpit and played with the diggers. This is a great little spot, with vehicles you can climb into and on and generally have fun in the sand. There were little diggers and buckets and spades to play with. Charlie loved taking his shoes and socks off and feeling the sand between his toes.
Our final spot was the adventure playground we were so excited about on our drive-in. There are a few different slides and lots of climbing to be had in this area. It's also an ideal spot for a picnic as there are lots of picnic tables around, and some in the shade. There are also picnic areas dotted around the farm, plus an indoor area available if it rains. For the smaller guests, there are mini slides and swings, so fun to be had for all ages.
We were really pleased to see the smaller go-karts in this area, which are ideal for those who weren't tall enough for the larger ones. Charlie spent a long time in this area zooming around. The space is quite small, but all the children seemed to be having loads of fun dodging each other.
Then it was time to go home. Mead open farm is an amazing venue for children of all ages. It offers a variety of activities from the traditional farm and feeding/petting animals, to the unique ropes course and climbing wall. 
With all the activities available, it really is a great value day out. A massive benefit is, even if it rains there is still plenty to do with the huge indoor play area and animal barns. We had a wonderful family day out, and would certainly recommend a trip to Mead for anyone in the area. Thanks for having us. You can purchase tickets online in advance for the farm park.
---
Disclaimer: Katie and her family received complimentary tickets for the purpose of this review. All photos and opinions are her own and must not be duplicated without prior permission.
*This post contains affiliate links
Why not pin this post for later?