The Sea Life London Aquarium is a great family-friendly attraction. It was so much better than I was expecting it to be and almost like a tardis. It just kept going on and on, in a good way! Plus they had some really lovely and unique experiences. We created some really lovely family memories during our visit.
You can spend at least two hours visiting the aquarium, if not longer. I can recommend getting there for opening time as it will be less crowded than later on in the day. The Sea Life London Aquarium is located on the south bank of the River Thames. It is in an area along with the other Merlin Entertainment attractions including the London Eye, Shrek's Adventure and the London Dungeon. The nearest underground station is Waterloo, plus Westminster and Charing Cross are just a short walk away.
*disclaimer. We received complimentary tickets for the purpose of my review
Review Sea Life Centre London
The Sea Life Centre in London is pretty easy to navigate as there seems to be only one way around. It's up to you how long you spend in each area. We loved stopping by each tank and watching the fish. There are plenty of tanks to look in and there's some really unusual fish. I said 'seems to be' as according to their website they now have two beluga whales but we never saw them. But I'm not sure if they are for the public to see or not.
You can start your tour with an optional photo which you can purchase at the end of your visit. We chose to skip this and head straight in. The first thing you come across is a glass walkway where you can see sharks swimming beneath your feet. This is a great and fun experience, especially for kids, so don't rush it.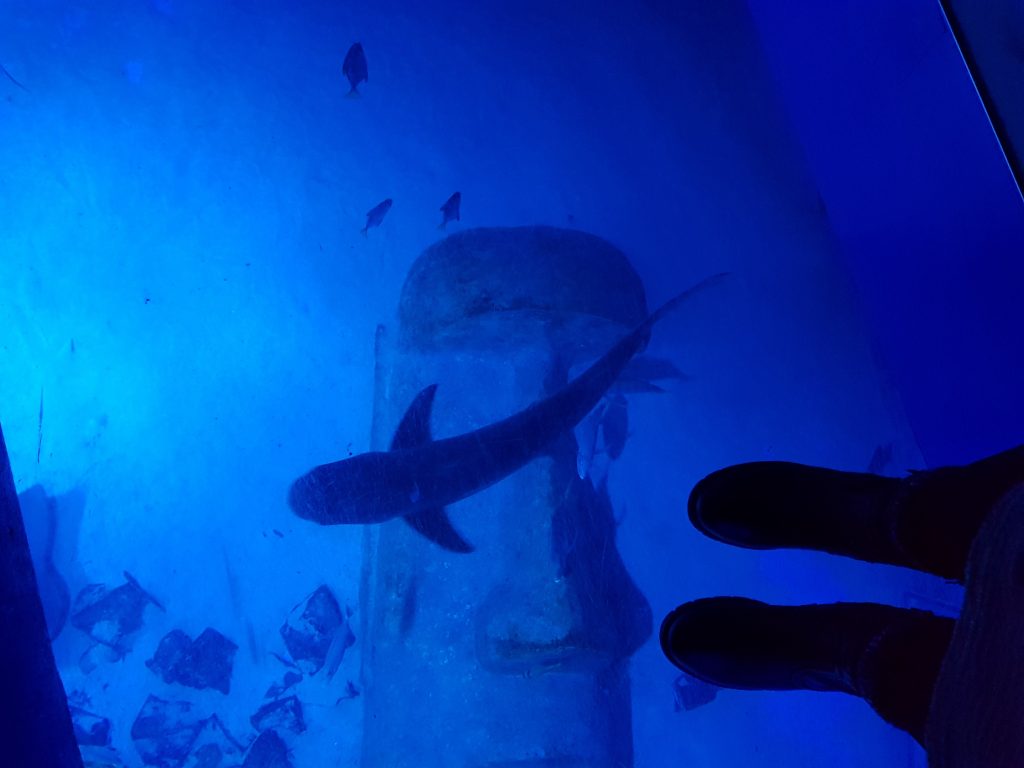 What's lovely about the Sea Life London aquarium is how they've themed a lot of the areas. There is a large coral reef area where you can learn all about the fish and other life that live in coral reefs. There's a rainforest which has amphibians and insects to find out more about. There's plenty of signs telling you about what you are looking at.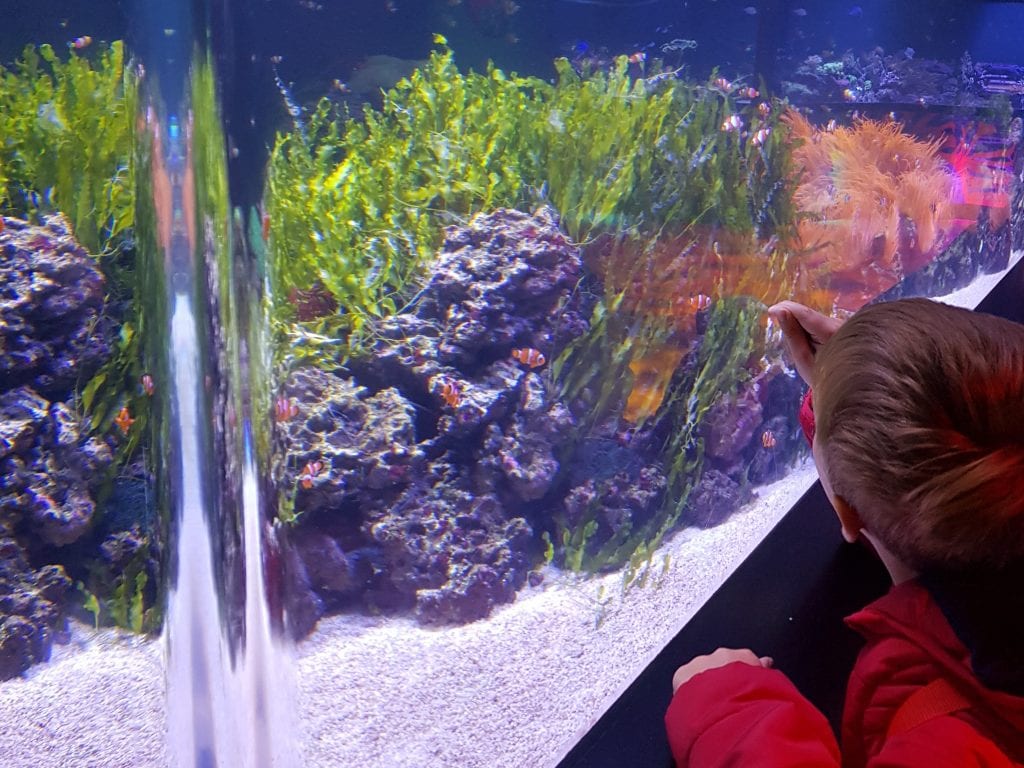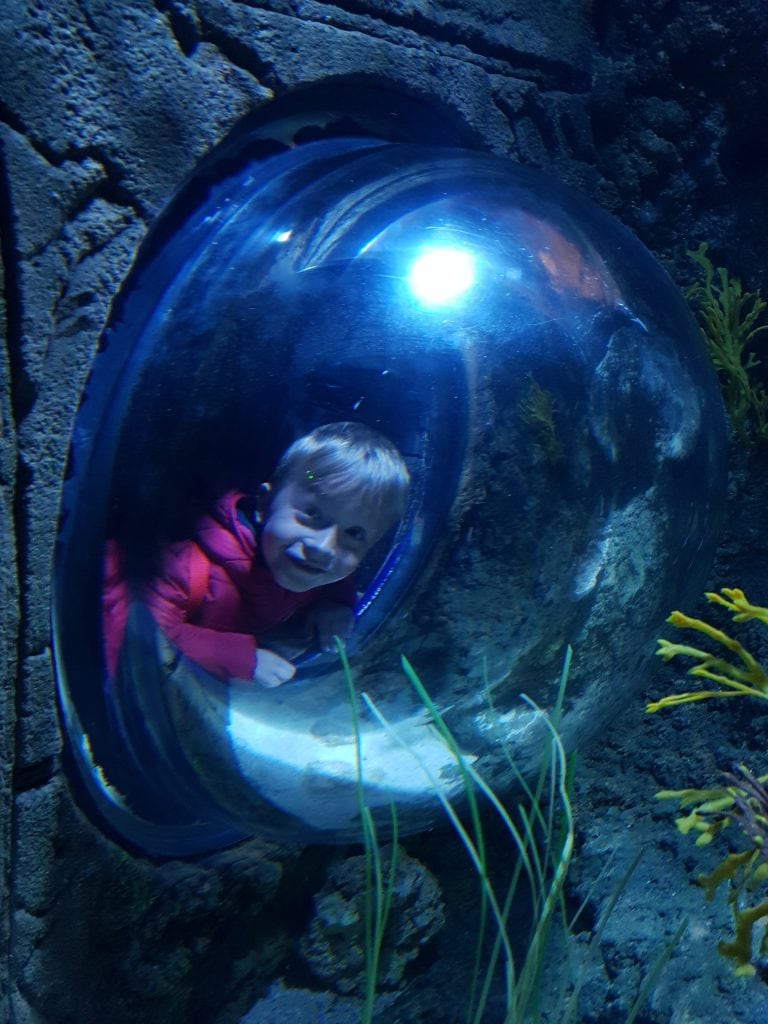 One thing we loved about the aquarium is how many interactive displays there are. It's great for kids to get hands-on and learn more about life in our seas. A particular favourite was the realistic pretend piranhas that you could touch and if you put your finger near their mouths it made a snapping sound.
There is a large area dedicated to Jellyfish and again one of the exhibits pretends to sting you when you put your fingers in. Great fun for kids and great to know what could happen if you touch a jellyfish. They are fascinating creatures and it was lovely to see such a great variety.
Our absolute favourite area was the Gentoo penguins. We could have spent all day in here! They are in a large and clearly cold area behind some glass. What's lovely is that their swimming area is clearly visible and when they are out of the water they are at eye level for most children. The most wonderful addition is a dome that you can pop your head up inside.
Because it was quiet when we visited our son spent ages in here and the penguins kept surrounding him. His face was such a picture, full of wonder, excitement, happiness and love all in one. Memories we will never forget. There is also a fun ice wall in this area, touch it if you dare.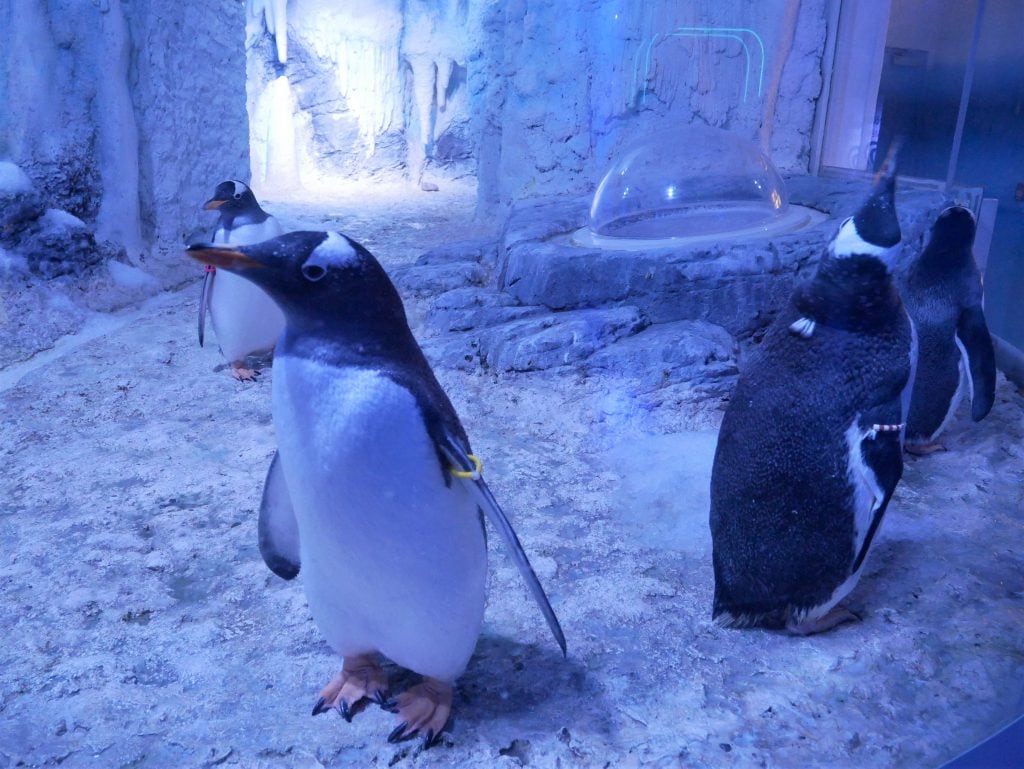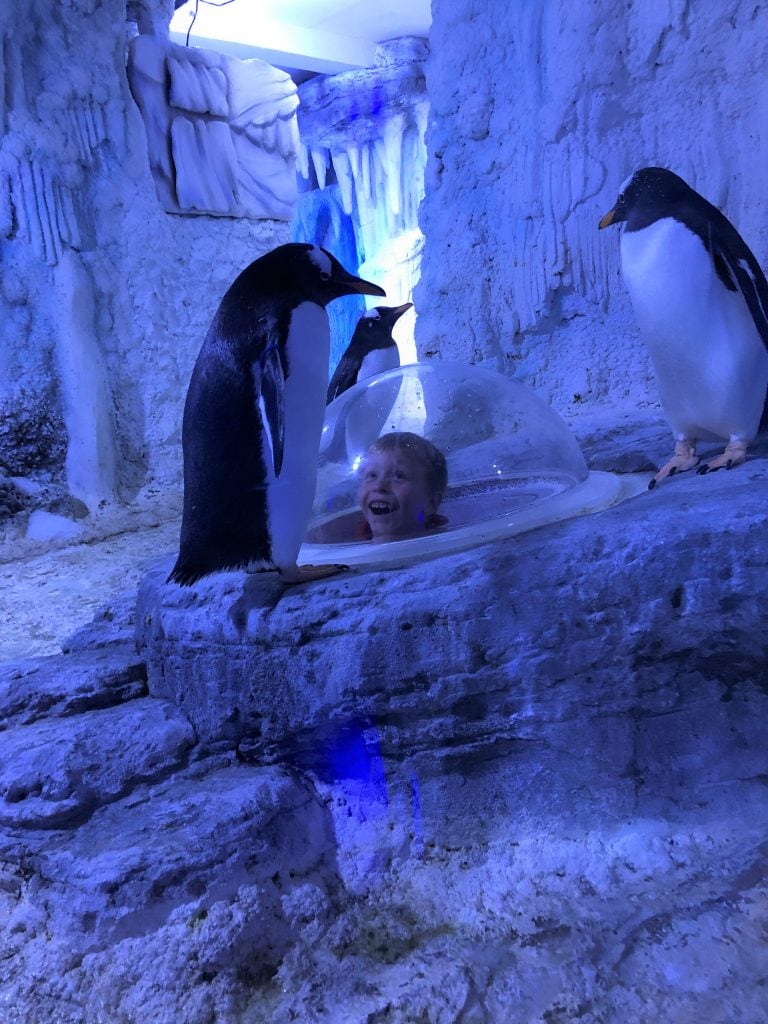 There is also a Face to Face Frozen planet exhibition in this area. Here you can stand alongside Polar Bears and Killer whales whose images are projected onto the wall with you. Very clever and lots of fun.
We spent quite a while pausing at the larger tank to watch the sharks swimming around. You get to see them from a variety of different angles. There is also a tunnel walk-through tank where you can see the fish swim above your heads. They do have logger turtles in here but sadly we didn't spot any. There is also a rock pool area where you can stroke a starfish and other rockpool dwelling creatures. They had many other tanks with fish from our local waters, rays and more.
There are many experiences that you can book on to at the Sea Life London. These include snorkelling with sharks and behind the scenes tours.
Here are some more photos from our visit.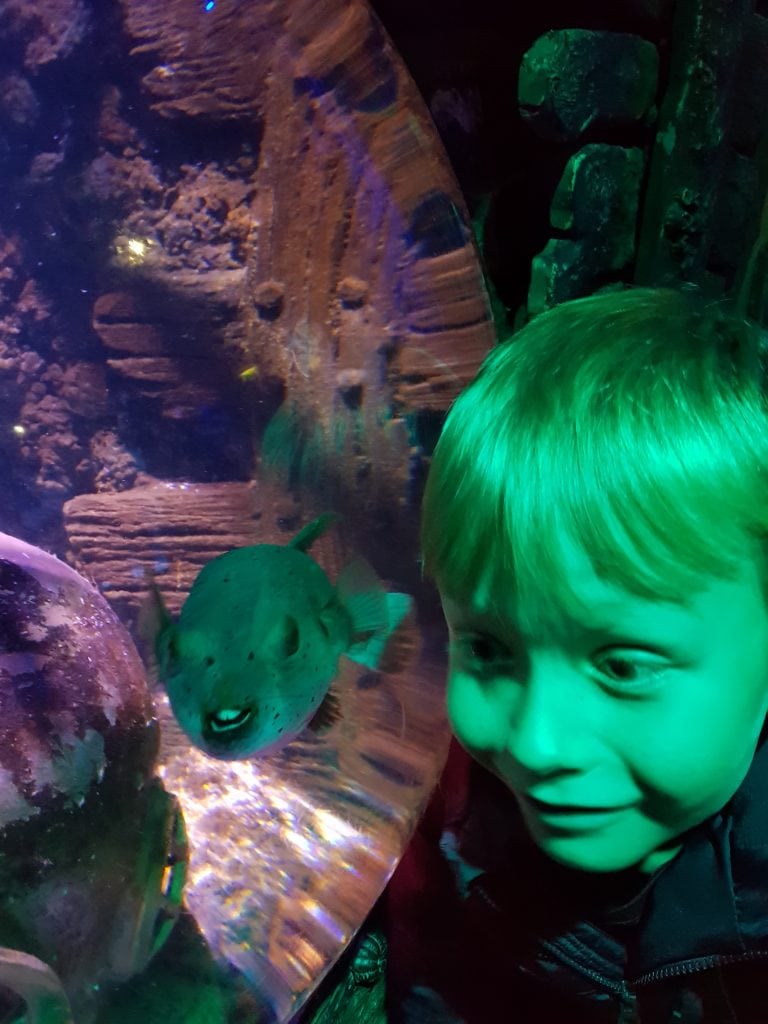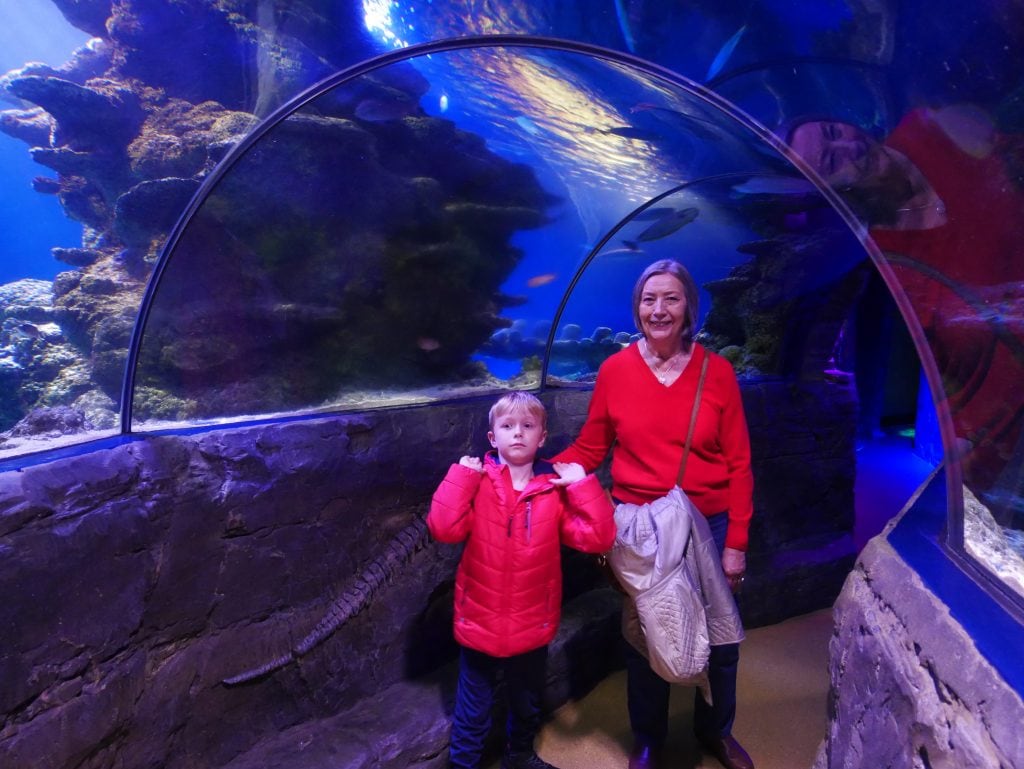 Important Information
During peak times (Weekends, School Holidays and Bank Holidays), due to the numbers of visitors, every ticket holder must book a time slot to confirm entry on your chosen day! This can be done online.
As well as it being a great idea to purchase your tickets online in advance to secure yourselves a time slot you can also save money. Their prices do change throughout the year. The on-the-door price currently for adults is £29 per adult and £23 per child (3-15 years), you can make savings booking online in advance. Under 3's are free
*This post contains affiliate links
---
I hope you enjoyed my review. Please comment below. Never miss a post and subscribe to my newsletter. We are very active on social media and we would love a follow please on Facebook, Twitter or Instagram. Why not pin this post for later? And give us a follow. Simply click on the image below to take you over to Pinterest.