It has been a good 15 years since I last visited the Tower of London. I've been quite a few times in my lifetime and it's nice to see it developing throughout the years. It was certainly somewhere that needed to be on our family bucket list holiday to London.
It's a site that oozes history and it is so significant to the past with Monarchs such as Henry the VIII that used to live there, famous members of royalty that vanished there, through to the Ravens and Yeoman Warders that live there and so much more. It's a truly fascinating place and there's plenty to learn during a visit to this historical castle. I even learnt lots of new and interesting facts during our recent visit.
*disclaimer. We received complimentary tickets for the purpose of my review.
A Visit to the Tower of London – Review
A Brief History of the Tower of London
William Conqueror built the tower on this site back in the 1070s as a fortress. For the next 500 years, monarchs used the Tower as a luxurious residence. Kings and Queens imprisoned their rivals and enemies within its walls. These stories and the writings they made on the walls still haunt the Tower today. Throughout history, the Tower has been adapted and developed with further buildings and castle walls added. It was even used at one time to make all the coins of the realm at the Tower Mint.
It has been the site of murders over the years, plus executions and a prison for many men and women. One of the most famous prisoners was Sir Walter Raleigh who was held there for 13 years with his family and eventually executed. They have his rooms still set up today how they would have looked during his time there. These rooms are in the Bloody Tower. You can also see the site where three former Queens of England were beheaded including two of Henry VIII wives.
Family-Friendly Activities
I was recently asked how family-friendly the Tower of London is for younger ones. The answer is very, our 6 year old loved it. There is so much to see and explore. Little legs might struggle to walk around everything as a visit there can last well over 3 hours. But there is so much to see that you don't have to fit in everything if you don't want to.
Year-round trails are usually available and they often have special family-friendly activities during school holidays. Check out their website to find out what's on.
Make sure you pick up a map when you arrive. There is lots to see and you don't want to miss anything out that you would enjoy.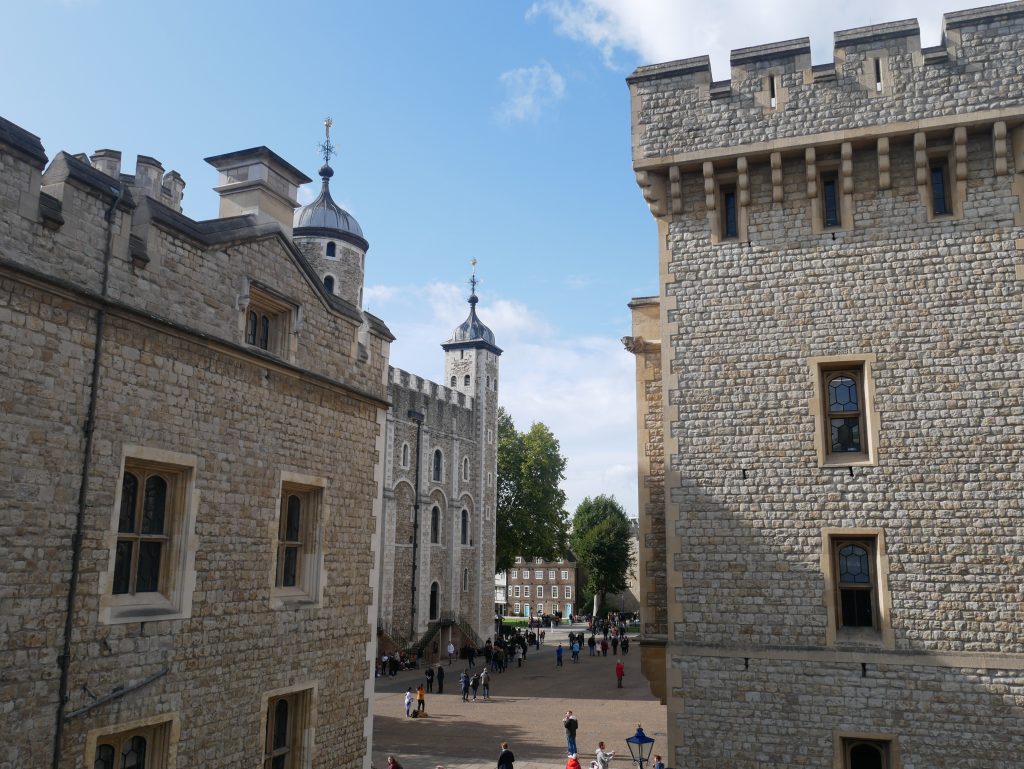 Things to see and do at the Tower of London
Medieval Palace
The Medieval Palace was once part of the residence of Henry III and his son Edward I. The room has been decorated to show how it would have once looked when they lived there. In the other room you could see how the rooms were once constructed.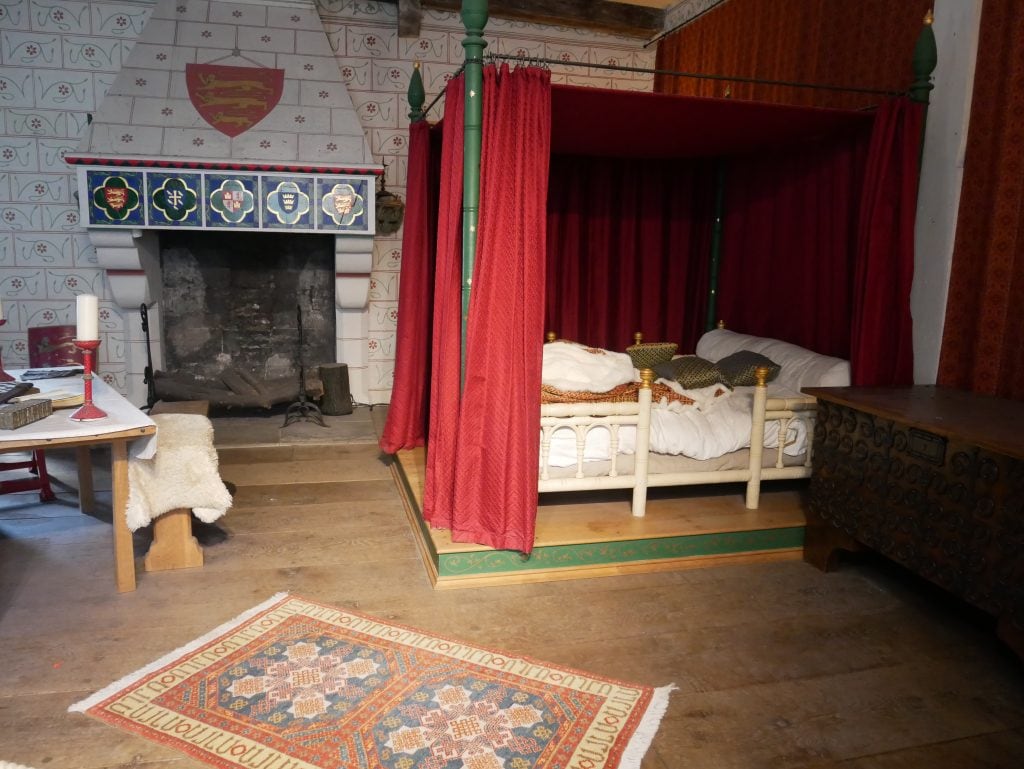 The Ravens
If you didn't already know it is said that if the Ravens ever leave the Tower of London then the Kingdom will fall. They do actually have their wings clipped so they can't leave but they are such characters and worth finding to see if they can mimic your sounds, play a game or solve a problem. We saw them down at their cages and also on the grass nearby. The Yeoman Warders run talks on the ravens and also other guided tours.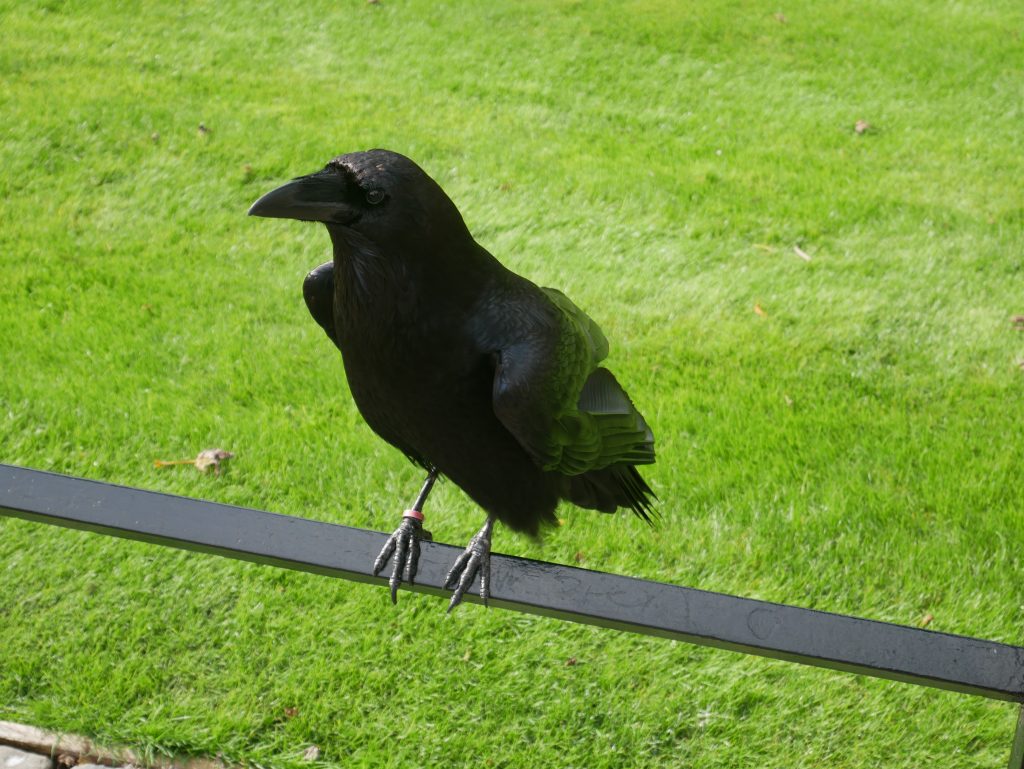 Torture at the Tower and Imprisonment at the Tower
Imprisonment at the tower is where you can learn why people ended up as prisoners at the Tower of London in some of the rooms where they were held. Walking around the battlements of the castle it was soon apparent just how many of the castle's buildings held prisoners. Some were afforded luxuries while others had to live in dark dank dungeons. You can see graffiti on many of the walls from the prisoners.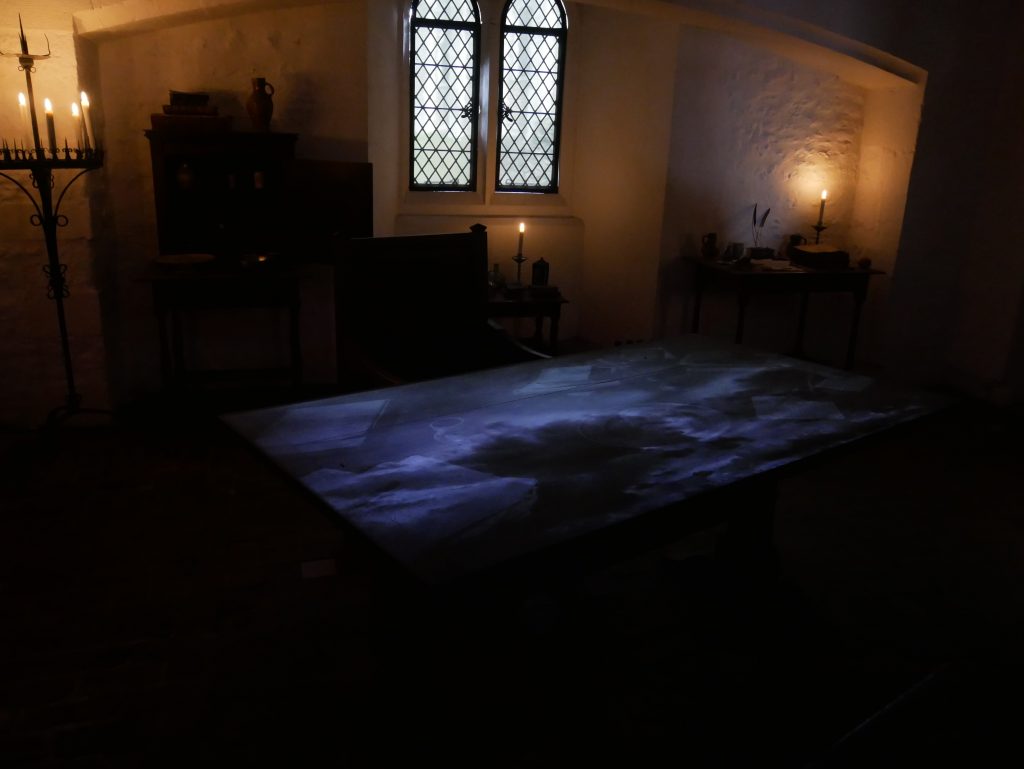 Torture at the Tower is an exhibition showing different methods of torture that were used on some of the prisoners. Younger children won't really know what the items were used for as you have to be able to read or be told to know which is good if you want to take a look without upsetting them. My six year old didn't know what the word torture meant so he was intrigued to find out more.
Battlements
You can walk most of the battlements at the Tower of London. These fortifications have been in place since the 13th Century. There is lots to discover along the way including many different buildings and smaller towers. You will find lots of information and exhibitions along the way.
Royal Beasts
The Royal beasts exhibition was the most interesting part of the visit to me. I have known various stories about the Tower of London and visited a few times in the past but I never knew that it used to be home to a zoo. This exhibition highlights all the animals that used to live at the castle and you will also find wire animal structures around the grounds including elephant, polar bear, monkeys and more. Why not see what you can find?
There are some really astonishing stories to learn including the tale of a lady who died after being swiped by a lion, a boy who was attacked by free-roaming baboons in a room and an ostrich who ate nails because the public believed they ate iron. It was truly fascinating and when after a few terrible disasters they realised that the Tower of London wasn't the place to keep wild animals they moved them all to London Zoo.
Crown Jewels
Wow, the building that the crown jewels are now kept in has certainly changed since my last visit. They used to just be in a small room, now there are crowns from other monarchs which you pass on a travelator. A room which shows the Queen's coronation on a big screen, plus of course the current Queen's crown which sits in a very secure room. It was very busy in here and we did struggle to see. The travelator was an excellent idea and it's a shame not everything was displayed in this building in this manner.
White Tower
There is a lot of steps in the White Tower which all go around a one-way system so once you're in, you're in. This is suited more to older children and adults as there's a lot of displays of suits of armour, weapons and more. The first hall is the most interesting with suits worn by Kind Henry VIII and his horses and includes the 350-year-old exhibition the Line of Kings. The castle keep is the most famous and most recognised in the world.
Fusilier Museum
This is a series of exhibitions and is more for the older visitor. We found little to interest us, however, we did enjoy attempting to lift a bag that they train with which weighed a quarter of the weight than they carry. My goodness was it heavy!
Guards at the Tower of London
The Queen has sentries posted outside the Jewel house which houses the crown jewels and also the Queen's house which is not open to the public. If you're lucky you may see them marching or readjusting their guns in a series of manoeuvres.
The Tower's Mint
This is a permanent exhibition but it wasn't on our map nor did we notice where it was. You can "explore what life was like for the workers of Mint Street through outdoor installations and interactive displays. Discover some of the most famous monarchs who reigned over the Mint and how their coins reflected power struggles and politics."
---
I hope you enjoyed my review. Please comment below. Never miss a post and subscribe to my newsletter. We are very active on social media and we would love a follow please on Facebook, Twitter or Instagram. Why not pin this post for later? And give us a follow. Simply click on the image below to take you over to Pinterest.