If you're visiting the West Midland Safari & Leisure Park, situated in Bewdley just outside of Kidderminster it's a good idea to get there early. We arrived ten minutes after opening and already we were waiting in a queue of cars to go into the park! The park is open every day until 10th November and thereafter only at weekends. It is also open on certain weekdays days for special seasonal events so check the website calendar for opening times and booking.
Author: Helen Bolton
Disclaimer: Helen and her family received complimentary tickets in exchange for a review.
The park is divided into two sections – a Safari Drive through and a Walk Through Leisure Park. Ticket prices are £24 for adults and £19 for children from 3 to 15 years. Our tickets allowed us entry to the Safari Park and Leisure Park but the admission price didn't allow us entry to any of the theme park rides. More information about this later.
Review West Midland Safari Park
Safari Drive through at West Midland Safari Park
After entering the park, we made a quick pitstop at the Changing Places toilets before we rejoined the road to the safari park entrance. There's nothing to stop you visiting the Theme Park first and doing the Safari Drive Through afterwards, but bear in mind the Theme Park rides open about an hour after the park opens.
My husband was a little wary at the start of the Safari that he may have to drive through a monkey enclosure, having escaped damage to his car last time we visited a safari park. He was relieved to discover that there were no monkeys at the West Midland Safari Park, much to my son's disappointment!
The safari is divided into three sections and the route winds in and out of these continent themed areas, offering a real variety of animals to see on the tour. At the entrance, you can buy a box of animal feed to get a hands-on experience and feed the giraffes, deer, antelopes and cattle from your car window. Don't forget to wash your hands thoroughly at one of the park's Wash Stations after your trip.
We were pleased to see the park was well maintained and all the animals looked in tip top condition. Park rangers in 4×4 trucks were all around, keeping a close eye on things. Remember to allow a minimum of 2 1/2 hours for your safari trip as this can get very busy and cars move slowly through the route.
Discovery Trail
Animal adventures continue in the Leisure Park around the Discovery Trail to see bats, creepy crawlies and fish, followed by a snake talk and a visit to the reptile house. Our next stop was the African Village to see the lemur talk in the Lemur Woods. The Leisure Park has a timetable of shows and animal encounters in designated show zones. We went to the Sea Lion Show and in the Animal Encounter Zone you can handle some small creatures which were giant African land snails but we didn't fancy holding those!
Check the park map for the day's timetable. If you fancy getting closer to the animals, VIP Experiences are available to purchase but some of these may not be suitable for younger children.
Adventure Theme Park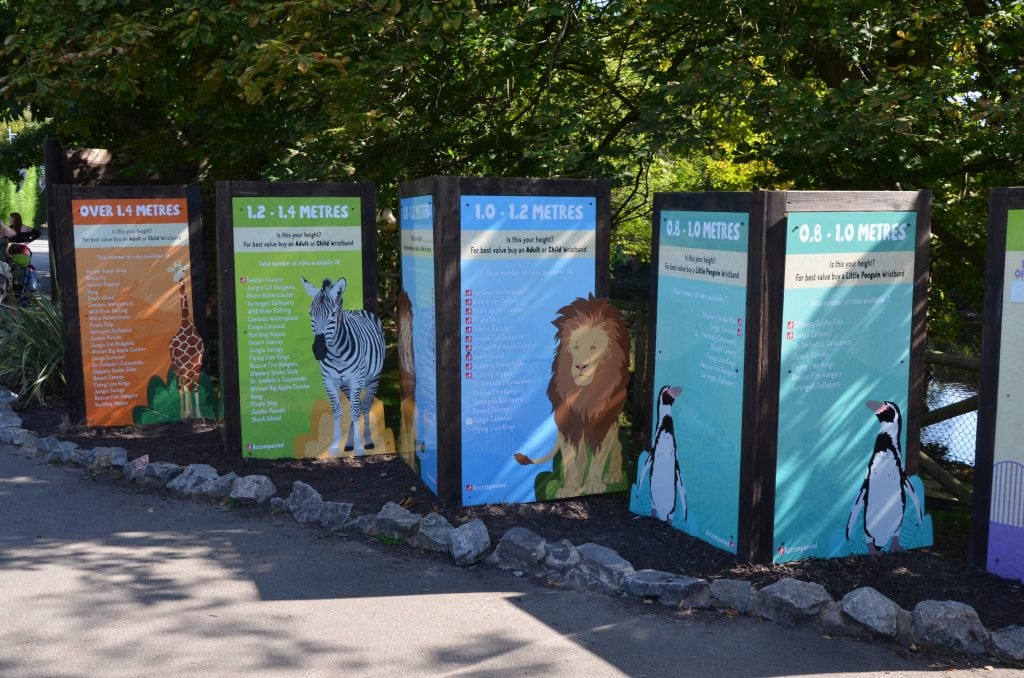 The Adventure Theme Park offers a good range of rides for all ages. You will need a prepaid unlimited wristband or individual ride tickets for the attractions. There's a well-designed display where you can check your child's height for ride suitability and buy the appropriate wristband.
The wristbands start at £8 for children up to 1m tall and £14.50 for an adult wristband (16 to 64 yrs). The best buy for access to all of the park and rides is to buy online in advance. You can save up to 35% if you plan and book ahead.
If you have toddlers to entertain, they will love Boj Giggly Park which has different interactive play areas named after Boj and his friends, a refreshments van, covered picnic area, toilets and a baby change room.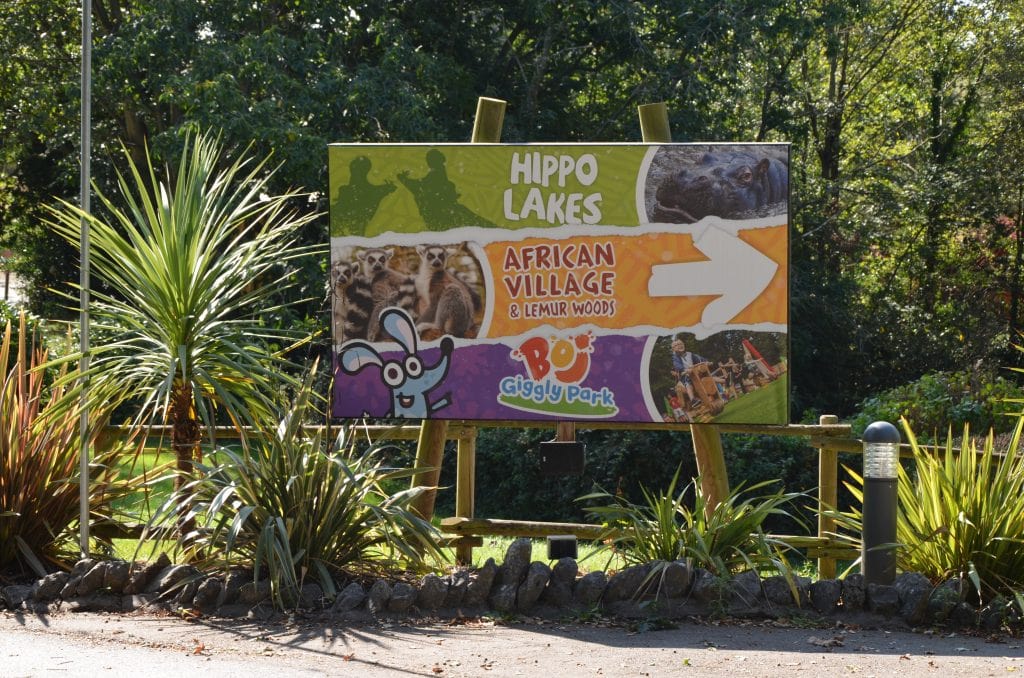 Food at West Midland Safari Park
Take-away food is readily available at the Lost City Food Court at the entrance to the Leisure Park or if you prefer a sit down meal there is the Dino Diner or Burger Co. Ice-cream and drinks kiosks are situated around the theme park but my husband and I were disappointed to find there were no water fountains or reusable bottle refill points.
Being reluctant to buy bottled water because of the single-use plastic, it was such a hot day and having drunk our own water we had to buy drinks. Then we found we were not able to recycle the bottles because we didn't see any recycling bins in the park. This was disappointing considering the current awareness around saving the planet! *UPDATE – I have been informed by West Midland Safari park that "We do let guests refill their bottles at any of the food kiosks around site. Plus we do recyle all of our waste. We have a scheme where everything goes into the same bin, then it is collected by a company who sort it all offsite." Signage explaining about the water will be in place soon.
Land of the Living Dinosaurs & Ice Age
We wandered around the Land of the Living Dinosaurs and Ice Age to finish our visit. Step back in time and learn about the beginnings of life on Earth. Some dinosaurs even move and roar! The dinosaur garden is attractively planted with palms, ferns, grasses and other ornamental plants with a path winding through. All of the Leisure Park is easily accessible for wheelchairs, buggies and mobility scooters, without any steps, although some areas are on a bit of a slope.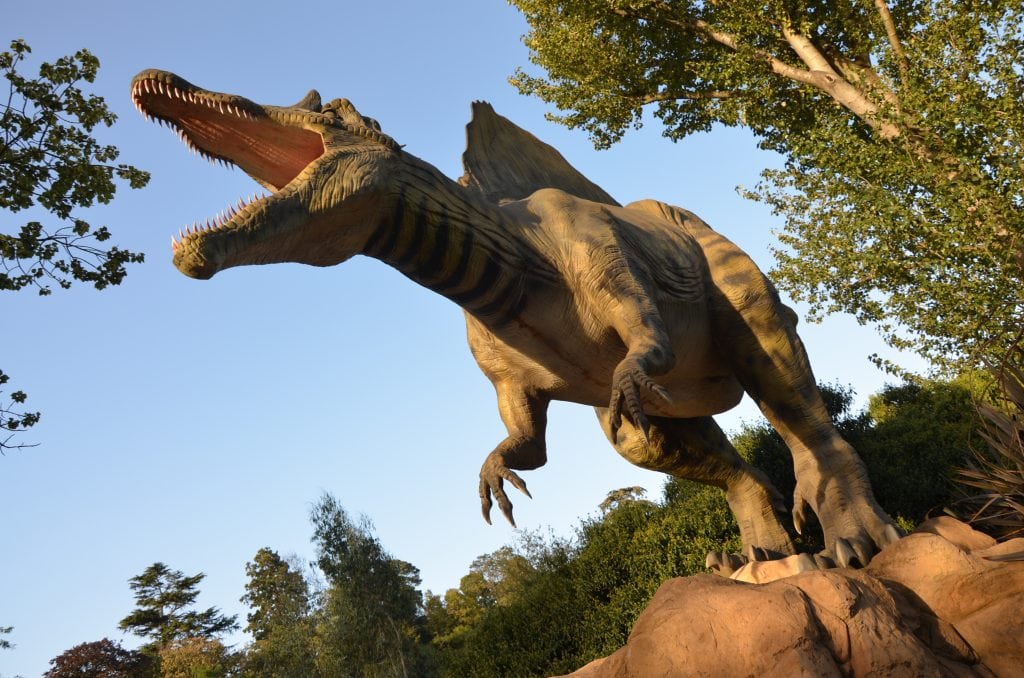 Needless to say, after we had visited the animal areas and some of the shows, we had just enough time left for a few rides. We purchased 6 ride tickets for £9 at one of the ticket machines and this was perfect for him to have some fun, plus anyone can use the tickets without the commitment of a wristband. We had a great day out. There's plenty to do and see here even if you didn't want to spend any extra money on the rides.
All in all, we had a great day out. The park was very well kept and tidy. The animals looked very healthy and theme park ride safety was taken seriously. A day spent here will be one of your most memorable days out of the year. See the website on how to get a free return ticket too!
---
Why not pin and save this post for later?