We love to go fruit picking in the summer. It should be on every child's summer bucket list. Most pick your own places have reopened and have safety measures in place.
If you have visited anywhere not on this list please do let me know by commenting below.
All of these places have PYO strawberries. Some have other fruit and sometimes vegetables also available for picking when they are ready.
PLEASE do check ahead before you leave home. Not all these places are open all week and some close when they don't have enough fruit to sell. Most of the following places are recommended by my readers.
One of our readers said that it was busy but they have queuing and social distancing measures in place. Their Facebook page states that they will close whenever they start running low on fruit so that enough can ripen again. Link above to keep an eye on opening days.
Open daily Mon -Fri 10am till 6pm, Sat & Sun 10am till 5pm. They accept Cash or Card payments. There are toilet facilities on-site. Dogs on leads are welcome but only on our grassed areas,
Address: Scalby Grange Farm, Scalby Ln, Gilberdyke HU15 2UJ
---
Well sign-posted and well run. Tickets need to be bought in advance for the weekend and you book a time slot for your visit to make sure numbers are limited. We visited last year and it's a lovely PYO site. Other fruit and vegetables may also be ready to pick. There is a lovely cafe on-site with a small play area.
Emma Jones says "I am still very much acting like we are in lock down but I had to admit the kids needed a change of scenery. This felt like such a safe option and I am so glad we did it. I think we saw about 3 other people the whole time we were there which shows how well the ticket system works."
Address: Stamford Bridge Rd, Gate Helmsley, York YO41 1NB
---
They are now open for the season – Once the season starts (mid-late June) we will be open every day, weather depending! Please check the Facebook page for daily updates and opening times.
For PYO Strawberries and Gooseberries.10 am to 4 pm every day (fruit and weather dependent) please check Facebook for updates before travelling. Pay on entry. Cash or card. No booking required.
Address: Askham Bryan, York YO23 3QY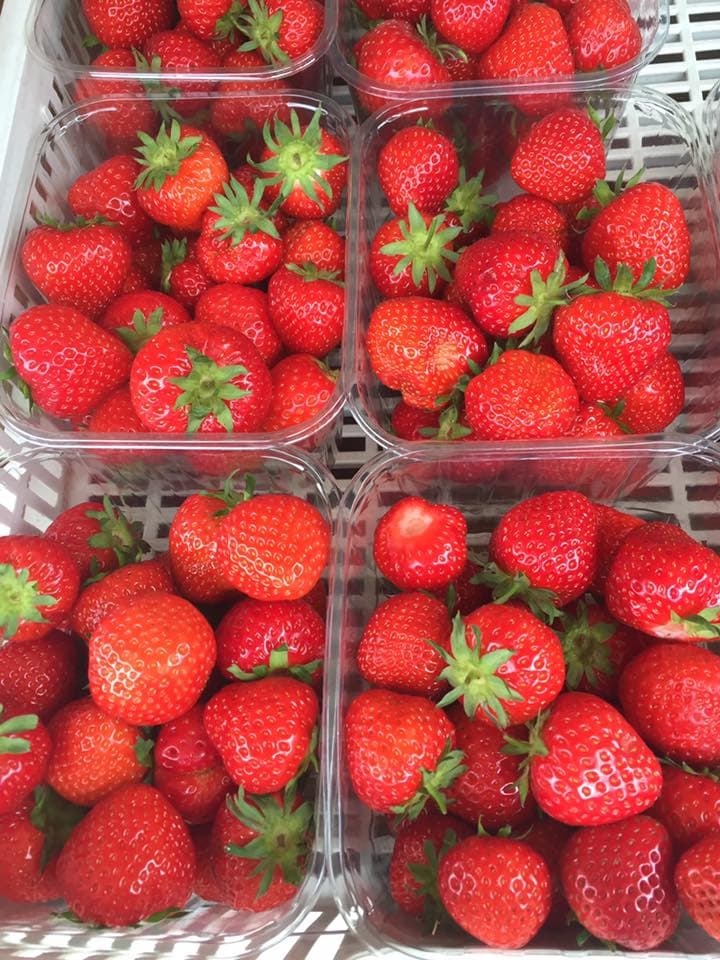 ---
Best Pick Your Own Strawberries Yorkshire
We have eight acres of soft fruit at Cedarbarn, all available for visitors to either pick themselves or buy in the shop. This is a really popular activity with local families! We grow many different kinds of fruit and, as well as selling them, we use them in our café for mouth-watering tarts, crumbles and summer puddings. We even put them into our own jams and chutneys so they can be enjoyed all year round.
We grow six different varieties of strawberry which ripen at different times, which means you can pick strawberries here from the early 'Christine' variety, grown under fleece and available at the beginning of June, right through to 'Flamenco' in October. Other soft fruits – Gooseberries, blackcurrants, redcurrants and blueberries are available in June and July, with raspberries ready to pick at the end of July. There is also an on-site miniature railway.
Address: Cedar Barn Farm Shop, Thornton Rd, Pickering, North Yorkshire, YO18 7JX
---
Update 28/06/21 Plenty of strawberries to pick. We will be open daily as long as there are enough strawberries. There is no need to book. Open from 10am to 5pm, last entry 4.30pm. We now have a card machine and can take contactless payments. There will be no toilet facilities on site. Sorry, no dogs or picnics in the fruit field. We grow a range of crops including Strawberries (7 varieties): Raspberries, Gooseberries (cooking and dessert varieties), Blackcurrants, Redcurrants and Tayberries.
Address: Church Lane Farm, Hutton Bonville, Northallerton DL7 0NR
---
12 Places to Pick Your Own Strawberries in Yorkshire PYO Fruit
Briony recommends Spilman's, she says "They do other fruit too such as raspberries and I think maybe gooseberries, and pumpkins for Halloween with events on. They also plant their own crops solely for birds to come and feed on and attract them to the area.
Cafe and play area for kids too, tractor rides where they give an informative history of their farm. (when allowed) They are doing slots for pick your own this year in keeping with the social distancing. Quite an amazing all-rounder.
There are multiple time slots per day. You can arrive any time within your chosen time slot. Please remember last entry into the PYO fields is 4.30pm everyday.
Address: Church Farm, Thirsk YO7 3NB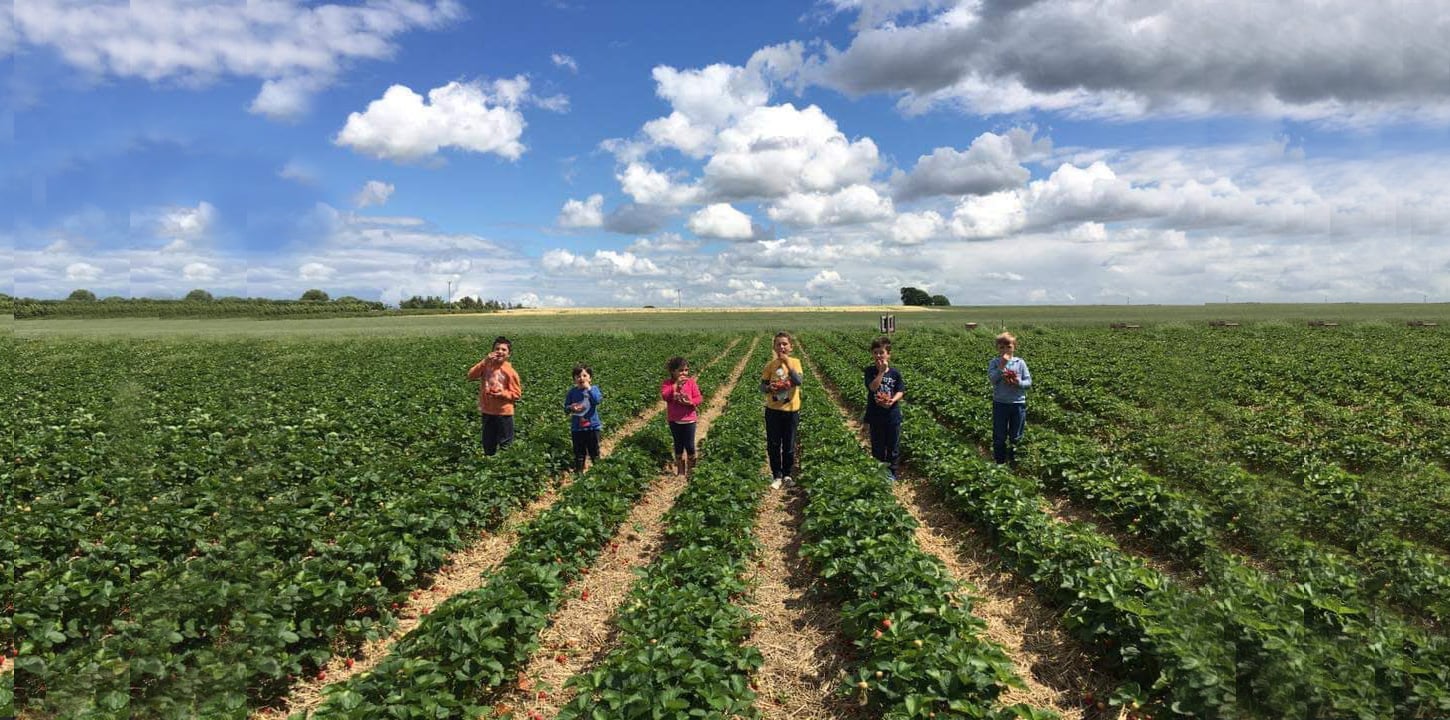 ---
Our original site, Eastfield Farm provides pick your own strawberries and pumpkins during the Summer and Autumn months. We hope to be open from June to mid-August for strawberry picking, but crop timings and availability depends heavily on the weather. Please collect a container on arrival – you are welcome to bring your own containers but please be aware that these must be weighed before you pick. Pricing and availability of fruit is displayed outside the shop.
Weary after your fruit picking? We also offer a lovely tearoom located next door to the shop offering homemade cakes and refreshing beverages.
Address: Doncaster Rd, Tickhill, Doncaster DN11 9JD
---
We're growing over 4 different types of strawberry at Farmer Copleys in 2021, these have been planted at different stages, so we can extend our PYO season until the end of August. Our PYO Strawberry Experience opens in June until August, with an outdoor, fresh, safe area for picking your super strawberries up in our Spanish tunnels located on the farm. To make sure we're keeping with social distancing, we have time slotted your experience so you can have the best time picking, without the crowds. There will be 6 different varieties of strawberries and loads of photo ops and tips to have a wonderful, memorable trip out. Admission is £2.50 per person (Under 1's are FREE).
Address: Ravensknowle Farm, Pontefract Road, Pontefract WF7 5AF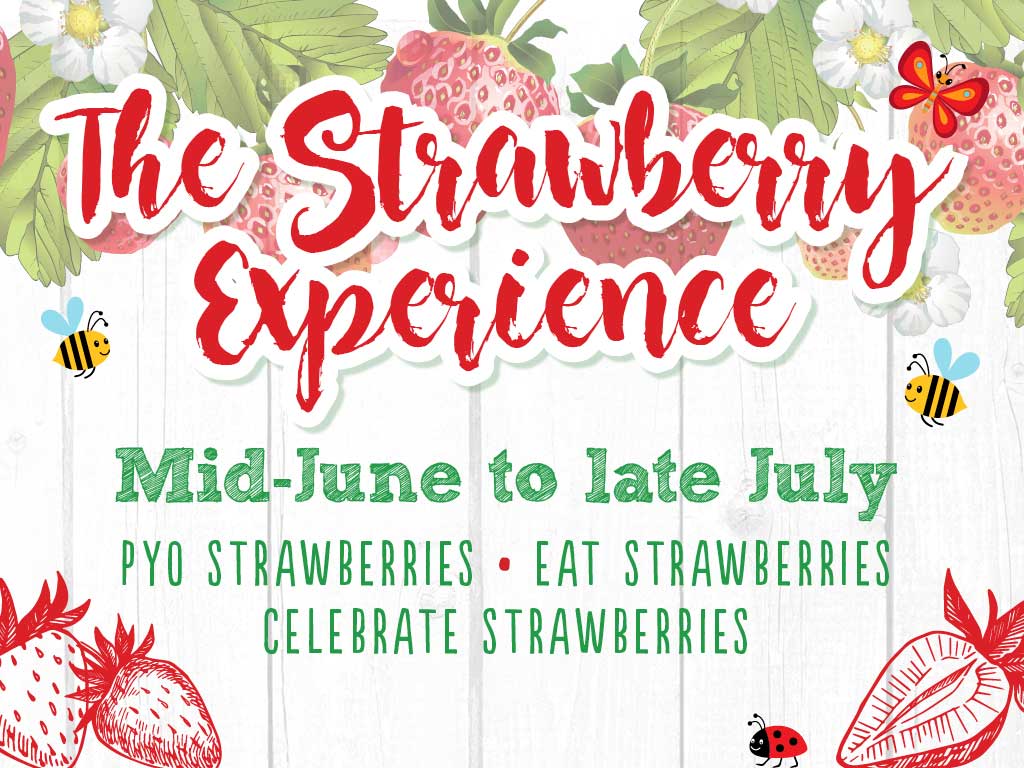 Pick your own fruit is a fun activity for all the family. The children learn where their food comes from whilst foraging amongst the plants looking for the biggest juiciest strawberry or raspberry they can find, at the same time enjoying the fresh air with the bonus of going home with fabulous tasty fruit. Advance tickets are required for PYO – you do not need a ticket for other on-site facilities i.e. the cafe.
Address: W End Ln, Horsforth, Leeds LS18 5ES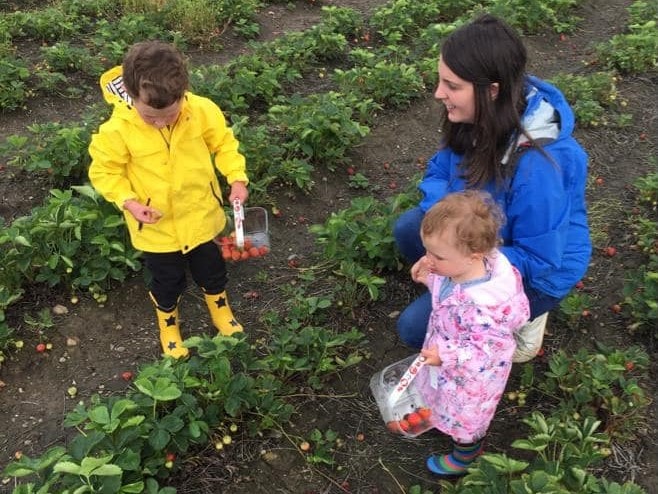 Strawberry picking info – Always check for our latest Facebook post for updates on opening as we are weather dependant. No booking needed. No entrance fee, just pay for what you pick. Pick ripe fruit only. Do not eat from the patch, fruit needs washing. Wear sensible footwear. Dogs are welcome, but we ask they don't go into the strawberry patches so please keep them on a lead. Refreshments are available. Please follow social distance rules. Free parking available (weather depending) – please respect our neighbours. Cash and card accepted. Farm shop opening times as norma
Diane recommends Redwood farm, she says it's close to Ardlsey reservoir so you could tie it in with a visit here.
Address: Tingley, Wakefield WF3 1EF
The picking season starts from Late June to late July. The season is only short and will last 4-5 weeks. Opening times vary depending on the weather and ripe fruit, Please always check our page if travelling any distance. If persistent rain we will close or if we are waiting for the fruit to ripen, but this will always be updated. There is parking in the field. Please note there are no toilets on site and no card facilities. Dogs or other pets/animals cannot go down the field or run loose as we also have Cows on site.
Address: Thorn Farm, Morley, LS27 0LX, Based on the main A650 road opposite the Toby Carvery