There is often a lot of days to fill over summer for families. When the nice weather comes we often head for the beach or a local splash pad. But how about finding somewhere free (or cheap) and beautiful to cool down and enjoy nature? This post covers lots of streams and even rivers where families can safely enjoying paddling in the water.
Please be vigilant when visiting these places. Keep your eye on your kids at all times as they can drown in even the shallowest of waters. I also advise wearing beach shoes or wellies not only to make gripping easier but to stop those painful ow! moments from the stones and pebbles.
A lot of these places are popular on a hot day and parking can become limited. Visiting early in the day should mean that you can easily find somewhere safe to park. Please remember the locals when parking.
I haven't visited all of these places, but I have been to a few. These are all genuinely recommended by my readers. There may be a charge to park at some of these places (especially Bolton Abbey and Dalby Forest).
Alverthorpe Meadows/ Wrenthorpe Park. Lovely walk around the Meadows and lots of pockets of paddling water. There is a great stream to paddle in with lots of entry points at the back of Wrenthorpe Park, this also has a large playground to entertain children.

Recommended by Leanne Amos
---
Synonymous with Bolton Abbey, the stepping stones were the crossing point for the lay workers at the Priory. The 60 stepping stones offer a fun and challenging experience for today's visitor. For those who do not wish to cross via the stepping stones there is a bridge offering a safe and dry passage.

North of the stepping stones is a large beach area popular with visiting families. This is the perfect spot to enjoy a picnic, build sandcastles have a little paddle in the river or simply relax and take in the view of the Priory.

Taken from the Bolton Abbey website.
Recommended by Becky Freer.
---
---
At Burnsall there is a field right next to the water that you can pay for a days parking. We have taken a gazebo and a bbq in the past and have had a fab day. The water is perfect for paddling. I haven't been since lockdown but I was told by a friend that the field is open now, they have toilets but again I don't know if they would be open at the moment.

Recommended by Maria Dawson
---
There is a gorgeous stream running through parts of Dalby Forest. The best place to access it for a shallow paddle is down in front of the visitor centre. If you head for the playground by here and just keep walking you will come to it.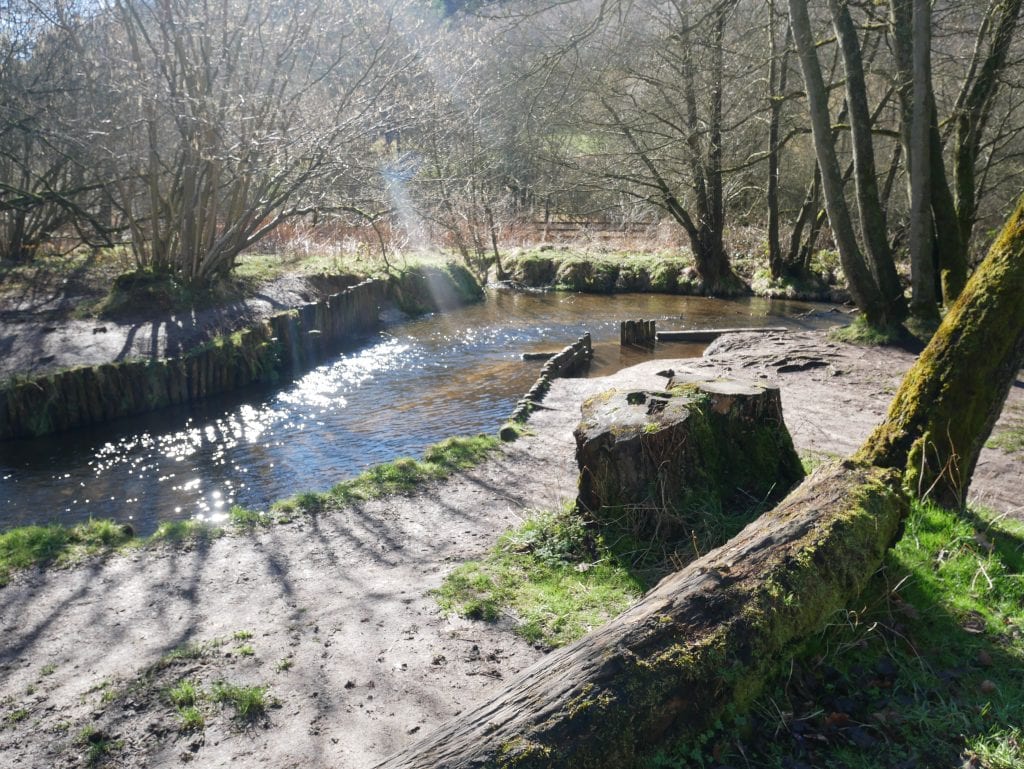 ---
In Goodmanham, East Yorkshire down from the dismantled railway embankment.

Recommended by Kate Groves
---
We walked from Grosmont to Beck Hole last week and the stream there was lovely (fab walk as well)

Recommended by Laura Mason
---
This ancient woodland has been restored to its former glory and boasts original features such as grottos and glades, rustic temples and waterfalls, as well as carpets of bluebell in spring and an impressive number of woodland birds.

– Taken from Woodland Trust website.

Hackfall Woods, in Ripon is a great spot.

Recommended by Kelly Thornton
---
A mix of woodland, species rich grassland and wet flushes, Hetchell Wood provides a tranquil retreat on the edge of the conurbation of Leeds. The variety of habitats provide refuge for the rare species which were once widespread in the local landscape. The path network allows visitors to explore each of the habitats in turn along with other significant features such as the imposing rocky crags.

Taken from YWT website
Recommended by Tasha Addie
---
A clear moorland stream, Hutton Beck, splashes and winds its way through the pillowy mounds that form the village green, traditionally cropped by the local sheep. Come to walk or cycle, or picnic on the green, and save time to visit the open-air Ryedale Folk Museum, right in the centre of the village.

– Taken from the North York Moors website.

Hutton le Hole is always popular for paddling – but I would say you need wellies on as we have always found it very slippy there.

Recommended by Maria Dawson
---
We went to Knaresborough on Thursday was amazing and not overcrowded.

Recommended by Kerry Dobson
It is easy to access and there are many shallow points to the river. There is also a paddling pool open in summer months. You may have to follow the river to find lower access points.
---
Malham cove is right next door to the pretty Secret Garden Bistro. You could head there for a nice lunch next to a beautiful stream that you can then paddle in.

Recommended by Nat Favill
---
You have two options here. You can park at May Beck car park and follow the stream to Falling Foss tea garden. There are plenty of opportunities to paddle in streams here. Or you can park at Falling Foss and paddle in the river next to the tea gardens. There's plenty of easy access points here without having to make the difficult descent to the base of the waterfall.
---
North Newbald, East Yorkshire – only ankle deep. My boys love racing leaf boats or pine cones all the way down the street.

Recommended by Kate Groves
---
Whatever you do don't park on the road/grass verge as you will get a parking fine. We went early in the morning and it was not busy but by lunchtime the car park was full. People were very good with social distancing.

Recommended by Gemma Rudd
---
Coxley woods/Stoneycliffe nature reserve. There are streams all over to jump into and splash. Stoneycliffe is Netherton side and Coxley is middles town side. Lots of garlic and lovely woody walks. There are lots of twig dens to explore. All of the water is paddling height and one part is next to a large clearing where children can be safely viewed. The place is so large, it wasn't hugely busy.

Recommended by Leanne Amos
---
Near to Dalby forest in the village just outside of it, Thornton Dale, you get this little gem.

Recommended by James Robson
---
Wyming brook nature reserve near Sheffield is absolutely lovely the water does flow quite fast over the rocks but there's lots of places to splash

Recommended by Georgia Elicia Machin
If you know of any great places to paddle in shallow water that aren't on this list please do contact me via a comment below or over at Facebook.
Why not pin this post for later?