I profess I love York. It's such an easy City to get around. It's incredibly historic, with so much to see and do. I have visited many times in the past but this was our first bucket list visit for Jamie. My Mum treated myself and Jamie to a night away and we started in the morning with a fast train journey to York, first-class, on Virgin trains. Travelling by train seems to be so much cheaper and far more reliable than when I was young. It's surprisingly cheap to travel first class now.
We caught the train from Newark which started the day on a high level of excitement for Jamie as at least 5 high speed trains zoomed through the station while we waited. Jamie loved his first high speed train journey and was particularly impressed with the free food and drink. The hour passed quickly and we were soon in York.
Just what can you do in York with 30 Hours?
After dropping our bags off at the hotel our first stop was The Shambles. This street is a must to have a wander down. It is one of the oldest streets in York. With overhanging timber-framed buildings so close in places you could pass things from one side of the street to the other. There are some lovely shops to look in down this street and with the cobbled road it really is like stepping back in time. I have found an excellent guide detailing everything you need to know about the oldest Medieval street in the world.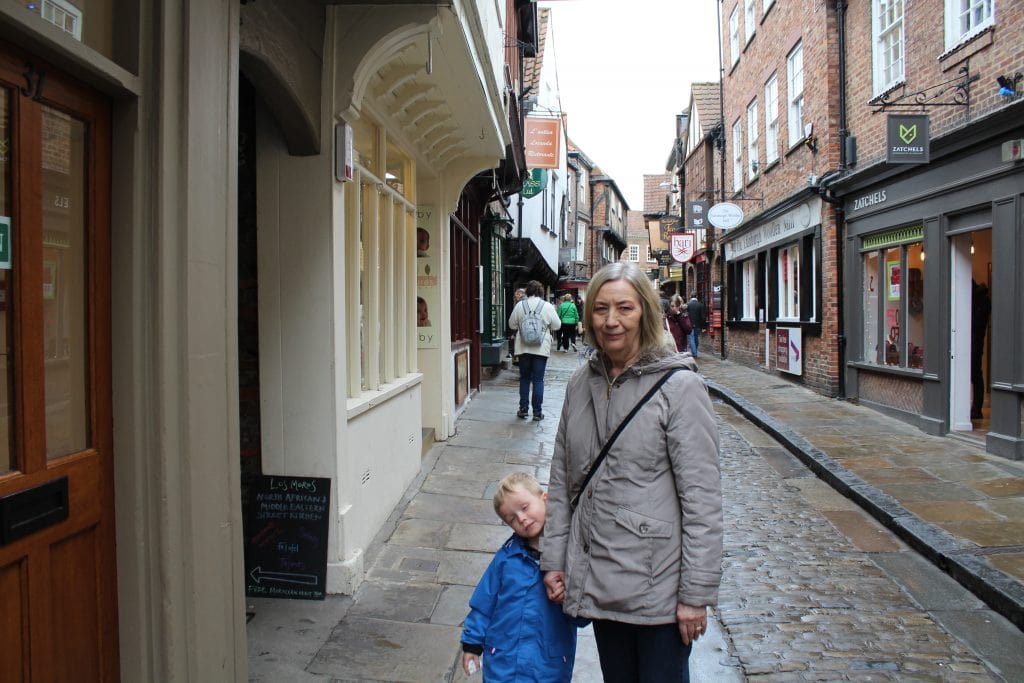 After a little bit of shopping, we headed on over to Betty's tearoom. Our first tick on our bucket list trip which was to 'Have afternoon tea at Betty's'. You can read all about our yummy afternoon tea by clicking here.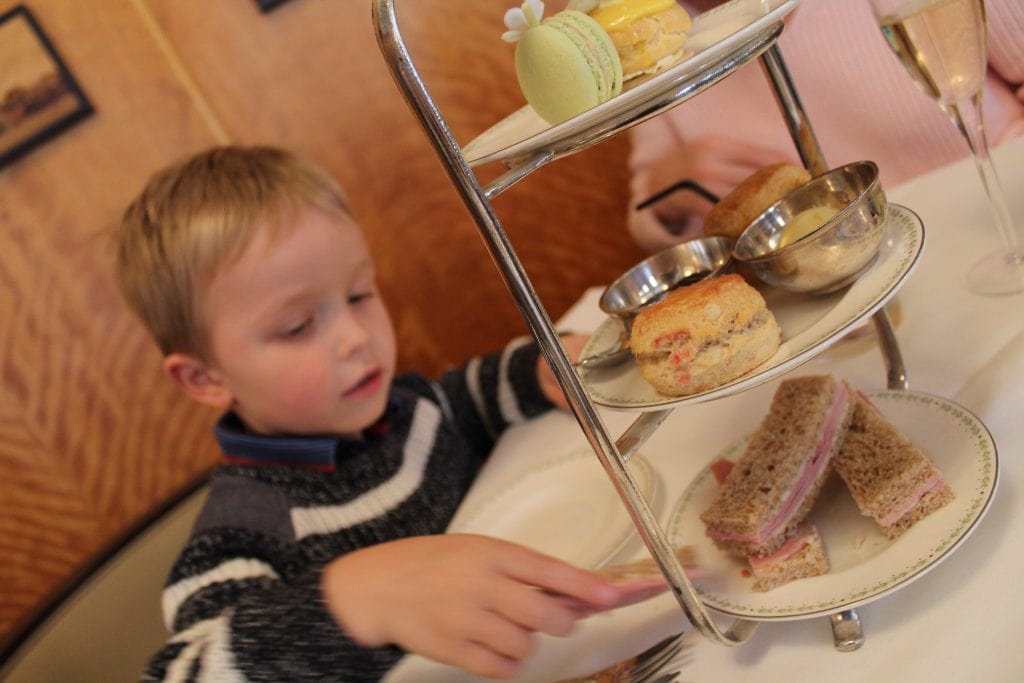 After filling our tummies we headed on over to the York castle museum. This is somewhere I visited as a child and left lasting memories for me. My favourite exhibit being the authentic Victorian street. Head on over here for my full review. This added another museum onto our bucket list challenge to 'Visit at least 10 different museums'.
*This post contains affiliate links
After visiting the museum we strolled back to our hotel. I shall include a review of where we stayed towards the end of this post. We stayed at the Park Inn by Radisson. It's an 8 storey hotel which can be seen top right of the photo below. Another hotel ticked off on our bucket list challenge to 'Stay in at least 50 different hotels'.
After a good nights sleep and a hearty breakfast, we were ready for the new day's adventures. We managed to get slightly distracted walking over to York Minster. There was a rowing race getting ready to start right by our hotel. I just love the area we were staying. It's so historical and right by where you can go on a cruise boat too.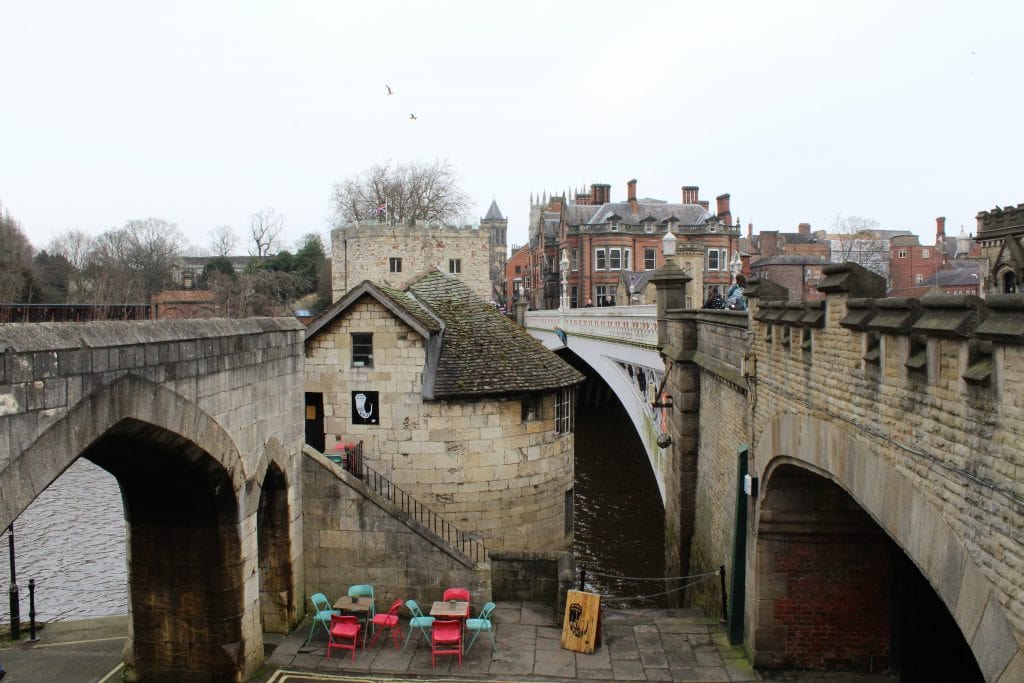 The building with the round roof in the photo above is actually a café!.
Once we'd managed to drag ourselves away from the river we headed on over to York Minster. For some reason, I thought it was free to visit here but sadly it wasn't. It was well worth paying for the visit though and we spent much longer here than we were expecting. As well as being a minster it is also referred to as a cathedral so we ticked another off our list to 'Visit 6 different cathedrals'. My blog review for the Minster can be found here.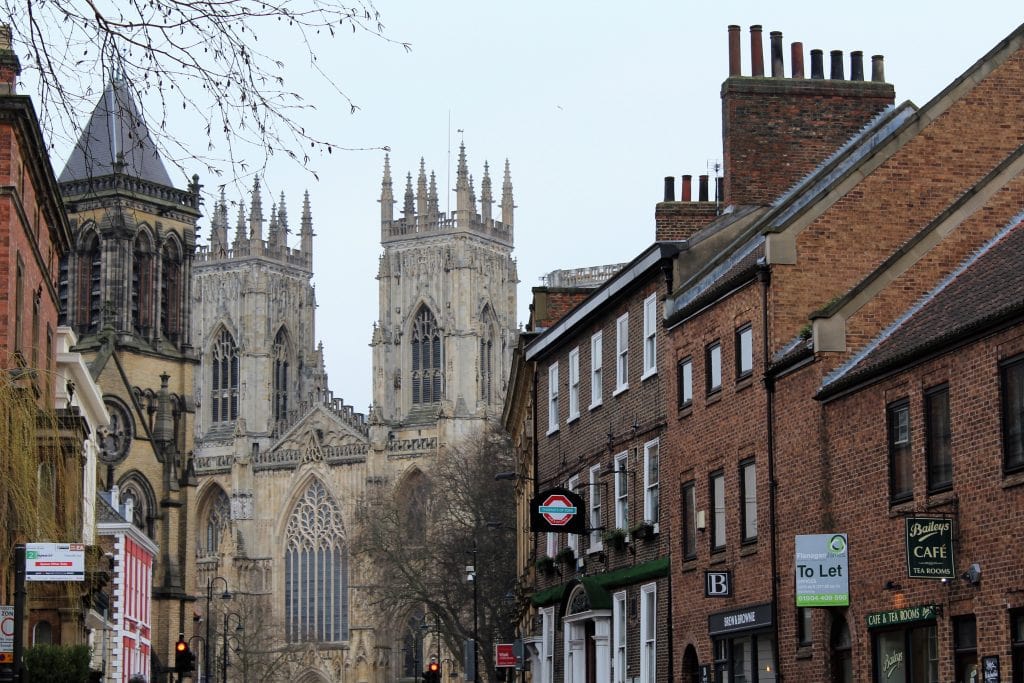 After York Minster, we had a quick pit stop at the hotel before heading on over to the National railway museum. This completed a tick on our bucket list and added another to our list of 10 museums to visit. The museum is free to enter and well worth the visit. You can read all about it here. We were really starting to tire by the end of this visit and I think we were all quite relieved that it was time to head to the station for our train back home. Although Jamie must have said about 10 times that he really didn't want to go home and kept asking when could we return. I think the prospect of the super fast train ride home was the only thing stopping the tears.
We all had a fabulous time away in York. There's so much to see and do, it's well worth a visit. There is even a fair few things that we didn't manage to do which I will mention at the bottom of this post.
Our hotel – Park Inn by Radisson review
The Park Inn is very centrally located. It's situated on the banks of the River Ouse and a lot of the rooms command a great view of York Minster. The hotel is about a 10 minutes walk from the train station. It's a mid-range priced hotel. They have 200 rooms with TV, free wifi, climate control, coffee and tea making facilities and more.
We arrived quite some hours before check-in. The friendly and helpful lady informed us that our rooms were already available and we were able to check in and freshen up before we headed out. Please click here to book now.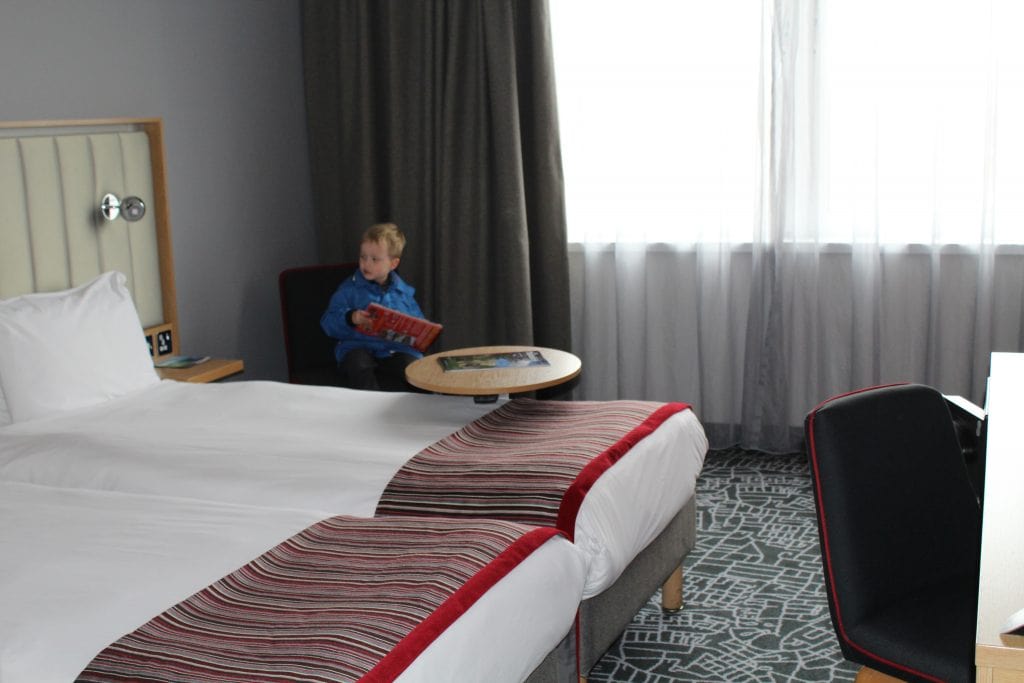 Jamie and I shared a twin room. The beds were super comfy. The shower room was of an adequate size. Our view was faultless. There are other room types available, such as family rooms.
The only downside was the geese flying at all hours. Geese can't fly quietly! I appreciate that wasn't the fault of the hotel though and aside from them the hotel itself was lovely and peaceful. I couldn't hear noises from the corridor or from above.
We ate in their Bar and Grill area at dinner time. Mainly because it was convenient for us with a little one. There was also the added bonus that children eat free when accompanied by a paying adult. The food was fairly priced. I think the most impressive thing was the bag of treats for the little ones. As well as the bag to colour in there was an activity book, crayons, a bag of sweets and a few other bits and bobs. Jamie was in his element. Especially when a member of the reception staff gave him another bag when we checked out the next day.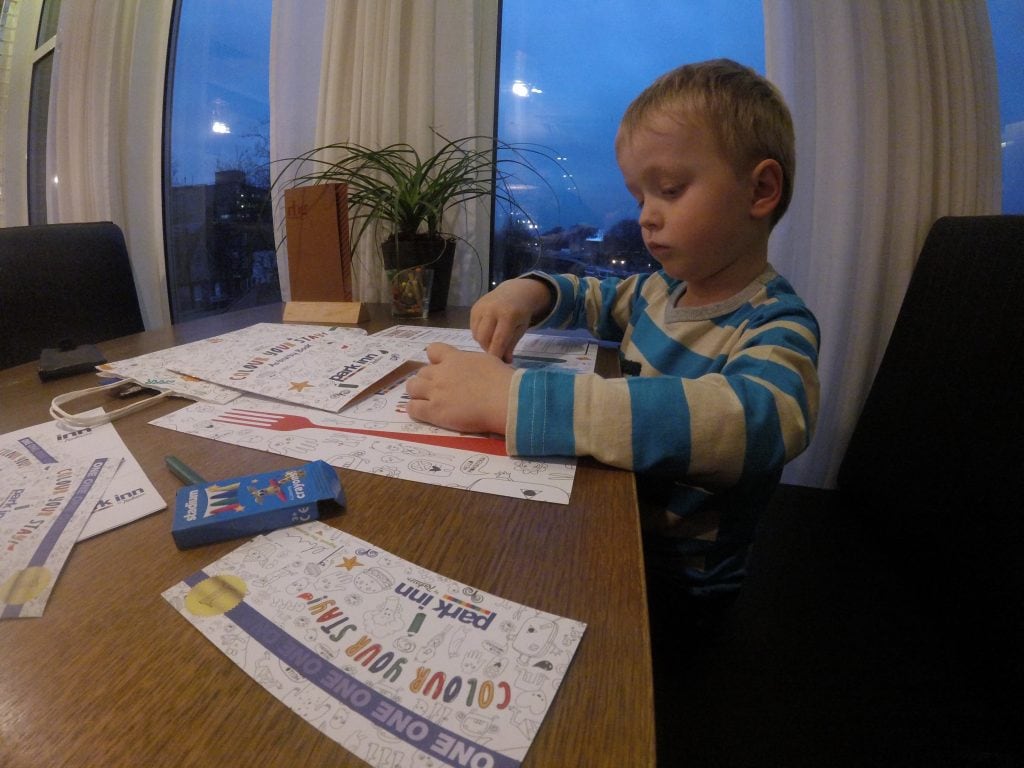 We were particularly impressed with the breakfast room the next day. I opted for a full English (from a buffet). It was all very tasty and hot. The range and choices were very good. If we ever stay in York again I would certainly stay here again, geese or no geese.
The hotel was within a relatively short walking distance of most of York's main tourist attractions such as York Minster, the dungeons, York castle museum, Yorvik Viking centre. We were a stone's throw away from the boat cruises.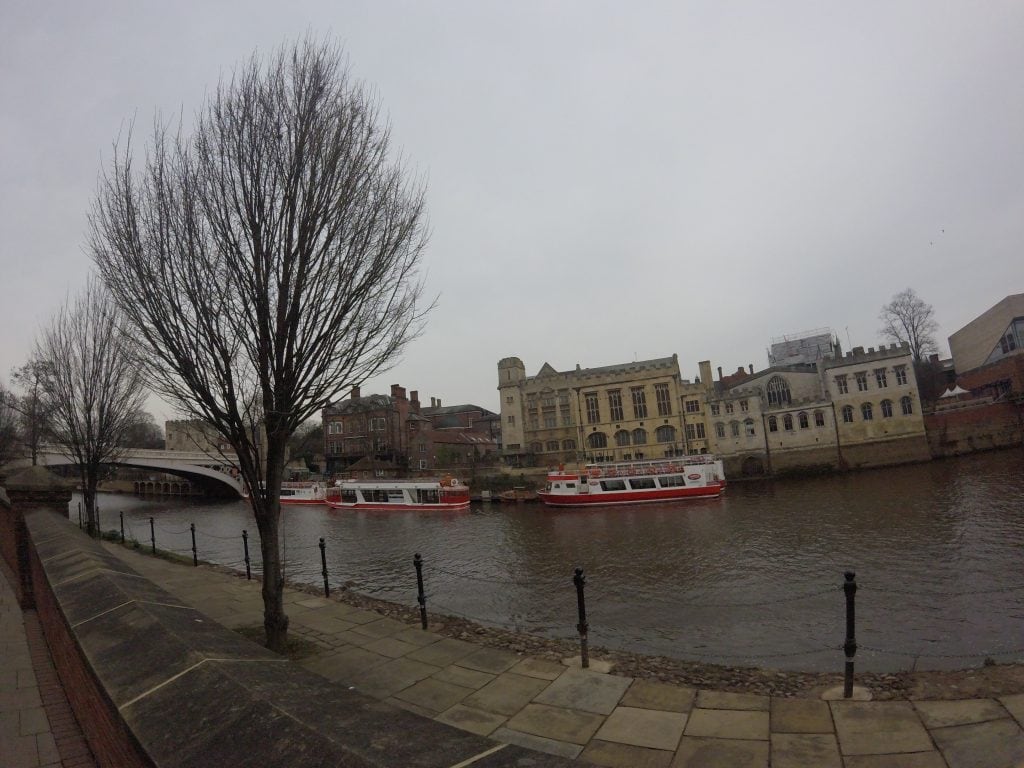 More About York and what else can you do there?
York is surrounded by ancient walls. It is in Yorkshire, in the north east of England. Rail links to York are very good. I don't know much about parking in York itself. In the past, we used to get to York via their park and ride. This was very good and ran efficiently. York is an easy city to walk around, especially for families. We struggled a little when we needed a taxi from anywhere other than the train station. My advice would be to book at least 20 minutes in advance of needing one. York is a very busy city.
As well as everything we did above there are many other ways to fill up your time there with the kids.
The Yorvik Viking centre was not yet open so sadly we couldn't visit on this occasion but I am sure we will return and I even think we could have fitted it into our whirlwind visit. At 3 years old I think that the York dungeons may have been a bit traumatic for Jamie so that is another thing to visit in the future. To see the city other than on foot there is a hop on-hop off bus. There's a road train and you can also go on a boat cruise.
Here's our bucket list Vlog for our 30 hour visit to York.
If you liked my blog review please comment or like and share over on social media. Why not pin my post for later? Simply click on the image below to head on over to Pinterest.