There are some magical events happening this Christmas in the East Riding of Yorkshire and North Yorkshire and some are yet to be confirmed. I've put them into one big post so you can search for the best Christmas events near you – where you can meet Santa and more. Don't forget to book in advance this winter.
Please keep up-to-date with government guidance before booking or visiting. I am unsure of the following attractions policies on cancellations of events. Please check with them in advance. It may also be an idea to check with the attraction that everything is as advertised the day before you visit. Please also double-check the event descriptions on the attraction's website as the below information could change. It is essential that you read their own information carefully.
CHRISTMAS EVENTS EAST RIDING OF YORKSHIRE AND NORTH YORKSHIRE 2021
Come and meet Santa in his spacious Grotto and meet Blitzen one of Santa's faithful Reindeer. Each child will have a one on one experience with the big man himself, and before you leave your child can then pick an early present of their choice! The Cafe will be open for Light refreshments and Chrismassy Treats! Please be aware The Farm is Only Open too Members and Santa's Grotto visitors. The Playground and Fields will be Closed.

Beetle Bank Farm
Address: Moor Ln, Murton, York YO19 5XD
When? Selected dates in December
How much/Do you have to prebook? £15 per child. Prebooking online is essential.
---
It is with great pleasure that we are able to announce that Father Christmas will be bringing the magic back to Bolton Abbey this winter! Step into the twinkling Christmas village, tucked away in the middle of Strid Wood and see what enchanting experience awaits. Become acquainted with the cheeky elves who have just arrived from the North Pole, and let them take you on the special journey to meet the Great Man himself.

Bolton Abbey
Location: Bolton Abbey, Skipton BD23 6AL
Dates: November 27 and 28. December 4 & 5. December 11 & 12. December 18, 19, 20, 21, 22, 23
How much? Child – £25.00 (all children visiting Father Christmas must have tickets – including babies). Adult – £10.00 (you can purchase a maximum of two adult tickets with every two child tickets). Older Sibling non-believer – £10.00 (a child who does not wish to partake in the crafts or receive a gift from Father Christmas).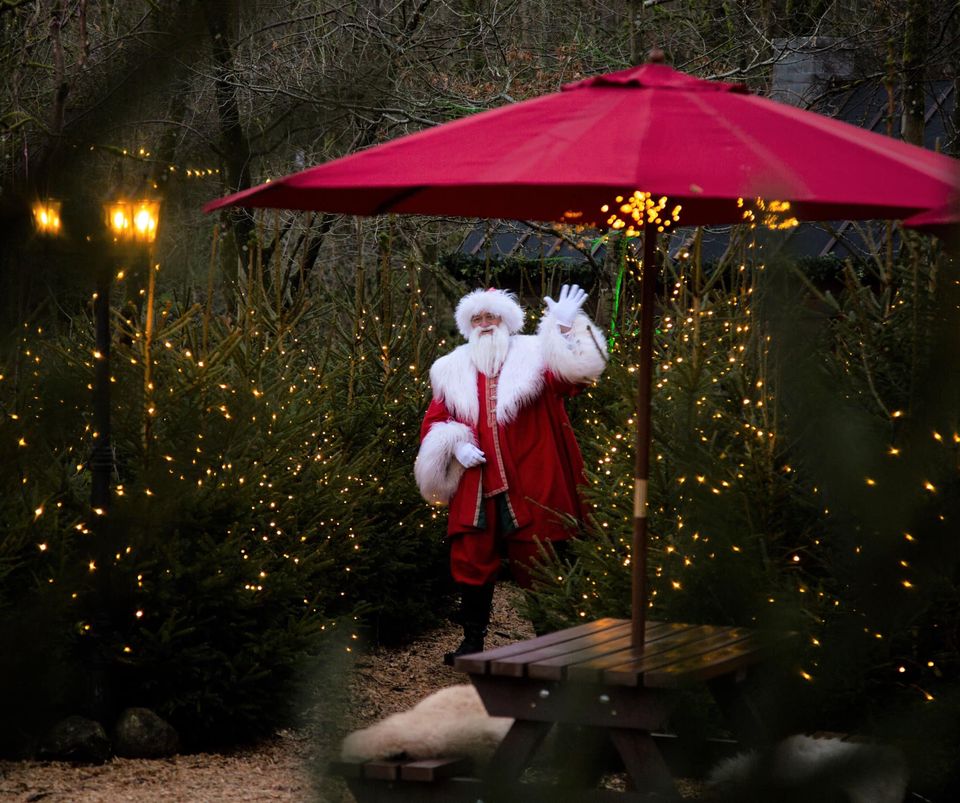 ---
Come and meet Santa, Mrs. Claus, all the elves, and not forgetting the reindeer before their busiest time of the year! Visit Santa in his Grotto before you make your way into the Christmas Village where there's plenty of activities to keep the whole family busy! Have a story with Mrs. Claus in her cosy library, decorate gingerbread with the elves in the kitchen, decorate your own plant pot and plant your very own Christmas tree to take home with you! Don't forget to visit Santa's real-life reindeer and choice a special gift from Santa in his toyshop!

Brimham Rocks
Location: Fiddlers green HG3 3HB
Dates: Selected dates in November and December
How much? Adult £9.95, children 18 months to 15 years £23.95.
---
The house will be decorated with original, handmade decorations, with many crafted from flowers and foliage cropped and dried from the walled garden. This year, thousands of dried helichrysum flowers in jewel shades will adorn the Great Hall, and the hydrangea flowers that encircle the house in autumn will be brought indoors, too. There will be many pieces crafted in paper, card, and other recycled and sustainable materials, and the Long Gallery will have an iridescent theme for the first time. There will be a trail of giant, hand-carved and painted candy canes in the woodland behind the house. With 24 giant canes – one for each day of advent – hidden in the branches, will you be able to find them all?

Burton Agnes
Address: Rudston Rd, Burton Agnes, Driffield YO25 4NB
When? From Sunday 14th November to 23rd December
How much/Do you have to prebook? Adult £10.90 without donation, child £6.36.
---
Step through the wardrobe into a magical adventure this festive season. An ice spell has been cast on this mystical land where it is always winter, but will Christmas spirits be restored and will warmth and joy return?

The grand interiors of Castle Howard will be lavishly decorated, and a series of theatrical installations, lighting, projection and soundscapes will evoke all that we love about this special time of year, with the iconic 25 foot Christmas tree adorned with over 3000 baubles providing a breath-taking highlight in the Great Hall.

Your ticket will include timed access to the magnificent Christmas installation inside the House, full access to the Gardens & adventure playground and also the Stable Courtyard and retail outlets and cafes. Tickets for any of our Father Christmas events should all be purchased separately.

Castle Howard
Address: Castle Howard, York YO60 7DA
When? 13th November 2021 to 3rd January 2022
How much/Do you have to prebook? Pre-booking is essential. Tickets from £26.50 per adult, £15.90 per child.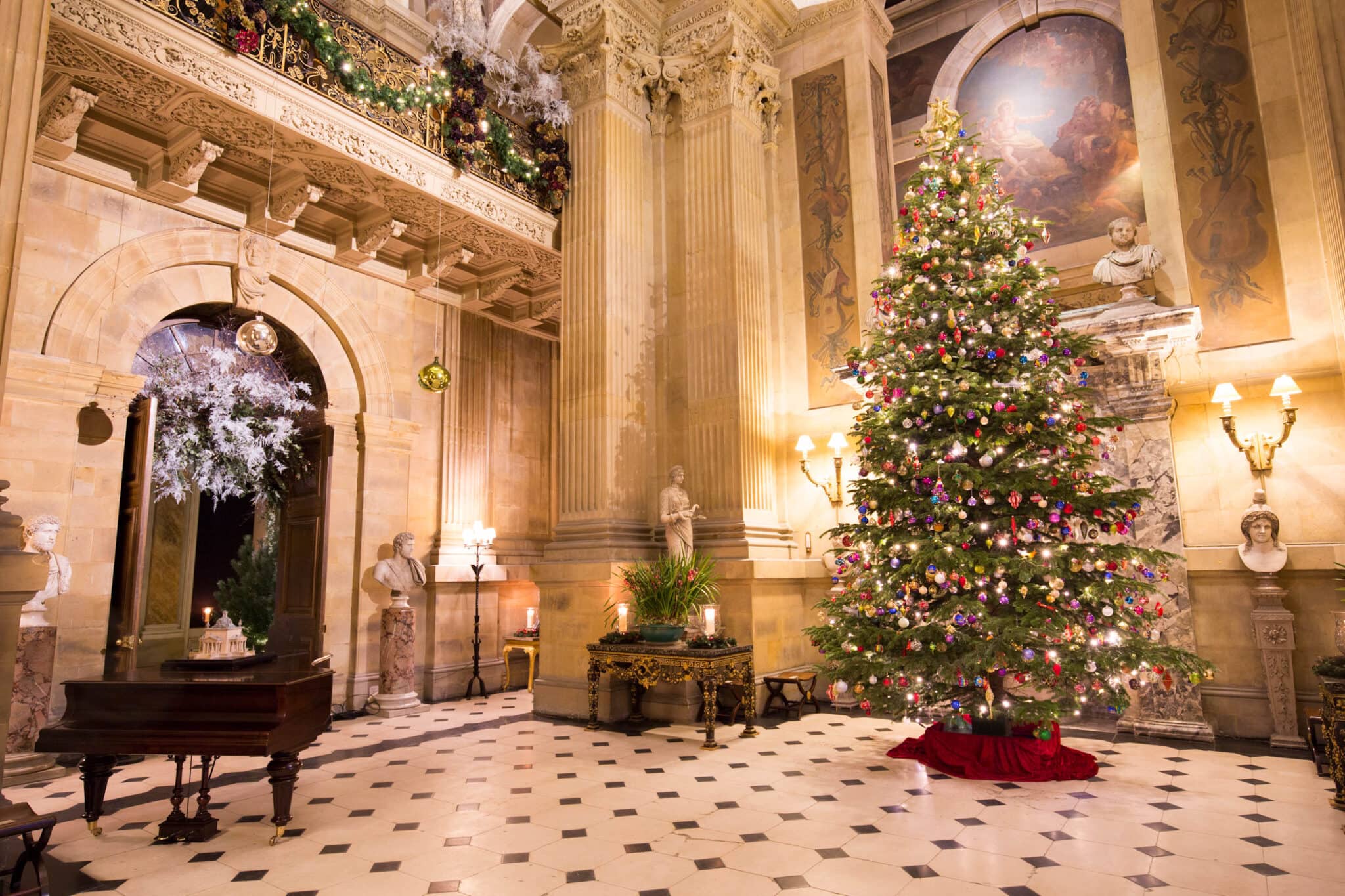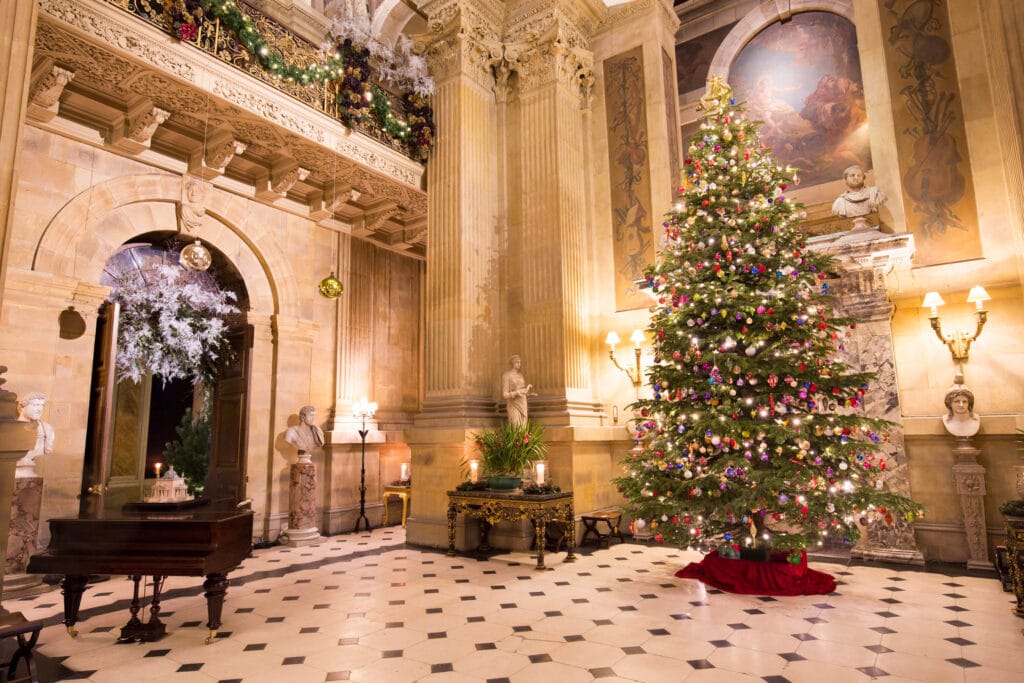 ---
Your Santa experience begins as you are welcomed into our Grotto, cleverly hidden away underneath the beautiful Lendal Bridge. Upon entering, the Santa Experience Captain will check all of the children off the special list that we receive from Lapland. If you have any pushchairs, then you are welcome to leave these in the safety of our Reindeer Pen (they will all be away on business with Santa at this time so there will be plenty of room). You will then be warmly greeted by Santa's good friend Mary Christmas or Ernie the Elf, who will gladly show you to your reserved seating.

City Cruises
When? Various dates in November and December
How much/Do you have to prebook? An adult ticket is £13-15 and £16 to E18 for a child.
---
Premium Compartments are available to book for up to 6 or 8 people. You will enjoy the exclusivity of a private compartment for you and the rest of your party whilst still enjoying the experience with music. Duration – 1 hour roundtrip.

About: Premium compartment up to 6 or 8 people! Mince Pie on arrival! Steam train ride! Santa will visit you on the train! Each Child will get a present! Adults Get a Bottle of beer or wine!

Classic compartments are also available
Address: Bolton Abbey Station, Bolton Abbey, Skipton BD23 6AF
When? Selected dates in November and December.
How much/Do you have to prebook? Pre-booking is essential. Prices vary.
---
Sing-a-long and dance in your seats as Santa and his two elves take to our indoor stage in The Show Barn. This 15 minute musical show will take place at 4.00pm / 4.40pm / 5.20pm / 6.00pm / 6.40pm / 7.20pm. Tickets MUST be pre-booked as there are limited seats for each show time – please select a show time at the time of purchasing tickets. Sit back, relax and enjoy a magical journey through a fantasy land of twinkling lights, Candy Cane Woods and the Gingerbread Land. Don't forget to spot the elves in the Whistle Stop Workshop, getting all the toys ready for Santa. Go on an elf hunt around the park to help Santa find his mischievous elves…and more.

Lightwater Valley
Address: Water Ln, North Stainley, Ripon HG4 3HT
When? Sat 4 & Sun 5 Dec, Sat 11 & Sun 12, Sat 18 & Sun 19 Dec, Mon 20th, Tues 21st and Wed 22nd.
How much/Do you have to prebook? £14.50 per person, under 2s are free.
---
Santa is flying here to see you! Let the twinkling lights draw you into the wonder of Mother Shipton's magical, memory-making Christmas experience. Wander through the gorgeous winter woodland to see the enchanted Christmas Village, festooned with festive delights and merry displays to marvel at along the way. Chief Elf Chestnut will be delighted to meet you and lead you to see Santa Claus. The excitement of Christmas starts here; Santa will be keeping warm in his cosy grotto, and you can come along to say hello or take an 'Elfie with the big man himself!

Mother Shipton's Cave
Address: Prophecy House, Harrogate Rd, High Bridge, Knaresborough HG5 8DD
When? Selected dates in November and December
How much/do you have to prebook? Pre-booking is essential. If you are arriving by car it costs £31 for 5 people in 1 car. Additional people are £11.
---
Dress warmly, and gather, socially distanced, in the Northwood kitchen courtyard – where there will be a fire – or in the courtyard marquee 15 minutes before the start time to allow us to guide each "table" to Lady winter and onto St Nicholas grotto. Enjoy a glass of hot punch (alcoholic and non-alcoholic available), before being taken to the woodland grotto to make a wish with Lady Winter and then a short story with St Nicholas, a very experienced story teller, aimed at the whole family

Northwood Fairy Trail
Address: Unnamed Road, York YO41
When? Selected dates in December
How much? £84 for a table of 3 people, £104 for 4 and £120 for 5
---
Join Santa and his special team of elves at either Pickering or Grosmont Station before a magical adventure aboard the Santa Express which will take you on a festive journey you won't forget! This enchanting Christmas experience sees Mr. Claus and his jolly helpers pass through the heritage carriages, giving children a chance to meet the legendary man himself on board the train, and gifting special presents to the children onboard – providing they've managed to keep themselves off the naughty list this year!

North Yorkshire Moors Railway
Address: 12 Park St, Pickering YO18 7AJ
When? 4 & 5, 11 & 12, 18 & 19 and 20, 21, 22, 23 & 24 December
How much/Do you have to prebook? The Adult or Child fare is £26 per person and includes a present and backpack for each child.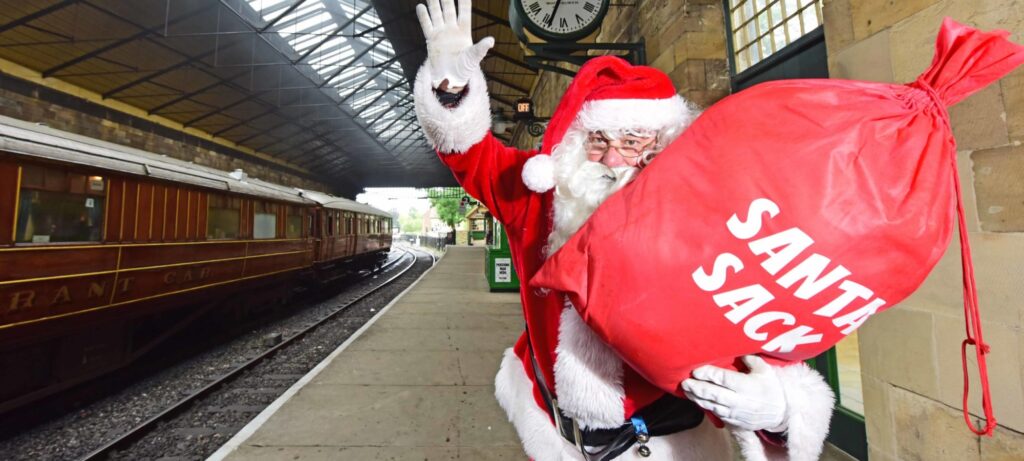 ---
Jump aboard the magical sleigh ride to Santa's Woodland village for a truly unforgettable Christmas experience with lots of activities for this year. Reduced visitor numbers throughout the experience including on Santa's sleigh. Santa's cheeky elves will greet you and take you and your family to see Santa in his grotto for a new exclusive and truly personal experience. Plus much more.

Piglets adventure farm
Address: Towthorpe Grange, Towthorpe Moor Ln, Towthorpe, York YO32 9ST
When? 20th November to 24th December
How much/Do you have to prebook? From £10.95-20.95
---
Come and enjoy an illuminated adventure at RHS Garden Harlow Carr in Harrogate, North Yorkshire. Now extended to include the entire length of Streamside, Glow lights up winter nights with a touch of sparkle and magic. Wander the enchanting trail around magnificent trees and shrubs and see some of Harlow Carr's iconic features, including the Queen Mother's Lake, Winter Walk and Kitchen Garden, glow with festive colour.

RHS Harlow Carr
Address: Crag Ln, Beckwithshaw, Harrogate HG3 1QB
When: Selected dates from 18th November until the 29th of December
How much/do you have to prebook? A standard adult ticket costs £12.95, children £6.95. Other pricing options are available.
---
A brand new event, unique to the area, will brighten up December at Sewerby Hall and Gardens this year: Sewerby Winter Woodland will take you on a magical outdoor journey of spectacular sounds and lights.

Sewerby Hall and Gardens
Address: Sewerby, Bridlington YO15 1ED.
When? 3rd to 23rd December.
How much/Do you have to prebook? Early Bird tickets are available until 31 October, and will cost £10 for adults, and £6 for children, with a family ticket (two adults and two children) costing £25. Prebooking is essential.
---
Santa's most entrusted Elf will greet you and take you to Santa's cosy reindeer study where you will meet the big man himself, hear all about the magic of Christmas and tell him what's on your wish list this year. Explore the Christmas Village, meet all the animals, play festive games, do some Christmas crafting and listen to all the exciting stories from the North Pole. Enjoy a festive tractor and trailer ride to see our beautiful herd of Red Deer and a chance to see if you can spot Rudolph while he waits for Santa with his friends and more

Sledmere
Address: Sledmere, Driffield YO25 3XG
When? 27th/28th Nov, 4th/5th/11th/12th/18th to 23rd Dec
How much/Do you have to prebook? £17 per child, £10 per adult.
---
What was once but a simple Christmas Tree shop, from this small acorn, grew what came to be Stockeld Park's most famous adventure season. Join us for Christmas fun, get active and discover large themed outdoor playgrounds within the beautiful woodland of Stockeld Park. Watch the Enchanted Forest come alive after dusk with our famous winter illuminations! This truly is the home of Christmas magic.

Stockeld Park
Address: Wetherby Rd, Wetherby LS22 4AN
When: Selected dates in November and December
How much/do you have to prebook? Tickets from £16.50 per person.
---
The magical Father Time has been summoned by his dear friend Father Christmas to Thornton Hall to trade the time we have all spent apart from our friends and families during the pandemic. Together they are going to use their combined magic to create an amazing Festival of Fun! Join Jingle and Jelly for the most hilarious Christmas Show! Get involved with dancing, singing and lots of festive fun! …and for the moment you have all been waiting for! Meet Father Christmas in his grotto made especially for him by our Thornton Elves. Will you make the good list? Don't forget to collect your special token to spend in the gift shop…and more

Thornton Hall
Address: Thornton-in-Craven, Skipton BD23 3TS
When? Selected dates in November and December
How much/Do you have to prebook? Kids £27.95 – £35.95. Adults £7.95-9.95. Other pricing options are available. Prebooking is essential.
---
Follow the festive trail through the Arboretum to find Santa's Grotto. Mrs Claus will welcome you and guide you through our winter wonderland, where you will meet the donkeys, take a sneaky peek into the elves bedroom and the bustling miniature ski village. Can you spot the woodland creatures on your way?

Thorp Perrow
Address: Thorp Perrow Arboretum, Bedale DL8 2PS
When? Selected dates in December
How much/Do you have to prebook? Children £8.50 each for the grotto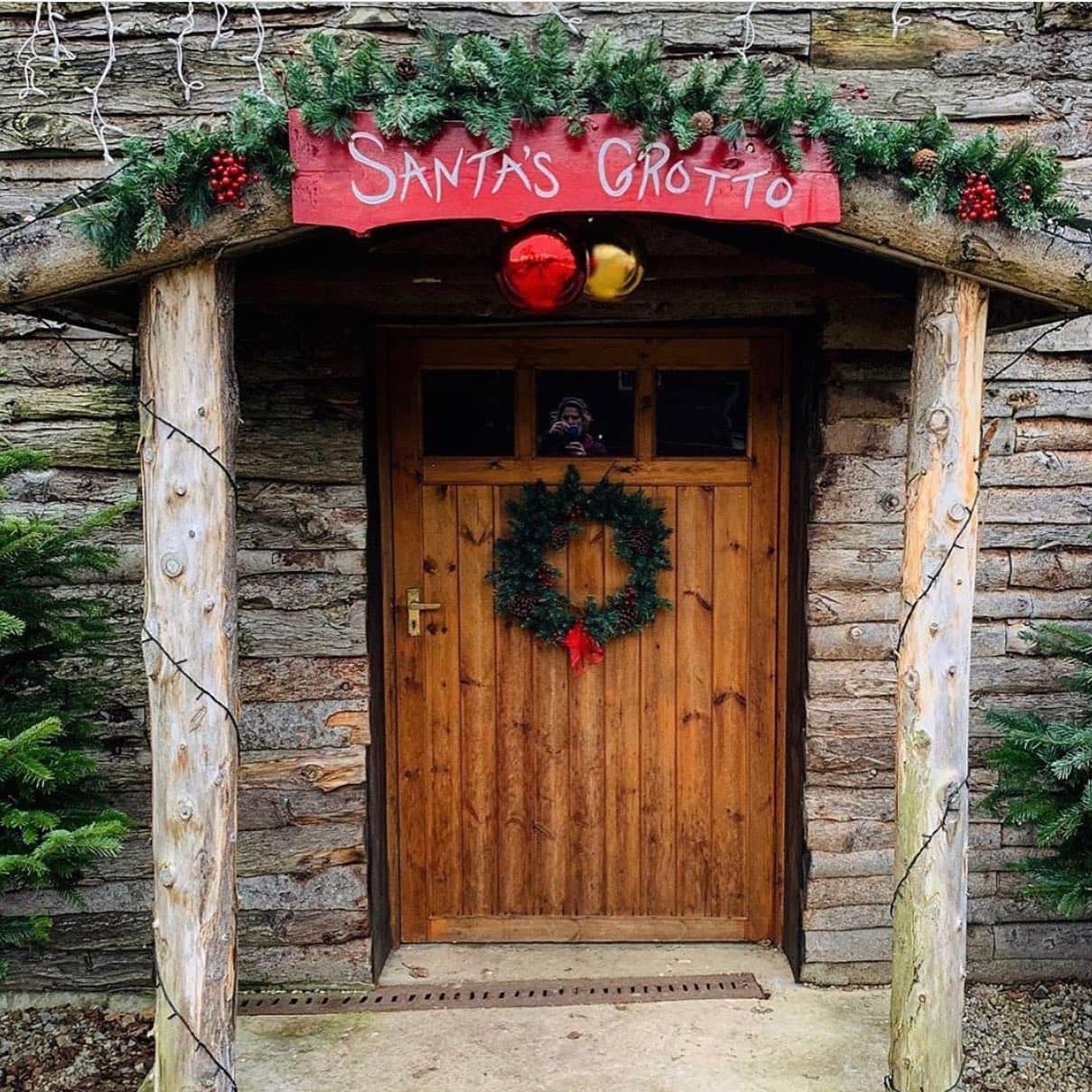 ---
Your journey begins just like the 2004 motion picture when THE POLAR EXPRESS™ will pick you up at Leeming Bar station to take you to the North Pole. You will get to meet the characters from the film including the conductor, the singing chefs, the hobo and of course the main man himself Father Christmas. You and your family, hopefully, dressed in PJs, will experience a fun-filled theatrical adventure as you make your way to the North Pole.

Don't forget to have a bite of your cookie and authentic hot chocolate before arriving at the North Pole to meet Santa Claus. Santa will join you on board and, if you are on the nice list, hand you your first gift of Christmas, a Silver Sleigh Bell just as in the motion picture we all love. You will get to speak with Santa.

Wensleydale Railway
Address: Leeming Bar Station, Leases Road, Leeming Bar, North Yorkshire, DL7 9AR
When? Various dates from 19th November until 23rd December.
How much/Do you have to prebook? Tickets from £24.95 to £31.95.
---
Our assignment from the North Pole is to spread Christmas joy to everyone. This December, get ready for our Chocolate Covered Christmas. From expert masterclasses to helping Santa create festive treats. There's a chocolate filled Christmas event to suit everyone. Join Santa for some chocolate making. Guests will be able to meet Santa on our special themed tours, in which they will join him in making festive chocolate lollies! Filled with festive fun, children will discover incredible seasonal secrets.

York's Chocolate Story
Address: 3-4 Kings Square, York YO1 7LD
When? 27th November -23rd December
How much/Do you have to prebook? Child Under 4 years old £6.00. Child: £17.50, Adult: £19:50
---
Step this way for a magical Christmas experience in Santa's village. Meet the big man himself in his cosy winter cabin where children will receive Santa money to spend in the Magical Toy Shop. Then take a walk through the village and be enchanted by the elves and peek inside their homes and workshops.

Murton Park
Address: Murton Ln, York YO19 5UF
When? Selected dates in November and December
How much? £10 per adult, £17 per child
Best Christmas Events East Yorkshire and North Yorkshire 2021
---