It's been more years than I care to work out since I visited Castle Howard in North Yorkshire. It is a magnificent house and has been the home of the Carlisle branch of the Howard family for more than 300 years. It is just 15 miles north of York and it's a full day out that you won't forget in a hurry. I was especially looking forward to taking my son to the adventure playground. I don't think it even existed when I last visited. We were provided with tickets for the purpose of my review but all opinions are 100% honest. (as always!)
It is free to park at Castle Howard. The car park is next to the stable courtyard entrance. Here you will find the courtyard cafe, coffee shop that sells amazing ice-cream (the one scoop tubs are very generous), toilets, farm shop and gift shop. There is also a garden centre if you want to pick up a few plants.
Family Friendly things to see and do at
Castle Howard
Adventure Playground
I'd heard good things about the Adventure playground at Castle Howard. My son is a bit nervous of busy play areas so we made a beeline straight for the playground when we arrived. It's about a 5-7 minute walk from the main entrance, downhill. We arrived there a little after 10am and it was lovely and quiet for almost an hour. He had a wail of a time trying out all the different things they have. There's more than there first looked to be.
We loved the large round-a-bout which we giggled like crazy on daring each other to jump off, it seems to never stop moving. My son loved the pillows that played a sound when he jumped on them and the tyre that bounced up and down when someone is sat on another one. There's plenty for young and older kids and something for pretty much all abilities.
Boat trips and the Boathouse
Next to the Adventure Playground you will find the Boathouse. This has the closest toilet facilities for the playground. There is a small cafe with tables inside and outside. They also have pleasure boats that run from here. It's a relatively small boat and it costs £2 for an adult and £1 for a child. It is not included in the entrance fee.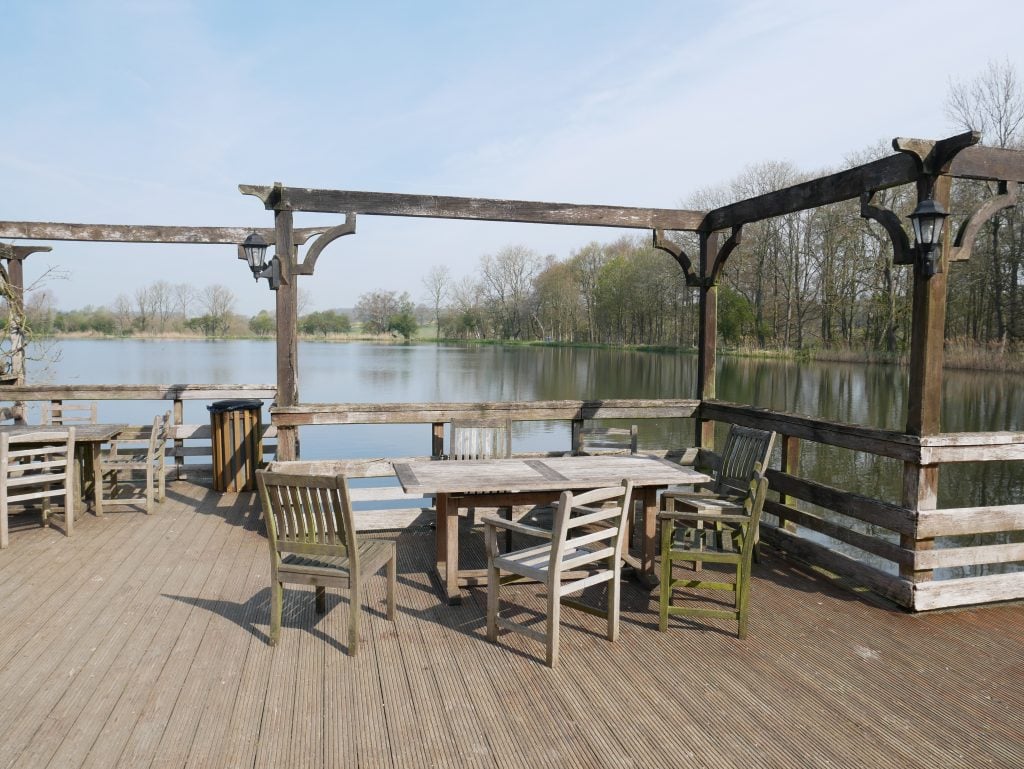 Kelly Car Land Train
There is a really handy land train called the Kelly Car at Castle Howard. It stops at the stable courtyard (the main entrance), by the house itself and down at the playground. We went on it back up the hill from the playground to the house. It's a couple of nicely painted trailers on the back of a tractor. The kids will love it and it was a welcome break to already tired legs. It takes about 20 minutes to do a full lap.
Complete one of their trails around the house
Don't lose your ticket when you go to look around the house as you will need to show it when you arrive there. You can, however, visit the gardens of Castle Howard without purchasing a ticket to the house. We were offered a couple of child-friendly tour leaflets. My son chose the large one for finding different things around the house. He loved doing it and it was a great way to get him to pay more attention to what he was looking at.
One thing that will strike you about the house at Castle Howard is how Italian in look and design it is. The main entrance hall is a rival to places we have seen in Rome and Venice. The Renaissance frescoes are everywhere and there are some magnificent statues. Luckily my son was as taken with the entrance hall as much as I was and we spent a long time taking photos and admiring everything. It really is stunning. There are quite a few rooms that you can look at inside the house and don't miss a visit to the chapel.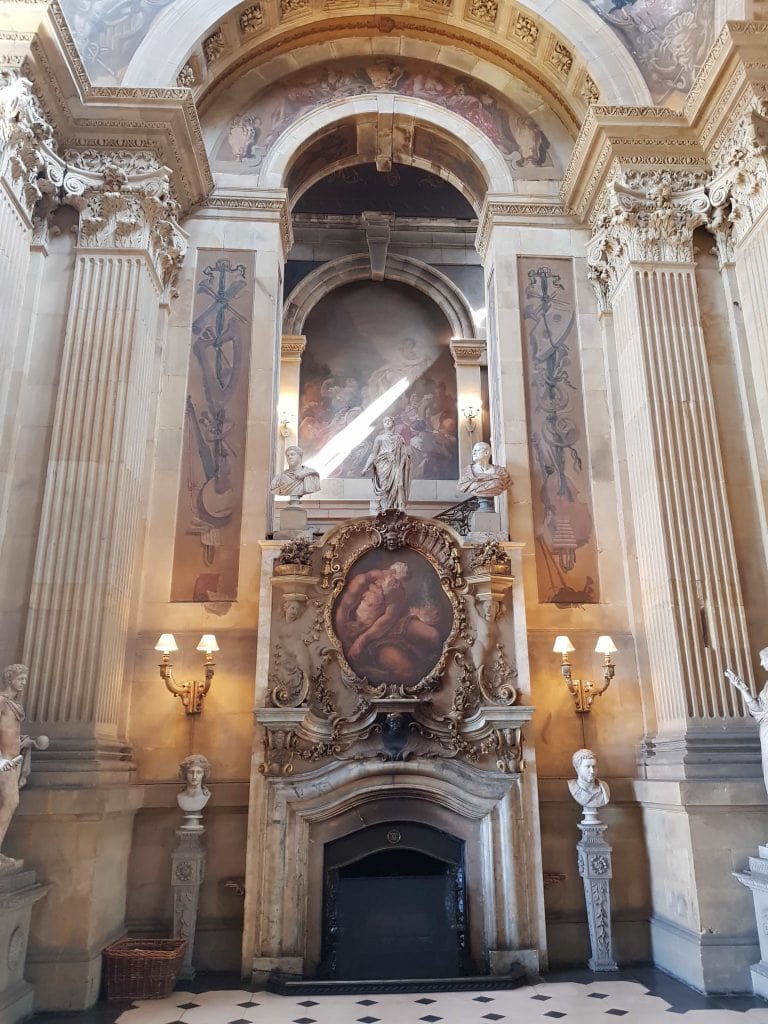 Walk in the Woods
The woods at Castle Howard are very picturesque. We visited during Easter and they had an Easter bunny egg trail around the 'Ray Wood'. There's pathways for you to explore all year round. We were on a set path for the trail but it was great fun finding our way. We even found the Easter bunny at the end of the trail. It's well worth a walk, trail or no trail.
Pose for photos by the Atlas Fountain
There is one thing that just about rivals the magnificent entrance hall in the house at Castle Howard. This is the Atlas fountain which is directly out front of the house, it is jaw-dropping. The fountain usually runs from 12 pm every day until around 4 pm so try and time your visit accordingly. It's a great spot for a photo of the fountain and of your family.
If you walk towards the lake from the fountain you will get the best view of the house itself. It's so incredibly grand and there are not many houses in the UK that can rival it. This was also one of the most popular spots for people to have a picnic. There's a wonderful expanse of grass here.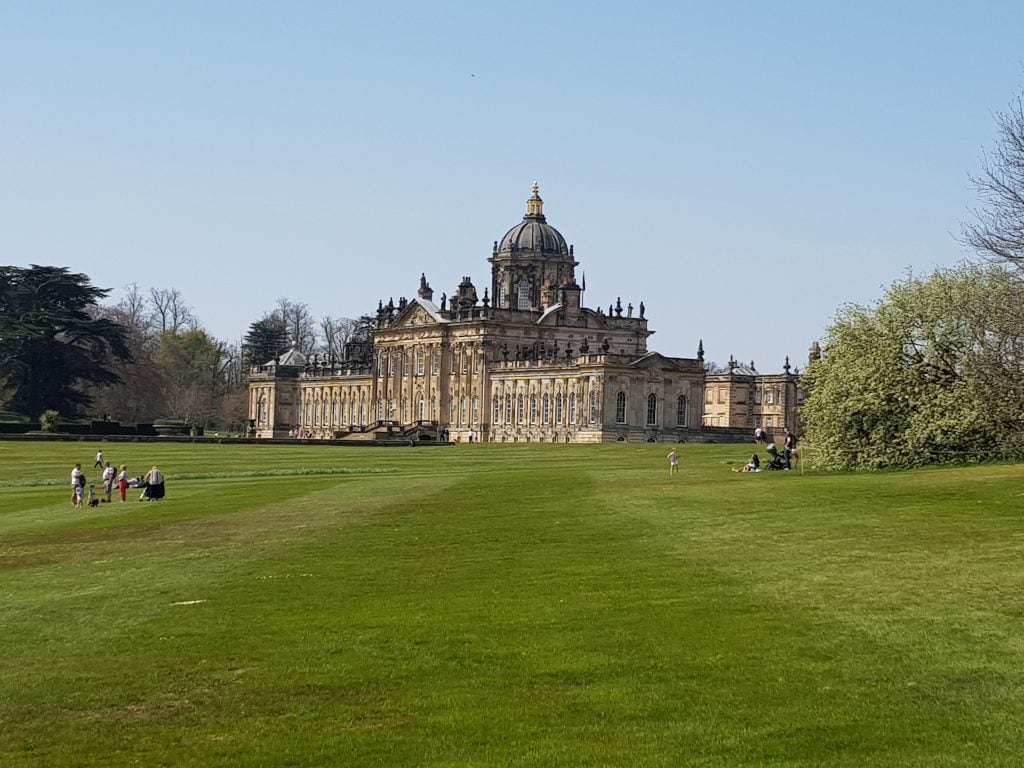 Walk up to the Temple of the four winds
It's a slightly up hill on grass walk to the Temple of the four winds. Sadly it is in need of a bit of TLC as you can no longer walk up the steps to have a peer in the windows. It is, however, another sign of the money that must have once been spent at Castle Howard. There are some really big and intriguing statues on the walk up to the temple.
Find the Giant Photo Frame for a photo
Go on I challenge you to find the Giant photo frame. It's not too hard to find and it is a nice spot to appreciate the house. They need a step for the kids though as my very tall 5 year old struggled to see over. It made for a funny photo though. The background almost looks painted.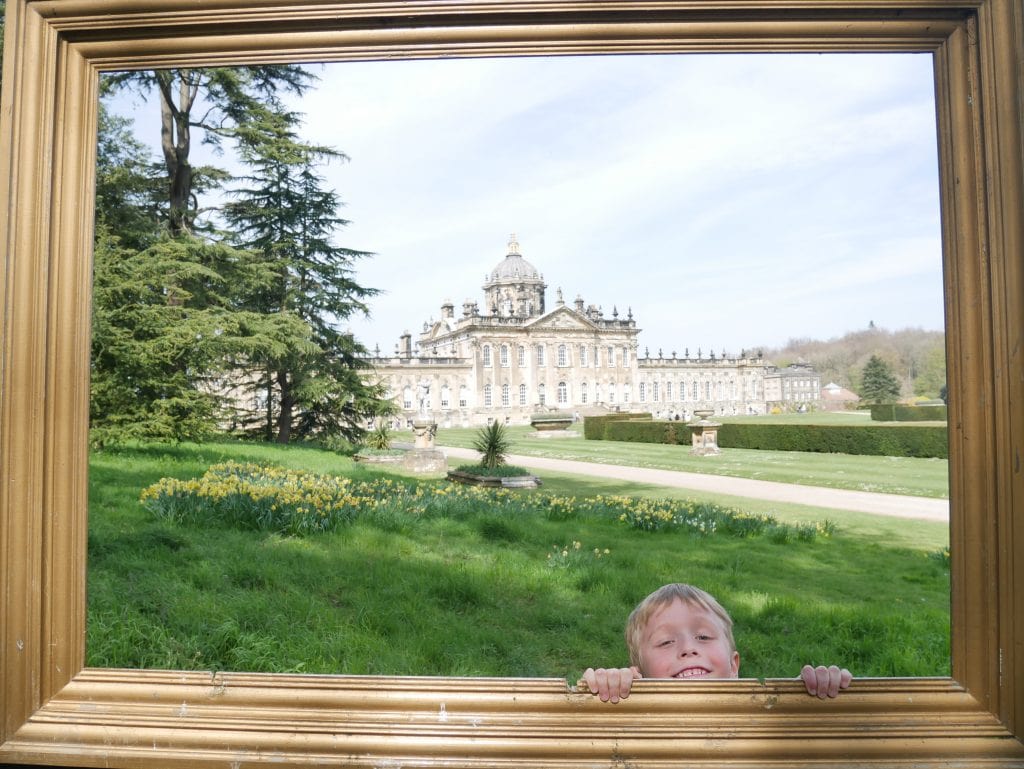 Find the fish in the Walled garden
Kids will love the walled garden with the different sections to it. It's worth having a proper look around as we found a few 'treasures' in there. We spent an age just sat next to the fish pond watching the large and small fish swimming around. There's also some great statues to be found. Since when did my 5 year old look so tall and grown up? They really do grow up too fast.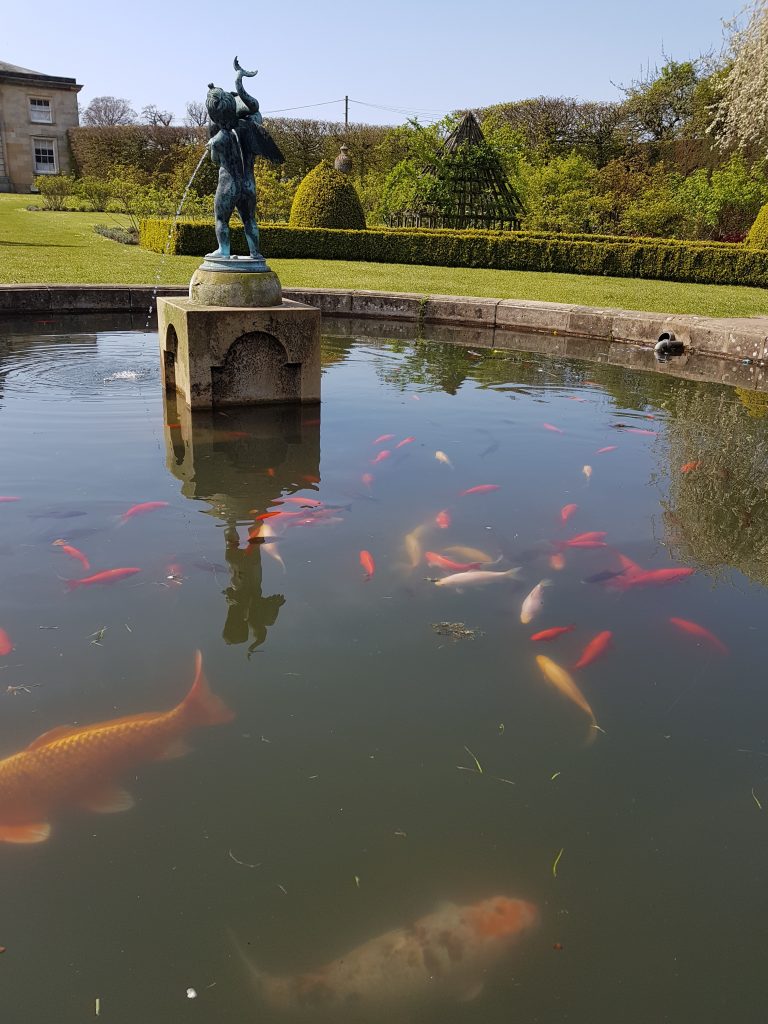 Eat at one of their cafes or take a picnic
They have three cafes at Castle Howard. The courtyard cafe by the main entrance. The Boathouse cafe down by the lake and the Fitzroy room cafe in the house. We ate at the Fitzroy room cafe. I loved the decor on the walls and we ate well for £13.00. My son had a kids sandwich box and I had the most wonderful bloomer sandwich with a fabulous chocolate cupcake and a drink. It literally was the best sandwich I've had in a very long time.
They have picnic tables down by the playground or why not take a picnic blanket and sit out on one of the many huge lawned areas?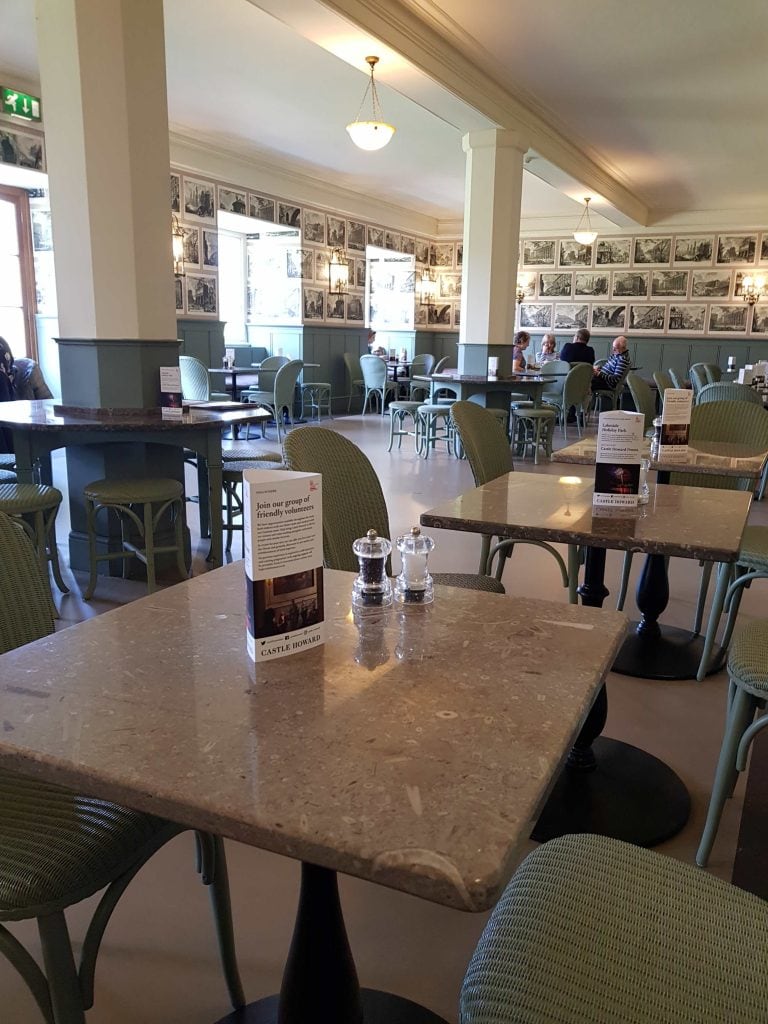 Important Information
Castle Howard house is open from 10:30am every day. The gardens are open from 10am every day. They have different opening and closing times for the cafe's and shops etc so please check their website before visiting.
You can purchase a house and gardens ticket or just a gardens ticket. If you purchase your tickets online in advance you will receive a 10% discount off the price. A house and gardens ticket bought online in advance costs £19.50 for an adult and £11.00 for a child aged 4-16. Prices are subject to change and under 4's are free. There are other pricing options for a family ticket and concessions.
*This post contains affiliate links
---
Disclaimer: We were provided with complimentary tickets for the purpose of my review. All opinions and photos are my own and must not be duplicated without my permission.