We gave Go Ape at Dalby Forest near Thornton-Le-Dale in North Yorkshire a try. It was a cold and wet start to our day out in March. As I was driving there I started to panic about the weather as what was supposed to be light rain showers turned to torrential rain with high winds. What was I doing take my five-year-old to Go Ape in this weather? As it turns out all was fine and the bad weather completely cleared when we arrived and it was partly cloudy for the rest of the day. Tree Top Junior is one of two treetop courses at Go Ape in the Dalby Forest.
Please note that they do not shut Go Ape in rain or ice. It takes some pretty extreme weather conditions to shut Go Ape. Please read on for my review of Go Ape.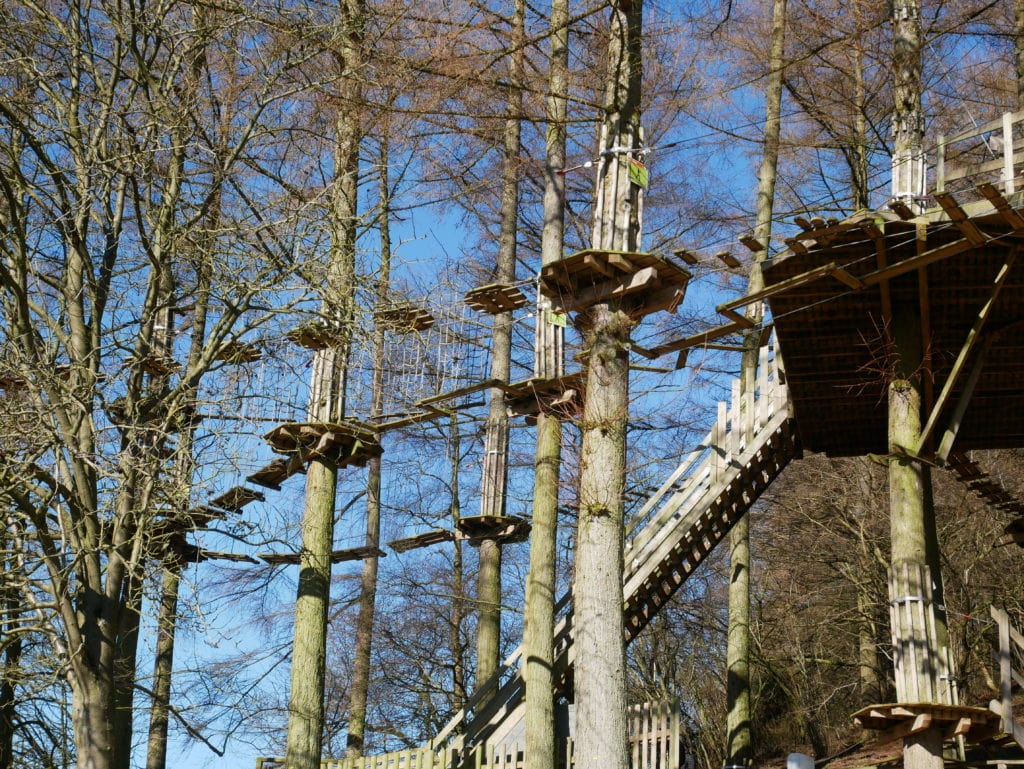 Please watch our Video of the Junior Course.
Go Ape Dalby Forest – Tree Top Junior Review
We visited Go Ape Tree Top Junior in Dalby Forest as a Mum and her 5-year-old son. My son is the kind of child who is nervous about doing adventurous things but once he takes part he really enjoys himself. We were approached by Go Ape last year to visit and review but I declined at the time as I got a resounding no from my son. But the idea was in his head and after watching a couple of videos on Youtube he asked me if we could give it a try.
The weather wasn't the best we'd seen this March as we had just had a massive downpour and I found myself questioning agreeing with. But I am proud of his achievements and for him his bravery. The morning was a mixture of emotions for him but I hope he remembers how amazing he was for giving it a go.
Arrival at Go Ape Dalby Forest
Dalby Forest now operated on a barrier system for entry and departure to the park. Your car registration is read when you arrive and then you need to visit a pay machine at some point during the day to enter your car reg and pay. You pay for the day which currently is £9.00 from March until October. It is slightly cheaper over winter. To make a day of it we also did the Zog trail in the afternoon and Jamie spent a lot of time playing on the playground by the main visitor centre.
Go Ape is just a short drive on from the main visitor centre. You can park right by the course which was handy for leaving various things in the car. The toilets are back down at the visitor centre so do go if you need to. We had pre-booked our slot for 10:15 and we were the only two people on this slot. So you could risk it and ask on the day but I would recommend pre-booking.
On checking in we were both given a wristband and I was loaned a hair bobble to tie my hair back with. Anyone with long hair must tie their hair back (mine is just past my shoulders). We were given a safety sheet to read and when it was time we were pointed in the direction of our course.
Pre Trail Run Through – Go Ape Dalby Forest Review
We then met the course instructors. There were 4 men helping out for our session. Two of them down on the ground and two of them up in the trees with us. They were all very helpful, friendly and incredibly patient. They had our harnesses laid out on the ground and we just had to step into them. I immediately regretted my long coat as it ended up all tucked up around my legs. If you go on a cold/wet day wear something shorter!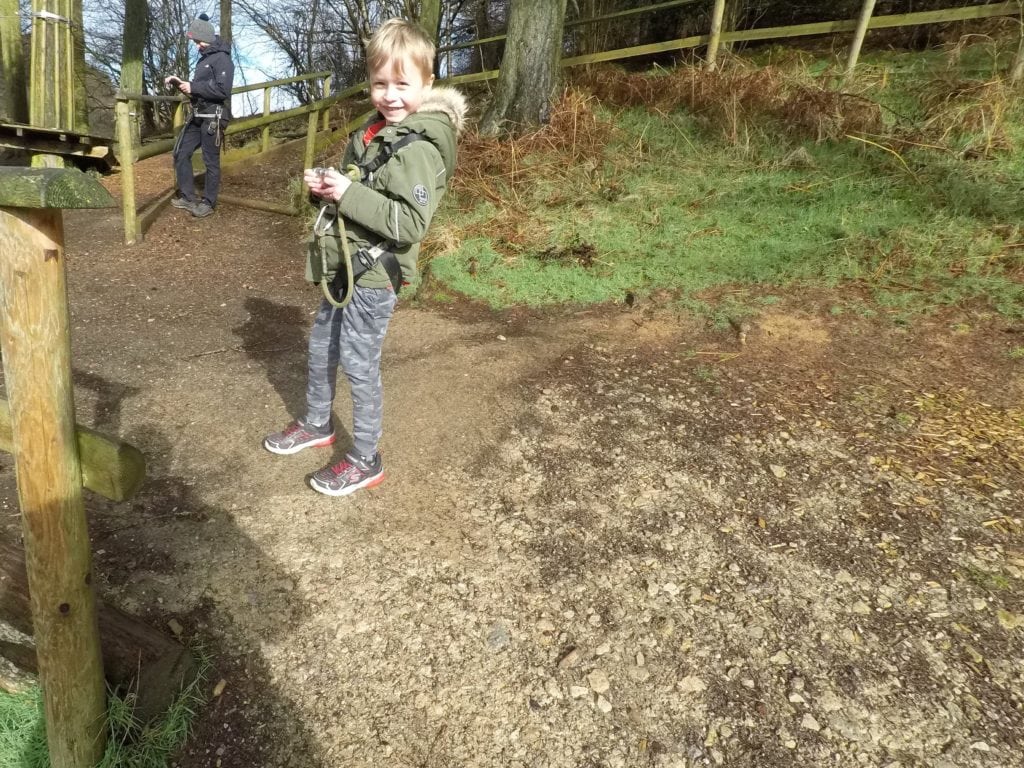 On the tree top junior course, the metal section that goes on the wire is attached to you at all times. From the minute you step on the course to the minute you step off you are attached to the main wire. There is a certain way to hold it and move it which my 5-year-old just did not grasp. We were then attached to the small training course which helps you familiarise with the equipment before heading to the main trail.
Tree Top Junior Go Ape Review
It was now time for us to start on the main course. This was a lot higher up than I was expecting but I have no fear of heights and neither does my son. It was a lot easier for him to move around the course than myself. I am quite tall so I kept getting caught against the rope but I was happier having to faff about rather than my son. They have two trails. Trail one which is the easiest and the one newbies will be started on. This has a guide rope all the way around which you can hold on to for extra balance. Then there is trail two which does not have a guide rope, however, I spotted a lot of children later on holding onto their own rope with both hands which gave them great balance around trail number two.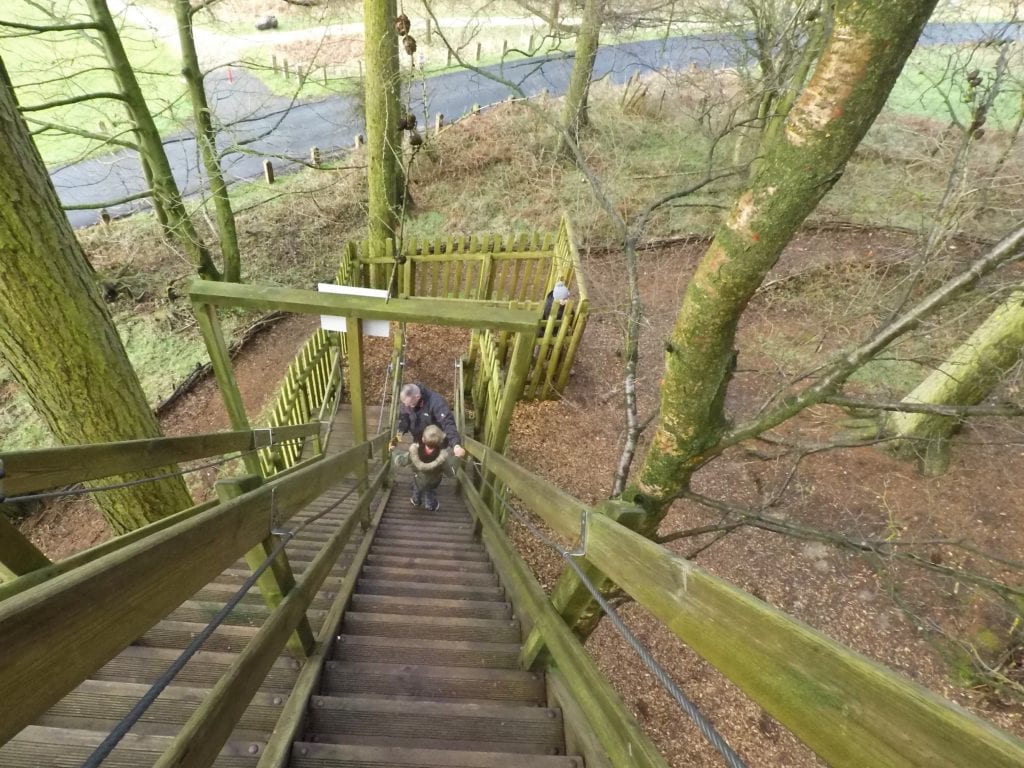 Trail One
Your session on Go Ape Junior lasts for an hour. Once you have completed trail one you can move on to trail two or go again on trail one. Trail one consisted of two long wooden slats placed together in sections. You can just keep going until your hour is up.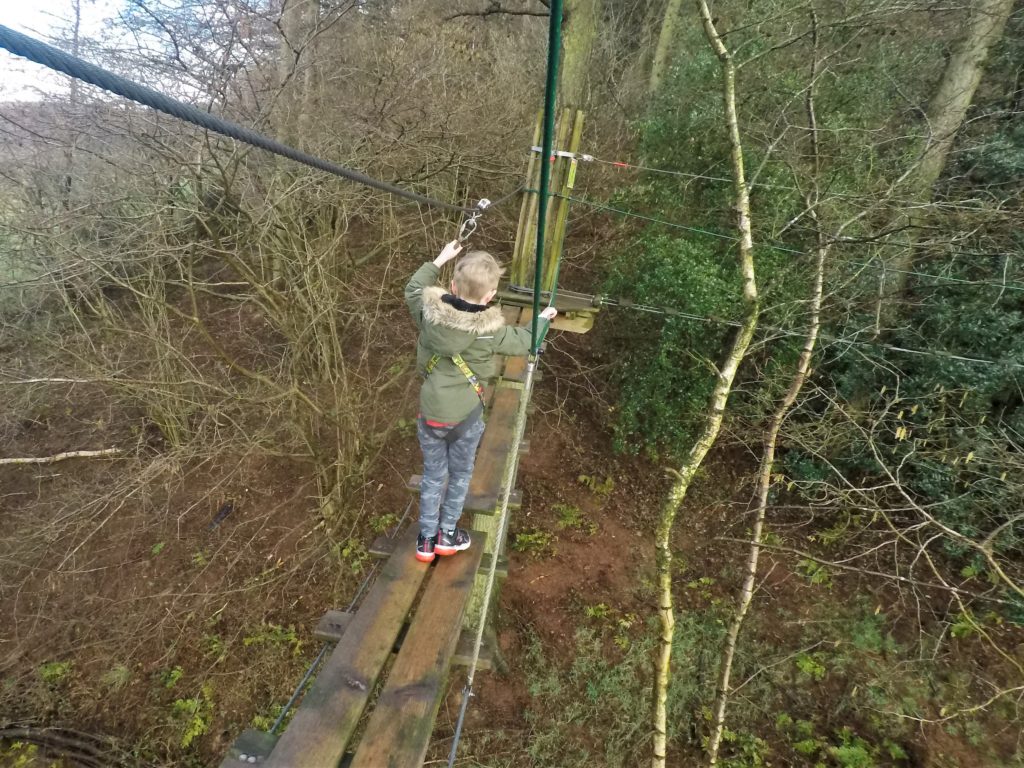 Then wooden slats slightly apart from each other, almost like a bridge. Followed by shaped platforms to step between. Although they were wet they weren't slippy in any way.
There is then a long net which you walk through and after this planks of wood that were positioned in L shapes. He wasn't too sure about this last one but someone soon came to help him across and he was proud of his accomplishments. After this came the zip wire.
My son had done AMAZINGLY well on all these first sections. He was happy and he was confident. He isn't the biggest fan of zip wires but after watching videos and with plenty of reassurance about it I thought he'd be OK. But he had somehow convinced himself, before he even saw it, that he wasn't doing it. This was when the two men helping really stepped up to the mark. They were amazing. I'm sure it's not the first time, or the last, that they've met a nervous child at the zip wire. They spent a very long time reassuring him. He had close to five minutes of pep talk. In the end, it was decided I'd go first and he would follow.
I then went down the zip wire which was tremendous fun and incredibly long. Sadly I turned and bottom planted a very dirty and wet ground. I could hear a few protests from up high from my son still refusing to budge. Then the next second he and one of the men were going down the zip wire side by side. What a moment. I was so proud of him and he managed a perfect landing.
He was so pleased with himself he wanted to try the harder course.
Trail Two
It turned out that trail number two wasn't for us at all. He was fine on the first section of trail 2, confidently stepping from each bit of wood to another. He wasn't too sure about the next challenge though as it was essentially swinging wood we were stepping on. Jamie lost his nerve and we turned back. But I was immensely proud of how far he'd got around the two courses, especially as it's not like anything he's ever done before.
He has already said he'd like to try a different Go Ape course and he later regretted not giving Trail number one another try.
---
Disclaimer: We received complimentary tickets for the purpose of my review. All opinions and photos are my own.