I'd only ever heard good things about visiting Lotherton Hall at Christmas time. I guess that meant I had great expectations and you know what it didn't disappoint. We had a lovely full day out there. We arrived at 10am and we didn't leave until around 3pm. As our son had met Santa the weekend before we didn't book in to see him so our visit didn't even include the 40 minutes North Pole experience to meet Santa himself.
This is a review previous to 2020 – some aspects may not be the same this year. Please check their website.
*Disclaimer. We received complimentary tickets for the purpose of my review
Lotherton Christmas Experience – Things to do
There is one standard entry price to the Christmas experience at Lotherton Hall. I will outline below what that includes. Other activities are then extra which I will also cover below.
Address: Off Collier Lane, Aberford, Leeds LS25 3EB, West Yorkshire
Christmas Experience General Admission
Tickets are just £8.00 per adult and £4.00 per child 5 and over. Under 5's are free. This includes lots of things to do which include.
Lotherton Hall
During the festive season, only the ground floor of Lotherton Hall is open to the public. You will need to cover your shoes with their supplied shoe bags to keep the dirt out of the hall. The decorations are incredible. There are decorated Christmas trees everywhere you look and all of them are real so you can imagine the wonderful smell.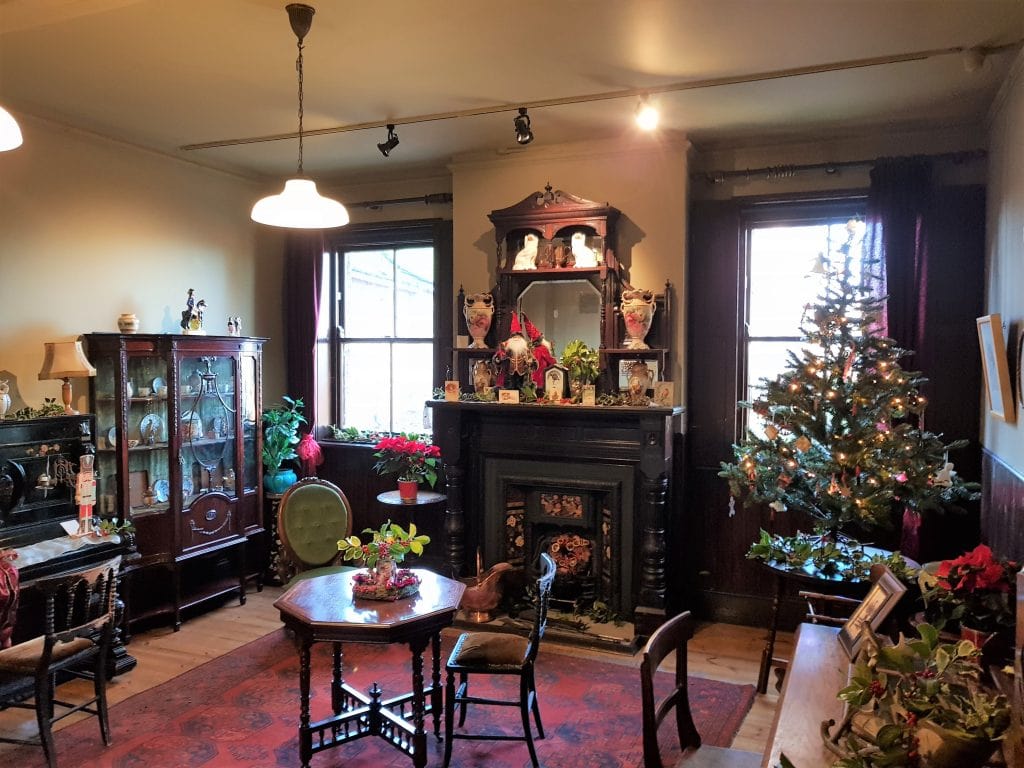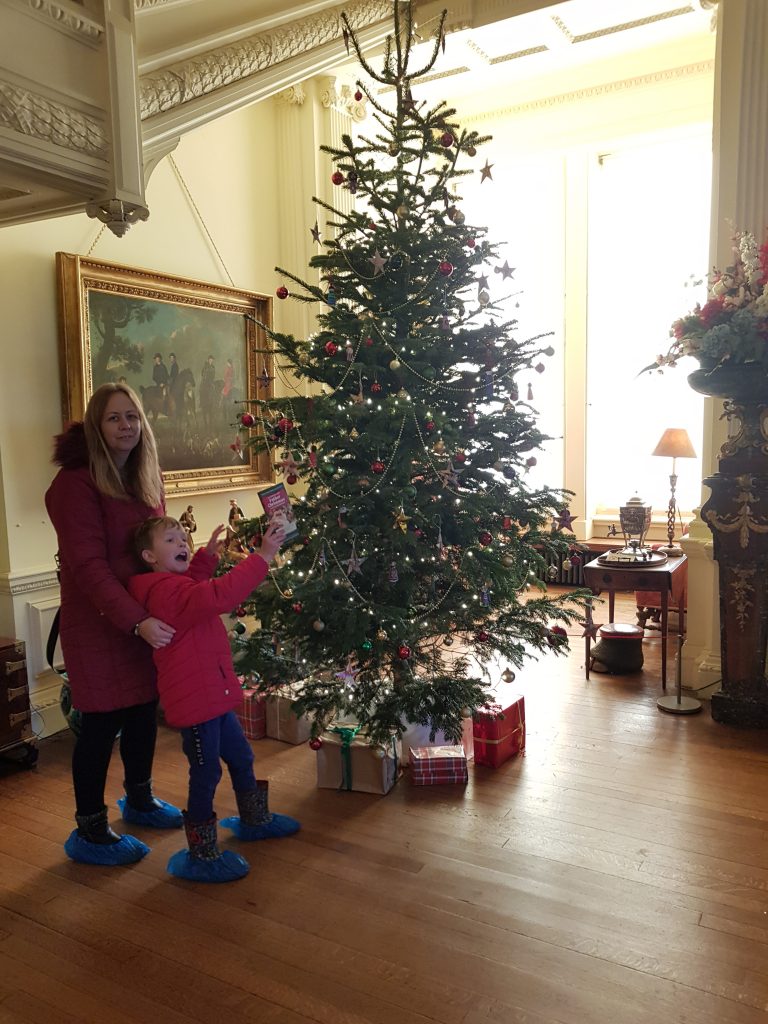 12 Days of Christmas walk
We visited the 12 days of Christmas woodland walk during the day time. It was an overcast day so we could just about make out all their lights. I would imagine that if you arrive late afternoon or into the evening the walk really comes into its own.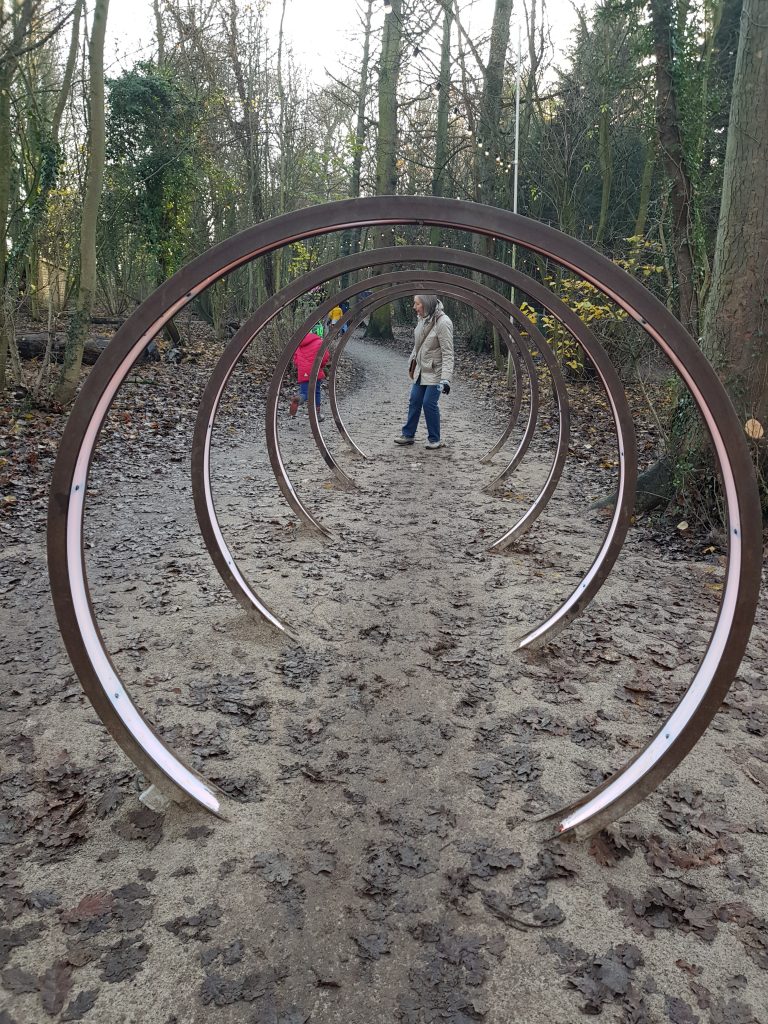 We really enjoyed the walk and there's plenty to find and interact with along the way. Highlights included wooden ladies that you can dance with, drummers drumming that you can bang their drums, swans swimming that you can try and hook plus you can try and knock a wooden egg over for 6 geese a-laying. After all the rain we've had I was expecting it to be a bog but it was just mildly muddy. Don't forget your wellies though!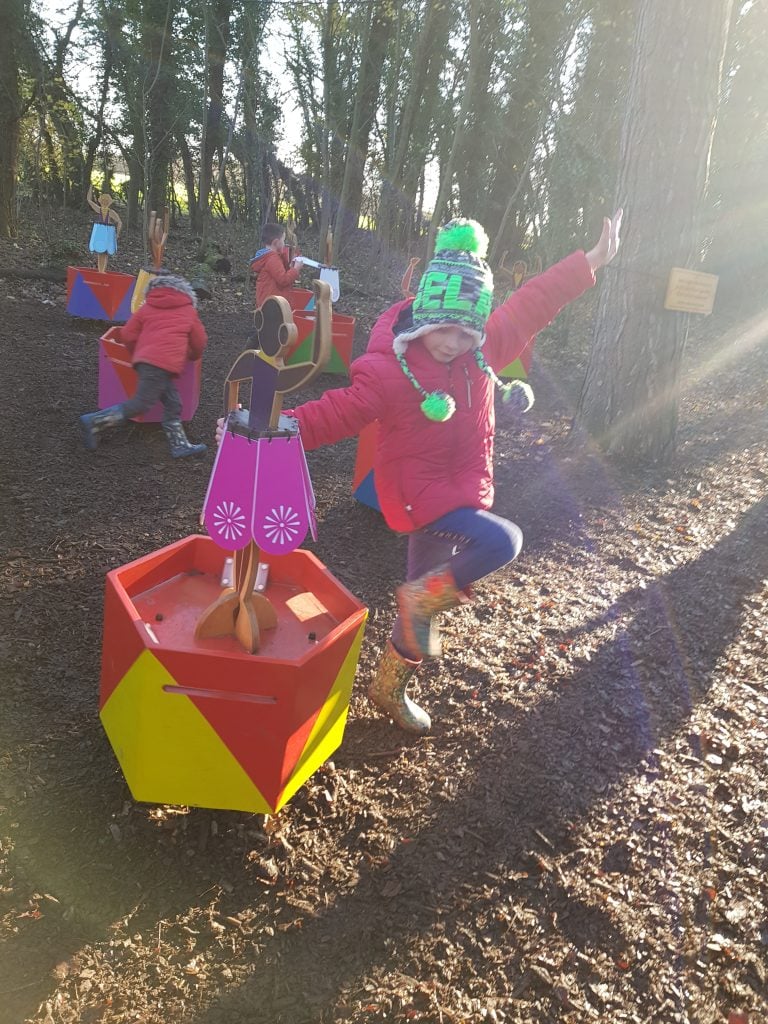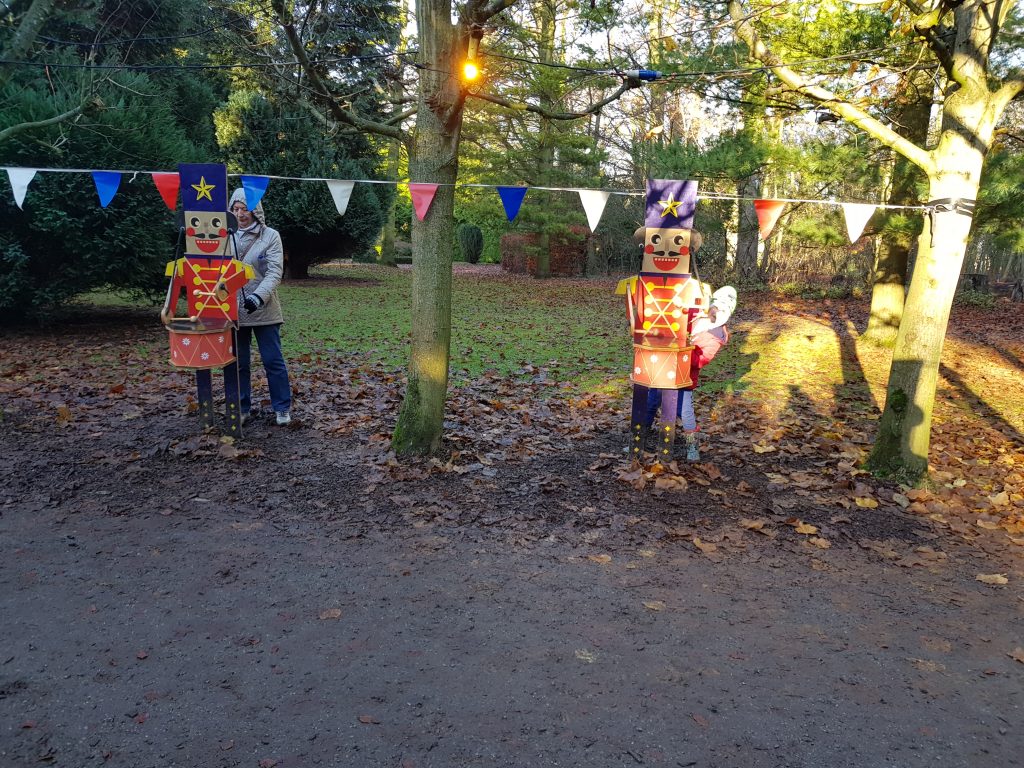 Play areas
There's a couple of play areas at Lotherton. They have an enclosed area more for younger children with swings, a zip wire and slides. Then just along from here, there is a more natural play area for older kids with more swings, zip wires you can race and things to climb on. Both of these can be found just before the 12 days of Christmas walk.
Wildlife World
We really like the Wildlife world at Lotherton Hall. Sadly, on our last visit, we had to leave due to rain. It turns out we'd missed quite a large section out. It's mostly all about birds and they have some really unusual ones there. We love the penguin enclosure and we spent a lot of time on both visits interacting with the penguins (they love coming to the glass).
Elf Village
After looking at the queue over at the cafe we chose to have our lunch at the Elf village. We had an excellent cheeseburger each which didn't break the bank. At first glance, the tea/coffee/hot chocolate prices seemed expensive. But they include their festive mugs in the price. If you don't want to take it home with you make sure you take the mug back and they will give you £1. I can recommend the hot chocolate special. For £4 you can keep the mug and enjoy a hot chocolate with cream and a reindeer chocolate. yum! It is under canvas and there are tables and chairs provided.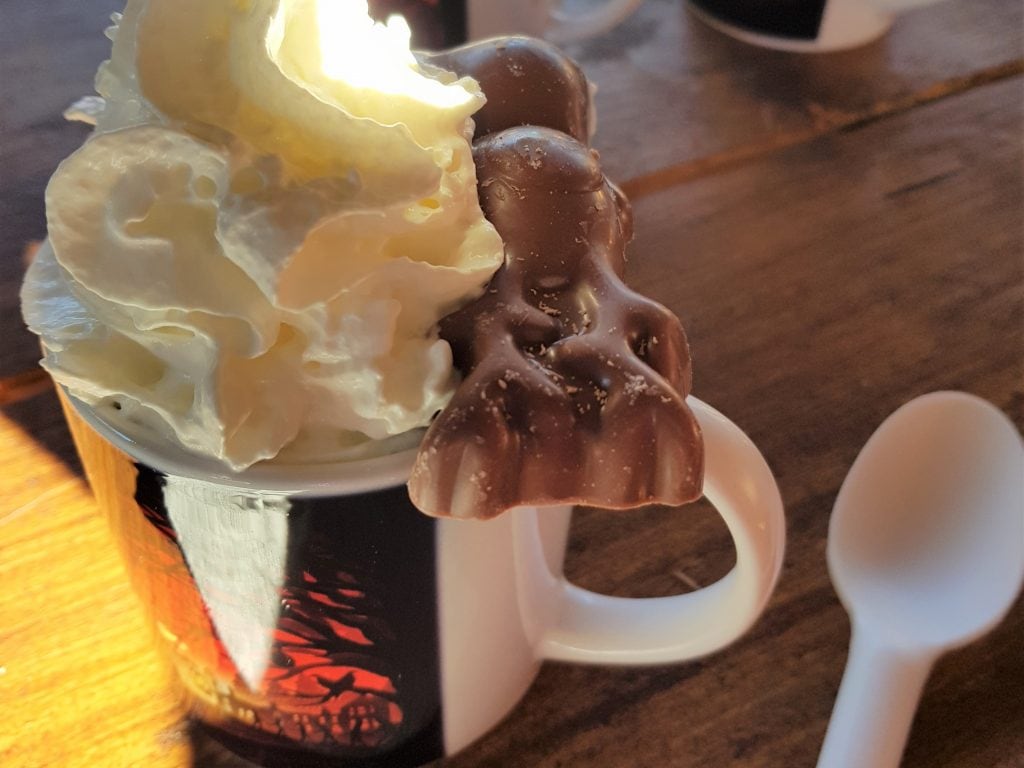 Fairy Dell
This can be found near the end of the 12 days of Christmas walk. The fairy dell is FULL of fairy houses, some of them are even set in snow. They have fairy sounds playing and it felt really magical. We all loved it and we were really impressed with the effort they'd gone to.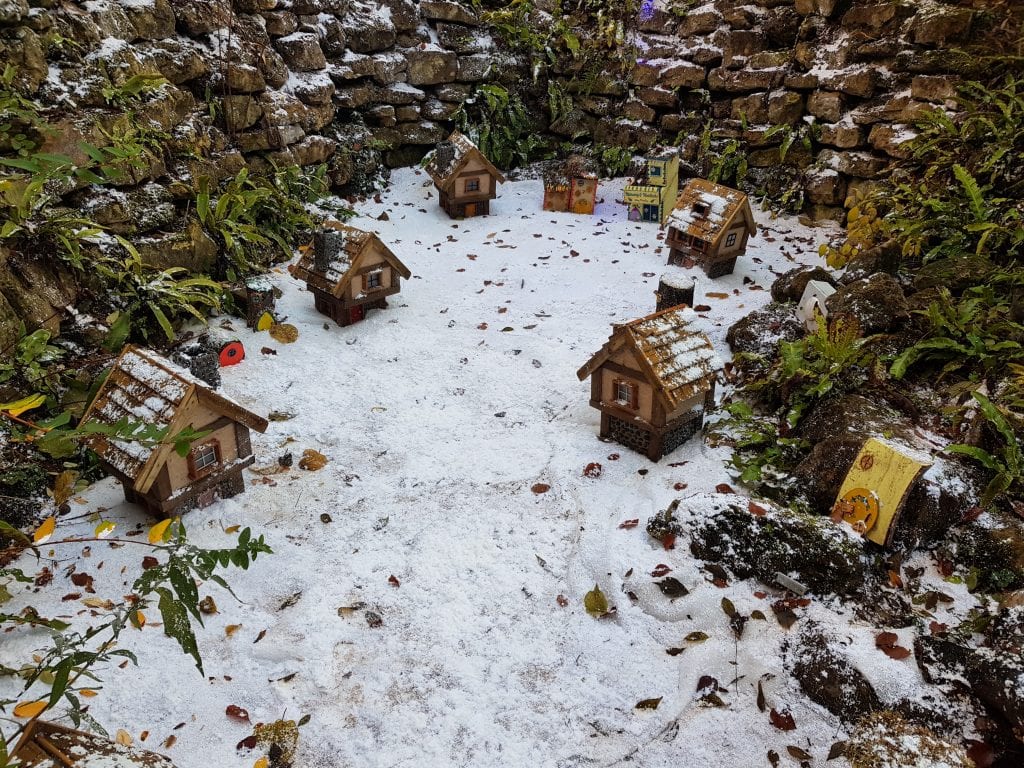 Extra Activities
Santa's North Pole
This is £12.95 per child and you must pre-book a time slot. The experience lasts for around 40 minutes. Included is a craft session with Santas elves making a Santa stop here sign. Plus a family visit to meet Santa with a gift. (2 adults per child max). Younger children are at a discounted rate and babes in arms are free but will not receive a gift.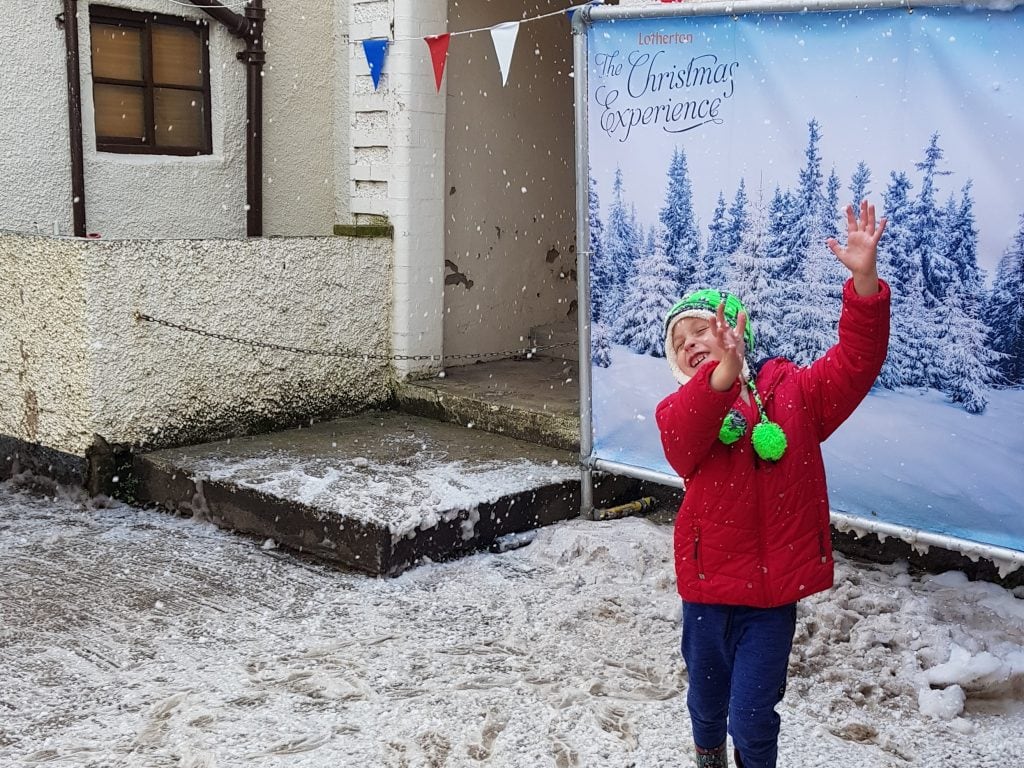 Ice Skating
I've only managed to take my son once before Ice-Skating and he did a great impression of Bambi. I think it was partly due to age and also partly due to just not having a clue. This time was a much better experience and he absolutely loved it. We were both kitted out with some boots and shown how to put them on properly. Then we picked up a penguin for him and off we went. He didn't want my help at all and the penguin was perfect for keeping him upright while he figured out what to do. It's a good-sized rink and they smooth the ice down after every 45-minute session.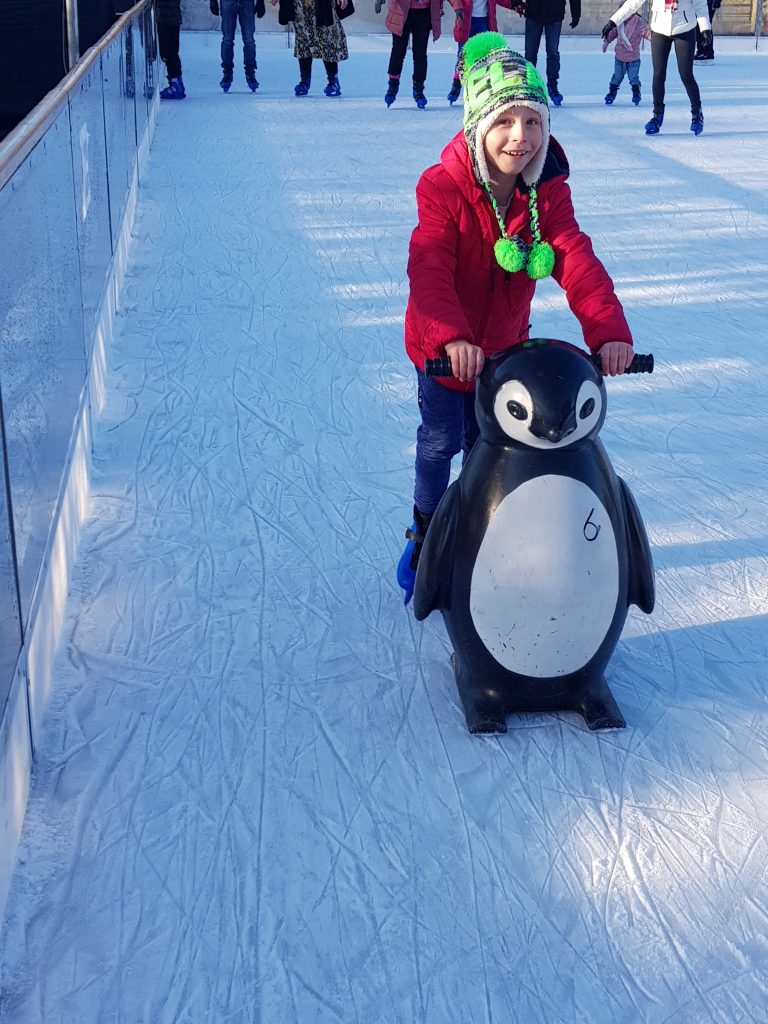 It costs £12.95 per adult and £9.50 per child. Under 4's are free. It costs £5 to hire a penguin which I would recommend for little/stubborn ones. Luckily the entrance on and off is pretty small so there's only a short distance where you have to let go of your grip on the side. haha! If you're like me that is. I am more a roller skater but I love to try ice-skating whenever I can.
Elf Village
Although the pretty elf village is included with standard entry the activities are extra. They are, however, well worth the money if you go for the 4 activities for £10. Single activities are £3. We were given 4 tokens and you have to hand each one in to each of Santa's elves in their wooden houses.
You can decorate your own mug or plate to take away. This was his Daddy's Christmas present sorted. Plus make your own cracker from scratch, have your face painted and make a tree decoration. The elves are there to lend a hand should you need one. These are lovely crafts and great keepsakes.
We had a wonderful day out and we were impressed with how well run and friendly the staff are.
*This post contains affiliate links