We had a lovely day out at Stockeld Park near Wetherby North Yorkshire in the summer. We were thrilled to be invited back to review Stockeld Park Christmas Adventure. The two days out were so different and that's what I love about Stockeld, it changes and it adapts to the seasons. We visited at the weekend early on in December and we arrived just after 2:30 pm as we wanted to enjoy all of their festive lights in the dark. It was incredibly busy but there were people on hand to help us park and they had plenty of helpful staff members at the gates.
This is a review previous to 2020 – some aspects may not be the same this year. Please check their website.
My top tip for your day out is to take wellies or boots you don't mind cleaning. You may also want to take a change of clothes for the kids. We have had so much rain recently and the ground at the park has turned very muddy and wet. We didn't come away too bad but we saw a lot of very muddy boots.
What is there to do at Stockeld Park for Christmas time
There is a general entrance price for Stockeld Park at Christmas time. This includes the maze and enchanted woodland trail. You can upgrade to take part in Nordic skiing and ice skating. You can also book on a timed slot to meet Santa, again at an additional cost. I will cover prices at the end of my review.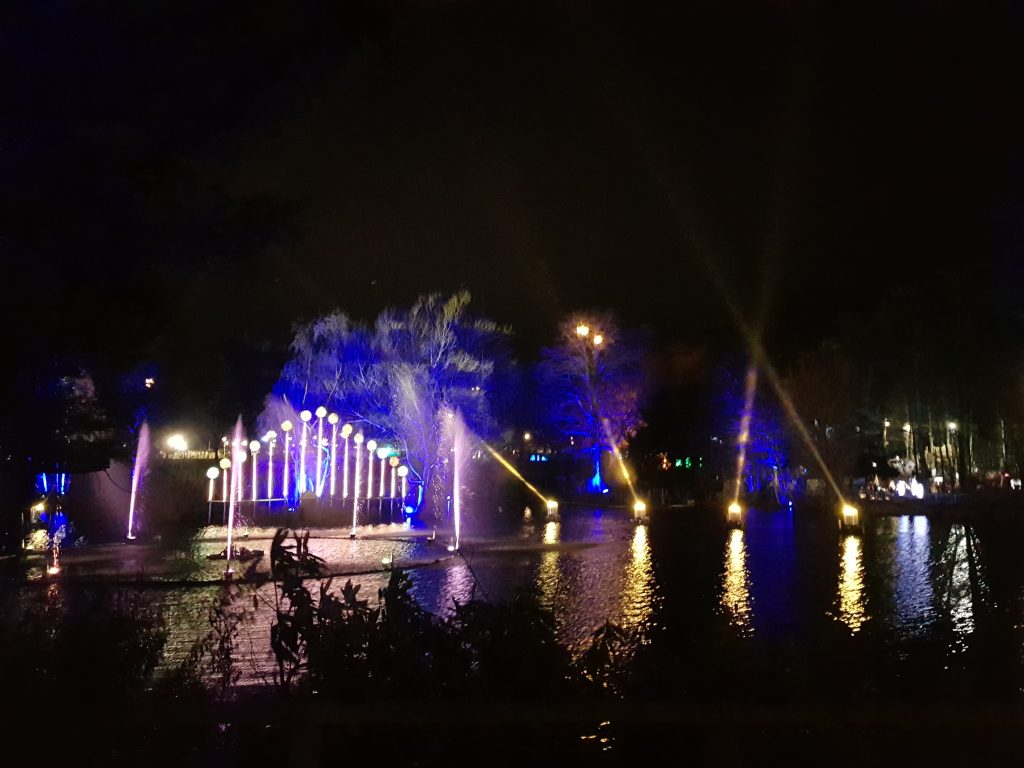 Illuminated Snowflake Maze – Included
The maze at Stockeld Park is quite a challenge. There are maps you can try and follow but some of the gates had been locked so it wasn't as easy to follow but we did get around much quicker than in the summer. We headed into the maze just as it was getting dark. They have lined all of the maze with fairy lights….even the dead ends! It was lovely but very busy and muddy. Going forward I think it would be better to not allow buggies into the maze and have somewhere safe for people to keep them.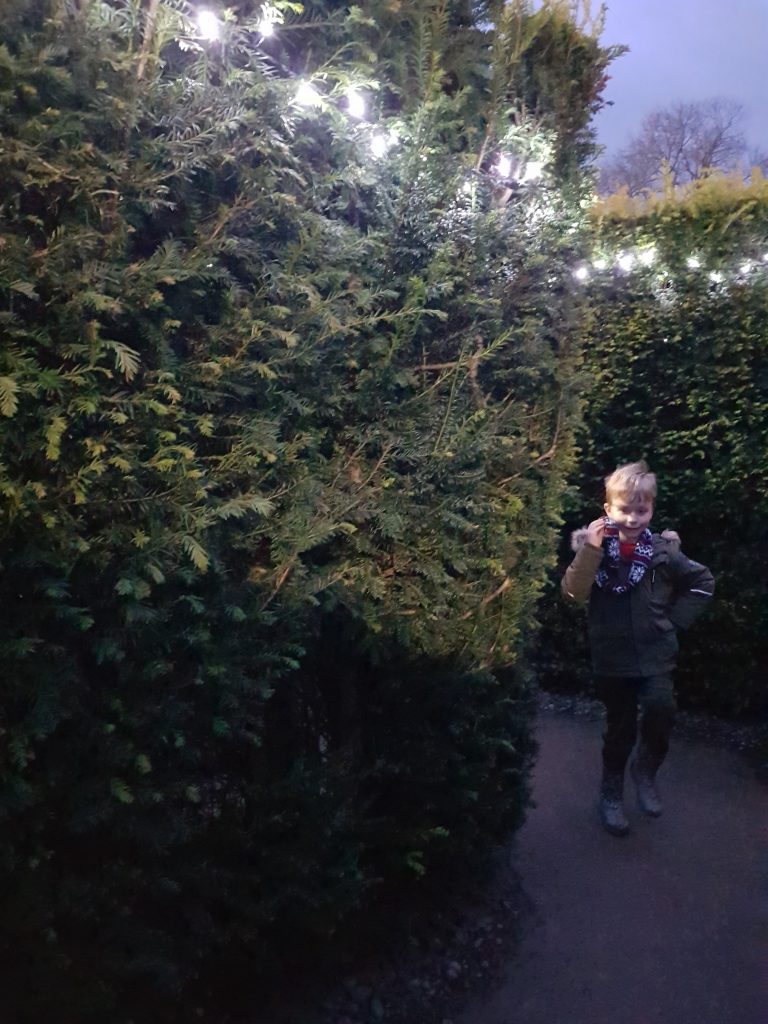 There's plenty to find in the maze including two police boxes, musical instruments, bridges, a tower and a wonderful globe in the middle.
Winter Illuminations – Enchanted Trail – Included
The illuminations on the enchanted trail were my favourite part of our visit. They are wonderful! We could certainly see why they are award-winning. The forest at Stockeld Park comes alive with festive coloured lights, animals, sounds and more. This really is worth walking around once it is dark. You see so much more once the sun has gone down for the day.
There is something to see all the way along. Your kids will love the play areas along the trail including wooden adventure playgrounds, fairytale slides and playing music to the fairies. The highlight is the lights and water show on the lake. We spent quite a while here just standing and soaking it all in.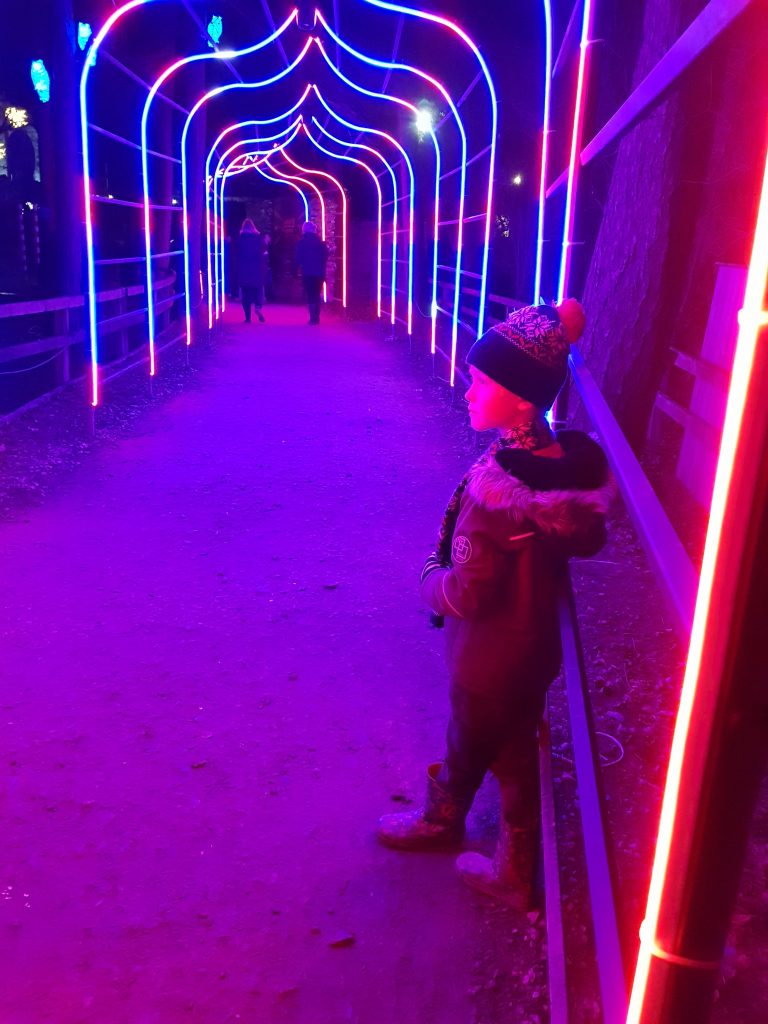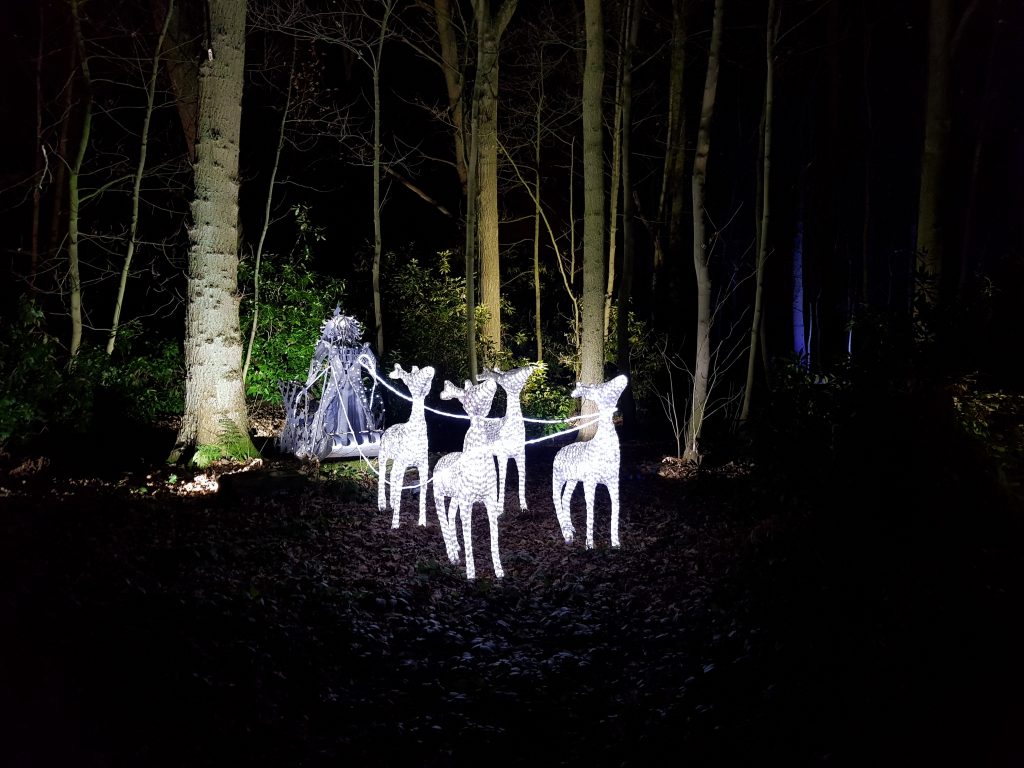 Nordic Skiing – Extra activity
All around the enchanted woodland trail, there is a Nordic skiing path. We had spotted this in the summer and we were keen to try it out on our return. We didn't have to queue too long to swap our boots for ski boots and we were soon clipped onto some skis and off on our way. It wasn't as much effort as I was expecting it to be but we soon overheated and we were stripping off our hats, scarves and gloves.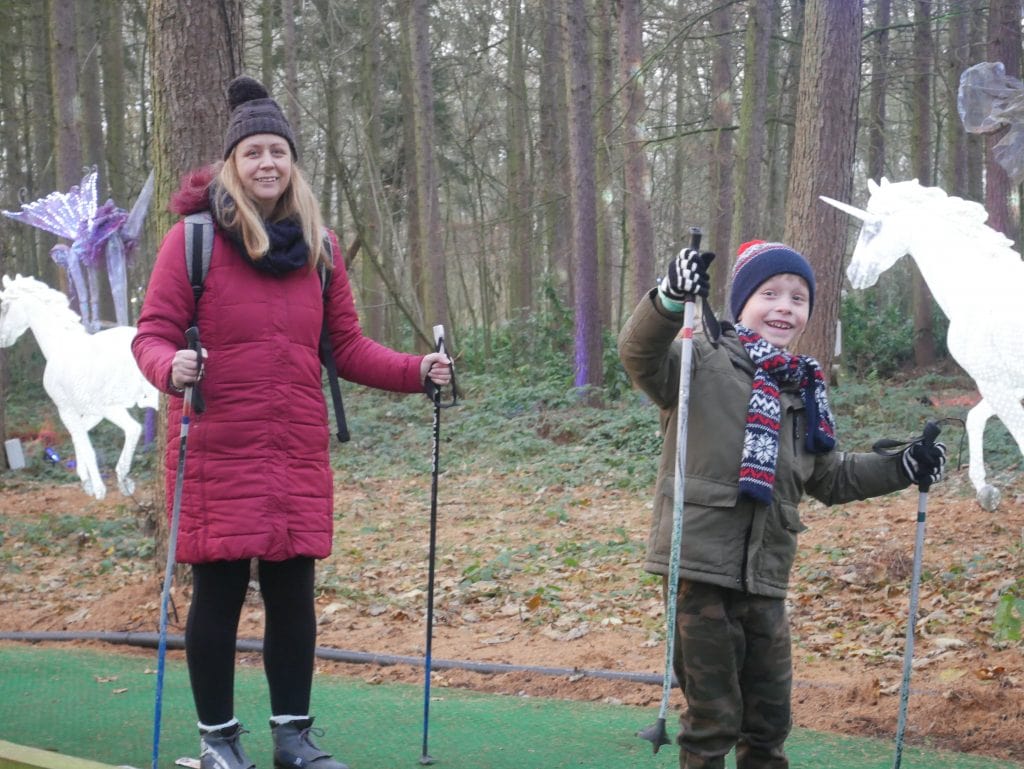 You can go as fast or as slow as you like but be warned that you will stand more chance of falling over if you try to go too fast. I expected to be able to glide down the slopes but we still had to put in a similar effort than when we went uphill. My 6-year-old soon learnt how to glide his skis along the ground and I was super proud of how well he did. Near the end of the course, you can race against the clock (or fall over lots trying). My son was so fast and completely put me to shame.
It's a really good opportunity to see some of their festive decorations although I did try to ignore them along the way as I wanted to save them for later when it was darker. Nordic skiing is at an additional cost.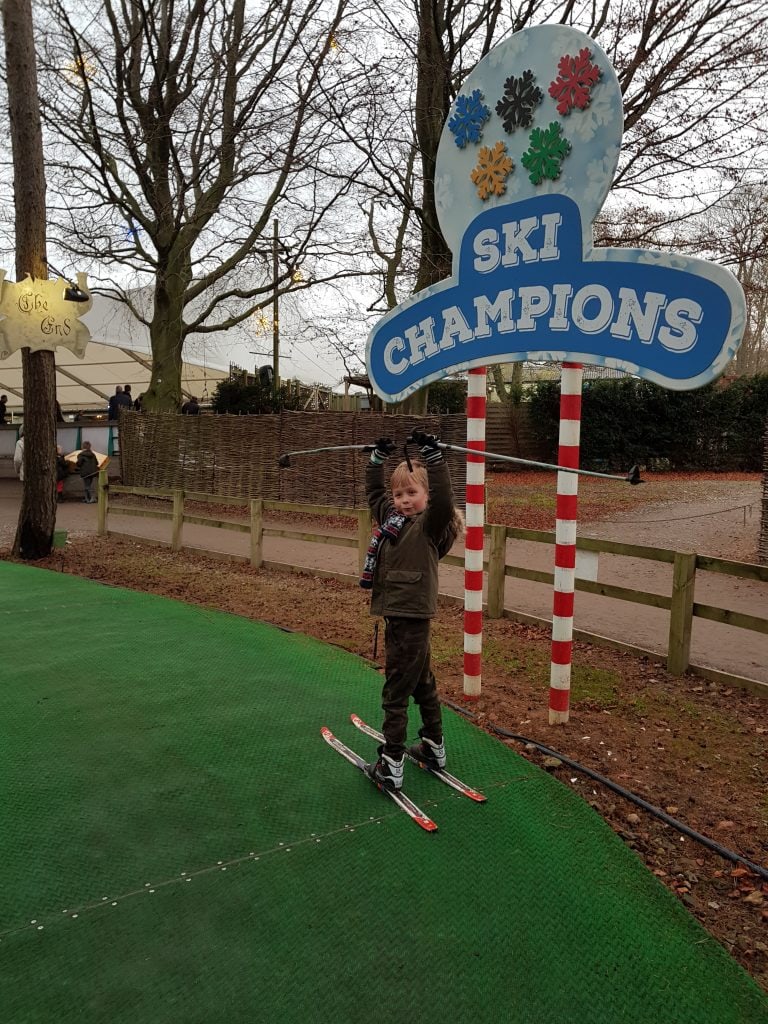 Ice Skating – Extra activity
We sadly ran out of time to try ice skating. In the summer it was a roller skating rink. In the winter it is covered with a canopy and they turn it into a proper ice skating rink. You can hire aids for kids and ice skating is included in the upgrade to ski and skate.
Santa's Grotto – Extra activity
You can also meet Santa at his wooden cabin at Stockeld Park. We weren't looking to meet the man himself and I liked that there was no pressure to meet him. My son hadn't even spotted he was there which was perfect for us. Visiting Santa is subject to availability and it can get booked up early on, especially on peak days. Prices start from £8.50 per child.
Around the park they have screens showing which number tickets are next up for visiting Santa. This is great because you can enjoy other activities while you wait.
Elf Workshop – Extra activity
This sounds fun for kids wanting to take part in Christmas crafts, learn an elf dance or take part in fun games. The Elf workshop includes Santa's letter writing. Bauble designing (including personalised bauble to take home). Elf games and songs with the Elves, plus a free certificate. These pre-bookable sessions are available only on 23rd & 24th November 2019. £12.00 online in advance or £15.00 on the day. Session times are 11am, 12pm, 2pm, 3pm. Sessions last 50 minutes. Limited spaces, book early to avoid disappointment.
Also at Stockeld Park
As well as the large cafe at Stockeld park which serves hot and cold food and drinks they also had three outside catering vans. Sadly, these shut at 6 pm which we found to be unusual as the park stays open until 8:30 pm over the festive season.
They also have a large gift shop if you are still looking for gifts for your loved ones. There is also a large shop selling real Christmas trees. There are toilets in the cafe area and halfway around the enchanted trail. These got very busy at times. We also saw a brass band for a few minutes in the afternoon during our visit which was very festive.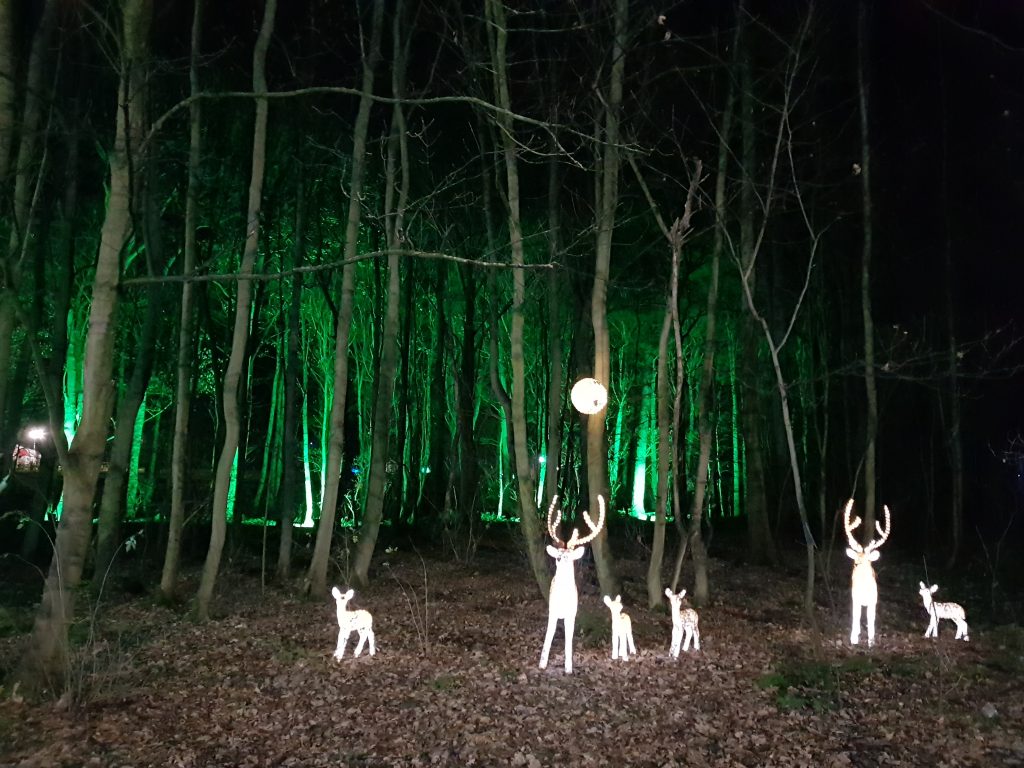 Important Information
It is cheaper to pre-book your tickets online in advance for Stockeld Park. Individual forest and maze tickets are between £9.00 to £16.00 each online. It also costs £4.00 extra each for Nordic skiing and ice skating which I think is good value for money. These prices are for anyone aged 2 and over. It is more expensive to visit at the weekend and on other peak days.
Once you have purchased your tickets online you will be later emailed to book your slot for Santa with prices from £8.50 per child, adults £2.00. This can be booked on the day but you may risk them being sold out of time slots
*This post contains affiliate links