If you are going straight to Disney, after a long haul flight, I can 100% recommend Animal Kingdom as your first port of call. It is a relatively large park however it's certainly not as big as Magic Kingdom or Epcot and with so many good shows and films, it's perfect for some chill out time.
On our first day in Florida, we arrived at Animal Kingdom park after our lunch and had a half day there with the idea of staying for the night show. We didn't last that long as we were all virtually asleep on our feet. The day after we spent from 9 am until 3 pm, at the park. In hindsight, we would have preferred to have arrived a bit later in the day and stayed that night for the night show (Rivers of Light).
I have previously mentioned that we wish now that we'd stayed 3 nights at Animal Kingdom Lodge and not 2. Had we have done this our hindsight plan would have worked out. It also took us a while to acclimatise and we were there during a supposedly cooler part of the year. Humidity was over 90%! and Florida had an unseasonal high the whole time we were there. That's a very long seasonal high! The park has some more shady spots under trees for chilling out when it gets too hot.
Animal Kingdom For Kids | What is there to Do |
Best Fast Pass
 Getting to and into Animal Kingdom
On the first day we arrived around 2pm and the queues for bag search and security were not long. We arrived at 9am the next day and although it was at peak time for arrivals we did not have to queue for longer than 5 minutes to have my bag searched. All bags arriving at Disney World Florida theme parks have to be checked. You may or may not then be asked to walk through their metal detector.
After this, you then have to queue to either purchase your ticket and then show your ticket/magic band at the gate. Or you simply just go straight to queueing with your magicband/ticket. If you have a magic band you will also have to scan one of your fingers. Make sure you remember which one you used for further scans.
Animal Kingdom for Kids and Families – What is there to do?
I often hear people say that you can see Animal Kingdom in a day. While this may be true if you are only interested in the big rides and perhaps one major show I would say this isn't true if you are a family. We were there for 10 hours over the period of a day and a half and we didn't do everything that we would have liked to have done.
When I first looked at the park I thought that it seemed more orientated towards the older guest with 3 of their major rides being there. After visiting the park I would say that it has plenty for young and old.
I will comment below as to what we did and didn't manage to do. If there is a FP beside the words in bold this means that it is a ride or show that you can reserve a Fast Pass for. Don't forget to read the end of my post for recommendations on what to Fast Pass.
Restaurants at Animal Kingdom
There is a huge choice of places to eat at in Animal Kingdom. The main places being Rainforest café (near the entrance), Yak and Yeti (near Expedition Everest), Donald's Dining Safari at Tusker House (character dining in Africa) Plus Tiffins (Discovery Island) which is also a table service restaurant. I would have happily eaten at all of them however we didn't have time.
Shows / Films
It's Tough to be a Bug FP (Discovery Island) – "Discover what it's like to be a bug in thus 3-D film inspired by the Disney Pixar film "A Bug's Life" – some creepy crawly moments in the dark". (We did not have time for this!!) This attraction is inside the tree of life root system. Running time is Approx. 8 minutes.
Tree of Life Awakenings (Discovery Island) – When it gets dark the Tree of Life comes to life with a display of colour and light. This happens every night and the My Disney Experience app will display the start time or you can simply ask someone.
Festival of the Lion King FP (Africa) – This was a fabulous show and I urge you to go and see it. We had a Fast pass for it which I'm not sure was needed. I will talk more about this below. They had giant animated characters from the film, singers, dancers and acrobats. I shot quite a bit of footage which you can watch below. The show was approx. 30 minutes
Finding Nemo – The Musical FP (Dinoland USA) – As big fans of Nemo we were devastated to learn that this was shut during our visit. The puppetry for this show looks really good. The show lasts for 40 minutes.
Animal Kingdom For Kids | What is there to Do | Best Fast Pass
Rides – Family Friendly – With No height restrictions
Na'Vi River Journey FP (Pandora) – This is a sedate boat ride through the world of Pandora. It is set in a bioluminescent rainforest where you can see characters and scenes similar to that from Avatar the film. The ride only lasted a few minutes.
Kilimanjaro Safaris FP (Africa) – Basically this ride is like going on Safari in Africa. You board a safari Jeep with lots of other people and you go for a ride around the Savannas of Africa. We loved every minute of it. The safari lasts at least 20 minutes. The guide was very good and left me feeling in awe that they must have to do this many times a day. We saw so many animals. The highlight was when we had a Rhino run past the back of the Jeep where we were sat. We also saw lions, elephants, giraffe, alligators, hippos and much more. Here are a few photos from our Safari. I will also include a short video. The wait for this ride was usually around 60-90 minutes long.
Wildlife Express Train – Over to Rafiki's Planet Watch (Africa) – We stumbled on this train while waiting for our FP for Kilimanjaro. It's a lovely authentic African train with things to see on what we took as a round trip. You can get off halfway to explore Rafiki's planet watch however we didn't have quite enough time.
TriceraTop Spin (Dinoland USA) – This was pretty much a Dinosaur version of Dumbo. It lasts just a few minutes and you can control how high up you can go. We went on it a couple of times as the queue was always around just 5-15 minutes long.
Rides – For taller and older kids/families Animal Kingdon
Avatar Flight of Passage FP (Pandora) – At 114cm Jamie was just tall enough for this ride as you have to be 112cm (44″) and over to ride Avatar. I, however, could not get a Fast pass for this ride and believe you me I tried. The queue was always 120-210 minutes long so with a 4-year-old it was never something we could risk queuing for. Avatar is an exhilarating 3D ride on the back of a banshee.
Kali River Rapids FP (Asia) – 97cm (38in). Sadly this was shut while we were there. It's a wet raft ride with the backdrop of a jungle. The ride lasts for around 5 min, there is at least one pretty steep drop. You will get wet.
Expedition Everest FP (Asia) – 112cm (44in). I still can't believe that we persuaded Jamie to go on this. I have to say that this ride was epic, perhaps too epic for Jamie. haha! If you want to see what the ride is like (or try to lol) I filmed it all which you can watch below. There are some pretty steep drops and we still aren't sure if he actually enjoyed it. His face said not!
But honestly, he has barely stopped talking about it since. Especially the part where you go backwards after going to a broken track and the Yeti then breaks the track again. I love the area around the mountain. It's so authentic. Disney has really put some care and attention into theming the area surrounding this ride. The ride is just over 3 minutes long.
Primeval Whirl (Dinoland USA) – 122cm (48″) This is a ride which spins you around curves and down drops. I was quite surprised at how tall you have to be to ride this ride.
Dinosaur FP (Dinoland USA) – 102cm (40″) I loved every second of this ride. It was more extreme than I was expecting. It sways and throws you all over the place with dinosaurs popping out all over the place. There were many dark elements. Jamie did not want to go on it again! I, however, laughed my head off. It was so much fun.
What else is there to find and see at Disney's Animal Kingdom?
Wilderness Explorers – If you have the time children can become a wilderness explorer by completing challenges and earning badges as you walk around the park.
The Oasis Exhibits – As you enter the park there are a series of pathways off the main walkway. Here you will find macaws and other exotic creatures. Jamie loved the wobbly bridge and the cave.
Discovery Island, Asia and Africa all have animals that can be found by wandering off the main path. You can find animals such as Lemurs, Gorillas, monkeys, Komodo dragons and tigers. This is one of the things that I wish we'd have had time for.
Rafiki's Planet Watch – You can get to this via the Wildlife Express train in Africa. Which I recommend as otherwise, it's quite a long walk. There you can learn how to help save the world, watch scientists at work, visit a petting yard, view exhibits and more.
The Boneyard Dinoland USA – This area was way too busy for us to explore properly. There's a playground with slides where I just spent the whole time panicking that I'd lose sight of Jamie. There's also a large sandpit where you can dig for bones.
Characters – And don't forget there's plenty of characters to meet.
There's also plenty of photo ops with Photo pass photographers in Animal Kingdom. Plus plenty to pose by for a photo taken by yourselves.
What are the best things to Fast Pass at Animal Kingdom?
If you can't get a Fast Pass for Pandora then you need to leave a slot open to try and at least book it. You are allowed to book 3 Fast Passes a day. Once you have used up those three FP's you are then allowed to book one more FP at a time.
I could not get a FP for Pandora and I bought out tickets more than 30 days in advance (but not 60 days in advance which you can do if you are staying at Disney and buy your tickets from Disney).
They do release extra fast passes for Pandora and I know people who have managed to get them, however, I didn't and looking at the queue that we saw for the ride I can understand why. It was massive. Well over 1 hour long when the park opened and it soon shot up to 2 hours plus! So sadly we never got to experience Pandora. I have just checked my Disney App and as I write this the queue for Pandora is 210 minutes long. That's nearly 4 hours long – insane!
So top of the list for FP at Animal Kingdom would be Pandora – if you can get it. If you do manage to get a FP for Pandora you can't reserve the Na'vi river ride for the same day as it is a band A ride which you can't reserve more than 1 of at a time.
On day 1 we had a FP for Kilimanjaro safari – the regular queue was 60-90 minutes and you must do it so this is a good one to FP. We also had a FP for Festival of the Lion King. For this we had to queue squashed up for 30 minutes in high humidity to end up on the third row. There is more than enough seats in the arena and I would recommend skipping FP for this. We also had a FP for a good view for Rivers of Light but we were too tired to stay up for it.
On day 2 we had a FP for Na'vi river ride. Although it's tame the queue builds quickly so I was glad we had a FP for it. We then had a FP for Dinosaur. This queue can be up to an hour long so I recommend getting a FP for it if your kids are tall enough. Finally our last FP was for Everest. This ride is a must to get a FP for. The queue is usually over an hour long. You could use up these and then try and get a FP for Primeval whirl or It's tough to be a bug. Both never seem to have a long wait time.
Other Fast passes worth considering are for if you want to meet Mickey and Minnie in their Safari gear as the queue can often be an hour long. They also have a FP for Nemo when it is open.
Walt Disney World Tickets
Are you looking to book tickets for Walt Disney World in Orlando Florida? Why not buy your tickets from this UK based website. It's a good place to find savings on your tickets. It's always an idea to shop around if you are uncertain. This website is often recommended on Disney planning groups on Facebook.
Watch our video from Day 1 & Day 2 at Walt Disney World (Animal Kingdom lLodgeand Animal Kingdom park).
---
I hope you enjoyed my review and will find it useful. Please pop a comment below. We'd love to hear about your stay. This post may contain affiliate links. Clicking on them will cost you no extra.
Why not subscribe to my monthly newsletter to keep up to date? Or keep in touch on social media. We are very active on Facebook, Twitter and Instagram. Why not pin this post for later? Simply click on the image below and maybe give us a follow as well.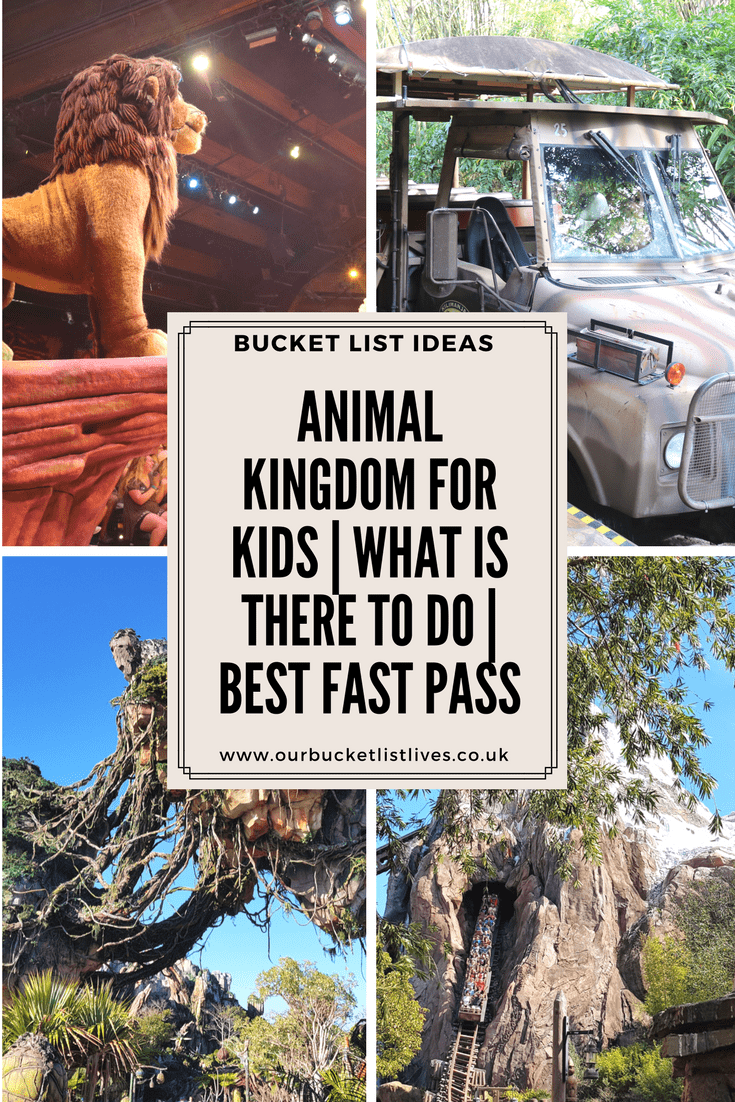 Animal Kingdom For Kids | What is there to Do | Best Fast Pass