When we were invited to review 'Christmas at Blenheim' I was also provided with a family pass for entry into Blenheim Palace. Your ticket for Blenheim does not include entry to the Christmas trail in the evening and vica versa.
*this post contains affiliate links – it will cost you no extra to book
We travelled down to Oxfordshire the night before and stayed over at a nearby Travelodge in Oxford. That evening we experienced the wonder that is Christmas at Blenheim. You can read more in all about it in my review – Travelodge Oxford Review.
The next day we headed into Oxford for a short while and then back over to Blenheim Palace for a family day out. It was a cold day, in fact, the coldest we'd had in a long time. But it didn't affect our day out. We simply wrapped up well and got on with it. With a backdrop as stunning at Blenheim Palace, you don't have time to notice the cold.
A Bit About Blenheim Palace
Blenheim Palace is in Woodstock in Oxfordshire, a short drive away from Oxford. The Palace is a world heritage site and the gardens were designed by Capability Brown. The Palace sits on over 2,000 acres of grounds and quite a large section of this is open to the public. It has a strong connection to Sir Winston Churchill. His grave is not far from the palace. The stateroom tours finish with a Churchill exhibition which highlights his connections to the Palace and his life in general.
The palace itself has been used many times in backdrops for film and television programmes. It has been in films such as Transformers, the last knight (2017), Cinderella (2015) Spectre (2015) and many more.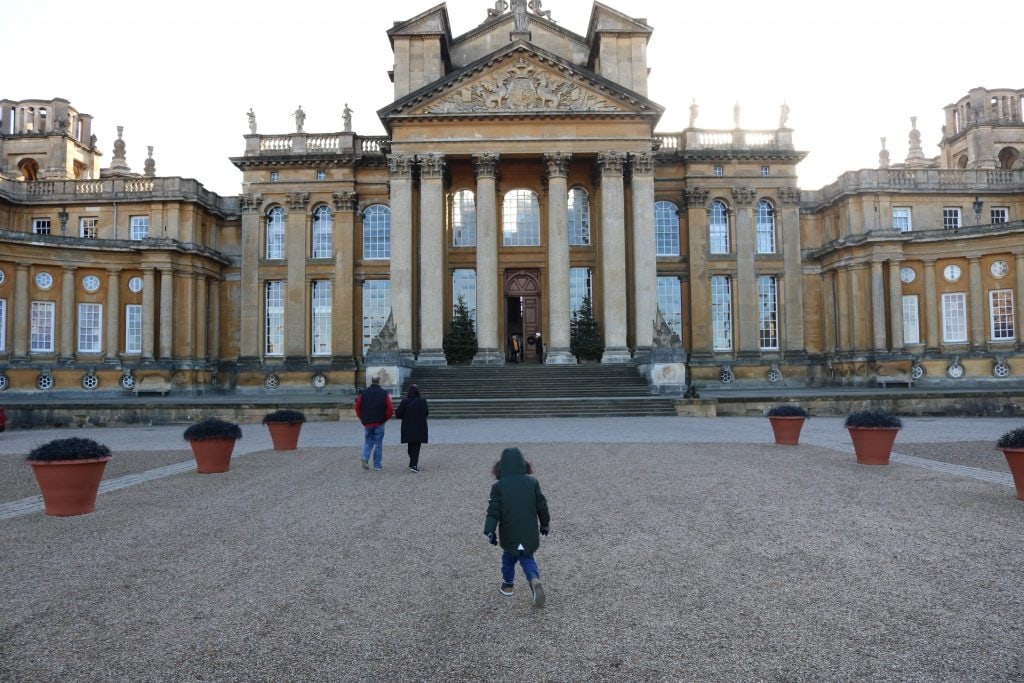 Inside Blenheim Palace – Day Out Review
As mentioned above you can go on a guided tour to visit the state rooms and finish the tour in the Churchill exhibition. As I knew we only had a few hours for our visit we sadly had to give this a miss. I urge you to go on the tour if you do visit. The tours look and sound very interesting. From February-September you can also take one of three tours to see the private apartments.
We went on the self-guided tour which took us through the magnificent state rooms. The rooms are extremely opulent and full of large tapestries and paintings. There's grand fireplaces and currently displays of contemporary art.
The entrance hall itself is a sight to behold.
Don't forget to look up! There's just as much to look at on the ceiling as the walls and floors. There was a Christmas tree and decorations in nearly every room.
The library was by far my favourite room. We were in there the night before for the preview night but with all the people in there I hadn't truly appreciated it for what it is. The organ at the end of the room is the highlight. I don't believe I have ever seen one so large in a stately home.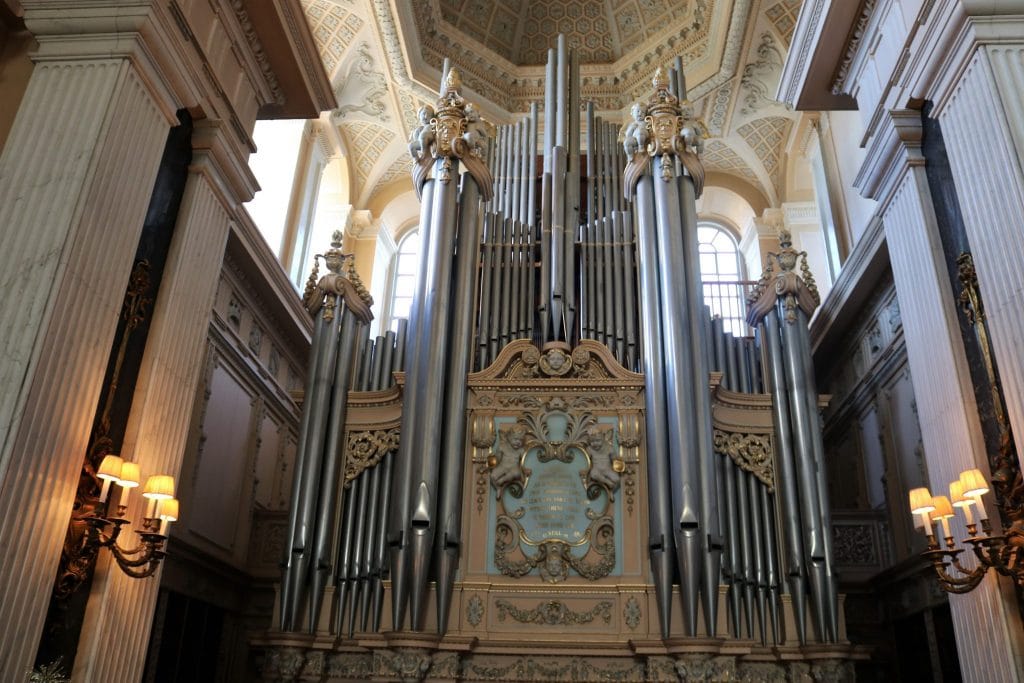 Just as I thought our visit inside was ending we walked into one of the most lavishly decorated and designed chapels that I have ever seen. It was like the light of God was streaming in through the windows. Jamie loved it in here and was keen to deliver me a couple of sermons.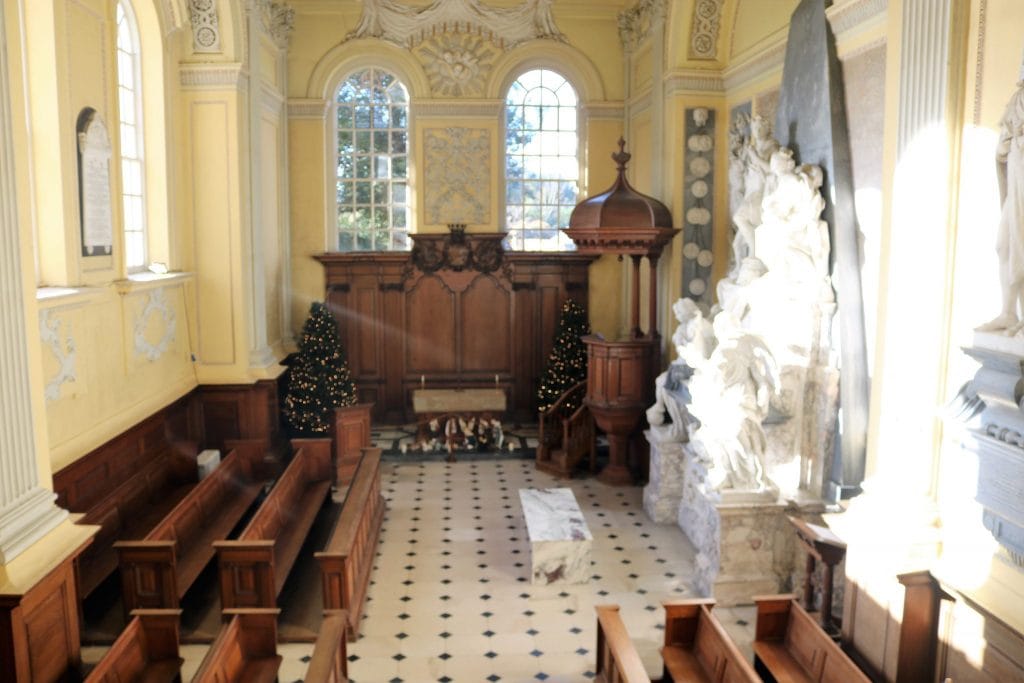 The Grounds around Blenheim Palace
The grounds around the palace have many different places and ways to explore. There are many hidden treasures such as a secret garden, Churchill memorial garden, rose garden and statues. These can all be found in the formal gardens. Plus when the trail isn't on for the Christmas event you are able to access this area in the daytime. At weekends you can book a buggy tour at Flagstaff visitor information point. For just £3.50 for an adult and £2.50 for a child, you can be driven around the grounds in a buggy.
Trails at Blenheim
Currently, you can pay extra to stay into the evening and walk the magical trail to see all the lights that make Christmas at Blenheim. However, there are trails to be found during the daytime as well. You can download these trails in advance. There is a choice of up to two hours, up to four hours or over four hours. When Christmas at Blenheim isn't running you can also explore the grounds of this trail.
The Train to the Pleasure Gardens
When we exited the palace I stopped to look at the map. I spotted that you can't access the pleasure gardens from the formal gardens. Previously I had promised Jamie that we would tackle the maze in the pleasure gardens so I looked for a way to get there. I was surprised and pleased to spot that there is a train to take you there. We enquired at one of their information points and we were told the running times for the train.
We re-entered the entrance courtyard and used the toilets there, had a read of the café menu and a brief look around the large shop before going to wait for the train. The train departs from outside the main Palace entrance on the hour and every half hour. From the pleasure gardens, it departs a quarter to and a quarter past the hour.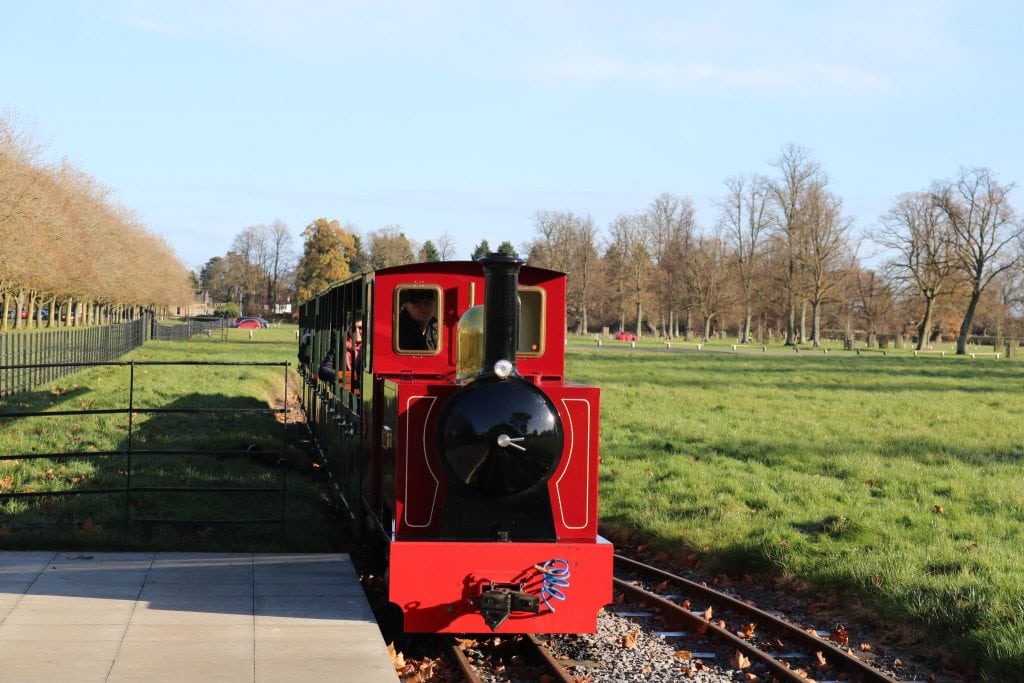 Children under 5 ride for free on the train. It is actually a proper train with train tracks. I paid just 50p for a one-way trip. It was quite a long way from one stop to the other so I also paid for us on the return trip as we really didn't have time to walk back to the car. I noticed that some families split up. One adult rode with the children while the other drove the car to the Pleasure gardens car park. They had decorated the tunnel on the train ride with Christmas decorations and a couple of Santas.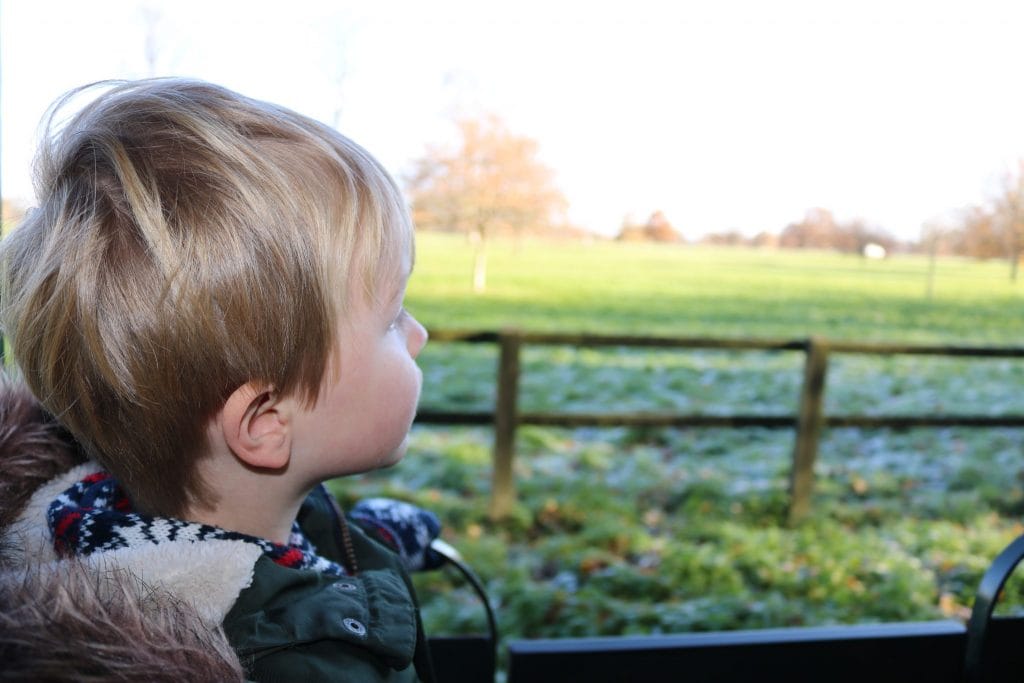 The Pleasure Gardens
There is more to do in the Pleasure gardens during the warmer months such as a Butterfly house, bouncy castle and family events. However, that should not put you off visiting the Pleasure gardens in the autumn and winter.
We visited on a very cold but sunny day and we had lots of fun in the Marlborough maze. It was a little muddy so wellies are recommended. There's a couple of bridges to cross and a nice statue to pose by once you reach the middle.
There is also a small adventure playground plus a few different oversized games such as chess, draughts and mazes.
The Pleasure gardens have a recently refurbished Pizza café. We arrived a little after 12pm and I wished we'd gone there a little sooner as there was nowhere left to sit inside. The pizzas looked fabulous and were being cooked in a proper pizza oven. We had had a massive breakfast so I had a bit of cake and Jamie enjoyed a kids sandwich lunch bag. During the winter the café here is only open at weekends. The only toilets in this area are located near the pizza café.
Important Information about Blenheim Palace
Blenheim plays host to many different kinds of events throughout the year. Always check their website before you leave, not only to check it's open but to see what may be on.
Blenheim is open all year round, except Christmas day. Opening times vary throughout the year. Please see their website. For the palace, park and gardens an adult ticket is £24.90 online in advance and £13.90 for a child 5-16 with under 5s being free. A family ticket for 2 adults and 2 children can be purchased in advance for £59.90. All prices are subject to change. You can upgrade these tickets for a free annual pass for no additional cost.
You can also choose to purchase tickets for just the park and gardens. This is £15.30 for an adult online and in advance. £7.10 for a child 5-16 and free for under 5s. This type of ticket does not entitle you to an upgrade to an annual pass for no extra charge.
---
Disclaimer : We were provided with a family pass to the park, gardens and palace for the purpose of this review. All words, photos and opinions are my own.