This is mostly going to be a post of photos showing our day out to Sundown Adventureland over the Christmas period. This is because I have already written a review about Sundown over here. A lot hasn't changed since then, aside from a new Safari ride. However, I am going to write about our experiences of the Christmas Spectacular below. Sundown is in north Nottinghamshire.
This is a review previous to 2020 – some aspects may not be the same this year. Please check their website.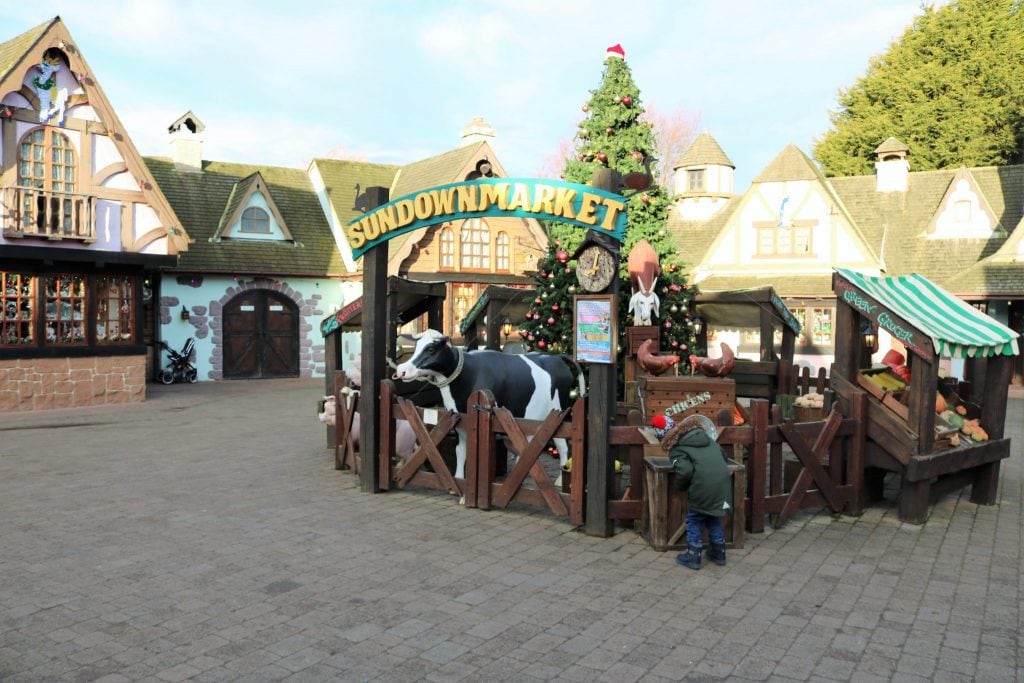 Christmas Spectacular at Sundown Adventureland
The Night before Christmas ride is the one ride in the park that we couldn't go on during our last visit to Sundown. This is because it is solely for taking a ride on to meet Santa. To visit Sundown over Christmas you have to book online in advance. When you book you book a time to ride on the night before Christmas ride. These tickets then include entry to the park which you can do any time that day during their opening hours. Slots closer to Christmas day book up fast, especially at the weekend. We booked a 10:15am ride on the 16th December and it was fully booked by the time we visited.
Night Before Christmas Ride
The ride is very festive and I love how the sleighs move about on the track, very clever! You can fit two children in the front and two adults in the back. I did see some adults squeezing in the front but be warned that it's a tight fit. We were a few minutes early arriving for our slot and they let us on regardless. I think this is because it was quiet. I noticed for the slots later on that day it was very busy and a queue had formed.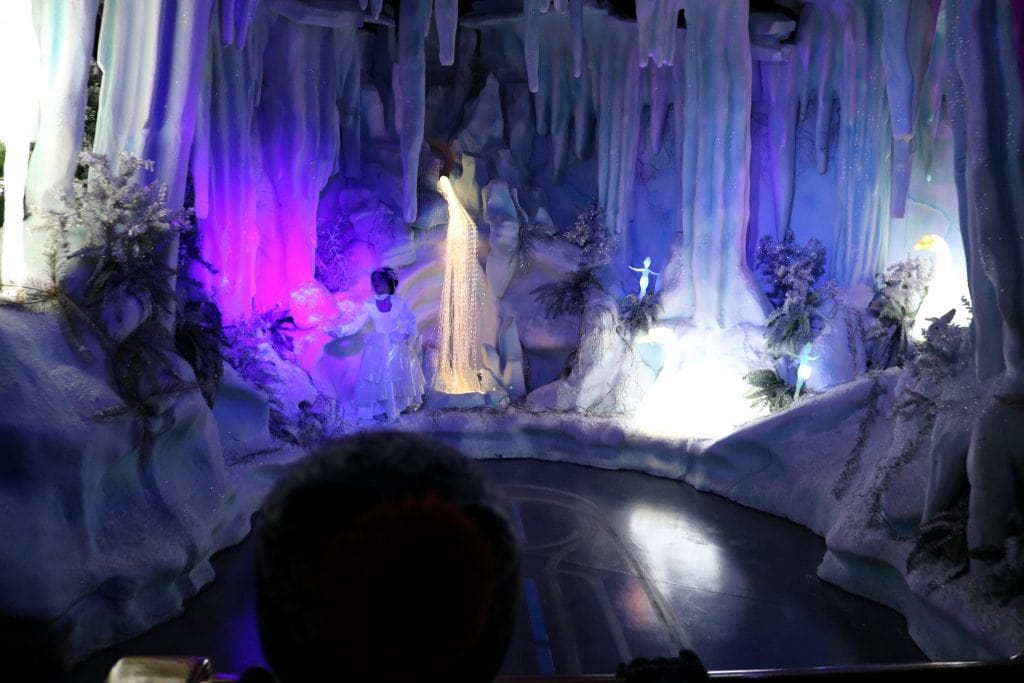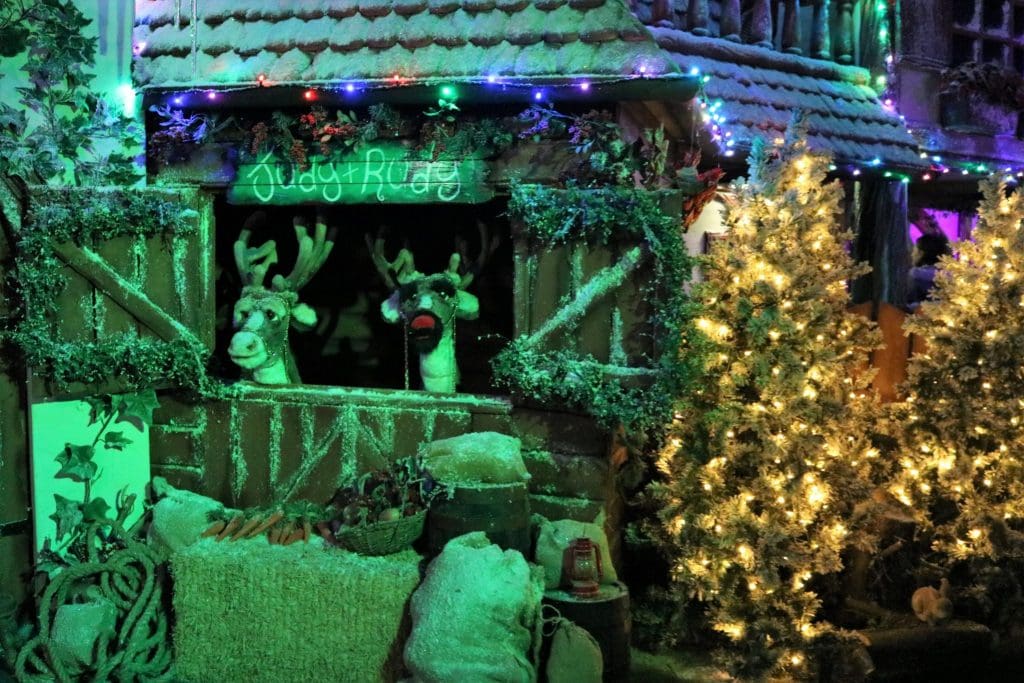 The ride finishes next to where you then stand in a queue to meet Santa. We weren't in the queue long and it was perhaps half full of people. I believe there are quite a few rooms to meet Santa. I have a video of Jamie meeting Santa which I will add below. Santa was absolutely fantastic. Jamie is normally quite shy but he couldn't help but want to talk to him. He was jolly, bubbly, very friendly and didn't make us feel rushed at all. It was all very relaxed. Jamie's face is classic when Mrs Claus came in with his present. Honestly, it was like meeting old friends.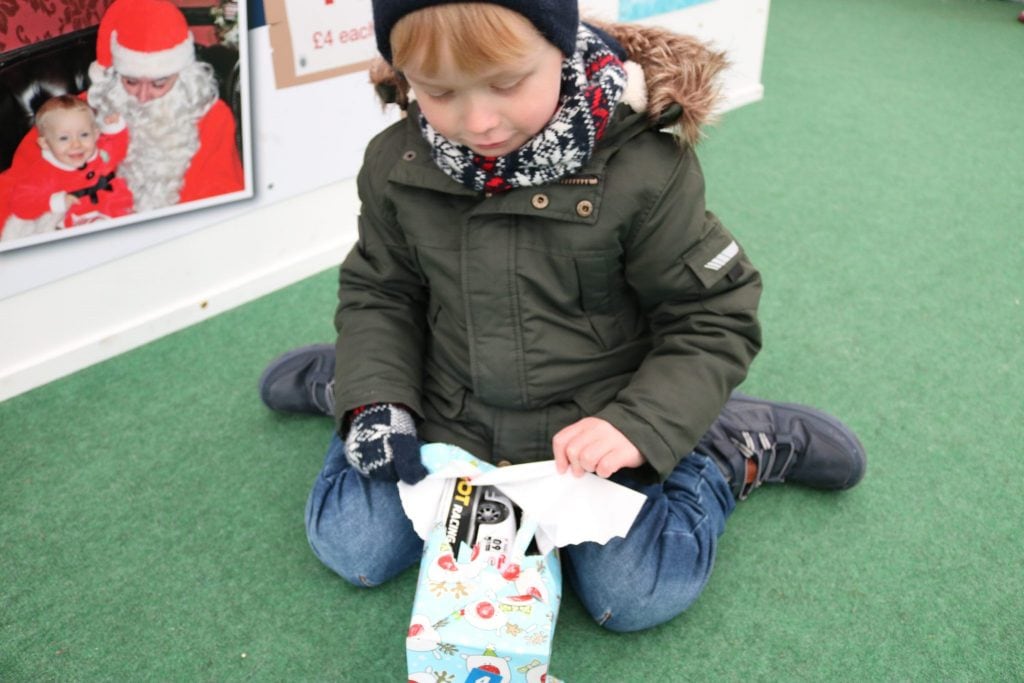 They choose a toy according to the child who comes in the room. Jamie was given a push toy car that zooms around, plays music and lights up. He loves it!
After you've met Santa you can head left out the main marquee to meet a couple of Santa's very friendly reindeer. Inside the marquee you can purchase a photo of you all meeting Santa. 1 photo in a card frame is £7.00. There are 3 Christmas displays to look at, somewhere to buy drinks and have a rest. Plus meet and greets, shows, disco and more throughout the day. If you visit on a day as cold as ours then the marquee is a great place to warm up. Jamie was keen to go on all of the rides, well bar the water ride as there was no way I was getting wet in that weather. Because of this we never made it to any of the extra activities in the marquee.
What else was there to do on a cold day at Sundown?
Luckily we were ahead of most of the crowds so we fitted in as many rides before lunch as we could. Although the Christmas spectacular was sold out that day we didn't have to queue for too long for most of the rides. The vast majority of rides we just walked straight on or waited for the next ride to come.
Indoors you can go on the Santa Sleigh Ride which is another festive ride. This is open all year round.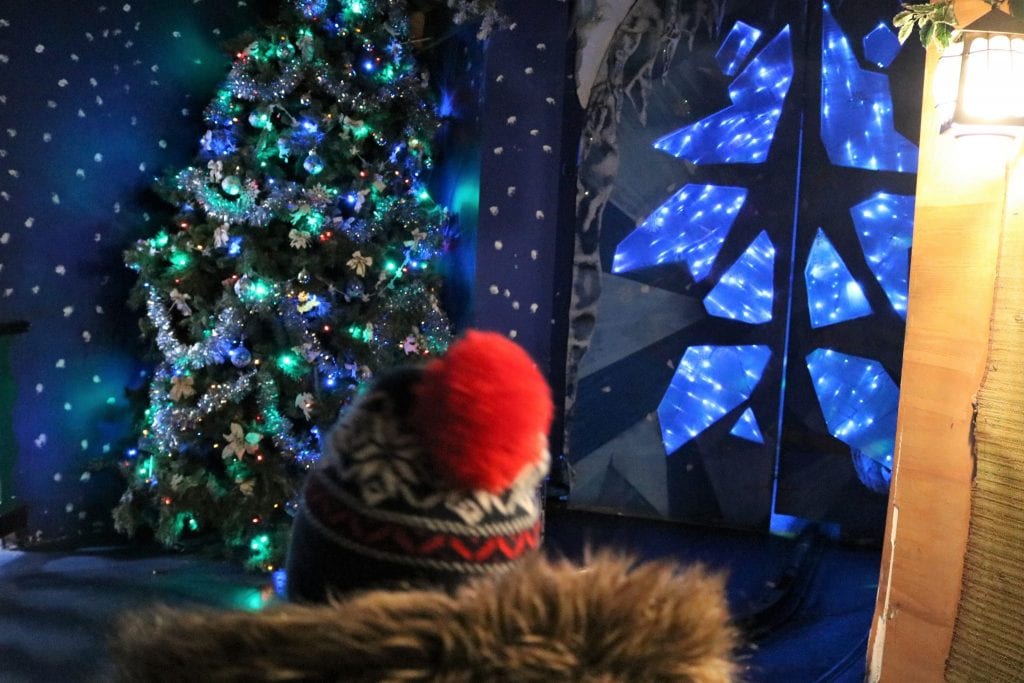 Make sure you check out all the fun interactive displays in Shotgun city before you ride on the rocky mountain train.
The tractor ride is one of Jamie's favourites and the staff always have him believing that he's driving the car himself.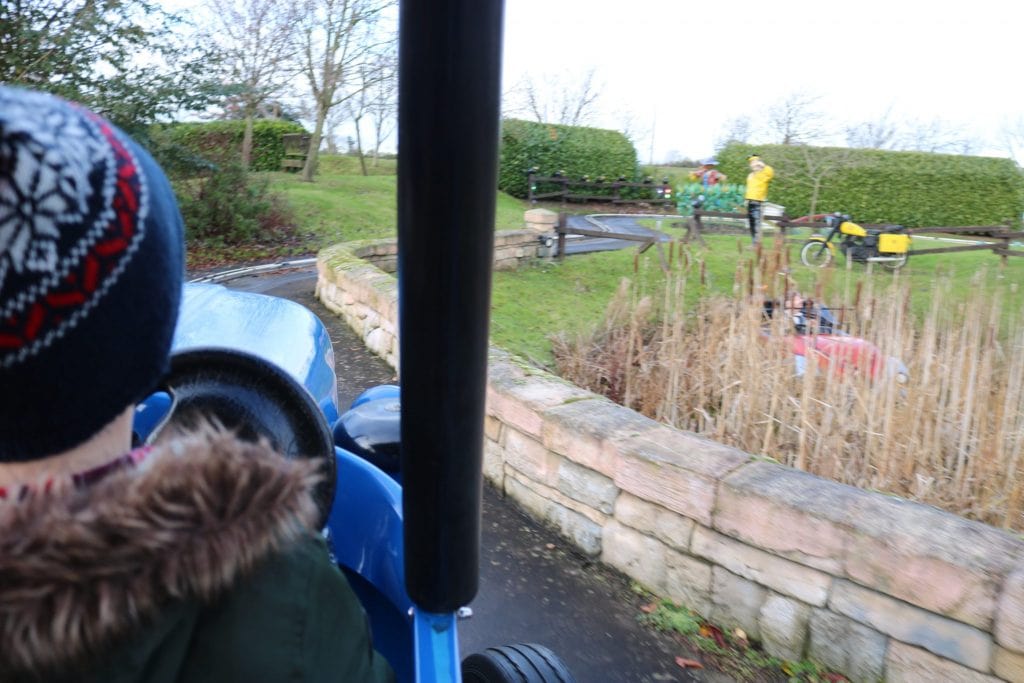 Don't miss out on the Robin Hood ride.
Jamie loves exploring all the mini buildings in toy town, although while waiting for him to do this we both got rather cold.
Crash landings was the only place to buy hot food during our visit. We arrived at 11:30am for lunch expecting to find a table. It was chaos and we luckily arrived as someone was leaving, meaning we got the one and only free table. We bought a hot dog and chips, 2 cheeseburgers and chips and 3 drinks for just under £15.00. It was all hot and better than expected. Jamie was especially happy to be able to play on the huge soft play that they have there. They've really put some thought and effort into this area. There's a big crashed plane and the bottom floor feels like you are sitting under a giant tree. Plus there are animated monkeys on top of the soft play equipment.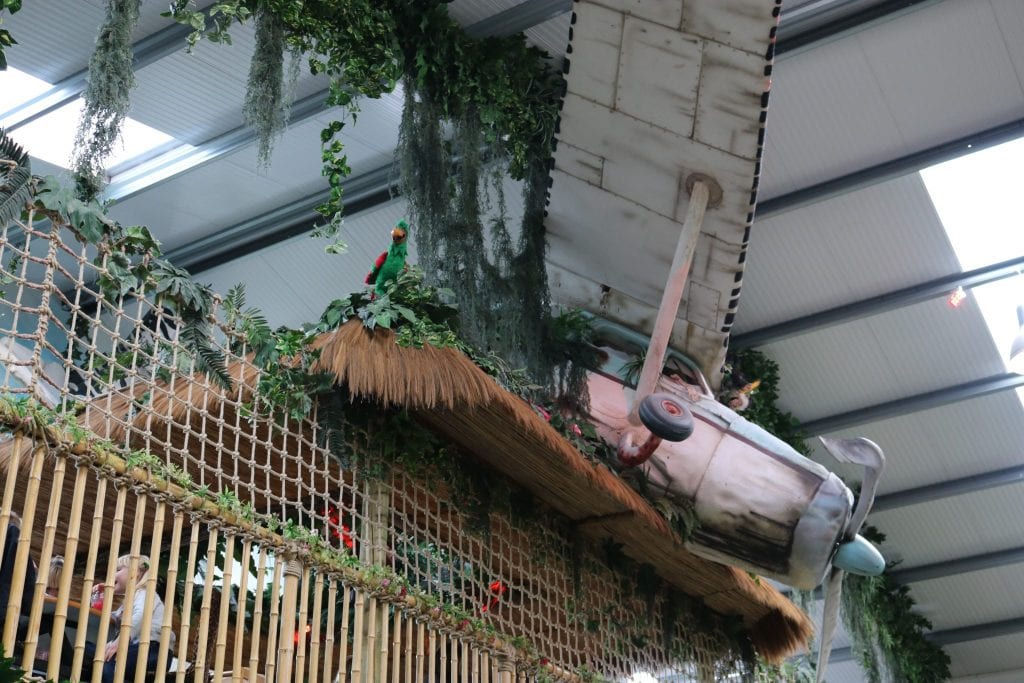 The one thing that I was surprised about was the lack of Christmas decorations and Christmas music. I was expecting the whole park to have decorations and music playing. Other than near the two Christmas rides and the display above outside crash landings there wasn't much else to help you feel festive. I thought this was a big shame and it's something I'd love to see more of in the future.
We love Lollipoppet castle. There are many different rooms to explore and most of them smell of different kinds of sweets. Another must do for your day is exploring all the interactive houses in the storybook village. Plus you can follow the yellow brick road to Oz.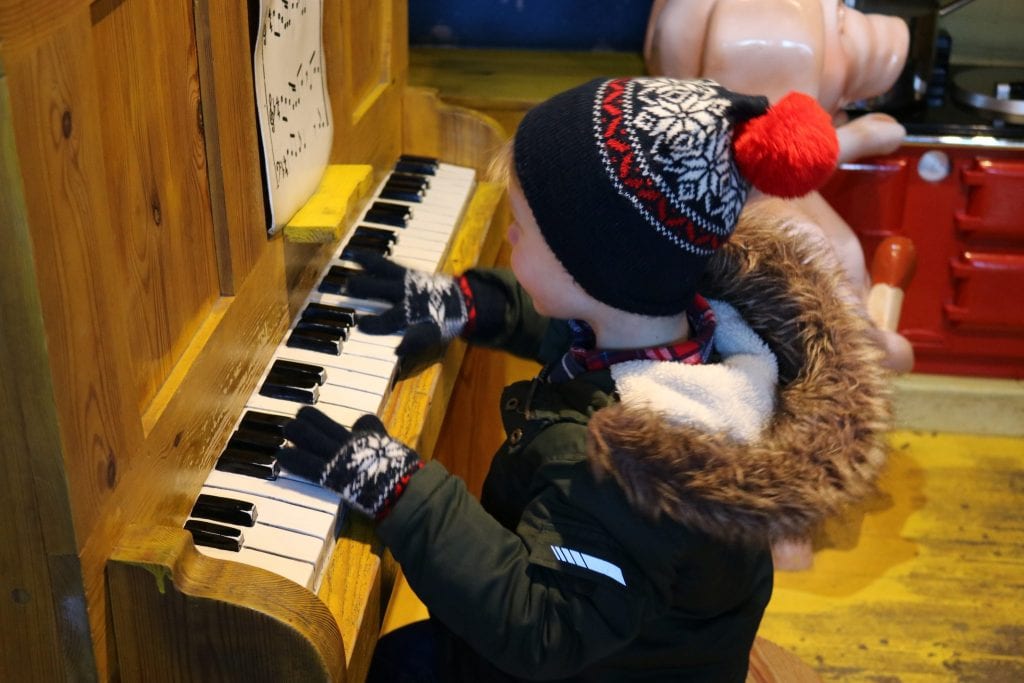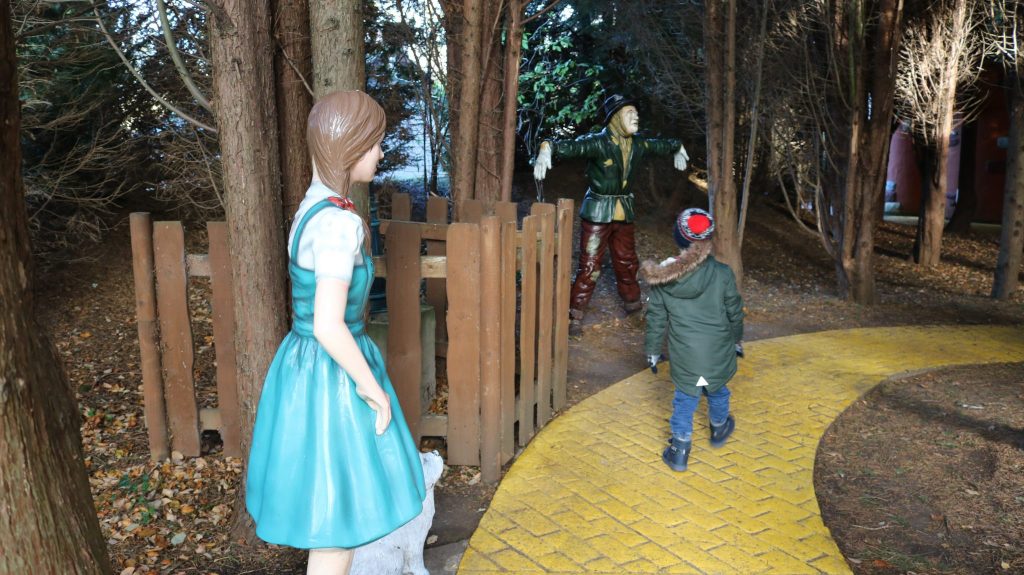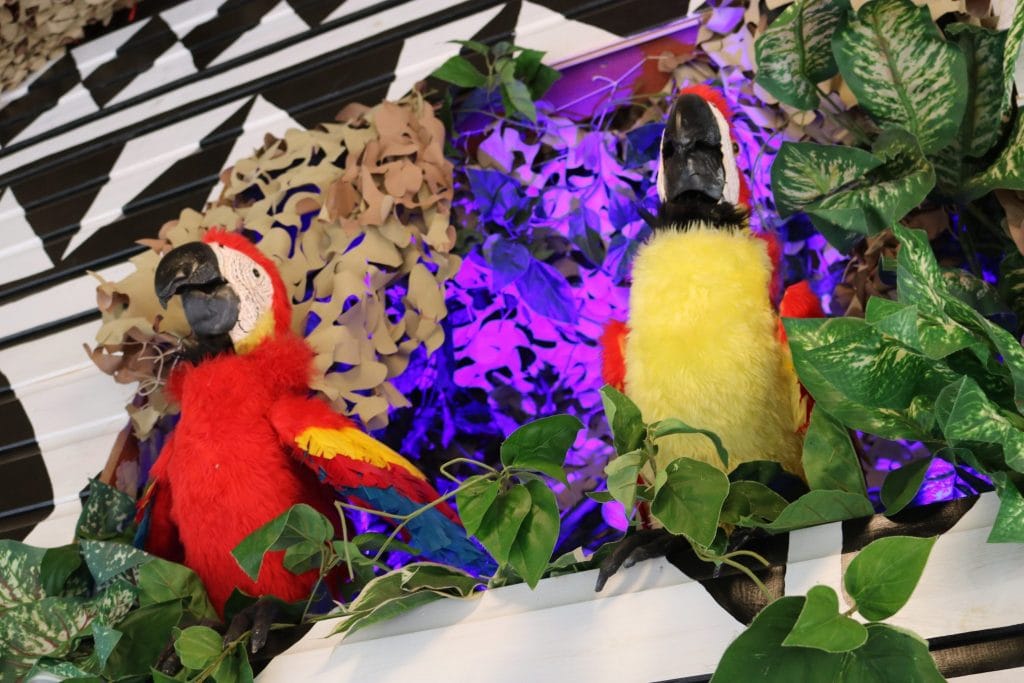 New for 2017 is the Safari ride. Children can ride with an adult or if they are over 110cm they can ride on an ostrich by themselves. Jamie thought this was marvellous and banned me from going on with him.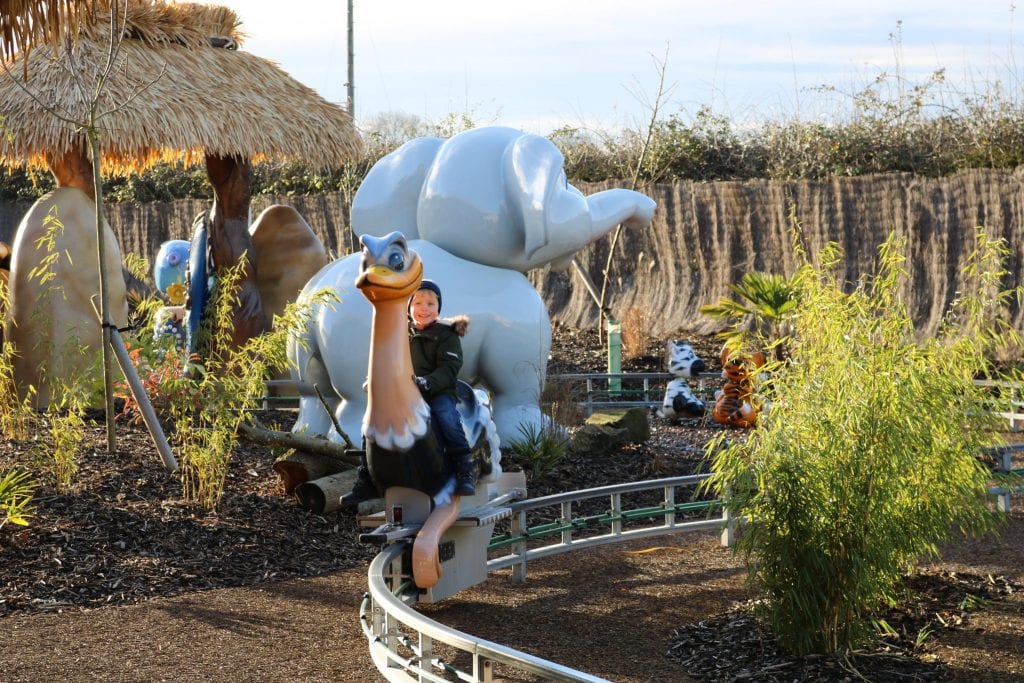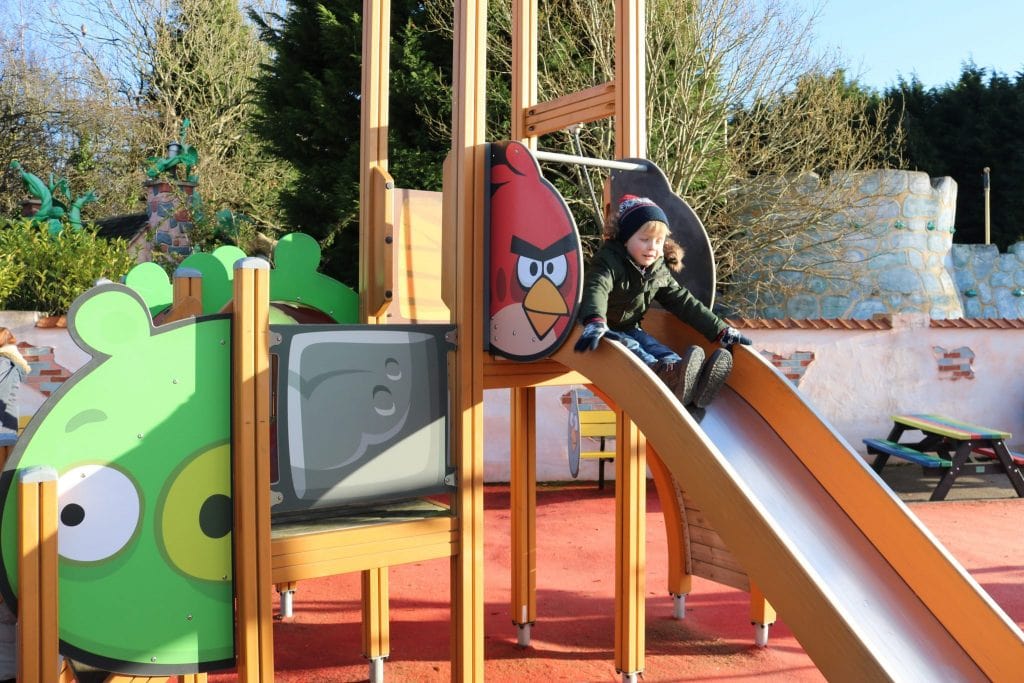 There are many playgrounds at Sundown and we didn't find the time for Jamie to play on all of them. They are all just as fun as the rest of the park.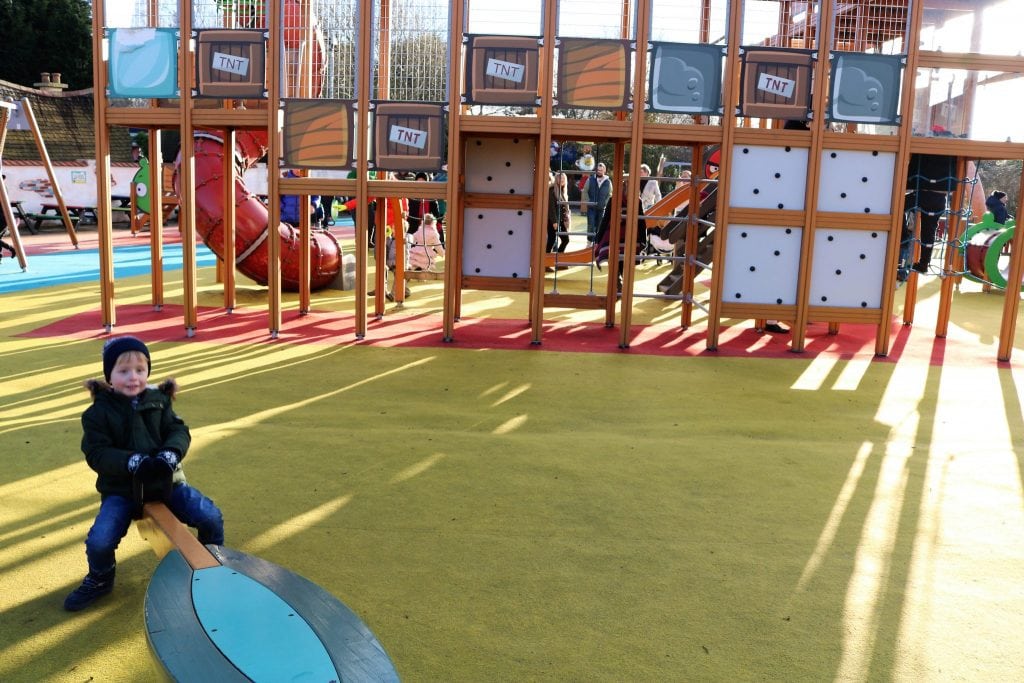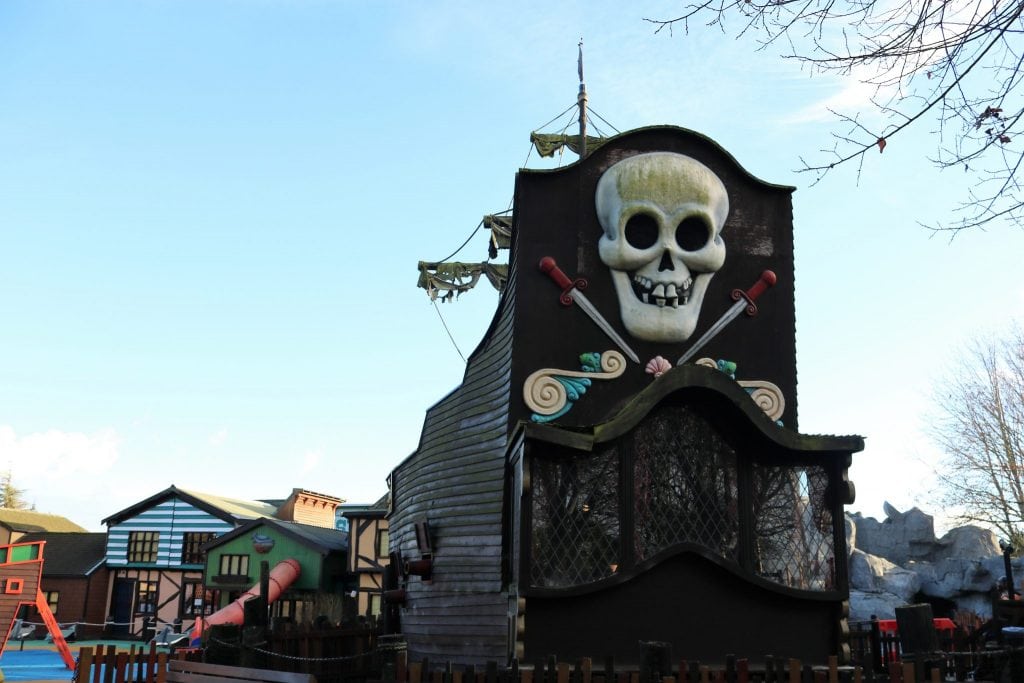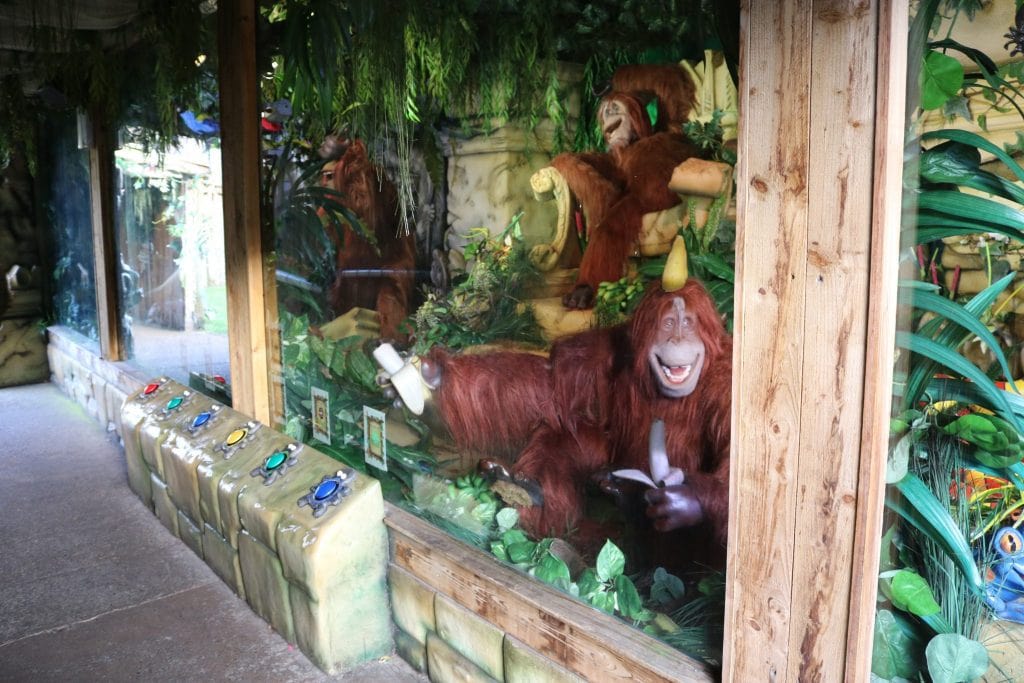 Monkey mischief can easily be missed. It's tucked away so check your map and make sure you don't miss it. It's so much fun and there's plenty of buttons for the kids to press.
Tip – If you're struggling a bit with the cold pop into one of their shops. They are lovely and warm and heated us back up nicely.
All in all, it was a lovely experience meeting Santa at Sundown. Jamie got to meet the main man and go on lots of rides, which he loves. We just would have liked to have seen more festive decorations around the rest of the park.
Please watch the video of our son meeting Santa at Sundown
---
I hope you enjoyed my roundup review. Please comment below. Never miss a post and subscribe to my newsletter. We are very active on social media and we would love a follow please on Facebook, Twitter or Instagram. Why not pin this post for later? And give us a follow. Simply click on the image below to take you over to Pinterest.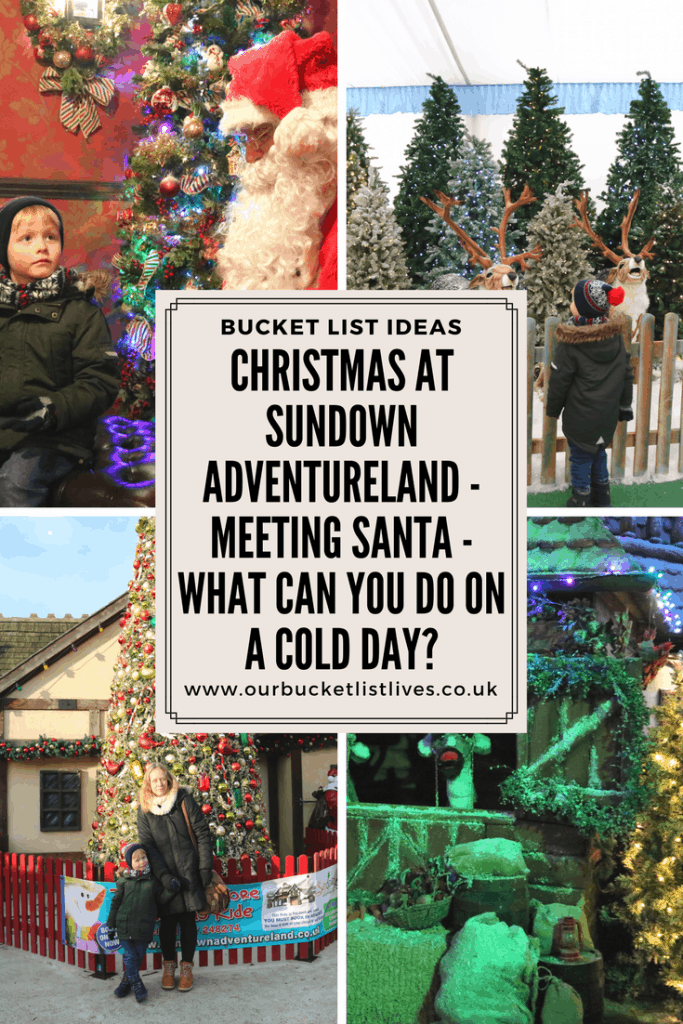 Christmas at Sundown Adventureland – Meeting Santa – What can you do on a Cold Day?