We were in Leicester city centre this weekend experiencing some of the great things they have on this Christmas. There's a 22metre Wheel of Light that looks spectacular lit up. They have a covered ice rink, located next to the wheel. Plus a Christmas market with stalls selling gifts, crafts and food. There's a funfair on over at Humberstone Gate West. Your kids can meet Santa at Green Dragon Square in a FREE Santa's Grotto. Children of all ages can visit Santa and his elf, and those on the nice list will also receive a wonderful free gift!
Christmas Events in Leicester
The Wheel of Light
During our visit to Leicester, we had a ride on their Wheel of Light in Jubilee Square. It was raining and thankfully we didn't get too wet as the gondolas are covered. A little rain had come in at the sides and the man helping us on dried the seats off for us. Now that is what I call service!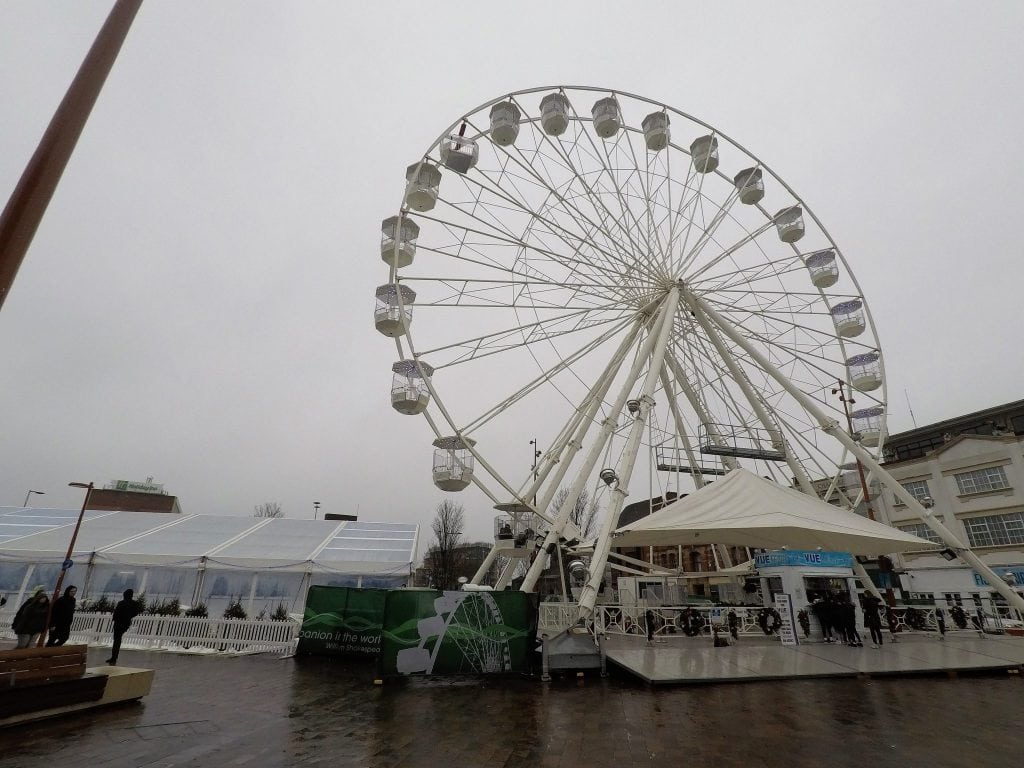 Both the Wheel of light and the ice skating rink are located in Jubilee square (just around the corner from the Cathedral). You will find the wheel of light here until the 3rd January 2021. An adult ticket is £5.00 and £4.00 for a concession (child below 1.4m, student and OAP). A family ticket costs £15.00. One ride lasts approx. 8 to 10 minutes. We went around three times. Each gondola can seat up to 6 people and they have one special gondola with wheelchair access.
The wheel runs from 11 am until 9 pm Monday to Thursday. Friday to Sunday the wheel runs from 11 am until 11 pm. (These are anticipated timings – timings may change at short notice due to unforeseeable circumstances. Closed Christmas day and New Year's day). If you can go when the day is turning dark please do so because it comes into its own when you can see all the lights truly shining.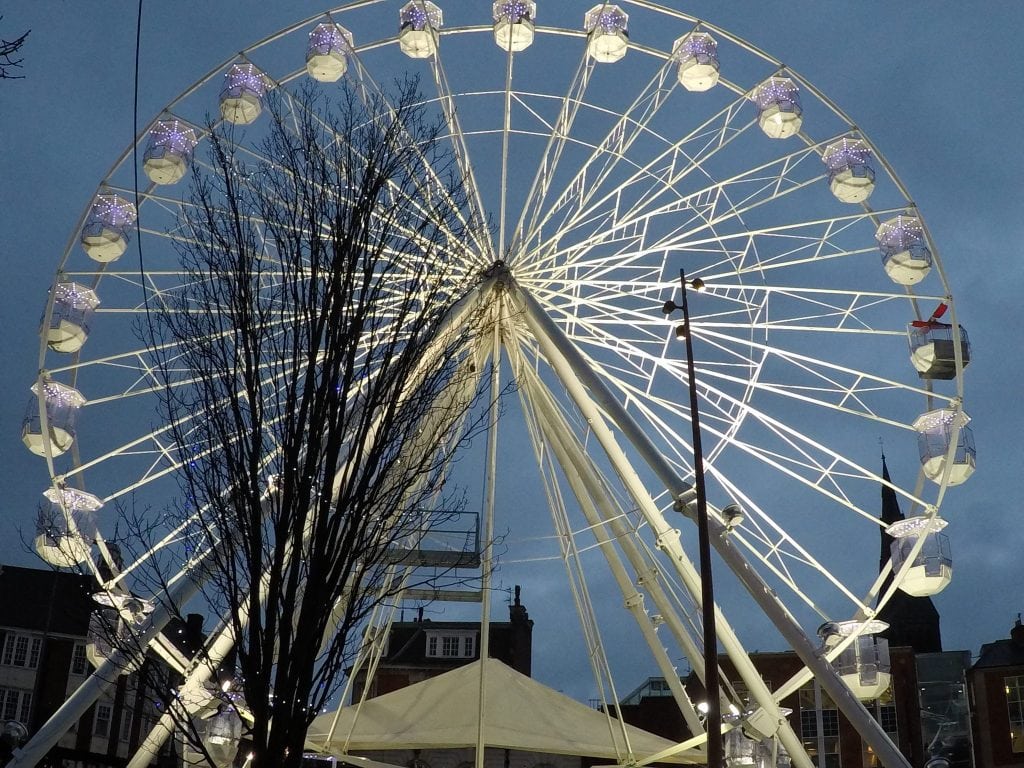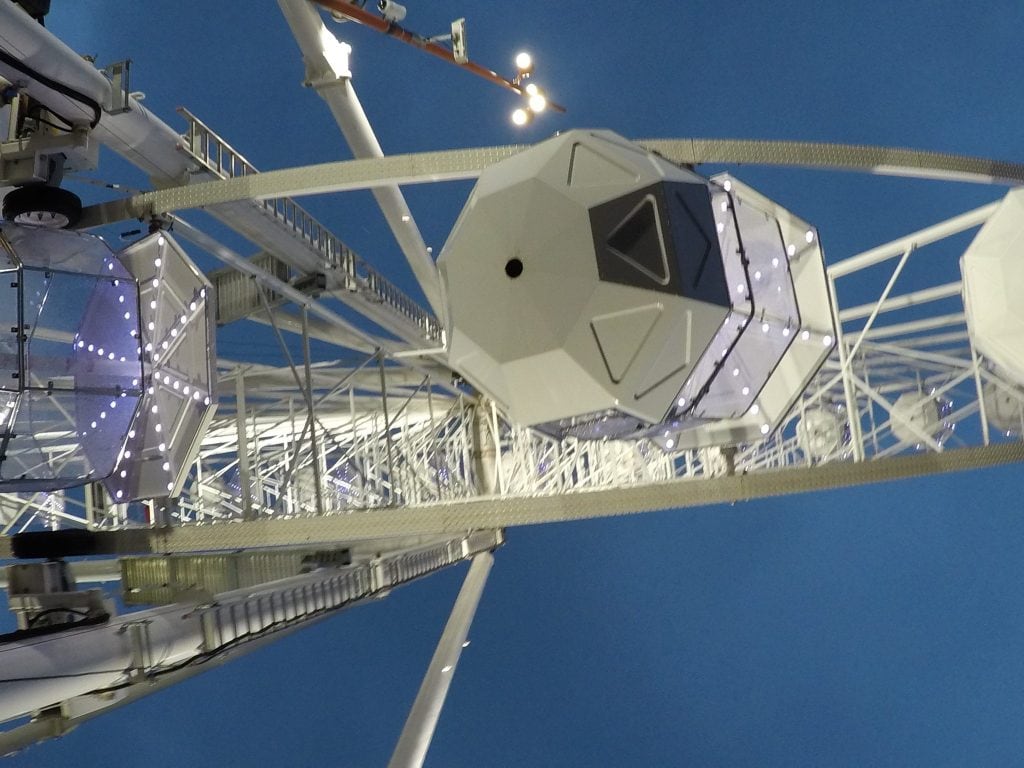 You get a good view of the City from the wheel and it was fun looking down on the ice skaters. There was a kid on the gondola before ours who cried because he didn't want to get off!
Ice Skating in Jubilee Square
The skating rink will be in Leicester until the 3rd January 2021. It has real ice and all the extra ice created by the skaters is put outside around their Christmas trees so it looks like it's snowed.
As you can see it was raining when we went. That's not a problem here because the ice rink has a clear cover. So you can still see out without getting soaked. You must purchase your tickets online in advance or on the day from the Visit Leicester information centre or BBC Radio Leicester in Jubilee square.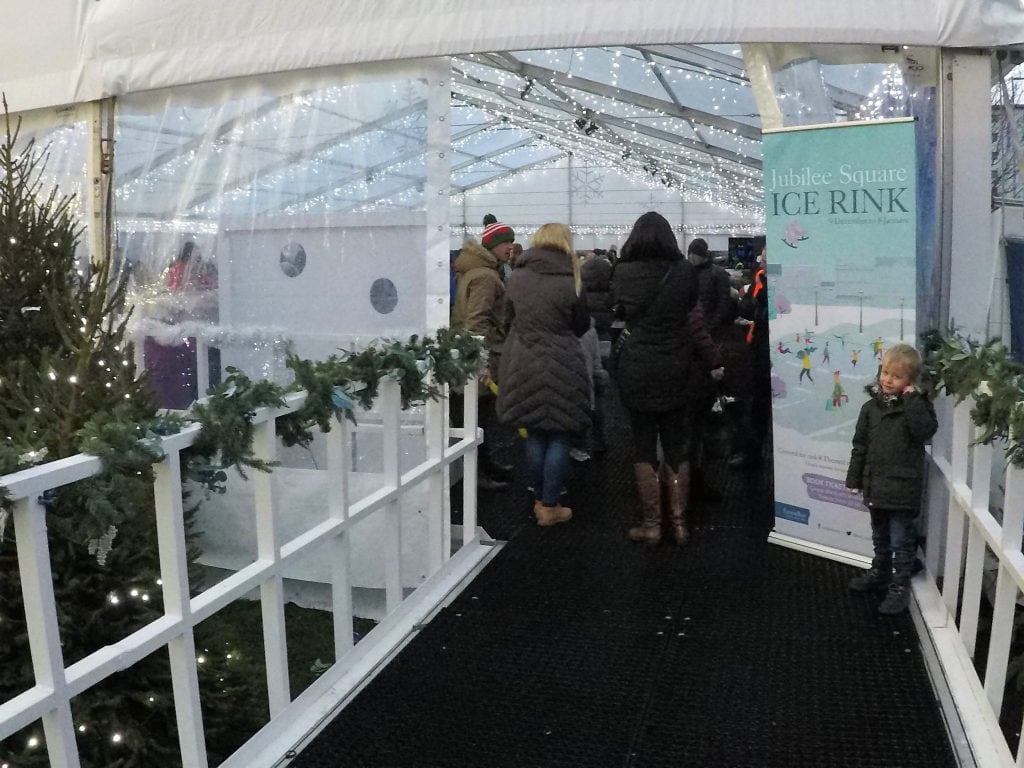 Skating times run on the hour every hour with 10 sessions a day starting from 11 am until 8 pm. You are allowed to skate for 45 minutes. Bags are not permitted on the ice, however, I did have my handbag with me. Although I had wished that I had put it in one of the lockers over at BBC Radio Leicester. It's not easy picking up Bambi when you have a bag over your shoulder. Lockers are £2.00 (non-refundable).
A peak ticket for skating is £10.00 for an adult including children aged 13 and over. Concessions/children under 13 are £8.50. Off-peak, that's £7.00 per person. The price of the ticket includes skate hire. You can bring your own skates but this does not reduce the price. Skate aids are also available to hire. Spectators can watch at the sides for free. The ice rink is wheelchair accessible and manual wheelchair users are able to go on the ice.
For children aged 4 and over they have penguin skate aids for £3.00 an aid. Children under 4 are allowed to ride on a seal which is also £3.00. Jamie struggled to stay upright with his penguin so the kind lady let us swap for a seal. He had great fun riding around while I pushed him and he was able to use the seal as an aid whenever he fancied giving skating another try. If you want to hire a skate aid you must pay over the road at BBC radio Leicester first. Jamie was desperate to be up and skating like everyone else and is already wanting me to take him ice skating again soon.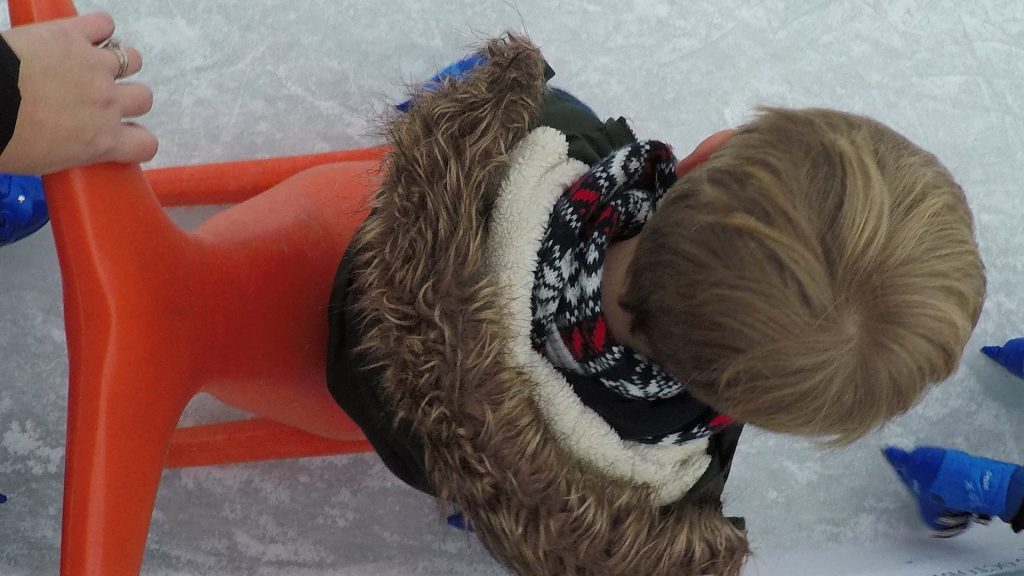 Top tips
1 – Take an extra pair of socks for everyone that skates. When you collect your skates you also have to hand over your shoes. This meant having to put our feet on their wet floor. I wish we'd taken spare socks!
2 – Visit before you go shopping so you don't have any big bags with you
3 – Although both the rink and wheel are prettier in the dark I noticed that the ice rink was a lot quieter earlier on than our 3pm slot. Jamie found all the people a little overwhelming for his first time.
4 – Make sure you've purchased your ticket for a skating aid before you queue to get your skates (head on over to BBC radio Leicester to pay).
Getting into Leicester
Why not try out this really handy website all about getting into Leicester. The website is a one-stop shop for travel information in Leicester & Leicestershire, with a journey planner that allows residents and visitors to consider the different travel options available to them.
If you are driving in there is a choice of park and rides. The bus station is a 10-minute walk from Jubilee square. The rail station is a 10-15 minute walk away. If you want to park nearby then there are two public car parks both located within easy walking distance to the ice rink – NCP St Nicolas Circle with 715 spaces and the John Lewis Multi-Storey car park located off Vaughan Way with 2000 spaces. We were recommended Newarke street car park as it was just £1 to park all day on a Sunday. It was approx. 8 minutes walk for us from there to Jubilee square.
---
Disclaimer: We were invited by Visit Leicester to join in with their Christmas events. Tickets to ride on the wheel and to go ice skating were provided. All words, opinions and photos unless credited are my own.