Crich Tramway Village in Derbyshire is somewhere I've been wanting to take the little one since we moved back to the UK. Why? Well, it's no ordinary day out as it is such an authentic tramway experience. Plus there's so much to do there. So much so I have made a list for you of 16 great things you can do on your day out there. I am sure you will love the experience as much as we did.
Crich Tramway Museum – Review
There are at least 60 trams that you can look at, plus 3 different tram rides up and down the lines a day. You are entitled, with your entrance fee, to ride on all 3 trams as much as you like. Crich tramway village is set in some stunning Derbyshire scenery. There are points on the walk and the trams where you can admire the amazing views. It's very accessible being just 8 miles from the M1 and not too long a drive from many major towns and cities.
When you arrive you are given a very useful map with a numbered and colour coded guide to everything that they have at Crich. There is also a large map to refer to when you arrive.
Once you have entered the site you are met with the tramlines and the most idyllic view. It is like stepping back in time. Opposite you have a large bandstand and up and down the hill there are lovely views of the site.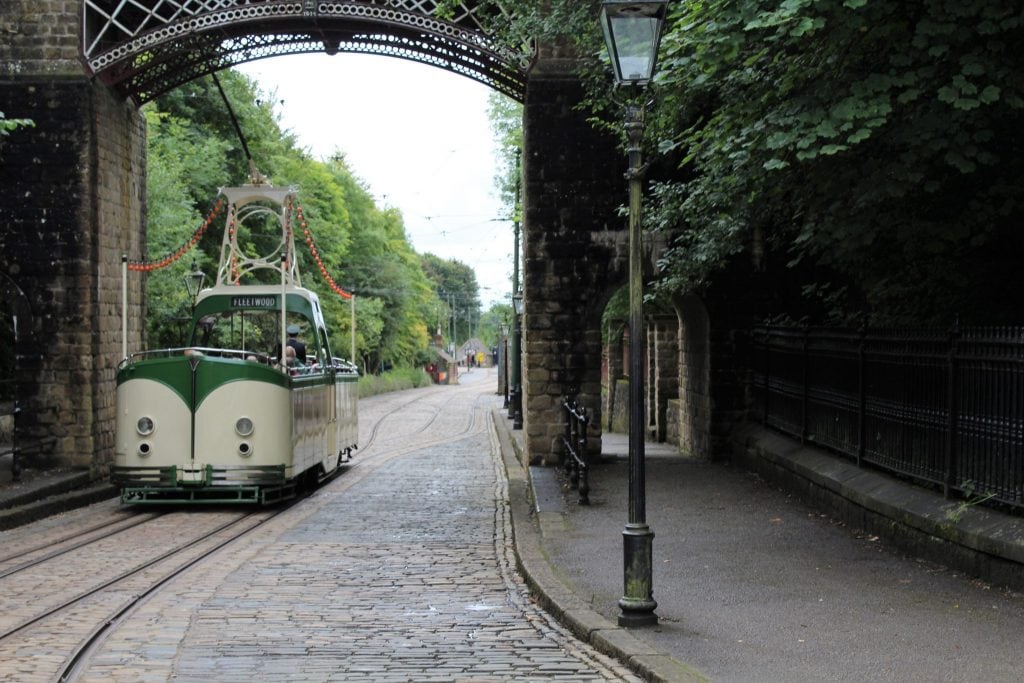 So what are the 16 great things that you can do at Crich?
#1 – Walk down the Period Village scene
This was the first thing we did as we headed down the hill in an attempt to get on a tram. We were all very impressed. It was just lovely. There was a stunning Red Lion pub which came from Stoke and was rebuilt brick by brick. The façade of the Derby Assembly rooms came to them after a fire. Plus there's an authentic Tea-room, sweet shop and more. There are lovely places to sit, proper police boxes, gorgeous street lamps, plus much more to find.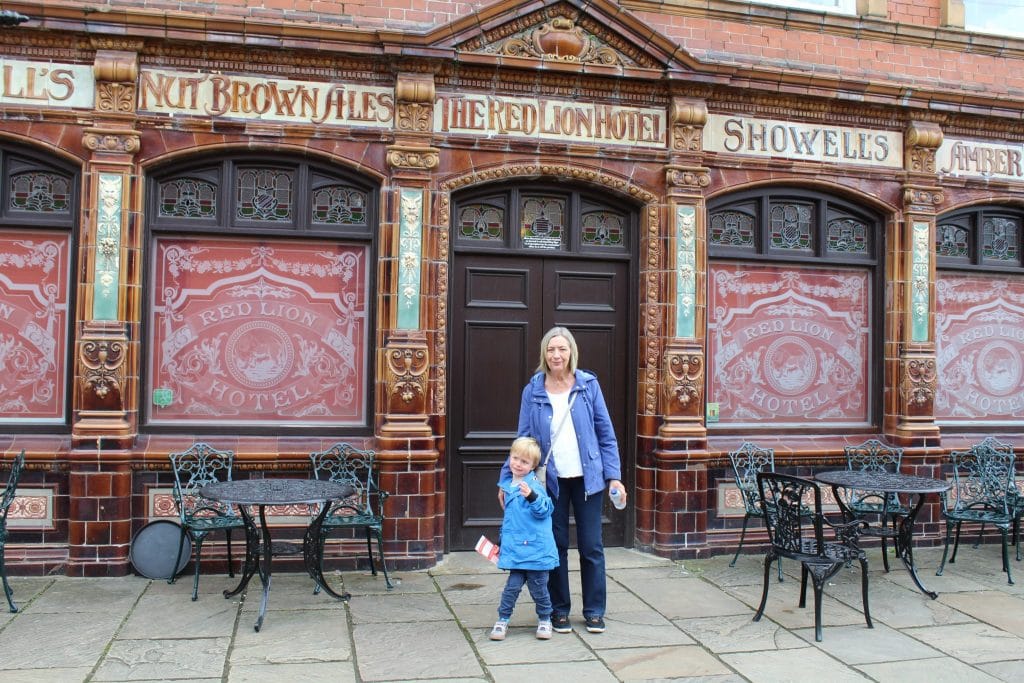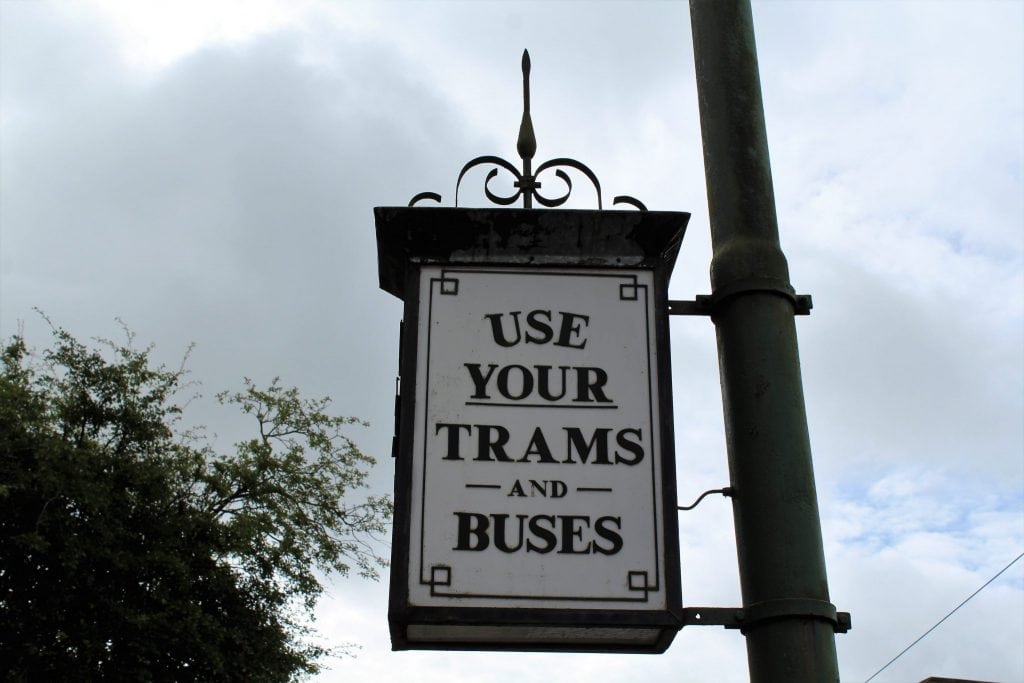 #2 – Have a look in the Eagle Press
This little building is set up as a printing room. It even smells authentic. It was a good opportunity to teach Jamie a few things about printing.
#3 – Ride on 3 different trams
Upon arrival, you are given an old penny for an adult and a half a penny for a child. On your first tram, you exchange these for a ticket, you need to then keep your ticket for further tram rides. You are entitled to ride as many times as you wish on as many of the three trams that they have running each day.
The trams are not adapted for buggies so they are not allowed on. They do have a buggy park though where you can leave it. There is a tram with disabled access that you can use on request. They alternate which trams are running. You never have long to wait as usually, one stops every 10 minutes at the main terminus. The trams stop another three times on its way up the hill and then again back down.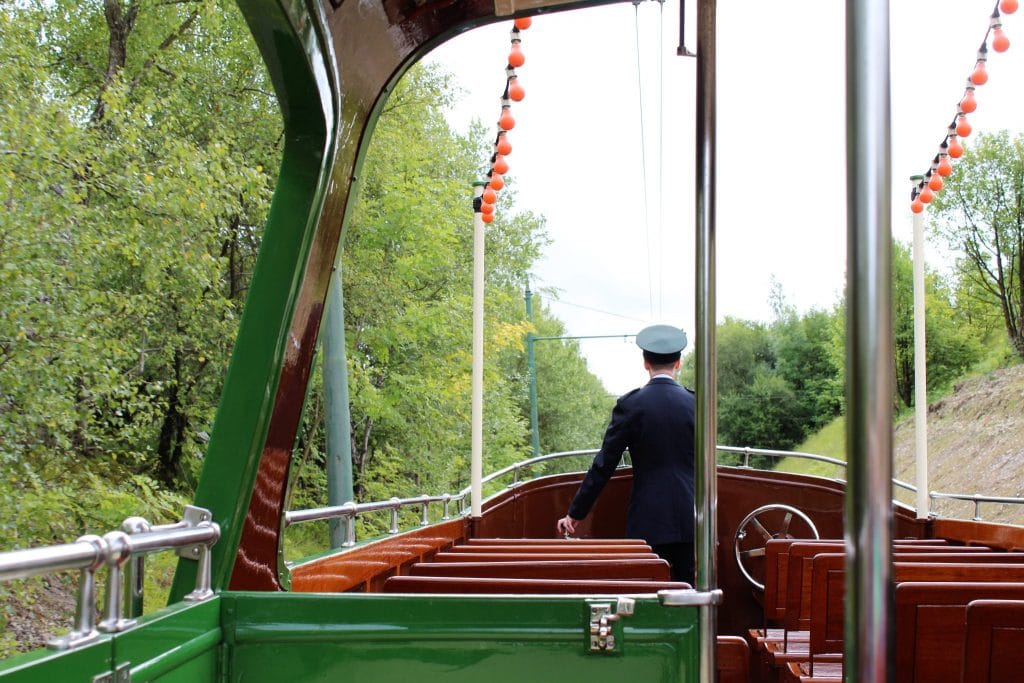 We managed a ride on each of the trams running that day. We all loved the open 'boat' tram the most with its strings of lights. Two of the trams we went on had the old style seats where you simply move the back to the other side so you never ride backwards.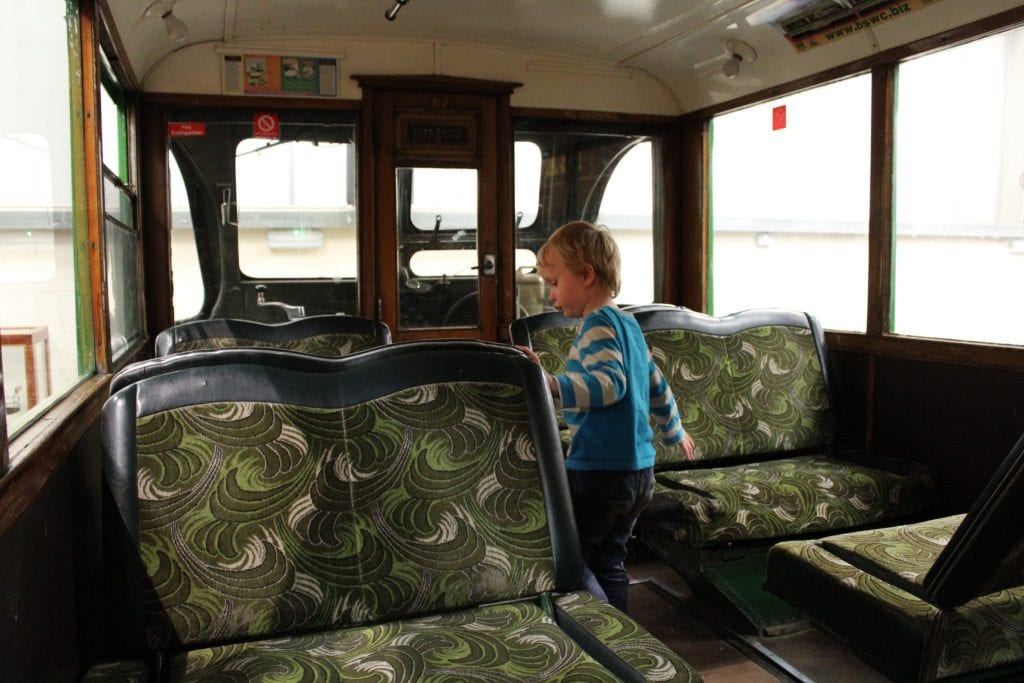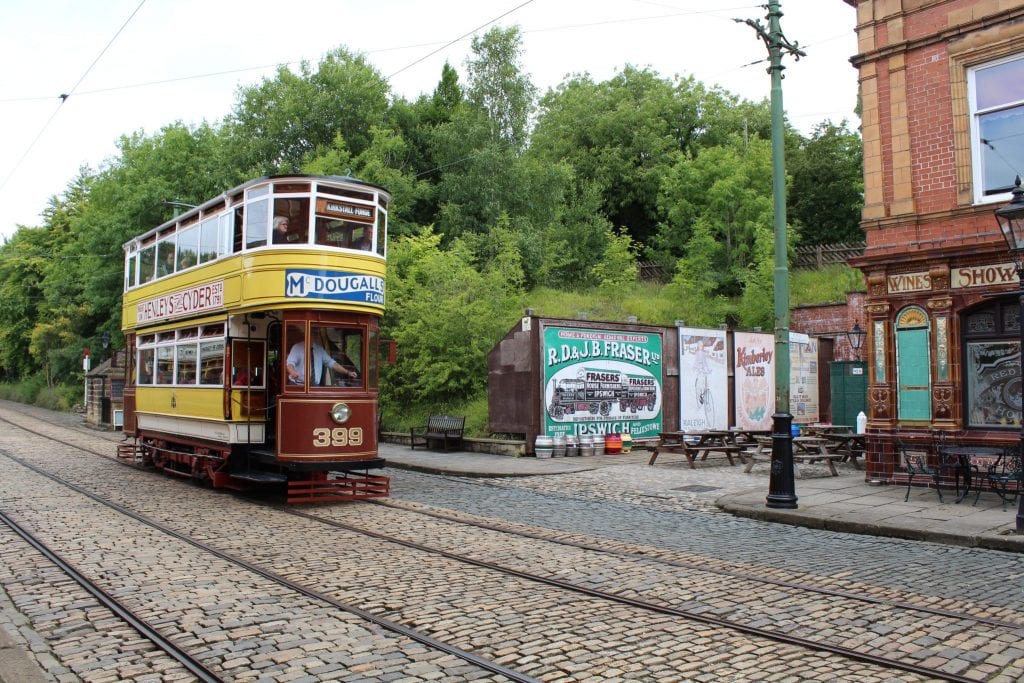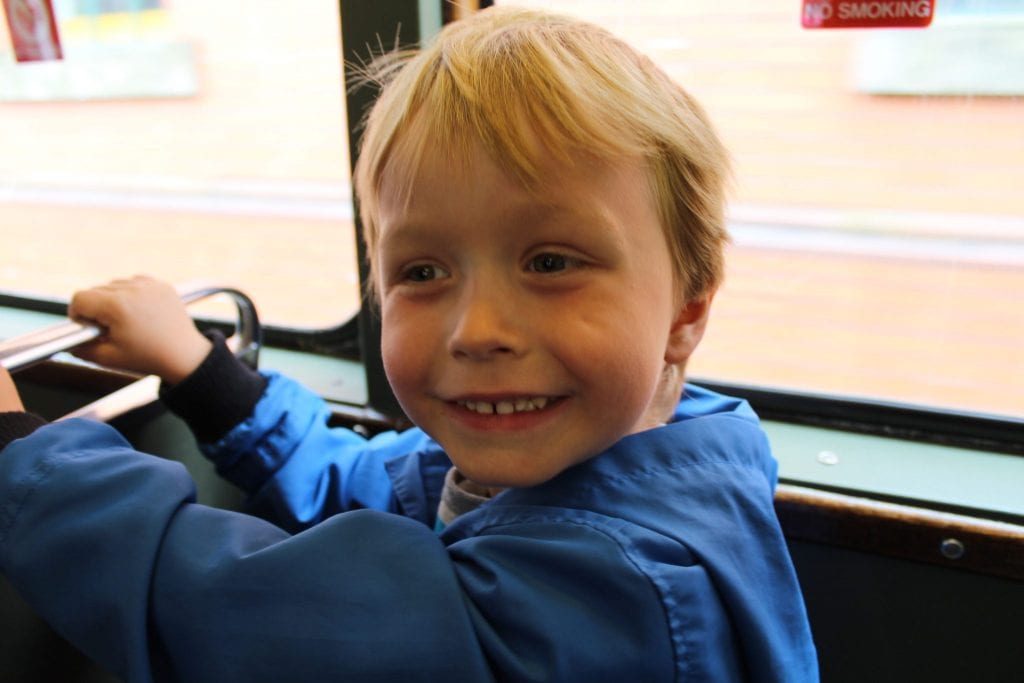 #4 Stop off at Wakebridge to see the mining equipment
It's just a small exhibition of mining equipment but Jamie found it really interesting and was asking lots of questions about what everything does.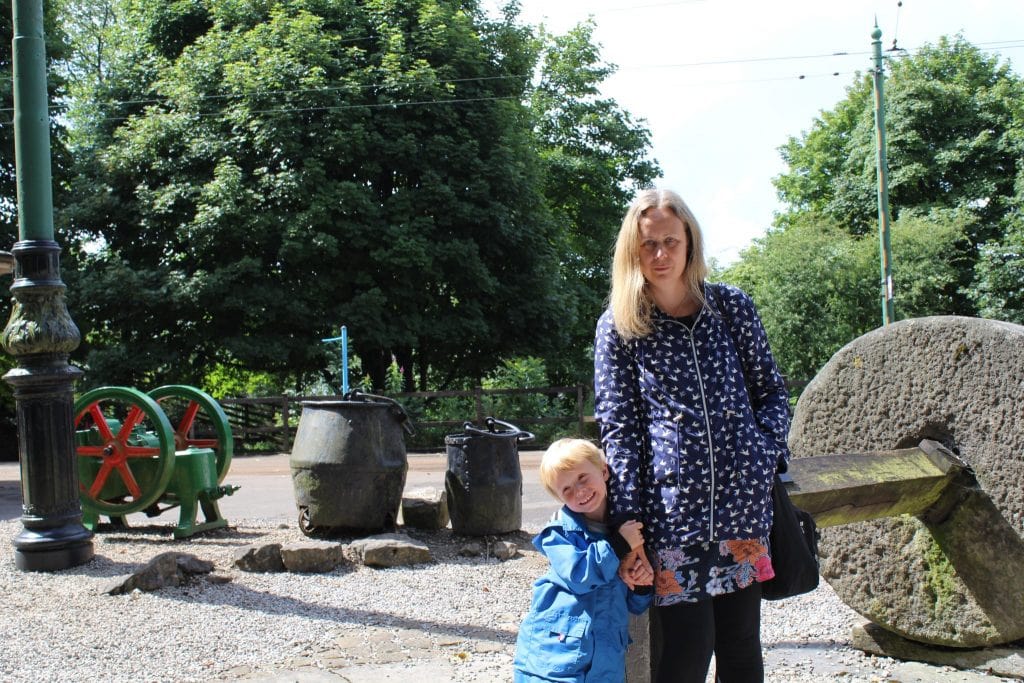 #5 Walk the Woodland walk and sculpture trail
Also at the Wakebridge stop is where the Woodland walk starts. Follow the signs for a lovely walk in the woods to see sculptures and stunning views.
This was a lot more fun than I was expecting. There was all sorts to find hidden on the walk. Jamie's favourite was most certainly the giant. He also loved the wizard and drum kit. A few of the sculptures are decaying but the worse one is to be replaced soon. It's quite a damp environment on the hill after rain so it's not surprising really.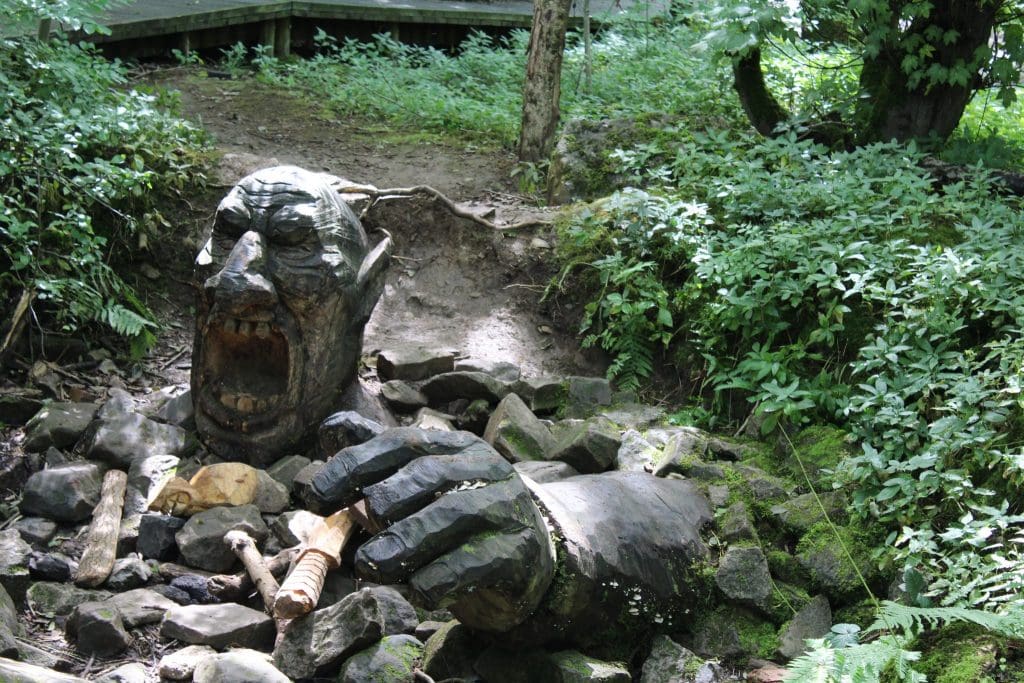 I haven't included a photo of everything – there is more to discover!
#6 – Admire the beautiful views
As well great views on the tram rides there are a couple of places on the walk to stop and admire the stunning views.
#7 – Play on the outdoor play area
There's plenty here for big kids and little kids. Some of it made of wood, other parts not. I only managed a couple of photos as there were quite a lot of children playing here. Jamie managed to slide down a very muddy bank here and his trousers were quite possibly the muddiest I've ever seen them, boys!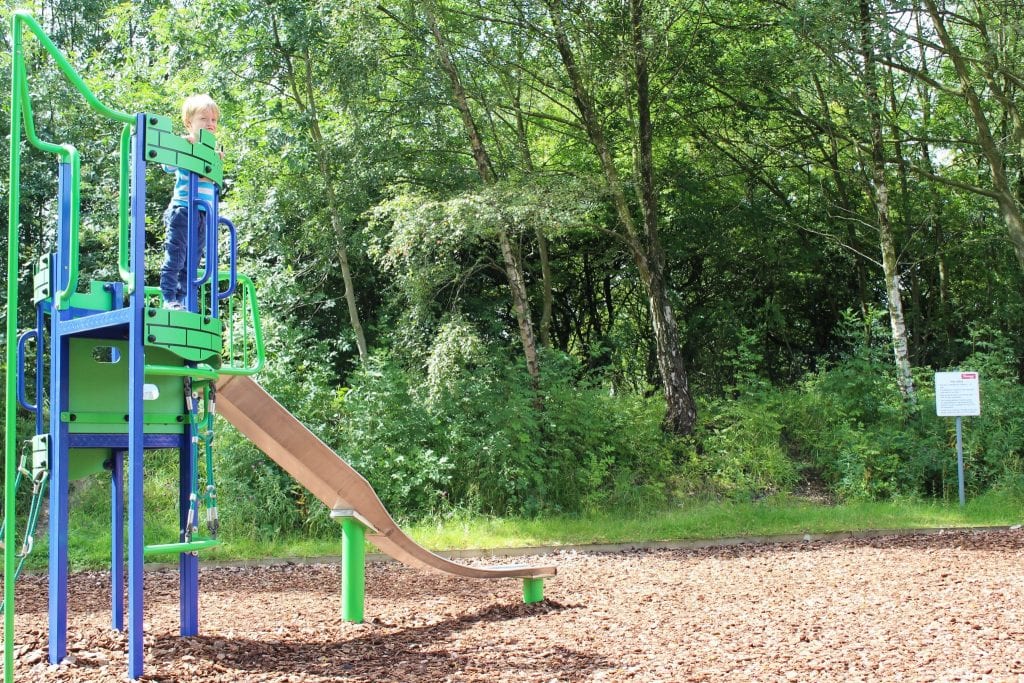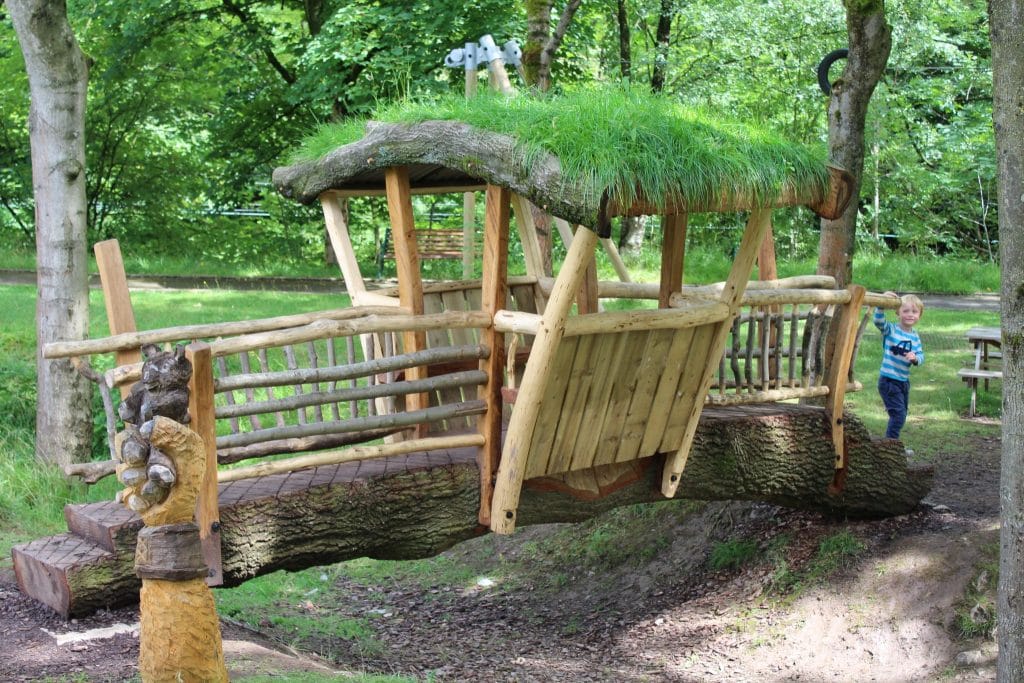 I was in love with the bridge above. I want one.
#8 – Walk over Bowes-Lyon bridge
This is the bridge over the tram lines and it is well worth the view to walk over. My photos don't really do it justice. It is lovely.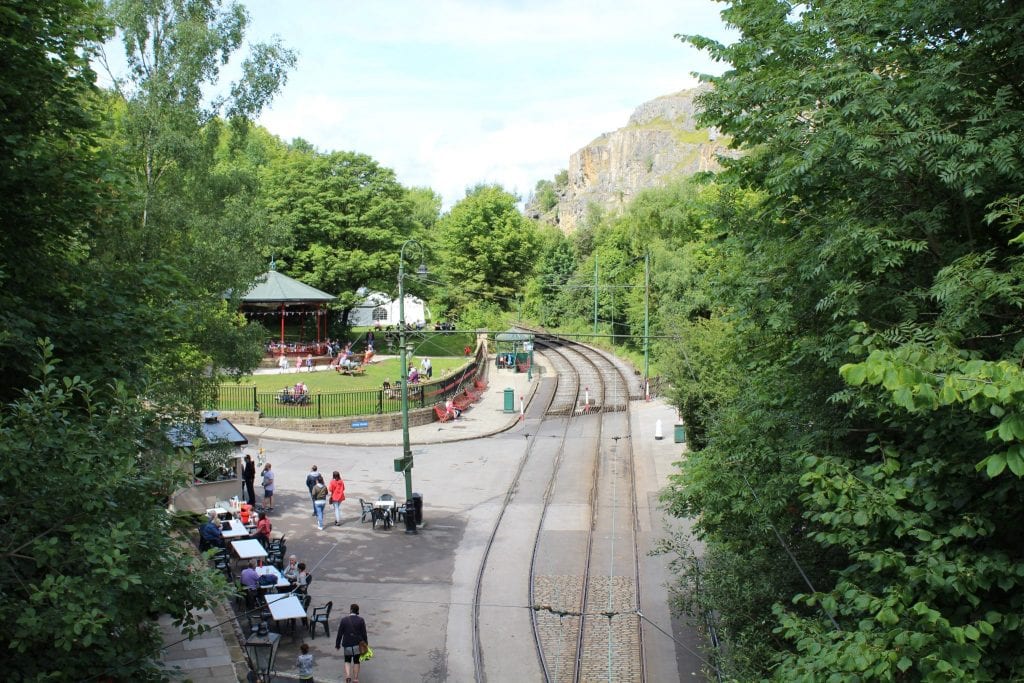 #9 – Indoor soft play area
While I'm not one to see it as a necessity to have an indoor play area I must admit this was a nice little area for Jamie to have a runaround. It's not a massive space but it was adequate for the kids that were there using it. There's a little area for toddlers and a climbing area with slides and sounds for the bigger ones. It was themed on trams which was a nice touch.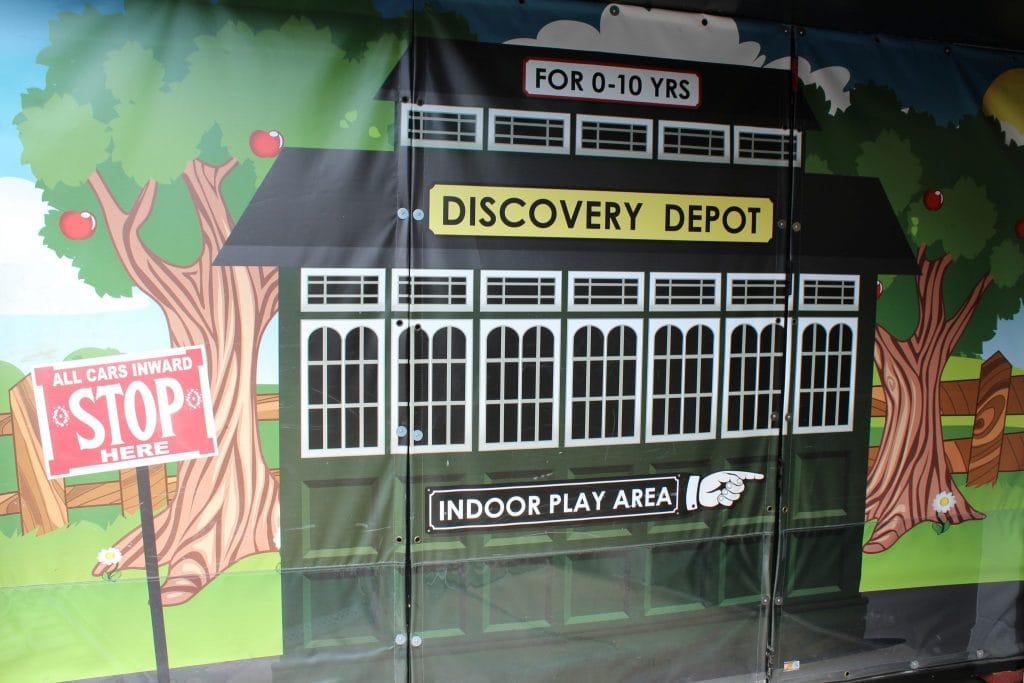 #10 – Go in the great exhibition hall
This was a nice surprise. In here there are various trams showing you how they looked throughout the decades. You could sit in one of them and explore it. Plus there were a few interactive displays. Jamie learnt how to stoke a fire to make the pistons of an engine work. There are other exhibition pieces in here too, it's not just trams
#11 – Visit the workshop viewing gallery
Here you have views down over the workshop where they are busy working on the trams.
#12 – See the exhibition in the Derby Assembly rooms & dress up
The exhibition here was only really of interest to adults as it showed you all the different ex-tram routes in the UK. Hardly any of them are in operation today. Most of the trams at Crich come from Blackpool. Jamie took me by surprise and wanted to dress up. He soon got into his role asking Mum for her ticket and getting her to sit down for her tram ride.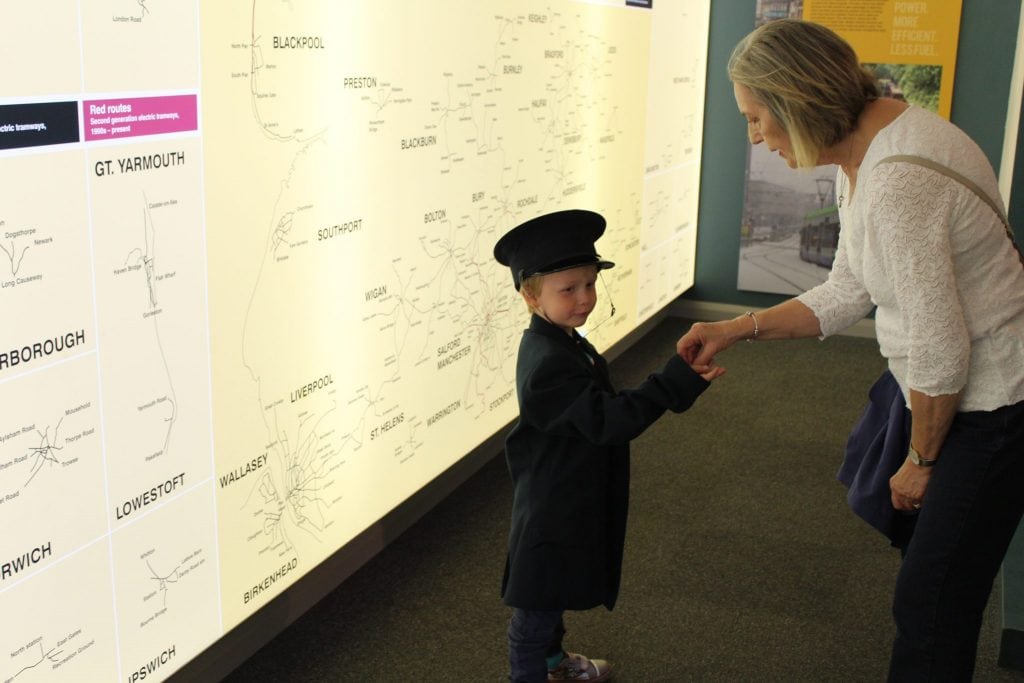 #13 – Walk around the George Stephenson discovery and learning centre
This was an interesting exhibition. It mostly describes life back when trams were a major part of town and city life.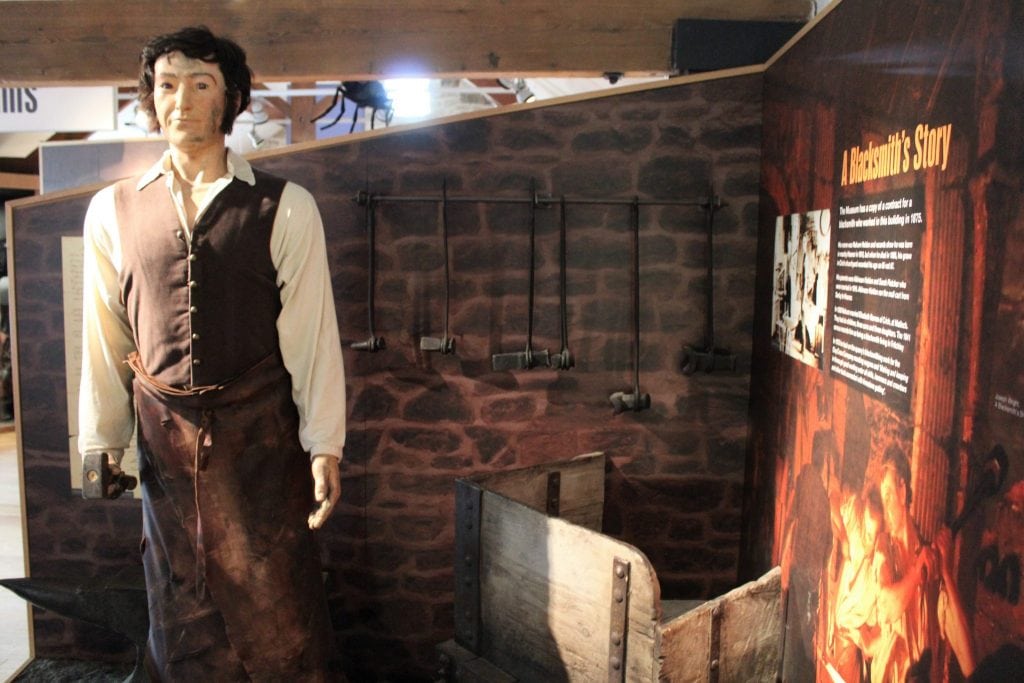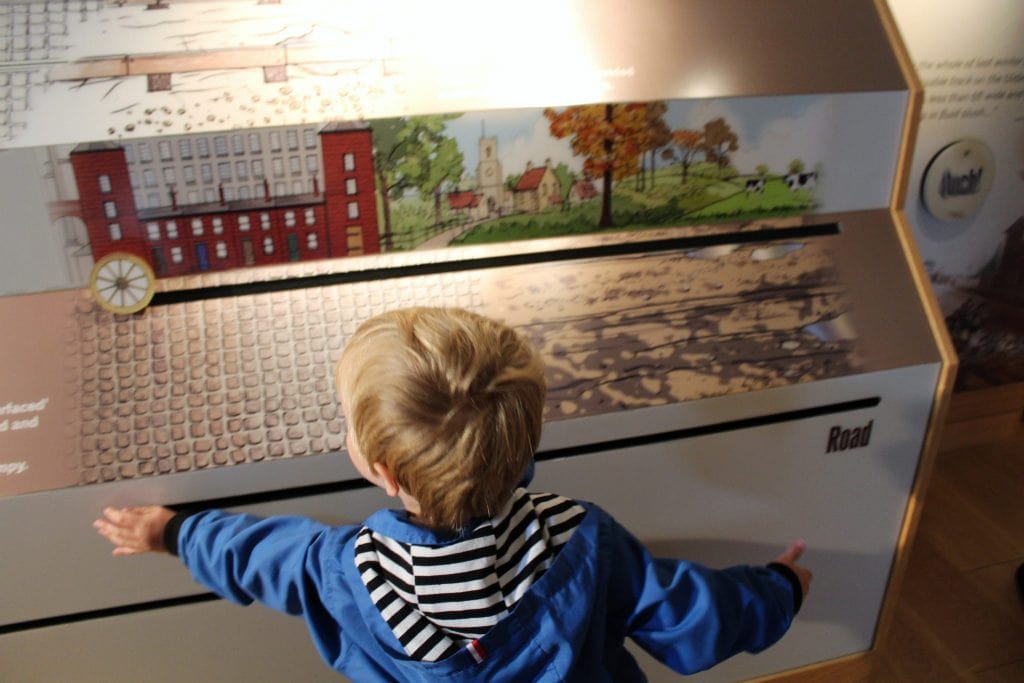 #14 – Have lunch in Rita's tearoom or the Red Lion
These are the two places to grab a drink or a bite to eat. The pub mostly offers Paninis and drinks. We ate at the very authentic Rita's tearoom. We were glad we were early as there aren't many tables and it soon filled up. The choices were mainly pies with chips etc., soup or sandwiches. The prices were incredibly fair and I would go as far to say 'cheap'. Cheap and very tasty.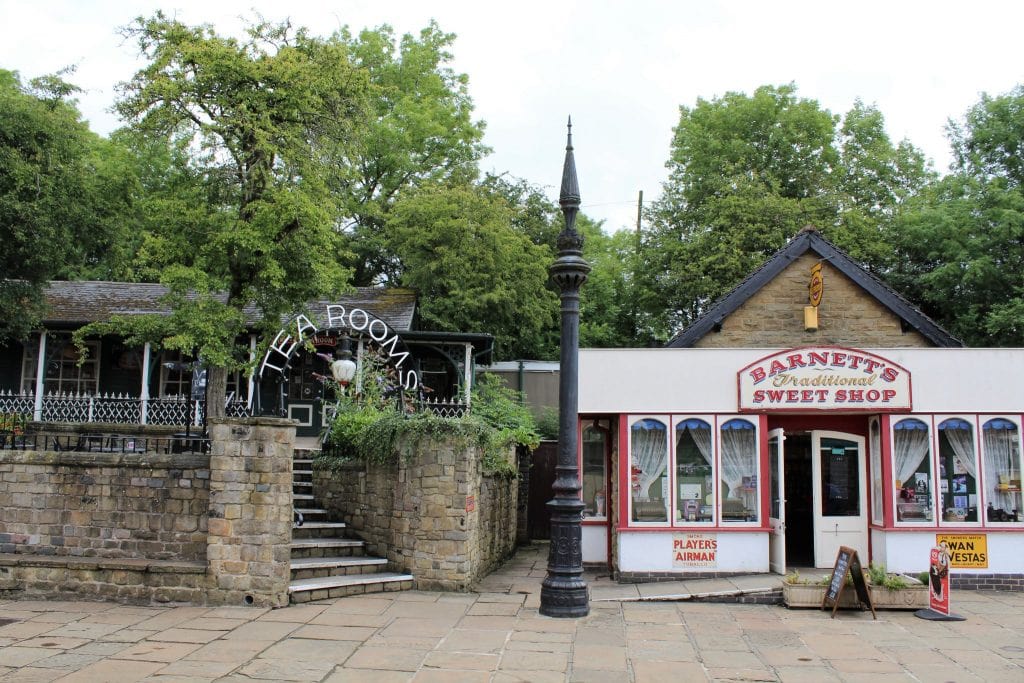 #15 – Look around the tram depot
There are many trams to look at here as well as in the exhibition hall. Some of these trams are used on other running days. It was interesting to see that most were from Blackpool.
#16 – Visit the sweet shop or Bluebells for Ice-cream
Jamie was on the promise of sweets so of course, we paid a visit to Barnett's sweet shop. I chose a lolly for him but there were plenty of jars of sweets to choose from.
I haven't even covered everything that there is to do on a day out here. Why not see what I may have missed off?
Important information about Crich Tramway Museum
The Tramway village is not open all year round. In 2017 it is open from 18th March until Sunday 3rd November. It is open from 10am until 5:30pm. Prices for this year are £17.50 for an adult, £12.50 for a senior and £9.50 for children ages 4-15. Children under 4 are free. A family ticket of 2 adults and up to 3 children is £39.50. The last date of the season is Sunday 5th November and the price for adults is £16.50 on this day. Prices are subject to change.
The best thing about your ticket is that you are entitled to return as many times as you wish over the following 12 months. Some event days you may be charged again. If you drive a vehicle pre-1977 and park on the street you can visit for free! (contact them in advance for details and availability).
You can book online in advance, this will just save you 50p. Now I know the entrance price is more on the pricey side than some days out. But considering the unique day out you are experiencing and the fact you can return as much as you want for free I feel the price is fair and justified.
---
*This post contains affiliate links
Disclaimer: We received complimentary tickets to Crich for the purpose of my review. This post may contain affiliate links. It will cost you no extra if you click on one of our booking links.