We have just received confirmation that the Gruffalo Spotters Trail will be returning to many of Forestry England sites across the UK very soon. The Gruffalo Spotter Trails have been running on and off for a few years now and we love them. Read on to find a Gruffalo Spotters trail near you.
Hang on though! What is the Gruffalo? Just incase you've been hiding somewhere that isn't a deep dark forest you won't have heard. The Gruffalo is a very popular children's story written by the talented Julia Donaldson and illustrated by Axel Scheffler. The story is set in a forest and it's a story of a little mouse who the Gruffalo wants to eat. But the mouse is very clever and it tells scary stories about the Gruffalo to forest creatures that he meets. I won't spoil the end, just incase, but there is a clever twist to the story.
All About the Gruffalo Spotters Trail
The Gruffalo Spotters Trail is brought to life by an App – Gruffalo Spotter 2. Forestry England recommend that you download the app before you leave home as not all of their forests have great mobile reception. As well as the app you can purchase an activity pack from the vistor centre of the forest you choose to hunt for the Gruffalo in.
The packs are great fun and cost just £3.50. Inside you will find a Gruffalo mask and paws, an activity leaflet for extra things to do during and after the trail. Plus a crayon, pencil, nature spotters game, instructions and stickers.
The app is super easy to use. You simply point your phone (with the app loaded) at their special markers along the trail and watch the characters from the story come to life. They're great fun for posing for photos with. Make sure your kids watch your phone as the characters appear in the forest around you.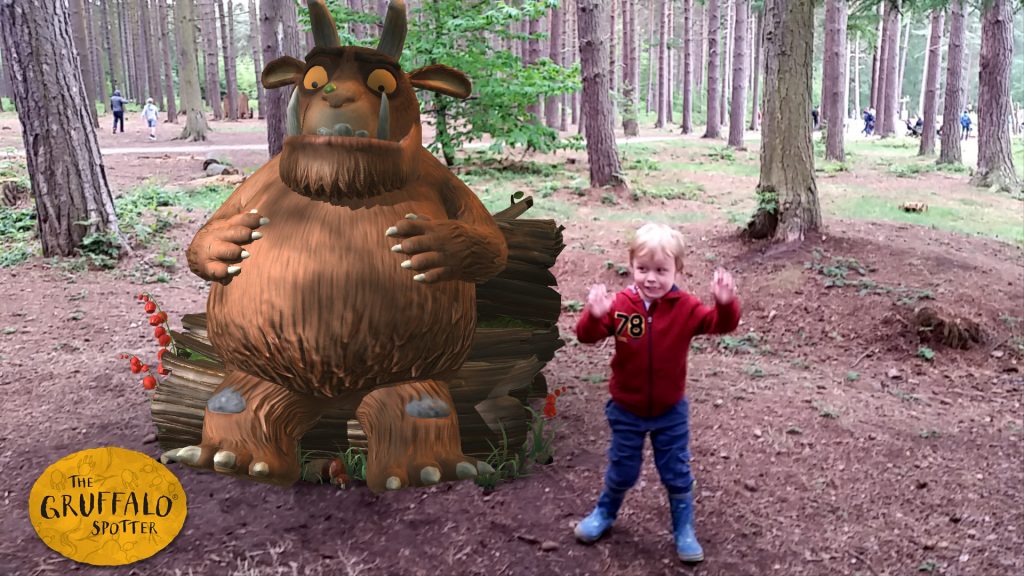 Find a Gruffalo Spotters Trail Near Me
Some of their participating forests are taking a little longer to get their Gruffalo Spotters trail up and running. If your local forest doesn't have a trail right now do keep checking back as there are plans to get more trails up and running in 2021.