We purchased tickets earlier on in the year for Burghley house and sculpture gardens. We bought them online for a discounted price (see more below). Not only that but online tickets are classified as an annual pass, at no extra cost. So our return visit was completely free, big bonus. I was perusing my big list of things to do over Halloween in the East Midlands looking for something to do. Most events don't start until the beginning of half term. However, Burghley has already started it's Halloween pumpkin trail so to Burghley House we headed. We had a really great day out, read on for my review.
This is a review previous to 2020 – some aspects may not be the same this year. Please check their website.
I plan on writing about the house and sculpture gardens at a later date. For now, I want to share the fun Halloween trail with you and give you an idea for a day out during half term.
Halloween Trail at Burghley House Gardens
We had a look around the beautiful Burghley house before lunch. Then we fuelled ourselves up in the orangery restaurant. After lunch, we headed over to the sculpture gardens to begin the Halloween trail.
We have been on Burghley's sculpture trail in the past so we were slightly anxious that we wouldn't have time to complete the Halloween pumpkin trail. This is because we were in the gardens for hours during our last visit, exploring and finding all the sculptures (well nearly all). Plus it was a bit warmer then and Jamie had a fun time playing in the water fountains in the garden of surprises. Luckily we were informed that it shouldn't take us too long. So armed with a pencil and a card to fill in off we headed.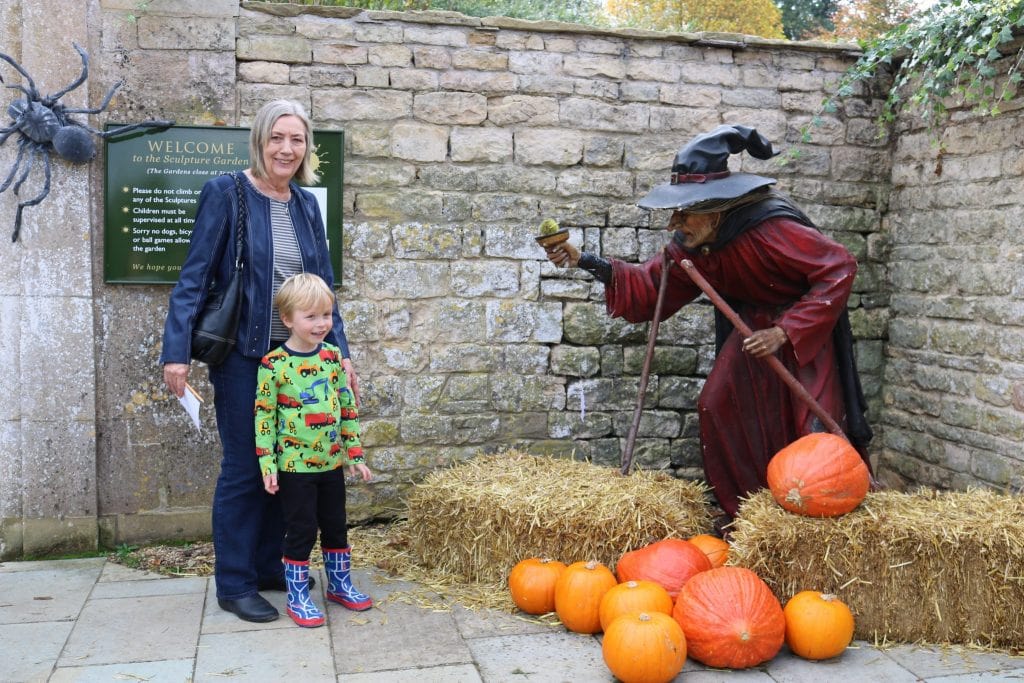 The idea is that you have to find 13 ghosts hanging from trees. These 13 ghosts each have a letter dangling from them. You have to write down each letter and then unscramble them to make a word or words. The card you are given also has a map on it to help you. After finding the first ghost we went too far off course and found some other slightly confused families along the way.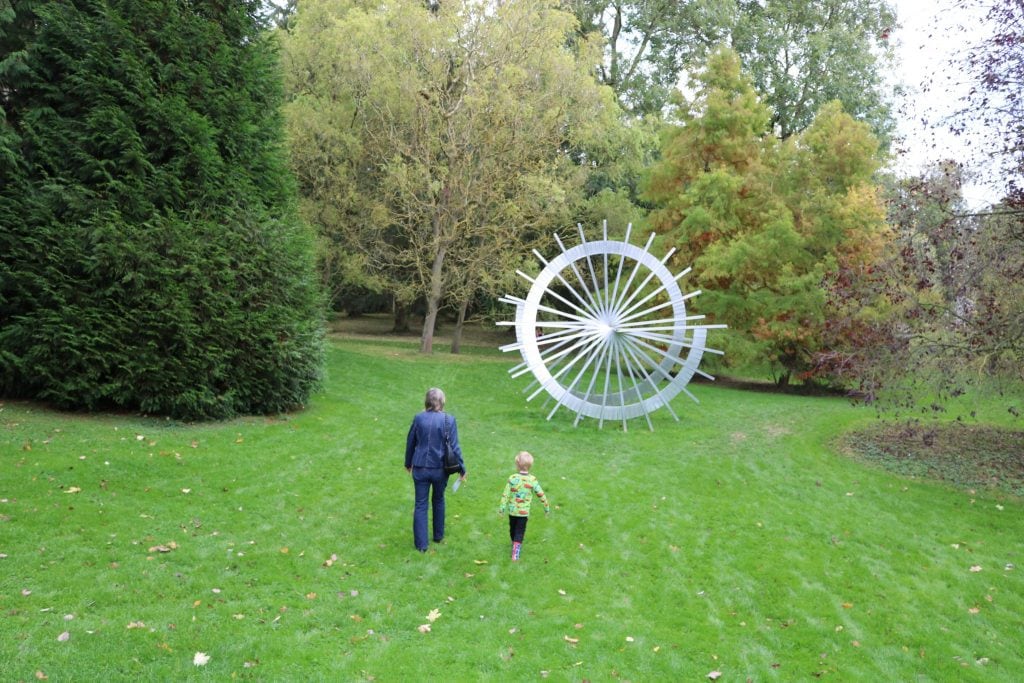 Although going off course is fun as there are some lovely big sculptures that aren't part of the trail.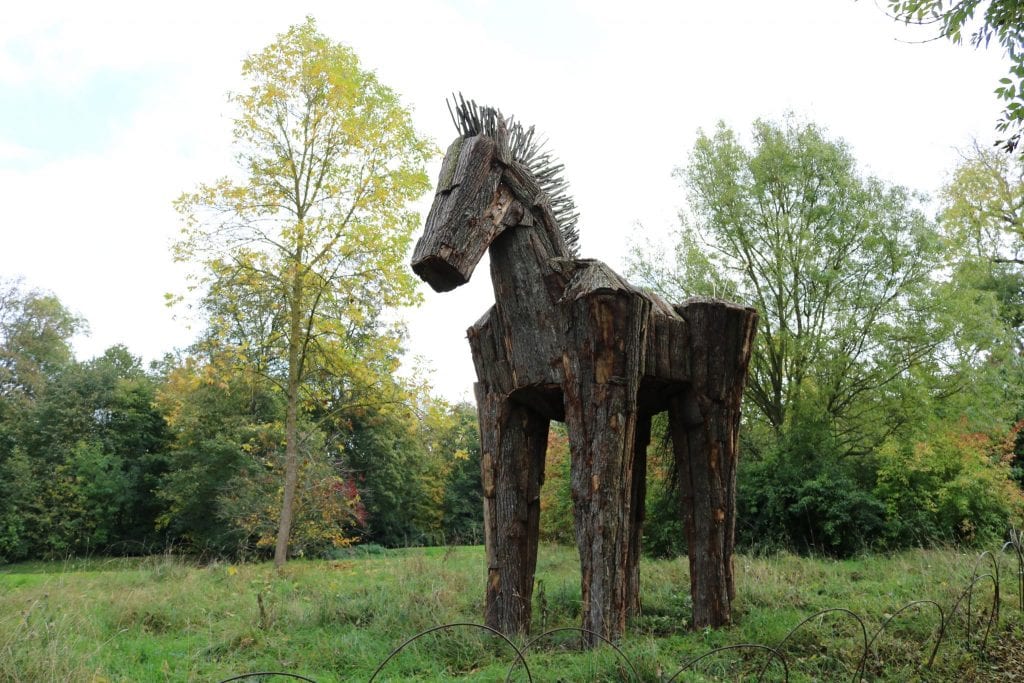 OK back to the trail. There's a fun little Halloween themed phrase near each ghost. Jamie was quite insistent that I read them all out to him.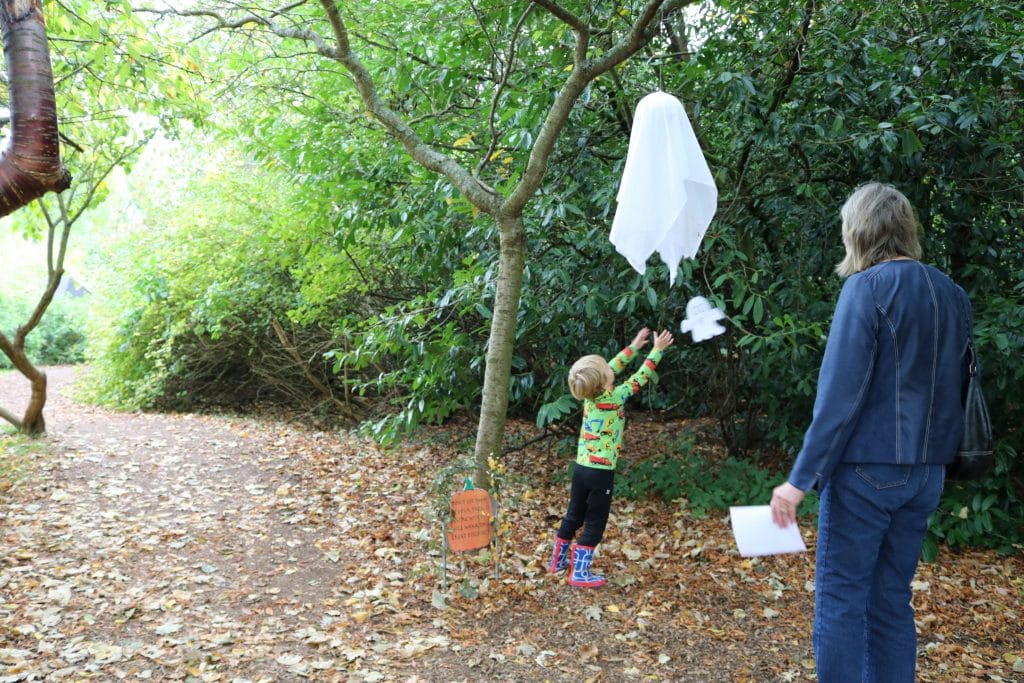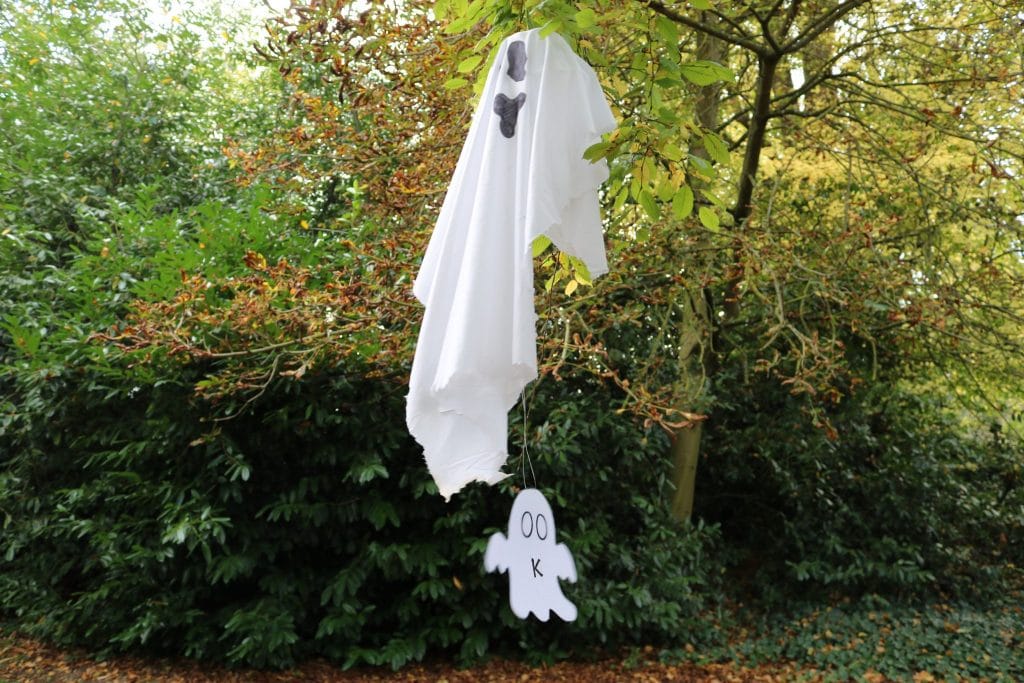 The gardens at Burghley are really lovely and it was extra special to be walking around with golden leaves blowing off the trees and crunching under our feet. It was a complete contrast to the warmer summer's day when we last visited, but equally pretty.
We did have to back track a few times to find some of the ghosts. It is like a maze in amongst all the trees and plants. Jamie loved that the Teddy bear's picnic had dressed up especially for Halloween.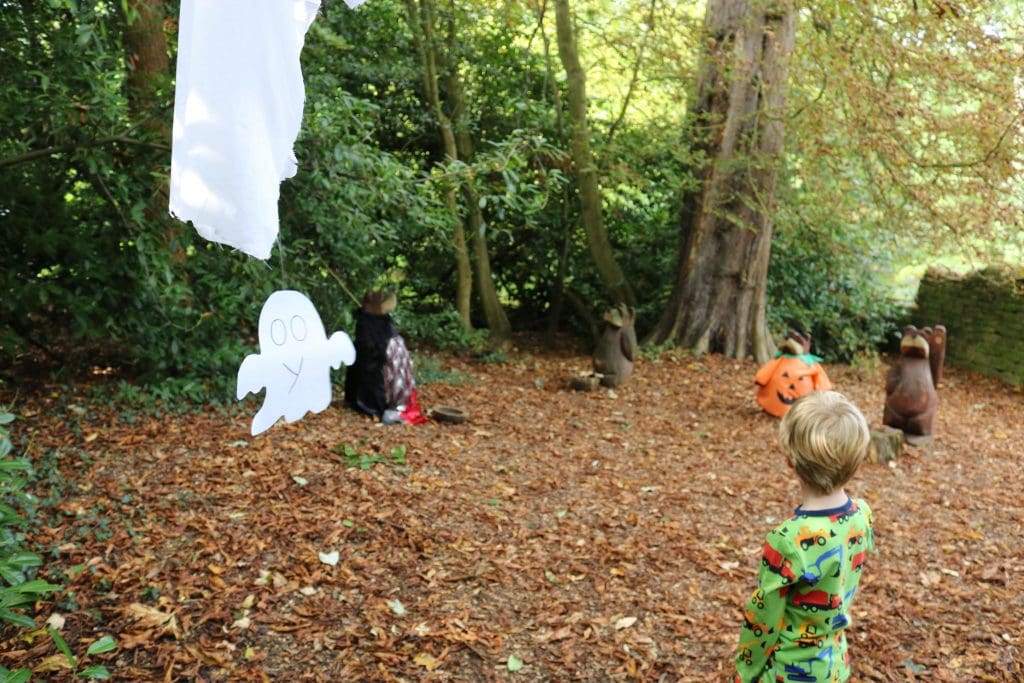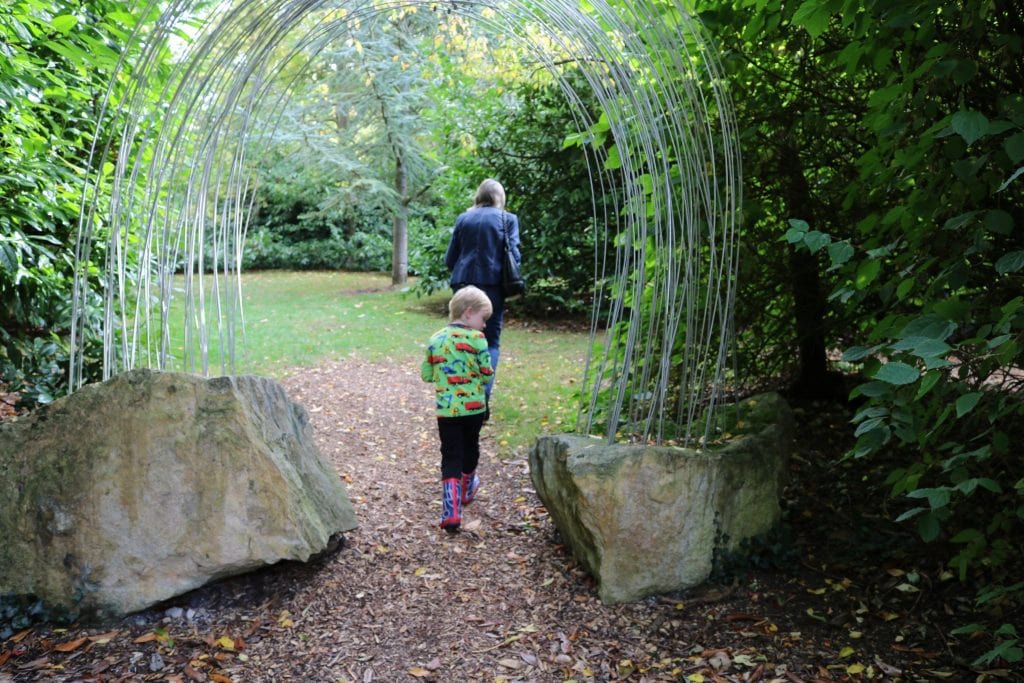 One of the letters we found was surrounded by spooky jokes. Jamie is a huge fan of jokes so we spent quite awhile here reading them aloud to him.
The sculpture gardens are very big, but luckily they had thought of the kids and the letters are relatively easy to find without having to walk too far. I think it took us about 45 minutes to find them all. That's with going slightly wrong and stopping to look at the lake. The lake is lovely and well worth a look. While you are doing the Halloween trail you will also come across some of Burghley's sculptures, which is an added bonus.
We found ourselves with just one letter left to find. We thought we'd manage to decode the letters without it, but we couldn't quite work it out. In fact, we were a little concerned we'd missed the letter back along the trail. Luckily we found it just around the corner and once it was found the answer was obvious.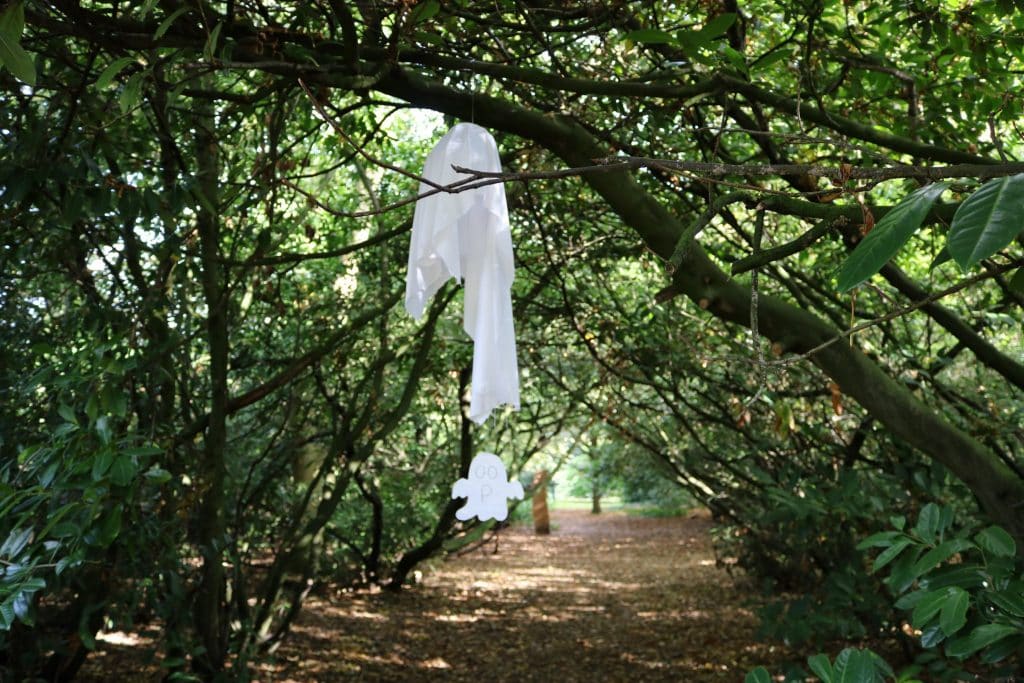 Jamie even found a #loveontherocks pebble while he was playing around the maze. We hid it elsewhere for someone else to find. It's our first ever painted pebble find, Jamie was so happy to find one.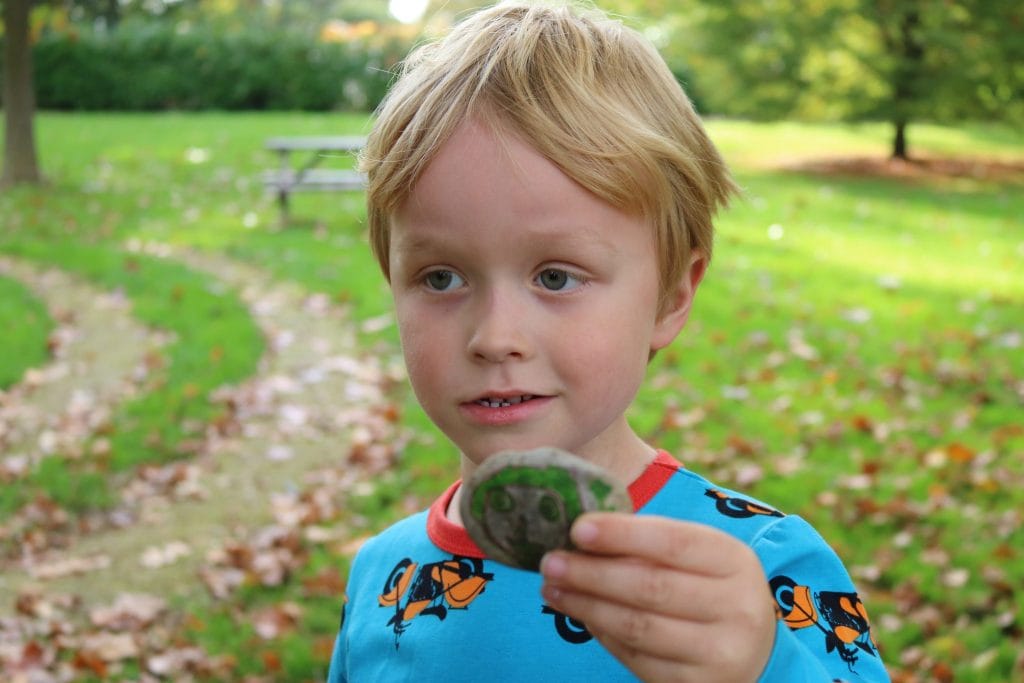 Once we had found the word(s) we handed the card back in and there was a prize of a sweet for Jamie and even one for Mum and myself. The trail itself is free and is at no additional cost to your entrance fee (so for us with an annual pass it was completely free).
The Halloween Pumpkin trail is on at Burghley until the 29th October 2017.
What else is on for Halloween over half term at Burghley House
Beastly Tours – From the 21st until the 28th of October. Join them daily at 10am for a guided tour with a difference during the half-term holidays.
Be guided around by our costumed guides and find out all the grizzly gruesome and horrible history associated with Burghley and the people who have lived here. Your ticket will then give you access to the House and Gardens for the rest of the day – this is a children's guide to Burghley.
Halloween Craft Workshops – From Monday 23rd until Friday the 27th of October. Join our education team as they run drop in workshops making Halloween Suncatchers in the Sculpture Garden Classroom throughout the autumn half term holiday.
23th – 27th October 12pm to 4pm these workshops are free with a House and Gardens or Gardens only ticket. Admission is also free for Friends of Burghley and Annual Pass holders.
Important Information about Burghley House and Gardens
Burghley house is open from mid-March until the end of October. The house is closed on Fridays although the garden of surprises is open. The parkland is open from 8am to 6pm or dusk and is always free to use. It is free to park at Burghley.
There is also an orangery restaurant near the house, 2 shops and a garden café near the garden of surprises. The opening times and days vary so please check the link above.
We paid £16.00 online in advance for an adult for admission to the house and the garden of surprises. Children aged 3-15 years are £8.00 in advance. A family ticket is £45 in advance compared to £52 on the day. Don't forget that your advance online ticket entitles you to an annual pass so you can return as many times as you wish for no extra cost. It is possible to buy tickets just for the gardens.
If you enjoyed my blog review please comment below. Why not subscribe to my newsletter for regular updates? Or keep in touch on social media. We are very active on Facebook, Twitter and Instagram. Why not pin this post for later? Simply click on the image below and maybe give us a follow as well.