I have been visiting Alton Towers almost every year now since I can remember. Growing up in Derbyshire I have certainly seen it change through the years. As soon as I thought our son was old enough we visited for a couple of days when he was three. He loved CBeebies land and at the time it was perfect for his age group. A year or so later my husband booked us a surprise stay at Alton Towers for our 10th wedding anniversary when our son was around 4 years and 11 months old. At the time I remember worrying if he would like it enough especially as he had outgrown CBeebies.
I'm sure I'll get messages now from parents whose kids still love Cbeebies but our son hadn't watched any of the shows for so long and it left me wondering if there would be enough there for him. I felt that you either had to be little and love CBeebies or older and love thrill rides.
As it was we found more than enough to fill up two days at the park. Luckily he was a tall four-year-old and could go on plenty of rides. In this post, I will cover all the rides that I feel young children will love, especially for 4-8 year olds.
There is a good selection of family rides outside of CBeebies land at Alton Towers. Plus a few other things to see and do. One thing to note is that Alton Towers is vast. It takes a long time to walk from one part of the park to another. Please plan your visit in advance, especially which rides you want to target first. We arrived for opening time for Wickerman and only queued for approx. 20 minutes. The queue can get very long very fast so prioritise!
RIDES AT ALTON TOWERS
Runaway mine train – Minimum height 0.9m
If you head left at Alton Towers you will come to a few of the better family-friendly rides. We love the Runaway mine train. It doesn't open early like some of the rides so if you head there first with early admission be aware that it won't be open for a while. It is a fast train but nothing that can scare really little ones. Our son happily went on this when he was three.
Congo River Rapids – Minimum height 0.9m
Another ride near here that also doesn't open early is the Congo River rapids. They don't even have water running through it first thing so be aware it might look shut when it isn't. If you time it well and queue up after the first ride on the runaway train you probably won't have to wait too long for the rapids. You can queue for a very long time here if you're not careful. The queue can take a very long time to go down. We didn't get too soaked and our son was incredibly nervous of this ride but was happy to go on again the next day.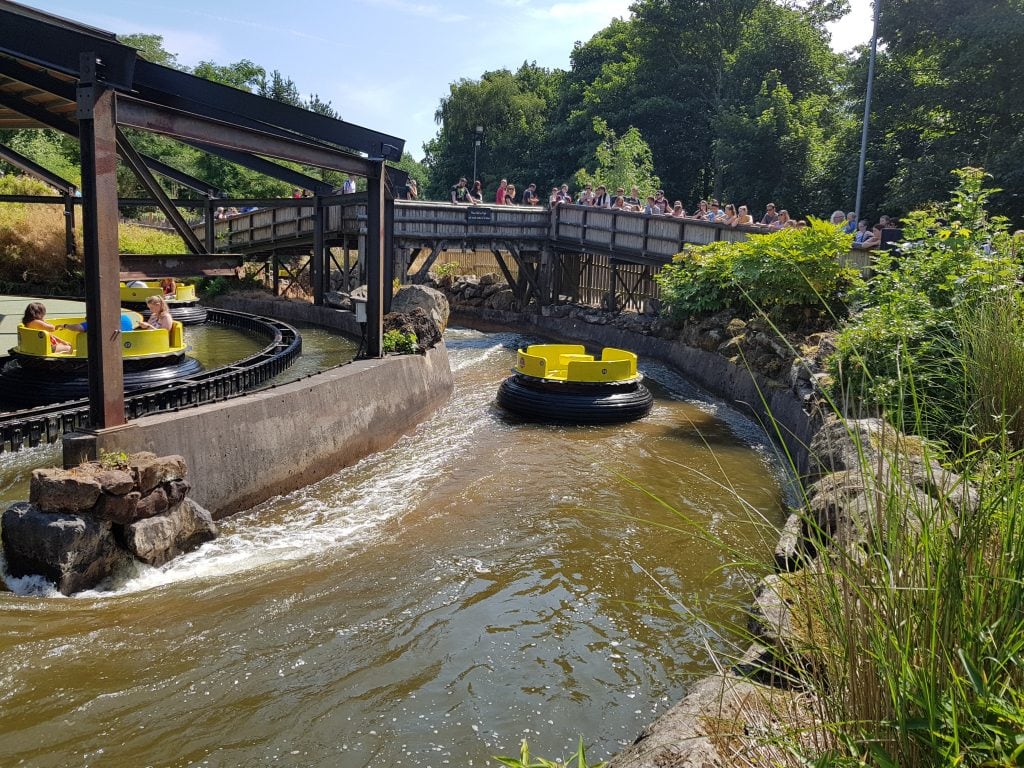 Marauders Mayhem – Minimum height 1.1m
Marauders Mayhem can also be found on the left side of the park and actually before you get to the Runaway train. The queues for this ride are never too long so it doesn't necessarily matter when you go on them. This is a pirate-themed ride where you sit together in a barrel. It's up to you how fast you spin your barrel but it does go incredibly fast even without spinning yourselves.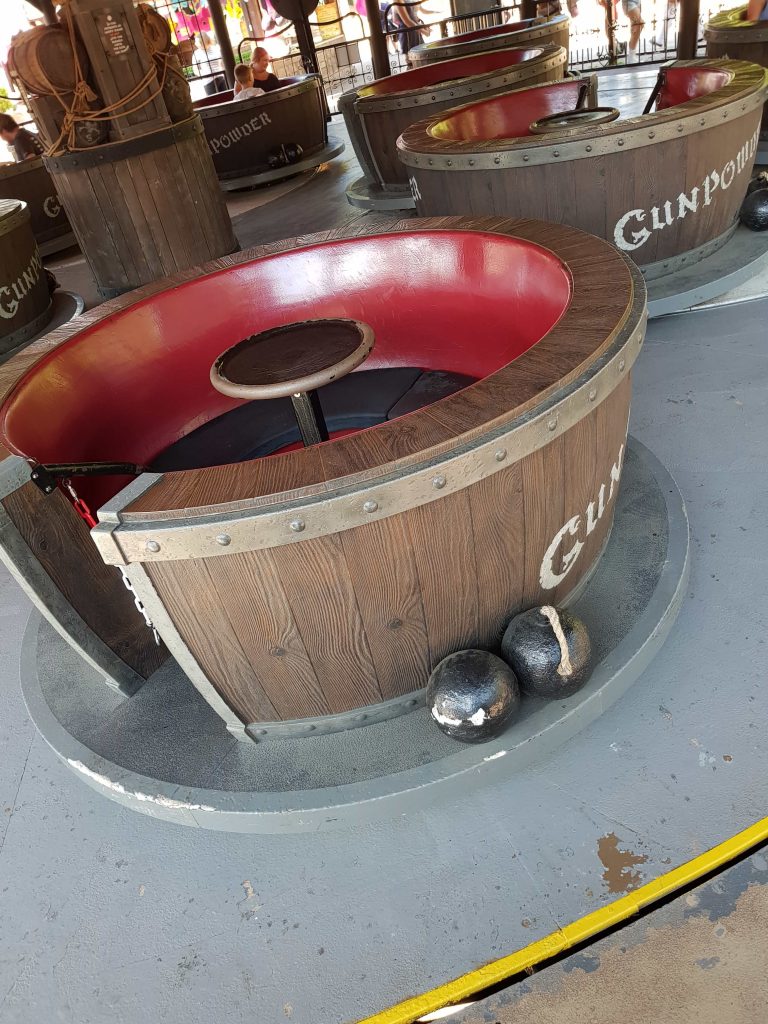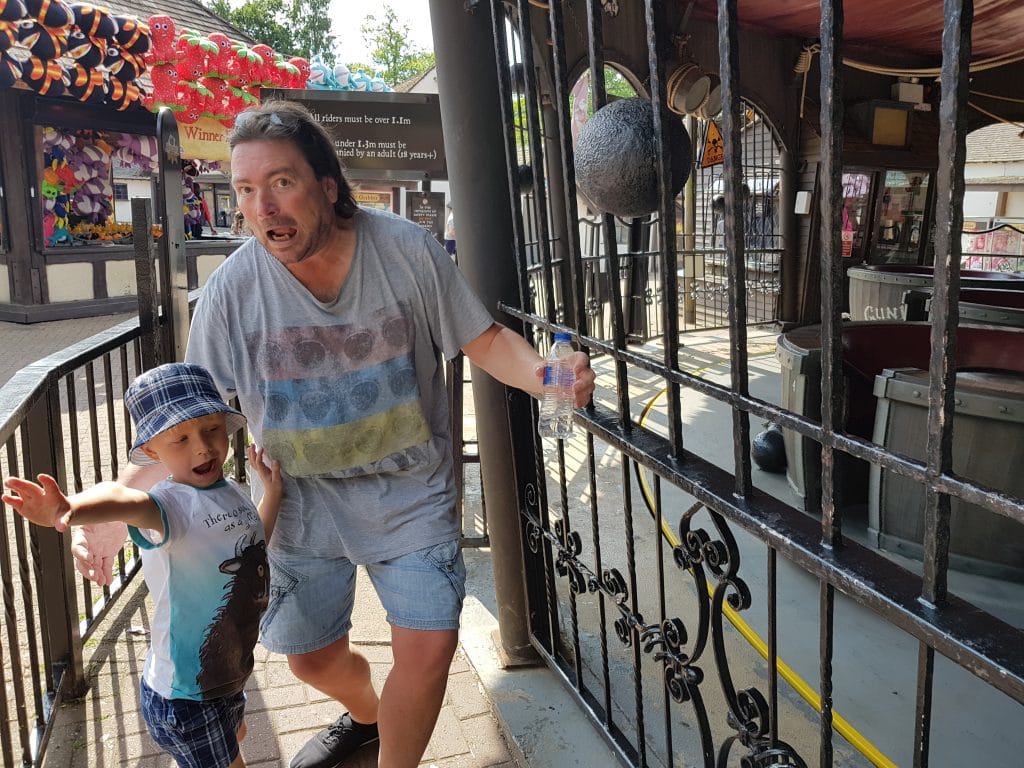 Heave Ho – Minimum height 0.9m
Next to Marauders Mayhem, you will find Heave Ho. It's a bit like a tame pirate ship but still lots of fun. It sways back and forth rather than up and down. Great for sensitive tummies that don't like the sensation of a pirate ship.
Duel – No height limit but children under 1.1m must ride with an adult (this applies to many rides)
Duel is one of those rides that is right on the far extremities of the park. It takes a long time to walk there but if you like haunted houses then it's worth the walk. This used to be a simple ghost ride in the dark. The cart you sit in moves around relatively slowly and there are slightly scary elements along the way. Alton Towers have ramped it up and you now get to shoot at the ghosts, goules and zombies with a laser. This was another big hit with our four-year-old. It's not as scary when you get to shoot at the scary stuff.
Hex – The Legend of the Towers – Minimum height 0.9m
Although this ride is for 0.9m and over be aware that some younger children could scare easily. I showed our son YouTube videos of what happens before the ride so that he would be ready for it. Hex is located in part of the large castle at Alton Towers.
You enter two rooms before you go on the ride and you are mostly in the dark with spooky elements playing. This part can be scarier than the ride itself. Our son clung to my hand and I had to reassure him that it wasn't real. The ride itself is in a room where you sit in rows. The room and where you are sat then move slowly around. You almost feel like you are going upside down and the effects are amazing. He ended up loving the ride and insisted he wanted to go again the next day.
Cuckoo Cars – You need to be 1 metre and 4 years old to drive at Driving School. Anyone over 1.4 metres can't drive.
If you keep heading to the back of the park you will come to a small area with three more family rides. Kids can drive a car by themselves at Cuckoo cars. They get a briefing first before being let loose on a mock road system. It's hilarious watching the kids driving around without a clue what they're doing.
Gallopers Carousel – Children under 1.3m must ride with an adult
This carousel is pretty tame especially when you choose to sit in a carriage and then declare it boring. (like our son did) This is perhaps one you can miss with 4-8 year olds if you are pressed for time.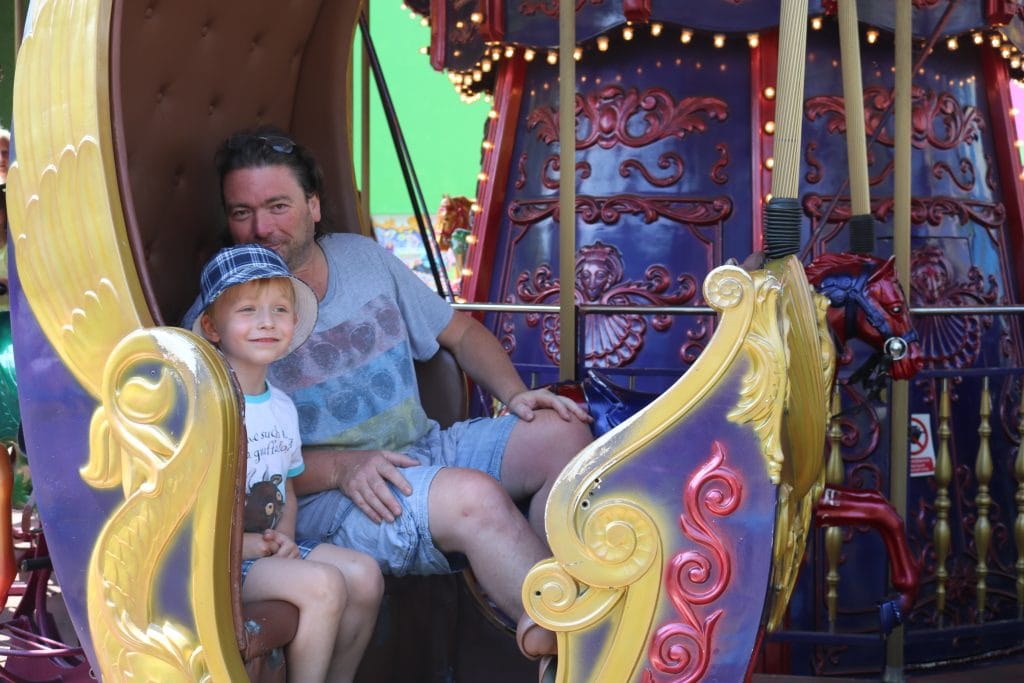 Spinball Whizzer – Minimum height 1.2m
As mentioned above our son is tall for his age. He can go on rides that most four-year-olds aren't tall enough for. In fact, some 6-7-year-olds aren't tall enough for. He was just over 1.2 metres when we visited which meant he was tall enough for Spinball Whizzer. We did take the decision not to take him on this ride though. It spun people around with great force and he'd been on something similar a couple of months previous and hated it.
Peter Rabbit Hippity Hop – Minimum height 0.9m
This ride bounces you up and down.
Battle Galleons – Minimum height 0.9m
After a bad experience on this ride on a previous visit, we gave this one a wide berth. You basically shoot water at each other from boats while moving along. But there's also water shooters for people not on the ride and some kids spend ages just 'hanging out' here.
Gangsta Granny: The Ride – Minimum height 0.9m
New for 2021 – "Cling into your royal carriage as Granny and Ben enlist your help to pull off the greatest jewel heist in history. Take a spin through the sewers on a 360o special effects-laden wild ride to break into the crown jewels vault. Can you grab the jewels and make an explosive escape?
The Wicker man – Minimum height 1.2m
This ride is epic. Not all younger children will be tall enough to ride the Wicker Man. Or indeed want to ride the Wicker Man. Hey, our four year old took a bit of persuading. When we went it had only been open for a few months and we'd watched so many videos on YouTube I thought we were prepared. Even queueing just after park opening we still had a 20-minute wait. This ride is very popular and when you see it you can soon see why. It looks amazing. It is one of just two proper thrill rides with a lower height limit of 1.2m.
The trains run on a wooden track and you pass through the Wicker man with fake smoke and 'fire effects'. It is super fast. Much faster than we were expecting to be. I literally think our four year old clung to the seat bar and my hand for dear life. I don't think he particularly enjoyed it but my goodness was he proud of himself for going on it and us him. There are two drops as well which were short but pretty epic. It's quite a long ride so make sure your kids can cope with it before attempting to ride it with them.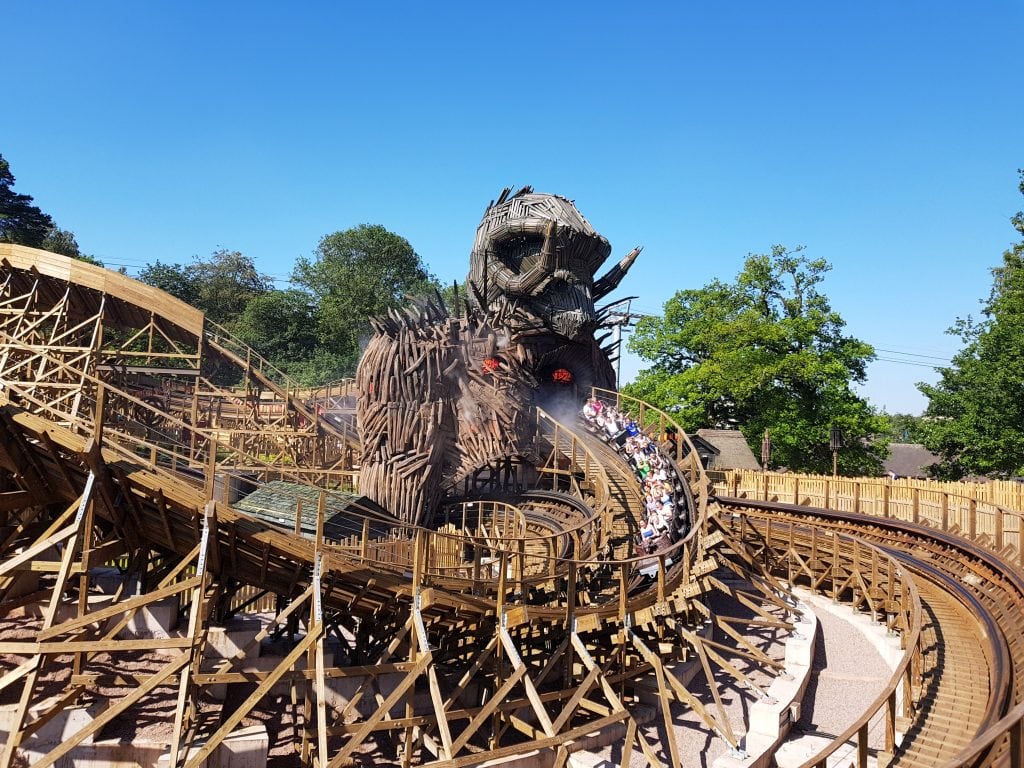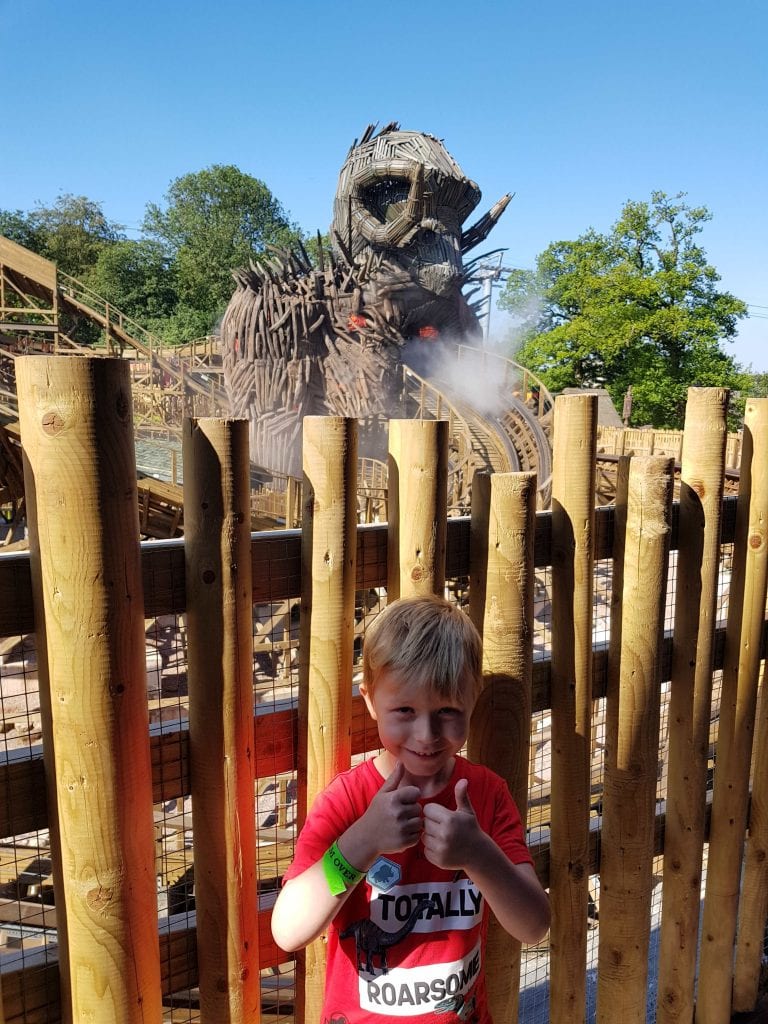 The Retro Squad – Minimum height 1.2m – 3 new retro rides
Also new for 2021. "Join in the retrotastic thrill vibes as you bounce, slide and fly on 3 new totally awesome and wickedly retro pop-up rides at Alton Towers Resort. Funk'n'fly located in Forbidden Valley, Mixtape located in X Sector and Roller Disco in the Dark Forest.
What is there for children in CBeebies land that are no longer bothered about CBeebies
On the second day of our two-day visit to Alton Towers, we did go into CBeebies land for a bit. Mostly to see what rides my son did or didn't enjoy. We went on a few he found very boring (In the night garden, number go round and Get set go treetop adventure) and a couple he still really enjoyed (see below). He also loved posing for a photo with Pat's van and Jess the cat.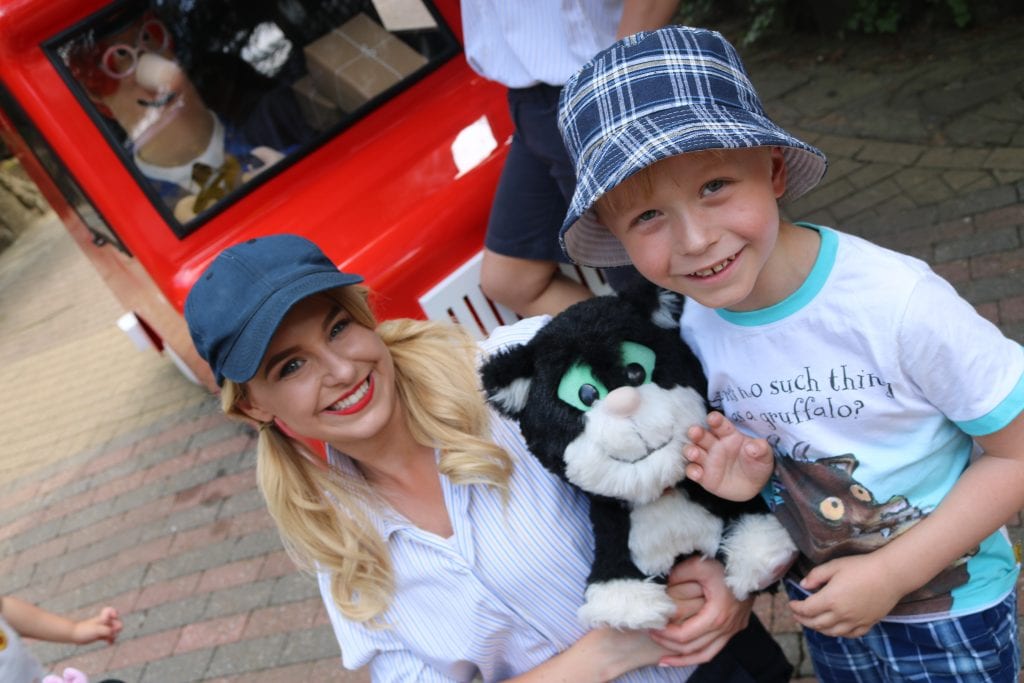 As mentioned above he wasn't quite so keen on the slower rides. Although they are still quite fun and if the queue isn't too long I would recommend you try to persuade them on Postman Pat and the Treetop adventure ride.
Octonauts Rollercoaster Adventure – Minimum height 0.9m
This ride is a mini rollercoaster that isn't too extreme that it would scare little ones. You have to be at least 0.9m to ride on this ride. It goes relatively fast and twice round. Our 5 year old still loved this ride and wanted to go on again.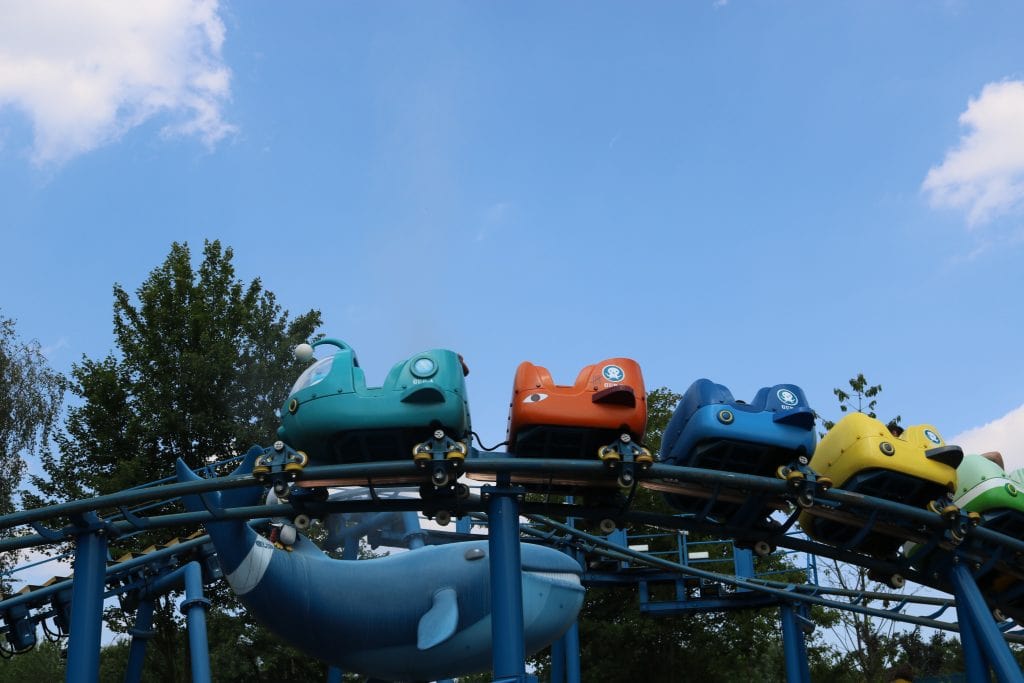 Go Jetters Vroomster Zoom Ride – No Height Limit
Luckily even though the park was really busy we didn't have to wait too long for the Go Jetters ride. I wouldn't queue for a super long time but my son really loved being able to control how high or how low we flew. Even 4-8-year-olds should enjoy this ride.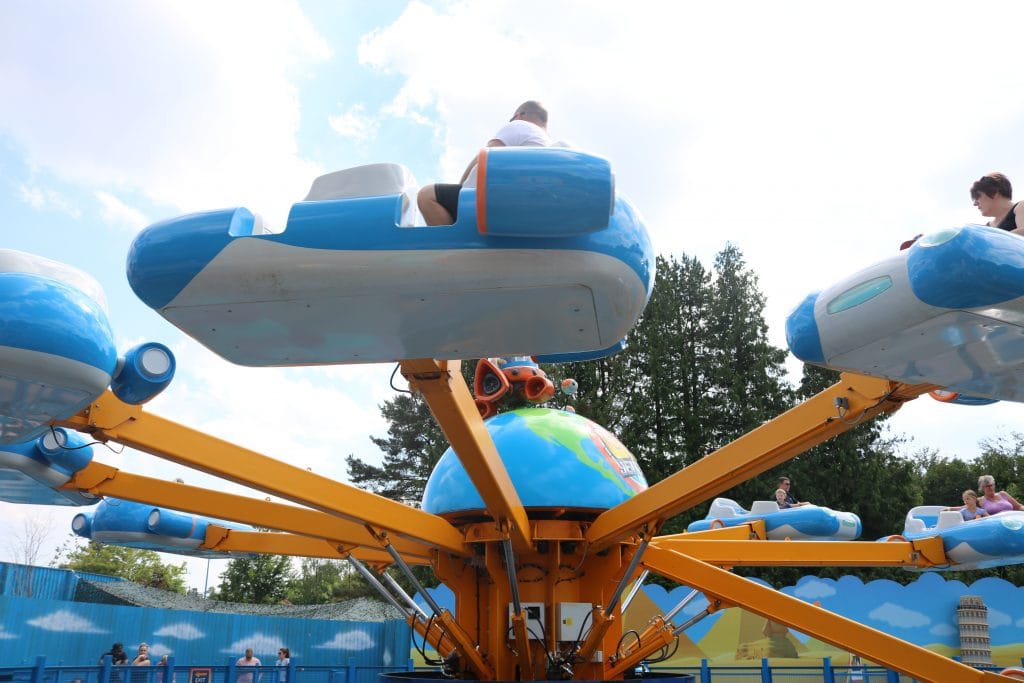 What else is there to do at Alton Towers for young children?
Sharkbait Reef
There's one thing Merlin Entertainment do well and that's aquariums. The aquarium at Alton Towers is small but it's good. We have used it to shelter from rain and very hot sun. They have over 300 species of fish including sharks, seahorses and rays.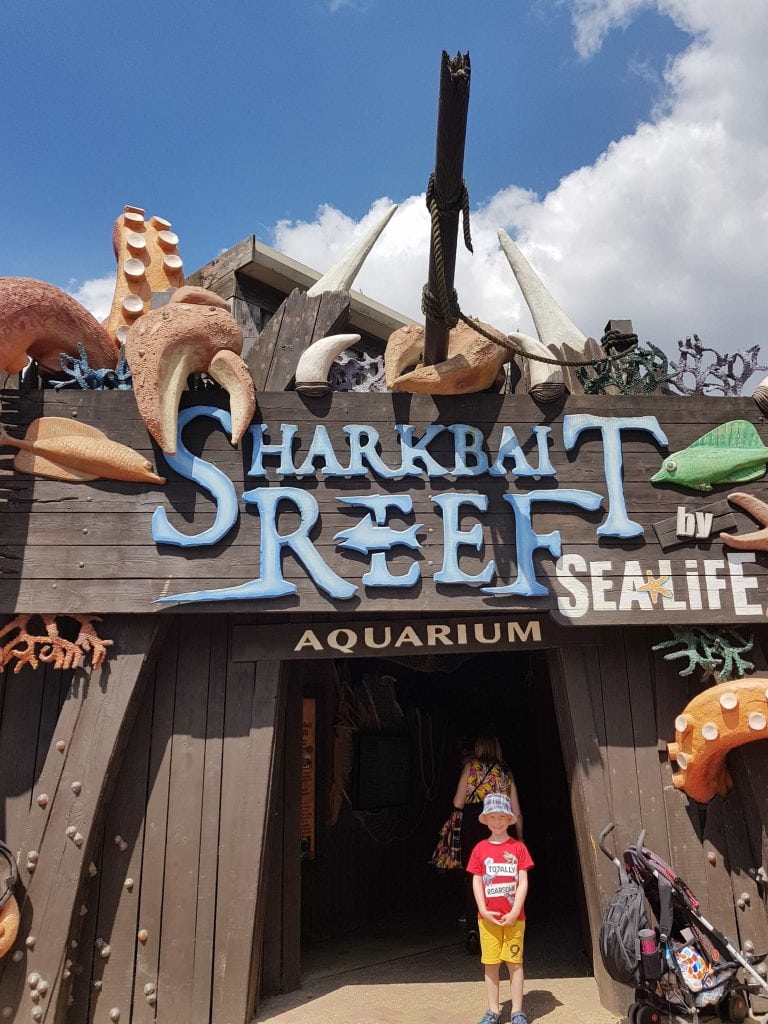 The Gardens
If you need some time to get away from the crowds then a visit to the Gardens should be the perfect spot for that. It's a great place to have your picnic. They are very picturesque and worth having a wander in.
The Towers
There are parts of the castle-like house that you can visit today, including the towers. The site of the house was actually once an Iron Age camp.
Skyride
I can't ever remember a visit to Alton Towers without going on the Skyride. Not only is it a fun ride on a cable across the park but it's a great way to get from one end of the park to the other. When we visited in the summer the Skyride was actually shut because of the heat. Apparently the cable cars were reaching temperatures inside them of around 40oC, which is crazy hot. It's also a great way to see the gardens without walking around them.
Important Information
If you are staying at Alton Towers you will more than likely have your tickets included in your package. Prices online in advance start from £36 per person. This is a great saving compared to on the day ticket prices of £56. Under 3's are free.
Alton Towers is open for most of the year. It does shut over winter though from November until March. They do however offer festive short breaks in December and February. Most of the rides are shut but there is still plenty on.
---