Robin Hoods Wheelgate park is a day out in Nottinghamshire where you will never run out of something to do. It is located in Farnsfield (over the road from White Post Farm) which is not too far from Mansfield. There is a sister park in the area which is Twinlakes Park in Melton Mowbray Leicestershire. Wheelgate is the smaller of the two parks there is, however, there is still plenty to do there.
Below I will cover what rides they have at the park and their suitability for young and older kids (and adults). This will cover height restrictions for the rides at Wheelgate park. Plus everything else that you can find at the park such as the water park, soft play and much more. It also holds many annual events that are well worth attending.
The RIDES
Android Drivers – Alien Galaxy Zone (indoors)
This is an animal-themed kids ride with electric cars within a walled space. Kids can drive them around the small circuit. This is just for kids that are confident drivers. Toddlers will struggle. No adults are allowed in these cars.
Luna Launch Tower – Alien Galaxy Zone (indoors) 108cm Minimum height
This is a relatively tame ride that goes up and down. It may scare younger children, especially as it will make their tummies feel a little funny. Anyone over 108cms is allowed on this ride.
Syber Shuttle – Alien Galaxy Zone (indoors) Children 80cm -108cm must be accompanied
This is a small ride that goes gently around a track. There are a few aliens to look at along the way. This ride is perfect for toddlers and younger. My 5-year-old now feels he's beyond this ride but he's a thrill seeker. Adults are allowed on this ride.
Cling on Crater Climbing Wall – Alien Galaxy Zone (indoors) 108cm Min, £1 charge per climber
Children from 108cm can have a go at climbing this wall for a charge of £1 each. They are harnessed so they are safe to climb.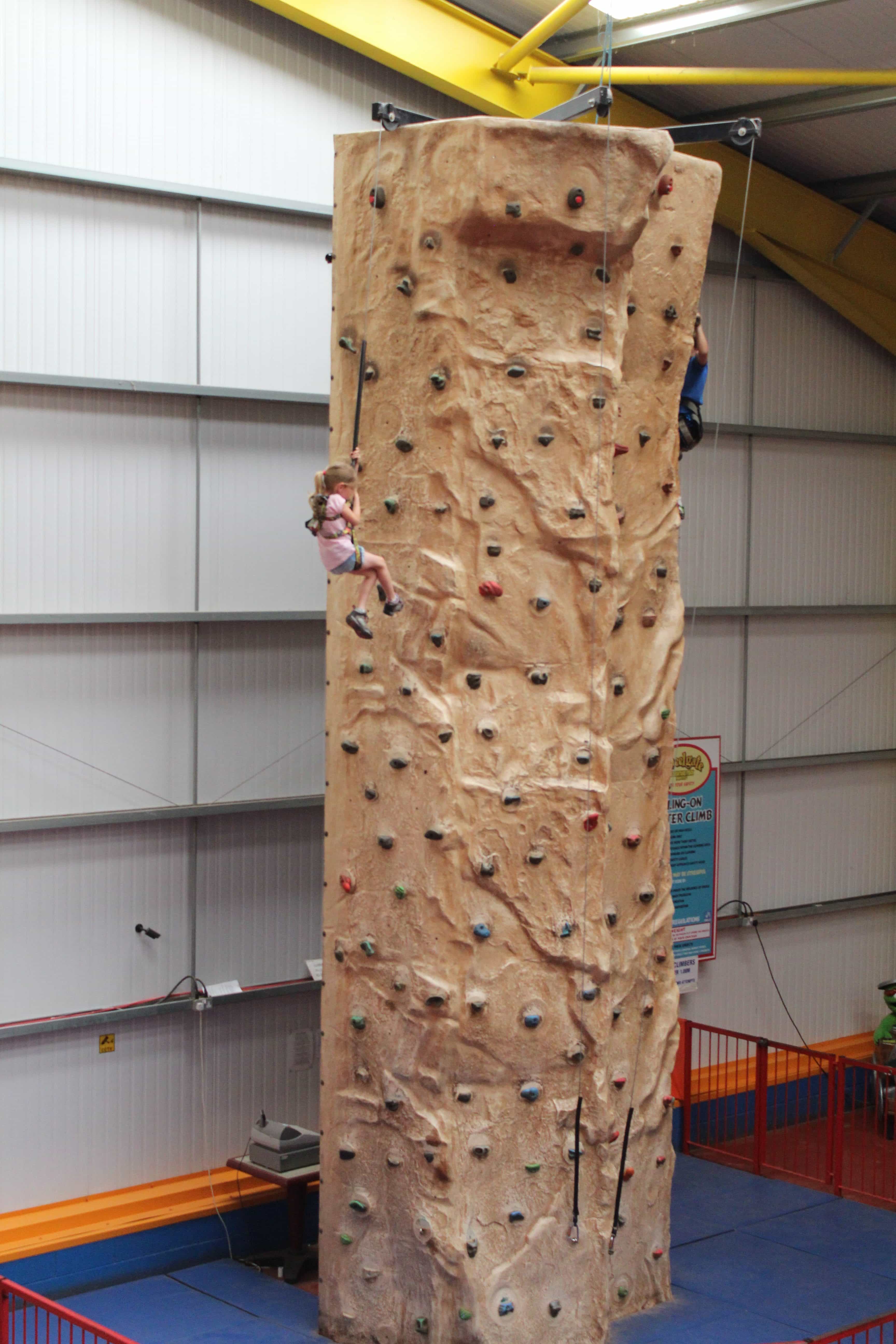 Stavely Branch Line Train – children 80cm-120cm must be accompanied.
This is a miniature steam train which runs from the bottom of Wheelgate park up to the top and back down again. Adults are allowed on the train. The queue can get very long so I advise that if you arrive early you make it the first thing that you do. The train is not always open.
High Hazel Mine Coaster – Children 102cm – 122cm must be accompanied
This is the best ride in the park, adults are allowed on the ride and the queue can get relatively long but we've never had to queue for more than 10 minutes. It is a mini-runaway train rollercoaster ride that won't frighten little ones.
Victorian Carousel – 0cm – 102cm must be accompanied
This is a lovely traditional Victorian carousel. It no longer plays music which is a shame. It's a much comfier ride at the front of the horse than the back. Adults are allowed on this ride. There are no straps on the horses so only allow your children on alone if you are confident they won't slip off.
Crazy Campers – Height limit 80cm – 108cm
This ride is for children from 90-108cms in height. They sit in cars which go a few times around a track. Children are to be accompanied by an adult.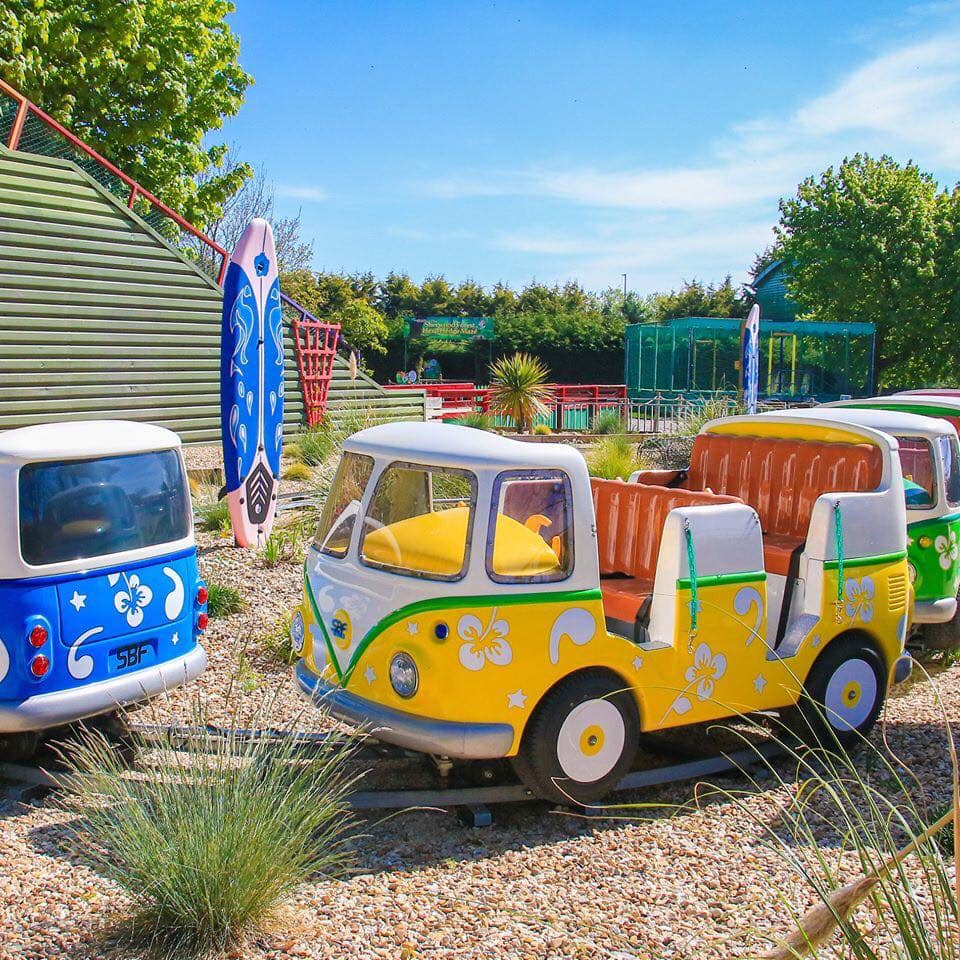 Bumper Boats – 90cm – 140cm must be accompanied
Adults are allowed on the bumper boats. There is the possibility of getting wet on this as spectators can shoot water at you. I'm never confident on these things so we are yet to have a go.
Caterpillar Choo – No Height Limit – Children require adult supervision
This is similar to a miniature train ride on tracks with carriages.
Jungle Critters Ride – Height Limit 90cm – 12 years
This again, like a lot of the rides at Wheelgate, is a ride just for children. My son loves this ride. It goes round and round and they get to control it going up and down.
Merry Go Lambs – Min 95cm – 140cm max
This is a cute ride for toddlers that goes round relatively slowly.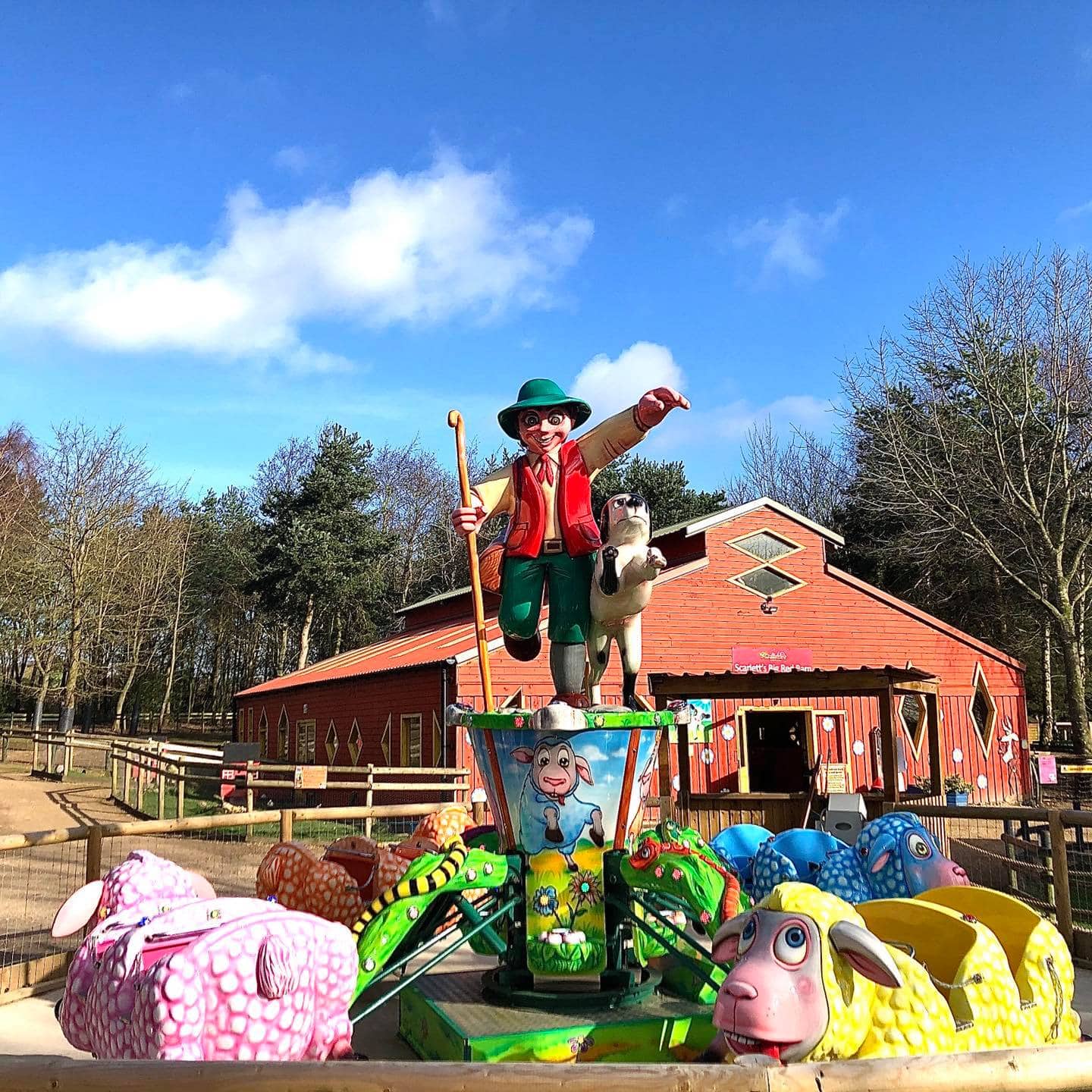 Mini Pirate Ship – Height limit of 85cm – 12 years
My little one loves this ride. It's incredibly tame but he feels so brave bless him when he goes on it. Mostly because he knows Mummy isn't a fan of the bigger versions.
Senior Pedal Karts – 7 – 14 years and Junior Pedal Karts 2 – 6 years
They have two separate tracks with pedal karts for the younger and the older kids.
Unicorn Rides
Wheelgate are now offering 'Unicorn' rides which is at an additional cost of £5.00 which you have to purchase tokens for from the 'farm shack'. This is every weekend and during school holidays.
Swings
Inside the Land of the Pharaohs Zone, you will find the swings. These are suitable for toddlers upwards, although adults are not allowed on the ride.
Astra Glide Racing Slide
This is a long and relatively high slide which you sit in a sack to go down. There's usually a member of staff waiting at the top to help the little ones.
Everything Else
Major Oak Adventure Playground
This was new last year (2017) and it still smells and looks new just over one year on. It is an enclosed area with just one way in and out. There's so much to explore here and smaller children can be followed around by their adults. My son loves this and spends ages there and is yet to find everything that there is to go on. There's quite a few tube slides, bridges, things to climb and much more.
Animal Adventure Zone
Wheelgate park has a large section for animals. It's up in the top left corner of the park and there's plenty to see which is perfect for everyone but especially the younger visitors that are perhaps too young for some of the rides. They have quite a few outdoor areas with animals and barns with pigs, goats, rabbits, donkeys, alpacas and much more. They also have sessions throughout the day for the children to be able to stroke some of the smaller animals.
Jumping Pillow – 90cm minimum height limit
The jumping pillow is surrounded by sand so watch out for sand covered socks. This is fun for kids, adults are not allowed. Children are allowed on in small groups for timed sessions.
Trampolines – for 0 -12 years
Although this states 0-12 years I have never seen anyone younger than a toddler on these. The trampolines are outside and kids are allowed a timed session on them.
Pharoah's Funderdrome – 80cm – 106cm must be accompanied by an adult
Quote "Big kids and small kids make straight for this enormous play barn packed with all the action and soft play a family needs for hours of fun. Climb towers, speed down multi slides and jump in ball pools, balance your way round this vast kingdom. Little ones love to explore the Camel's Oasis with all its magical mini adventures, where they can find puzzles to solve, rockers to ride, stairs to climb and enough slides to keep them happy for hours. (Socks are required for this attraction).
Mutant Master Blaster – Alien Galaxy Zone (indoors) 90cm Min
This is on two levels. It's a large play space where kids are encouraged to collect softballs and to then use air blasters to blast them at each other. This is located upstairs in the alien galaxy zone. There is only one way in and one way out and there are tables outside of it for the adults to wait and relax. It's only really fun with a few kids in there.
Sand Play
Near the entrance, you will find a relatively large sand pit with a couple of small slide play frames suitable for toddlers.
Hexo Hedge Maze
We love this maze! It can take quite a while to complete and there is the possibility of cheating but we manage it every visit – usually following the 'keep the hedge to your left at all times' technique. There's a photo opp in the middle to prove you made it.
Martians Mirror Maze – Alien Galaxy Zone (indoors)
This is a fun mirror maze for young and old. We always get completely lost!
Cosmic Cuties – Alien Galaxy Zone (indoor soft play for toddlers 0-5 years)
This is a soft play area for toddlers and younger. There are a few air canons to shoot balls and other things for smaller kids to play on. There is a gate to stop them escaping.
Falconry Zone
There is usually 1-2 falconry displays a day so keep your eye out for notifications of the display times. Children are often encouraged to take part.
Tropical House
The tropical house could be a lot better. With each visit there seems to be less living life in there. In the past we have seen birds and fish. Now we are lucky to see a few fish. I think this could be a lovely space and some butterflies flying around would be lovely to see.
Python Pizza Cafe under 5's Indoor play area
We have never actually been in here. It is located near the entrance and it basically a play centre for the under 5's.
Worsop Vale Colliery Village
This is another of my son's favourites. He loves running around the mini buildings and exploring. The buildings are great for imaginative play with pretend shops, a church and much more. It's a mini village for children. One of the buildings even has a slide.
Crazy Golf
This needs a bit (OK a lot) of TLC. The clubs and balls are left out unattended so it's not easy to come by a golf club and ball. The holes are mostly in need of complete renovation as they are very tired, the holes aren't very deep and most of the edges aren't deep enough and you can expect your ball to go over the edge, a lot! But we had fun playing and that's the main thing.
Outlaws Commando Course
This has 15 challenges scaled down for kids to be able to attempt to complete. There's plenty in this area to keep kids entertained and there are lots of things to have fun attempting.
Robin Hoods Water Park
Wheelgate park has a large water park for young and old. It is one of the largest water parks and splash parks in the UK. It opens seasonally and there are 5 slides as well as a giant bucket that tips a huge amount of water every few minutes. The slides are: White and Green toddler Slide – 120cm max height. Yellow Slide – 90cm min height. Green Slide – 90cm min height. Blue Slide – 90cm min height and Red Slide – 106cm min height.
We have only used the water park once as my son found it far too cold and a little overwhelming. The water isn't heated so it's not for everyone but plenty of people use the water park.
Recent years have seen a lot of investment in Wheelgate and in turn Twinlakes. I do feel that Wheelgate could benefit with a bit more investment as a few things such as the crazy golf, a few of the rides and the indoor areas are getting to be a little tired around the edges. Nothing major as yet, however, if they don't invest in the next couple of years I fear that people may start to become disheartened with the park. We visit every year and will hope to continue to as it is a fun filled day out. That is reason enough alone to visit.
My photos that are included were taken over a number of visits.
Important Information
It is cheaper to buy your tickets online in advance (within 24 hours). There are three pricing levels for Wheelgate park, yellow days (the cheapest – out of season), green days (the most expensive tickets, most weekends and some weekdays). Plus orange days (mid-priced). You can check this chart to see what dates incur which ticket prices.
An adult ticket and a child over 108cms on a yellow day is £8.12 online in advance. Toddlers 95-108cms are £4.06 and children under 95cms are free. Tickets for Santa's grotto at Christmas time are £5.99. In contrast, an adult ticket and a child over 108cms on a green day are £12.48 online in advance, toddlers 95cm to 108cms are £6.24 and under 95cms are free.
*This post contains affiliate links
I hope that you will find my post useful. Why not subscribe to my monthly newsletter to keep up to date? Or keep in touch on social media. We are very active on Facebook, Twitter and Instagram. Why not pin this post for later? Simply click on the image below and maybe give us a follow as well.
---