I had this one on our bucket list of things to do in 2017. So I booked us a 3 night stay in August with our caravan last year to Searles Leisure in Hunstanton, Norfolk. The thing about going away in August is you have to book way in advance. Either to benefit from cheaper rates or to avoid it being sold out. As I booked so early in the year we had a touring pitch for three nights for just £65.80. This included entertainment passes. I was really pleased with this price.
About Searles Leisure Resort, Hunstanton
The holiday park is situated near the beach at Hunstanton in Norfolk. The site has a huge amount of touring pitches and also camping pitches. Accommodation options are lodges, pods, cabins and static caravans. They also have different price ranges both for pitches and their onsite accommodation. Their onsite accommodation is mostly bookable for 3-night stays or more but you can book for two nights during some of their special event weekends.
Searles leisure offers both daytime and nighttime entertainment which I will talk about more below. They also have plenty of facilities that are mostly included with your entertainment pass. The site itself has won awards and has been in operation for 83 years. It does not look 83 years old!
The touring site at Searles Leisure –
Review of the Caravan Park
I liked the idea of a pitch with a hedge so although it wasn't one of their biggest pitches this is what I booked. It turns out they actually have a very large variety of hedge-lined pitches and in all honesty, I think it would be in your best interest to ring up to book and request a large pitch with a hedge. Because although they don't state it a lot of the larger pitches also have a hedge. It's really hard to get a feel for their site using the online map. The tourers came first to the site and the site shows that they are given priority.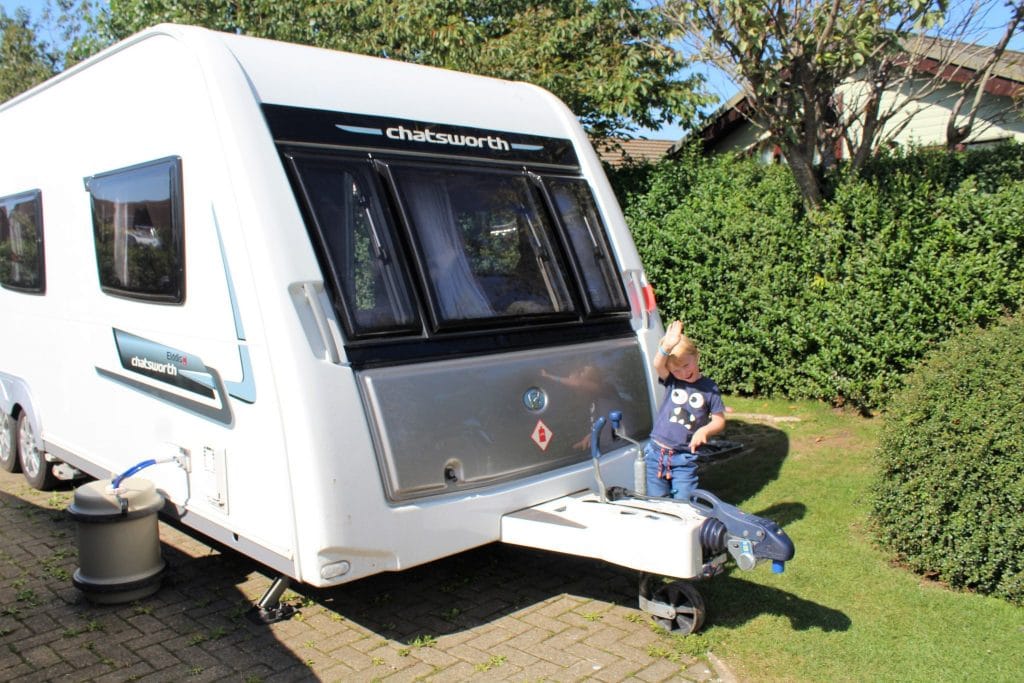 The touring site is also right by the access out of the park to the beach. It is also the only area with an outdoor playground. This was ideal for some caravans as some of the pitches had views of the playground.
There is also a land train stop next to the playground and 3 shower and toilet blocks. We did not use these much but they were adequate when we needed them. Next to the playground, there is a really nice BBQ area. Quite a lot of people used this area while their kids played.
The touring site is just a short walk from the main facilities of Searles and also a sports area with golf etc.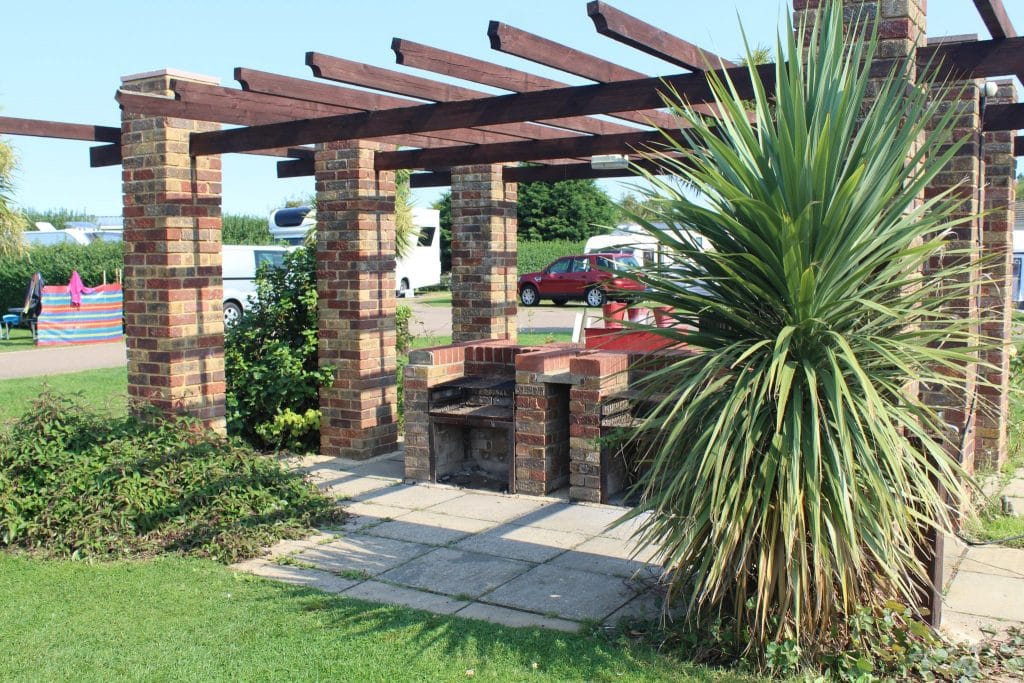 Our pitch had electric, a waste drain and also a water point. There was a paved area for the caravan and awning and a grass area for our car. Dogs are allowed on site.
Jamie loved that there was a small duck pond in the touring area and made quite a few visits to feed them.
The Facilities – Outdoor
As mentioned above there is a recently installed outdoor playground for children of all ages.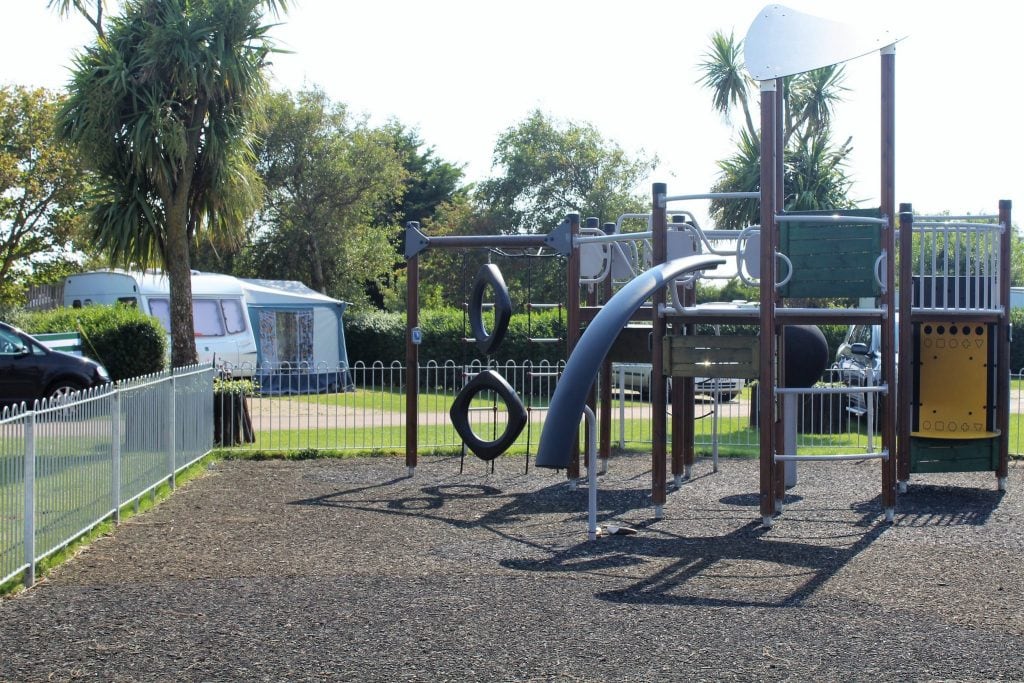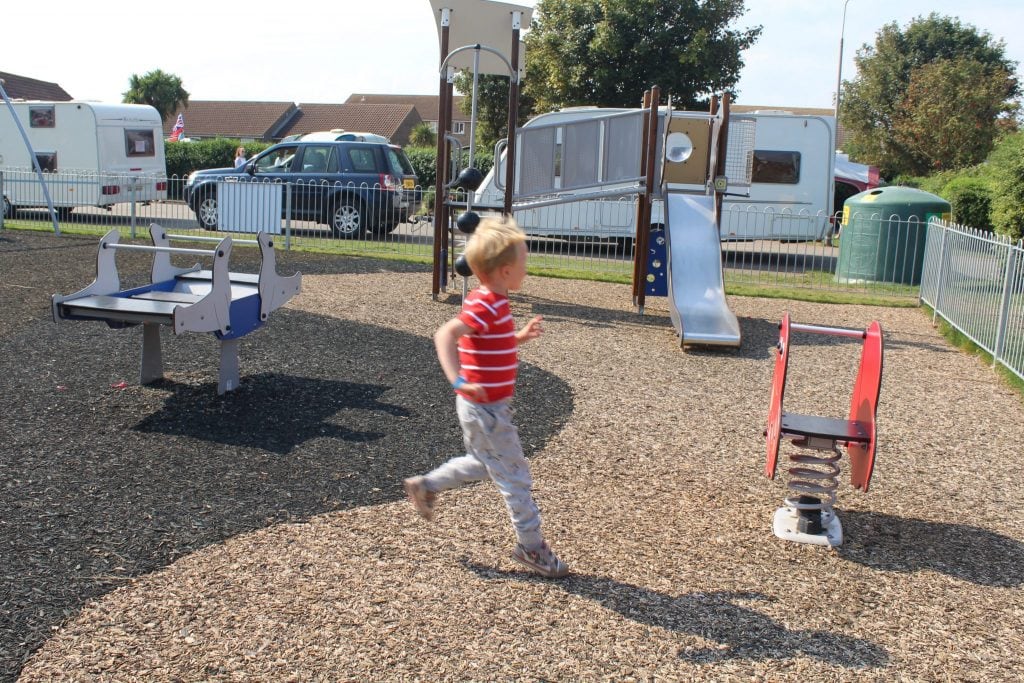 At the end of the touring site there is the fountain sports bar. Plus tennis courts, playing and sports field, bowling green/petanque, fishing lake and a golf course with a golf driving range.
Near the main entertainment building you will find crazy golf. This is also near to where the first land train stop is.
Watch out on the train if you go on the first round trip of the day. We hadn't realised that the first trip was not a full round trip and although we went into Hunstanton itself it did not go any further. The lady who took our money understood our mistake and let us stay on the train for the full round trip after at no further cost.
We paid just £2.20 each for a full round trip. This started from the main La Piazza entrance and then round the touring site including down to the fountains bar. The train stopped 5 times before leaving the park.
If you don't want to go round the touring site etc. you can get on the train on the opposite side of the road from the mini supermarket. Be warned that it might be rather busy by then though. The train then stops 5 times round Hunstanton. Twice in the town and at the seafront green and once at the lighthouse. It's a nice way to see Hunstanton and decide on what you would like to see or do.
Searles Leisure is also just a short walk to the beach. We didn't have time to access the beach from the site.
The Facilities – Indoor
There is an indoor heated pool, indoor heated splash pool and outdoor heated pool with unheated splash area. Please check timetable for opening times. The indoor splash area, for example, is not open all day long. Photos are not allowed so I have included a photo from Searle's website.
As well as the pools in the main entertainment area there is an indoor soft play with an area to colour and do crafts. It is open daily: 10am to 1pm and 2pm to 5pm and is free to all guests. Children over 4'9″ are not permitted to use the play area. Although it has had a recent revamp there was a section roped off but there was plenty in there to keep Jamie entertained for an hour.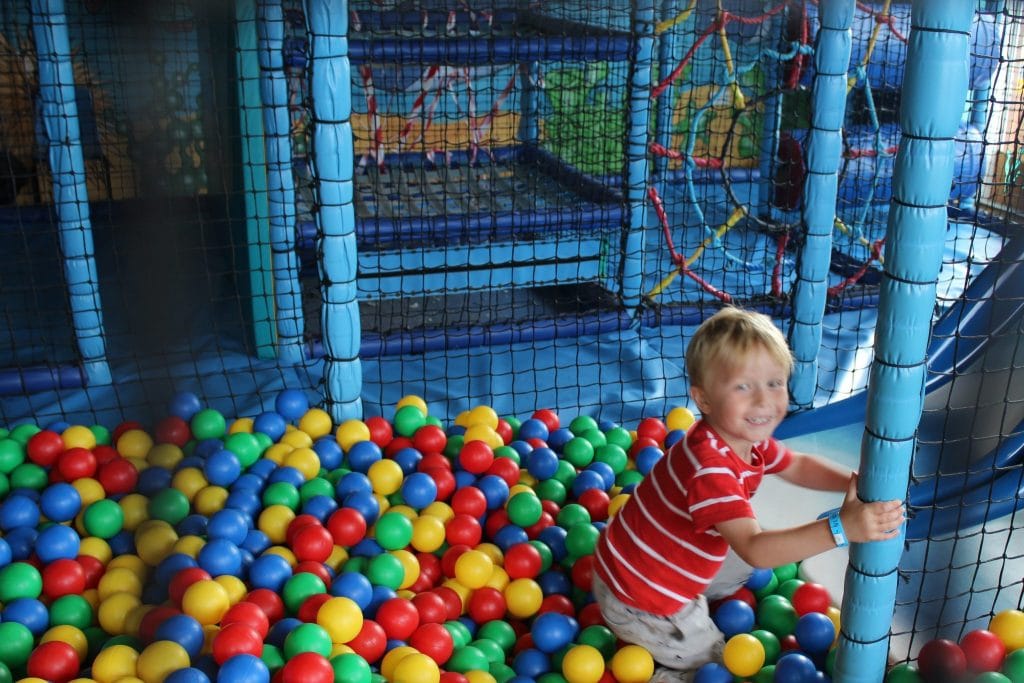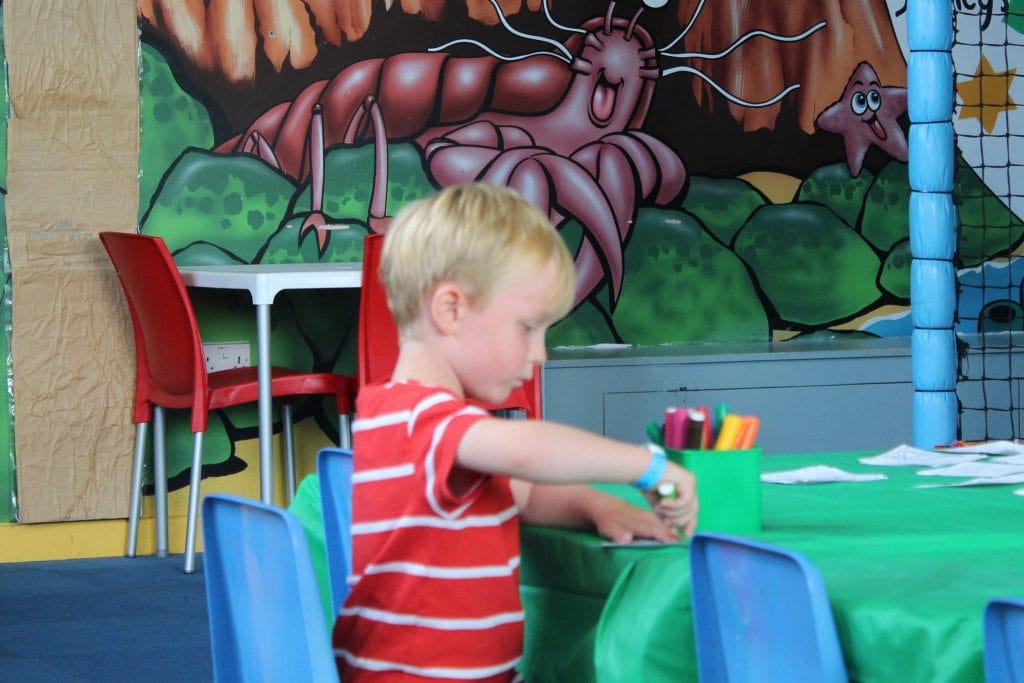 In the Piazza there is a bar, a take away serving fast food and Chinese meals. Plus table tennis, pool tables, table football and an amusement arcade. There is also a fitness studio and beauty salon.
The Sundowners family bar is the place to be for evening entertainment. More on that below.
Entertainment – Daytime
You just have to visit Searles website to be amazed at the choice of daytime entertainment. It is listed by date and time on their website. You will also find posters advertising what's on soon around the resort. There's tots messy play, line dancing, Daytime Hartbeeps sessions, wacky science, magic workshop, Cherry's bake-off and more.
Jamie chose to join in with Cherry's pizza magic. This was from 12pm at Smokey Jo's. For £8.50 he created his own pizza with Chef Luigi and was entertained by Magic Craig. His pizza was then cooked and presented to him by Cherry bear. He loved taking part and especially loved the ice cream that he could decorate with sweets at the end.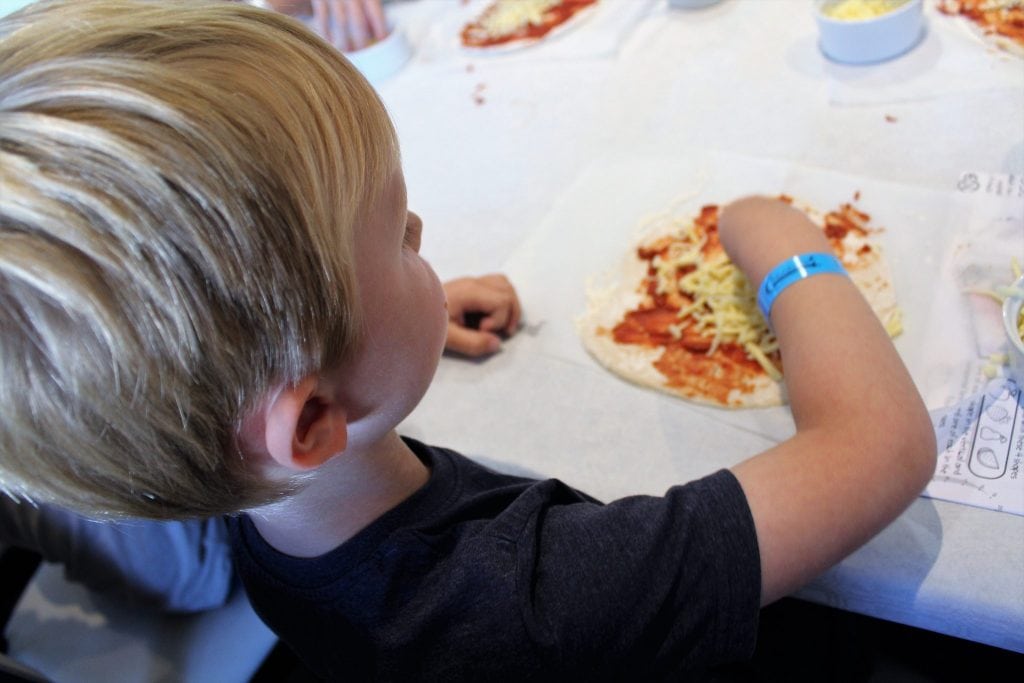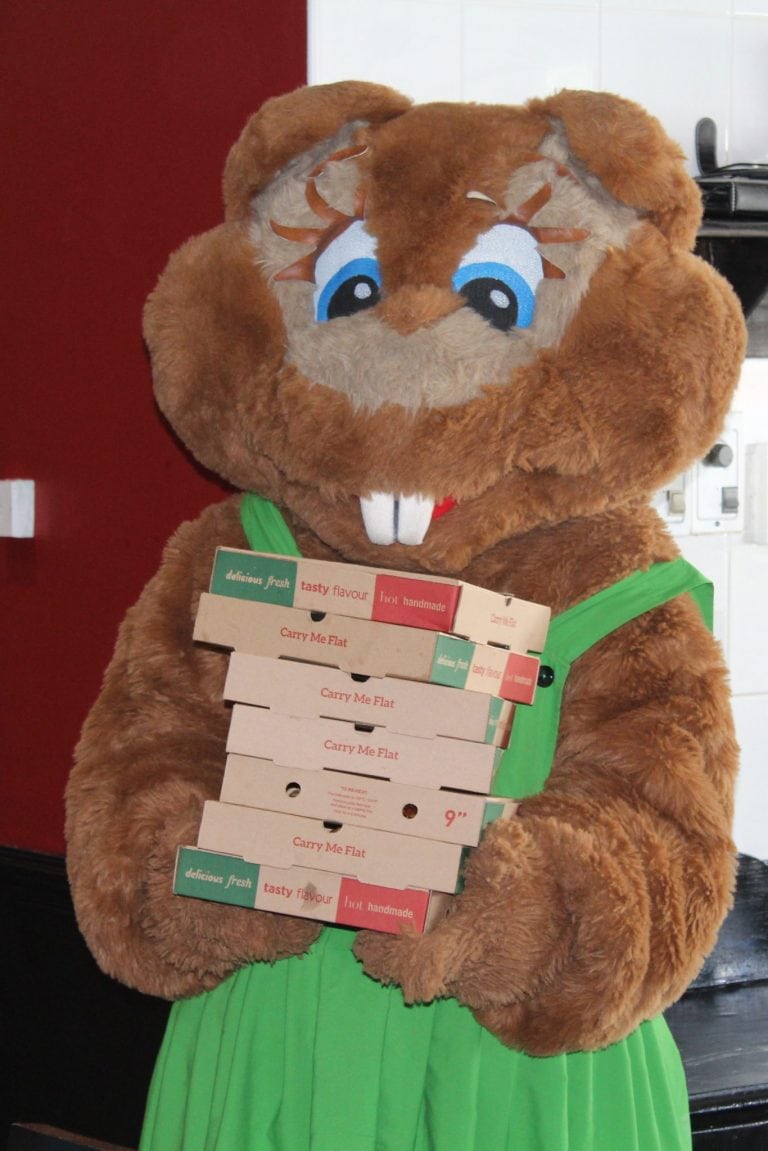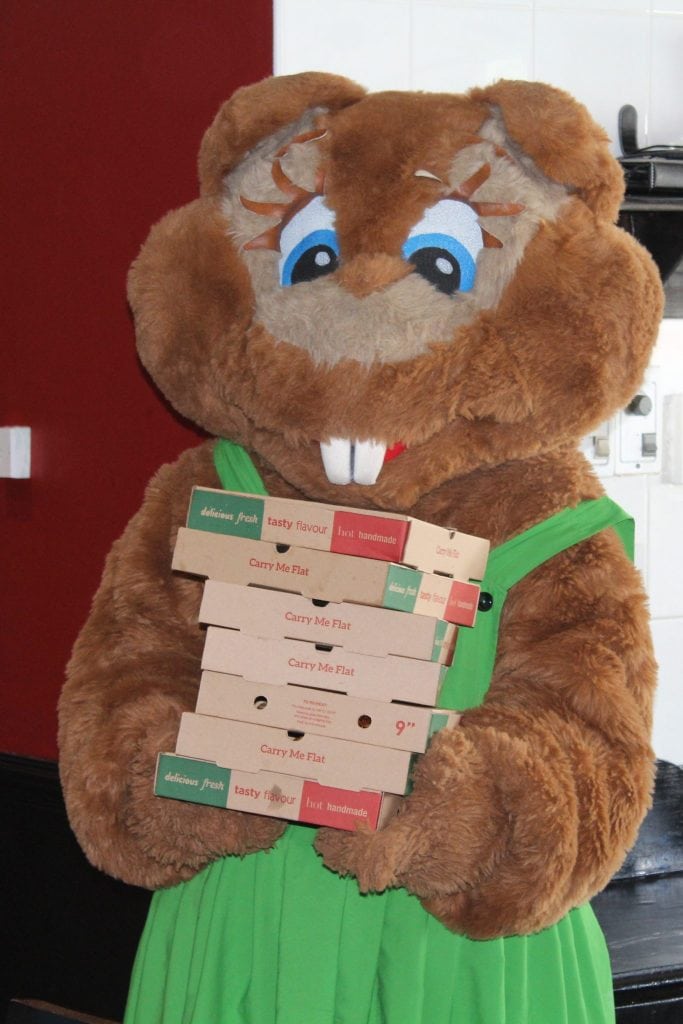 Entertainment – Evening
Family fun time takes place in the family lounge every night. Doors open slightly earlier in the week. If you want a table near the dancefloor make sure you get there early. We queued about 15-20 minutes each night before the doors opened, and just about managed to get a front line table. We have experienced a LOT of evening entertainment at caravan parks and Searles rates amongst the best.
The evenings started with a disco and then a Hartbeeps session. Jamie used to go to these sessions when he was younger so it was nice to have something familiar for him as he can be shy joining in. He loved it, especially when they were allowed to twirl ribbons and hold plastic plates and pretend to be a driver. We have never seen Jamie join in with so much before.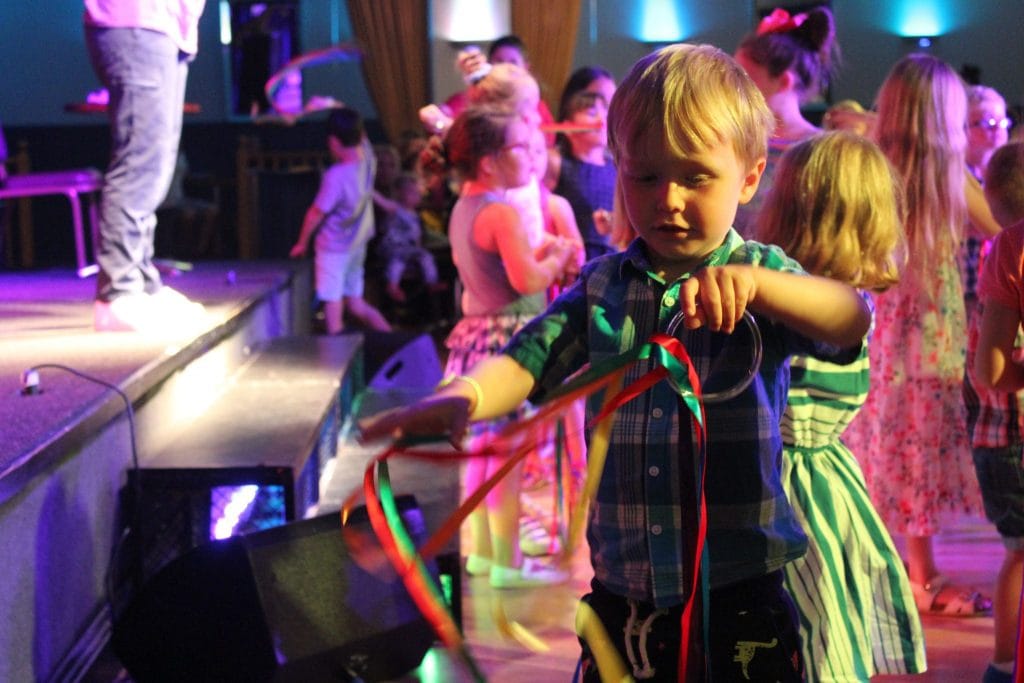 There was a photo opportunity with one of the characters and then either a show or dance games. Again these are both things Jamie would shy away from but he really got involved with everything.
They also had family bingo every night. You may remember I won this on our last caravan holiday. I played all three nights and on the last night, I won….yet again! I swear Jamie will think Mummy is always destined to win now. I'm still not completely sure how I managed it yet again.
After the family activities, they have bingo for the serious players and then adult entertainment.
Food options at Searles Leisure Resort
As well as the take away in the Piazza there is the lounge bar also in the main entertainment building. This serves lunch from 12pm-5pm and is open all day for drinks. They also provide entertainment in here during the high season.
Next to this, you will find Smokey Jo's bar and grill. We were in there when Jamie joined in with the lunchtime activity (which I mentioned above). The food was really good and not overpriced. We wished we'd eaten there earlier on as it was so good. If the resort is busy it is a good idea to book in advance. The bar and grill offer meal plans for breakfast and evening meals.
There is also the Fountain sports bar where you can also get meals. Please see their website for opening times.
Opposite the entertainment area, there is a mini supermarket, launderette and a takeaway fish and chip shop. We picked up some food from here on the last night and it was very tasty.
What else did we do during our stay in Hunstanton?
Hunstanton Beach
We drove down to the far end of Hunstanton, parked near the lighthouse, and accessed the beach from there.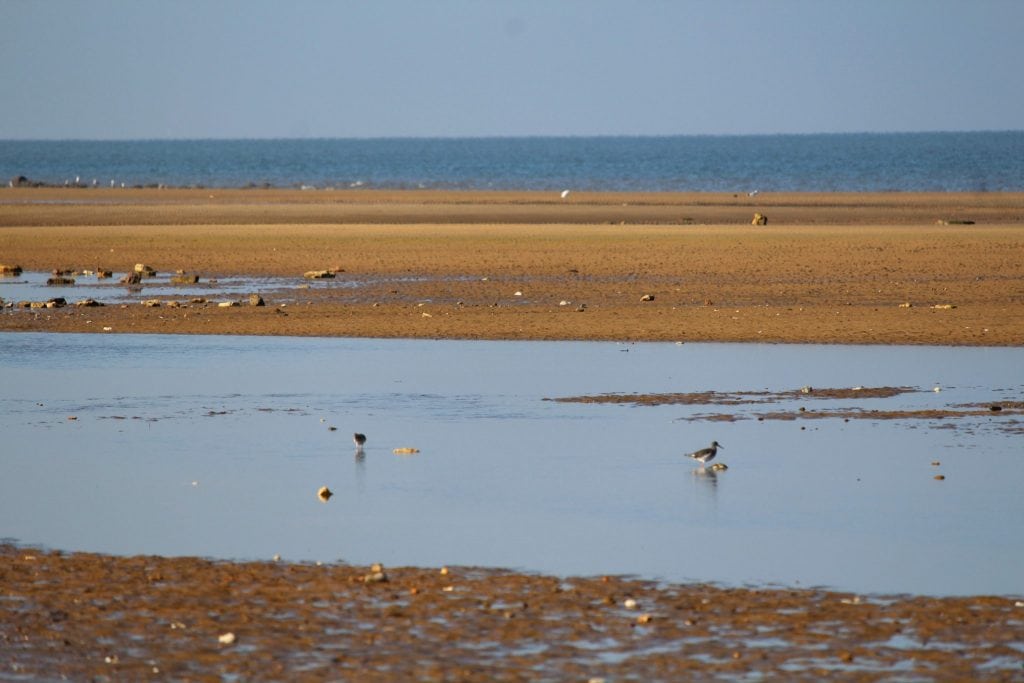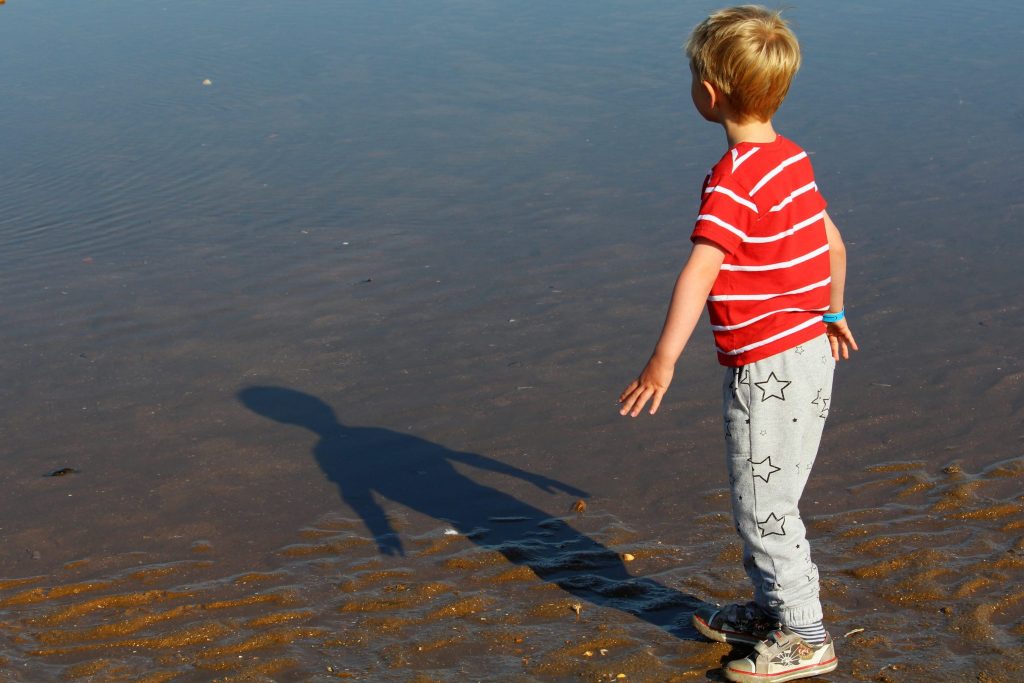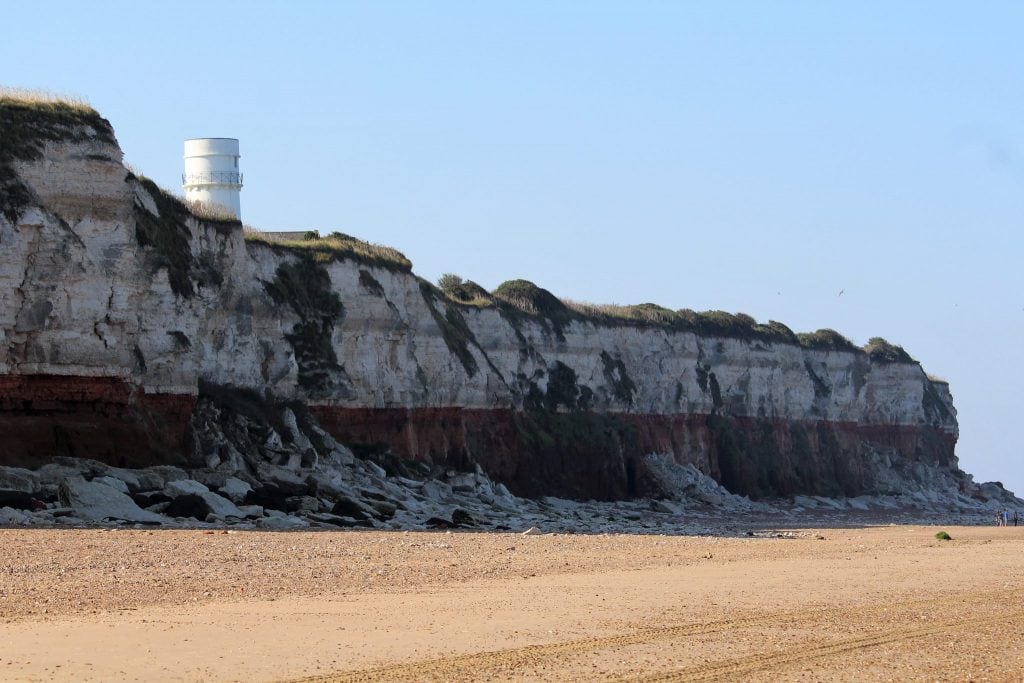 Castle Rising castle – English Heritage
It's an English heritage owned site approx. 15 minutes drive from Hunstanton. We spent about an hour there and it was a fun castle to explore.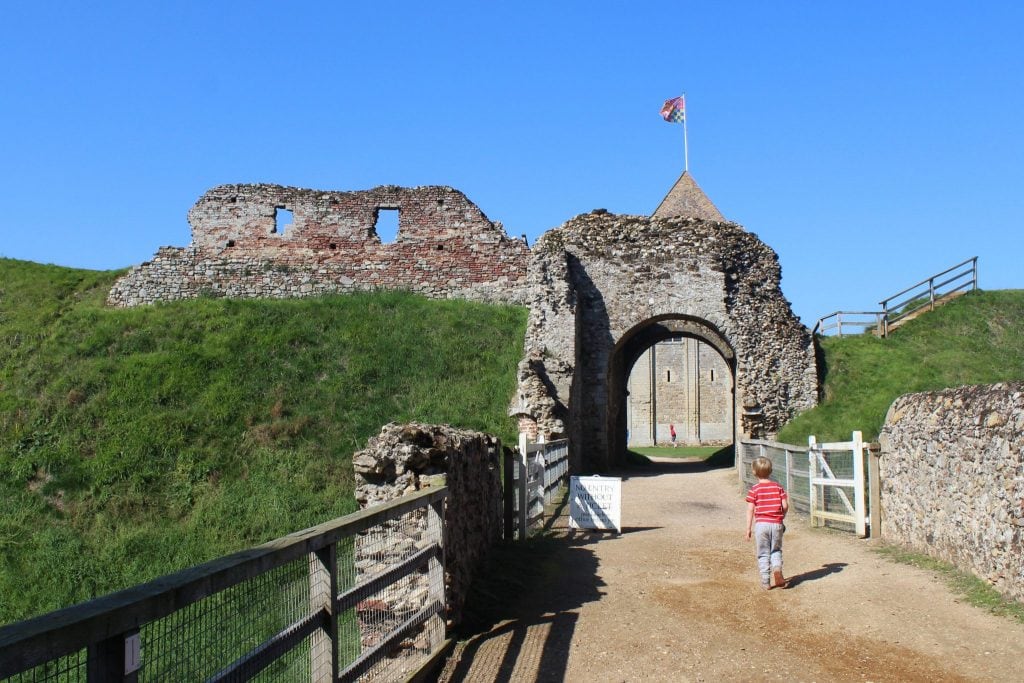 Playground at Sandringham
We drove to Sandringham (approx. 10 minutes drive from Hunstanton). We were hoping to see a sneak peak of the house but it could not be seen from the car park. There is a free to use adventure playground near the also free to park in car park. There's plenty to explore for the kids. Jamie had a great time and even braved the zip wire. The sculpture trail is also free.
Rainbow Park Fairground Hunstanton Seafront
This is just a short walk from Searles leisure, although we did take the car and pay to park opposite. There's plenty of rides to choose from for young and old. Prices range from £2 – £3.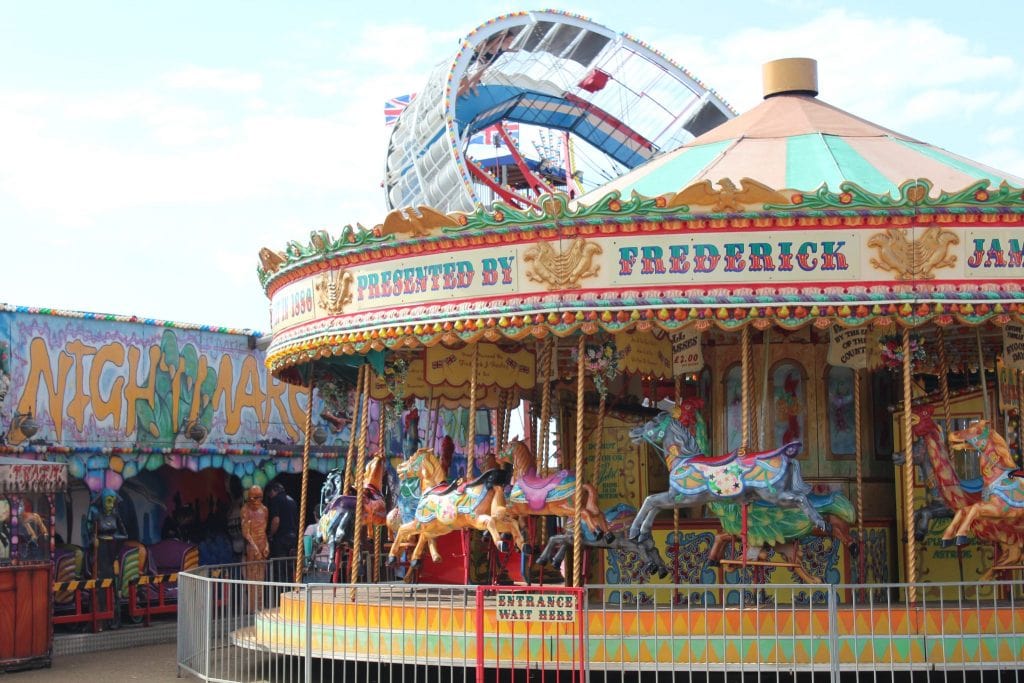 ---