We have recently returned from our bucket list holiday to Gran Canaria. We crossed quite a few things off our list while we were there….camel ride, ride on a pirate ship and glass bottom boat, plus we visited a truly beautiful zoo that is Palmitos park. After some research before the trip and while we were there I have compiled a list of my Top 12 things to do with kids in Gran Canaria.
If you are planning a trip to Gran Canaria I hope this list will help you. If you've never considered Gran Canaria before with your kids then hopefully this list will inspire you. We had a lovely 10 day holiday in one of the largest and most beautiful of the Canary Islands. (In no particular order).
Palmitos Park
Consistently rated the best for a family day out on TripAdvisor. A short drive from Maspalomas, Palmitos park is set amongst some of the most stunning scenery of the island and is the most beautiful zoo I have ever been to. There's a variety of shows throughout the day including a dolphin show and shows. The zoo is situated on 20 hectares of land. There are over 160 different cactus types, and 1000 palm trees of 42 different types. There's a large selection of animals and a vast collection of exotic birds. You can read my blog review for the zoo by clicking here.
Aqualand
You can purchase a ticket for Aqualand with your ticket for Palmitos park, at a reduced rate. Jamie is only 3 so cannot swim without armbands and isn't keen on water slides so we decided not to visit. We drove by and it did look quite good. Not too large so that you spend most of your day walking to the slides etc. Aqualand is situated just outside of Maspalomas. Click here to visit their website for prices and opening times.
Camel ride on the dunes of Maspalomas
A day trip to a beach
Gran Canaria is not short of beaches. In the two resorts where we stayed Puerto De Mogan and Puerto Rico, there is a lovely sandy beach. Most of the tourist resorts along the east and south coast also have pretty decent beaches. There are a staggering 82 beaches in Gran Canaria. Maspalomas and Playa del Inglés boast the 2 biggest beaches of the island (technically the same stretch of sand). Most have toilet facilities, shops, bars and restaurants. Sun loungers and umbrellas can also be hired at most public beaches.
Sioux City park
I thought this place looked fun but Mark wasn't too sure so we didn't pay a visit. The website for the park appears to be in Spanish but you can read all about it here on tripadvisor. It is basically a park that has various Wild wild west shows throughout the day. There seems to be a lot of positive reviews for the park from families.
Go on a boat trip
There is an abundance of choice for boat rides in Gran Canaria. Most of the tourist boats seem to operate out of Puerto Rico harbour. There are sea fishing trips (with toilets on board most of them it is certainly a consideration with children). There's the Timanfaya pirate ship which we went on. You can read my review here. This sails from Puerto Rico.
There are a few Glass bottom ferries to choose from which stop at 4 different ports. You can read my review here. You could go dolphin/whale watching. There seem to be a few tour operators for this a google search brought up most of them. It wasn't something we did but we certainly considered it. From Puerto de Mogan there is also a Submarine adventure. I really wanted to do this but I'm afraid for the price and the time on board we just couldn't justify it. The submarine itself looked really good and it does actually submerge. You can find out all about it by clicking here.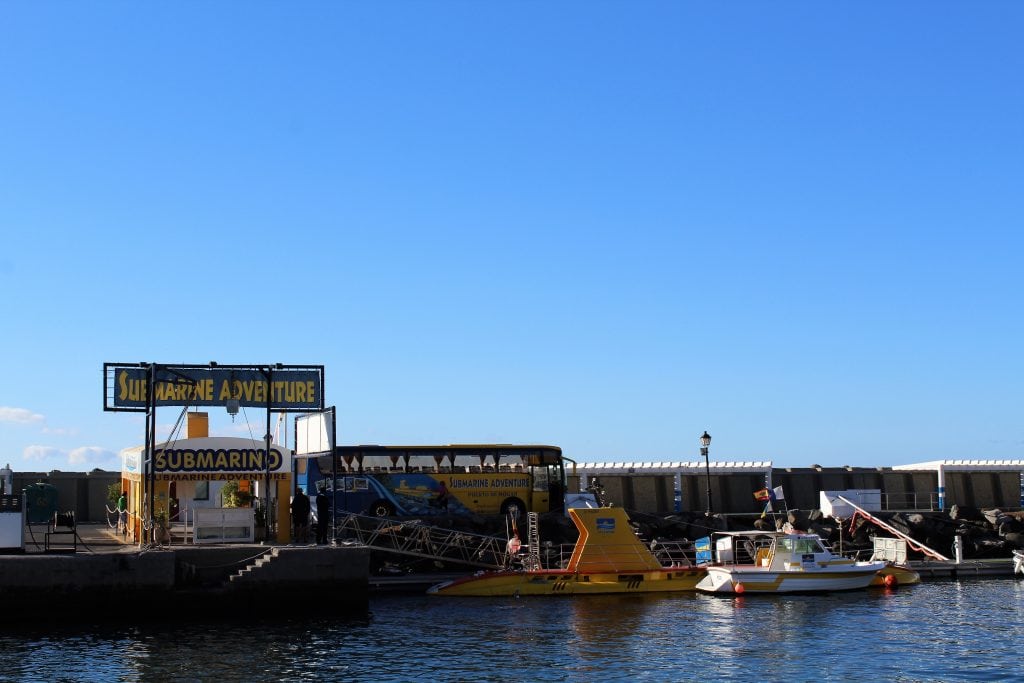 Cocodrilo Park
The crocodile park zoo. The largest collection of crocodiles in Europe can be found at this park. It's not just all about the crocodiles though. There's monkeys, birds, tigers etc. Most have been rescued before arriving at the zoo. Please follow the link at the start of the text for further information.
Holiday world Maspalomas
Jamie is theme park ride mad and would have loved visiting this place as it has quite a few rides for varying ages. There's something for everyone here. Some photos of the rides and further information can be found by clicking here.
Angry birds activity park
Everywhere we went people seemed to be selling days out here. There is quite a good angry bird park in the UK (part of Sundown adventure land) which we have visited so it wasn't something we were interested in doing. But it does look a lot of fun for the children. Further information seems to be over at Facebook.
Mini train Playa del Ingles
The pictures that I saw while on holiday looked fun but I have really struggled to find a link for you. I'm afraid this is the best I could come up with information wise.
Mundo Aborigen
It's not just all about the theme parks and beaches. It is actually somewhere historical that the kids may well enjoy. Set in the biggest gorge on the island you will find Mundo Aborigen. It is a reconstruction of a Canarian village. There are over 100 life-size figures and various displays depicting life back then. I would have liked to have had the time with the car to visit here. It looks very interesting.
Donkey rides
There are no donkeys on the beaches of Gran Canaria. These donkeys can be found inland. I found a nice review of the place here as their website is in Spanish. Rides are relatively short and the scenery looks stunning.
Don't visit Gran Canaria without this book……..
Highlights of our family holiday
Please subscribe to our channel
---
I hope you found this list useful. Be sure to check out my blog reviews from our bucket list holiday to Gran Canaria. If you liked my review please comment, share or follow us over on social media. Why not pin my post for later over at Pinterest? Simply click on the image below to take you to Pinterest to save the post.