Disney's Animal Kingdom Lodge is a Deluxe resort hotel. We spent our first two nights of our Disney adventures there and it was not cheap! For our next Disney stay we decided to stay somewhere a bit cheaper and chose to stay at a Moderate Resort. We chose The Cabins at Disney's Fort Wilderness. Again we booked through the USA website (you can access this by clicking on United Kingdom at the top of the UK Disney World website and selecting the USA). This saved us around £200 during our 3-night stay. Below I will share my review of the resort and some photos of our cabin.
*affiliate links – this post may contain affiliate links. It will cost you no extra to book through these
Our Cabin at Disney's Fort Wilderness
The first thing I need to point out is that if you are moving from one Walt Disney World resort to another you don't need to worry about what to do with your bags. We gave them to the concierge at Animal Kingdom Lodge. They gave us a ticket in return and labelled all of our bags accordingly. We even gave them our laptop bag. All bags were delivered safe and sound to our cabin at Fort Wilderness. This was all free, we did, however, tip the lady who delivered them.
We were slightly concerned as we arrived at least an hour and a half before check-in. This was not a problem and they already had a cabin available for us. We were given a map and they circled our cabin for us, plus they gave us detailed driving instructions. You have a parking space at your cabin but they prefer you to rent a golf cart or use the courtesy buses to get around. More about renting a golf cart in my post over here – Fort Wilderness Cabins Golf Cart Rental, Was it Worth it?
The cabins are all on one-way loop roads. They are close to each other but not too close that privacy becomes an issue. The cabin was a good size and well equipped.
We were lucky to spot the deer pictured below outside our cabin, however, we also saw some wandering about while we were out and about. We also spotted wild turkey and plenty of squirrels. Armadillos can also sometimes be spotted and I believe wild pigs.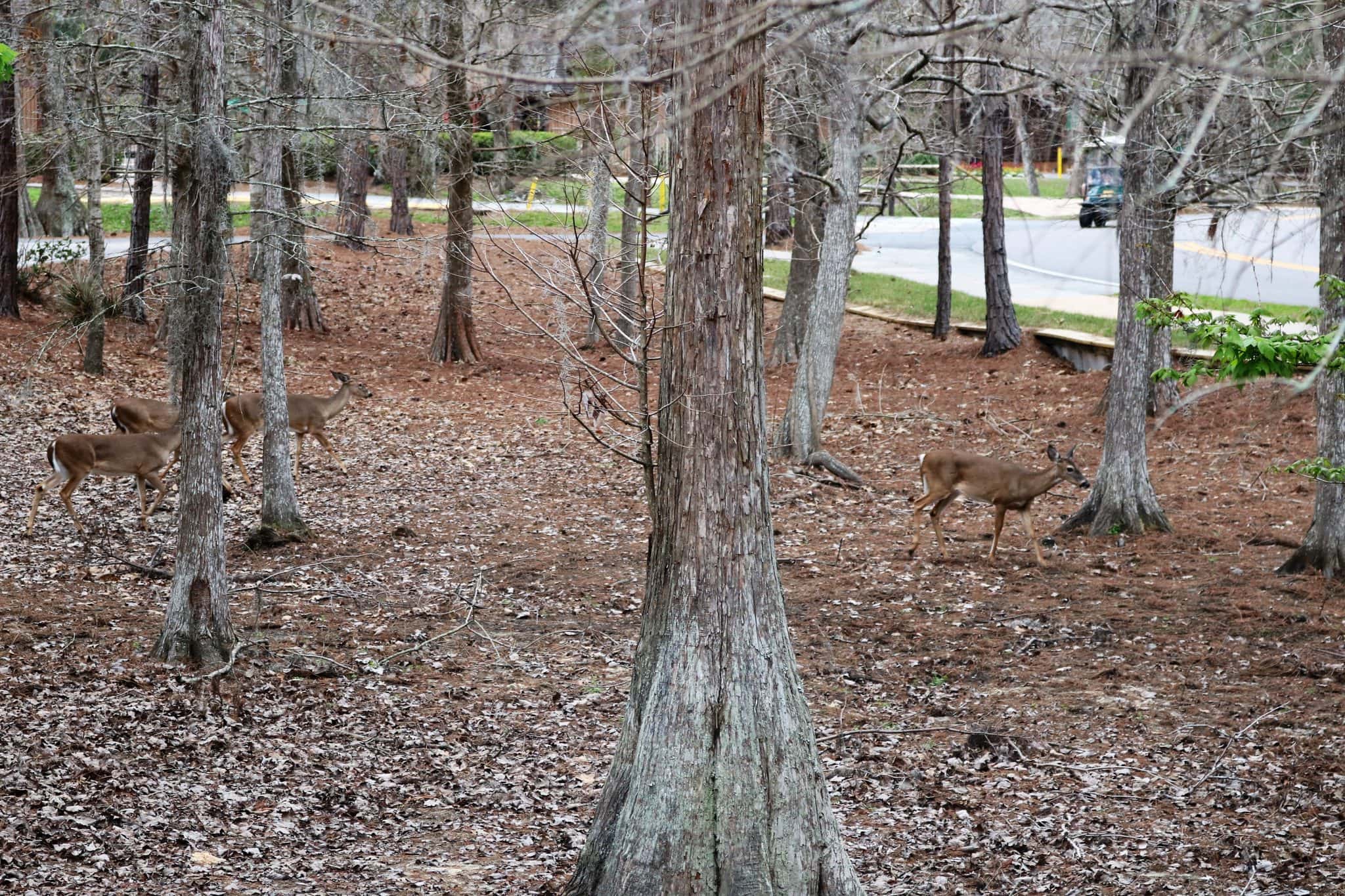 Outside there was a decked area with a table and benches, plus a bbq. Inside there was a lounge area with a chair and a sofa which was also a sofa bed. There was a large TV with satellite.
All Wilderness cabins are the same and sleep 6 people. There is 1 queen bed and 1 bunk bed in the bedroom and the double size sleeper bed in the lounge area.
Also in this area, you will find the dining table with chairs and a bench. The kitchen was well equipped with everything that you would need for your stay. We mostly ate out however we did have a couple of breakfasts at our cabin which saved us a lot of money. There is a shop on site to buy groceries, however, it wasn't cheap. If you want to buy food buy it out of the parks. It's not far to drive to buy cheaper supplies.
There is a bathroom between the kitchen and the bedroom. This was clean, as was the rest of the cabin, and well stocked with towels and toiletries.
The bedroom was very comfy and had a small wardrobe space for clothes. Plus a large dresser and a TV.
We felt very at home in our cabin and I'd certainly recommend it.
Fort Wilderness – What is it like? What is there to see and do?
What is it like? Well, it is huge. I believe it's the biggest Walt Disney World resort. It's so big you can rent a golf kart to help you get around. You can currently rent one for $59 a day. We got so lost the first time we went out. The site is quite lacking in signs. I think this is something they definitely could improve on. Half the time we just didn't have a clue where we were or how far we were from anything.
We were staying at the very top end of Fort Wilderness, not far from check-in and the bus stops to other Disney parks. You can not get a bus from there to Magic Kingdom. That is somewhere else on the site.
As well as being extremely large it is also the Disney resort with the most things to do day and night. This was another reason for our stay. However, we couldn't really afford to do anything. It was $40 per half an hour to rent a boat, $120 for a private horse-drawn carriage ride. We didn't even dare ask how much it was to go horse riding. Plus most bookable activities didn't start until 11 am or were in the evening when we already had things booked.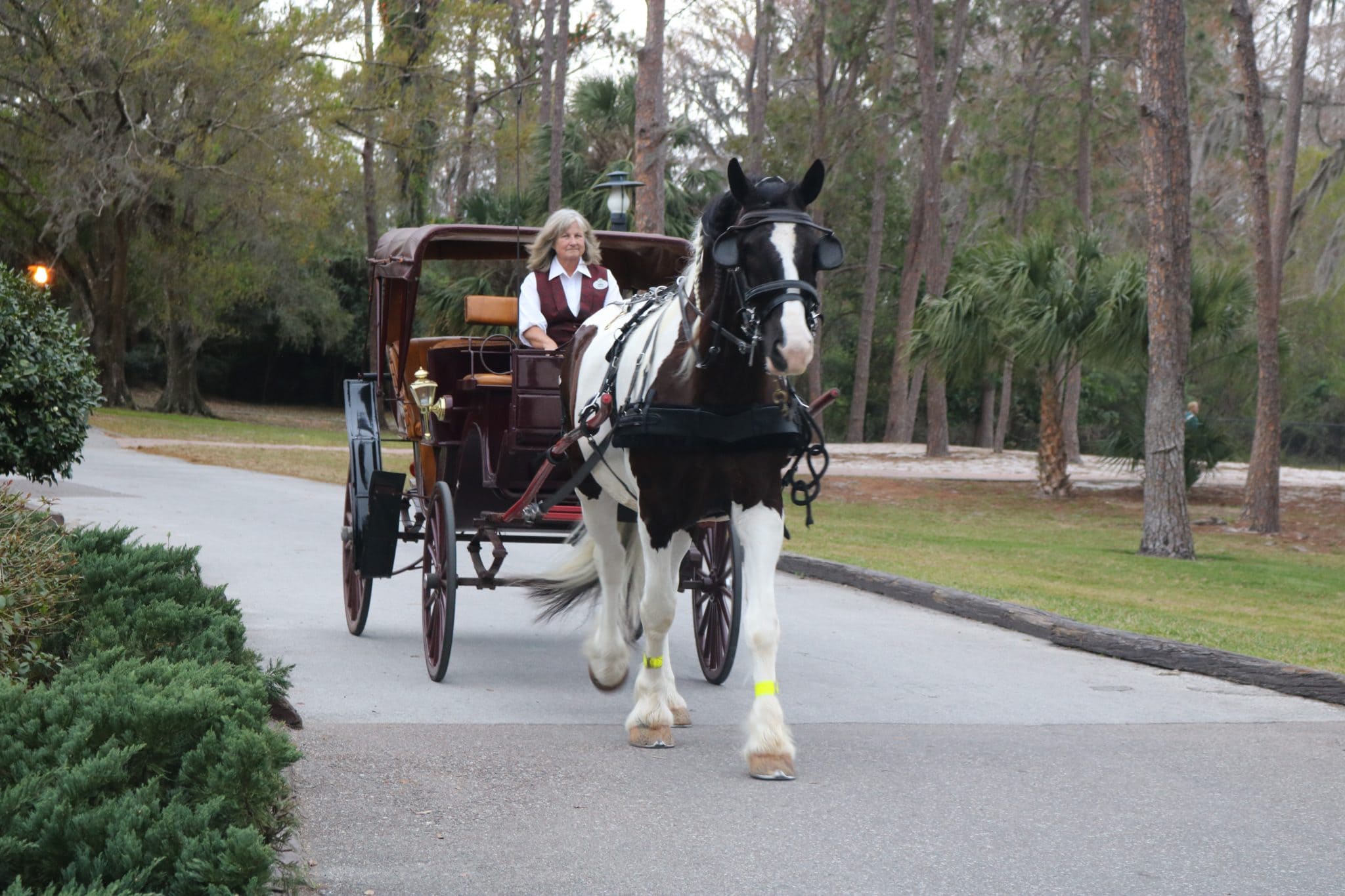 There are quite a few things that you don't have to pay for though. There's a large playground for the kids plus two swimming pools and an evening campfire sing-a-long with Chip 'n' Dale, followed by a movie (which we sadly never had time for).
There is a well-stocked shop located in the middle of the resort. You can park your car or golf kart there. This is also close to all the RV and tourer pitches rather than the cabins.
As we couldn't afford to do any of the activities we spent a morning chilling out and taking their courtesy boats over to Disney's Wilderness Lodge and Disney's Contemporary Resort. We had a lovely morning watching the erupting geyser at Wilderness Lodge. We also stopped there for a drink and later ate there as well at Geyser point Bar and Grill, which was a lovely outdoor table service restaurant.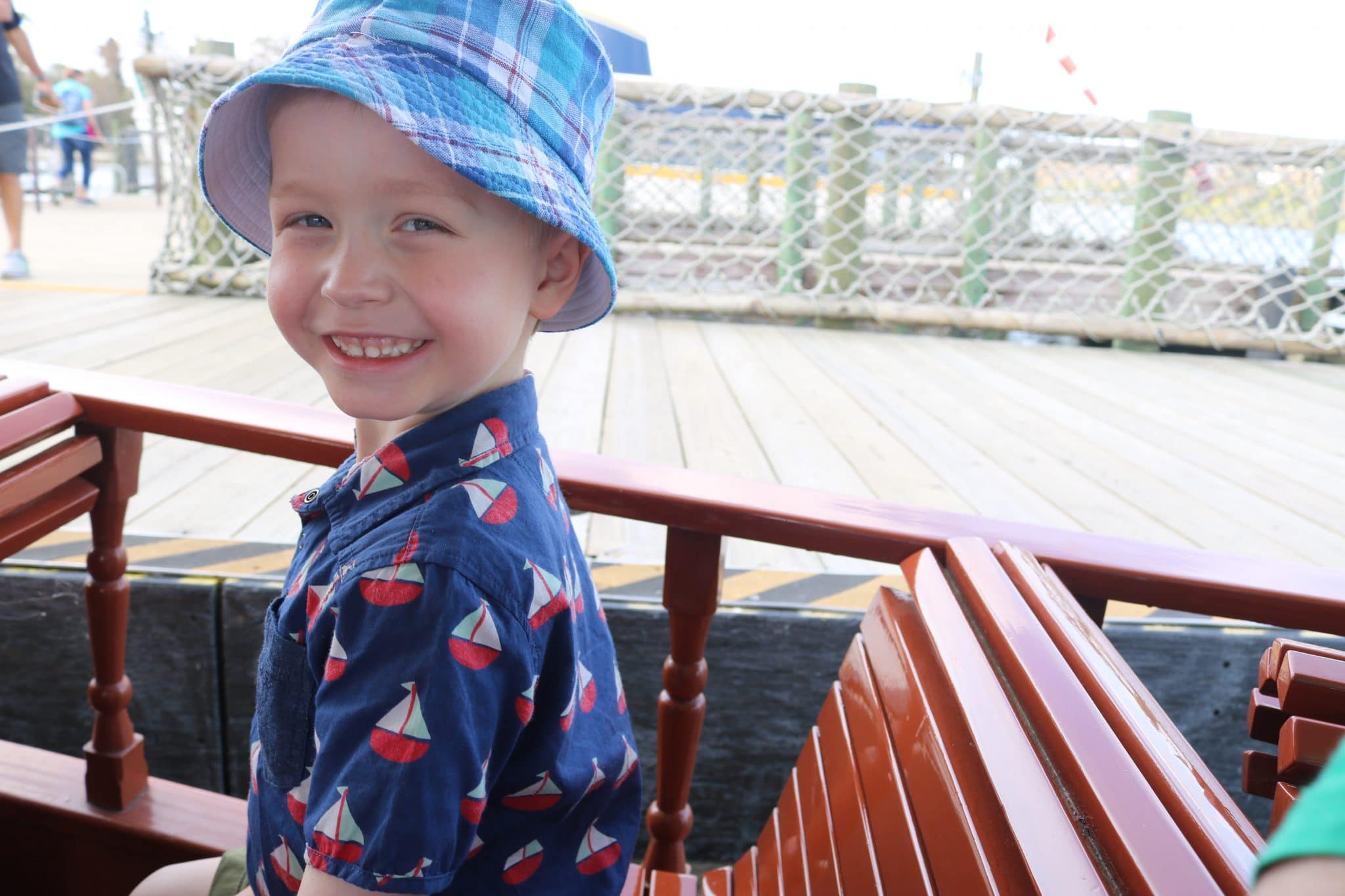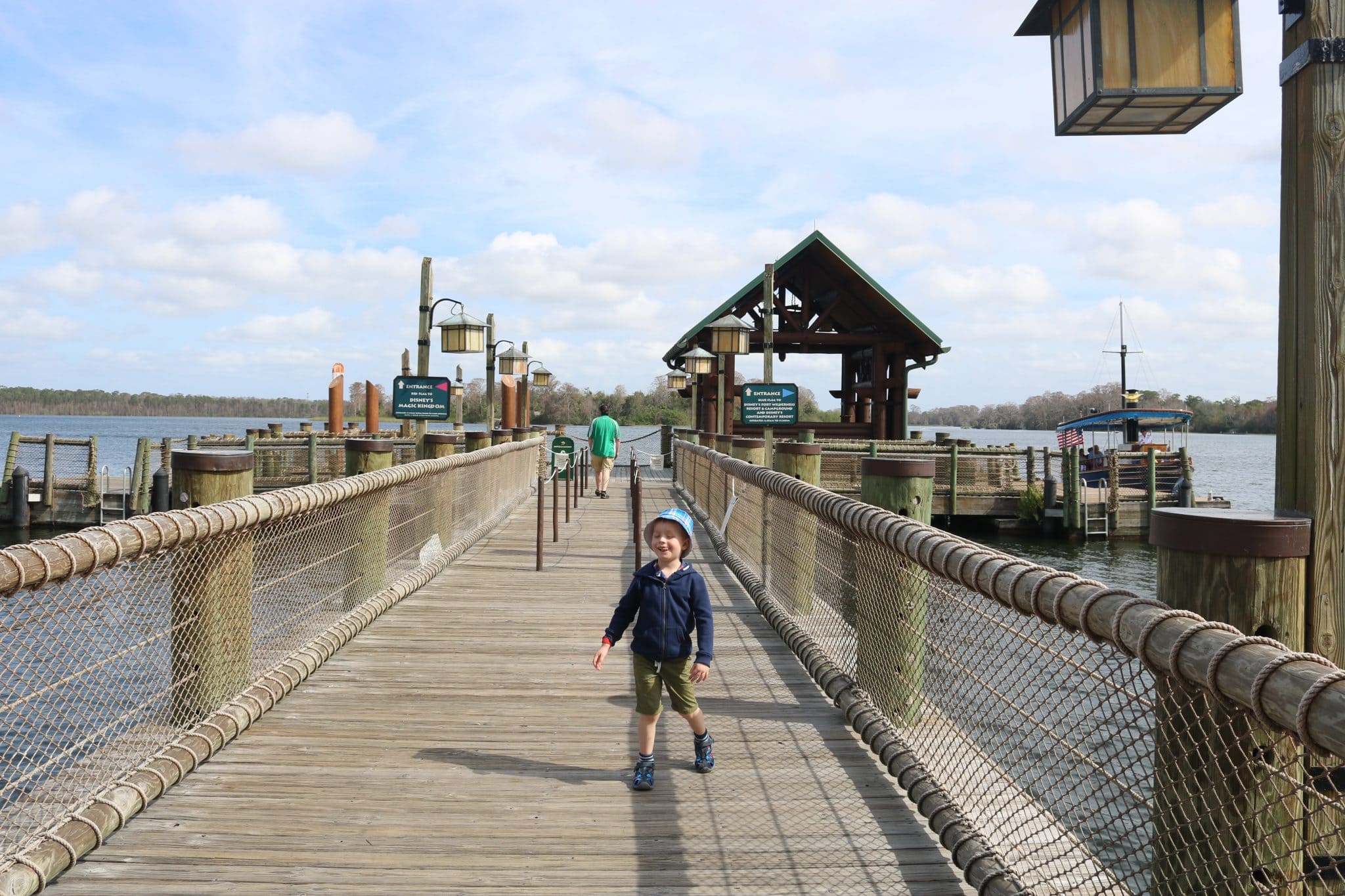 Back over at Fort Wilderness Cabins there are a few options of places to eat and drink. In the evening you can go to the popular Hoop-Dee-Doo Musical revue. This was a firm favourite for all of us – you can read more in my review (via the link). There is also Mickey's Backyard BBQ – again you can read more in my review (via the link).
On-site, there is also Trail's end restaurant and Crockett's Tavern. Trails end is a buffet self-service restaurant that serves breakfast, lunch and dinner. We had breakfast there one morning. There was a huge choice however I wouldn't say that we got our money's worth. We paid $20 for an adult and $11.00 for our four-year-old.
Getting to Magic Kingdom from Fort Wilderness
The easiest way to get to Disney's Magic Kingdom from Fort Wilderness resort is via a courtesy boat down at the marina. The Marina is also a great spot to watch the water parade. This was at nearly 10 pm during our stay which we sadly missed as our boy was far too tired every night (and us for that matter!).
The boats over to Magic Kingdom are a lot bigger than the boats to the two other resorts. They can fit a lot of buggies and a lot of people on board. We never had to wait too long for one. We did, however, have a bit of a disaster one morning. I thought that we'd timed our day out well until we got to the boat launch and realised that there were no boats running due to fog. We wrongly headed to the bus stops to try to get a bus to MK there. It turned out they didn't go from there. Luckily a kind member of staff took pity on us and arranged a courtesy taxi bus just for the 3 of us over to MK. Thank you, Disney!
We found the boats a great way of getting to Magic Kingdom and an even better way to get back to our resort. The boats are the closest Disney transport to the entrance to Magic Kingdom. They are closer than the bus stops and monorail. The evening that we went to the fireworks we got straight out of the park and straight on a boat back. It only took us 30 minutes from the end of the fireworks to walk out, get on a boat, sail over to Fort Wilderness cabins and golf cart back to our cabin. Result.
We loved our stay at this resort. It was, mostly, relaxed and laid back. It was great fun driving around in the golf kart and very pleasant taking the boat to Magic Kingdom. The cabins were spacious and felt like home.
---