Bettys is what brought us to York. My Mum had been given afternoon tea vouchers for Betty's for her birthday last year. My Dad was just too poorly to make the journey before he died. We are sure he would have wanted her to still go so she kindly invited Jamie and I and we decided on Bettys tearoom in York. We have visited the one in Harrogate in the past but this one was to be a first for all of us. There are 6 Bettys cafes in total, two of which are in York. As you can see Jamie wasn't really in the mood for smiling at the camera!.
We made afternoon tea at Bettys the first thing that we did when we arrived in York. True to it's reputation there was a big queue outside to get in. We knew that we wouldn't want to wait in the afternoon with a hungry 3-year-old so Mum had reserved a table for us upstairs in the Belmont room. We were greeted on arrival by a friendly waitress who hung up our coats for us. As we entered the room there was a lady playing the piano which gave the room a lovely atmosphere. Please note that if you do have vouchers and want to reserve a table here the afternoon tea costs slightly more so there will be a supplement to pay.
The room is art deco in style and was inspired by one of the staterooms on the cruise liner the Queen Mary. During the war, it became a favourite place to hang out for many airmen. You can see their signatures on one of the mirrors in Betty's. Reservations in the Belmont room can be made from 11am on a Saturday and from 1pm on a Thursday, Friday, Saturday and Sunday.
There is a wide choice of tea included and Mum and I enjoyed a glass of champagne, at an additional cost. I went for the 'normal' British tea. I'm a builders tea kind of girl. If it's not hot and it's not strong then I'm not going to drink it.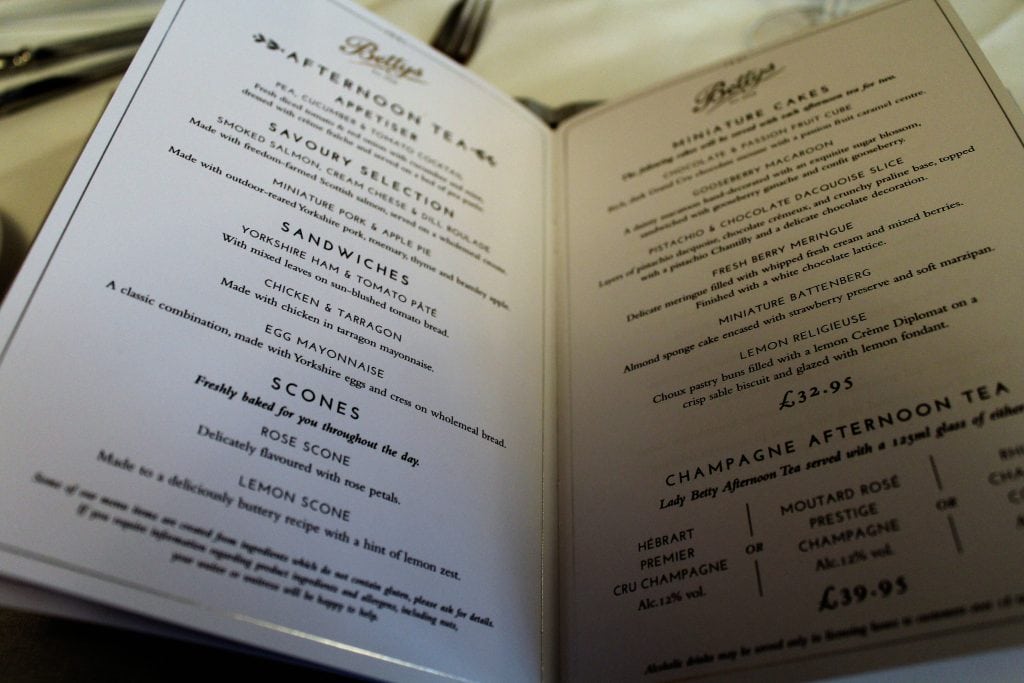 As you can see from the menu above there was a lot of yummy food to come. We had requested a children's version for Jamie that was around half the price. His came first, which he was absolutely delighted about. Like ours, it came on a 3 tiered silver cake stand. He could choose his sandwich filling and they asked about any dietary requirements or preference as to what he'd like to eat. We didn't change anything and aside from the macaroon and one of the sandwiches he ate everything. His favourite being the scone. I must admit that was my favourite too.
The sandwiches were incredibly tasty. My favourite was most definitely the chicken and tarragon. I could have eaten a lot more and we were offered more but we declined, I was mostly thinking of fitting in dinner at the hotel later. The desserts were also very tasty but we both found the chocolate a little too rich. That's our taste buds though. I'm sure it would be a massive hit with chocolate lovers.
Jamie did decide to have a bit of a meltdown about his new shoes while we were there. Apparently, they were rubbing….even while he was sat down. We had a few tears but he soon cheered up and his outburst mainly went unnoticed. In fact the table behind complimented us on our well-behaved boy and how well he ate his food. I'd challenge anyone not to enjoy the food at Betty's though. It was a delicious treat and I could happily go every week. If I had the money and lived nearby that is.
If you enjoyed my blog review please comment or like/share over on social media. For more ideas of things to do in York why not check out – York Minster with kids, York castle museum, National railway museum York and National railway museum York.