We were recently invited to review Room on the Broom at the Nottingham Theatre Royal. When we go to the theatre we like to make a day out of it so we were thrilled to be offered a chance to eat at TGI Fridays to review their lunch menu. The show started at 2pm so this was a perfect opportunity for us to go for and to review a pre-theatre lunch.
TGI Fridays – Nottingham – A Review
This was an opportunity for Jamie to go to an American diner and to try some American style food as part of our challenge to try all different world cuisines. TGI Fridays is also a chain restaurant which is another ongoing challenge of ours (read more at the end of my review about TGI Fridays). We even managed to visit on a Friday! The restaurant is located directly opposite the right-hand side of the Theatre Royal. So it's a perfect spot for a pre, or after, theatre lunch. It is also located within a short walk of the shops and the cinema.
We arrived at 12:15pm and we were promptly greeted and shown to our table. I am pretty sure the staff did not know we were there to review so we were not given any preferential treatment. Which when you are there to review it's how you want it to be.
Jamie was greeted in a friendly manner and handed a kid's activity pack. Which he was just thrilled to bits with. The comedy glasses went everywhere with him for a while, even inside the theatre.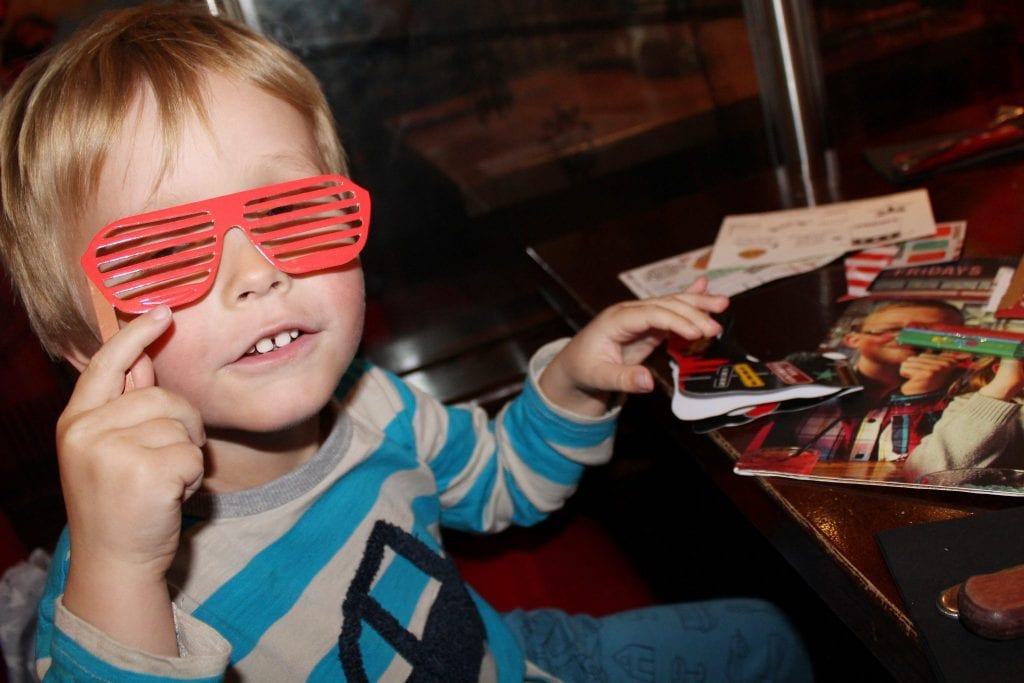 His pack contained the comedy glasses, a selfie portrait frame, stickers to colour, a loyalty card for collecting emojis – If they collect three emojis (they receive one each visit) they then get a free gift. Plus there were crayons and an activity pack. This was plenty to keep him occupied which was great for us as I hadn't brought anything with me.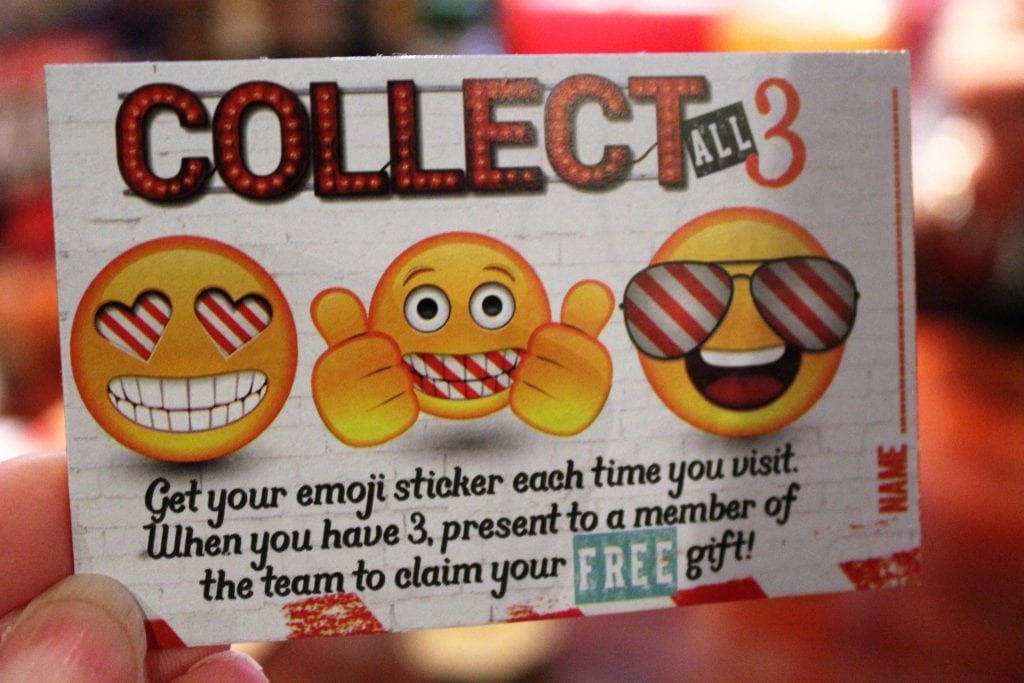 The Drinks menu at TGI Fridays
Mum and I had been fancying a cocktail with our lunch before we even arrived. The menu certainly had that one covered. The cocktail menu is vast with over 500 to choose from. It's separated into different sections based on what alcohol or flavour they contain. Such as daiquiris and margarita cocktails, fruity 'n fresh, classic cocktails and much more. They are mostly priced at around £6 for a small cocktail or £9+ for a larger portion of one.
I went for a small fruity n' fresh cocktail 'Summer Peach' – 'Archers peach schnapps, orange juice and orange sherbet, served frozen with cranberry juice'. Which actually lasted me the whole meal thanks to it being frozen and containing sherbet. It was lovely and refreshing. Mum opted for a 'Hurricane' from the Beach bar favourites – 'Havana Club Especial Gold rum, passion fruit juice and grenadine, topped with orange and citrus juices'. She said it tasted quite strong and liked the flavours. Mocktails are also available.
Allergen information can be provided for the drinks menu. Other alcohol containing drinks such as beer and wine and soft drinks are also available. Coca-cola on tap drinks are all available as endless refills. The bottle versions aren't. There's plenty of choices other than coke.
The kid's menu also has a good selection of drinks available. Jamie chose an orange slush for £1.50. His ice didn't melt fast enough and so he was left after about 45 minutes without a drink. I mentioned this to the waitress and she topped it up for him at no extra charge.
Kids Menu at TGI Fridays
For little appetites, there is the Little League menu at £3.99. This includes a main from a choice of 5 and then 2 sides, plus a small bowl of cucumber, carrot and apple. We asked for the fruit and veg bowl to come for him while we had our starters. They were more than happy to accommodate and his portion was huge.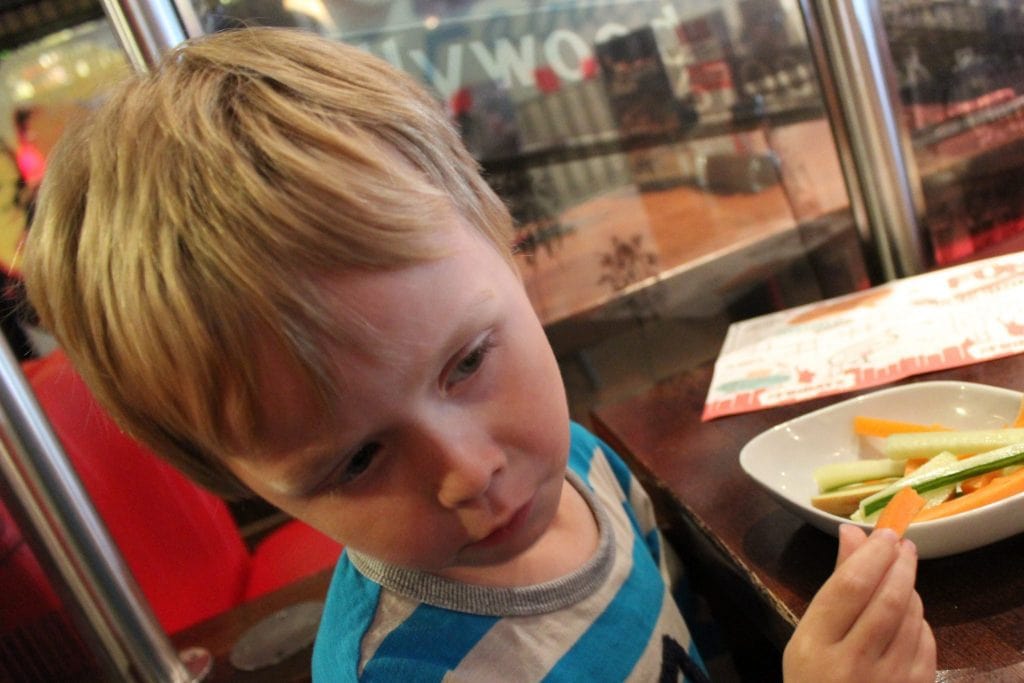 Jamie enjoyed his burger. It was cooked well and not too dry.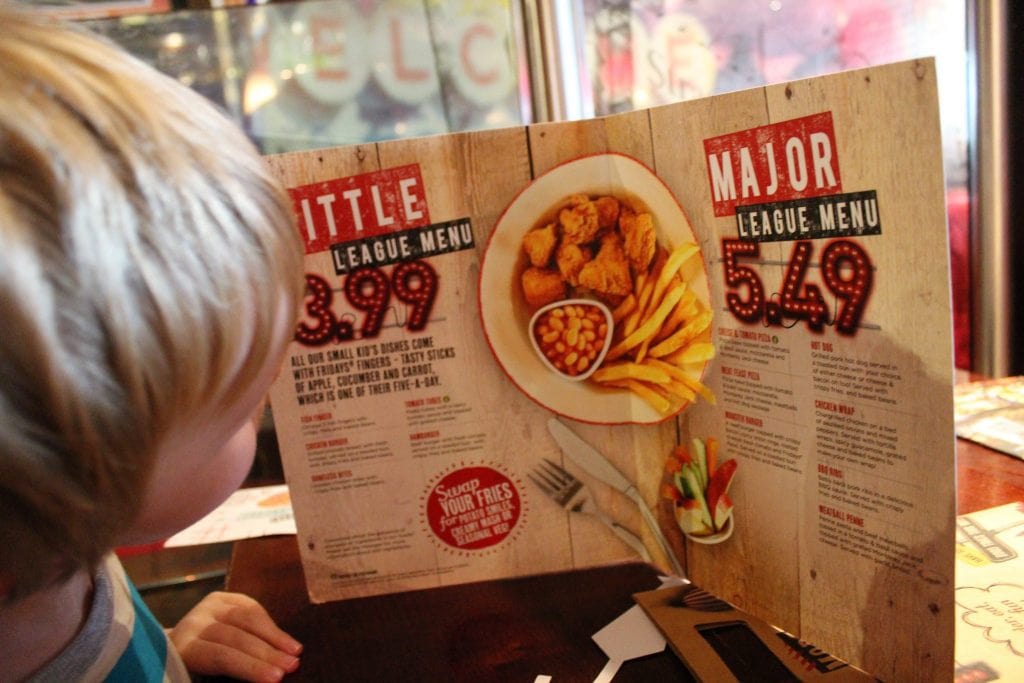 Allergen information can be provided. The website is great for checking out all allergens beforehand with a really good colour coded system. They also have brownies, sundaes, fruit and more for dessert.
Further kids and adult menu information can be found here
The Adult menu
From Monday-Thursday they offer well-priced menu options. Priced at £9.99, £13.99 and £15.99 for a starter and a main. The choices and money you can save are very good. We hadn't noticed that it didn't include Friday so wrongly tried to order from this part of the menu. The main menu itself can be ordered any day.
Starters
There is a good selection of starters and a great selection of dishes to share…or not to share. With so many dishes using Jack Daniels as a sauce or a glaze I just had to try the Jack Daniels sesame chicken strips. The sauce was amazingly good and the chicken was fabulous quality. Jamie even asked if he could try some as it looked so good and then kept wanting more and more.
They have many American starter dishes that you'd expect to see such as a good variety of chicken wings, nachos and loaded skins, plus many more.
I was so caught up in the experience I assumed I could pinch the prices of our dishes from the TGI Friday's website. I'm afraid the prices aren't listed online so I failed in my task, sorry! This I believe is because prices and offers can vary across the country.
Mum went for the bacon and cheese loaded skins for her starter. They looked really good and she was happy with her choice.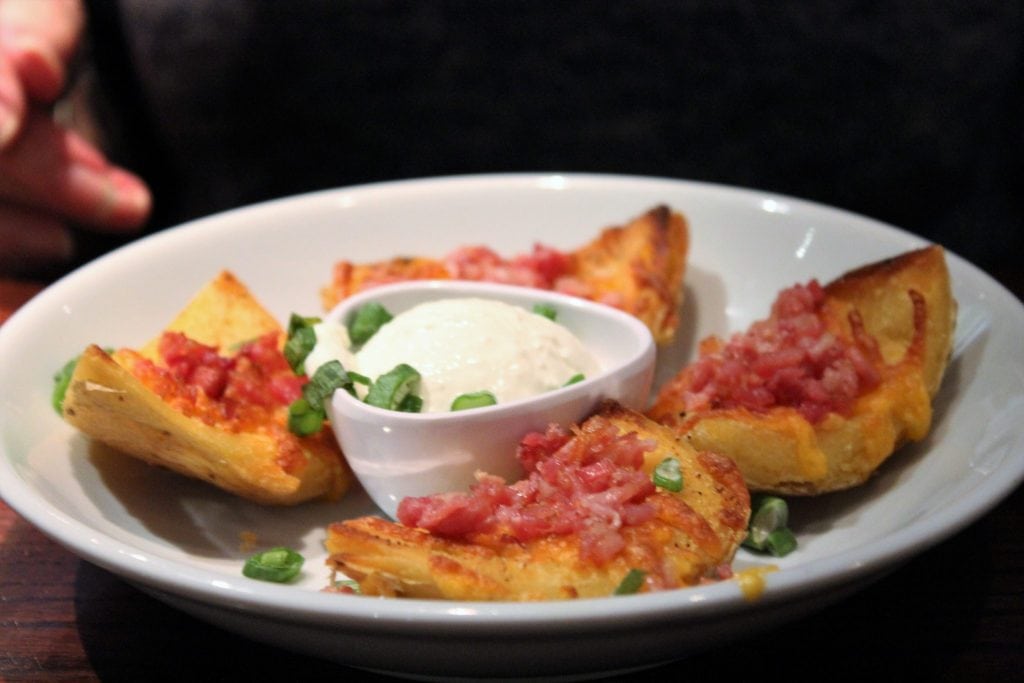 Mains at TGI Fridays
The choice of main meals is really impressive. They have their signature grills, steaks and other grilled meats and fish. Then no American diner can be without its fajitas. They have a choice of chicken, duck or veg. There's tostadas, chicken dishes and plenty of pasta and salad dishes to choose from, including vegetarian options.
There are 11 different burgers, not just beef but pulled pork, chicken and vegetarian too. Plus 5 different hot dogs and 4 hot sandwiches. Jack Daniels, chillies and amazing sounding sauces feature on many of the dishes.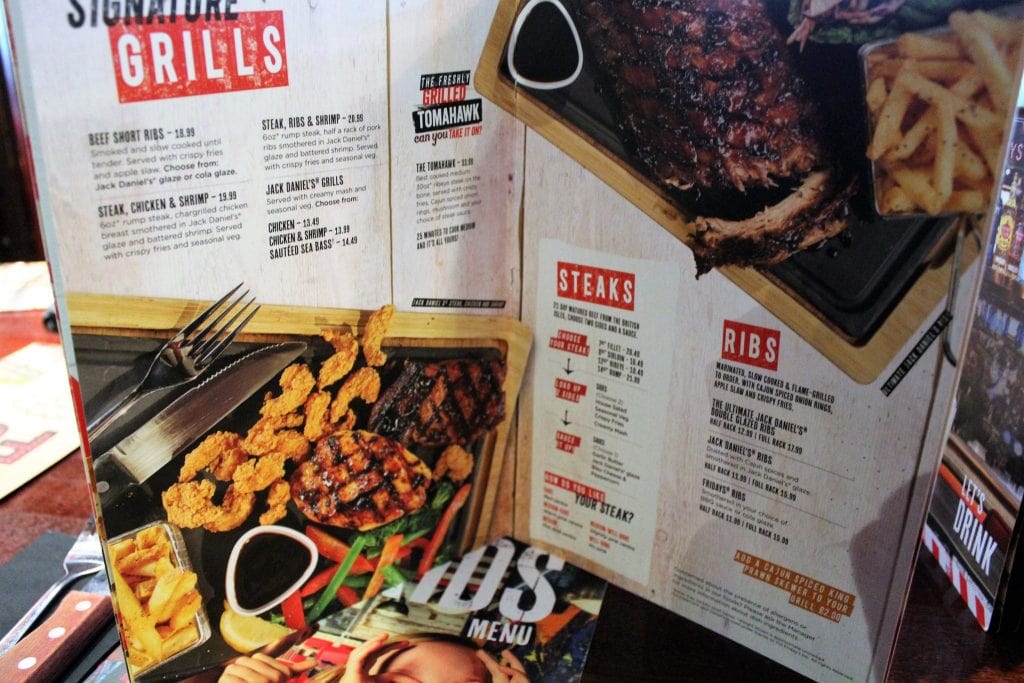 I love spicy food. I will eat it at any meal given half the chance. Plus if I'm going to eat American food then I will often opt for a burger. I went for the Green Chili Cheeseburger – 'Chargrilled hot chillies, jalapeños, cheese and chilli mayo. Served with scorpion hot sauce'. It was fabulous. The flavour of everything added to the top of the burger worked really well. The spicy sauce was a bit too hot for me though. The fries had a really nice flavour to them and the slaw worked well too.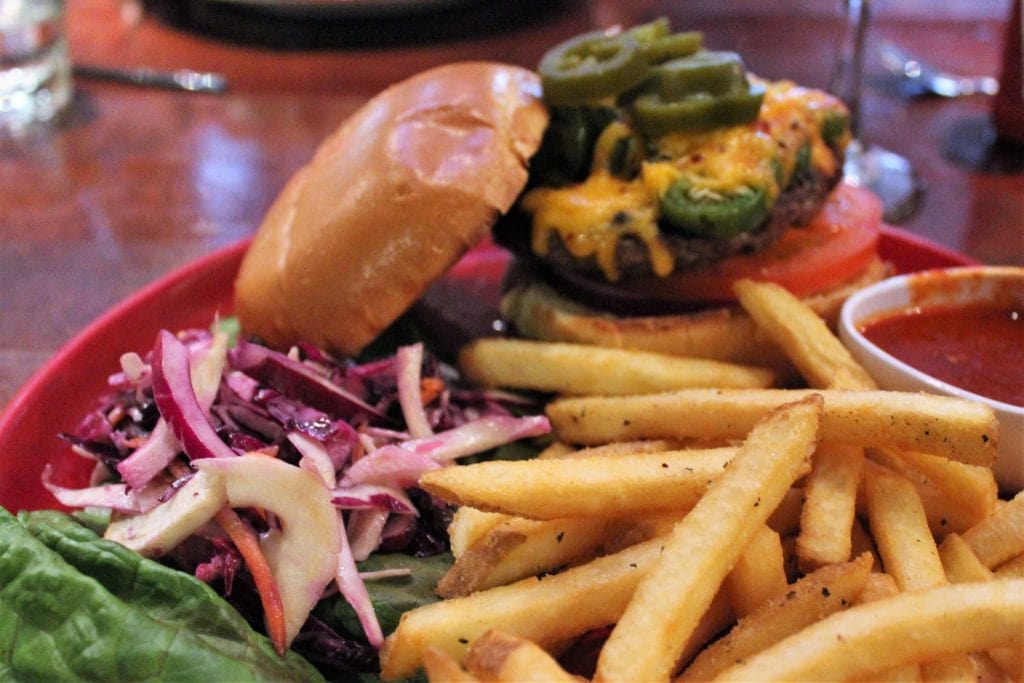 Mum opted for the Chicken finger BLT from the hot sandwiches – 'Crispy chicken breast tenders with melted cheese, rocket, tomato, crispy bacon and honey mustard mayo. Choose from: Ciabatta or Waffle'. She was a bit disappointed because it didn't state on the menu that the waffle was indeed sweet. I am sure lots of people would love this but it wasn't to my Mum's taste. She didn't mind too much as she still had plenty of food on her plate and normally leaves the bread etc. anyway. It was certainly an impressive plate full and she enjoyed what she ate.
Dessert
None of us had any room left for a dessert. There is plenty on offer though from cheesecakes to sundaes and more. I loved the sound of the Pecan Bourbon Pudding – 'Hot toffee sponge, crunchy pecan and bourbon caramel sauce with real dairy ice cream'. Mmmmmm it sounds like heaven. They also do a fabulous sounding Rocky Road which is one of my favourite desserts.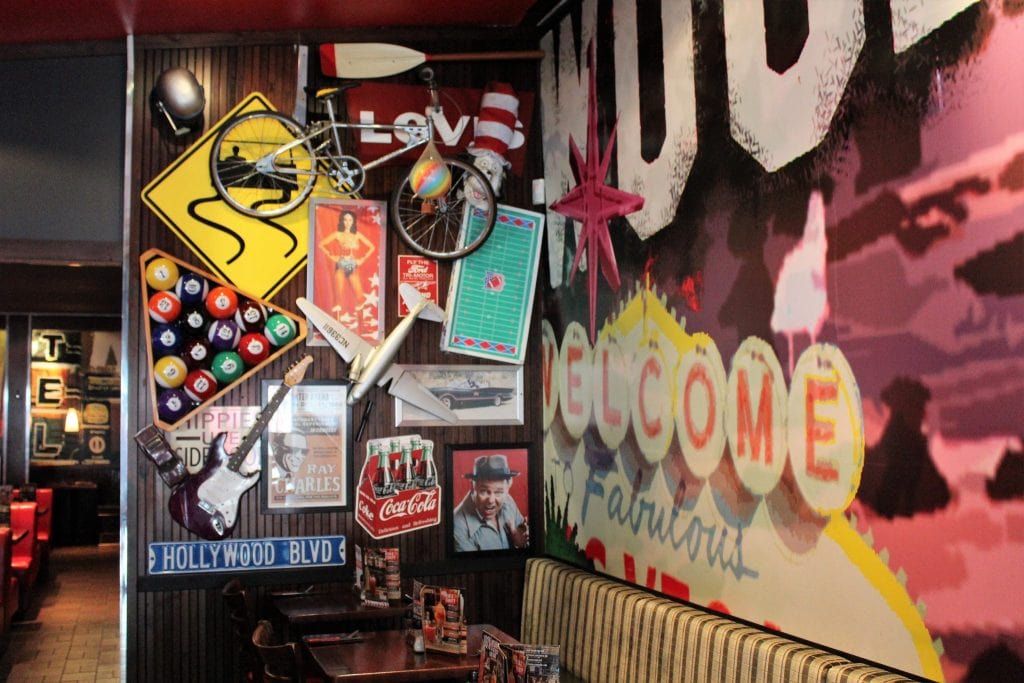 Overall our meal of 2 small cocktails, 1 fruit slush, 1 Little League kid's menu, 1 small sparking water, 2 starters and 2 main meals came to just over £53.00. My Mum and I thought this was very reasonably priced and we would certainly eat here again.
We felt that the delivery of food was spot on and we never once said "Where is our food" to each other. Well, Jamie did but he says that within 1 second of sitting down anyway. The staff were friendly and attentive. The food quality was all of a high standard.
The Important Bit – About TGI Fridays
TGI Fridays is a chain throughout the UK with 90 to choose from I am sure there will be one near you somewhere. Menu offers and dishes may vary by restaurant. To find your nearest restaurant simply follow this link.
TGI Fridays in Nottingham is located in the City centre. It is open 7 days a week from 11:30 am until 23:30 in the evening. This restaurant even delivers. As well as being next to the theatre it is also next to the cinema and is close to the shops. They have disabled access and you can book online. Free wifi is also available within the restaurant.
Disclaimer: We were gifted this meal in exchange for an honest review. All words and photos are my own.
If you enjoyed my review or have any further questions please comment below. I would love a follow or share over on social media.
Why not pin this post for later? Simply click on the image above to take you over to Pinterest.