As part of our bucket list, we are working our way through different cuisines of the world. Plus as many different chain restaurants as we can possibly manage. We love eating out and Jamie, at the age of four, eats curry and chilli every week and is happy to try just about anything.
I have had my eye on Turtle Bay in Nottingham for a while now. They have over 40 restaurants across the UK and are the only chain, on our shores, serving Caribbean food. It's not a cuisine we eat much of so I was keen to try it out. I am a big fan of coconut and fruity flavours mixed with spice so having a quick look online the menu sounded perfect.
Turtle Bay Nottingham Review
We were booked in for a complimentary meal. I'm sometimes a little dubious of this as I want to bring you an honest review. It was only at the end of the meal that I realised that our friendly and helpful waitress did not have a clue that we were there to review. I was really happy to hear this as she had been great throughout the meal.
I have heard that Turtle bay can be extremely popular and a buzzing atmosphere in the evening. The ambience at lunch time was much more relaxed and perfect for families. They have highchairs and baby changing for the little ones. Children are given a box of crayons and a fun packed activity book. There was plenty in it to keep Jamie entertained and happy.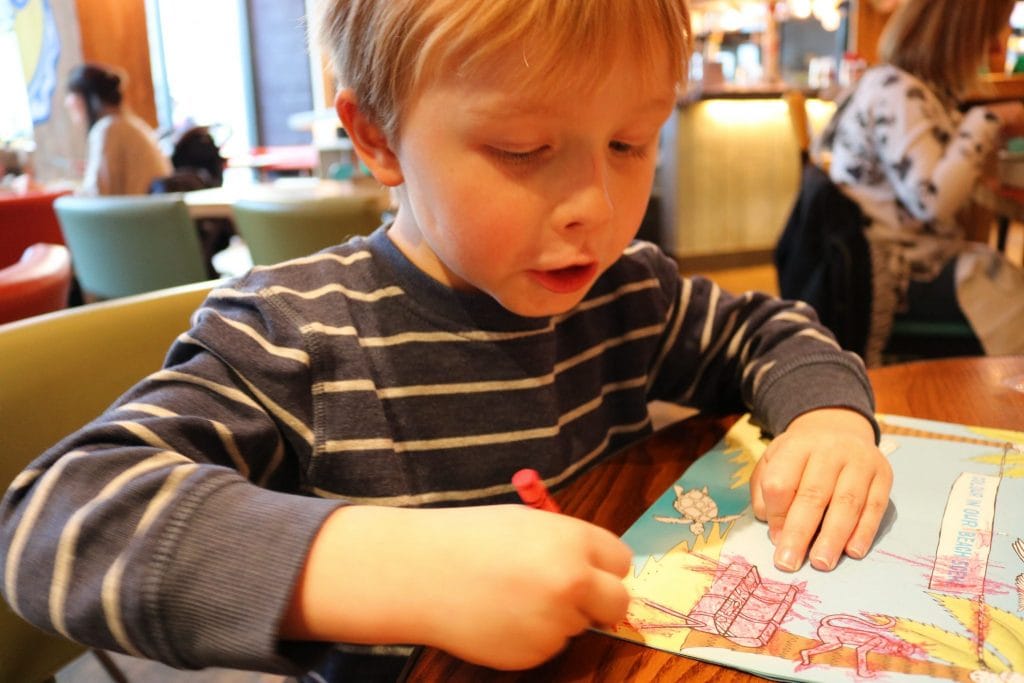 At least half the people eating in the restaurant were families. All the children were given extra special attention from the waitresses which was nice to see. We were both made to feel very welcome which can put you at ease when eating out as a family. Children under 14 are not allowed in the restaurant after 9 pm so this is something to take into consideration if you do visit in the evening.
Inside Turtle Bay, Nottingham
They are as true to the Caribbean as they possibly can be. The décor made me feel like we were eating at a Jamaican bar. There was upbeat Reggae music being played at all times which helped with the feel of the restaurant. The tables were big and the seats were comfy. They have brightly coloured art work on the wall and Caribbean themed decorations.
I especially loved the bright hand written signs above the kitchen/serving station.
I took the time to explain a bit about the Caribbean to Jamie and I do believe it was the first time he'd ever heard reggae music.
The Drinks
The cocktail menu looks and sounds really good. Sadly I had to drive home so I didn't dare risk trying one. They have a happy hour 2 4 1 on cocktails which is something to look out for. Otherwise, all cocktails with alcohol are £7.15 each. Over 90% of the cocktails contain the traditional drink of the Caribbean, rum!
We settled for two Caribbean softs. I wasn't sure which Jamie would like as they mostly contained fruit and flavours that he's not used to such as elderflower, pomegranate, coconut and cream. Priced at just £3.60 each we both were given a really good sized drink that lasted the whole meal. In fact, Jamie even had a little left over. I chose a Pineappleade which contained pineapple, lime and club sofa. Plus a Passion fruit cooler with passion fruit, orange lemon and ice.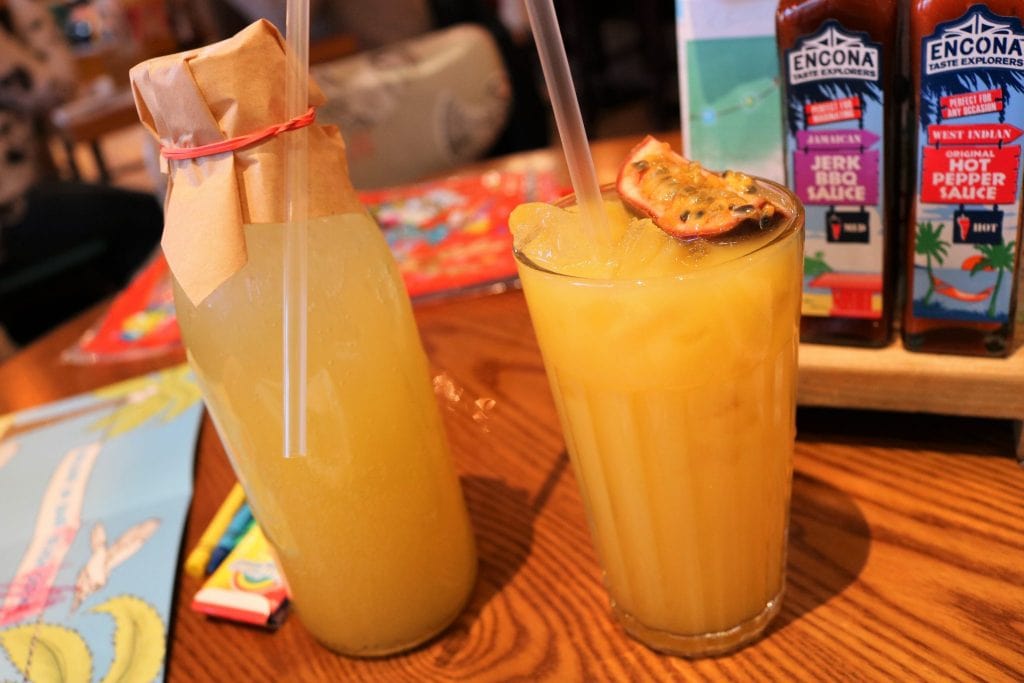 They both tasted exactly as they sounded. The Pineappleade was very strong in flavour and I thought Jamie wouldn't like it. He actually loved it and didn't want to share.
Kids Menu – Little Turtles
The kids' menu is a choice of mains. There is nothing else included in the price. However, all kids mains are just £4.50 and come with a choice of fries, steamed rice, rice 'n' peas or salad. There are two versions of burgers, a chicken dish and a flatbread with cheese (with or without chicken). I was expecting Jamie to want a burger but he opted for the flatbread with tomato and salad plus boiled rice.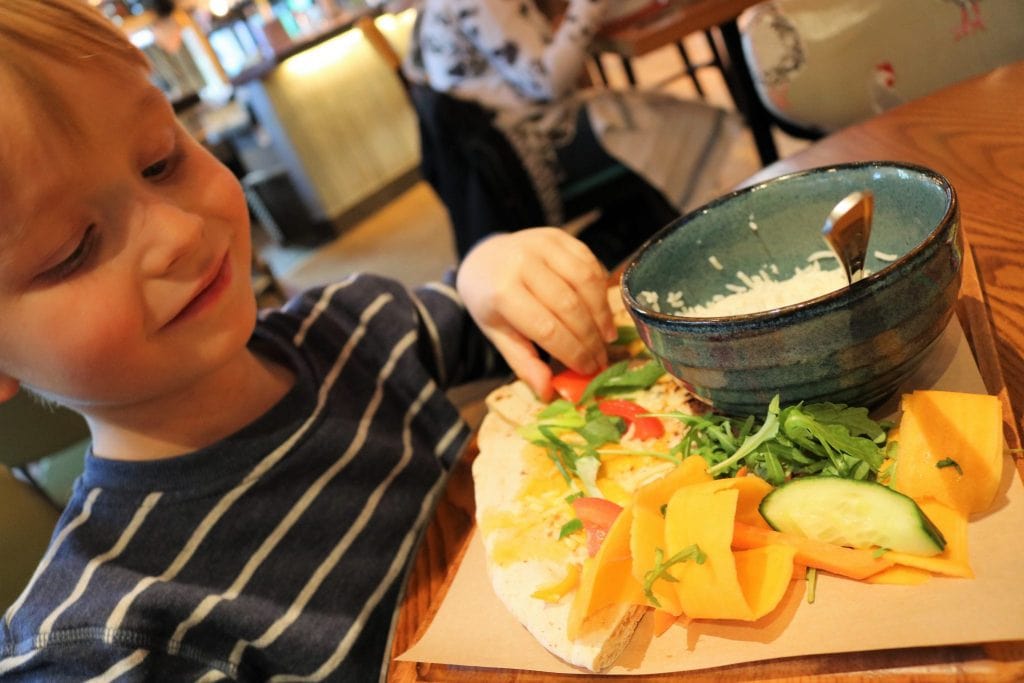 He was a little bothered about some of the salad actually being on his flatbread. So once picked off for him he tucked in. He enjoyed the bread and rice and insisted on a dip of ketchup for his bread. The food all looked very fresh and the portion was certainly generous.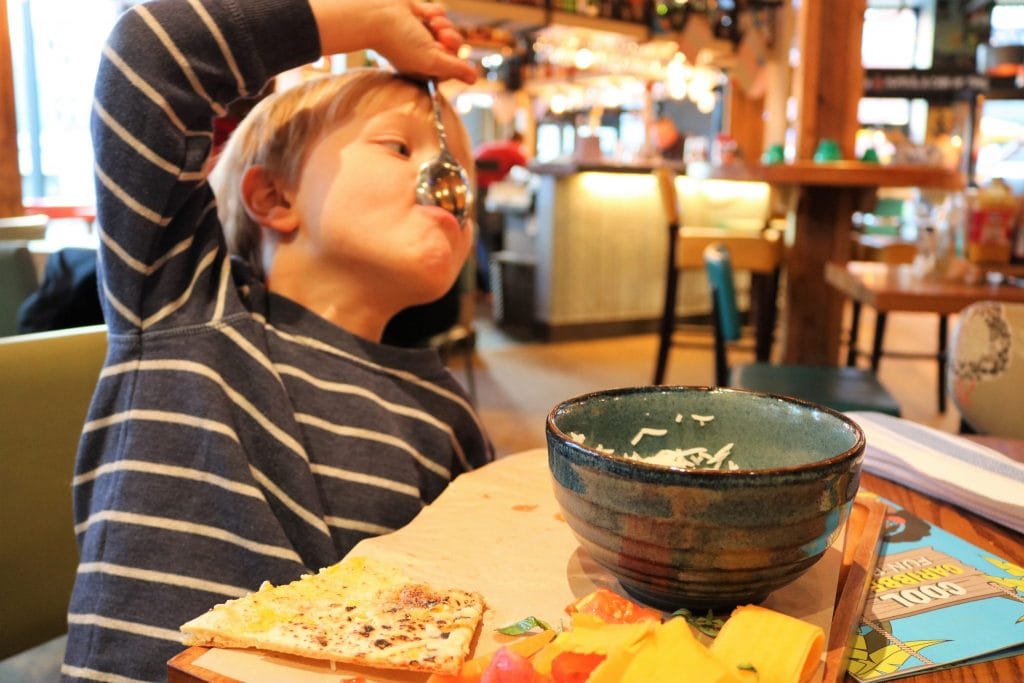 Starters at Turtle Bay
You can choose from a 'Cutter' sharing menu. These can be ordered as a starter either for one or to share with others. The food is inspired by street and beach shack vendors across the Caribbean. There's a good variety of dishes to choose from such as whitebait, wings, jerk ribs, sweet corn fritters and many other tasty sounding starters.
I opted for Garlic and chilli pit prawns. For £6.50 I had 4 large prawns cooked in their shells with garlic and chilli. This was served with a flat bread. It was quite spicy but not blow your head off spicy. The flavours were very different to anything I'd tried before and worked well together.
Main Meals at Turtle Bay
For main course, you can choose from salads, a wide variety of burgers including a vegan option, wraps and toasties all with a Caribbean twist. Their main specialities seem to be the Jerk Pit BBQ dishes and the one pots. The one pots are a meal in a pot of rich and slowly simmered meats and or vegetables. Most include coconut or a fruit such as mango. I was very tempted by a one pot, however, jerk seasoning is, to me, the Caribbean. So I opted for their classic dish of Jerk chicken.
All the meats on the Jerk pit BBQ are marinated for 24 hours in their homemade jerk marinade. You can choose from a classic jerk (spicy) or coconut jerky sauce (creamy). There is jerk chicken, ribs, pork belly, lamb chop, sirloin steak and fish. My classic jerk chicken came with coconut rice 'n peas, sour orange chutney, coconut shavings and a Caribbean slaw. I could have changed the rice for another side, however, I was pleased I didn't. My dish of a half jerk chicken was £10.70. Most mains are between £10-12.50.
The verdict? It was incredibly tasty. I loved it. The chicken fell off the bone and the Caribbean slaw went so well with the spicy flavours. The chicken wasn't at all dry and my only criticism is that I'd have liked more sauce. I didn't want it to end. It wasn't a hot dish however with the choice of sauces on the table I certainly could have added more of a kick to it.
Desserts
We didn't really have room for a dessert. I had tried to choose carefully so that there would be room however we were both quite full. Jamie was insistent we try something though so I caved and ordered us a couple of desserts to try. We shared them and certainly didn't finish them. On a recommendation from the waitress, we went for a dark chocolate brownie and a banana and toffee cheesecake. Both were a little bit of dessert heaven. No way could Jamie have eaten either by himself. They don't have a kids dessert menu but they can provide them with some ice-cream.
Final Thoughts on Turtle Bay Restaurant
I was really impressed by the flavours. If this is how they eat in the Caribbean then I'll happily fly out there tomorrow. Everything tasted fresh and cooked on site. The lady serving us was always there when we needed something and was chatty and bubbly. I am pleased she wasn't like that just because we were there to review (as she didn't know). If we go again, which I hope we do, I will order Jamie a burger as I think this will be more to his liking. I would love to try one of their one pot dishes and we'd certainly have the same desserts again.
---
Disclaimer: We were provided with a complimentary meal for the purpose of this review. All words, thoughts, opinions and photos are entirely my own. Please do not reproduce without consent from myself.
If you enjoyed my blog review please comment below. Why not subscribe to my newsletter for regular updates? Or keep in touch on social media. We are very active on Facebook, Twitter and Instagram. Why not pin this post for later? Simply click on the image below and maybe give us a follow as well.