Lake Garda is the largest lake in Italy. It is located in the north of the country and the lake is known for its crystal clear water. With shorelines stretching over 90 miles, covering three regions and 15 chocolate-box towns, there's a perfect destination for everyone. There is plenty to do when you get there and the weather is great almost all year round, especially from around early May onwards. It's certainly somewhere where you will want to cool down in the pool.
There are a lot of hotels in the Lake Garda area so we have rounded down to 10 of the best family-friendly hotels. You can find out all about the facilities on offer at each hotel below plus some extra useful info. Hopefully, it will help to choose your next holiday to Lake Garda that bit easier.
Please note that not all the hotels listed are directly situated on the lakeside, some are a short walk or drive away from the lake itself.
*affiliate links – clicking to book or view will cost you no extra
Happy Holidays (In no particular order ….)
Address: Via Peschiera, 3, 37011 Bardolino VR, Italy
About – The Hotel Caesius Thermae and Spa is the perfect family-friendly holiday destination for a fun in the Italian sun and plenty of opportunities for relaxation. It enjoys a superb situation, close to the lake and the Bardolino promenade, which is just a half-hour walk away.
If you prefer to ride or younger guests' legs are a little tired, then the hotel provides a free shuttle service that will take you back and forth to Bardolino throughout the day. There is plenty to get excited about here, with a variety of facilities and activities to keep you entertained. There are seven outdoor pools, two of which are designed for specifically for kids. After your dip, head back to the lounger and enjoy some Italian sun while the children enjoy some tennis. You can spend a lazy afternoon in the pool or take in the spa, which has a stylish setting. Guests can also enjoy live music in the evenings.
---
Address: Via Gardesana, 400, 37018 Malcesine VR, Italy
About – The beautiful Astoria Hotel Malcesine is a family-run hotel and boasts an exceptional location – very close to Lake Garda, and the nearby super beach area, plus it offers extraordinary mountain views too. 
There are spacious gardens and a lovely pool which provides plenty of space for relaxation and perhaps soaking up some sun. The hotel accommodation comprises of a variety of fresh, bright rooms, all well equipped to ensure each member of the family enjoys a comfortable stay. The rooms all offer stunning views too.
There is a convenient buffet-style restaurant on site, as well as a lounge bar serving refreshments and snacks. The Astoria Hotel is the perfect choice for those searching for a simple yet sophisticated family-friendly place to stay whilst they explore all the beauty and adventure that the local area has to offer.
---
Address: Via Gasparina, 7/a, 37014 Castelnuovo del Garda VR, Italy
About – Situated on the edge of the historical town of Castelnuovo del Garda, the Gasparina Village Apartments is a great choice for those looking to explore the area and its nearby attractions. Its spacious gardens and pool provide plenty of space for relaxing and sunbathing.
The large lagoon-style pool features slides and jets which the kids will love. There is also a daily kids' activity program for the little ones to get involved with. The onsite minimarket is also a great place to pick up some essentials. The hotel offers a variety of comfortable rooms and is a great place for people who are looking to enjoy all the beauty and activities that the lake has to offer.
Each of the hotel's apartments has a balcony or terrace that overlooks the pool and gardens. The apartments also each has fully equipped kitchens, an ideal set-up for families travelling with younger children. The room interiors are simple and bright, with fabulous, colourful floor tiles and bright walls and décor throughout.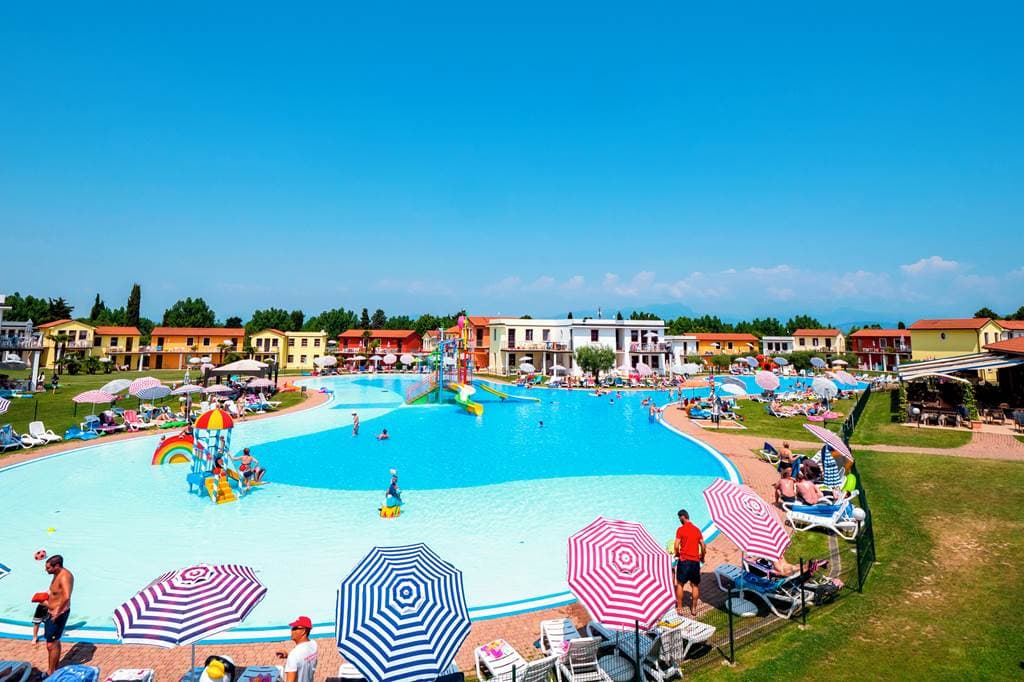 ---
Address: Via Palù, 1/A, 37014 Castelnuovo del Garda VR, Italy
About – Situated just minutes from the Gardaland Theme Park, the Gardaland Adventure Hotel is an ideal choice for those who are looking to stay somewhere near to the action. The fun starts immediately upon arrival, as you enter via the crashed submarine and into the reception area.
After that, it's off to explore the room options, which include an Arctic igloo, Wild West desert, or Arabian palace. Whichever one you choose, it'll be an adventure. The hotel's restaurant, the Wonder, serves a variety of meals and snacks, and you can even enjoy a buffet breakfast in Tutankhamun's Tomb.
When you are not in the park you can enjoy the outdoor pool or younger guests can participate in the kids' entertainment. Be sure to remember that access tickets to the theme park are not included in your hotel stay. However, as hotel guests, you are entitled to purchase discounted tickets at the hotel's reception.
---
Address: Corso Giuseppe Zanardelli, 84, 25083 Gardone Riviera BS, Italy
About – Situated on Lake Garda, the Grand Hotel Gardone Riviera is an ideal choice for those seeking a taste of luxury whilst exploring Lake Garda and the local areas.  Surrounded by the majestic Italian countryside, this hotel exudes the elegance of a traditional Italian getaway.
The piece de resistance at this property is its terrace, which features a flower-lined walkway that extends the length of the building. This area offers guests the opportunity to enjoy a drink while taking in the magnificent views of the lake. The Grand Hotel Gardone Riviera was once an absolute favourite retreat of Winston Churchill, the lounge bar takes its name from him.
The outdoor pool, which features whirlpools, is the ideal place to cool down and take in the far-reaching views of the Lake itself too. There is often fun evening entertainment suitable for all the family to enjoy.
---
10 Best Hotels Lake Garda Italy
Address: Via Giovanni Paolo II, 3, 37014 Cavalcaselle VR, Italy
About – The Belvedere Village Apartments are a village-style complex that offers a variety of activities and facilities for the whole family. There are three large swimming pools, a children's club, and a kids' playground within the complex.
These are all located within the gardens, which are lush and green. The apartments are spacious and modern, and they are well-equipped for a family holiday. The whole family will love the aquatic complex here, with younger guests particularly enjoying the outdoor freshwater pool which features some cool slides.
Kids will also enjoy fun and games at the on-site playground and getting involved at the Children's Club which offers a whole variety of fun-based activities for ages four to ten years old. Other sports activities at the hotel include table tennis and volleyball. The onsite restaurant offers the choice of buffet style or a la carte dining, with a great mix of traditional Italian and international cuisine.
---
Address: Via Bell'Italia, 2A, 37019 Peschiera del Garda VR, Italy
About – The charming Hotel Bella Italia is located in the heart of the Bella Italia complex, which is just a few steps away from the beach and the Peschiera resort centre. This property offers a variety of facilities such as an indoor and outdoor pool, a children's games room, and a whole host of restaurants and bars.
If you are looking for more activities, then head over to the nearby Bella Italia complex, which has plenty more swimming pools, restaurants, and shops. The hotel is a great choice for those looking for a more relaxed holiday but with facilities galore just steps away. Guests of the hotel have access to no less than five swimming pools, including a super heated indoor pool which features a whirlpool.
Older guests will love to make use of the opportunity for water sports including canoeing and windsurfing. Younger guests are very well catered for too, with the fun-based Children's Club where they can get involved with arts, crafts and music workshops. There are also indoor and outdoor playgrounds to explore too.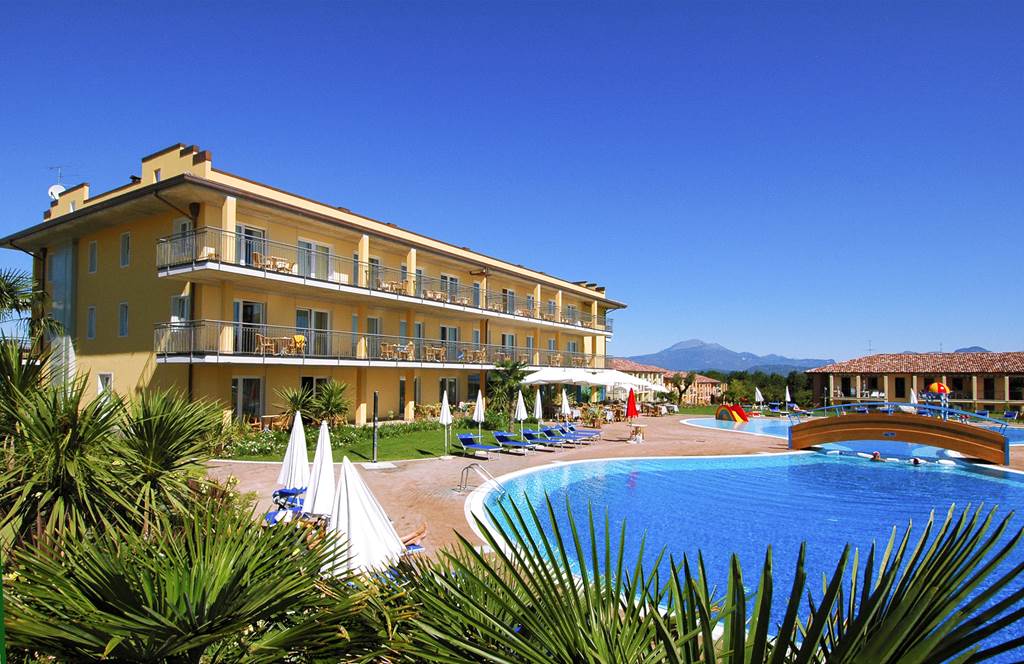 ---
Address: Viale Rovereto, 44, 38066 Riva del Garda TN, Italy
About – The Du Lac et Du Parc resort is located in an enviable position, surrounded by two ornamental lakes and hosting a  variety of leisure facilities. This hotel offers a wide range of services and facilities, such as bike hire and sailing schools.
Its elegant dining room and bar are also within easy reach of the park's outdoor pool. The convenient poolside snack bar, La Capannina, serves light refreshments and snacks throughout the day. This tranquil retreat offers a variety of activities and services, including a spa, heated outdoor pools, and a variety of food and drink options.
Kids can also enjoy the mini-Club, which features a pool and a mini-bar. There are two swimming pools, both of which are heated and are surrounded by greenery, and there's a dedicated kids' section too.
---
Family Hotels in Lake Garda Italy
Address: Str. Col Alt, 105, 39033 Corvara in Badia BZ, Italy
About – The La Perla is a modern hotel that offers everything you need for a family-friendly, relaxing, and fun break on Lake Garda. The hotel has a variety of different styles of rooms available and there is a big, fabulous outdoor pool enveloped by comfy sun loungers.
The Drinks Lounge is also a great spot to kick back comfortable in one of the bright lime green seats, enjoy a cocktail and listen to live music. You can spend some peaceful time exploring the gardens or taking in the stunning views from your room's balcony. There is a cute outdoor play area for the little ones to enjoy. For more adventurous activities, try renting a bike to explore the local area and of course the lake.
---
Address: Via Poiano, 37016 Garda VR, Italy
About – The Poiano Resort Apartments are located in the heart of Lake Garda. The apartment-style accommodations either sleep up to four or up to six people and are very well equipped to ensure comfort and enjoyment. Each apartment features either a balcony or a terrace area ensuring guests have plenty of space to enjoy their meals and drinks, and of course to take in the views.
The property features a variety of family-friendly facilities such as a swimming pool, a restaurant, plus tennis and football courts. Younger guests will love getting involved at the daily Children's Club where they can enjoy all sorts of fun activities. There is regular daytime and evening entertainment. If you're planning on exploring the area further, you can take advantage of the free bus to the nearby resort centre.
---
Please conduct your own research through reviews and the company's websites with regards to the facilities, the rooms and upkeep of the above hotels. The above information is for reference only. Please also check their cancellation policies with regards to Covid-19 and any current travel restrictions.