To help you plan your next holiday overseas we have compiled a list of 10 of the best family-friendly themed hotels in Spain. These are 10 hotels we would love to visit as they look great for families. Below we will list the name, location and main facilities at these hotels.
Sometimes it can be a tough job wading through hundreds, if not thousands of choices, hopefully, this will eliminate the time-consuming searching. I have also included hotels located on Spanish islands in this post such as Tenerife and Majorca.
*affiliate links – clicking to book or view will cost you no extra
Happy Holidays (In no particular order ….)
Address: Rotonda del Fuego Terra Mítica, 03502 Finestrat, Alicante, Spain
About – The Barcelo Asia Garden Hotel and Thai Spa has been designed to offers guests an authentic taste of the Orient.
Hotel Theme – You will be captivated by the tropical gardens which are filled with ponds of Koi Carp, colourful lily-pads and plants and flowers from faraway lands. The hotel offers views of both mountains and the ocean adding to the magical atmosphere. There is a Thai wellness spa featuring various luxury treatments. There are six pools, some of which offer majestic infinity edges, whilst others are entered via bamboo bridges and are overlooked by muslin draped day beds. All around guests can enjoy bright and beautiful floral displays and exotic palms.
Food – In keeping with the Asian theme, there is a Japanese restaurant offering all the exquisite tastes of the Orient, in addition to a Mediterranean restaurant ensuring all dietary preferences are catered for.
Rooms – Each room is decorated in Japanese-style tones and come complete with authentic kimonos.
---
Address: Av. J.M. Galván Bello, S/N, 38639, Santa Cruz de Tenerife, Spain
About – The Fantasia Bahia Principe in Tenerife invites you to enjoy an all-inclusive fairy tale holiday for all the family.
Hotels Theme – With a Fantasy theme throughout the resort, there is magic at every turn. The younger guests will be delighted by the fantasy castle, splash parks and children's entertainment.
Fear not, however, adults are not forgotten as they are invited to enjoy the adults-only infinity pool, some beauty treatments at the Bahia Spa, or even a session with the on-site hairdresser, whilst the children enjoy the kids club facilities.
Food – Of course, a huge part of enjoying a holiday is the variety of food options on offer and at Bahia Principe Tenerife you are spoilt for choice. There are four restaurants on-site offering a range of Italian, International, Asian and Indian cuisine.
Rooms – When it comes to accommodation there is a great selection of room options available to choose from, each offering stylish modern décor and some feature glorious sea views.
---
Address: Rda. de Atocha, 17, 28012 Madrid, Spain
About – Hotel Theme – Music enthusiasts of all ages will be enchanted by a stay at The Hard Rock Hotel in Madrid. Every inch of the hotel is dedicated to music legends past and present, and the theme throughout the property combines modern music styles with classic rock kings and queens.
An extra special perk to your stay at The Hard Rock Hotel, Madrid, is your invitation to take advantage of "The Sound of Your Stay" feature. This includes Fender guitar rentals and customised playlists.
Be sure to grab your official, collectable merchandise from the shop, too. It has an almost cult-like following among collectors throughout the world and has become synonymous with Hard Rock's immersive music experience. There is an outdoor pool, to enjoy.
Food – An A la carte breakfast is served each day at the hotel.
Rooms – There are rooms and suites available, all spacious and comfortable, with a bold, urban feel. Each room offers free music channels, bars and Lavazza coffee making machines.
Your perfect soundtrack and stunning views of the bustling city of Madrid await you at The Hard Rock Hotel, Madrid!
---
Address: Calle Richard J. Yeoward, 1, 38400 Puerto de la Cruz, Santa Cruz de Tenerife, Spain
About – The award-winning Botanico and The Oriental Spa Garden in Tenerife welcomes guests to enjoy a stay in its peaceful and tranquil Botanical Garden themed hotel.
Hotel theme – Every inch of the property has been designed to promote peace and well being within those who stay there.
A standout feature of this Asiatic paradise is the Oriental Spa Garden. Adults can unwind and revitalise their bodies, and minds as they receive luxury treatments inspired by every continent.
Outside you will find exotic gardens, with plants and flowers from every part of the globe, combining to create stunning and therapeutic aromas. Your ears are treated to the gentle sound of nearby flowing water fountains ensuring each of your senses are awakened during your stay.
Food – Taste buds are taken care of at the four A La Carte restaurants on the property which between them offer a range of Italian, Thai and International Cuisine. Plus, there is a Piano Bar serving a range of local and international beverages.
Rooms – Many of their rooms are deluxe rooms. They also have family rooms and suites.
---
Address: C. Mar Adriático, 1, 35100 Meloneras, Las Palmas, Spain
About – The luxury Lopesan Baobab Resort has an exciting African theme running throughout the property.
Hotel theme – Guests feel that they are enjoying all the adventures of a safari, but in Gran Canaria! Jungle themed gardens surround the hotel and the seven swimming pools (which include a beach pool and a lazy river), and the fabulous accommodation takes on an African safari lodge style.
Sports activities include table tennis and volleyball and there is live entertainment each evening.
The hotel enjoys an excellent location, just a ten-minute walk from the beach and just five minutes from the famous Maspalomas Lighthouse.
Food – A variety of different foods are available to enjoy at the four on-site restaurants, including one serving classic African cuisine which even serves zebra for a truly authentic dining experience. Live shows take place each day and there is always somewhere beautiful to sit and enjoy a cocktail or other beverage of your choice.
Rooms – They have large family rooms with terraces or balconies, plus suites and more.
---
10 Best Themed Hotels Spain
Address: C. de Bonn, 6, 03500 Benidorm, Alicante, Spain
About – Hotel theme – The Magic Aqua Rock Gardens in Benidorm takes on an authentic African theme and is a superb choice for a family-friendly All-Inclusive holiday on the Costa Blanca. It enjoys an elevated position overlooking the ever-popular Levante Beach.
There are two outdoor pools on-site, one of which was created with younger guests in mind, as it proudly features a splash zone and exciting water slides.
Whilst the younger guests are enjoying the entertainment at the children's club, adults can treat themselves to time at the luxury spa which features a sauna, a whirlpool and massage treatments.
At the end of each fun-filled day, there is live evening entertainment for all the family to look forward to, including mini discos, professional shows and karaoke.
Food – The All-Inclusive package includes buffet-style meals in the main on-site restaurant and snacks are available throughout the day as well as various local and international beverages.
Rooms – They have large family rooms plus other standard rooms.
---
Address: Partida Foia del Verdader, 1, 03502 Benidorm, Alicante, Spain
About – At the Magic Natura in Benidorm your family can enjoy all the fun and entertainment they can imagine under one roof.
Hotel Theme – Your stay at the hotel entitles you to free entry to the on-site Wildlife Park, as well as unlimited access to the fantastic and exciting Aqua Natura waterpark next door. At the hotel itself, you can enjoy three swimming pools, one of which boasts an impressive infinity edge.
Some of the extraordinary features of staying at the Magic Natura is the opportunity to enjoy a night safari, to witness the beautiful elephants being hand-fed, and invitations to listening to informative talks held by the Zookeepers.
Aqua Natura is a super well-equipped water park, with more than enough chutes, rides, and flumes to keep all the family happy day after day.
In the evening's guests can look forward to an action-packed entertainment schedule before retiring to the comfortable spacious accommodation.
Food – There are three restaurants on-site, serving a variety of cuisine including Italian.
Rooms – They have bungalows with terraces, some have a sea view.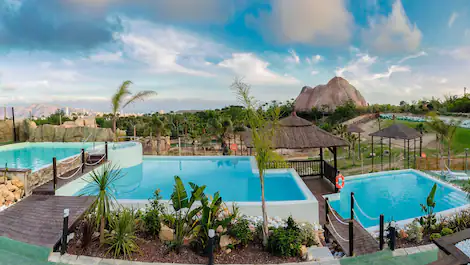 ---
8. Magic Robin Hood – Costa Blanca, Mainland Spain
Address: Camí Vell d'Altea, 1, 03581 l'Alfàs del Pi, Alicante, Spain
About – Hotel theme – As the name suggests the Magic Robin Hood Sports, Water Park & Medieval Lodge Resort on the Costa Blanca takes on an enchanting Robin Hood theme. It is located within the charming, typically Spanish town of Albir, which is a short distance from the hustle and bustle of Benidorm.
The pool and waterpark area is extensive and impressive, sure to thrill and entertain the entire family. Richard the Lionheart's Castle is ready for you to explore.
Food – There are no fewer than nine on-site restaurants, each serving a variety of international cuisine and each aptly named to support the entire theme of the hotel. For example, for a delicious grill, you can visit Friar Tuck's Inn Grill Restaurant, or pop on down to the Longbow Restaurant for scrumptious Italian fare.
Rooms – The imaginative accommodation consists of authentic wooden lodges, in keeping with the Sherwood Forest theme. For those looking for a little extra magic and luxury, some lodges are available with their own private whirlpools on the lodge terrace.
---
Address: C. Juan Díaz Rodríguez, 10, 35130 Puerto Rico de Gran Canaria, Las Palmas, Spain
About – Hotel theme – The Marina Suites in Gran Canaria offers a modern nautical theme, with the main pool being particularly impressive. It is a huge, sea-facing, infinity pool that is treated with salt as opposed to chlorine.
The property boasts an enviable location, just moments from the beach and from Puerto Ricos stunning marina. The whole property has been improved with thought and care and now offers a fresh and vibrant feel to its guests.
Food – On the food front, there's a buffet eatery offering a mix of international favourites and regional specialities. For an extra special dining experience, check out the brand new Restaurant 'El Puerto' on the ground floor.
Rooms – The hotel itself has recently been refurbished and the rooms are particularly family-friendly featuring mini kitchens to ensure the needs of all family members can be catered for at any time. They also have the option of separate bedroom areas, ideal for getting the younger guests to bed whilst the adults enjoy a quiet glass of vino.
You can enjoy either a sea view or a marina view from your room, either being most enjoyable and picturesque.
---
Hotel theme – As its name suggests, it features a fun pirate theme throughout the property. Every detail in the hotel has been meticulously designed to support this fun nautical theme and is sure to thrill buccaneers, young and old!
As part of the entertainment schedule, each week guests can enjoy a pirate show, showcasing action-packed sword fights, wondrous costumes, and enchanting fireworks.
The pool areas are dedicated to the pirate world and are made up of slides, waterfalls, and a fabulous pirate ship to explore.
Food – The board basis at the hotel is All-Inclusive and all meals are served at the Pirates Tavern, which includes a Children's Buffet.
Rooms – The rooms at Pirates Village are bright and comfortable, the perfect place for little scoundrels of the sea to rest their weary heads after a long day of battling enemies and walking the plank!
---
Please conduct your own research through reviews and the companies websites with regards to the facilities, the rooms and upkeep of the above hotels. The above information is for reference only. Please also check their cancellation policies with regards to Covid-19 and any current travel restrictions.