We are excited to have a bucket list holiday to Copenhagen in Denmark booked for this Easter. It's been high on my list for such a long time now. In preparation for our visit, I've been busy planning what we can do while we are there. I've narrowed it down to a list of 15 of the best things to do in Copenhagen. Everything listed below is family-friendly and hopefully, we will soon be visiting these places. We have no plans to leave the centre of Copenhagen so all attractions listed below are in the centre.
"Tivoli, also known as Tivoli Gardens, is an amusement park and pleasure garden in Copenhagen, Denmark. The park opened on 15 August 1843 and is the second-oldest operating amusement park in the world." There is over 30 different rides for varying ages and heights. You can also enjoy the gardens and choose from a great range of places to eat. They also have theatre performances and other shows.
The Little Mermaid
The Little Mermaid is a character from one of the wonderful books by the famous fairytale Author Hans Christian Andersen. I have treasured this book since I was young and the statue of the Little Mermaid is so iconic, especially for myself. I can't wait to see it. She sits overlooking the water that soon moves out to the sea. If you're looking for something else to do nearby there is the Kastellet star-shaped military fortress with ramparts and a museum. There is even a windmill in the middle of the fortress.
Nyhavn was once a busy 17th Century port where ships from all over the world would dock. It is lined with pretty 17th and 18th Century coloured houses and is one of the most photographed places in Denmark. There are some lovely cafes there to stop for a drink. Hans Christian Anderson even lived here for a time and wrote three of his stories while living there. Canal tours also run from Nyhavn.
Boat Tours
As mentioned above there are canal tours from Nyhavn. Other boat tours run from Gammel Strand, near Christiansborg Castle. Plus Ofelia Plads near Amalienborg Palace. As well as various canal tours there is also a hop on hop off bus tour. Some boat tour companies have English speaking tours.
Boat tours are around 100 DKK for adults and 48 DKK for children.
You can explore many of the palace's wonderfully decorated rooms. "Amalienborg is formed of four palaces. You may visit two of the palaces, in which The Royal Danish Collection offers experiences which allow you to get up close to royal history over the last 250 years.
In Christian VIII's Palace, the museum offers you a unique insight into the monarchy's history over the last 150 years, as well as an impression of royal life then and now. You can see the private chambers of the previous kings and queens, which are furnished in different styles, and with objects which are vestiges of different epochs in Danish history and of private interests."
Plus you can get the complete royal experience by seeing the Life Guards' changing of the guard in the Palace Square in combination with a visit to the museum in the palace.
Adults are DKK 95 and anyone 17 years and under is free. It is open for most of the year.
"Copenhagen Zoo is a zoological garden in Copenhagen, Denmark. Founded in 1859, it is one of the oldest zoos in Europe and is a member of EAZA. It comprises 11 hectares". They have daily talks and feeding times. Animals at the zoo include elephants, panda, giraffe, rhino, hippos and more. There is a choice of places to eat.
Day tickets for an adult online are just under 200 DKK and DKK 105 for a child. The zoo is open 365 days of the year.
"Rosenborg Castle was built by one of the most famous Scandinavian kings, Christian IV, in the early 17th century. Among the main attractions is the Knights' Hall with the coronation thrones and three life-size silver lions standing guard. Tapestries on the walls commemorate battles between Denmark and Sweden. The interiors are well-preserved and invite you to take a journey in time. You can experience the king's private writing cabinet, his bathroom, and see wax figures of former royal inhabitants."
The King's Garden is Denmark's oldest royal garden and it is a popular place for Copenhageners to meet and relax and for children to play in the artistic playground. The Renaissance-style garden was established by King Christian IV in the early 16oos. Among the attractions to be enjoyed here are the impressive herbaceous borders, numerous historical sculptures, and Krumspringet [ 'The Caper') – a restored Renaissance park with a pavilion, espaliers and rose gardens. It is located at Rosenborg castle.
"Records galore at the only Guinness World Records museum in Europe. The most incredible world records from all over. The fastest, highest, strongest … etc. That's what you meet at this museum. Test yourself in the museum's new activity room and explore the wonders on the new big touch screens, presenting you to the most astonishing records. See spectacular milestones in human history, fantastic achievements, unique wonders of the animal kingdom and loads of bizarre and grotesque records, you never knew existed, when passing by the world's tallest man at the entrance on Strøget."
You can purchase combined tickets for one other attraction online in advance. These cost 112 DKK per adult and 67 DKK for a child aged 4-11. It is open for most of the year. Entrance prices may be extra.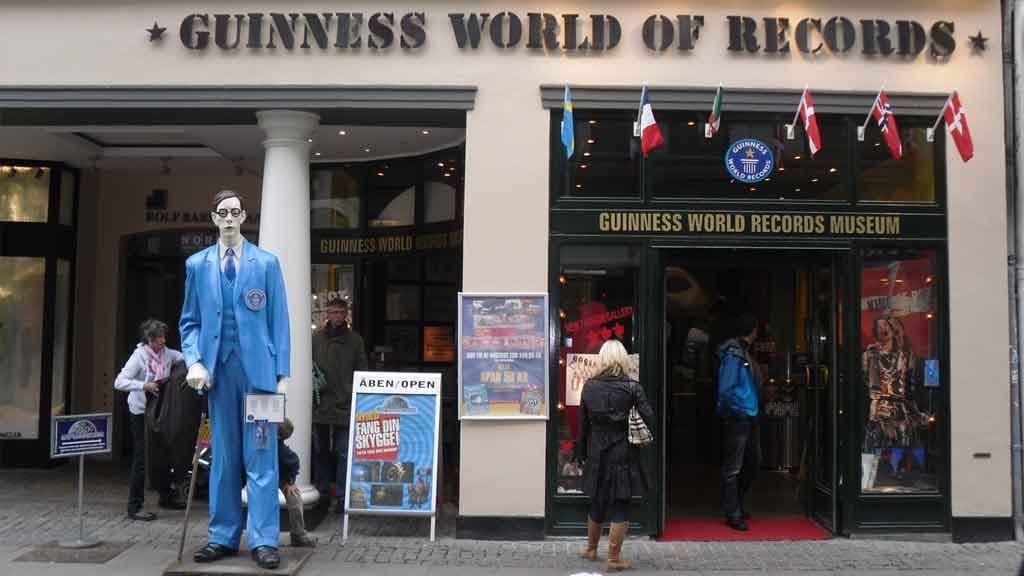 "Inside the H.C. Andersen Museum see and listen to Hans Christian Andersen's many fairy tales in colourful displays with exciting light and sound effects! Experience the entire story of his life – from his childhood to his adult life and his many travels world-wide. The fairytale world comes to life! The displays are "alive" with light and sound effects. You can also read and listen to his fairy tales in Danish, English or German."
Ticket prices etc. as above.
This one is a little out of the centre of Copenhagen but is still in the city of Copenhagen. It is northern Europe's largest aquarium. There is a long list of daily events including feeding times, talks and a rockpool touching pool. "Experience the Ocean Tank, which is the biggest aquarium at National Aquarium Denmark, Den Blå Planet, where hammerhead sharks swim together with rays and moray eels in four million litres azure seawater. The Coral Reef shows colourful fish and other animals that live in the coral. In the area, Amazonas, you will find butterflies and birds flying around."
Tickets are 185 DKK online for an adult and 100 DKK for a child aged 3-11. Under 3's are free. The aquarium is open for most of the year.