To help you plan your next holiday overseas we have compiled a list of 12 great hotels in Europe with Kids Clubs. These are 12 hotels we would love to visit as they look great for families. Below we will list the name, location and main facilities at these hotels. Sometimes it can be a tough job wading through hundreds, if not thousands of choices, hopefully, this will eliminate the time-consuming searching.
*affiliate links – clicking to book or view will cost you no extra
Happy Holidays (In no particular order ….)
Address: Planos 291 00, Greece
About – The Planos Bay Hotel is perfectly located within just a short walk of a fantastic water park, which offers a wide variety of flumes and slides, as well as a lazy river and wave machines. At the hotel itself, you will find a superb family pool, two restaurants and a fabulous beach just moments away.
To ensure your total peace of mind the board basis at the hotel is All-Inclusive.
Kids Club – The on-site kids club is the ideal place for the younger guests to spend some time having fun and socialising all the while being taken care of by a crew of caring and dedicated staff all trained to UK standards, and all of whom have passed the relevant checks. Some of the fun activities offered by the kids club are arts and crafts, discos, and baby sessions.
---
Address: Avinguda del Rei Jaume I, 114, 07180 Santa Ponça, Illes Balears, Spain
About – As the name suggests, at Pirates Village the entire theme is based entirely around the scoundrels of the sea. The whole family will be captivated by the fabulous pirate-themed layout which includes waterfalls and caverns. Plus, fireworks light up the sky during the spectacular pirate-themed show which takes place once a week. Even the apartments are pirate-themed!
You can choose from either a self-catering or an all-inclusive board basis, depending on what best suits your family.
Kid's Club – The Children's Club is open to all youngsters aged 3-12 years old and gives them the opportunity to play games, take part in art and crafts, and enjoy movie nights. There's children friendly evening entertainment every night as well as more grown-up stuff for the adults.
---
Address: Carrer de Formentor, 119, 07470 Port de Pollença, Illes Balears, Spain
About – At the Mar Hotels Mar and Spa, the emphasis is not only on style and luxury but also on enjoyment for all the family. While you indulge yourself with an array of beauty treatments at the onsite spa you can be safe in the knowledge that the younger members of your group are having an absolute ball at the children's club.
There is a board basis choice to suit everyone from room only right through to all-inclusive, ensuring every individual family's needs are well catered for.
Kid's Club – Designed to cater for ages from 4 – 12 years, the children's club hosts arts and crafts, drama workshops and all sorts of other fun and games. Plus, there is an outside playground as well as a super popular splash park.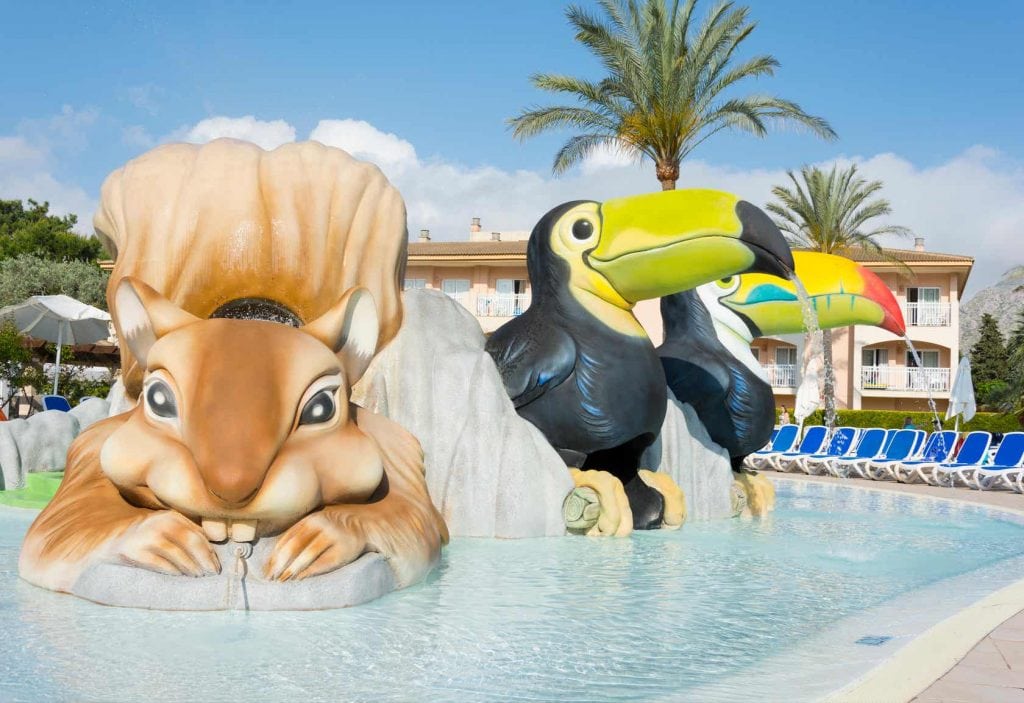 ---
Best Hotels With Kids Clubs in Europe
Address: Otok Sv. Nikola, 52440, Poreč, Croatia
About – Who says you can't have it all? At the Isabella Valamar Collection Island Resort, they effortlessly combine tranquillity with stimulation, relaxation with fun and activity. It is situated on a tiny island, accessed via boat which gives that extra sense of excitement and exclusivity. The accommodation has a super fresh and modern feel, and there is a regular boat trip to the mainland.
The board basis offered at the Isabella Valamar Collection Island Resort is half board and includes buffet-style meals at the onsite restaurant.
Kid's Club – The onsite kids club caters for ages 3 -11 and is run by professional staff. There is a very good range of daytime activities plus evening entertainment and live music.
---
Address: C. California, 1, 38650 Arona, Santa Cruz de Tenerife, Spain
About – The Spring Hotel Bitacora really excels when it comes to family-friendly activities and facilities. From the five swimming pools, one of which boasts an aquapark, to the huge children's adventure park all family members have been considered throughout. The hotel is very close to a predominantly sandy beach.
The board basis is either half board, all-inclusive or the extensive all-inclusive plus.
Kid's Club – There is an onsite kids club that caters for children of ages from 4 – 14 years old. The youngsters can get involved with various sporting activities, movie nights and stories. Unusually though this hotel also offers a kids club for older kids aged 12 – 16 where tweens and teens can hang out with their peers and play sport and games consoles. Plus, there is even an evening playroom where kids from 4 – 11 years old can play and relax whilst parents enjoy a well-earned meal in peace.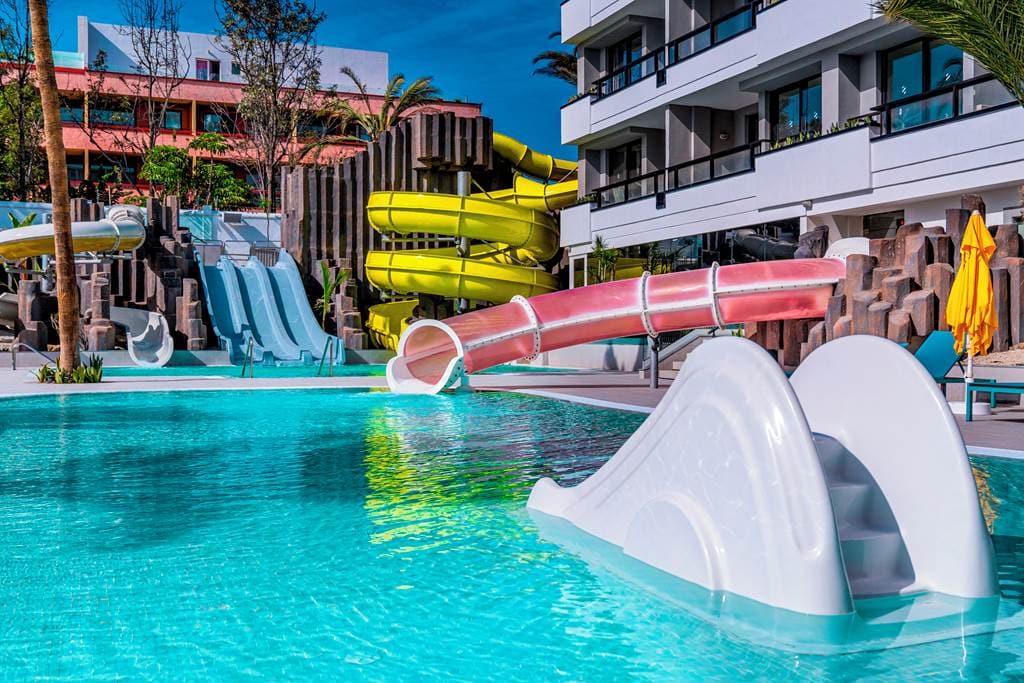 ---
Address: Kadriye Bölgesi,, Üçkum Tepesi Mevkii, 07500 Serik/Antalya, Turkey
About – The Regnum Carya is huge and truly does have everything you could possibly need to enjoy the perfect family holiday. On-site there is a 27-hole golf course, a large luxury spa and FIFA certified football academy. There is, as you would expect from such a top-class establishment, a private beach. As if all this wouldn't be enough to keep the whole family busy, as guests you are gifted tickets to one of Turkeys biggest theme Parks, Land of Legends.
The board basis at Regnum Carya is All-Inclusive.
Kid's Club – There are two kids clubs available. The first caters to 4- to 12-year-olds and the second 13 – 17-year-olds. The club for younger kids features crafting, dancing, and games whilst the other is designed for tweens and teens to hang out and play video games.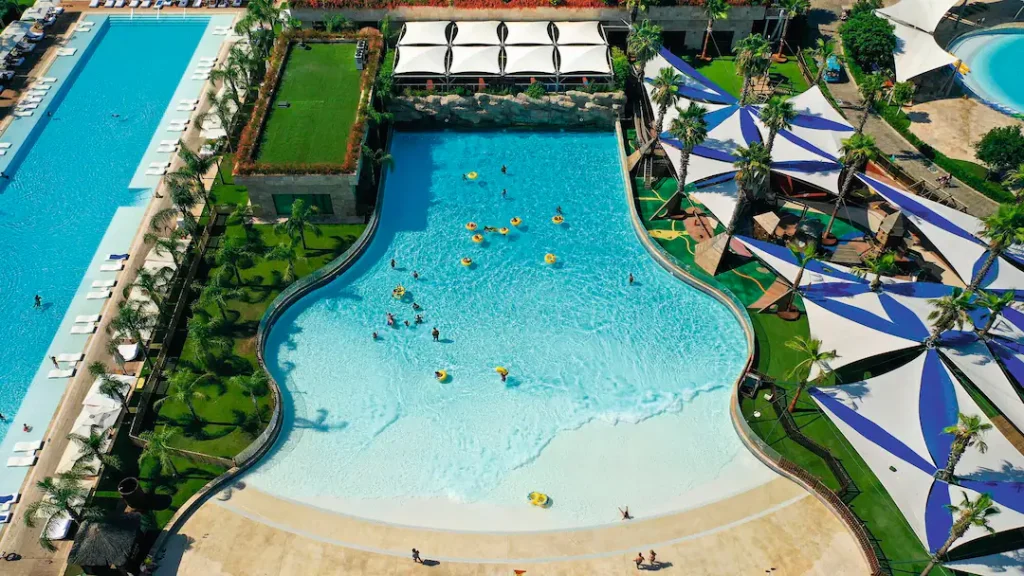 12 Great Hotels Europe with Kids Clubs
Address: Av. de las Canarias, S/N, 35580 Playa Blanca, Las Palmas, Spain
About – Every aspect of TUI BLUE Flamingo Beach is designed to cater for the younger guests in your party. Pools, splash parks, comfortable family-friendly apartments and chefs that cook with familiar flavours are just some of the efforts they go to, to ensure the whole family has a wonderful stay. There is a beach just a short walk from the resort, and there is even a water park just 10 minutes away – easy even for little legs!
Kid's Club – There are kids' clubs for all different age groups. And in the evenings, there are family-friendly shows to entertain the masses. The on-site kid's clubs are designed for 3 to 11-year-olds and they're split into age groups, with activities tailored for each. All the Kids' Club teams are trained to TUI standards and have undergone relevant checks which provides total peace of mind.
---
Address: Urbanización Las Meloneras, Avenida del Mediterraneo, s/n, 35100 Maspalomas, Gran Canaria, Spain
About – Due to its unrivalled, stunning location the Riu Gran Canaria enjoys beautiful ocean views of the glistening Atlantic. There are four swimming pools, two huge main pools, as well as one children's pool with slides and an adult-only infinity pool. There are four restaurants, each serving different cuisine from around the world as well as local dishes. There is a wellness spa, a gym and a whirlpool bath – everything you need to really relax and unwind.
The All-Inclusive board basis at the Riu Gran Canaria ensures you can enjoy complete peace of mind throughout your stay.
Kid's Club – Whilst you are doing this rest assured that the little ones are busy and happy in the onsite kid's clubs. There is the RiuLandKids Club for 4 – 12-year-olds, and the Riu4U Teen Club for 13- 17-year-olds – each club catering for the specific age groups and offering activities such as games, arts, drama, and sport.
---
Address: Av. de Papagayo, 22, 35580 Playa Blanca, Las Palmas, Spain
About – The Princess Yaiza Suite Hotel Resort is a stunning complex of elegant white buildings which sparkle against the bright blue shimmer of the Atlantic. It has a true feel of sophistication and luxury, and yet still caters for the needs of the entire family.
The hotel offers a board basis to suit every family's needs from bed and breakfast to half board plus which includes a buffet-style breakfast and dinner in any of the seven restaurants on site.
Kid's Club – Younger guests are particularly well catered for, with a large extensive play area, three children's pools and a fabulous kids club. At kids club, they can take part in a vast array of fun activities such as arts and crafts, games, and drama.
---
Address: Kemerağzı, Yaşar Sobutay Bulvarı No:331, 07160 Aksu/Antalya, Turkey
About – The Lara Family Club even states in its name that it is designed to cater for the whole family. Every aspect of this hotel is geared up to make your family holiday fun-filled and enjoyable. There are three pools, one which is classed as an aquapark and features some fabulous slides and splash zones.
The hotel offers an all-inclusive board basis, ideal for all the family and no hidden costs at the end!
Kid's Club – There is also a very popular kids club, which caters for ages from 4 to 12 years. While they play and make new friends here the adults can make the most of the peace and enjoy a relaxing swim or a beauty treatment at the wellness spa.
---
Address: Çiftlik, Kargı Mahallesi 202, 226. Sk. No:4/1, 48300 Fethiye/Muğla, Turkey
About – The TUI BLUE Sensatori Barut Fethiye is an award-winning hotel complex, which effortlessly combines luxury and elegance with the practicality of catering for families. The hotel boasts five swimming pools and six restaurants as well as direct access onto a private beach. There is a fantastic variety of cuisine available to enjoy at the various eateries, including sushi, Turkish and Italian. The children's pool has slides and, in the evening, there's an exceptionally good entertainment programme for all the family.
Kid's Club – The on-site kid's clubs cater for different age groups. There is the Baby Blub for under 3's right through to fun activities for up to 12-year-olds.
---
Address: Epar.Od. Agiou Nikolaou – Vrouchas, Schisma Elountas 720 53, Greece
About – The TUI BLUE Elounda Breeze have thought of everything when it comes to family holidays. From the three swimming pools for children, the endless fun activities to get involved in and the professionally run swimming classes each member of your family is sure to have the time of their lives. There is a wellness spa – the ideal place for the adults in the party to unwind and replenish their energy levels whilst the kids have a blast at the onsite kid's clubs.
The board basis at the TUI BLUE Elounda Breeze is all-inclusive, the ideal and most straightforward option for families.
Kid's Club – The kids club caters for ages 3 to 11 and the kids can enjoy getting involved with various fun activities including art, drama, and games. There is a separate hang out zone for the older kids in the party where they can socialise and have fun with other teenagers.
---
Please conduct your own research through reviews and the companies websites with regards to the facilities and upkeep of the above hotels. The above information is for reference only. Please also check their cancellation policies with regards to Covid-19 and any current travel restrictions.