Here it is – 18 Bucket List Holidays to Take with your kids before they turn 18. I don't know about you but my son is only 5 and I'm already dreading the day he A. Leaves home and B. Doesn't want to go on holiday with us anymore. We need a bucket list to focus on our family holidays, our top 18 is as follows (in no particular order):
1. KENYA – AFRICAN SAFARI
Kenya is currently considered the safest country in Africa to go on Safari, making it a great destination for families. It is world-renowned for it's 5 big game reserves and you can even spend some time at the beach while you are there. Kids will love going on game drives to find big cats, zebra, elephants and more. If you have the money Kenya is home to the famous Giraffe Manor where you can hand-feed the giraffes that live there. A lot of the family-friendly Safaris in Kenya offer children the opportunity to join in with junior ranger programmes such as shooting bow and arrows or how to make a fire with sticks.
2. ITALY
It is hard to pick out one specific place to visit with kids in Italy so I am recommending that you visit as much of it as you can with your children. We took our 3-year-old to Venice and we can honestly say it's not just for romantic couples. There's the stunning Cinque Terre with pretty hill lined houses plus the stunning islands of Sicily and Sardinia. Or why not take in plenty of Roman history in Rome or take your kids to Pompeii and explore the uncovered ruins together. Kids will love Lake Como with plenty of boat trips and water-based activities. There really is something for everyone in Italy, even Venice is a great destination for families.
3. GREECE
Greece has so much to offer with fabulous weather, glorious beach resorts and tasty food. It's a great location for a family holiday and certainly provides endless choices. There's the stunning Santorini with its whitewashed houses with blue roofed churches, or the modern hotels in Rhodes with swimming pools, kids clubs and activities galore. Crete offers plenty of history and ancient ruins or why not take a holiday to the small island of Lefkada which is well known for its water sports.
4. MOROCCO
Morocco isn't often considered as a family holiday destination but as the safest country in Africa, it is well worth a visit. Although extremely hot in summer the temperatures are far more pleasant at other times of the year. Families can visit the bustling Medinas in places such as Marrakesh and the car-free Fes where you can do a spot of shopping in the Souks. Or head on out to the Sahara desert or the Atlas mountains. There's plenty of activities to be found such as dune buggy racing, camel riding or trekking with small children riding on donkeys. Plus there's plenty of resorts along its lengthy coastline with many catering for families.
5. SRI LANKA
Sri Lanka is a beautiful country and a great destination for families. The people of Sri Lanka are incredibly warm and welcoming and there is a great diversity of family-friendly things to do there. You can visit elephant orphanages or go on safaris to see them in the wild. There's plenty of turtle sanctuaries where some allow you to help release them back to the ocean. Children could also give climbing Sigiriya rock a try which is a UNESCO World Heritage site. It is doable, I've done it! You can take a train ride from Kandy to Nuwara Eliya, where you will see stunning scenery and pass tea plantations. Our favourite hotel in Sri Lanka is the Kandalama where we had monkeys on our balcony every day. I have a perfect 2 week itinerary to Sri Lanka for families.
6. USA – FLORIDA
Florida is perhaps the most family-friendly destination of all as it is brimming with things to do. There's the 4 theme parks and 2 water parks at Walt Disney World. Plus 2 theme parks and a water park at Universal. There are many other attractions such as Legoland, Sea World, Busch Gardens and the Kennedy Space centre. In southern Florida, you could go on a tour of the Everglades or cross the water spanning bridges of Key West. There are many different places you can spot Manatees and St. Augustine is a great place to visit if you want to see examples of colonial America.
7. CROATIA
Croatia is incredibly picturesque and unspoilt. It's such a lovely destination to visit as a family. It is packed full of history and has endless stretches of beautiful beaches with clear waters. The beaches often have restaurants nearby and most offer water sports and plenty of play areas. Croatia even boasts waterparks, fabulous playgrounds and even a Dinopark with moving dinosaurs, rides and a circus. Croatia boasts amphitheatres, UNESCO World heritage sites, medieval cities, caves and much more. Dubrovnik's old town has UNESCO status and as well as fortified walls with castle towers and forts there is also a cable car which summits to 700 metres above Dubrovnik and offers some stunning views.
8. LONDON
London almost rivals Florida when it comes to family-friendly things to do. It's a big and diverse city with plenty to suit all tastes. Yes, it's busy but even London has its quieter spots such as Hyde Park and Kew Gardens. London is brimming with museums from art galleries, to historical museums such as the National Maritime Museum, science museum and the Natural history museum. There's plenty of modern tourist attractions such as the London eye, waxworks in Madame Tussauds, Sealife Aquarium and boat rides on the Thames. Plus other historical attractions that make London famous such as Buckingham Palace, Cutty Sark, Houses of Parliament, the Tower of London, St Paul's and the changing of the guard. There is more than just a weeks worth of things to do in London.
9. CANADA
Canada is crammed full of spectacular scenery from the Grand Niagra falls to the Rocky Mountains and great lakes. Or you could take a walk on a glacier or head out on a boat to spot some whales. Canada is full of amazing experiences and is a great place to make unforgettable memories. Why not see the Totem poles in Vancouver's Stanley Park or take the hop on hop off trolley bus? Another experience not to miss is the Capilano Suspension Bridge that hangs 70m above the Capilano River. It does have high metal sides for safety! There's even a safe haven at Tofino where you can search for bears from a small boat and see them hunting at the rocky shoreline. There's plenty of outdoor activities in Canada, you won't run out of things to do.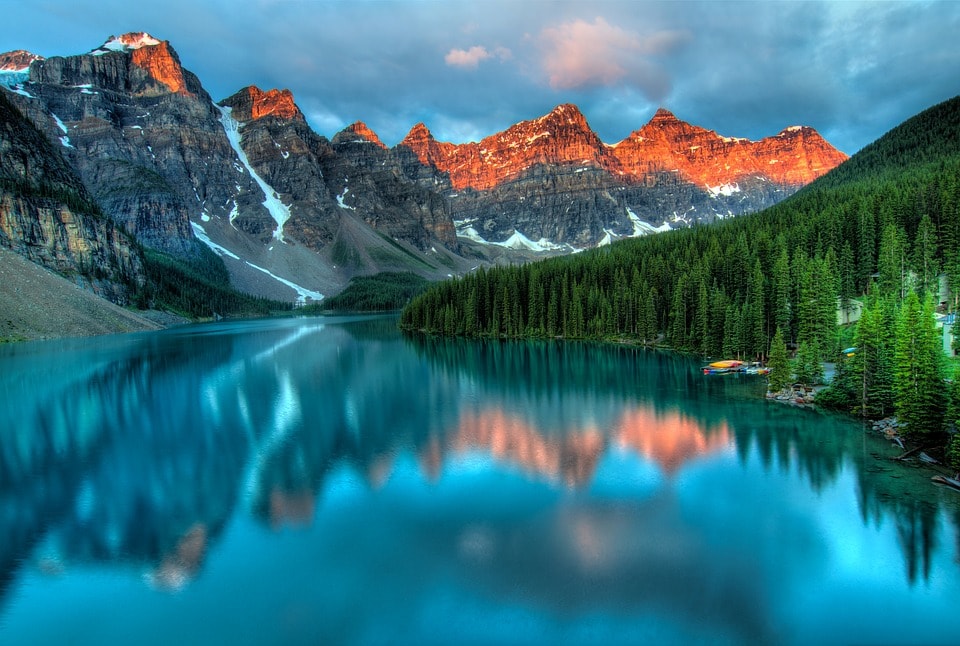 10. ICELAND
With scenery to rival most countries on this list, Iceland is pretty unique as far as family holiday destinations go. There's a diverse range of family-friendly adventures such as bathing in the hot waters of the blue lagoon, seeing geysers erupting in front of you and explore endless caves. Iceland is a great country to spot the northern lights (Aurora Borealis) thanks to its wild open spaces. Just driving around the country is incredible with plenty of different spectacle views along the way. Iceland is also a great country to go whale watching. If you are interested in Viking history Iceland has plenty of Viking museums. There is so much to see in Iceland.
11. USA – COLORADO (National Parks)
Colorado is home to 4 National parks. There is the Rocky Mountain national park with mountain peaks and beautiful lakes. It boasts the highest paved road in the USA at 12,000 feet. The views from the top are simply spectacular. Kids will love the Holtzman Historic Site where they can dress up in period clothing and learn about life in the past. Then there is a complete contrast with the Great Sand dunes national park and reserve. No one knows for sure why the country's biggest sand dunes collect at the bottom of the Sangre de Cristo mountains but exploring them can be great fun for families.
Mesa Verde National park is a world heritage site. The Ancestral Puebloans lived there for more than 700 years and they left behind cliff dwellings which are mostly accessed by wooden ladders. The fourth park is the Black Canyon of the Gunnison National Park. Here sheer cliff walls drop 2,000 feet down to the Gunnison River. There are a few easier treks in this park for families but beware of big drops without any barriers.
12. GO ON A CRUISE
Cruising is becoming more and more popular for families with many boats now catering for kids and other cruise lines catering exclusively for families. The best of these being Disney cruises and Carnival cruises. Both of which are very high up on our bucket list. These cruises have everything most families would want on a holiday with activities on board such as kids clubs, pools, bowling, cinemas, rock wall climbing and more. Families can enjoy cruising the Caribbean, the fjords of Norway, the cities of the Mediterranean and more.
13. GLAMPING
Glamping didn't even exist until just a few years ago now there are places with bell tents, shepherds huts and other unique accommodation choices popping up here there and everywhere. There are unique places to stay in all sorts of locations such as at Warwick castle, in an old slate mine in Wales, by a large reservoir in Rutland and out in the woods in Norfolk. It's a great way for families to spend some time away from the TV and devices and get back to nature. Yes, you have to brave the elements but that's all part of the fun.
14. BAHAMAS
The Bahamas has a strong focus on enjoying yourselves in the water. This would suit families with slightly older children that are confident in the water and happy to snorkel, although there is the possibility for shallow water snorkelling. The main draw is the opportunity to swim with pigs, yes pigs! Plus tropical fish, sea turtles, dolphins and more. Atlantis is the main resort on the island and it is very family friendly with a water park, the opportunity to swim with dolphins, clubs and more.
15. SCANDINAVIA
Scandinavia is made up of Sweden, Denmark and Norway. They are countries that are becoming increasingly popular for family holidays. With Legoland in Denmark, the Viking ship museum in Oslo, Norway and the pretty colourful streets in Denmark. Copenhagen Zoo in Denmark is one of the best in the world and kids will love the canal boat tours around Copenhagen. Another place worth visiting as a family in Denmark is the Tivoli Gardens theme park. It is the second oldest amusement park in the world and is just a short walk from the centre. Don't forget to see Hans Christian Anderson's famous statue of The Little Mermaid in Copenhagen. We have our eye on this hotel in Copenhagen.
Skansen Open-Air Museum in Stockholm, Sweden is great for families with theme park rides plus people in period costume. There's even a zoo. Rosenborg castle in Sweden is also a great place for a family day out. Oslo in Norway is a great place to take a boat from to explore the famous fjords. You may even be lucky enough to spot the Northern lights.
16. LAPLAND
If you asked a child what was top of their bucket list they may very well say "To see Santa in Lapland". Lapland in Finland has become famous across the world for being the home of Santa. It is also incredibly picturesque as you are pretty much guaranteed snow on a family holiday to Lapland. A holiday to Lapland can mean visiting a Reindeer farm or going out for a husky sledge ride. Another popular activity is snowmobiling and you may even be able to arrange a visit to meet Santa himself. It's guaranteed to bring out the kid in any adult.
17. GALAPAGOS ISLANDS
What better than to experience nature and some of the worlds most wondrous wildlife than a family holiday to the Galapagos Islands? One way of exploring these amazing islands is by boat and many companies offer boat holidays cruising around the islands. In the Galapagos, you can experience so many unique things such as swimming with sea lions, or you could stand on a beach and watch giant tortoises go by (on land and in the water) or spot birds unique to the islands. Older children could have fun adventure kayaking, snorkelling and biking or surfing and scuba-diving.
18. TRAIN HOLIDAY
Journeying by train is a great way to explore, especially across Europe. You don't have to opt for sleeper trains however the option is often there should you wish to try it. One day you could be in Germany, the next you could be heading down to Switzerland in a lot less time than it would take by car. While travelling from City to City is the easier option and a great way for families to explore you can often take the train to smaller towns and villages and see how people in other countries live. Much of Europe is serviced by much faster and more efficient trains than in the UK. Kids generally enjoy travelling on a train more than they do in a car. Afterall they can get up and wander around and you don't have to worry about toilet stops. It makes the holiday seem much more of an adventure to them. Plus you all get to sit back and enjoy the views without one person having to worry about where you are going.
I hope you enjoyed my post. Why not subscribe to my monthly newsletter to keep up to date? Or keep in touch on social media. We are very active on Facebook, Twitter and Instagram. Why not pin this post for later? Simply click on the image below and maybe give us a follow as well.
Disclosure: This post may contain compensated links. All words are my own. Photos are courtesy of Pixabay, unless otherwise stated.