Visiting the Golden circle in Iceland is one of the most famous things to do. It is an essential must of any holiday to Iceland. I did a huge amount of research before we left and I decided that we could easily see what we wanted to see in one day. This is my one-day self-drive itinerary to see the highlights of the Golden Circle.
*This post contains affiliate links. It will cost you no extra to book through any of our links.
There are three main places to visit on the Golden circle. They are Thingvellir National park, Geysir and Gullfoss waterfall. If you only see these sites then you won't even travel in a circle as they are all on a direct route from Reykjavik. We did visit Kerid Crater which can make the route more circular but Kerid is not on the list of the top 3 things to see.
You may also want to visit the Secret Lagoon but as we were visiting the Blue Lagoon we did not have this on our list. I will, however, cover this and Kerid Crater below. It takes around 3 hours to drive the full circle. If you just want to see the main three sites it takes just 1 hour 45 minutes from Reykjavik to Gullfoss, the furthest place to visit.
One thing we loved about the drive to get there was not only the stunning views but all the swans. We saw fields and fields of swans and we have never seen anything like it in our lives. Amazing! There are many reasons why you should visit Iceland.
Geysir Hot Springs
Because we were visiting from the south of Iceland and not the capital Reykjavik we could visit the main three sights in a different order to the 'hoards'. Normally Thingvellir National Park would be a first point of call but for us it was Geysir. Because of this, it was incredibly quiet when we arrived there at 9:30 am which made for some pretty deserted looking photos.
The one thing you will notice when you arrive at the hot springs site of Geysir is the sulphuric smell of eggs. It actually wasn't as bad as we thought it would be and we only really smelt it briefly when the main Geysir spurted steam into the air.
When you arrive at the sight it's almost hard to imagine what happens there. You walk past a few boiling mud pits some spurting boiling water into the air a short distance and others steaming away. You then arrive at a large roped off area around the lively Stokkur Geysir. This spurts hot steam and water into the air approx every 30 minutes. While you are waiting you will also see a few smaller eruptions. The longer you watch the more tuned in you will become to the next eruption. Part of the challenge is getting a decent photo of it for which I have to thank my Mum.
It is currently free to park at and visit Geysir. This is the only place we saw a petrol pump on this road so if you need any please get it here. There is a cafe on site and gift shop and you are able to use their toilet facilities.
Quite a good section of the Golden Circle is also part of the Ring Road in Iceland. If you want to find out more and are planning a longer stay in Iceland then this 2 week Ring Road itinerary should help with that.
Gullfoss Waterfall
Around 15 minutes drive east from Geysir you will come to the car park for Gullfoss waterfall. Gullfoss is open 24 hours a day seven days a week. We were shocked at how much colder it was here than anywhere else we had visited. We hadn't truly appreciated how high up it is here. Make sure you take plenty of warm clothes and be prepared as it can get icy and very windy. Gullfoss waterfall is located in a spectacular backdrop of mountains and glaciers.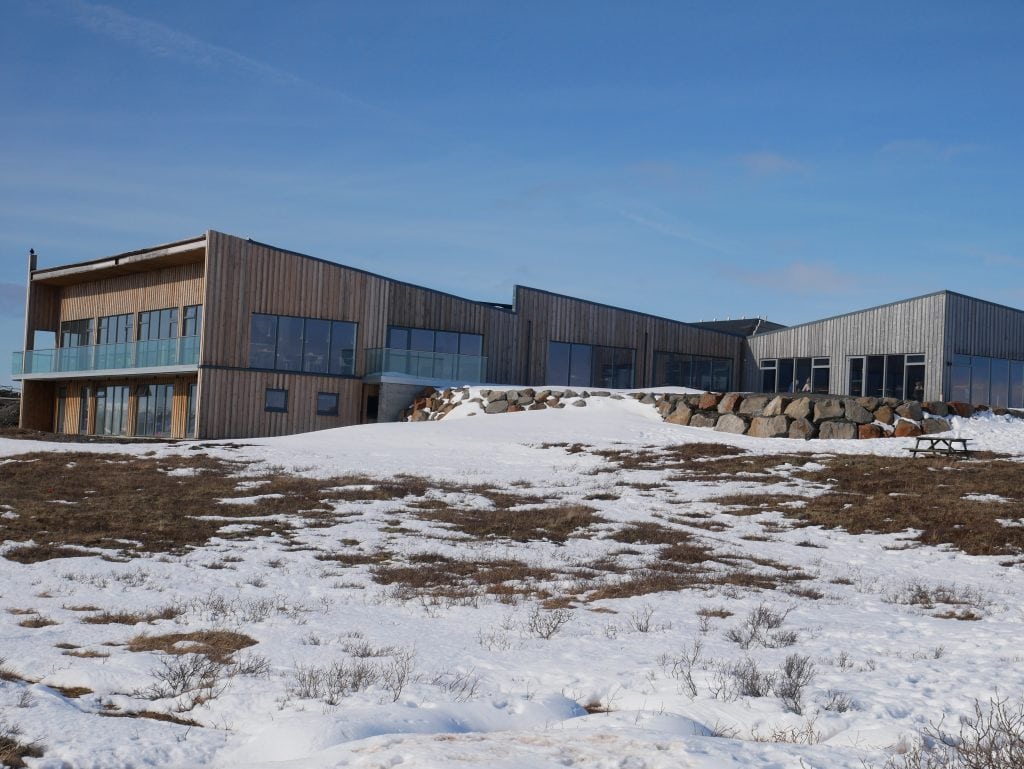 Currently, it is free to park at and visit Gullfoss waterfall. There is an impressively modern and relatively new looking visitor centre with a cafe and restaurant plus toilet facilities. If you are visiting with a wheelchair you can park lower down than the centre and access views of the waterfalls from there.
From the visitor centre there is a walkway and then a huge amount of steps down, all modern and well built. This is why they have a separate viewing point for those with wheelchairs. It is worth viewing the waterfalls from both levels if you are able-bodied. The waterfalls are 32metres high with 2 drops.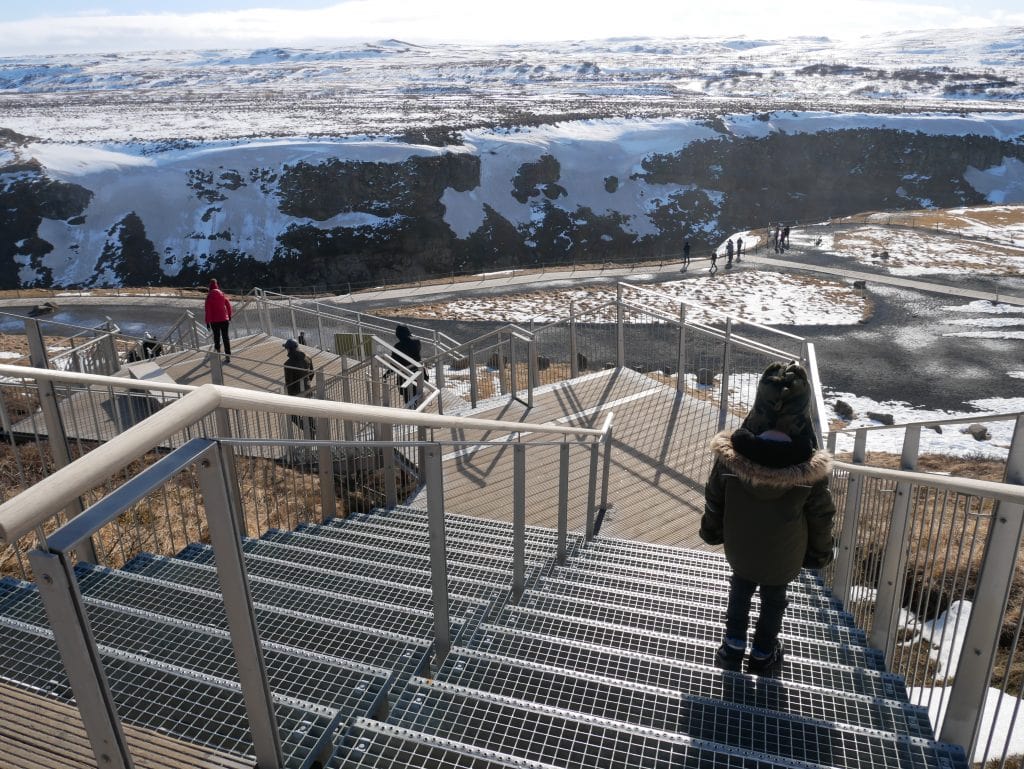 Thingvellir National Park – Þingvellir
Thingvellir or Þingvellir in Icelandic is one of the most spectacular national parks that I have ever had the pleasure to visit. It was a one hour drive directly west from Gullfoss waterfall. Because we visited in the opposite way round to people visiting from Reyjkavik we arrived as a lot of people were leaving.
It is actually quite a long drive from the entrance to the park to the visitor centres and the drive there is stunning. Google had two options for visiting Thingvellir. We visited the less busy part where there was a small cafe, toilet facilities and shop. Just a short drive away there was a car park that is charged but the machine wasn't working during our visit.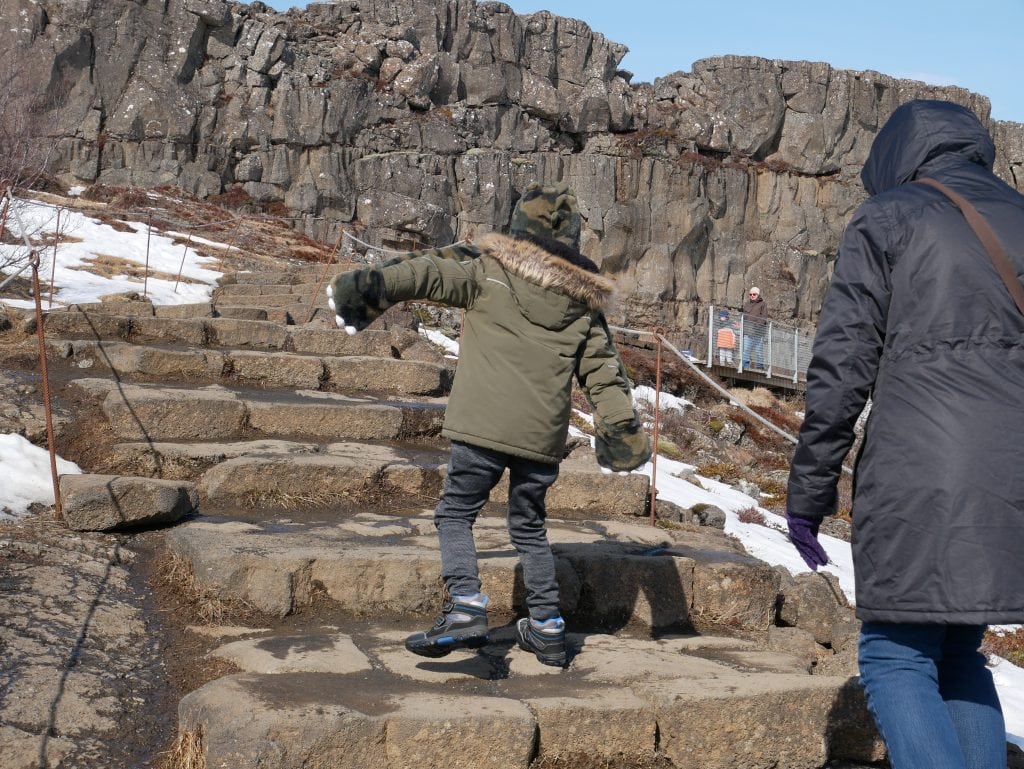 Had we driven on to the other visitor centre we'd have found a larger cafe and an interactive exhibition. If you have the time try and visit both of the main parts. It currently costs 750 ISK for a passenger car with 5 seats or less.
We parked near Oxararfoss waterfall. This was just a short walk from the car park. There is a wooden walkway through the centre of the rift but it was covered in snow during our visit and quite slippy in places. There are plenty of signs around so you can work out where to go. The waterfall is at a dead end but well worth a visit.
After seeing the waterfall we headed in the other direction which took us over a bridge and provided us with some spectacular views. We then walked a short distance through the main reason people visit Thingvellir.
The park sits in a rift valley caused by the separation of 2 tectonic plates, with rocky cliffs and fissures. Basically you walk in the rift valley where the plates are pulling apart by about 1.5cm a year. It's a spectacular sight and my photos really don't do it justice. It was a long walk from here to the main visitor centre so we decided to head on to see the Kerid Crater.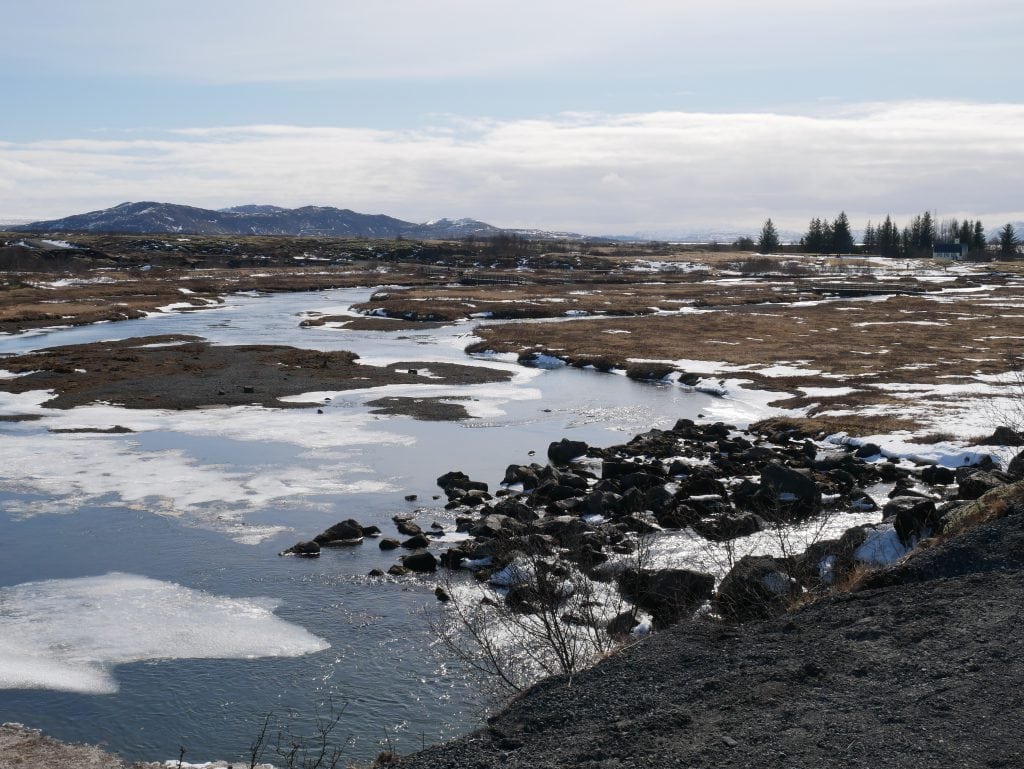 Kerid Crater
We left our straight route on the Golden Circle to venture south to see the Kerid Crater. Kerid Crater is a 3,000 year old volcanic crater, although now inactive. It is famous for its milky blue-green water amid stark black and deep red slopes. Sadly it didn't quite look like this when we visited but I was glad we went as it was good to show our son what a volcano looks like.
There is a small car park and there is a fee of 400 ISK each to visit. Children under 12 are free. It was very cold and windy when we visited so we basically walked up to the crater and took a few photos. You can walk around the edge of the crater and down to the water's edge. It was too cold and windy for us though and we were looking forward to spending some time in the hot tub back at the hotel.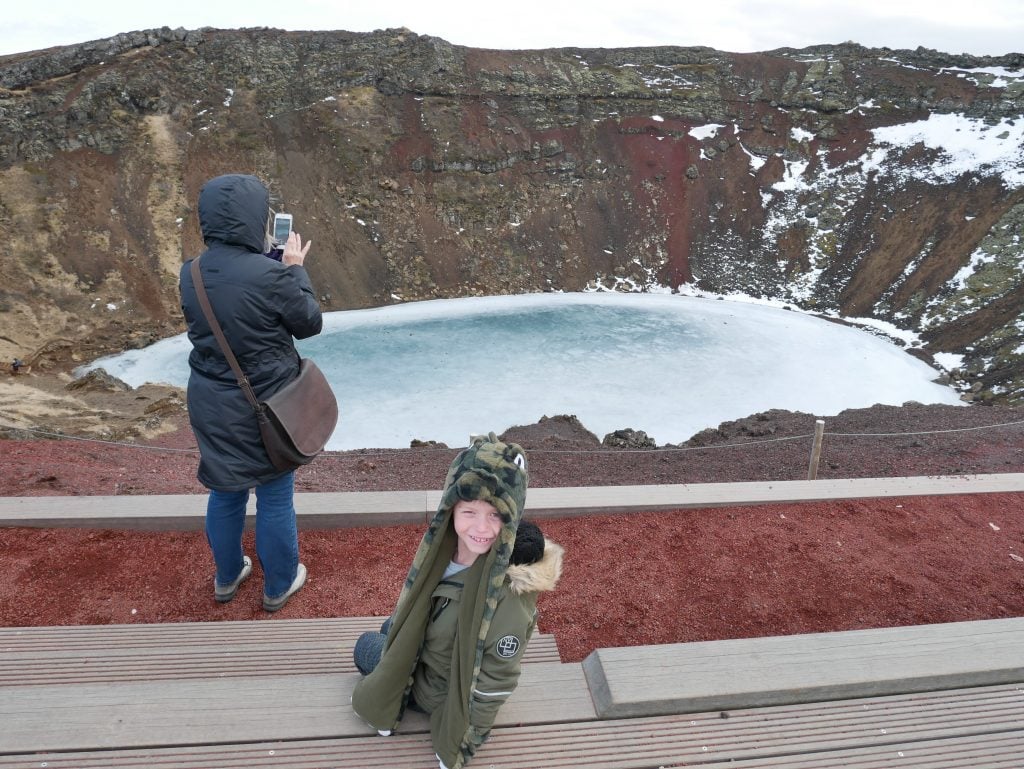 Secret Lagoon
We did not visit the Secret Lagoon but so many people recommended it to us. It is less busy and not as expensive as the Blue Lagoon. It is located south of Geysir on the Golden circle. If you have the time and want to experience bathing in hot springs then this could be the place for you. The price for an adult is 3000 ISK. Children under 14 years are free.
"We have kept it natural and unique for our guests so they can get the true Icelandic feeling. The pool's natural surroundings and steam rising into the air gives the place a magical feeling. The warm water stays at 38-40 Celsius all year. In the whole area there are several geothermal spots and a little Geysir which erupts every 5 minutes, showing off for the guests relaxing in the hot spring."
---
We are very active on Facebook, Twitter and Instagram. Why not subscribe to my newsletter for regular updates? Or keep in touch on social media. Why not pin this post for later? Simply click on the image below and maybe give us a follow as well.