If you love to travel as much as I do then practically anywhere in the world will be on your bucket list. I have never had a holiday to Germany before and only ever visited it on a day trip to Hitler's Eagle's nest. Germany is somewhere I've always wanted to go to but I was never really sure where to start but recently Hamburg was beckoning me to visit. I have had friends and family ask why Hamburg and they clearly didn't have Hamburg on their radar but most of them do now. Why? Because I can't stop singing its praises.
What a wonderful city, wonderful for so many reasons. I will hopefully inspire you to visit in my review post below. You can find out our short break itinerary and everything I recommend you do. It's perfect for a weekend/short break from the UK and our flights from Manchester were very cheap!
*disclaimer. This was a press trip organised by Hamburg Tourism. All opinions are my own and all photos and words must not be duplicated.
Our Short Break Itinerary to Hamburg, Germany
We arrived on an afternoon flight from Manchester. To get the best price and the best times we flew out with Ryanair and flew back with Easy jet. After a horrific experience at Amsterdam airport, we were a bit apprehensive but everything went really smoothly at Hamburg airport.
We were soon through passport control and although we didn't have a checked-in bag we did notice they were already on the conveyor belt. We had been advised to travel by train to our hotel especially as free train, bus and harbour ferry travel is included with the Hamburg Card.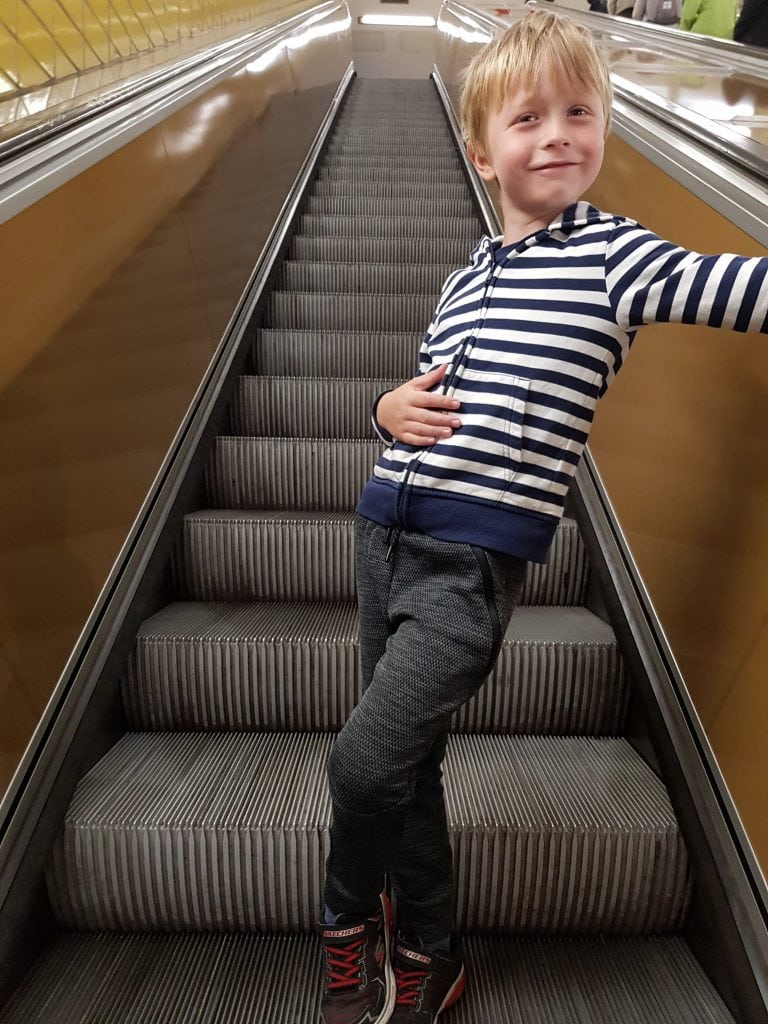 It was a short walk to the train station from the airport and it was well signposted. My son was over the moon when he realised that the trains went underground. The actual train ride was part above and part underground. The trains leave you in no doubt as to what the next stop is with an announcement and or TV screen.
Travelling by train wasn't at all stressful. We easily got a seat and even though we were in a foreign country we got ourselves to the hotel just fine. It took just one train change and about 25 minutes of travel to reach our hotel for the next three nights.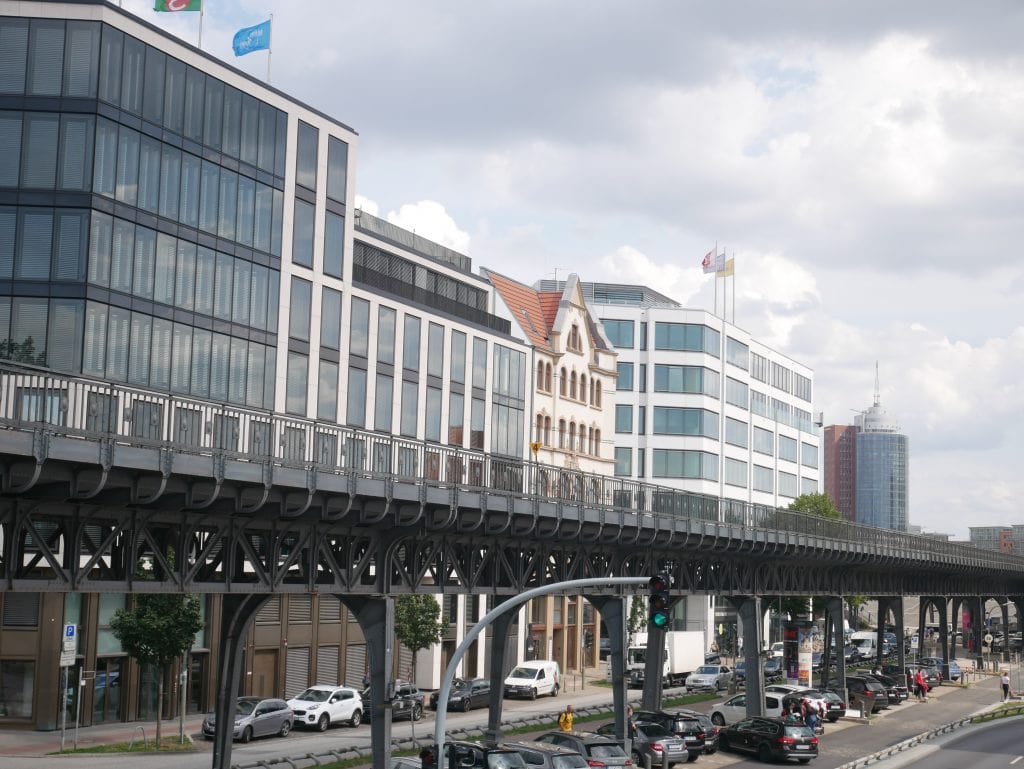 Scandic Hotel Hamburg Emporio
We stayed at the well-situated Scandic Hamburg Emporio hotel. It's located right by an underground stop and on the outskirts of the main shopping and restaurant district. The hotel is lovely and modern and our room was large, very comfortable, light and clean. The hotel is very family-friendly and my son loved the fountains outside. To find out more about the hotel please read my review – Scandic Hamburg Emporio, Germany Family Friendly Hotel Review.
Day 1 Hamburg
To give us a feel for the city of Hamburg and to make sure we did everything we wanted to we went on an open-top bus tour. I've been on a fair few of these in my time and it rivals my favourite tour we took in Porto. It really was excellent and a very good way to see the City. Often I feel like tour buses miss all the good sights, this didn't miss a thing.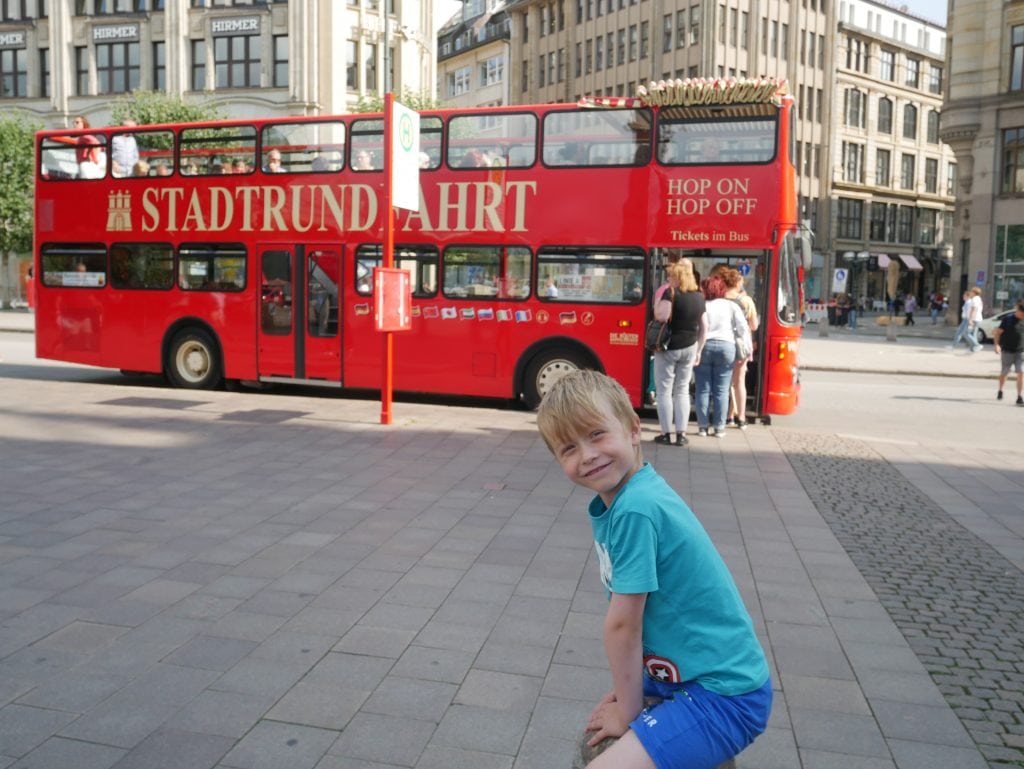 We started at bus stop number 1 and travelled about halfway to stop 16 by the park. We soon lost our bearings and had no idea what stop was coming up next. That would be my only criticism. It is a hop on hop off bus but we had no clue when we could hop off. We also had headphones so we could listen to the tour in English but it was a lot shorter than the live German commentary.
You are driven around so much of Hamburg. You can expect to see some wonderful lakes, gorgeous buildings including some owned by millionaires, historic buildings, old warehouses, unique looking churches, modern buildings, parks and so much more. We even went by our hotel!
If you want to do a full loop, which most people seemed to do, the full tour takes 90 minutes. In the summer buses run every 20 minutes, there are 27 stops on the tour. As mentioned above we stopped off at one of Hamburg's parks.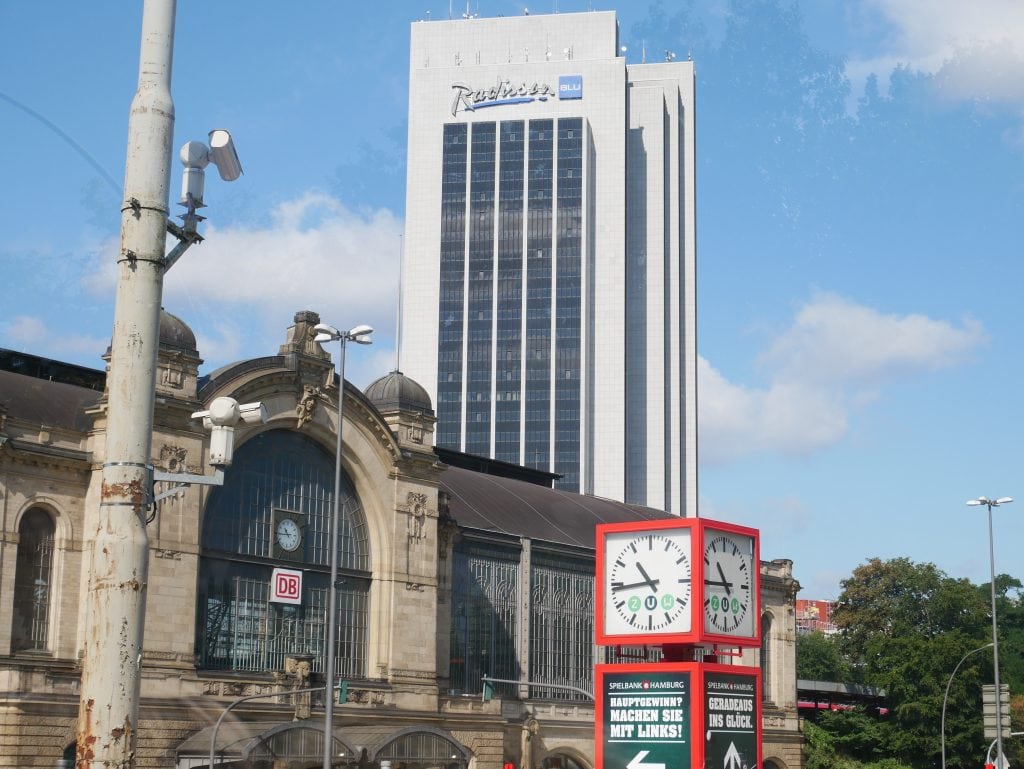 Prices per person are – Line A: 16,00 € instead of 18,50 €; Savings: 2,50 € with the Hamburg card. Children ride for free.
This lovely park is at bus stop 15 and 16 on the bus tour. The park is also near public transport routes. It's also a great place to visit if you are on a budget as it is free. We started at the top end where the large children's playground is. There's also a snack and drinks kiosk here plus free toilets (lots of public toilets in Hamburg aren't free).
I wasn't sure I'd ever persuade my son out of here – what a playground. It is like nothing we have ever seen in the UK. There were things he'd never seen or played on before. They had a couple of volcanos with slides, some of them water slides. There is lots of sand and water play, plenty of challenging things to climb on and things I don't even know how to describe but were great fun.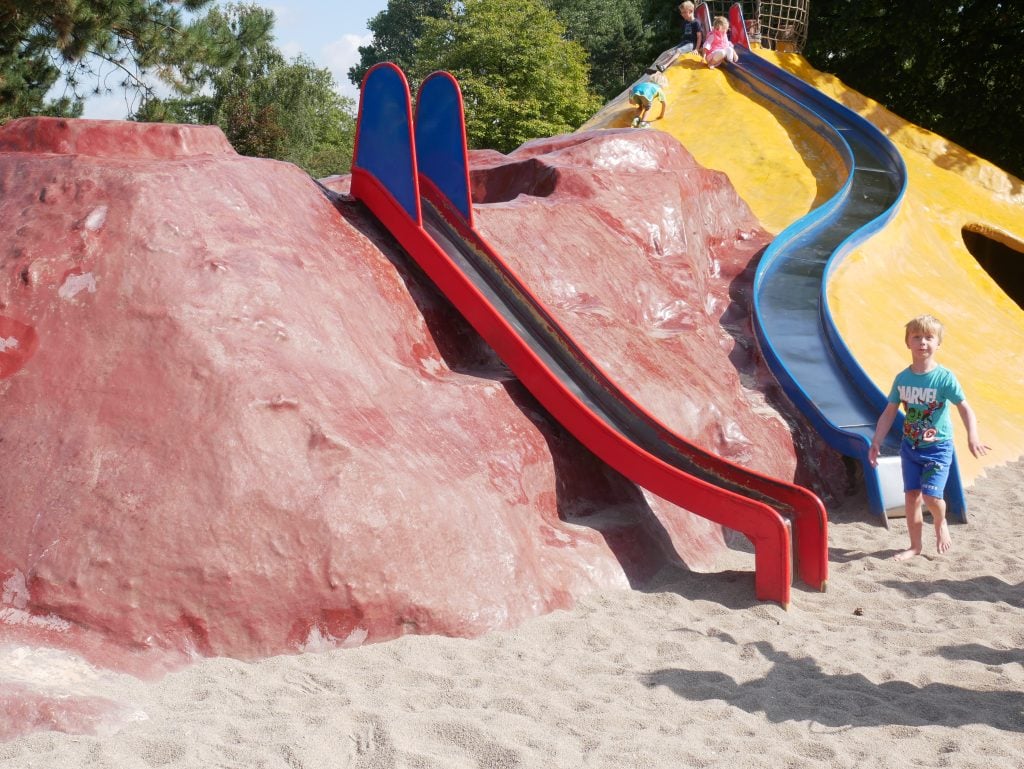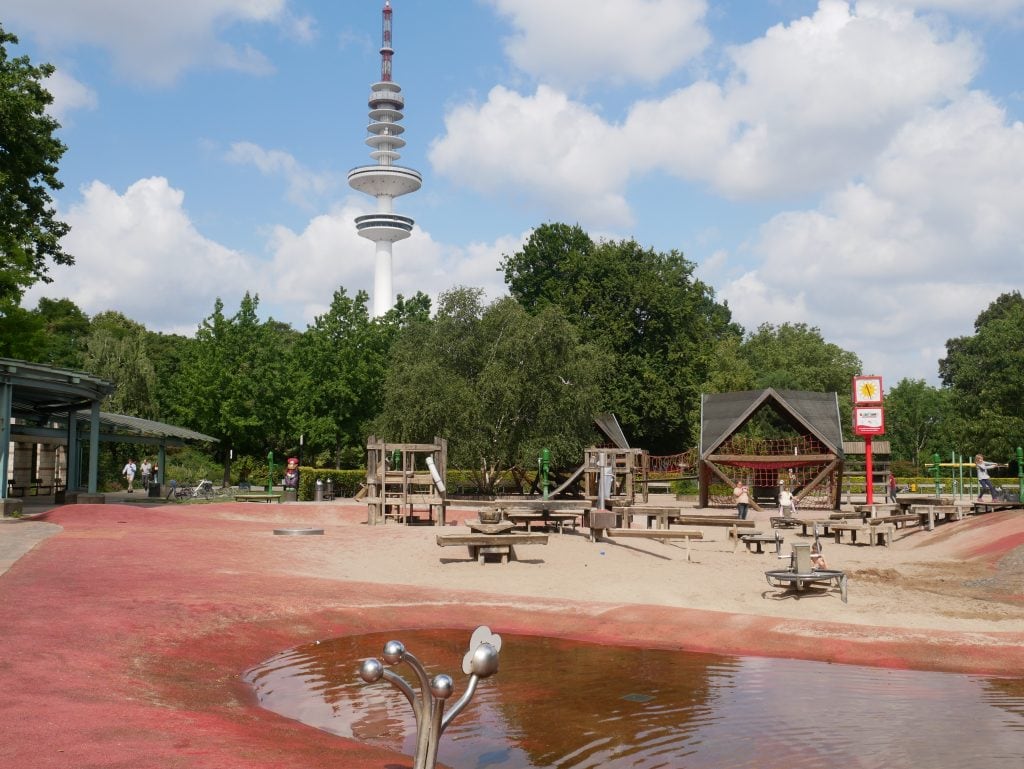 When I managed to drag him away we headed more into the park. We didn't find everything but we loved what we did find. First, we came across some stunningly beautiful ponds, with mini waterfalls, flowers, water lilies and stepping stones on the water all with a backdrop of the telecom tower. The stepping stones go over water full of tiny fish. We spent quite a while here.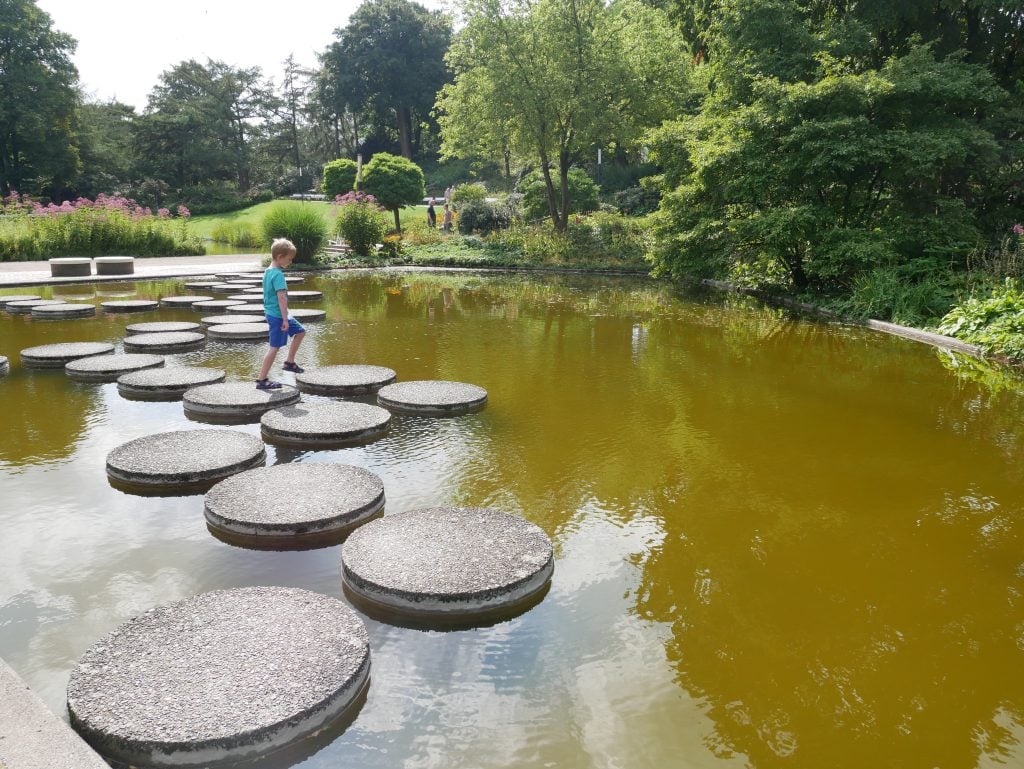 On our way to find the Japanese garden we found a gorgeous smelling rose garden and then some really fun water games. One you had to shoot water at a ball to get it in a hoop, the other you played against each other to shoot a ball into the other net, again with water.
The Japenese garden is a lovely tranquil spot unless you ask my son along. There were more stepping stones and a pretty pagoda, ornamental statues and a deck over the water. There is a tropical greenhouse and crazy golf somewhere but we never found them. Plus a Japanese teahouse.
Back on the Tour Bus – Other stops worth a stop at
After our visit, we headed back to the bus stop and back on the tour. I'm pretty sure it took us through part of the red light district as we went by some pretty risque shops. We also went by the Atlantic hotel which was in a James Bond film with Piers Brosnan.
One thing that struck me about the bus tour was just how varied the architecture is in Hamburg. There are some really stunning old buildings and then some really modern ones. Anything particularly ugly they seem to be demolishing to build something better.
Another stop on the bus tour worth alighting at is number 22 Rathausmarkt. This is where the incredibly picturesque City hall is. The City Hall is open Mon-Sun from 8 AM to 6 PM, with several guided tours available to visitors.
Also in this area, you will find some very expensive shops and bars by the water a little bit like Venice. There are actually 2,300 bridges in Hamburg. That's more than Amsterdam and Venice combined.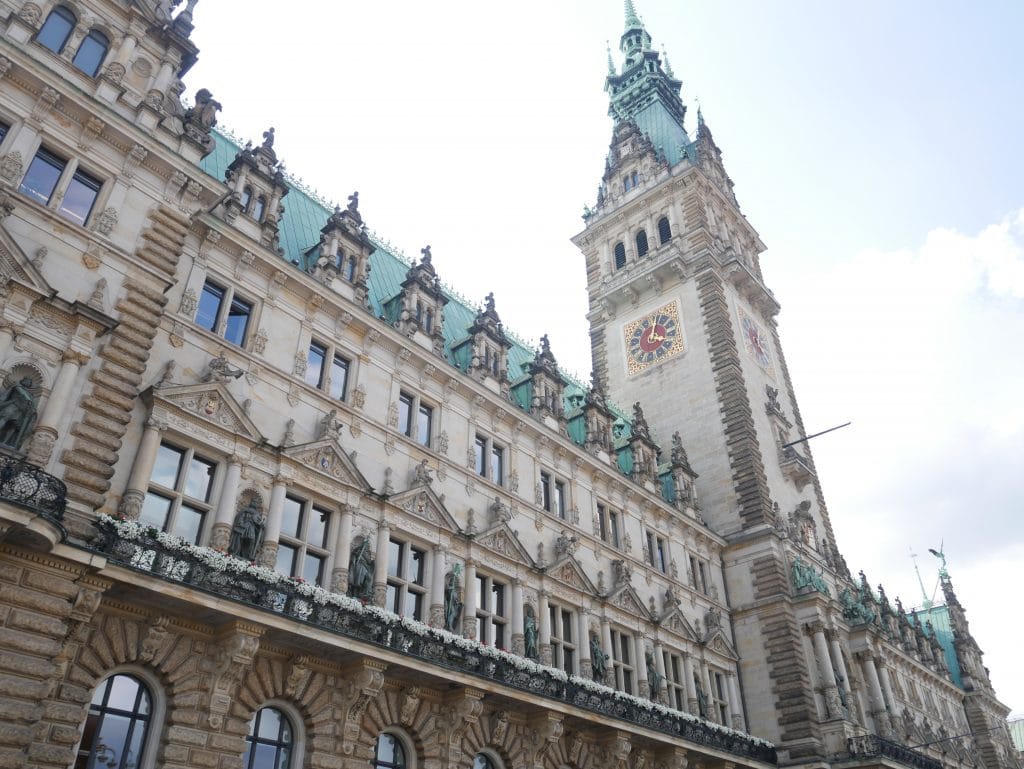 The tour then finishes at the Harbour. You can use the bus to stop off at other major attractions but we were visiting these another day.
We finished our day with a walk by the harbour before heading back to the hotel for a splash in the fountains and then out for dinner.
Day 2 Hamburg
Poggenmühlen-Brücke bridge
Today was our day for doing the main bucket list things to do in Hamburg. We started the day by finding one of many bridges in Hamburg. But this wasn't just any bridge as it has one of the best views Hamburg has to offer. Poggenmühlen-Brücke bridge is rarely photographed but it's view certainly is.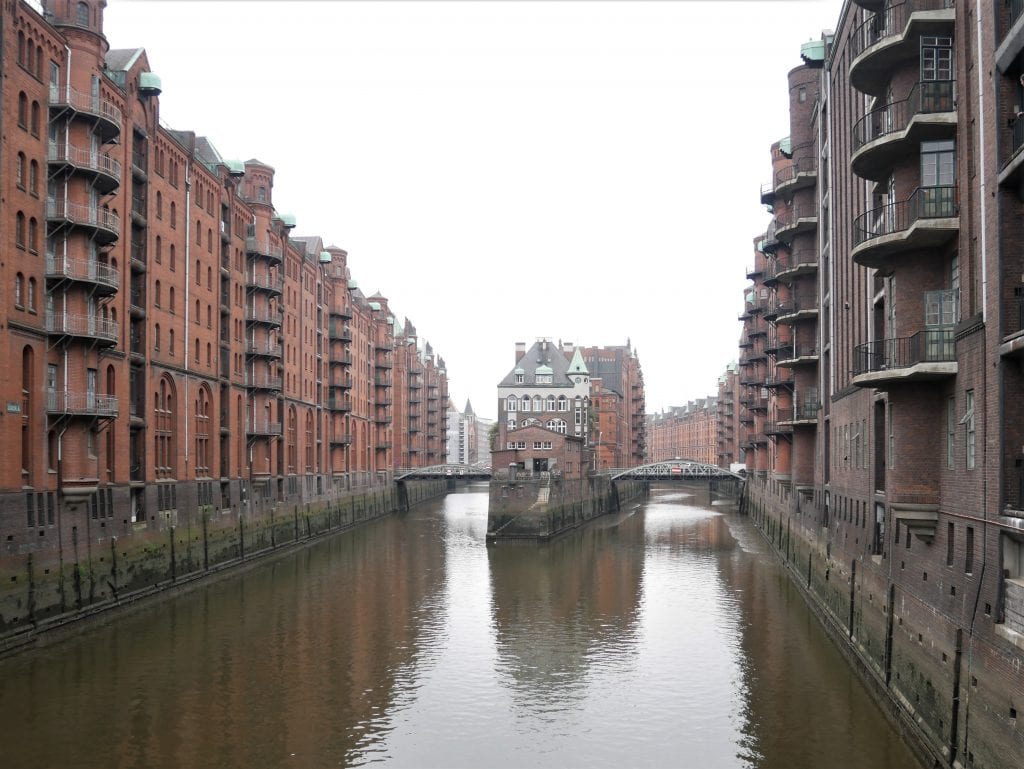 We saw the view on an overcast day and it was still worth the effort of getting there. The nearest train stop is Meßberg which is the blue U1 line. It's then just a short walk to it. Luckily a man took pity on our selfie fails and offered to take this photo below for us.
There are buses in this area but it wasn't practical to get the train to our next port of call so we decided to walk to our next destination of Miniatur Wunderland. It took us about 15 minutes but it was nice walking in the old warehouse district.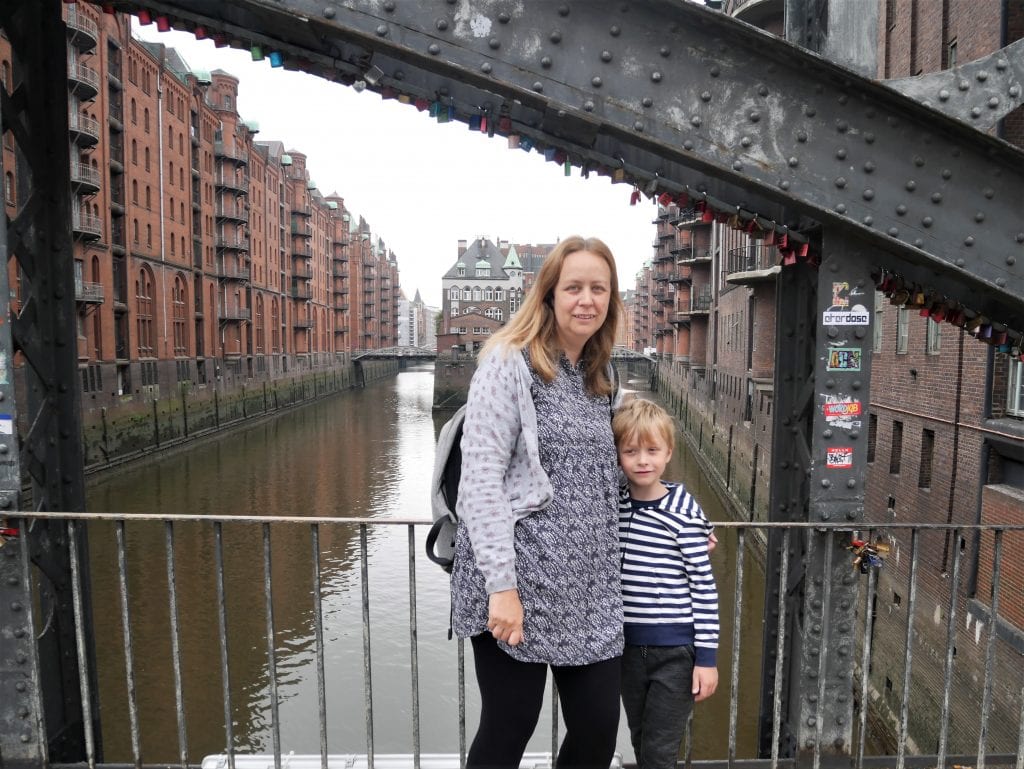 Miniatur Wunderland
Miniatur Wunderland is Hamburg's most popular attraction. It can get very busy and if you want to guarantee entry you can pre-book a time slot online. We had been gifted tickets which we turned up with at 9:30 am and we were let in. But we were warned that we might have to wait to be allowed in. In the summer months, it opens most days at 7:30 am and doesn't close until midnight or even 1 am. They are open 365 days a year, always at least from 09:30 – 18:00.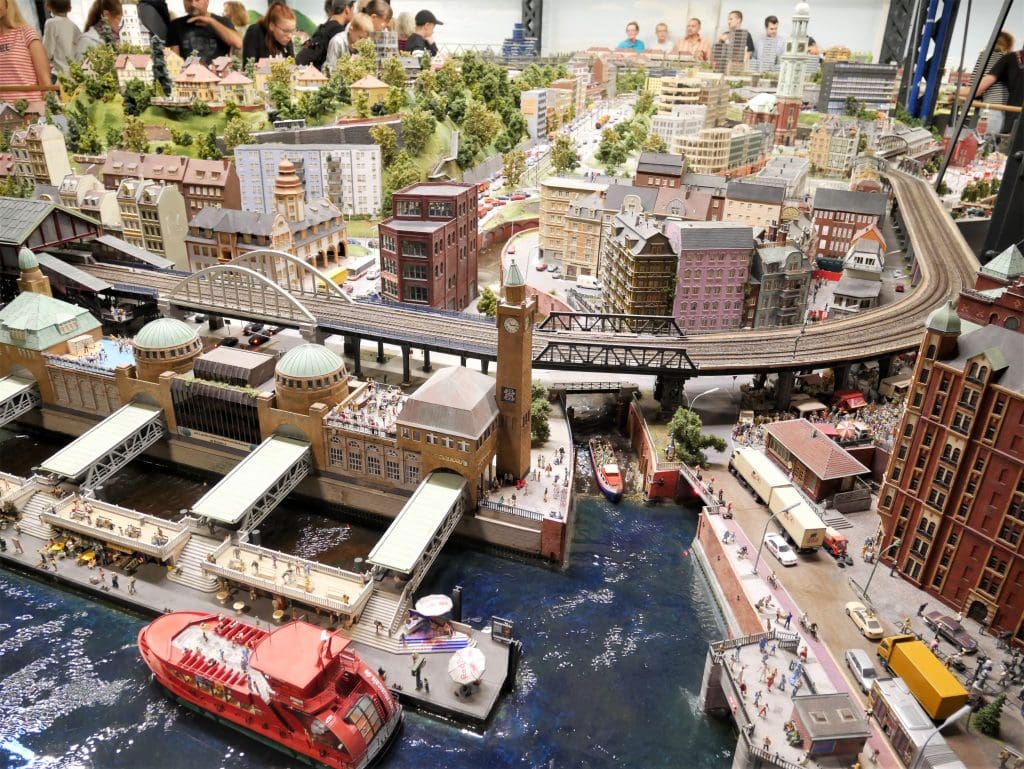 Miniatur Wunderland is the largest model railway collection in the world. I can guarantee that it will be like nothing you've ever seen before. We had been recommended to allow 2 hours for our visit. We were there for over 3 hours!
As well as trains that move along the tracks there are all sorts of wonderous things to spot. Every few minutes the lights go down and the lights on the models come on. You can even expect to see an erupting volcano a thunderstorm and more.
There are hundreds of thousands of tiny figures, some of them move. A lot of the 'sights' are based on real places around the world and we were especially excited to see Venice and Rome. It was nice to see Hamburg the day before we visited as it helped us to spot all the sights in miniature. There are also around 200 buttons to press which then makes something light up or move. One of our favourites was the airport where you can see planes taxying on a runway. This place has to be seen to be believed.
You can save 1,00 euro on your ticket with the Hamburg Card. Entrance is 14,00 € instead of 15,00 €
children (1 m. to 15 y.) 7,00 € instead of 7,50 €.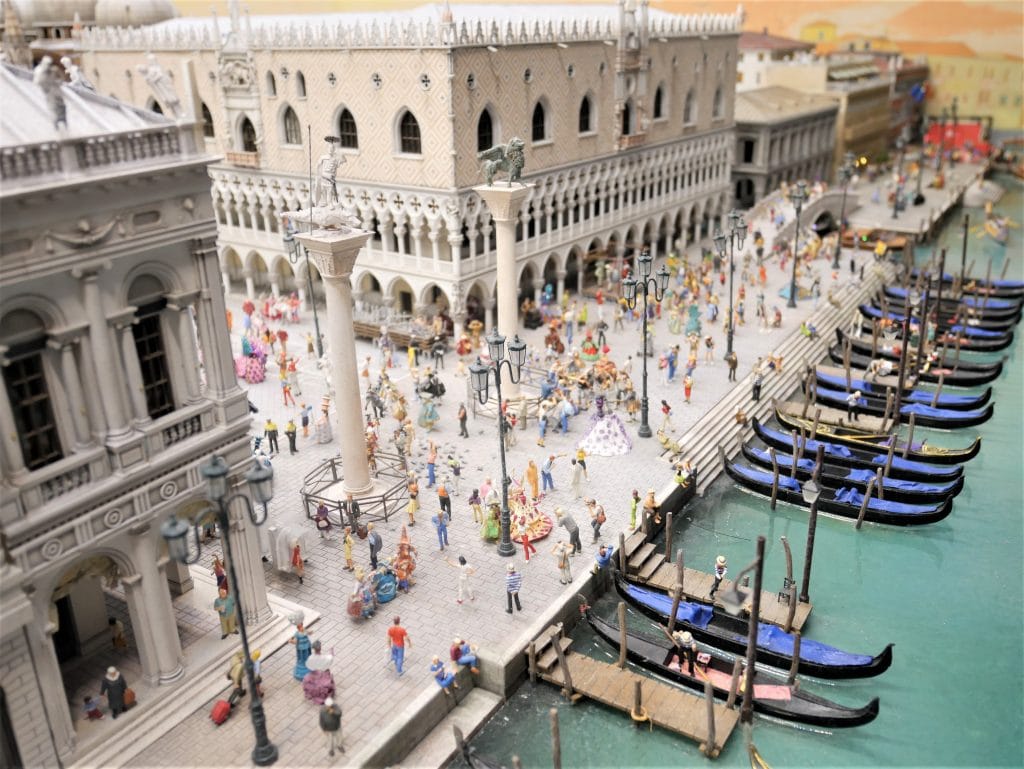 Elbphilharmonie Plaza
The Elbphilharmonie is in the HafenCity quarter of Hamburg and is a large concert hall. It's just a short walk from Miniatur Wunderland. We were prebooked in for a visit to the Plaza but you can turn up on the day. So long as they aren't overcrowded you can queue for your free ticket which you then simply pop in the machine to be allowed in.
The Elbphilharmonie Plaza enjoys 360-degree views of Hamburg. You can walk all the way around the outside of this wonderful building on an open balcony. Not only that but you go on Europe's longest escalator to get to the Plaza. This was great fun and it is nicknamed the 'tube'. The Plaza is 37 metres up and enjoys views over the harbour and out into the city of Hamburg.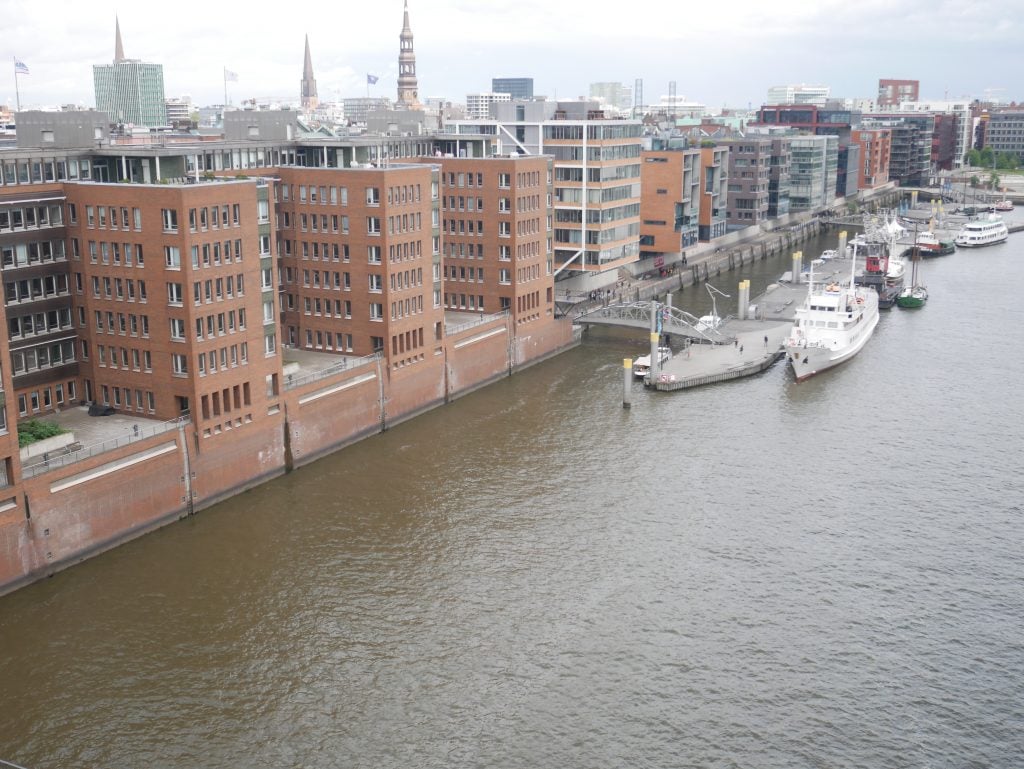 As we had spent longer than we had expected at Miniatur Wunderland we missed the 11:30 sailing in English of our chosen boat tour of the harbour. Barkassen-Meyer is a partner of the Hamburg card and you can benefit from a great saving booking with your card, this is even available online. An adult ticket is €18.00, with a Hamburg card it is just €13.00. Children are €9.00 or €7.00 with the card.
They do have sailings with a German commentary every hour in the summer. We decided we didn't want to miss out so we gave the tour a go even though we had no idea what they were saying. It honestly, didn't matter. The sites were more than worth it. What a wonderful harbour to take a boat ride around.
There are all sorts of different boat tours from Hamburg harbour on all sorts of boats. The tour lasted for an hour and they do also have 2-hour cruises. There was a toilet onboard plus you could purchase limited drinks with cash.
We started by going for a brief cruise down the old warehouse district. The boat then sailed by the Elbphilharmonie which was a wonderful sight from a boat. It's difficult to get a proper view of the building from land. We then sailed along the harbour, past a submarine and then past the massive docks where they bring boats in for repair.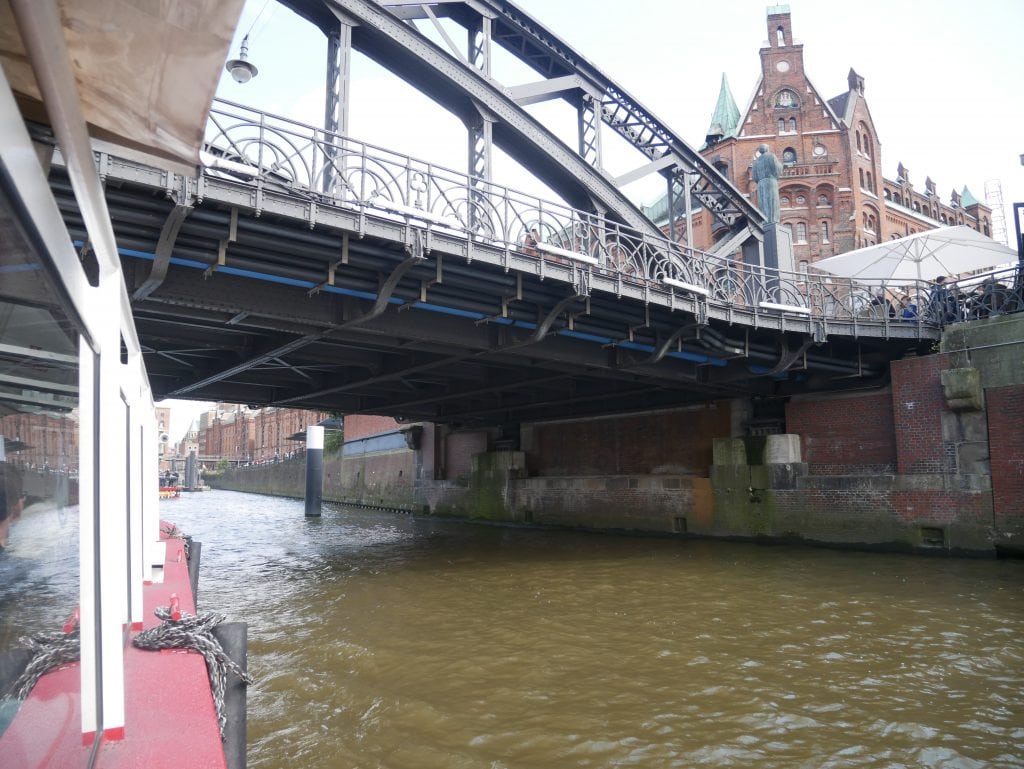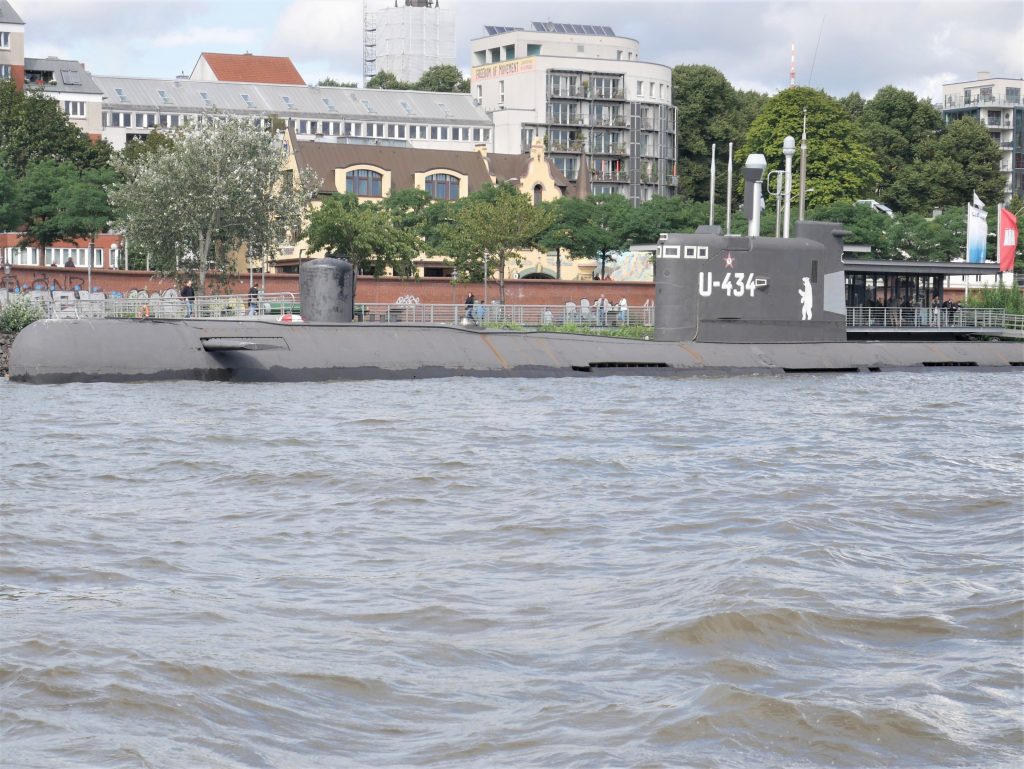 The highlight for us was going into the harbour where they have their huge – and I mean huge – containerships. It was truly amazing. Our boat was like a little tiny ant next to a massive elephant. I've never quite appreciated how big these boats actually are. It is a fully working dockyard and we could see conveyor belts moving about and more. I never thought I'd be so overwhelmed seeing a containership.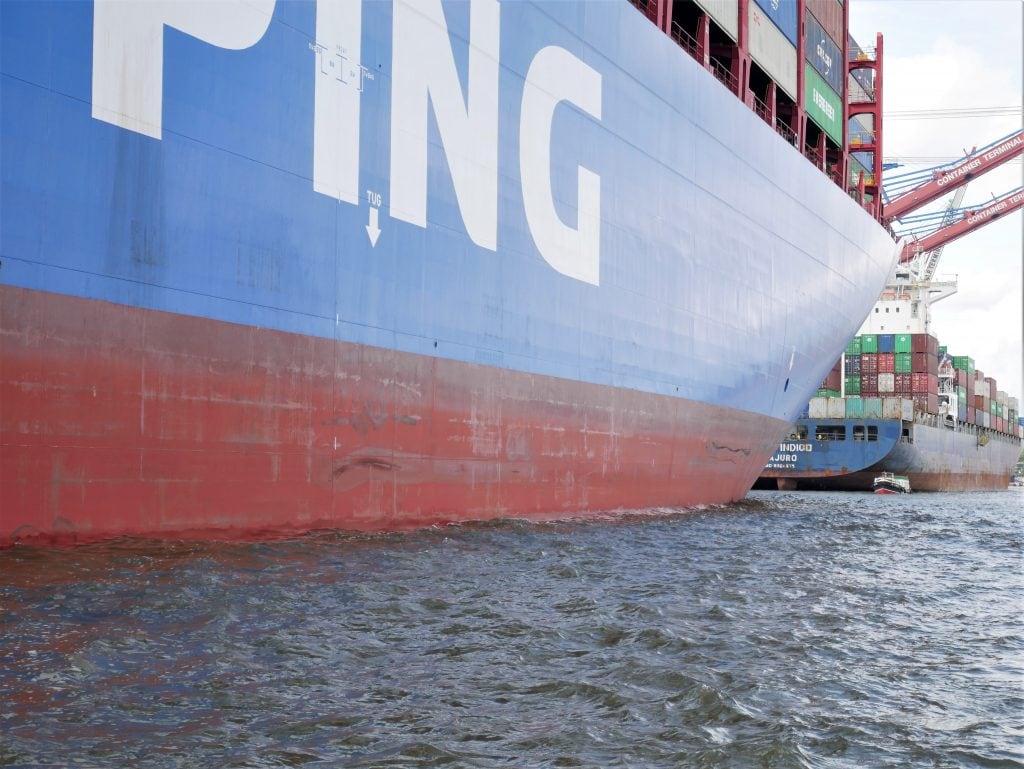 We were now ready for a chill out at the hotel before dinner and a good nights sleep ready for the next day.
Day 3 – Half a Day Hamburg
We were sad to be waking up to our final few hours in Hamburg. Our flight from Hamburg airport wasn't until 3:30 pm so there was still time to fit more in. We were complete pros now riding on the underground and headed back to the harbour. My son had shown a lot of interest in the Cap San Diego boat every time we walked past it.
Cap San Diego
The Cap San Diego is an ex cargo ship now docked as a museum in the harbour of Hamburg. You can even stay on board. There is also a bistro if you fancy something to eat and drink. We saved money with our Hamburg Card. It was built in 1961 and has been berthed since 1986. It was quite an adventure exploring all the different decks.
There's no clear set way of walking around and at times it was a bit like navigating a maze. First, we went down into the many floors of the engine rooms. After this, we explored the other floors and decks with living quarters. The highlight for my son was finding the bridge and pretending to sail the boat. How they ever sail something so big I really have no idea.
You can also walk outside on the main deck up to the front of the boat and also the back of the boat. Towards the front of the boat, we found an art exhibition. It was fascinating for my son as he's never been to a gallery before. He was particularly taken with an art installation. Everything on display was actually for sale.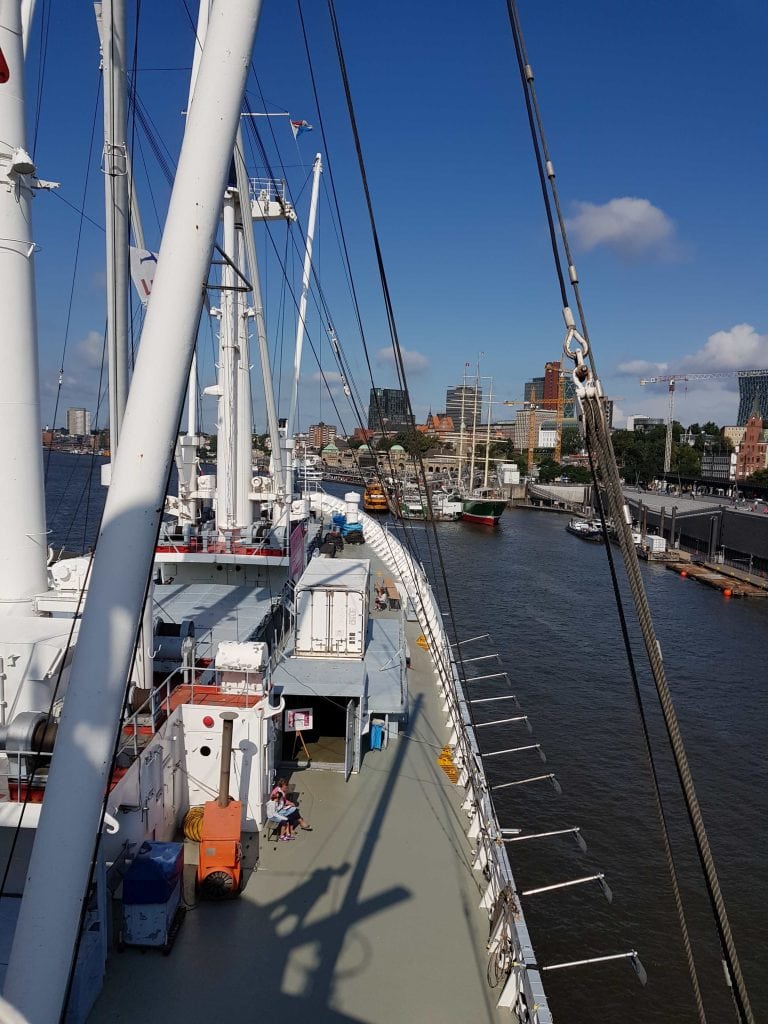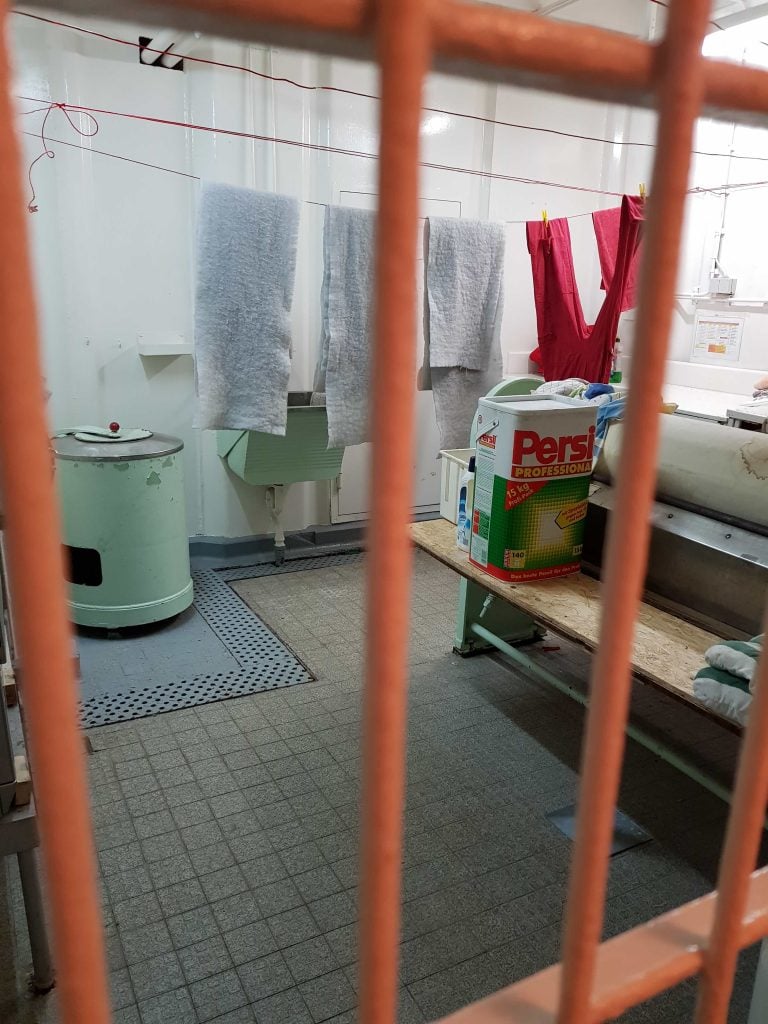 Hard Rock Cafe Hamburg
We now had about 1 hour 30 minutes before we needed to head to the airport. The Cap San Diego is a relatively short walk from the Hard Rock Cafe in Hamburg. As we had arrived early we were able to get a table and we enjoyed an excellent final meal.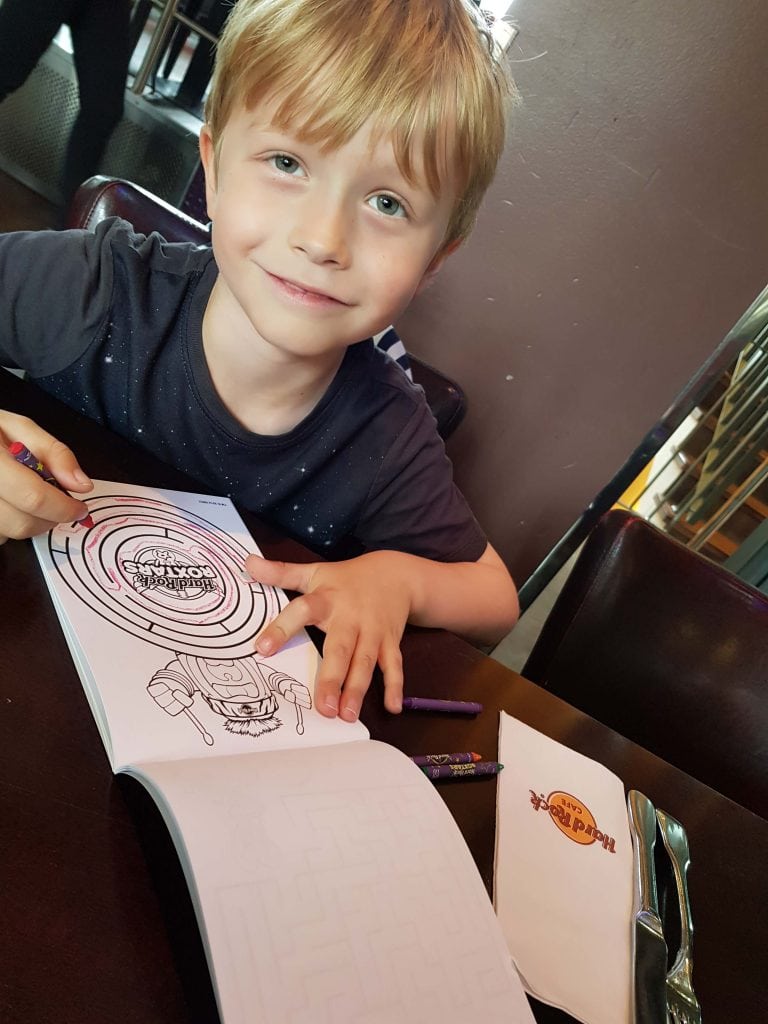 Hamburg Card Discounts
We were given a Hamburg card plus vouchers for attractions. The Hamburg card is certainly worth considering as you can make some great savings with it. There must be a huge element of trust in Hamburg as we didn't have to show our 'Hamburg card' once to travel on the trains.
We travelled everywhere without once having to show or scan our ticket. I guess the penalty of being caught without a ticket is not worth the risk. It does mean getting about is even easier and you don't have to queue anywhere to produce your ticket.
Once you have purchased your Hamburg card you can access your ticket via the App, a website link on your phone or you can print it out. I had ours stored on my phone plus a print out just in case.
As well as benefiting from free travel on trains, buses and harbour ferries with your Hamburg card you can also benefit from up to 50% discount on over 150 tourist attractions. For prices and further information please follow this link. You can also benefit from savings at selected restaurants, gift shops and cafes.
---
I hope you enjoyed my review. Please comment below. Never miss a post and subscribe to my newsletter. We are very active on social media and we would love a follow please on Facebook, Twitter or Instagram. Why not pin this post for later? And give us a follow. Simply click on the image below to take you over to Pinterest.