I spent hours going through websites trying to work out which were the best rides to Fast Pass at Walt Disney world, Florida. I spent an equal length of time looking at videos of the rides at all of the Disney parks. How much research did I do before we went to Universal Orlando theme parks? Answer = barely even a quarter of that of Disney. I am now going to write a post which I wish I could have found on the internet before we went. This post is all about the rides for families at Islands of Adventure Orlando Rides For Families with Young Kids | Universal. Young kids being 6 and under – although not all of the rides are suitable for toddlers.
Universal Studios Orlando for 1, 2, 3, 4, 5 and 6 year old
Read on to find out what each ride is like if there is a height restriction and the suitability of each ride, a lot of the rides are suitable for toddlers. Most of the rides have no height limit although for a few of the faster family-friendly rides your child will need to be 36″ (around 92cm) or taller. For the slightly taller kids, there's also a couple of rides at 42″ and one at 40″ minimum height.
I also want to explain about park opening if you are staying at one of the Universal hotels. We wrongly assumed that by early park entry they meant early entry to both parks. This was wrong for the duration of our stay. We could only enter Islands of Adventure one hour early and we were only allowed access to the Wizarding World of Harry Potter Hogsmeade.
There was no early entry for Universal studios although they did tend to open their doors 10 minutes early which was handy. We took advantage of early opening at Islands of Adventure as it also meant we were near Jurassic Park river adventure and King Kong a lot earlier than the crowds which meant we were able to walk straight on those rides.
Most Universal rides do not allow filming or photography while you are on the ride (unlike Disney!).
The Official Universal Orlando Resort App
I didn't know about the Universal App before we left. It's a good app but it's not quite as 'sensitive' as the Walt Disney World equivalent. It has 'almost' live information about line wait times. We did find that a lot of the time they weren't updating quickly, if at all so it wasn't always reliable. However, it was still useful and worth downloading. It's a lot easier to look at their App than a paper guide.
You can search via Thrill rides, 3D and 4D, water rides, kids rides. Plus shows, restaurants and shops. Plus toilets which is always useful with kids in tow. There are also many other sections within the App such as exploring hotels and booking/viewing guest amenities.
One thing we weren't especially happy with at Universal parks was how little you are allowed to film on the rides. Even the tamest of rides had signs informing you that no filming or photography are allowed. A lot of people did ignore this and I did actually get told off over the intercom on one ride (care/not care?).
Universal Express Pass
We found the two Universal parks to be a lot quieter than all the Disney World parks and we were supposed to be visiting Universal on 'busy' days. We weren't staying at a Universal hotel that offers express pass with a stay there.
Nor did we ever truly feel like we needed to upgrade our tickets to include express pass. If you arrive early enough you won't queue for long at the bigger rides. We did 5 mornings (3 at Islands and 2 at Universal) and then 5 afternoons at the Cabana beach hotel pool. We didn't miss anything out that we wanted to do and we never queued for long.
Unlimited express passes are around $90 a day. Please note that you will still have to queue with other people with express passes. Although the queues will mostly be a lot shorter. If you are staying at Loews Portofino Bay Hotel, Hard Rock Hotel or Royal Pacific Hotel an express pass is included with your stay.
Islands of Adventure Orlando Rides For Families
with Young Kids | Universal – Including Height Requirements
Seuss Landing
This is the most perfect area of both of the two Universal parks for young children. It's bright, it's colourful and most of all lots of fun. The rides are all quirky and great for little ones. There's 4 islands of adventure rides in this area plus an interactive playground called If I ran the Zoo.
The high in the Sky Seuss Trolley Train ride – Height Limit 36″ (around 92cm) – I am not entirely sure why this ride has a height limit. It may be because you have to sit in your own individual seat. It's quite high up and you are strapped in. The ride isn't particularly fast nor scary. The view of the park from up here is amazing and it's a really fun ride. You sit two by two and you can fit four in one carriage.
Caro-Seuss-el – No height limit – Billed as the world's most unusual merry-go-round. This is certainly pretty different as far as merry-go-rounds go. The characters were even relatively comfy to sit on which is pretty unusual in itself. It doesn't go especially fast round and round. You can share if your child isn't confident sitting by themselves. You are all made to wear a safety belt.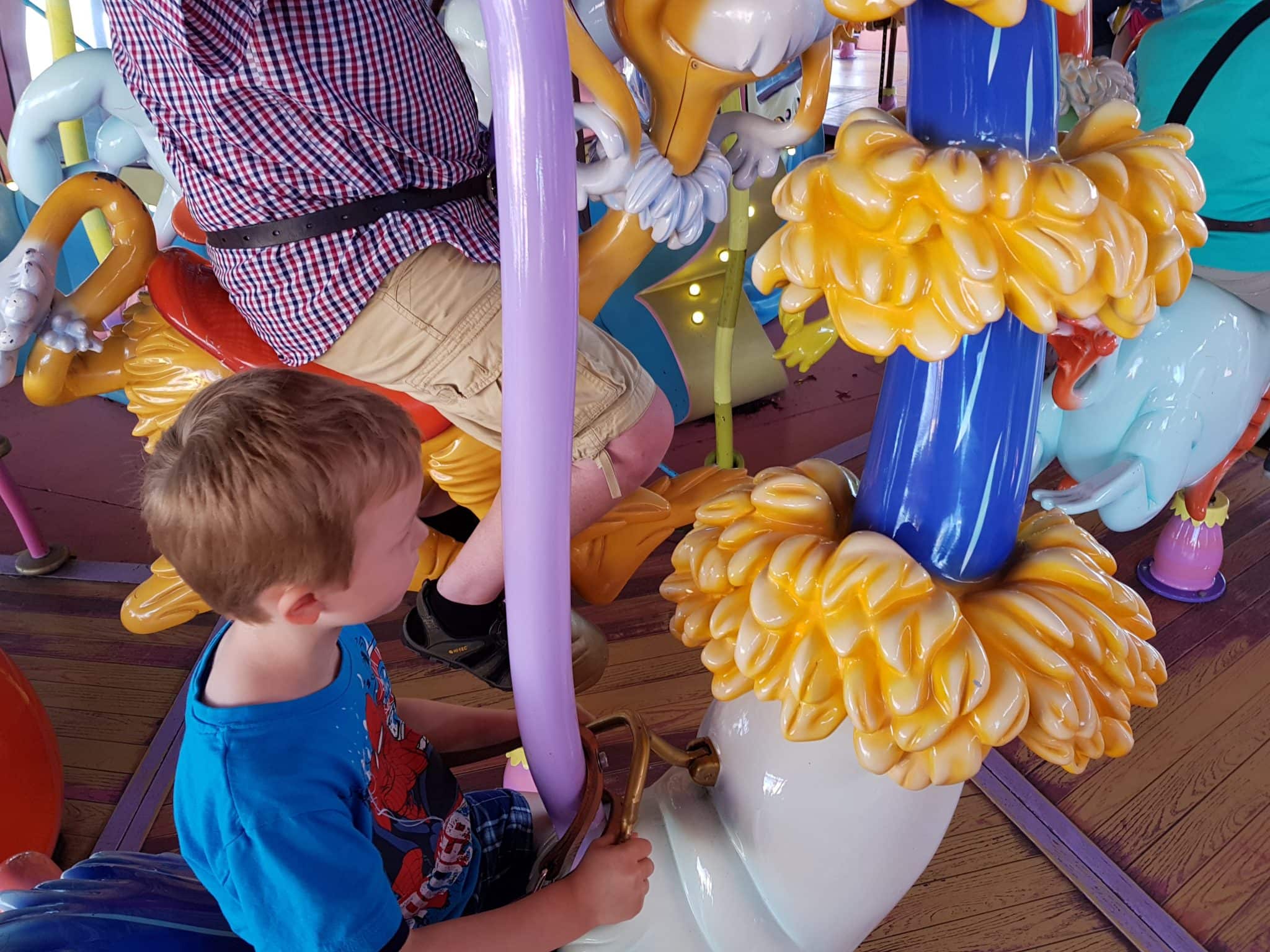 One fish, two fish, red fish, blue fish – No height limit – This ride in islands of adventure goes round and round and up and down. You are in control of it going up and down in your own fish. As you are going around there are Seuss characters that shoot water out at you. It's up to you if you get wet or not as we went on the ride a couple of times and didn't even get a teeny bit wet. We sat all three of us in one carriage as some seat two and others can seat three. You queue up accordingly. Toddlers will love the rides in Seuss landing.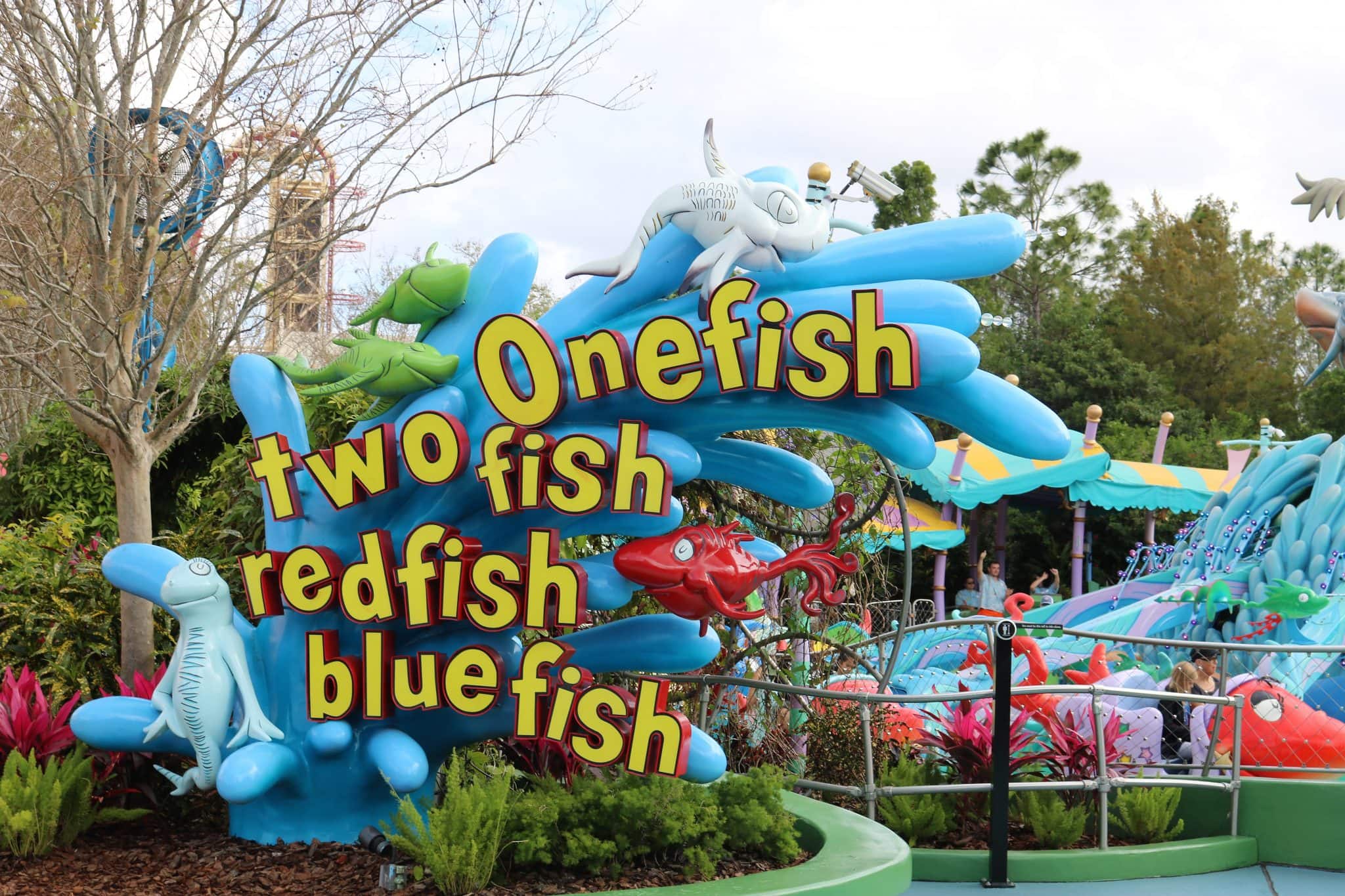 The Cat in the Hat – Height limit 36″ (around 92cm) – This was one of our son's most favourite rides. I must admit that we rather liked it too. You sit in a cart and you are whizzed around as if you are travelling through a Seuss storybook. Some of the spins are quite fast so I can understand the height restriction. It is not a scary ride and it's very bright, happy and colourful. This ride is indoors.
Also in this area, you will find meet and greets with many of the Dr Seuss characters. You can see my post for more information (coming soon).
The Lost Continent
If you carry on around the park from Seuss Landing you will arrive at The Lost Continent. This is where you will find one of the best theme park restaurants in the world. Read more about Mythos restaurant in my review also coming soon.
Also in this area, you will find the following attractions (not all of them are rides).
The Eighth Voyage of Sinbad – Show – Usually 3 times a day, check park guide for exact times. This is a live stunt show with special effects. We didn't go to see it as our timings never seemed to match when a show was on. I've also only really heard unfavourable reviews for the show. (I believe this is closing soon).
Poseidon's Fury – Guided tour around a temple – The outside of this attraction is pretty spectacular. We were very impressed (you can't do it justice within a photo!). There are guided tours in the temple at set times throughout the day which are around 20 minutes apart. We spent around 5-10 minutes queuing to then have to leave as our son needed the toilet. We never returned. Quote "Explore the Temple of Poseidon and witness the power of the gods while you're caught between an epic battle of good and evil in this spectacular special effects"
The Wizarding World of Harry Potter Hogsmeade
Working your way around the park you will then come to The Wizarding World of Harry Potter Hogsmeade. If you want to ride on the Hogwarts Express please make sure that you have park to park tickets. I made the mistake of going for the cheapest tickets for Universal which only allowed access to one park a day. This meant that we couldn't go on the Hogwarts express as you need to buy the 2 park or 3 park explorer ticket. It is not clear about this on their website and you can pay to upgrade on the day but we had virtually run out of money as we were coming to the end of our three week holiday.
We also didn't buy our son a wizard's wand. I had thought it would be fun for him to buy an interactive wand and join in with all the things that you can bring to life in both of the Harry Potter areas. All we ever noticed though were long queues at all the 'spell areas' and children getting frustrated because their action with their wands wasn't working. This would not have been suitable for our impatient four year old. It looks fun but you share the experience with a lot of people even at early opening.
As a big Harry Potter fan it was nice to just wander around, however, the area was a lot smaller than I expected and far too busy!
Flight of the Hippogriff – Height restriction 36″ (approx 92cm) – Because of the early opening for hotel guests to Hogsmeade we were able to ride the Flight of the Hippogriff a couple of times with only very minimal queuing. In fact, we could have gone on it at least 4 times as our son wasn't tall enough for the main ride in the castle. It is similar to a runaway train and it is very fast, it's a great ride in islands of adventure.
Jurassic Park
Leaving Harry Potter you will then enter as if you are entering Jurassic Park itself. The whole area felt like we were on the set for the movie. It's a great part of the park for young and old fans of the movie or even just of dinosaurs in general.
There is a prehistoric playground in this area called Camp Jurassic. We wandered through a bit of it after we left one of the rides. It wasn't anything particularly special. My son was a little scared that something would leap out at him (which it didn't).
Pteranodon Flyers – Height Limit 36″-56″ (approx. 92cm – 142cm). You are only allowed on this ride as an adult if you are with a child. You can get a virtual line pass for this ride at selected times. After our very long wait in a seemingly short queue, I would recommend that you do this if you can. This means you can only queue at a set time. You sit two of you underneath a Pteranodon and it then flies you very fast above the treetops. I found this a little scary in the sense that I felt unsafe on it. It's not unsafe but it was so fast and jerky. The queue takes so long because there's only two Pteranodon's flying around and with only two to a ride it can take a long time to get to the front (even with a short queue).
Jurassic Park River Adventure – Height limit 42″ (approx. 107cm) – You will get wet, possibly very wet but it will be worth it. We LOVED this ride and went on it with no queue at all after rope drop on two different days. You ride in a large boat and can sit quite a few on a row. If there's a lot of you on the boat you will get a lot wetter than if there's just a few of you.
This ride is epic and lots of fun. There are dinosaurs popping up all over the place and some elements are quite scary. There's a smaller drop and one really big drop which is big and fast. We frightened the Bee Gees out of our 4 year old with this ride. For that, it doesn't win family-friendly ride award however he will never forget the experience.
Another thing to make sure you do in Jurassic park is the Raptor Encounter. You may have to queue for a fair while but it's the most realistic dinosaur that I've ever met! There is also the Jurassic Park Discovery centre where you can 'get hands on with the past.'
Skull Island: Reign of King Kong
There is only one ride in this area. But it's so big and so unique that it gets an area all to itself. The outside of this ride looks as scary as it is inside. This is for the children who don't scare easily.
Skull Island: Reign of Kong – Height Limit 36″ (around 92cm) – The scariest part is the queue for this ride. It is dark and it's winding and there may well be someone who gives you are very big surprise in there. He scared our son witless to the point that he was nearly crying by the time we got him on the ride. He was fine going on before that. We even knew he was there the second time we went on the ride and he still frightened the life out of us.
This is a 4D ride where you take your 3D glasses and board a safari truck to ride around Skull Island to find King Kong. You are whizzed from one screen to another and honestly, it is so immersive and it feels so real. This was one of my most favourite Universal rides and I urge you to not miss it. We went on this right after the Jurassic Park river ride, after the rope drop at Harry Potter, and walked on both times. It won't disturb your kids forever, I promise! But a lot of more nervous kids won't be keen on the queue and the immersive aspects of the ride.
Toon Lagoon
We didn't find anything to really interest us in Toon Lagoon. Mostly because one ride was shut and the other Jamie wasn't quite tall enough for and this is the other 42″ ride on this list. For some reason, we totally missed the Olive ship playground. Some of the comic strip shops are fun around this area but we didn't stop for long.
Me Ship, The Olive – Playground – No Height Limit – This is a multi-level playground on board Olive's ship (from Popeye), with an ocean theme.
Popeye and Bluto's Bilge-Rat Barges – Height limit 42″ (approx. 107cm) – This is a white water rafting ride that was shut for annual maintenance during our visit. If you find a video of this on Youtube you will discover that you will get very very wet on this ride.
You will find another ride in this area (Ripsaw falls) which is mentioned at the bottom of this post plus meet and greets with comic strip characters.
Marvel Super Hero Island
On to the final part of Islands of Adventure, Marvel Super Hero Island – or the first if you head left when you have arrived at the Port of Entry. This is the location of two pretty extreme rides however there is still one ride in this area that smaller children will enjoy. I will also mention the bigger rides in the final section of this post.
Storm Force Acceletron – No height limit – Think teacups but even faster. I was quite surprised that there was no height limit for this ride as even without spinning it yourselves it spins really fast. It's the fastest 'teacup' type ride I've ever been on. It was lots of fun!
The Amazing Adventures of Spider-man 3D – Height limit 40″ (approx 102cm) – This ride is very similar to The Transformers 3D ride over at Universal studios. You board a car type vehicle with some 3D glasses. You are then whizzed through the streets for an action-packed adventure starring Spiderman. It's fast and it's fun and there are a few 4D elements to the ride.
Rides for Older Children (and adults)
There are a few rides that I haven't mentioned above as they are not family friendly rides (with younger kids). They are rides for taller and older kids (and of course adults). Just so that you know what else there is at the park and in case you have older children or want to ride on these rides by yourselves I will outline them below.
Harry Potter and The Forbidden Journey – located in Hogsmeade – Height limit 48″ (approx. 122cm) – "Enter Hogwart's castle and join Harry Potter and his friends on an unforgettable breathtaking adventure" As our son wasn't tall enough we didn't ride this ride to find out what it was like.
There is also a brand new ride to the Harry Potter area:
Hagrid's Magical creatures motorbike adventure – Minimum Height 48″ (121.9 cm) – Quote "An epic new addition has arrived to The Wizarding World of Harry Potter™. For the first time ever, fly deep into the wilds of the Forbidden Forest, beyond the grounds of Hogwarts™ castle. As you twist past towering trees, magical creatures and wondrous surprises surround you. One misstep could drop you into an endless pit of Devil's Snare, or put you in the sights of a centaur's bow. Anything can happen here.
With Hagrid™ as your guide, an all-new adventure is taking off as you board magical motorbikes to fly far into the dark forest. Hurl past impossible obstacles and dodge fierce beasts you've never seen before on a freewheeling coaster flight that will bring you close to some of the wizarding world's rarest magical creatures.
Dudley Do-Right's Ripsaw Falls – Toon Lagoon – Height limit 42″ (approx. 107cm) – This is a log flume ride with a pretty steep drop. It is themed as if you are riding through a cartoon.
The Incredible Hulk Coaster – Marvel Super Hero Island – Height limit 54″ (approx. 137cm) – This is one almighty rollercoaster. Our son spent nearly the whole time worrying that we were going to take him on this ride. As he is no way near the height limit there was no chance of that whatsoever. The Hulk basically blasts you out to a series of high-speed loops. Not for the faint-hearted!
Doctor Doom's Fearfall – Marvel Super Hero Island – Height limit 52″ (approx 132cm) – This ride goes high, really high (185 feet) and then drops you back down very fast. This is certainly one to make your tummy feel funny. You can see the two drop towers on the left of the photo above.
Universal Orlando Tickets
Are you looking for 2-3 park tickets for Universal in Orlando, Florida? Most of the Facebook planning groups I'm in recommend this website for purchasing your tickets. These tickets will include the Hogwarts express from park to park.
---
This post may contain affiliate links. This will cost you no extra to click to buy. Why not subscribe to my monthly newsletter to keep up to date? Or keep in touch on social media. We are very active on Facebook, Twitter and Instagram. Why not pin this post for later? Simply click on the image below and maybe give us a follow as well.
Islands of Adventure Orlando Rides For Families with Young Kids | Universal