I had repeatedly seen very good recommendations for Mythos Restaurant at Islands of Adventure, Universal Florida. So once we had our stay at Cabana Bay beach resort Universal booked I then booked us a table at Mythos. It's one of the few restaurants at Universal which you can pre-book online for. You need a park entry ticket to eat at Mythos so make sure that if you pre-book it's on a day when you will be visiting Universal's Island of Adventure.
True to the rest of our holiday at Florida theme parks our table wasn't ready when we arrived. We had to wait a few minutes in the foyer which was very busy and far too warm. Luckily it wasn't the longest wait we've had for a pre-booked table.
Mythos at Islands of Adventure | Universal Florida | A Review
The exterior of the restaurant really does have the wow factor with a towering rock with carved faces and waterfalls. We were excited to spot a banner outside the main entrance stating that Mythos has won "#1 theme park restaurant in the world six years in a row" – Theme Park Insider.
Once inside the restaurant is themed like a cavern. There are booths along one edge and then lots of tables down in the heart of the cavern which gives the place the feel of a grotto. The food is a mix of Mediterranean, Asian and American fare.
The Menu at Mythos Restaurant
We ate at Mythos restaurant during a lunch service. Although it is open from 11 am it shuts at around 4pm-6pm.
On the menu, they have a choice of around 6 starters/appetizers priced at $6-11. There is a Tuscan soup at $5.99, meatballs at $10.99 a Mezze platter at $9.99 and more. Plus a choice of salads at around $14-20.
Entrees/main courses are priced from $16 to $26. These include beef medallions at $22.99, gnocchi bolognese at $15.99 and pan-roasted salmon at $22.99.
My husband and I both chose the same main course. We both had Pad Thai at $18.99. This included rice noodles, mixed vegetables, chicken and shrimp tossed in a sweet and sour peanut sauce. It was absolutely fabulous. I ate mine really slowly just to savour the flavours for a bit longer. I 100% recommend it and so does my husband. It was fresh and delicious.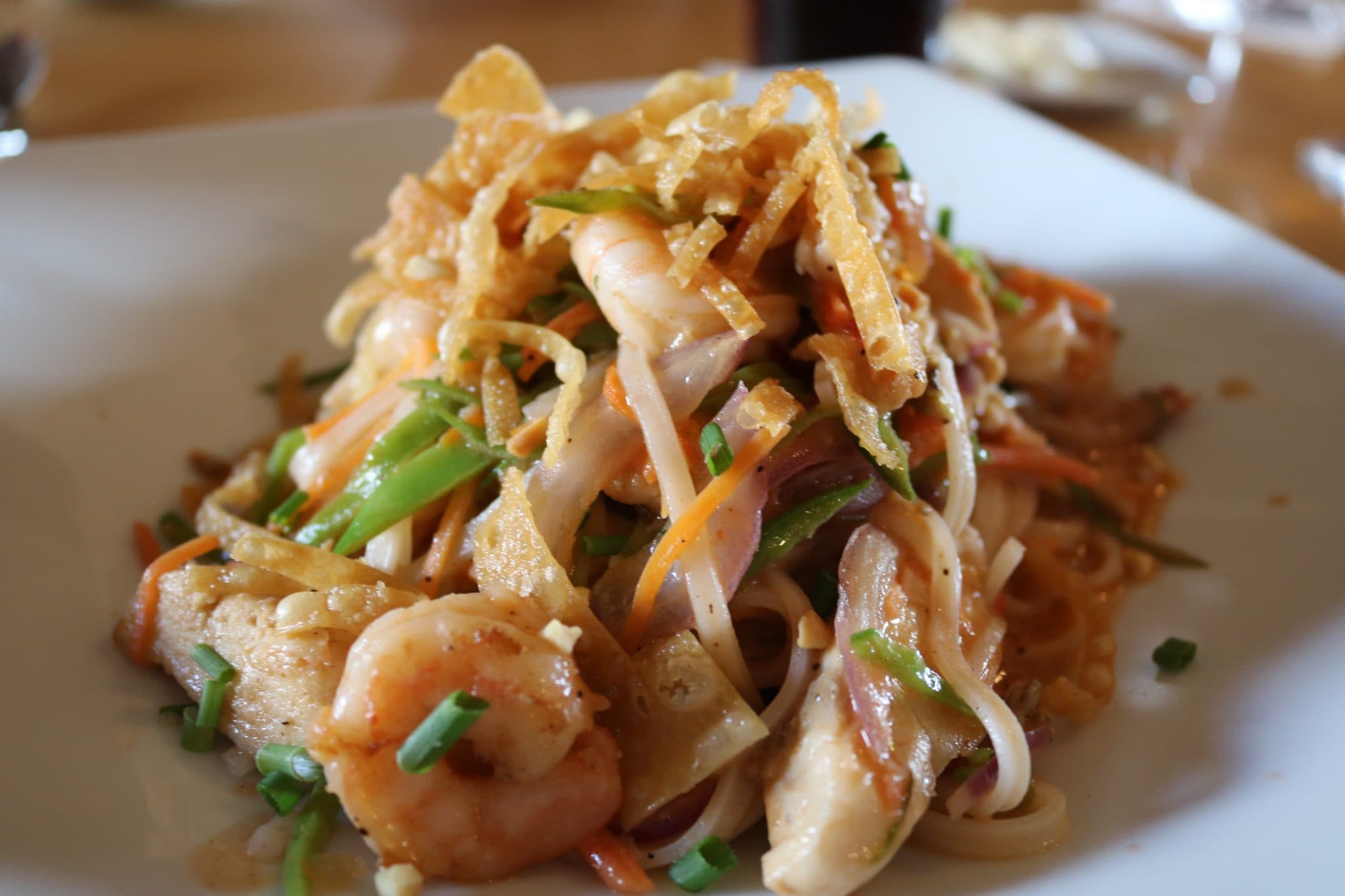 The kid's menu had lots of lovely choices for $6.99 a dish. Our normally adventurous son chose a pizza again which he'd managed to get away with a few times on this holiday. But hey he was on holiday! Other choices are penne with garlic sauce, grilled chicken meal, burger, chicken fingers and grilled cheese. Our son chose the pepperoni pizza at $7.99, there was a cheese and tomato pizza at $6.99. The ice cream was $1.99 and it was just $2.99 for a banana split.
The service, food and ambience were all exceptionally good at Mythos restaurant. The food wasn't drastically overpriced and we would certainly return again.
Universal Orlando Tickets
Are you looking for 2-3 park tickets for Universal in Orlando, Florida? You will need a park ticket for Islands of Adventure to be able to eat at Mythos. Most of the Facebook planning groups I'm in recommend this website for purchasing your tickets. These tickets will include the Hogwarts express from park to park.
---
All menus and prices are subject to change. This post may contain affiliate links, clicking on the link will cost you no extra to buy.
If you enjoyed my review post please comment below. Why not subscribe to my newsletter for regular updates? Or keep in touch on social media. We are very active on Facebook, Twitter and Instagram. Why not pin this post for later? Simply click on the image below and maybe give us a follow as well.