You may or may not know that we won a competition to Lapland this year with Santa's Lapland. My son baked some cupcakes for Santa and they received the most amount of likes on Facebook. We were thrilled and stunned to win and completely over the moon. It had been not only been one of the first things on our family bucket list, but my dream to take our son to meet Santa in Lapland. We won a 2 night /3-day break and I will write about our itinerary during that time in another review post. In this post, I will be writing about the recently opened Santa's Star Arctic hotel sitting above the town of Saariselka, in Finland.
*this post contains affiliate links. It will cost you no extra to book through these links
Santa's Star Arctic Hotel – Santa's Lapland – A Bit About the Hotel
The hotel opened a year ago at the start of December 2017. It is situated high up on the mountain of Kaunispää and offers wonderful views down to the Finnish tourist town of Saariselka.
From the hotel, it is about a 5-minute drive down to the town and it is a 4* rated hotel. Although we stayed at the hotel as part of our Santa's Lapland package you can stay at the hotel independently. They have scenic suites, scenic view with sauna suites and glass cabins. All are situated perfectly for hopefully spotting the Northern Lights. Sadly they weren't out to play during our visit but I never expected to see them as I knew then I wouldn't be disappointed if we didn't. We had the most wonderful large window to enjoy the view and potentially the northern lights from our cabin.
We were on a new break for Santa's Lapland this year which is the 3 day Aurora break. They also offer 4-day breaks with this package. The Star Arctic hotel is the higher-priced hotel of the 5 that Santa's Lapland use. There is also the Santa's Hotel holiday club, Santa's Hotel Tunturi, Santa's Hotel Riekonlinna and Santa's Saariselka Inn (are you noticing a theme?).
A Review of the Santa's Star Arctic Hotel – via the Santa's Lapland package:
Arrival at the hotel
Upon arrival, we were dropped off at the topmost point of the hill by our courtesy coach. We then had to trudge down the long and relatively steep hill with our bags. I can understand why the coach couldn't get close for drop off due to all the ice. But a courtesy bus for the bags would have been welcomed as I saw some single parents struggle to get down but I was too laden down to help myself.
If you have a chance on another day during the very little and precious light hours of the day be sure to climb to the top of this tower pictured below for selfies. If it's a clear day the view is just tremendous.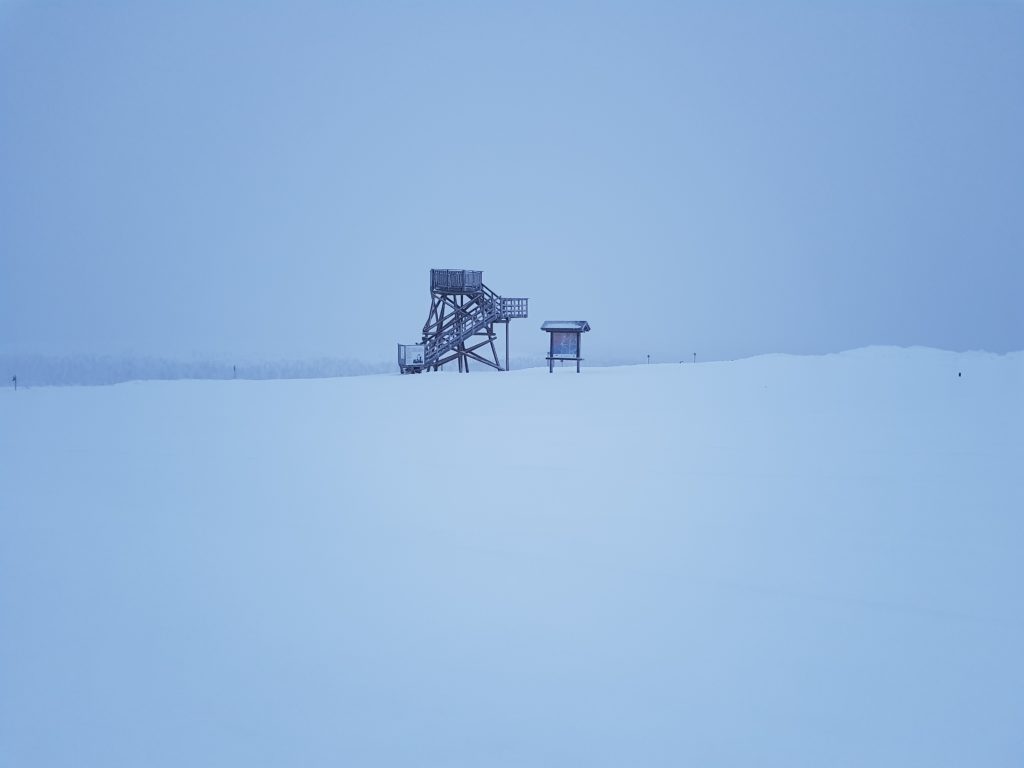 Check-in was so easy and in all honesty a bit of a blur. We were met by a Santa's Lapland rep at the bottom of the snowy hill who handed out our appropriate bundles of paper and room key cards. We had very little time between check-in and then departure for our evening activities. This did give us just enough time to look around our suite and drop off our bags.
The Cabins at Santa's Star Arctic Hotel
There are three tiers of accommodation. There's a higher level to reception and the main building that has the glass Aurora cabins. Then on the same level as reception, there are the Scenic view suites and then down the hill a bit further is another level of Scenic view suites. We were on the lower level which are the suites with the best view of Saariselka below. Our walk down was steep but well gritted. They use lighting inside and outside minimally so that the views of the night sky aren't spoilt should you be lucky enough to see stars or the northern lights.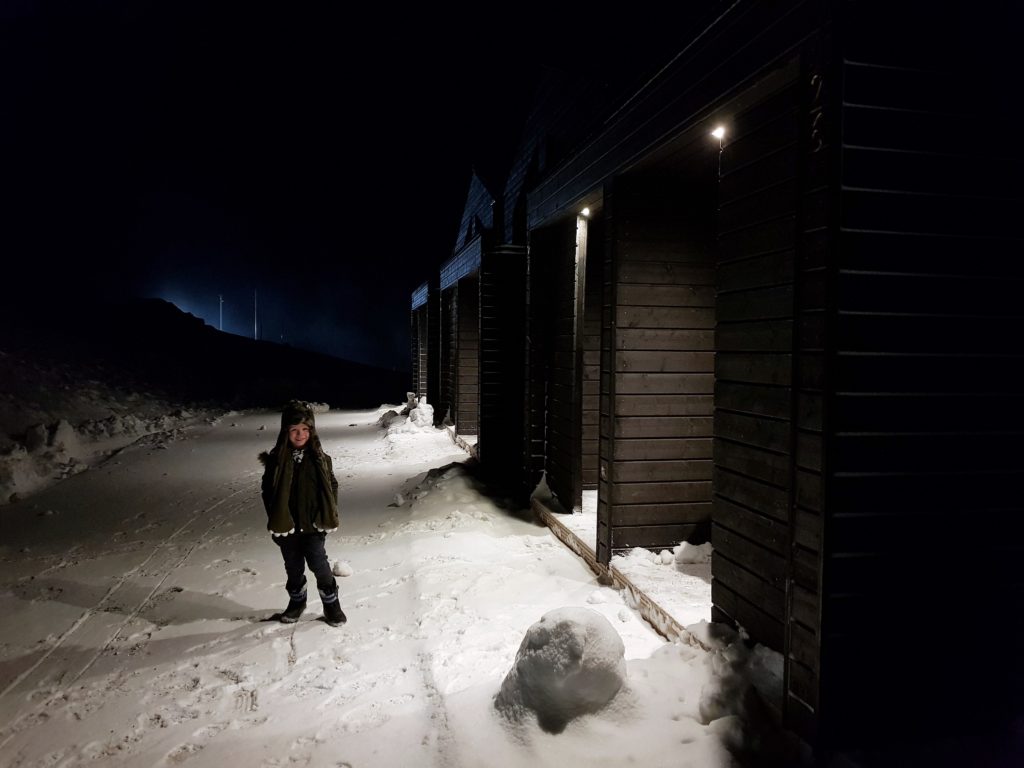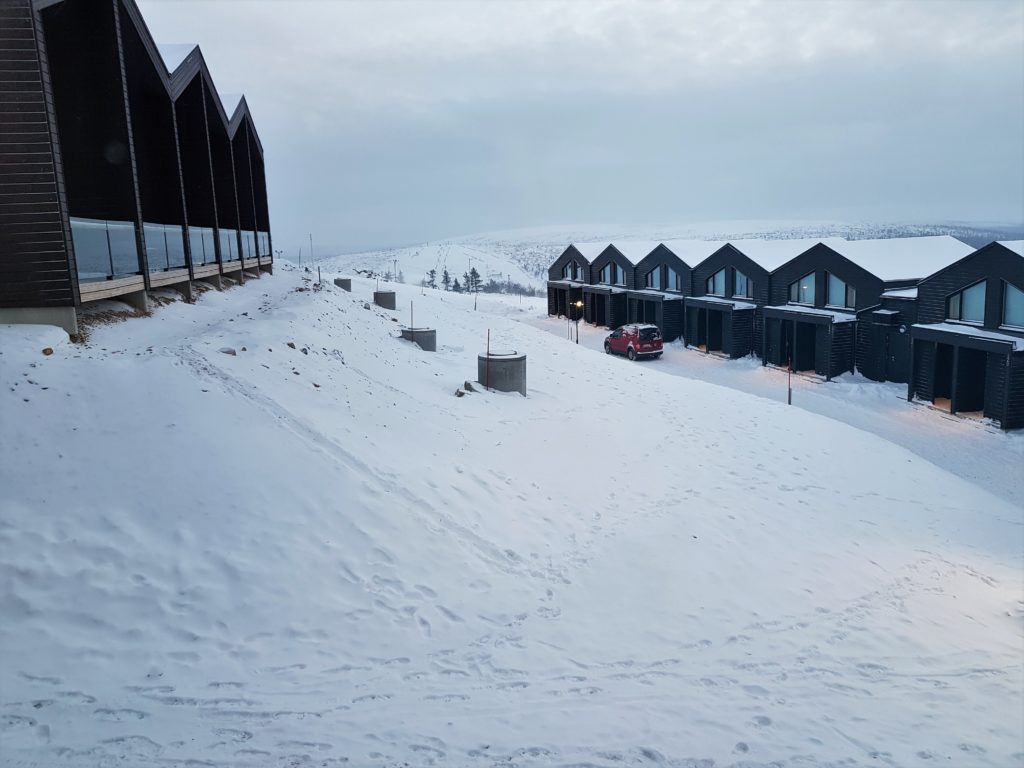 Because the rooms are on three levels it meant that there were plenty of slopes for the kids to toboggan down. The hotel supplied a few free of charge to use toboggans. My advice is to commandeer one as soon as you can as they are great for towing your kids (and bags) around and many people kept one outside their cabins.
All of the rooms are accessed via the outdoors. This is a wonderful opportunity to enjoy the snow, even more so than you perhaps would do if all the rooms were connected to the main area. It does mean sometimes over dressing but you can soon strip down.
Our Scenic View Suite at Santa's Star Arctic Hotel
The front door is in a porch area. This gives you an opportunity to have a good foot stomp before you enter your cabin. The rooms are accessed via an electronic room key card. As you enter the left side of the downstairs room is full of storage. There were places to hang our clothes and our newly loaned massive ski suits. Plus drawers, cupboards and more.
This area also had a kettle with drinks, a mini-fridge (unstocked) and a safe. Because there was 3 of us the downstairs sofa bed was set up as a queen-sized bed for the duration of our stay. We did struggle a bit for space as there was a table taking up a lot of the remaining area. It would have been nice to either have the sofa bed just made up for bedtime or for the table to have been removed from the room. There was a large TV which played just 5 Finnish channels.
Also downstairs and to the right of the main door was the shower room. This is a wet room shower and it is all very modern in design. You can tell that the hotel itself hasn't been open for too long as it still all felt very fresh and new and incredibly modern. We had a patio door to the outside balcony but we didn't use this during our stay.
Sadly I had left my son and I's toothbrushes and toothpaste at the hotel near Leeds/Bradford airport. Imagine my delight to see not one but three toothbrushes with a mini toothpaste.
Up some steep wooden steps in the cabin, there was a mezzanine. Up here there were two single beds with no other furniture other than a small chair. The steps were very steep and awkward so our son was made to come down on his bottom each time.
Facilities at Star Arctic Hotel
There is a sauna, gym, bar, restaurant and shop onsite. All rooms have free wifi and considering where we were it was a really good internet connection. Because of the dark light from around 2pm until 10am I struggled to get the quality of photo that I'm happy within our cabin but I have tried my best.
As mentioned above if you are lucky to commandeer one of the hotels toboggans for the kids. (We had to literally take one leaning outside of a room as otherwise, my son would have missed out….sorry, not sorry!) The hotel is not far from the 2km….yes 2km! toboggan run. We didn't have time to try it out but had we done I think we'd have taken a taxi back up to the top. I don't think I could drag a toboggan 2km back up a snowy slope.
The hotel is also very close to the only ski slope at Saariselka. This has a chairlift up to the top, however, the slope was shut when we were there as they didn't yet have enough snow. There is also a cafe with a gift shop at the top of the hill. I did hear that the shop in the hotel is better. To be honest the shop down at Lapland Safaris in the town looked to be the best selection and the best prices.
The bar area only has a few comfy chairs and a couple of sofas so again if you want a drink get there early or sit at one of the dinner tables. Next to this area, there's a small play area for the kids with a couple of wooden toys, a teepee and a play rug. This was a great spot for my son to sit and make new friends.
Food and Drink at the Star Arctic Hotel
There is a bar in the main reception area. This was quite expensive. We paid 36 euros for a bottle of white wine and 12 euros for an espresso, orange juice and a bottle of Pepsi Max. We also had two soft drinks with a Pastis one night which cost 20 euros. With breakfast, the juice was included as part of the package. However, at lunch and dinner, only water was included. We had seen mention of refreshments being available throughout the day but this was only water when we found it and it wasn't easy to come by when out of the hotel for activities.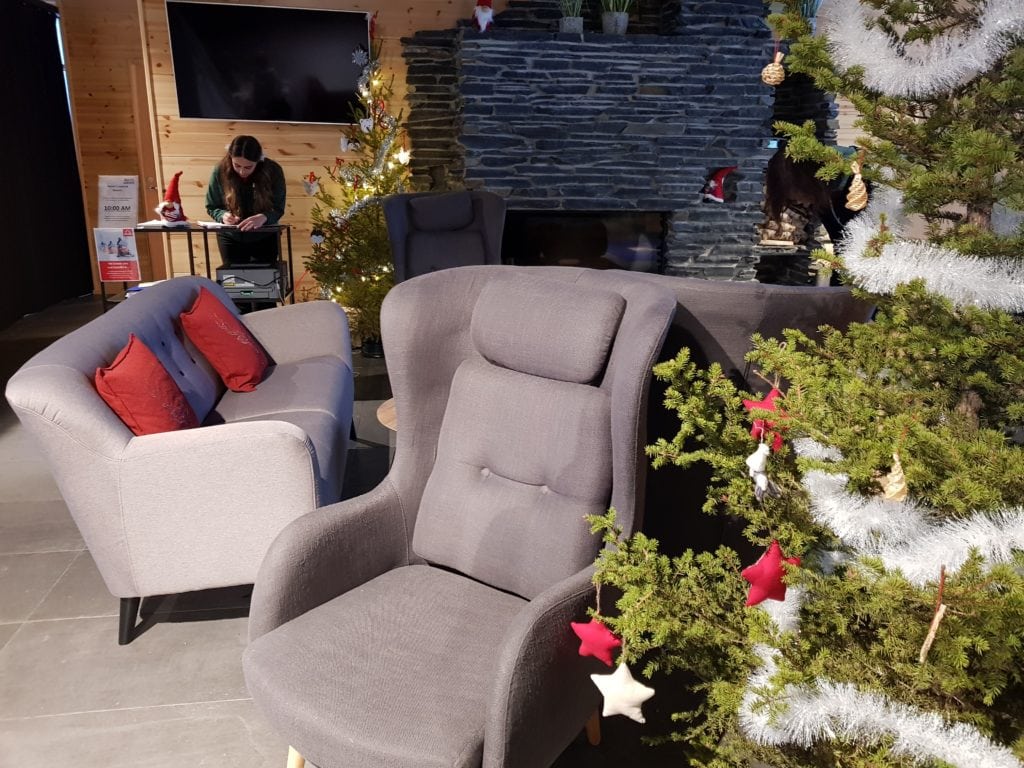 For our 2 night/3 day Aurora package all our food was included. We ate one meal off-site (see other review). Then at the hotel, we had two buffet breakfasts, one buffet lunch and one buffet dinner. We loved the food at each meal. There was just about enough tables for our sittings. I do recommend getting there early each time though just to guarantee a table.
Breakfast – There was a choice of hot food such as bacon, traditional sausages, scrambled eggs, beans and a few other items. You could make toast but with just two toasters taking only two slices at a time the queue did get very long. They had croissants on the second day which helped with the queue. They also had continental foods such as cheeses, meats, fruit compotes and more.
Lunch – Our buffet lunch consisted of the most wonderful home-made tomato soup. Plus a lettuce salad, potato salad, cheese, meats and a few other items.
Dinner – We had just one dinner at the hotel but it was exceptional. There was so much choice. There were really fresh starter salad items such as home-made coleslaw, tomatoes and cucumber, olives and so much more. The hot food consisted of a pork dish that was perhaps the best pork dish I've ever had. Other favourites were the ratatouille, roast potatoes, cauliflower cheese with pasta and the sweet potato fries. It was a perfect dinner to end our search for Santa day.
The hotel also offers day and evening activity packages. CLICK NOW TO BOOK (or at least to have a look at the prices and packages for 2019)
Please watch our vlog below for a tour of our Cabin at Santa's Star Arctic Hotel
With thanks again to Santa's Lapland for inviting us to join in with their influencer competition to win a holiday to meet Santa with them. Thank you to everyone who voted and for the special ladies who helped me out, never underestimate the kindness of strangers.
Disclaimer: This post may contain affiliate links. It will cost you no extra to book.
---
If you enjoyed my review post please comment below. Why not subscribe to my newsletter for regular updates? Or keep in touch on social media. We are very active on Facebook, Twitter and Instagram. Why not pin this post for later? Simply click on the image below and maybe give us a follow as well.