There are so many places I want to take my son before he grows out of going on holiday with us. Who knows hopefully he won't! One thing we really love to do is to go on weekend breaks. These are either in the UK or in Europe. It's so easy to hop on a plane and be somewhere new for a weekend away.
This summer we went to Hamburg in Germany for three nights. I chose it as it's easy to get to and there's more than you may think to do there with kids. Another bonus was the cost of flying from Manchester to Hamburg was really cheap too. Plus I'd never had a holiday to Germany before. We stayed at the convenient and modern Scandic Hamburg Emporio hotel. Please read on for my review of the hotel and our bedroom.
*Disclaimer. Ad. We received 2 complimentary nights stay in exchange for this review. All opinions and photos are my own and must not be duplicated.
Review of the Scandic Hamburg Emporio hotel
The Scandic Hamburg Emporio hotel is a modern hotel situated in the heart of the city. It is located on Gansemarkt square which has an underground stop on the red U2 line. It's just on the outskirts of the shopping and main restaurant district. If you don't want to travel on the local transport you can walk to the river in 15-20 minutes and other main sites in a similar time.
The Scandic Hotel Chain
Scandic is a hotel chain with its head office in Sweden. Most of its hotels are located in the Nordic countries such as Denmark, Finland, Sweden and Norway. They even have hotels in Poland and Germany. We have come away very much new fans of the Scandic hotel chain. We were very impressed by how modern the hotel was, all its Scandic touches, friendly and helpful staff plus how welcoming they are of families. It's a perfect family-friendly place to stay.
Arriving at the Scandic Hamburg Emporio – How to get there
We took the train into Hamburg using our Hamburg card so we didn't need to park a car. Underground parking at the hotel is available at an additional cost. There are also plenty of bus routes in the city but we only used the trains.
As mentioned above the Scandic hotel in Hamburg is located by the Gansemarkt underground stop. It took us just 25 minutes from the airport with one-stop at Jungfernstieg where we changed from the main S1 line onto the red line. Jungfernstieg links up to lots of different lines so it was often our first stop before heading off somewhere else. We did walk from this stop one day to the hotel and it took around 12 minutes so it is worth changing onto the red line if you want to save your legs.
The exterior of the hotel is very modern with lots of big glass windows.
There is a small children's playground with a sand base near the hotel and then a series of small water fountains which my son was very excited about. He had a lovely time splashing in them one day. The staff at reception were very welcoming and we found that although Hamburg didn't seem to have many British tourists nearly everyone spoke English. We did try to speak as much German as we could though as I think it's good for kids to try to speak new languages. Plus it teaches them we aren't all the same!
Facilities at the Scandic Hamburg Emporio Hotel
Check-in at the Scandic hotel Hamburg is from 3 pm and check out is by 12 pm which is very handy. They have plenty of on-site facilities including a gym, sauna, relaxation suite, restaurant and bar. The Scandic hotel has free WI-FI, outdoor terrace with water fountains and pets are allowed in some rooms.
On the first night of our stay, we were given a voucher for 20% off in the restaurant. I believe this is standard for all guests. We had arrived quite late at around 6 pm so to eat on-site was very welcome as we didn't fancy exploring further afield.
The menu had a very Scandi theme and we both chose meatballs which were excellent. The kid's meal included a drink, main course and a dessert for just 7,50 euros. Kids get a large sheet of paper where they can put a cross by what they want and there's also space to create a work of art. I had a wonderful large glass of Chardonnay for 7,50 euros. and my meatballs cost 16,00 euros. We were very impressed with the portion sizes.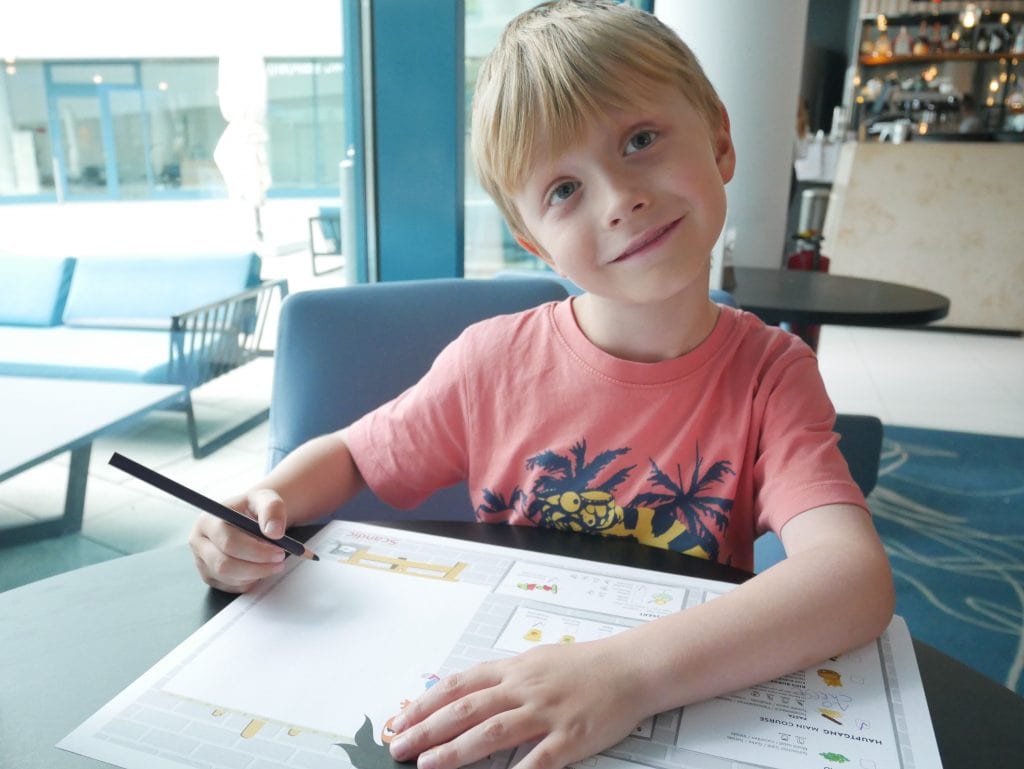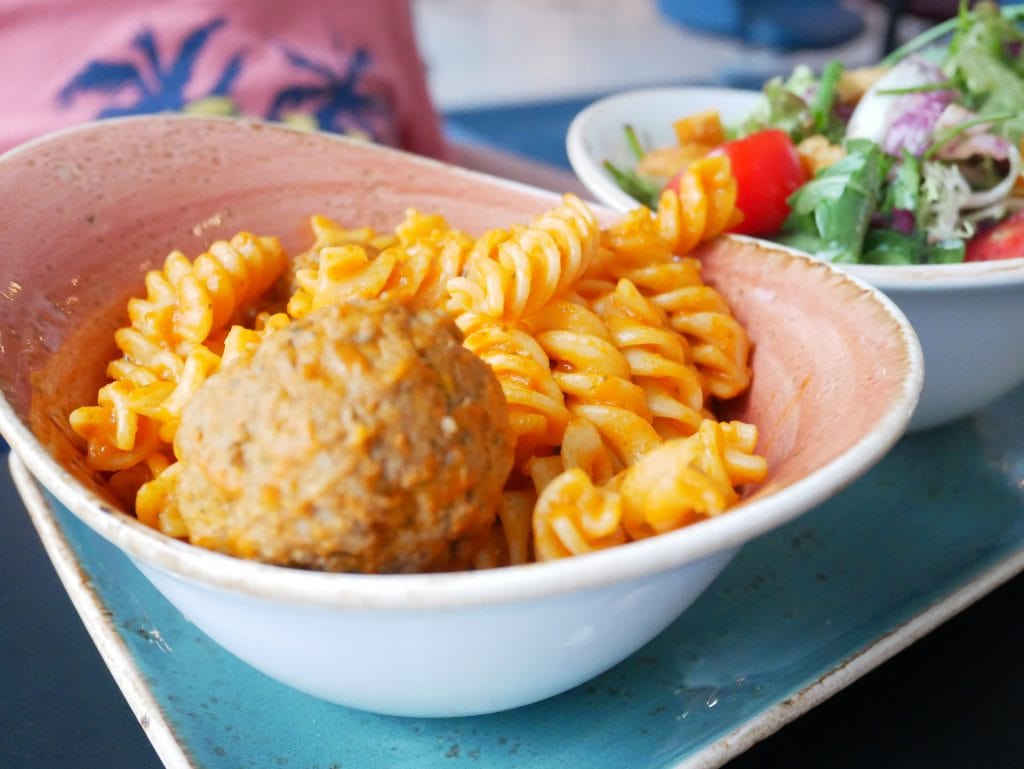 A buffet breakfast is included with a stay at the Scandic hotel Hamburg. There was a really good choice of continental food and there was even a hot buffet. The hot buffet included fried eggs, scrambled eggs, mushrooms, bacon and sausages. Cold choices included croissants, cake, yoghurts, fresh fruit, cheese, meats, breads and more. It was a great morning filler for the both of us.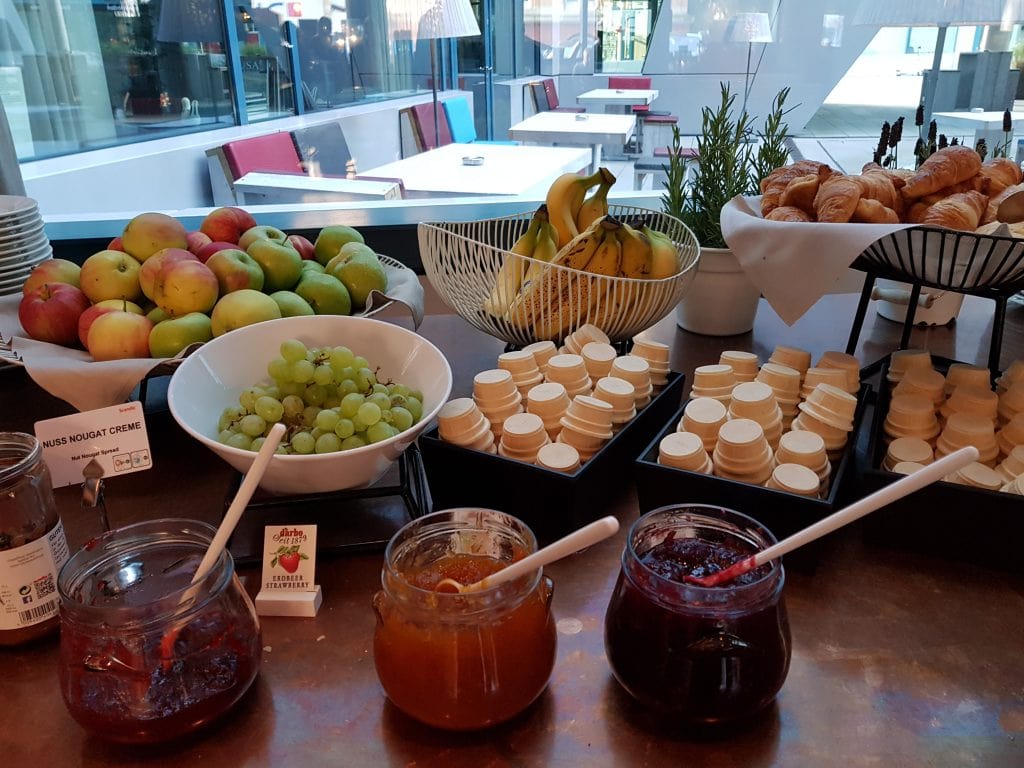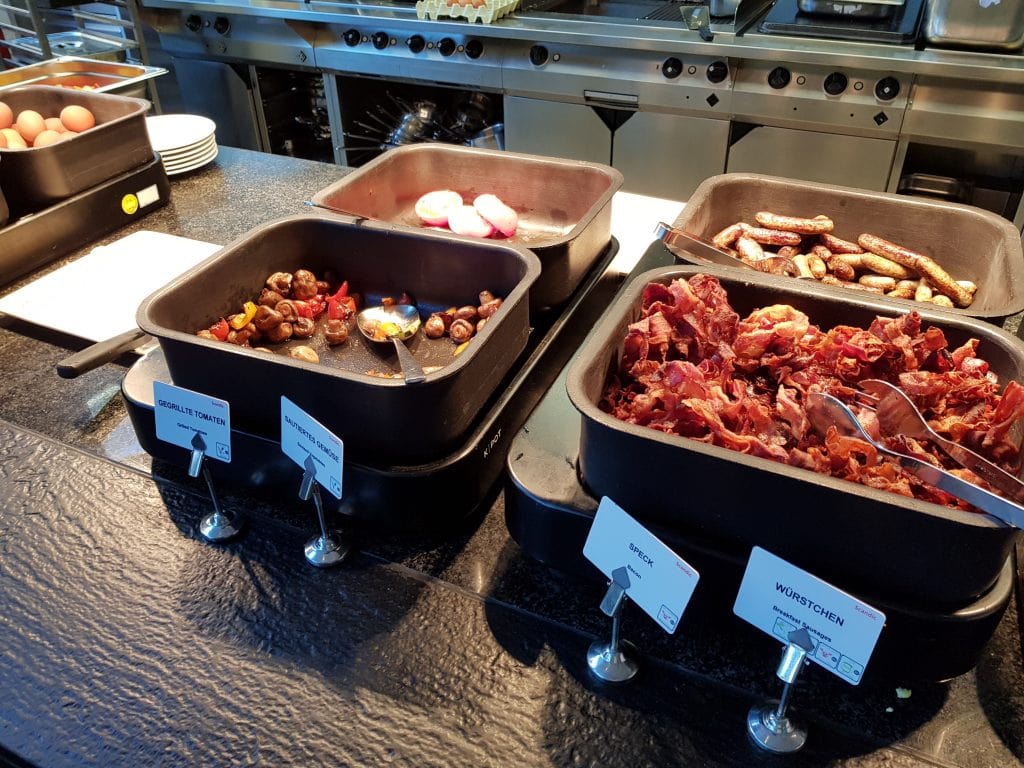 The hotel also had a really handy shop and it was good value for money, especially for alcohol. They sold lots of mini toiletries, drinks from a fridge and also hot drinks from a machine. Snacks including chocolate bars, ice-creams, fresh fruit and more. We were very impressed with their mini shop.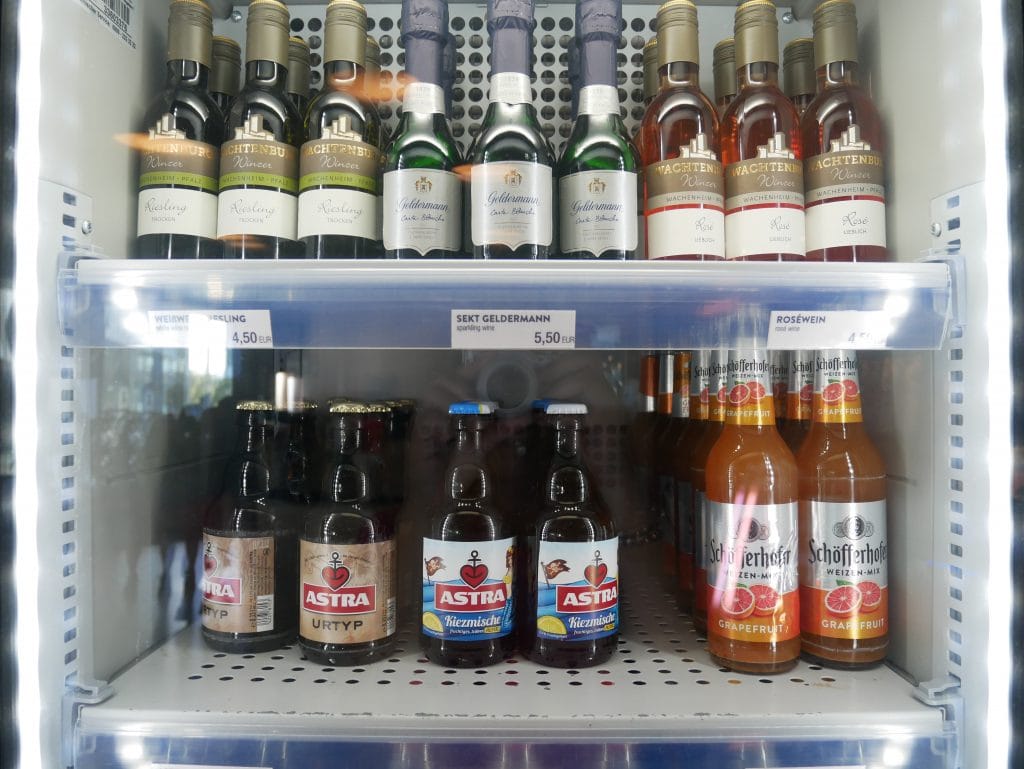 You can also borrow bikes, walking poles and umbrellas from the reception area. Hamburg is very bike (and scooter) friendly.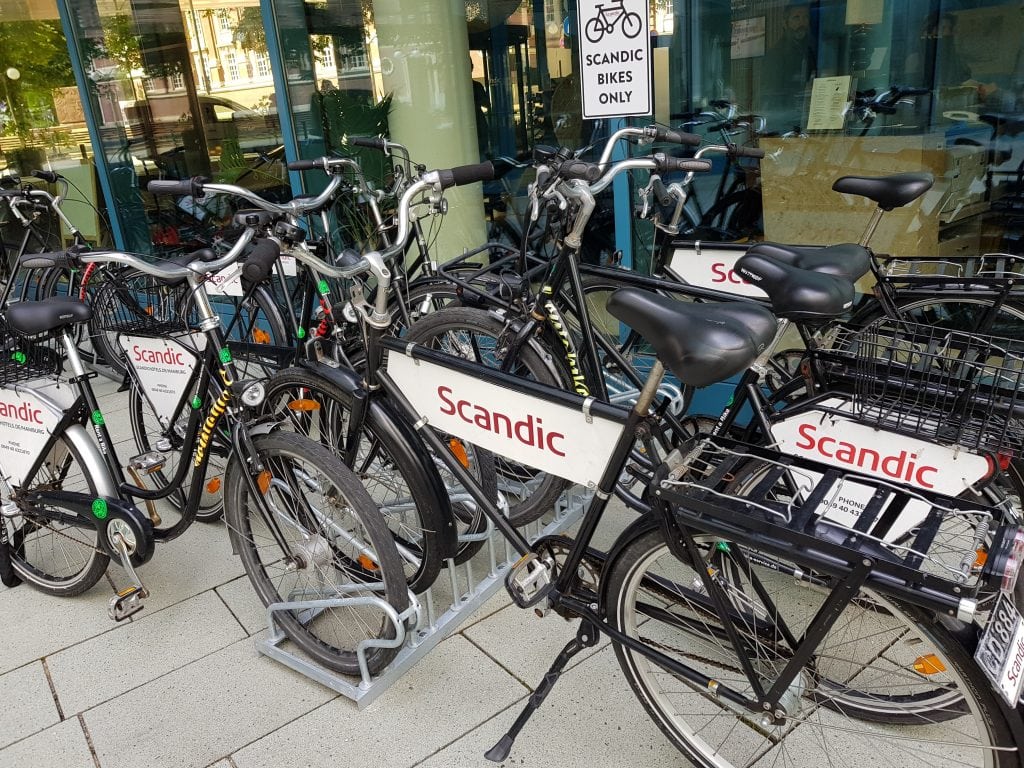 Our room at the Scandic Hotel in Hamburg
Firstly let me start by saying how much we loved the lifts at the hotel. There are hints of an underwater theme around the hotel and the lifts are the highlight. When you get in them on the ground floor they are quite dark blue inside and you can hear underwater sounds. Then as your lift climbs the floors the lift goes to a lighter blue in colour, what fun. The carpets on our corridor were also water-themed. You can only operate the lift with a room card. We were on the 5th floor and there are 7 floors.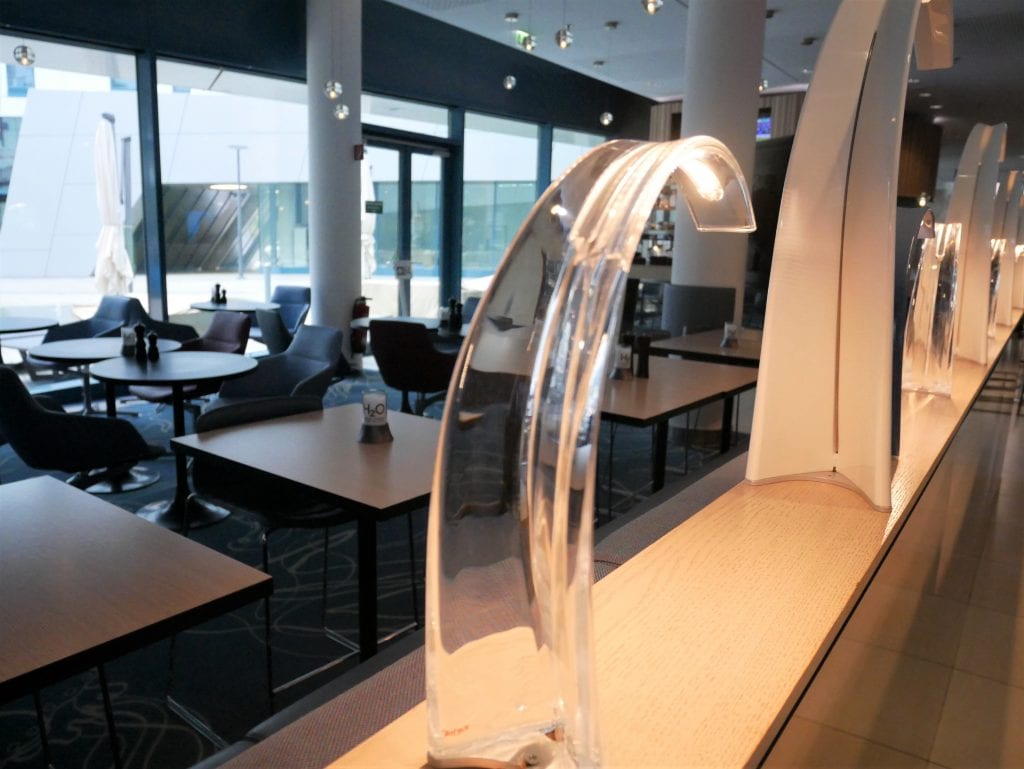 We loved our room. They have a choice of four rooms – standard, superior, superior family, superior plus and suites. In peak season a family room is around 195 euros a night. We stayed in a superior room with interlocking singles which made for a huge bed. We had separate duvets and we couldn't feel or hear each other moving about. Our bedroom was a lovely size and we never got in each other's way. I've stayed in smaller family rooms!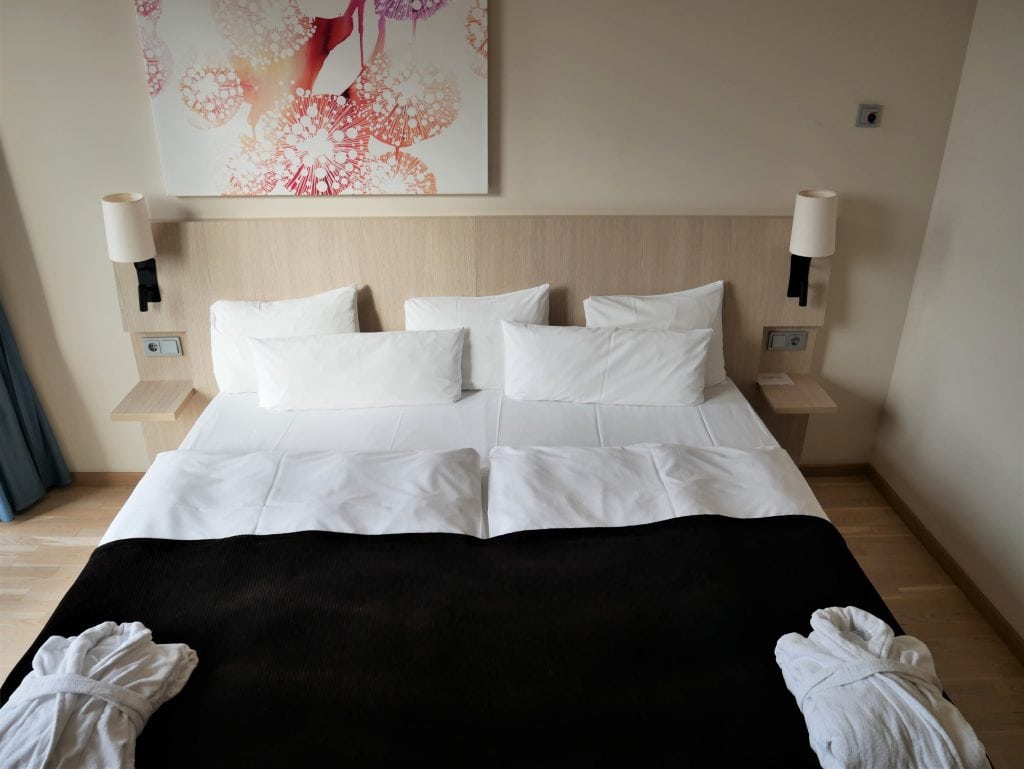 Our room had two floor to ceiling windows which you could actually open one a little way which is unusual for a hotel not just with so many floors but with so much glass. It was lovely and bright and the curtains were nice and heavy so they didn't allow much light in once shut.
We had coffee and tea making facilities plus a fridge with a sparkling and still water in which was restocked each day. There was also a large safe, iron and ironing board plus a hairdryer. The storage area is open plan, so to speak, but we had plenty of room to put everything. There was also a large table with a chair, a TV and a comfy double sofa with a side table.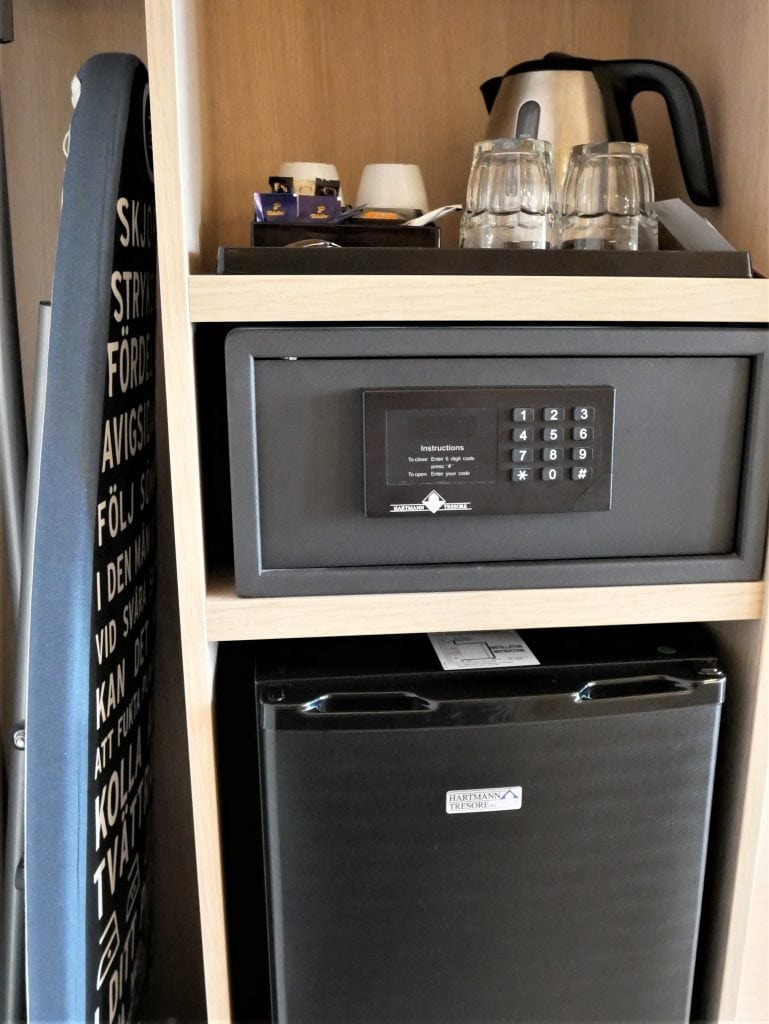 Our room had air-conditioning and overall our room was very quiet. The road below our window was a dead end so there was never any traffic noise. We were both very impressed with our view, it had a panoramic view of the city and we both let out a wow when we saw it.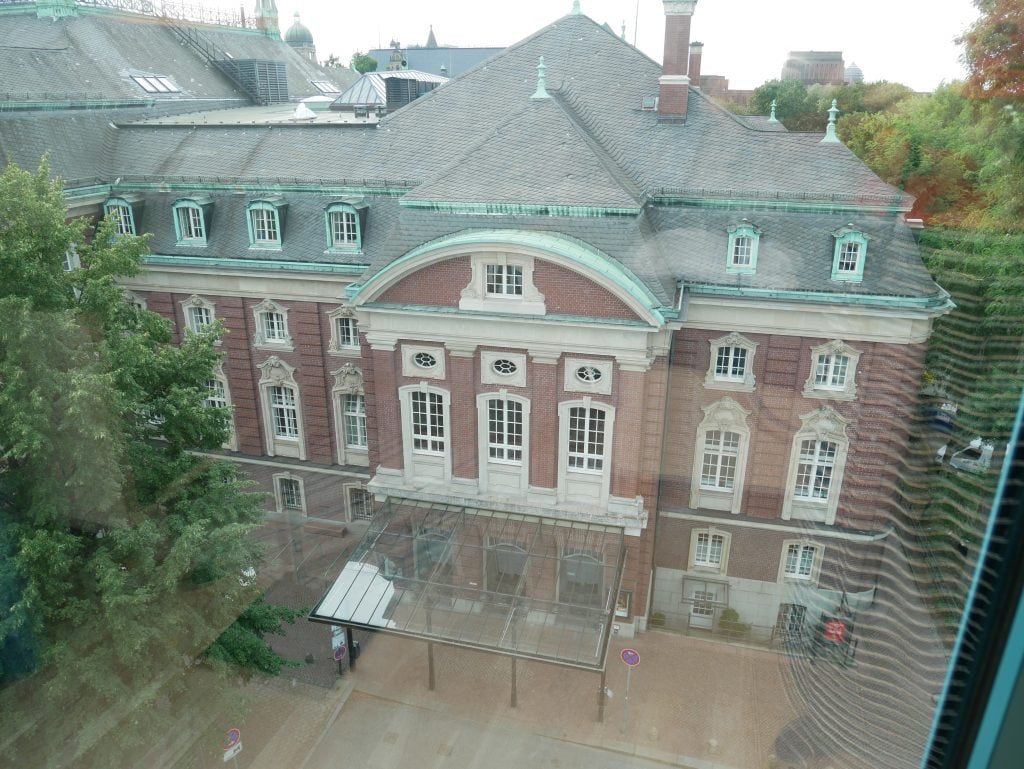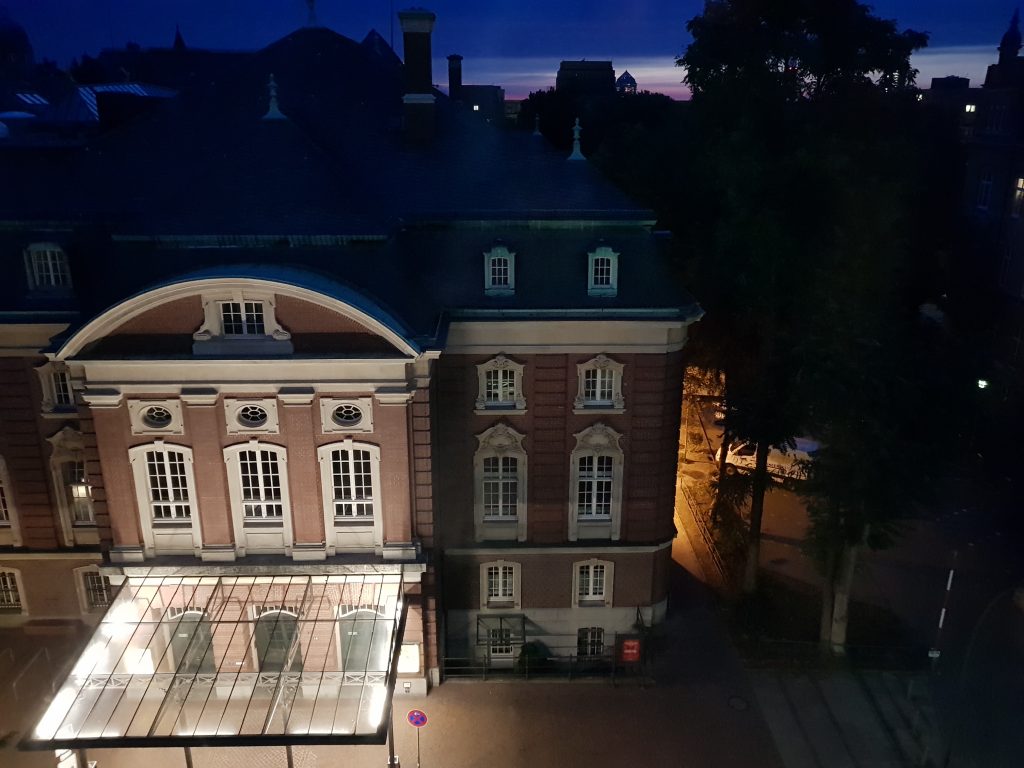 In the shower-room, there was a big walk-in shower with a large sink area plus of course a toilet. In the shower, they had provided shower gel and shampoo. At the sink they had provided soap, no other toiletries or 'extras' were included but we didn't need anything else. Our bedroom and shower room were very clean.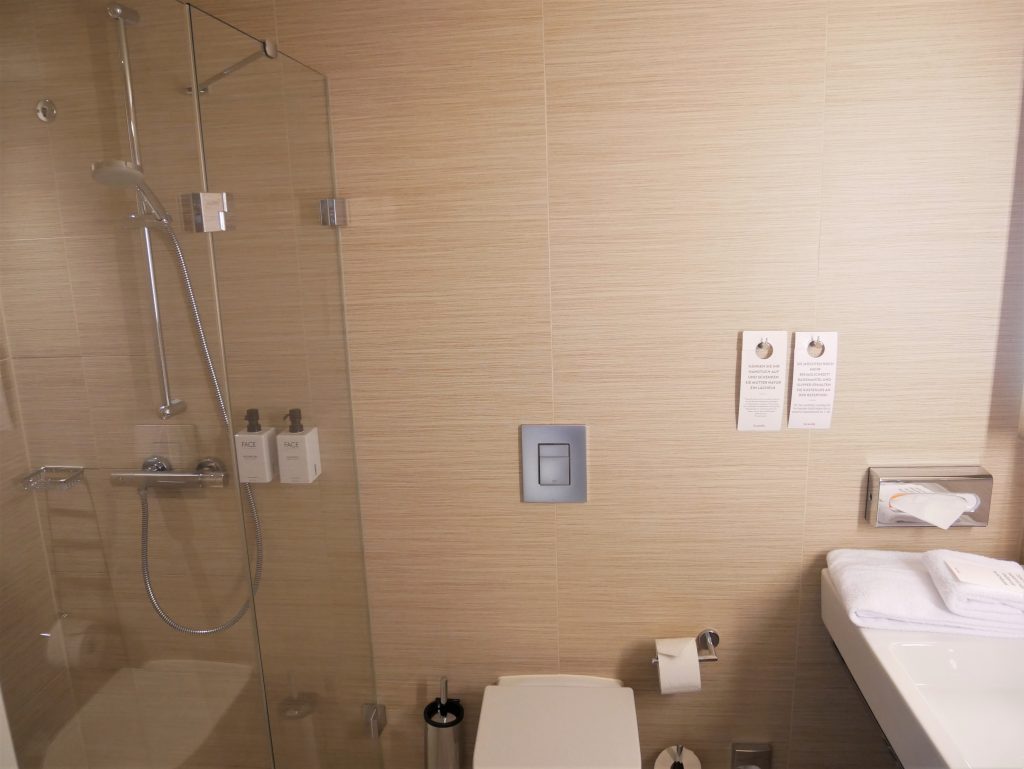 Especially for children at the hotel
The Scandic hotel in Hamburg is most certainly child-friendly. At the entrance lobby, they have a small area for kids with fresh fruit to take-away, a chalkboard, game and books.
Then in the restaurant, there is an area with tables for families and kids can play in the centre area with a pretend kitchen, books and more games. There's also some big bean bags and a TV playing children's programmes. All children get a couple of mini-games as a welcome gift.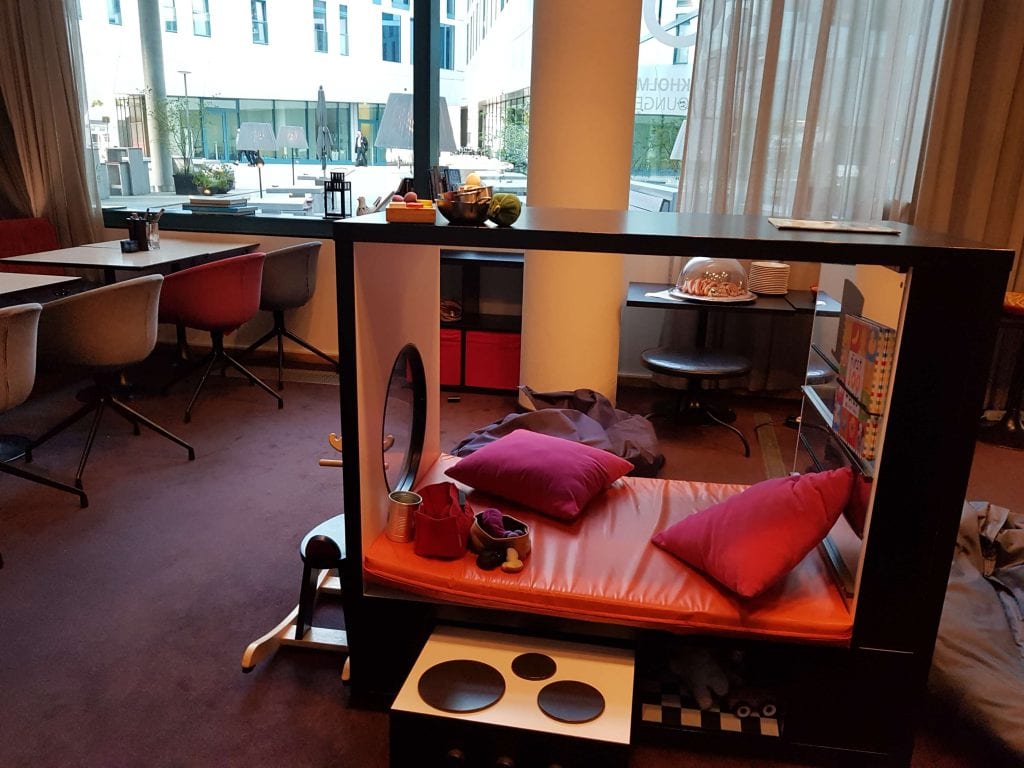 Outside as mentioned they have small fountains that kids are welcome to play in. I'm not sure if the playground belongs to the hotel but it's right outside their side entrance.
---