I have already briefly mentioned our visit to the Lava Tunnel in Iceland in this post – South Iceland Top Points of Interest | One Day Itinerary. It was such a memorable experience from our trip to Iceland that I wanted to write about it more in depth. This is my review of the Standard tour that you can go on at the Lava Tunnel. Raufarhólshellir is the fourth largest lava tunnel in Iceland and is the only lava tunnel that advertises that it is good for all abilities.
The Lava Tunnel – Review – Iceland
It is advisable to pre-book your visit to the Lava Tunnel in advance. The standard tours last for exactly one hour and runs every hour during opening times. It is advertised as a 'must-see' in Iceland and I have to agree with that statement. Although the seasons do change how the tunnel looks inside as we visited not long after a lot of snow. If you visit in the warmer months there will not be any snow nor possibly any ice.
Raufarhólshellir is located just 30 minutes from Reykjavík and is easily accessed all year round, unless there has been a recent heavy fall of snow. When we arrived a few minutes before our designated slot we were handed crampons and helmets. After reading that the tunnel is suitable for everyone we were a bit apprehensive as to how slippy it would be to need to wear crampons.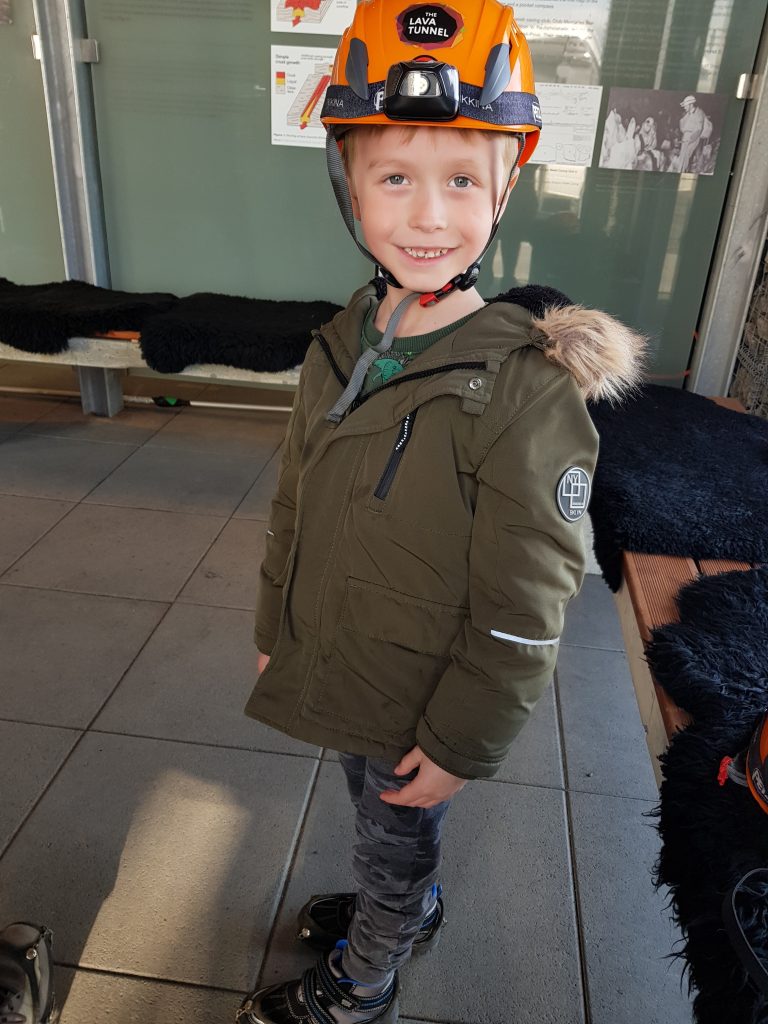 Once you are all gathered together your tour guide runs through do's and do not's for the visit plus other information about the tunnel. We were advised to pick up a walking stick if we are unsteady on our feet. I am usually steady so I didn't take one but I wished that I had. My Mum took one but really she needed two.
We then all started the trek into the tunnel. From the outset, the pathway was icy and slippery, with snow in places. They had put a strange netting down on the first set of steps which caused my son to slip over. This then worried me as I was very concerned not only about him but also about my Mum as she has two false hips. She must have told me off a few times for worrying. It couldn't be helped though, I wouldn't have forgiven myself if she'd have fallen and hurt herself.
Another family behind us were really struggling to walk and they had to carry the littlest of their group. With time we found that if we hung around at the back we could take it as slow as possible but we did hold the group up somewhat.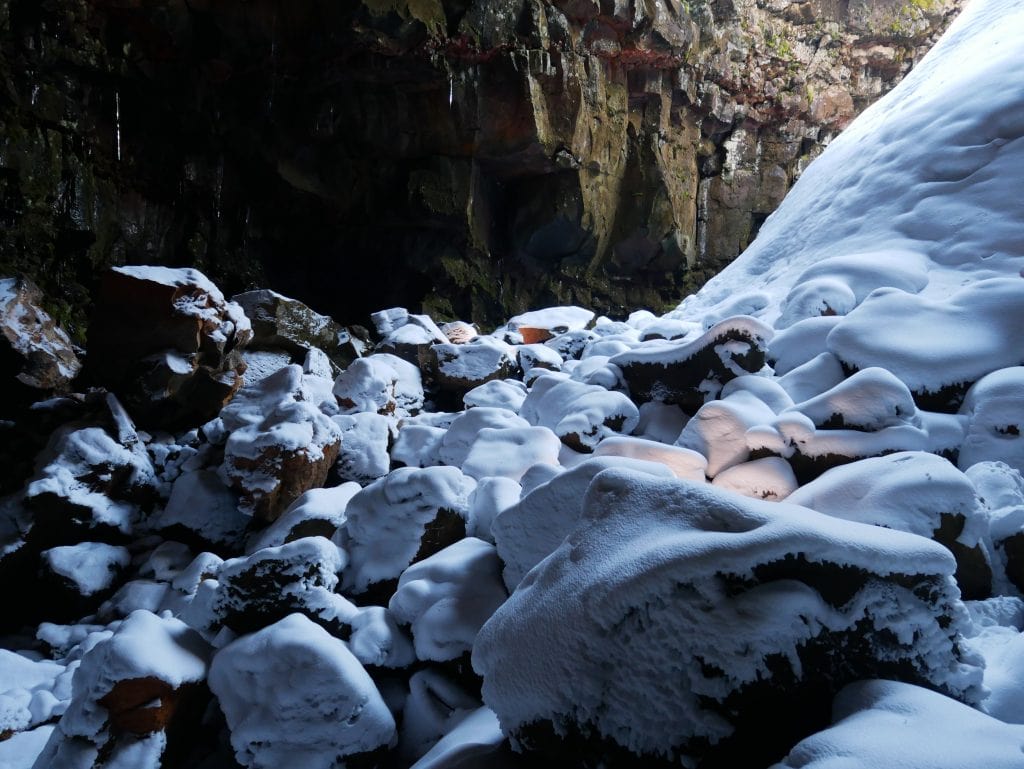 The sights that we saw along the way soon made up for the concerns. For at least 70% of the walk we were walking on metal platforms which were not slippy at all. It was just the other 30% that was rather hair raising, especially when we came to some very uneven rocky ground. We have been caving before. Recently we visited 3 caves in Derbyshire with my son. Yes, they were uneven and slippy but they never felt this daunting.
In the tunnel, you will notice the Inner workings of a volcanic eruption. You will walk in the path of where the lava once flowed. The ice sculptures that form every winter in the entrance of the tunnel are breath-taking. They were like nothing we've ever seen before now are we likely to ever see again. They were almost mushroom-like and amazing to look at and to touch.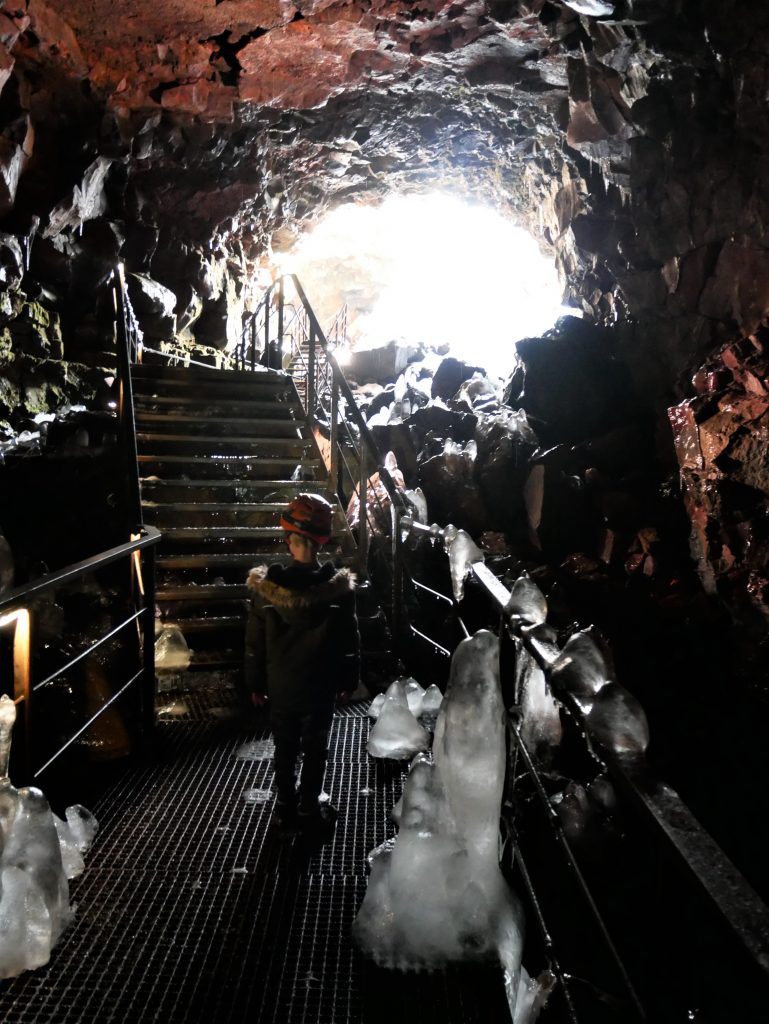 The roof of the tunnel has also collapsed in three places leaving three round holes. This is where a lot of the snow has come in and the mounds that are left are out of this world. It was a real privilege to see and memories we won't forget in a long time.
Once you reach the furthest point your tour guide offers to take photos of your group with the stunning tunnel walls as your backdrop. We took so long walking back the other tour was almost ready to go in. The guide from our group didn't seem bothered that we were so late back. The guide stops at a few points along the way in to tell you about what you are looking at. There were no pauses by her on the return journey.
Quote from their website "Our standard tour allows you to explore the tunnel in an easy and enjoyable manner. A footbridge has been built and impressive lighting in this part of the tunnel highlights the changing colours and clearly shows the powerful volcanic activity that formed the tunnel."
I disagree with this statement over winter. But, to be honest had they pointed out how slippy and icy it is in the winter we perhaps wouldn't have gone. Then we would never have experienced the sights that we saw. Also if we'd have visited without the snow and ice I don't think it would have been anywhere near as spectacular than when we went.
If you are looking to visit in the winter and you do have members of your party that might struggle please do be aware of this. If you do go insist on having two of their walking sticks each. There were more than enough to go round. So yes you do need to be very able bodied and no the standard tour is not for everyone. It is spectacular though and if you can visit please do. It also isn't cheap! I will cover prices below.
They also have a standard evening tour and an extreme adventure tour. There are toilets at the Lava Tunnel reception but there are no other facilities on site.
Further Information
The Laval tunnel is open from 10 am until 5 pm. The Standard Laval tunnel costs 6,400 ISK which is approx. £40.00 each. You can also book a standard tour with transport from Reykjavik which costs 11,400 ISK. approx. £72.00. Including transfers and the tour, it takes 3 hours from leaving to return to Reykjavik. You can book both of these options on their website. You can also book the evening tour and the extreme adventure tour online. Children aged up to 11 are free. I would not recommend children under 4 go on the standard tour.
---
I hope you enjoyed my review. Please comment below. Never miss a post and subscribe to my newsletter. We are very active on social media and we would love a follow please on Facebook, Twitter or Instagram. Why not pin this post for later? And give us a follow. Simply click on the image below to take you over to Pinterest.