As Jamie is getting older I am increasingly thinking about where to go on holiday that will provide us with some great family adventures. There's so much more to a family holiday than sitting on a beach. Kids love to be active so why not embrace this and find them things to do that you can all enjoy together? Below I will consider my top 10 bucket list countries around the world to go on holiday to experience some great family adventures. Some activities are more extreme than others. Please consider your child's age and abilities when booking certain activities.
*This post contains affiliate links – it will cost you no extra if you book through our links
Top 10 Countries Around the World




Family Adventure HolidayS

– In no particular order:

Spain is so accessible with plenty of budget airlines to choose from to get you there. It has a diverse range of scenery from mountains in the north to glorious sandy beaches on the west and south coast. Some of the fun things you can experience on a family adventure holiday to Spain are:

– Horse Riding in some stunning scenery
– Whitewater rafting on an exhilarating adventure
– Hiking through a national park with beautiful peaks and lakes
– Canyoning, head downstream via a series of slides, jumps, abseils and swims
– Mountain biking on cross-country routes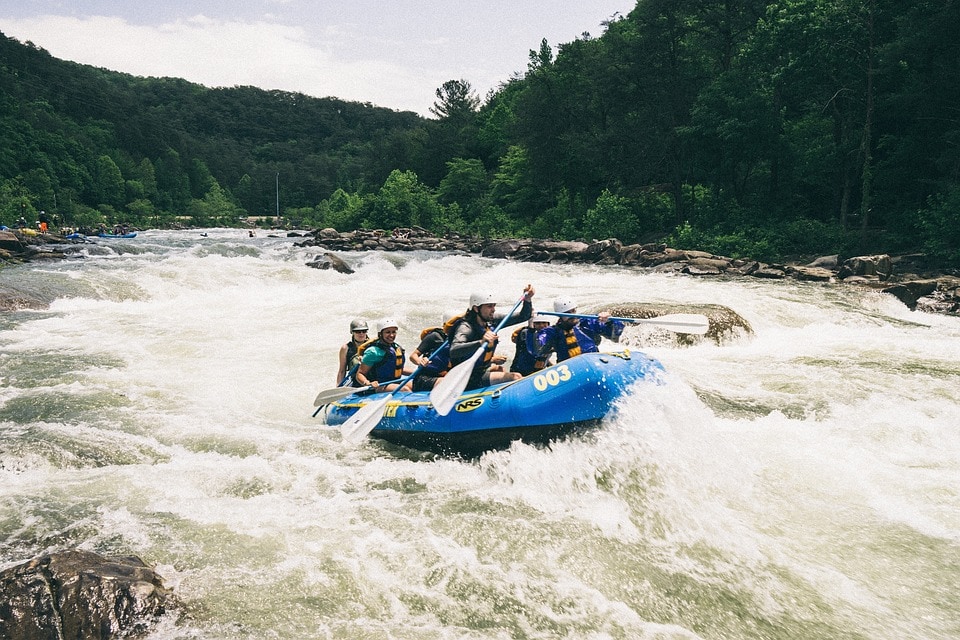 2 – France
Equally as accessible as Spain is France. In fact more so with the Channel tunnel and ferry ports linking France to the UK, it's certainly a great country to visit. The scenery is equally as diverse. Some of the top family activities in France are:
– Whitewater rafting through canyons
– Aquatic hiking including canyoning
– Rock climbing with full instruction including an intro to rope techniques and climbing skills
– Canyon hiking
– Mountain biking off the beaten track

3 – England
The Lake District up in Cumbria is a perfect place in the UK for family adventures. Not only does it have a stunning backdrop of rugged hills and mountains but there's also plenty of lakes for water-based activities. The Lake District can offer families many activities such as:
– Ghyll scrambling (descending through a gorge)
– Slate mine exploration
– Mountain walking
– Canoeing and dinghy sailing
– Abseiling down rock faces
Croatia is most famous for its long and picturesque coastline with many islands waiting to be explored by boat or foot. Inland the scenery is equally stunning and diverse with many medieval and Roman towns. Some of the activities on offer are as follows:
– Kayaking, take a gentle paddle up to a town for a spot of lunch and then back again
– Canyon Hiking, hike along steep-sided and towering rocky walls
– Canoeing with some gentle rapids alongside waterfalls and canyons
– River rafting along some beautiful scenery
– Sea Kayaking to secret coves and secluded beaches
– Go on a treasure hunt on an island with loot to find at the end
5 – Madeira
Madeira benefits from a subtropical climate and is just off the northwest coast of Africa. The scenery is stunning with mountains and cliffs mostly formed by the island's volcano. There is a wide variety of activities found on the island. Our list of top things to do would be:
– Walk alongside a picturesque levada which is a mini canal.
– Jeep expeditions through the mountainous terrain
– Sea Kayaking across the beautiful blue sea
– Snorkelling, hopefully with dolphins
– Boat rides out to sea to see dolphins and whales
– Swim in lava pools
– Go on a biking tour and enjoy the stunning flora
6 – Morocco
Morocco is a great, close to home, destination with plenty of sun and most certainly plenty of sand. There's plenty to explore from ancient cities to the countryside and golden beaches. It is also a lot safer than other North African countries. With so much sand there are plenty of sandy activities and much more:
– Camel trek across beach or desert
– Souks, experience gastronomic delights and watch them being prepared and cooked
– Go Quad biking on sand dunes
– Visit a Berber Village on foot or by donkey for an authentic experience
– Explore the Atlas Mountains, through small villages and mountain tracks

South Africa is a perfect destination for seeing the "Big 5" when it comes to animals. Plus there are stunning beaches teaming with marine life such as Cape Fur Seals. Cape town itself is one of the most picturesque cities in the world. The diverse landscape and beaches provide families with plenty of choices for activities:
– Go on an urban treasure hunt on bikes around Cape Town
– Take a cable car up to the top of Table Mountain and go on a hike that suits your families walking abilities
– Visit a Zulu Village and experience traditional African hospitality
– Go on an animal safari, including game drives and jeep safaris
– Visit hidden coves to find the thriving penguin colonies
– Go snorkelling in the Indian Ocean
– Embark on a river safari to find Hippos, crocodiles and hundreds of species of birds
8 – Galapagos
I have written about the Galapagos as a family-friendly destination before. The islands of the Galapagos are perfect for exploring as a family and finding fun and varied activities. The islands are mostly volcanic and provide some stunning scenery. There is nowhere quite like it on earth for wildlife:
– Sea kayaking across bays and coves full of wildlife such as sea lions, herons and blue-footed boobies
– Horse riding up the slopes of a volcano
– Whitewater rafting in the Amazon basin
– Go mountain biking to the wall of tears, this was a penal colony where the prisoners were forced to build a pretty pointless wall
– Go hiking to an active volcano

9 – Norway
Norway is the perfect family-friendly destination for a holiday packed full with snow activities. The country is full of picturesque mountains alongside Fjords. Some parts of Norway are a haven for wildlife and if you are lucky you may be able to see the Northern Lights:
– Meet some huskies and go dog sledging
– Go on a Wildlife Boat Trip. Although not guaranteed you may be able to spot Orca, Humpback and Whales.
– Visit an Aurora camp to hopefully witness the Northern Lights
– Go on a Reindeer sleigh ride
Last but not least is Sweden. Equally as snowy as Norway, Sweden has so much to offer in the way of family activities. It's certainly somewhere you don't want to forget your warm clothes when visiting. There's plenty of winter activities to try:
– Have dinner on Ice in a traditional style tent on the frozen sea
– Strap on snowshoes and go on an adventure trail, possibly to see the Northern Lights
– Go Husky Sledging
– Go on a snowmobile tour
– Experience Ice Fishing, including drilling through the ice
– Go on a Hovercraft tour of the sea ice
Top 10 Countries Around the World for a Bucket List Family Adventure Holiday
---
Disclaimer: This is a collaborative post with Activities Abroad. All words are my own. Photos are courtesy of Pixabay.
Do you have a favourite country for great family adventures? We'd love to hear more below please. Thank you for reading my roundup. I hope that you will find it useful and inspiring. I hope that you will subscribe to my monthly newsletter to keep up to date? Or keep in touch on social media. We are very active on Facebook, Twitter and Instagram. Why not pin this post for later? Simply click on the image below and maybe give us a follow as well.