So you've found the inspiration to take your kids to Venice via my post – Venice with Kids – A Family Holiday or Not?. Well, now it's time to get that holiday booked. I have compiled a list of Venice must do's with kids, including tips and advice. This is my list of 15 great things to do with kids as a family in Venice.
*This post contains affiliate links. It will cost you no extra to book through any of our links
Flights and transport into Venice
You have two options when flying to Venice. You can either fly to the much closer airport Marco Polo or to the further away, but cheaper to fly to, Treviso airport. Treviso is mainly serviced by the cheaper airlines such as Ryanair. Marco Polo is the more expensive of the two and is mostly used by out of Europe airlines.
The journey from Marco Polo can be made via ferry (Alilaguna, this is a few minutes walk from the terminal and stops at a few places in Venice). Water taxi (expensive but fun option you could be dropped off very close to or even at your hotel with this option). You can book online in advance or at the airport.
The cheaper option is to take the bus from the airport terminal. This will take you to the bus station. If your hotel is then a long walk you could take the waterbus (Vaporetto) to a stop closer to where you are staying. Which will mean an additional cost. The better value for money option is the Alilaguna ferry. This website explains everything in more detail. You could also get a taxi to the bus station.
From Treviso airport the main option is a bus or taxi into Venice and then the Vaporetto waterbus to the closest stop to your accommodation. The journey into the centre of Venice on the bus takes around 45 minutes. So be aware that if you take a taxi it could be quite costly. We went for the all in one option. If you're doing Venice then why not do it in style right? We booked online in advance to have a taxi pick us up at the airport and then drop us off at a water taxi point at the bus station. If you are looking to take the stress away then this is the option for you. A flight into Marco Polo may have been the best option for us overall though.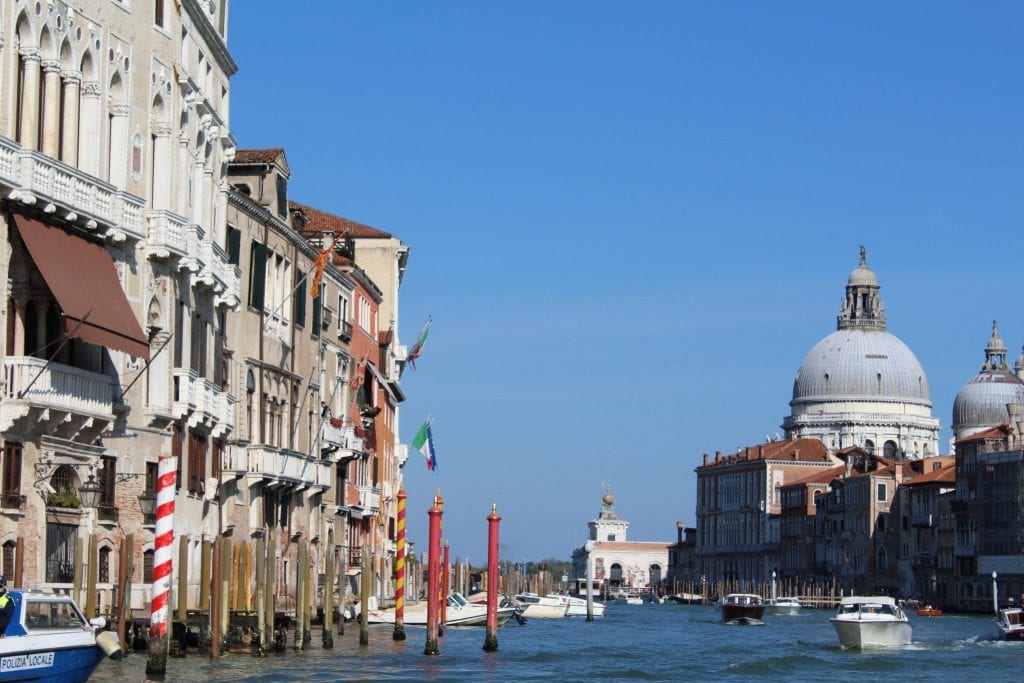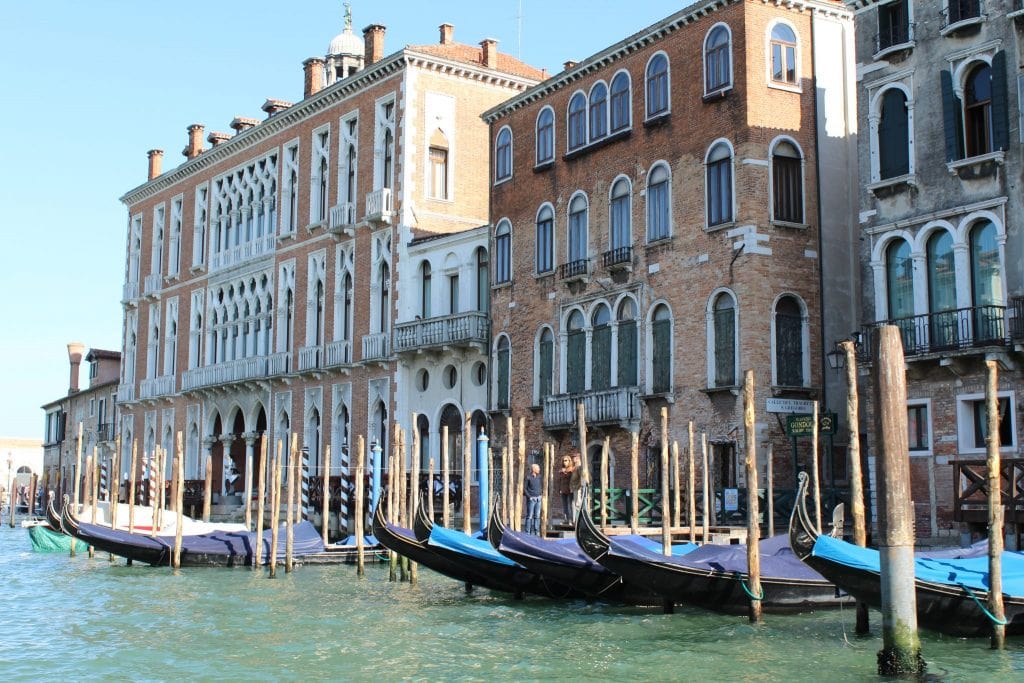 Accommodation in Venice
We booked last minute to go to Venice so our accommodation options were limited. It is certainly more expensive to stay near the main square. But after being let down by the place we had originally booked we managed to find what must have been a cancellation right next to St Mark's square. What a stroke of luck. Top tip time – make sure one of you has a smart phone that can work abroad. Google helped find our hotel where otherwise we had failed. Venice is like a rabbit warren and although it can be fun getting lost it's not fun when you are dragging your suitcases behind you.
We were down a small side street right next to St Mark's Basillica. You couldn't have been more central than that! There's plenty of hotels in this area also worth checking out. We stayed at the Relais Piazza San Marco. The price in April for 3 nights was around £700. We had a lounge area with a sofa bed, a double bedroom and a bathroom. With the shutters and windows shut you could barely hear the street below. You do hear the clock chiming every hour but we did sleep through it.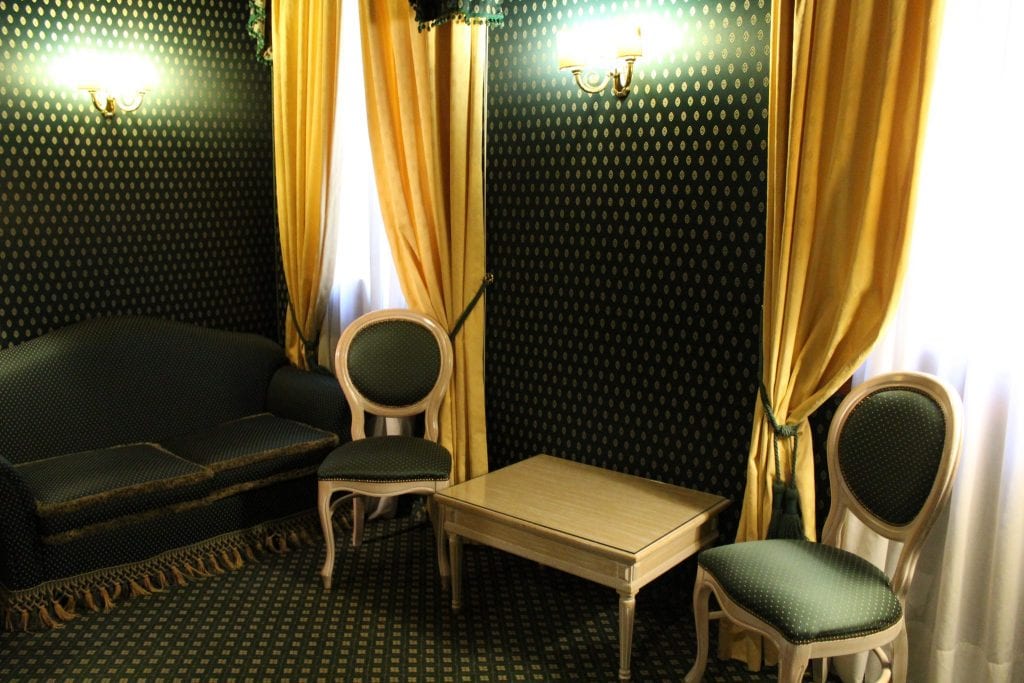 Breakfast was unusually served in our room. The hotel is quite small so there was no room for a breakfast room. If you aren't one to rush getting ready in the morning then this is great for you. The choice of food and drinks was just fabulous, especially the fresh and still warm pastries.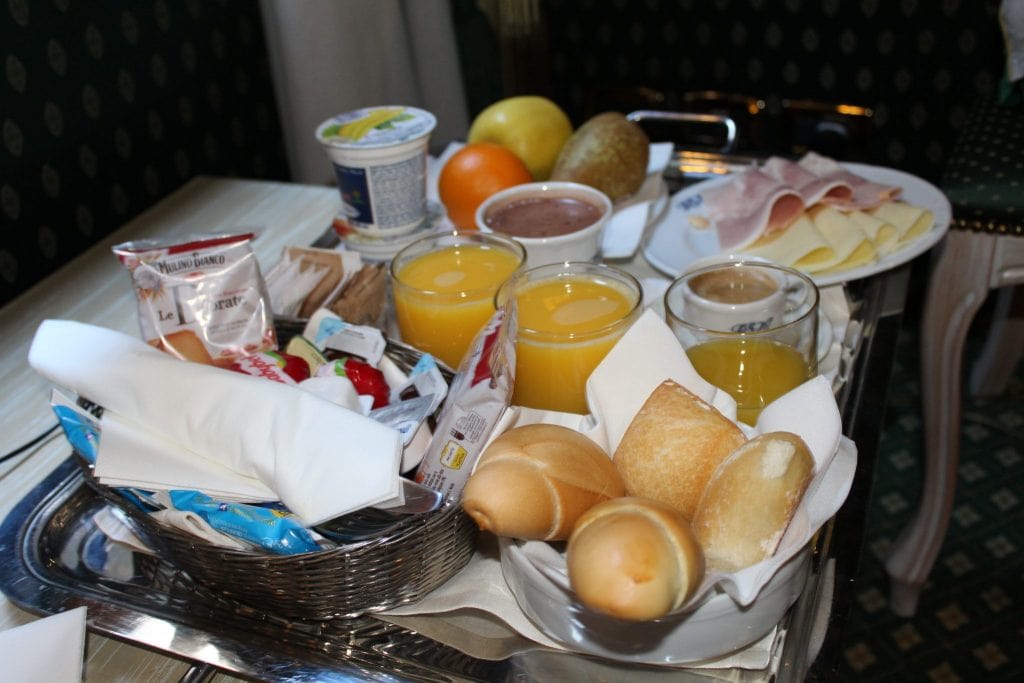 If you are looking for a hotel near a lot of restaurants then this is the place for you. We ate at one each night. You may be right next to Saint Mark's square but you are not paying the square's prices. Top tip – Ignore the waiters trying to get you to eat with them, read all the menus in the area where you want to eat first. The price can vary greatly, especially for a bottle of wine or a diet coke.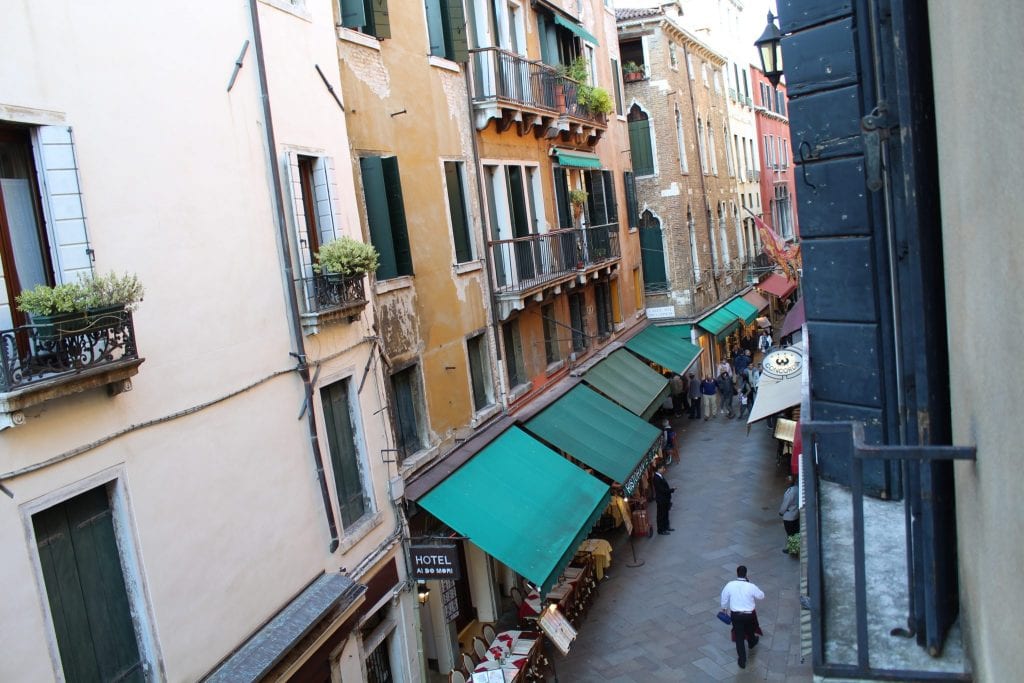 What to see in Venice as a family
You can certainly see the main sights in Venice in a 3-night stay. I am sure you and your kids will enjoy all of the following recommendations.
1. Saint Mark's Basilica – Basilica San Marco
Top tips – If you are visiting Venice when half of the world is also there it is a good idea to get to the Basilica around 20 minutes before it opens. You will still have to queue to get in but it won't be as busy inside. More often than not the queue is a lot longer later in the day. This is the queue at 9:20am on a busy day. The entrance is halfway down the basilica on the right.
There was also a queue for the clock tower. If you are carrying a large bag or backpack around you have to first take it to an office around the corner to drop it off as they are not allowed inside. You can also reserve a slot online here to avoid the queues – book in advance at a cost of 2 euros per person.
We did not go up the clock tower due to all the steps up and down. Too much we felt for our 3 year old's little legs. You must add this to your to do list if you have older and faster children than ours.
To find out more about the Basilica and to read it's opening times and closures please follow this link. It is free to enter the Basilica but they charge for a few things once inside. Such as walking up to the balcony area at the front of the church (a must do if you don't mind paying) and seeing some treasure etc. The gold mosaics in the church are an amazing sight and it is a shame but understandable that you can't actually photograph them. It was certainly a church like no other for Jamie.
2. Saint Mark's square – Piazzo San Marco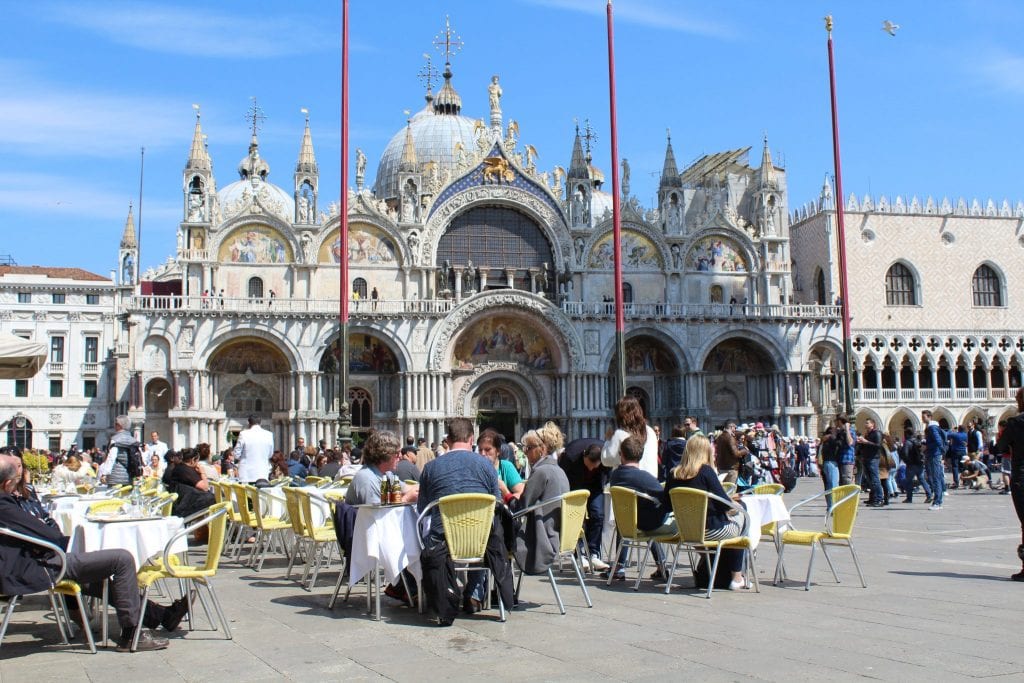 Three musts for the square.
Yes you must sit down for a drink. Go on break the bank. It is truly worth it. If you look at the menu close enough you can find a drink or two that won't make you feel totally robbed. I had a glass of Prosecco for 8,50euros. It was simply fabulous sitting and soaking up the beautiful basilica with a band playing in the background and pigeons robbing snacks off the tables.
There are 3 pigeons robbing the food from this table above. We got some lovely snacks with our drinks and at first, I hadn't twigged why the food was under a dome mesh. Any opportunity for some food.
2. Is to feed the pigeons. I wasn't keen myself although I did eventually get into the spirit of it all. Mainly because Jamie loved doing it so much. We went back again and again and he'd go on about it nearly all day long. There are people selling bird food but we squirrelled away some bread from breakfast. If you stand with your arms out they will also take food from your hand. Try as he might they just would not land on Jamie.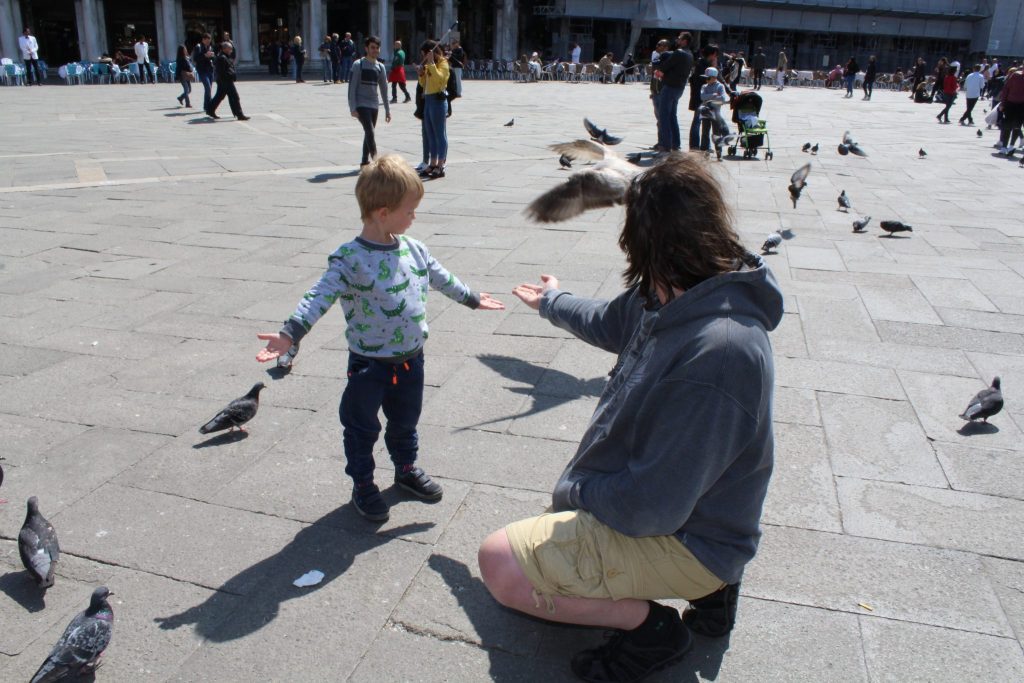 3. Sit your child on one of the two lion statues. Everyone with a child was doing it. It is a must for a photo opportunity.
3, Doge's Palace – Palazzo Ducale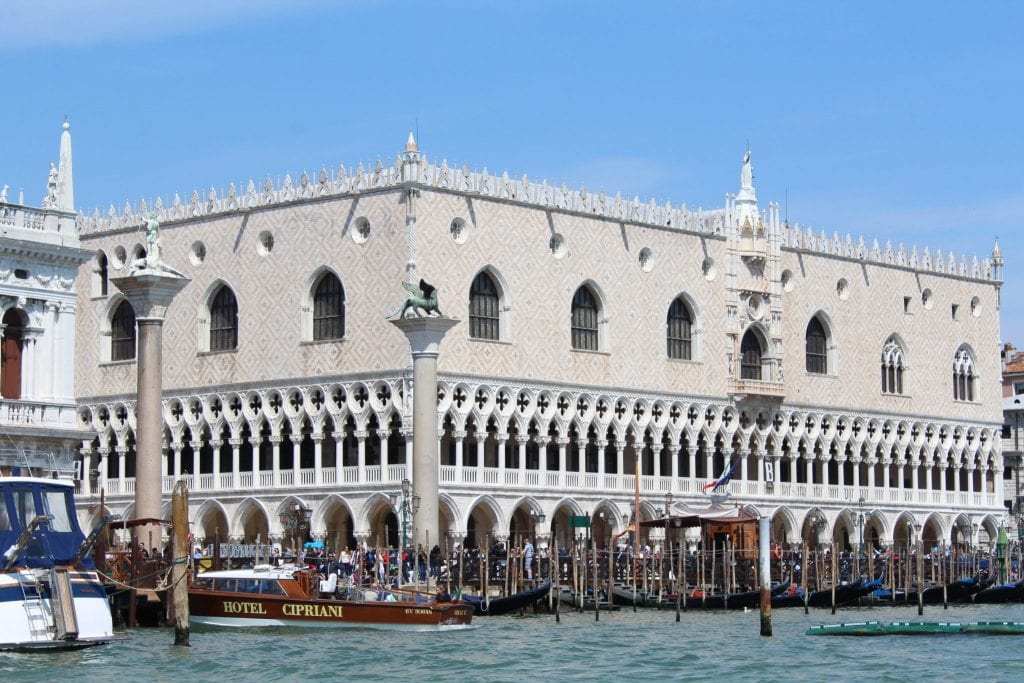 This is sadly not free nor cheap to enter. We did spend a good couple of hours here and it was an experience to remember so I would recommend taking the kids. For further information and to buy your tickets online please follow this link. Top tip – Buy your tickets online in advance. We arrived 15 minutes before opening and we had to queue a long time to buy our tickets. The advance purchase queue moved a lot quicker. It was still a queue but the better of the two options. All bags etc. have to be checked.
To read all about our visit to the Doges Palace you can read my review – Doge's Palace – Exploring the Palazzo. It was a great first introduction to art for Jamie and he especially loved exploring the prison.
4. Ride on a Gondola
The price of a ride on a gondola is the same throughout Venice. 80euros in the day for approx. 30 minutes and 100euros at night for the same. You can get on a gondola from many different places throughout Venice. The main area is at the water's edge near to Saint Mark's Square. After we spent 30 minutes wandering plus another 15-20 minutes waiting at various gondola pick up points we gave up and went on one from the Grand Canal near St Mark's area. You pay per gondola and each one takes up to 6 people.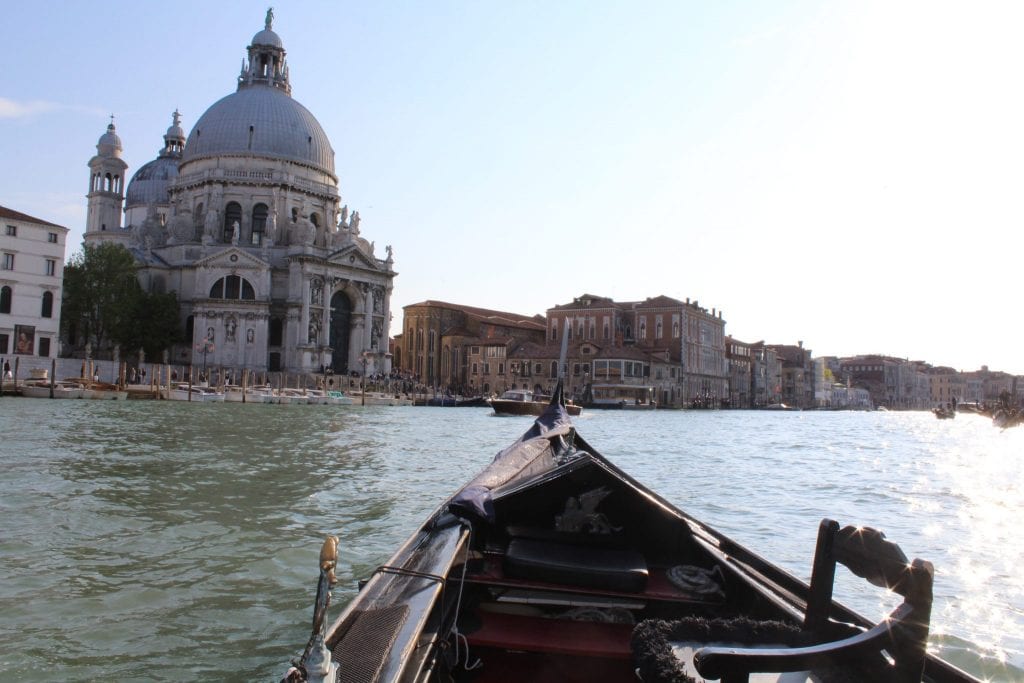 Depending on where you get on a gondola it will then depend on where the gondola will go. You can get on ones that go under the Bridge of Sighs. As we were staying right near it we had already seen it about 20 million times so we weren't too bothered as to where we went.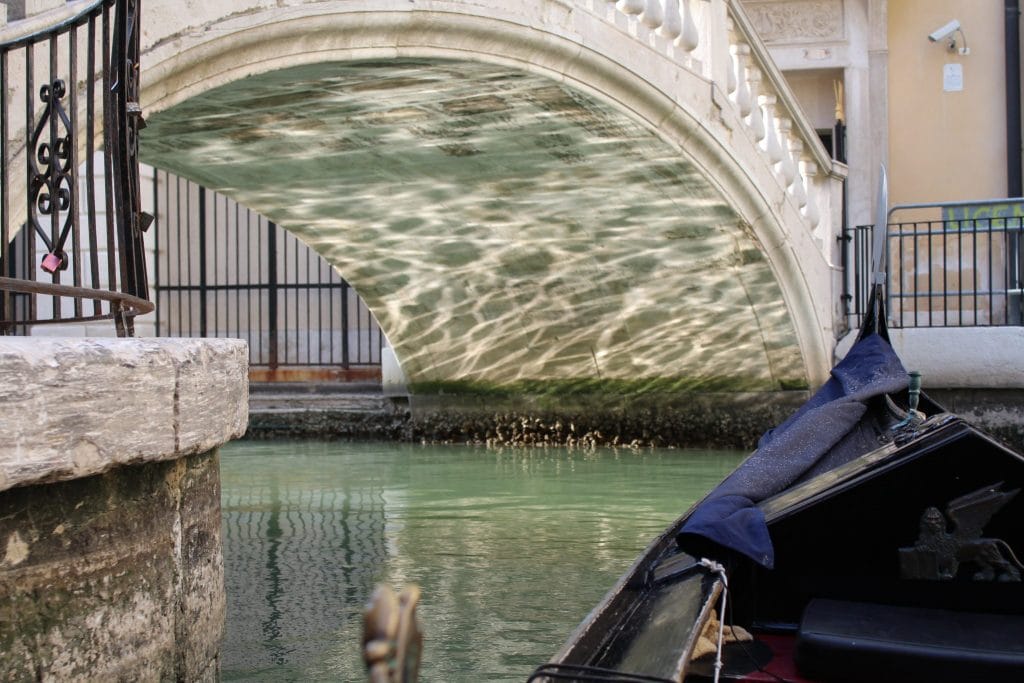 Jamie and I loved it. It felt so peaceful on the side canals and then a complete contrast on the Grand Canal. Mark wasn't as much of a fan as he expected to see a lot more than we did. I think it was because he was the one paying! It was incredibly busy on some of the waterways and we even ended up in a hectic gondola traffic jam.
5. Take the Vaporetto waterbus – including exploring the islands
With all the water that surrounds Venice, we found the Vaporetto waterbus a really great way to get around. Top Tip – If you are there for 2-3 days I can highly recommend you buy a pass. We bought a 2 day travelcard for 30euros each. This was good value for money as we used it a lot, especially when you compare it to the 1 day pass price of 20euros. Jamie travelled for free. I have written a post about our travels on the Vaporetto here – Venice Vaporetto Waterbus – Recommendations and Tips.
As Venice was incredibly busy when we went so were the Vaporetto boats. They reminded me of the tube in rush hour in London. It was fun though and Jamie loved travelling up and down the Grand canal and to other islands off it. If your little one's legs are tiring and you have a long walk back to your accommodation then hopping on and off your closest stops will be invaluable.
6. Wander the beautiful streets
One of my fondest memories from when I went to Venice as a child was getting lost. It wasn't stressful it was actually fun. Venice is so beautiful that getting lost gives you the opportunity to find beautiful canals, museums and historical sites that you may otherwise miss. We only managed to get a little lost this time as we cheated with GoogleMaps. However, we did have a good few wanders of the beautiful streets and canals. Jamie really enjoyed wandering the streets for the beautiful adventure it can be. If it gets your kids to enjoy walking then it must be done.
Top tip – If you need a pushchair/buggy please try your best to leave it at home. There are so many steps over bridges and the streets can be so crowded and narrow making a buggy a really stressful option. If you can baby/toddler carry then please don't forget it.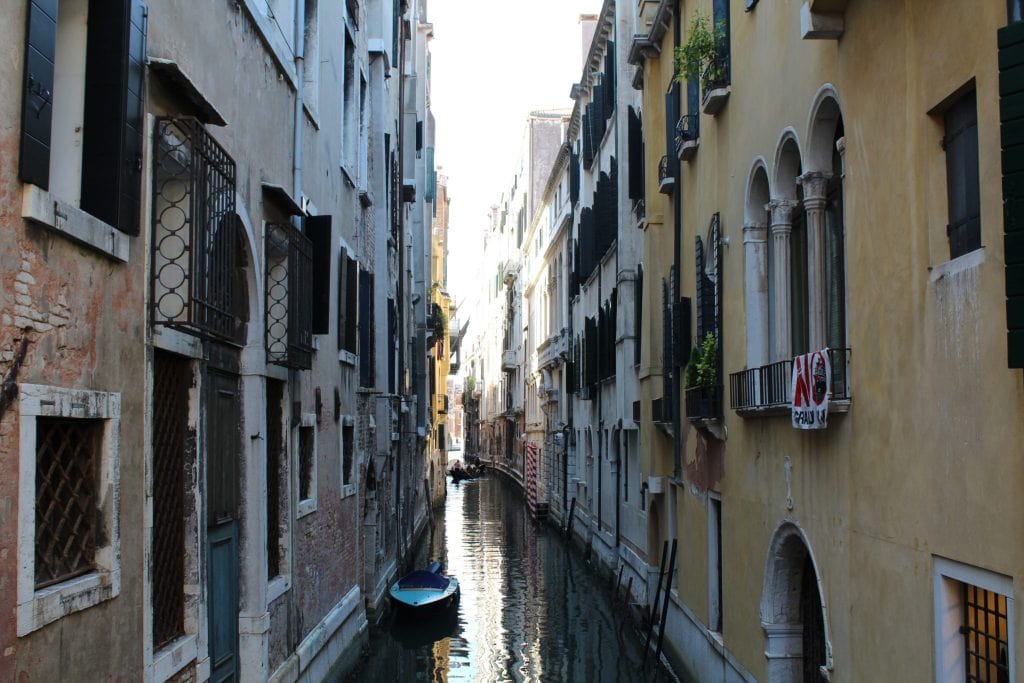 7. Eat plenty of Italian food
I guess this one goes without saying. But if you want your kids to eat well while on holiday then Venice is the place for you. My husband told me, before we went, that he'd read that the food wasn't supposed to be that great in Venice. Well, they were wrong. We had some lovely pasta, pizza and ice cream and we mostly ate on a street right behind the main St Mark's square. Most restaurants there are really good value for money.
Top Tip – It pays to read the menus first but don't expect to see kids portions and prices. Jamie ate like an adult the whole time we were there. If you don't want a sit-down lunch there's a great selection of deli's to buy amazing wraps, baguettes, plus pizza and pasta to go at a fraction of the cost.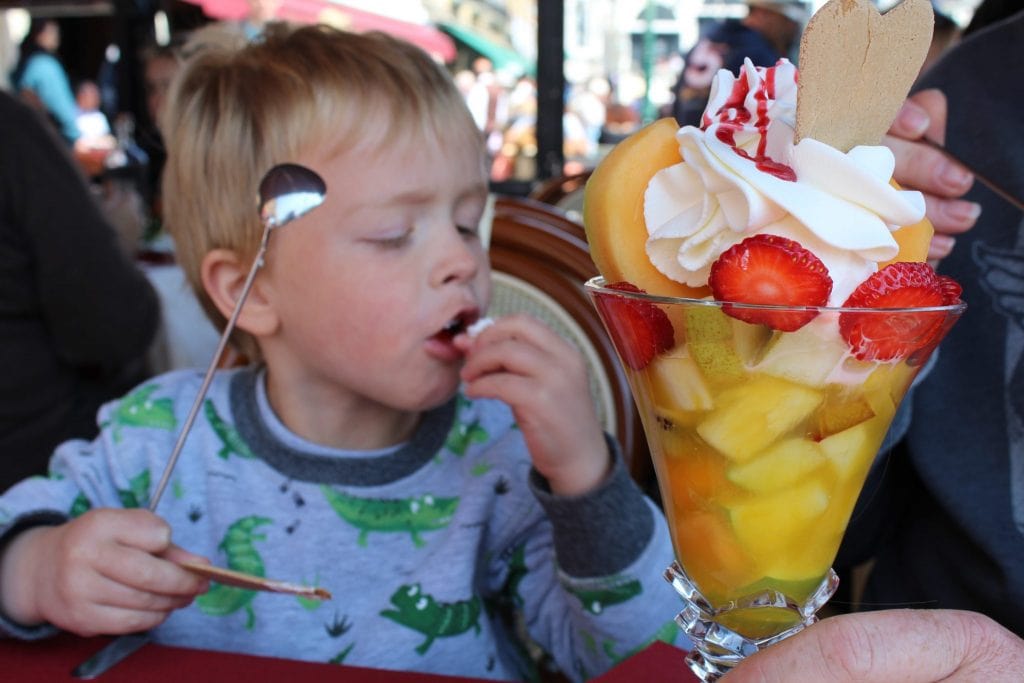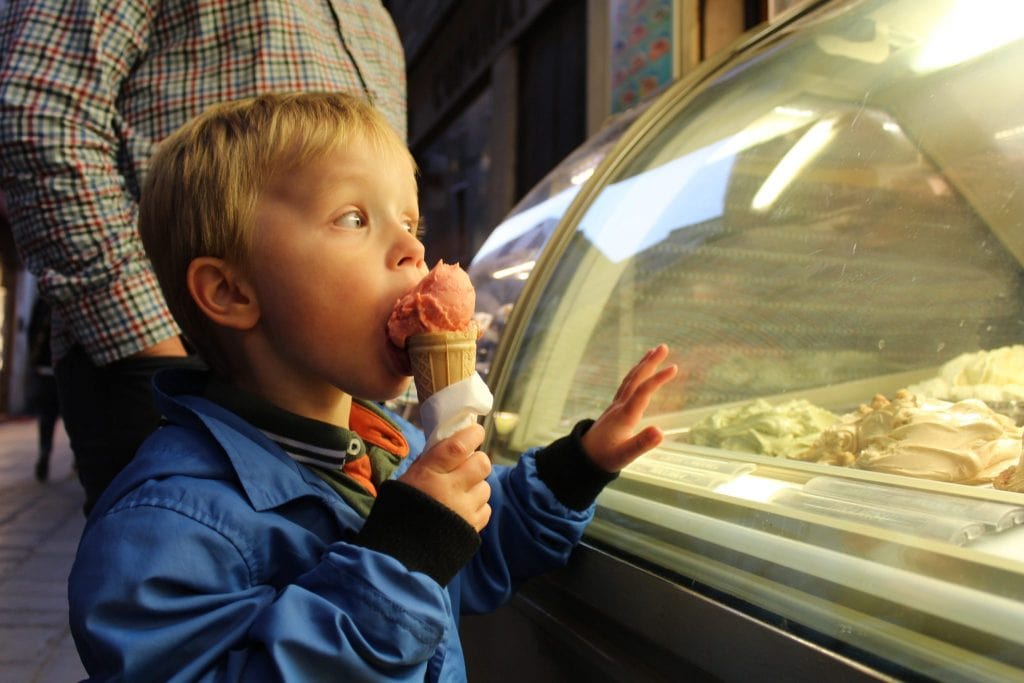 8. Window shopping in Venice
The shop windows in Venice were like nothing Jamie had seen before. From beautiful Murano glass to Masks and amazing food. We were made to stop and look in so many windows, he spotted far more than us.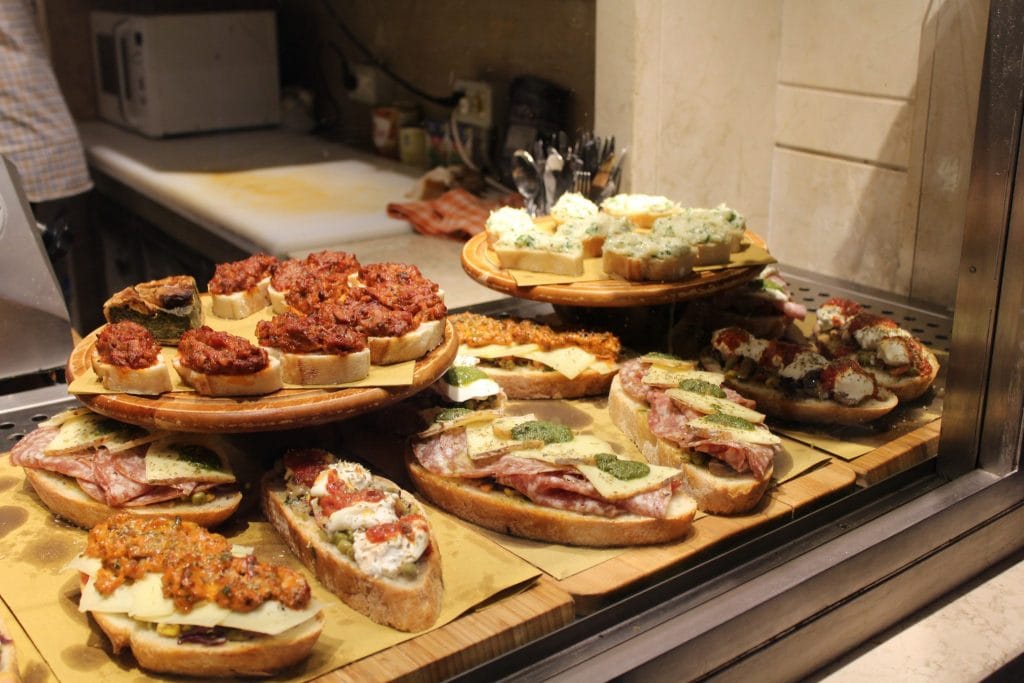 9. Visit the Santa Maria Dela Salute
A church with many memories from my childhood visit. Mostly because my brother was inspired to write a very amusing (or should I say deep and meaningful) poem here. It was a must for us because of this but I can totally recommend you hop off the Vaporetto waterbus here and pay it a visit.
Not only is it free but it's a really lovely church. You are even allowed to take photos inside. The church was built and dedicated to 'Our lady of health' as an offering to deliver the people of Venice from the plague. Jamie had fun wandering around inside and seemed more at ease here than in the basilica at St Mark's.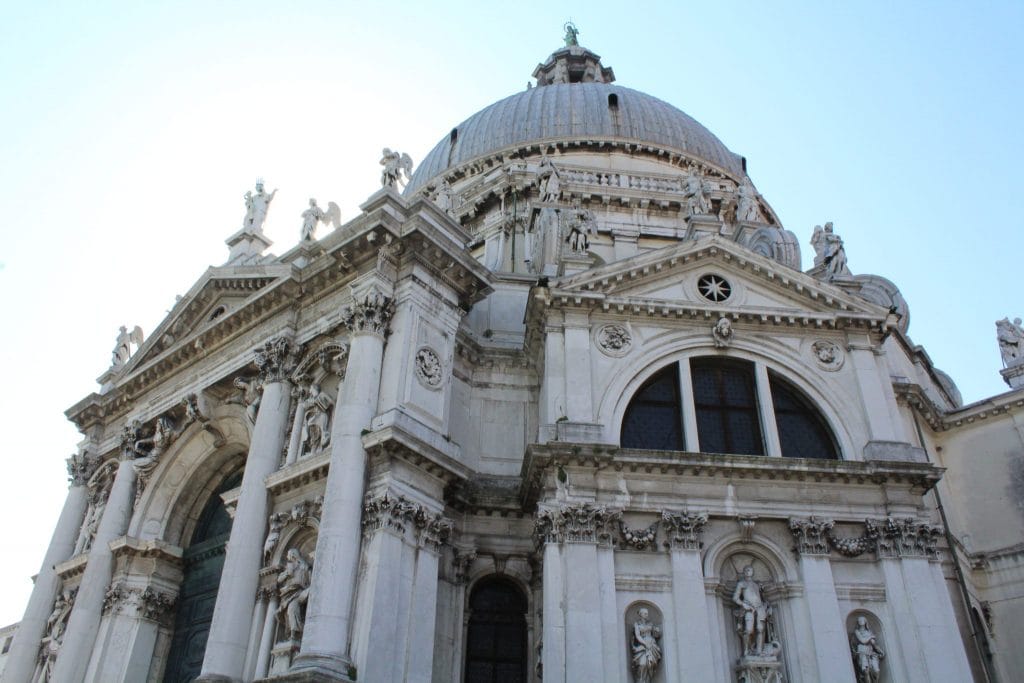 10. Walk over the Rialto bridge
The Rialto bridge is one of the must sees of Venice. There are people selling selfie sticks all over Venice but on the bridges is where everyone is busy taking the most selfies. It can be an effort in itself just finding a spot to stand and take in the views from the bridges but some are musts as the views are just stunning and your child will appreciate the view as much as you will.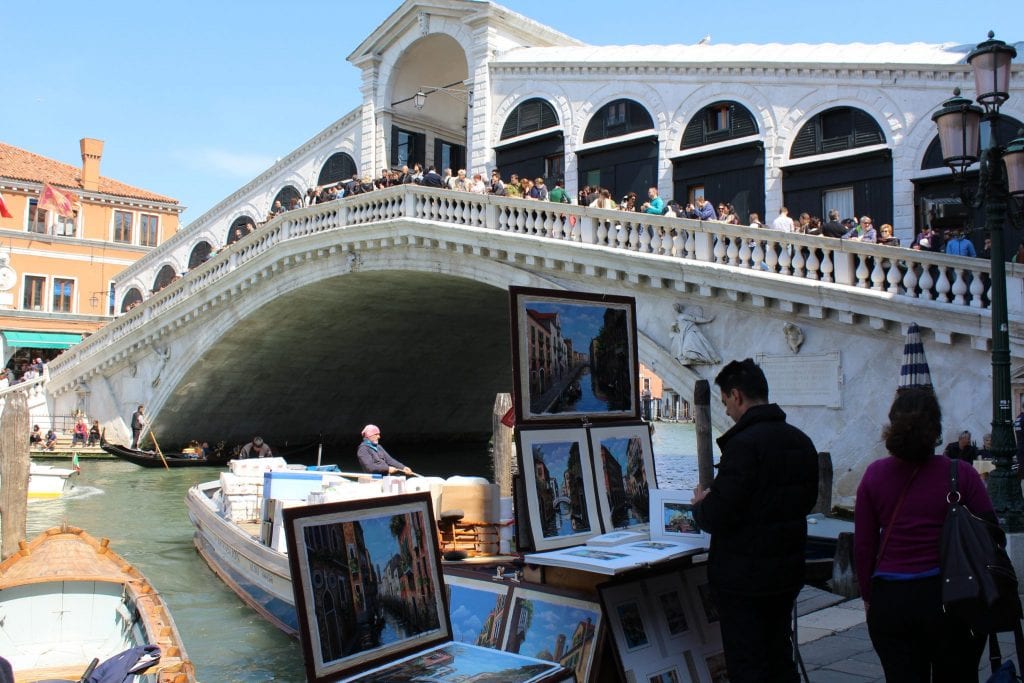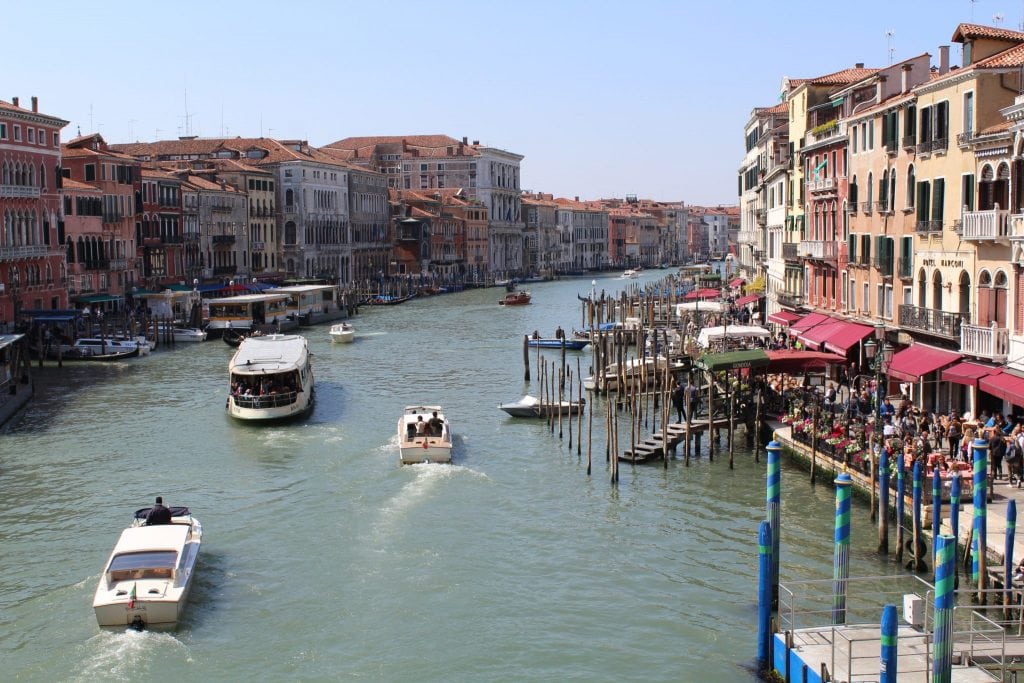 The present stone Rialto bridge has been there since 1591. It's spectacular with steps either side and small shops down the centre.
11. See the Bridge of Sighs
Another must see and quite possibly one of the most famous sites in Venice. The crowds can really build here and sometimes it's nicer and calmer to see the bridge from one of the side streets away from the Grand Canal. You can see from the photo below just how busy this area can get.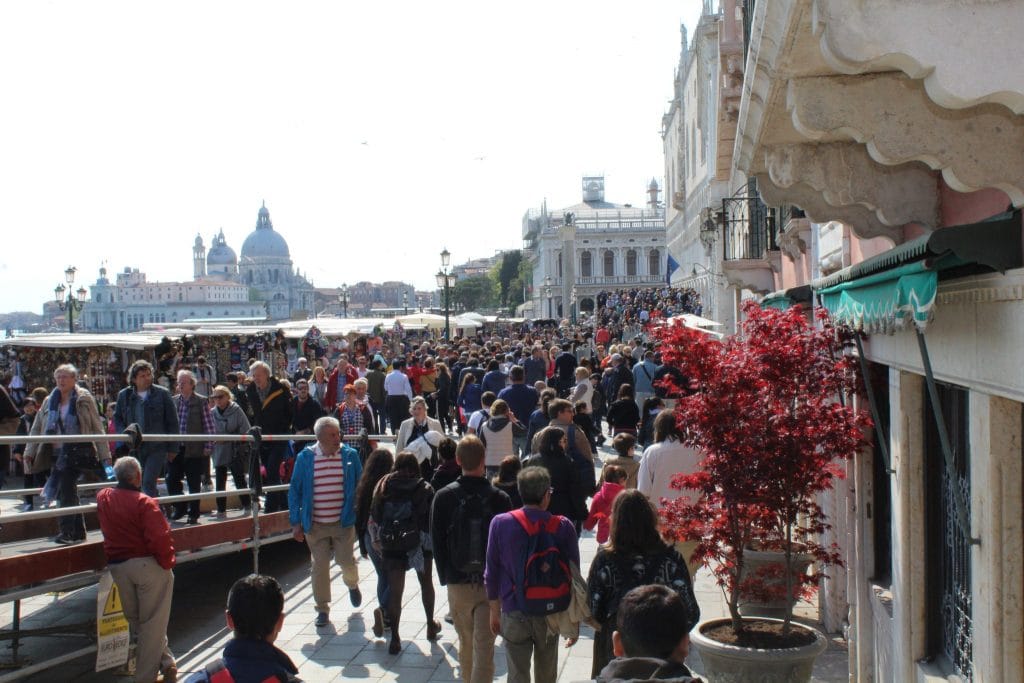 We tried our best to help Jamie understand the significance of this bridge but this one may well be more for the adults and older children. The bridge connects the Doge's Palace with the Cities Prison. The prisons are no longer in use (thankfully). The bridge was built in 1600 and the name suggests that this is where prisoners would sigh as they crossed the bridge and saw their final view of Venice.
Don't leave home without this book.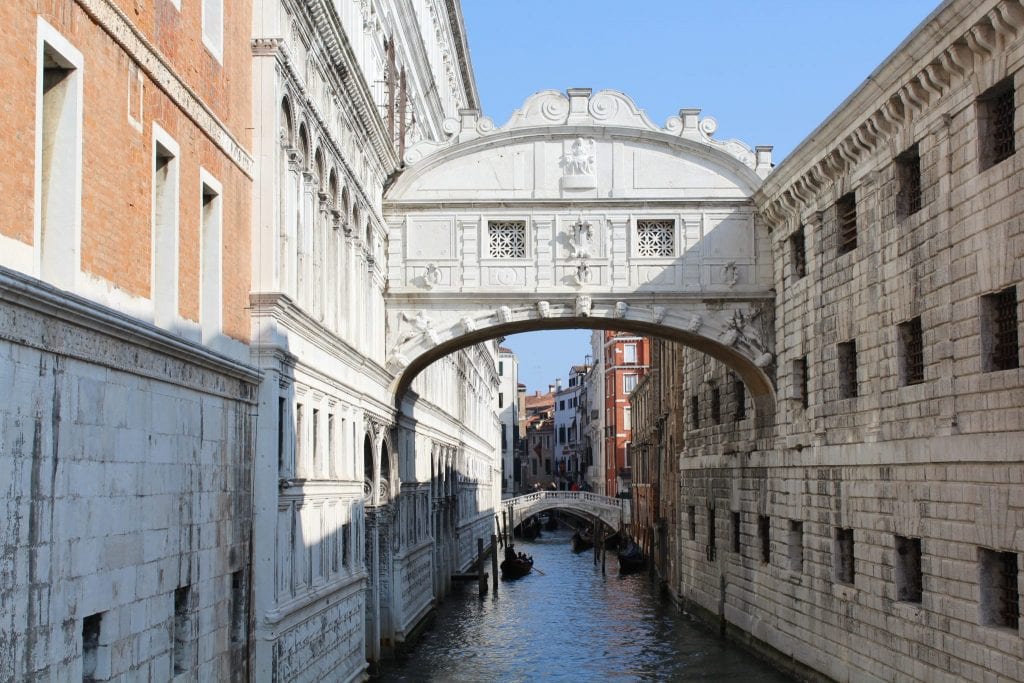 12. Walk over the Ponte dell'Accademia – Accademia Bridge
There are only four bridges that span the Grand Canal in Venice and for me personally, this one has the best view. It's not an old bridge and it's not an attractive bridge, in fact, they are in discussions about replacing it. But it really doesn't matter you are there for the view. It's one of the most painted views of Venice looking over towards the Santa Maria Della Salute. It is a must see and I am sure your kids will appreciate the view too.
13. Visit the island cemetery
You may have mixed feelings about visiting a cemetery but it's obviously free to look around. As we were sailing past the island cemetery of San Michele on the Vaporetto we just knew we wanted to visit later.
With doing no research before we visited we were surprised to see that most of the graves were recent ones. The vast quantity is over whelming. Especially the graves for ashes. Jamie found it all quite intriguing and we don't regret taking him. He does have more of an understanding of death than most 3 year olds though.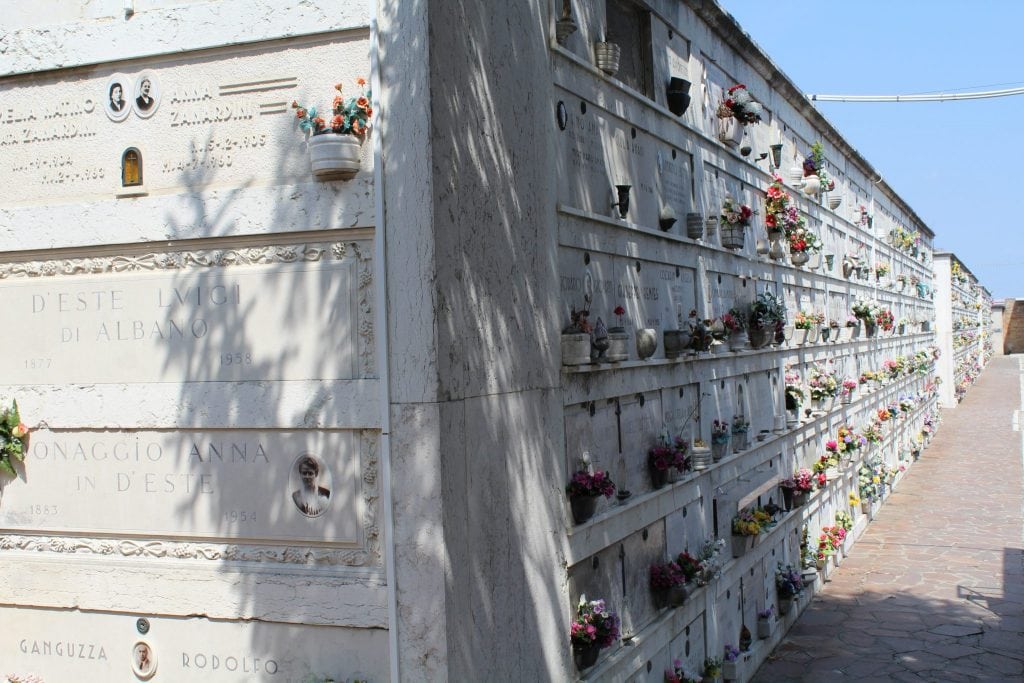 14. Visit a museum
15. Play on the beach at the Lido
We only live 40 minutes away from the seaside so we didn't come to Venice for the beach. But if you are staying there for longer than us, or are staying over at the Lido then their beach looks to be a good one. The Lido is an island a short Vaporetto ride away from Venice centre.
---
I hope you enjoyed my list and I'd love a comment below please. I'd especially love a follow or share over on social media (links can be found on each page). Disclaimer: This post may contain affiliate links. It will cost you no extra if you click on any of our links.
Why not pin my post for later? Simply click on the image above to take you over to Pinterest.
All photos and words are my own, please do not duplicate.
Other related Venice posts are: