The Galapagos Islands are most certainly on our family travel bucket list. They are famous around the world for the bucket list experiences you can have with the many animals that inhabit these islands. You can swim with sea lions, see giant tortoises and witness flamingos in the wild. Because of the nature of the area and its islands being out at sea on a cruise ship would be ideal and a great way to explore. The Galapagos is made up of 20 islands so to truly appreciate the beauty of them and the animals that live there cruising is the way to go.
Giant Tortoises
Who doesn't love a giant tortoise? The Galapagos Islands are home to the biggest species of all which can weigh up to 417kg. They are now one of only two thriving groups of giant tortoises in the whole world. They are the reason for the name Galapagos as it is an old Spanish word meaning saddle. Which is a term early explorers used for the tortoises due to the shape of their shell.
As well as farms and reserves where the tortoises are free to wander there is also populations of wild giant tortoises. They inhabit many of the islands that make up the Galapagos. The cruise boats will take you to the islands where the tortoises can be found.
Snorkel with the Sea Lions
Sea lions are a common sight in the Galapagos. Even on a short cruise, you can expect to see them either in the sea or wander amongst them on the beaches. Especially on the beaches of Santa Cruz, Isabela and Española. You are allowed to snorkel alongside the sea lions and it is something that really appeals to me. The water is so clear you can see for miles meaning you watch them play or zoom right past you.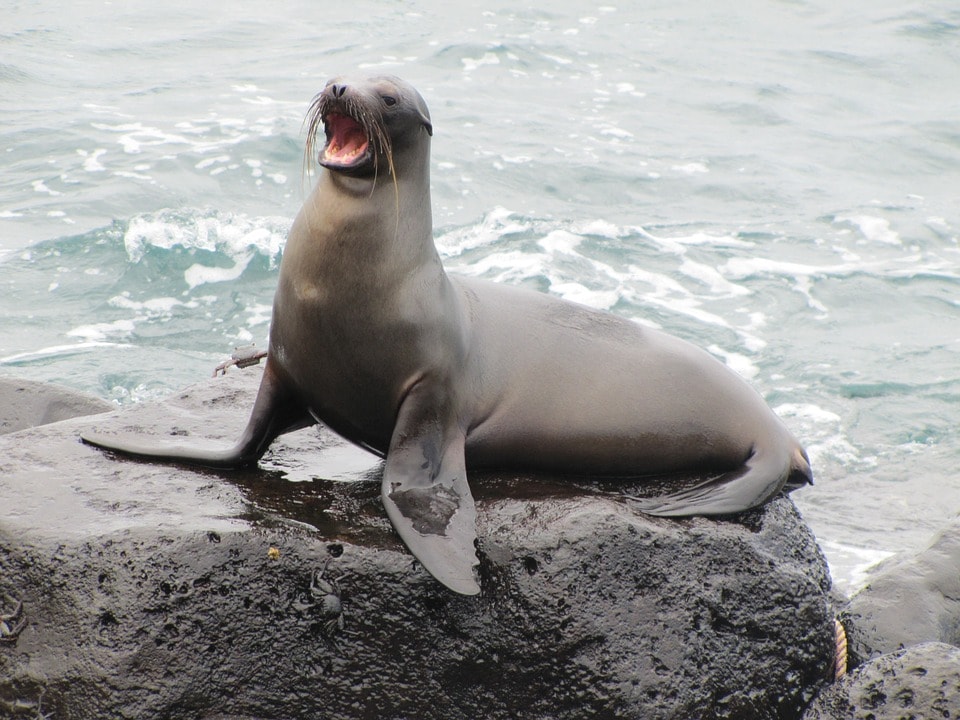 Visit lagoons to see Flamingos
The main breeding grounds for the Flamingos is in southern Isabela Island. They do use other smaller lagoons throughout the Galapagos. I would imagine that seeing hundreds of wading flamingos is a very special sight indeed. On a cruise, you are likely to see them at Cormorant Point on Floreana Island and Bachas Beach on Santa Cruz.
Because the birds of the islands have evolved without threat they live without fear so it is an ideal place to watch and observe them as they are less likely to fly away.
Explore Volcanic Islands
The Galapagos islands are volcanic. Some erupt every year, although not in a threating manner. The western side is the most active. This provides the islands with some breathtaking scenery and signs of volcanic activity are everywhere.
Spot Blue Footed Boobies
These are perhaps the most iconic birds of the Galapagos. The shade of a boobies' bright blue feet actually indicates the health of individual males. Approximately one-half of all nesting pairs breed in the Galapagos. They only stay on land to breed their young. If you're out snorkelling you may even experience blue-footed boobies diving for fish right next to you. As well as blue-footed bobbies there are also red-footed boobies to be spotted on the islands.
Spot Marine Iguanas
The Marine Iguana is only found on the Galapagos islands. It is one of a few species that inhabit the islands. It is unique in that it is able to forage and swim in the sea which makes it a marine reptile. The only marine reptile. So as well as being able to spot one on land you may also spot one swimming about at sea. They can also grow to be rather large.
Spot Reef Sharks and Sting Rays
Look down into the crystal clear waters and you should be able to spot a reef shark or a stingray. White-tipped reef sharks are the most common shark in the waters around the Galapagos. It is said to be harmless to human beings. It can, however, look scary and grow to be longer than a human. Although there have been a few incidents over time don't panic too much if one swims past you. That saying I'd rather spot one from the cruise ship!
The Galapagos is filled with a variety of stingrays. There's Golden rays, Spotted rays, Mantra rays, Spotted Eagle rays and Stingrays. You can go snorkelling with them or they are easy to spot in lagoons.
Visit the Pirate Hideout of Buccaneer Cove
Buccaneer's Cove in Santiago island is a narrow and steep section of land that provides some stunning scenery. It was used in the past by sailors, pirates and Buccaneers as a place to hide and anchor and catch giant tortoises for food. It remains an eroded shoreline which is home to seabirds, sea lions and fur seals. Volcanic activity, wind and sea has left behind a fascinating section of land best seen by boat.
Visit Post Office Bay
Post Office Bay is a famous man-made site where visitors can leave their unstamped mail in a barrel for fellow travellers to collect and hand deliver around the world. Although the chances of someone stopping by from the matching part of the world that you want your letter delivering to isn't very likely. It is just a bit of fun and something different to do. It dates back to the 19th Century when whalers first kept a wooden barrel at the site as their attempt to stay in touch with loved ones. It's also a great place to spot some seabirds. Here are 5 great tips for visiting Post Office Bay.
Visit the Wall of Tears
The Wall of Tears is a historical site in Isabela Island. It was constructed between 1945 and 1959 by prisoners in the penal colony on the island. The wall is about 25 m (65 ft) tall and is said to have been the cause of thousands of deaths during its construction. Locals named it the wall of tears because it is said to emanate eerie cries and have a heavy energy surrounding it. The only purpose it served was to keep the prisoners busy. Although due to all the deaths it must have been forced on them to work on the wall.
While researching about the Galapagos I came across this website full of stunning photography and information on the islands.
---
Disclaimer: This is a collaborative post with GoAndes. All words and thoughts are my own. All other photos are courtesy of Pixabay.
I hope you enjoyed my round up post and now feel as inspired to visit the Galapagos islands as I do right now. Please comment below or subscribe to our monthly newsletter so you never miss a post. We are very active on social media and we would love a follow please on Facebook, Twitter or Instagram. Why not pin this post for later? And give us a follow. Simply click on the image below to take you over to Pinterest.
Why Cruising the Galapagos Islands is a Must for Your Bucket List | Things to see