I would absolutely love to go on a cruise. It's something we've not yet done as a family but we really must do soon. I've been looking on the internet and there are some really amazing cruise destinations. Not only that but on family-friendly cruise lines. It's out with the preconceptions of cruises and in with family entertainment and activities. Kid's menus at dinner and kids clubs to entertain the little ones, and perhaps give you some time alone. If you sail during the school holidays or on a mini cruise all the family-friendly activities and food will be available to you.
Not only that but you can sail from the UK. There are 10 ports to choose from so there should hopefully be one near you. You could sail somewhere without even having to set foot on a plane. There are a variety of cabin options such as inside (usually the cheapest option and recommended by some cruising friends of mine), outside, balcony or suite.
So where are my 5 bucket list family winter cruise destinations for this year?
#1 – Top of my list – Norwegian Fjords
The Norwegian fjord cruises start from 5 nights up to 14 nights. For me, a Norwegian cruise would be all about sailing down the fjords and hopefully seeing the northern lights. They are two things that I added early on to our family bucket list. My parents have been and the cruise and their photos sounded truly magical.
Did you know that the Norwegian Fjords are one of the 7 natural wonders of the world? What better way to see the stunning narrow waterways with snow capped mountains and ancient glaciers than on a cruise boat? The scenery looks to be truly amazing. I guess this is the kind of cruise that you may spend a lot of time out on the deck on.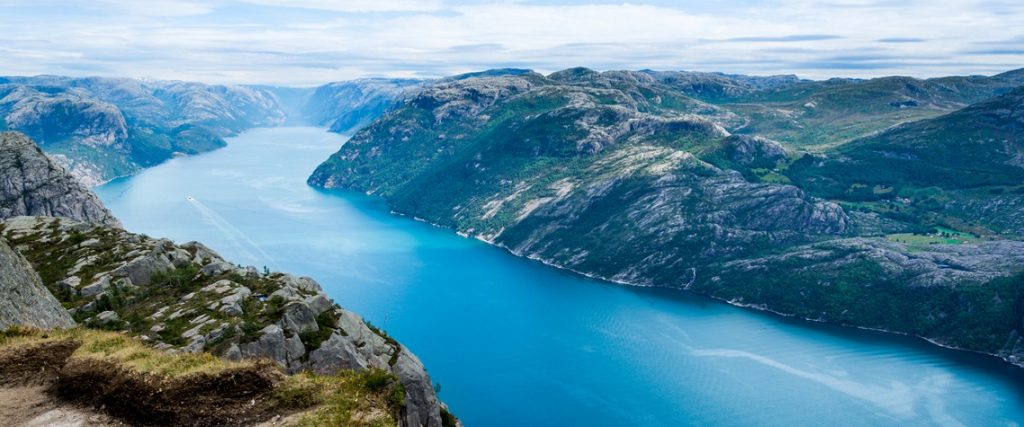 It's not just about the Fjords though. There are many different places that your cruise may stop at. Bergen is a beautiful old fishing port with brightly coloured wooden buildings. Your cruise may take you to Pulpit rock. Standing 1,900 feet above the beautiful Lysefjord, this jutting rock commands amazing views across Stavanger, an experience not to be missed. Or the intimate yet large city of Trondheim. It is one of the most photogenic towns with waterways, wooded hills and colourful warehouses.
You could even journey on a bit further up to the icy waters of the arctic circle. This can also be a great place to hopefully experience the northern lights. This is the kind of cruise that can be taken any time of the year but will be especially magical in the winter with extra snow on the mountains.
#2 – A Mediterranean Cruise
This is the kind of cruise I'm often nagging my husband for us to do. I'd love to tour the major destinations of the Mediterranean from a cruise ship. We have so many of these places on our bucket list that it would be amazing to visit them all in just one holiday. Some of the destinations I have been to before and would love to return to such as Barcelona, Venice, Corfu, Malta and Rome.
Barcelona is full of some of the most stunning architecture in Europe, beautifully designed by Gaudi. With the exceptionally stunning masterpiece the Sagrada Familia. It's a must for a Mediterranean cruise. You could travel along the resorts of the south of France and then over to Italy and it's islands of Corsica and Sardinia. You could even sail to Venice. If you'd like to read more about Venice and visiting it as a family be sure to check out my post – Venice 15 must Do's with kids
One thing's for certain is that you will find a huge variety of places to visit and things to do. For me the main place I'd love to stop over at is Santorini in Greece. The white and blue cliff edge buildings have held a special place in my heart for a long time. I still can't believe we haven't yet been there. Although the weather won't be as fine or as hot than in the summer it should hopefully be a lot less busy.
#3 – Canary Island Cruises
If you are fed up with the British weather and want to holiday in a warmer climate without having to travel too far then the Canary Islands are for you. We had a holiday there last January to Gran Canaria and the weather was fabulous. We had a lovely time and you can find out more here – Our bucket list holiday to Gran Canaria.
The Canary Islands are a Spanish territory which benefits from being off the coast of Africa. So although you can sail from the UK to them it will take a little longer to reach your destination. Some of the cruises do stop off in Morocco along the way. This is a country that I can highly recommend visiting, especially for its tasty cuisine. Cruises start from 10 days+.
There are plenty of excursion activities on a canary island cruise. Such as water sports, fishing, diving and more. Families can enjoy water parks, theme parks and camel safaris.
#4 – Caribbean cruise
I don't know about you but growing up cruises always made me think of the Caribbean. There is no bad time to visit the Caribbean as the warm tropical climate brings weather between 20oC-30oC, even in the winter months. If you really want to get away from it all this winter then this is the destination for you. And if you do go I'm going to be very jealous!
The Caribbean boasts stunning paradise beaches, vibrant towns and a blend of cultures like nowhere else on earth. The cruises offer many different activities and there is often somewhere new to stop every day as the islands are numerous and close together.
Some of the cruises benefit from a stop at their very own private piece of the Caribbean. This means you can benefit from virtually deserted locations where you can relax and unwind before you perhaps head off the next day to explore somewhere new. It's a long way to the Caribbean so this is a cruise destination where you are better off flying to first.
#5 – Baltic sea cruise
Back to destinations that you can cruise to from the UK. The Baltic sea cruises provide you with a great opportunity to explore Northern Europe and there is a variety of countries to visit. You could choose a cruise that stops at Denmark, Estonia, Finland, Poland, Sweden, Russia and more. Imagine the variety not just from the scenery but from the architecture.
Copenhagen in Denmark is somewhere we are yet to visit and is a place we have on our bucket list. Not just because of Hans Christian Anderson but because of how beautiful the city looks. A lot of the Baltic was populated by the Vikings and they left their mark in many ways.
The weather can be changeable in the Baltic and it is a cruise to take lots of warm clothes on, especially during the winter. If you're looking for snow this winter then this could be a good cruise option for you.
I hope you enjoyed my bucket list roundup. If you are looking for tips for cruising with your family then check out this link from Learning escapes –5 bucket list family winter cruise destinations for this year There's advice on picking your excursions, what to pack, how to pick your cabin and more. We have also written about the 6 Best Cruise Destinations with 5 Great Reasons to Cruise.
All photos are courtesy of www.bolsovercruiseclub.com – Disclaimer: This is a collaborative post with Bolsover cruise. All words are my own.
Never miss a post and subscribe to my newsletter. We are very active on social media and we would love a follow please on Facebook, Twitter or Instagram. Why not pin this post for later? And give us a follow. Simply click on the image below to take you over to Pinterest.